Pronto Pups have been winning the corn dog race for generations. The light and fluffy batter surrounds a perfectly cooked hot dog with a slight sweetness and a light crisp. No one can resist this amazing flavor combination!  If you love State Fair foods, make sure to check out my fried pickles!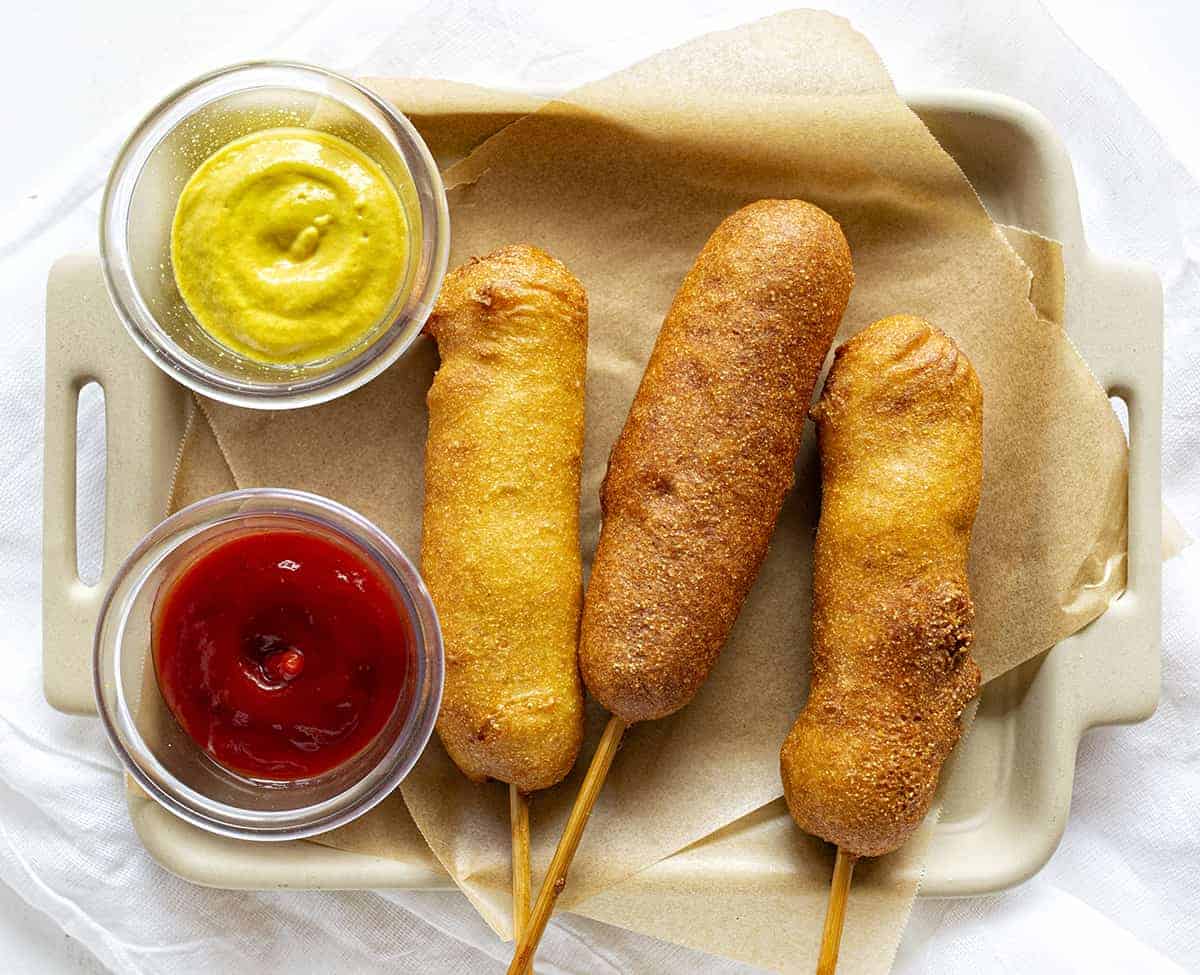 Pronto Pups vs. Corn Dogs
The great debate here at the state fair is not Coke versus Pepsi, it is pronto pup versus corn dog. Personally, I gravitate towards the pronto pup. Why? The batter.
The reality is that the pronto pup and the corn dog are very similar, but a few tweaks in the ingredients make all of the difference. Want to know what the big difference is? Pronto pups use more flour and less cornmeal, making for a much lighter batter and a crispier crust.
No matter which side of the debate you are on, I think we can all agree that you simply cannot go wrong with a deep-fried hot dog.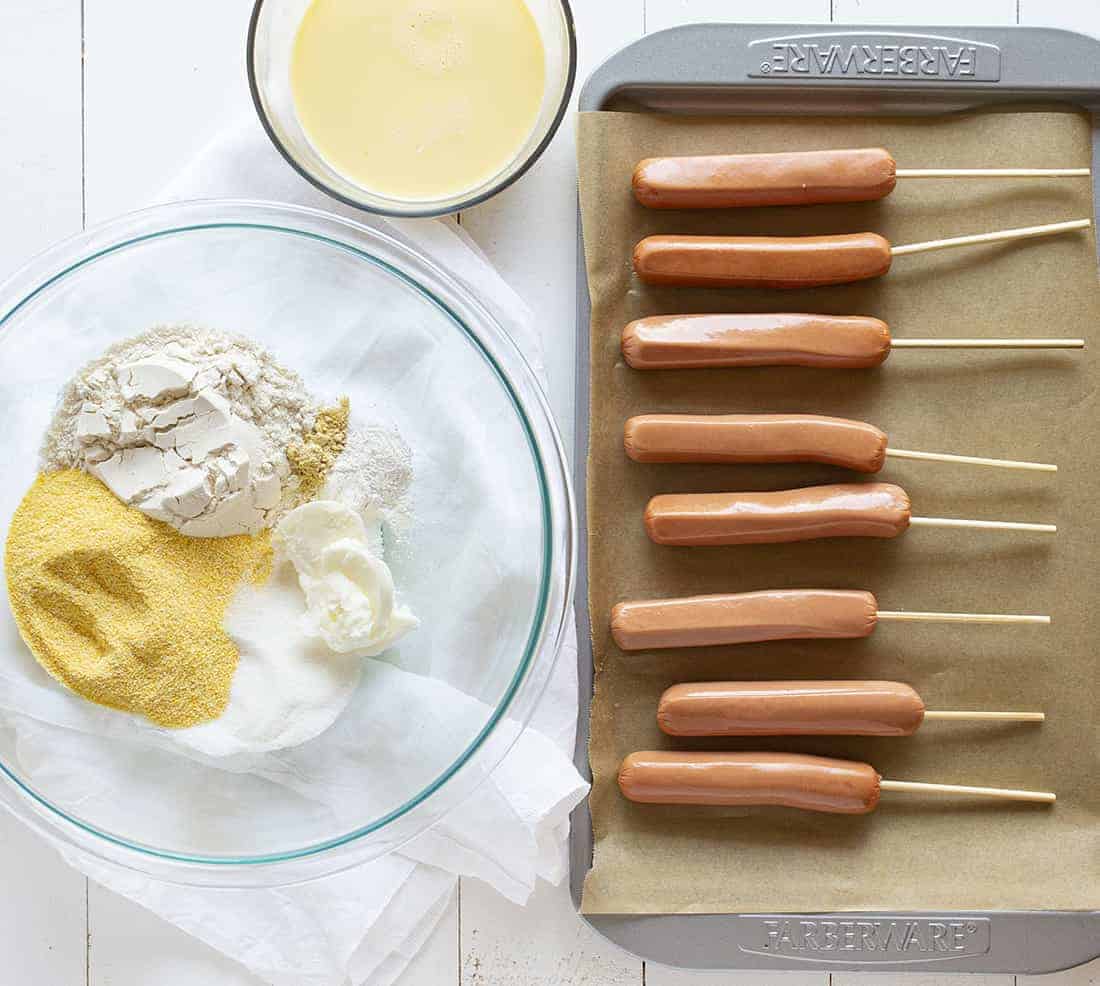 Pronto Pup Ingredients (Full Recipe Below in Recipe Card)
As I mentioned, the main difference between a pronto pup and a traditional corn dog is in the ingredients. Since this is a copy cat version of the real deal, I wanted to walk you through what I did to get as close as possible to pronto pup perfection.
Hot dogs: I went with a heartier, thicker hot dog, just like the kind you get at a ballpark. I wanted the flavor of the hot dog to not get lost in the batter. If you go with a thinner hot dog, make sure you adjust your cooking times. You won't need as much time in the oil with a smaller hot dog.
Batter ingredients: This batter consists of:
Flour
Cornmeal
Baking Powder
Sugar
Dry Mustard
Vegetable Shortening: Shortening (hydrogenated vegetable oil) is any fat or oil that is solid at room temperature. If you have heard of or seen a big can of Crisco, that is shortening. It can be stored at room temperature and has a long shelf life.
Egg
Milk
Remember, the thing that makes a pronto pup recipe unique is that we use a little more flour and a little less cornmeal than a traditional recipe for corn dogs.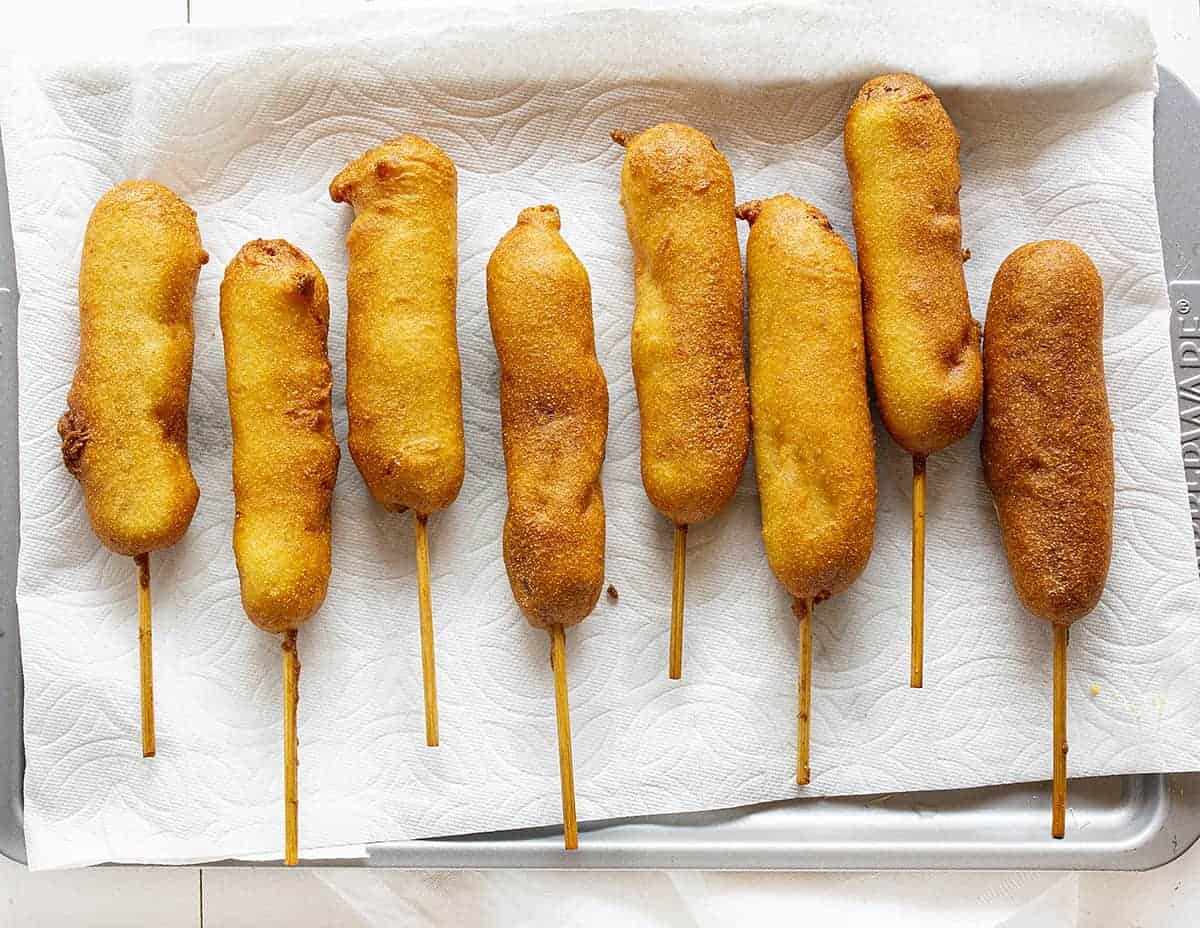 Heating the Oil
Now, turning to your skillet. You will want to make sure that it is deep enough to add a few inches of oil. Pour enough oil into the pan so that it will adequately cover an entire hot dog. Heat that oil up to 365°F. I will put a candy thermometer right into the oil and leave it there so I can monitor the oil temperature. You really want to regulate it and keep it as close to 365°F as possible.
If the oil gets too hot, your dogs will burn on the outside but not be cooked through on the inside. And, be sure to check the temperature of the oil after each hot dog or two has been fried; the oil tends to cool down a bit after each batch. If you have any leftover oil, don't throw it out; first, check out How to Clarify Used Cooking Oil so it doesn't go to waste.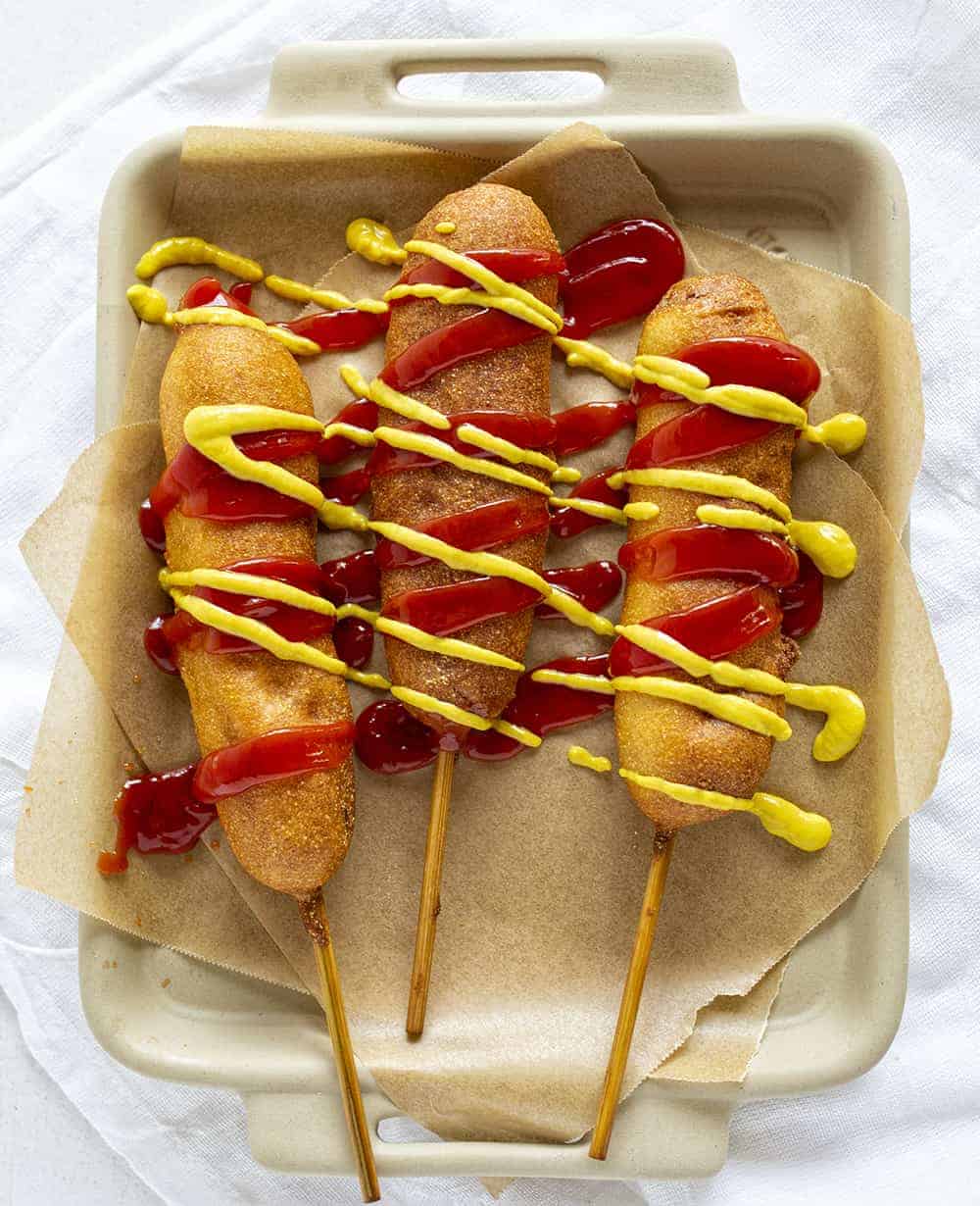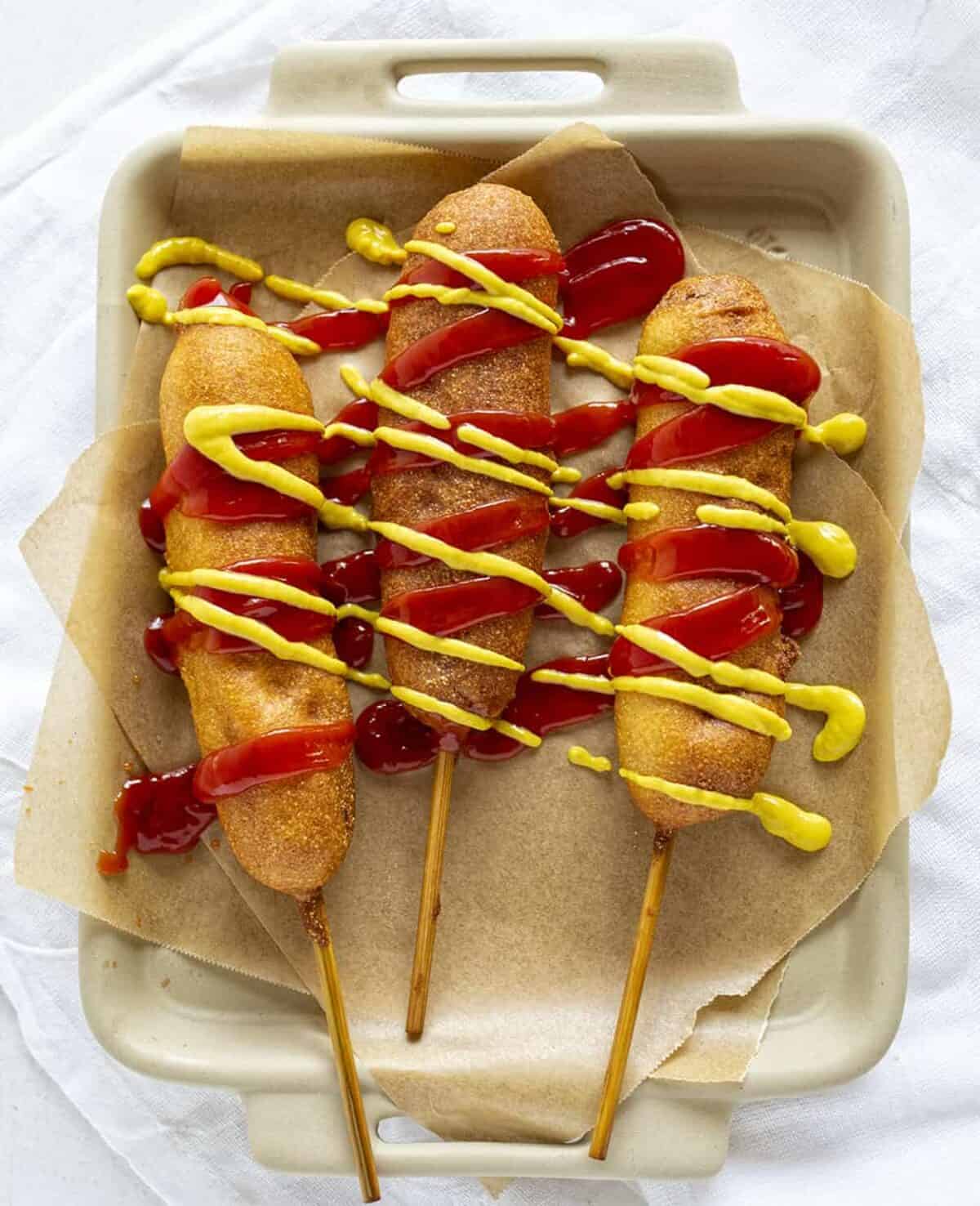 Prepping and Cooking Pronto Pups
While your oil is heating, you can prep the pronto pup. Insert a wooden stick into the end of each hotdog. Dip the hotdog into the batter and cover it completely. Now, carefully lower the pronto pup into the oil, turning it a little as you go to set the batter.
Let that cook for about 5 minutes or until it is a nice golden brown color. Take it out of the oil and place it on a paper towel to catch any excess oil. Make sure to serve these hot!
Best Toppings for Pronto Pups
Believe it or not, this is where the debate takes an even crazier turn. Once you FINALLY decide on a pronto pup or a corn dog, you will then learn that there are entire groups of people that will literally fight you on what you decide to put on top. Mustard people don't like the ketchup people, and ketchup people don't like the mustard people. I have always liked to stay neutral so I went with both. 😉
If you are feeling like a complete rebel, there are a few other ways to dress up a pronto pup. Here are some options:
chili, cheese, and onions
cheese sauce
hot sauce and sour cream
ketchup and mayonnaise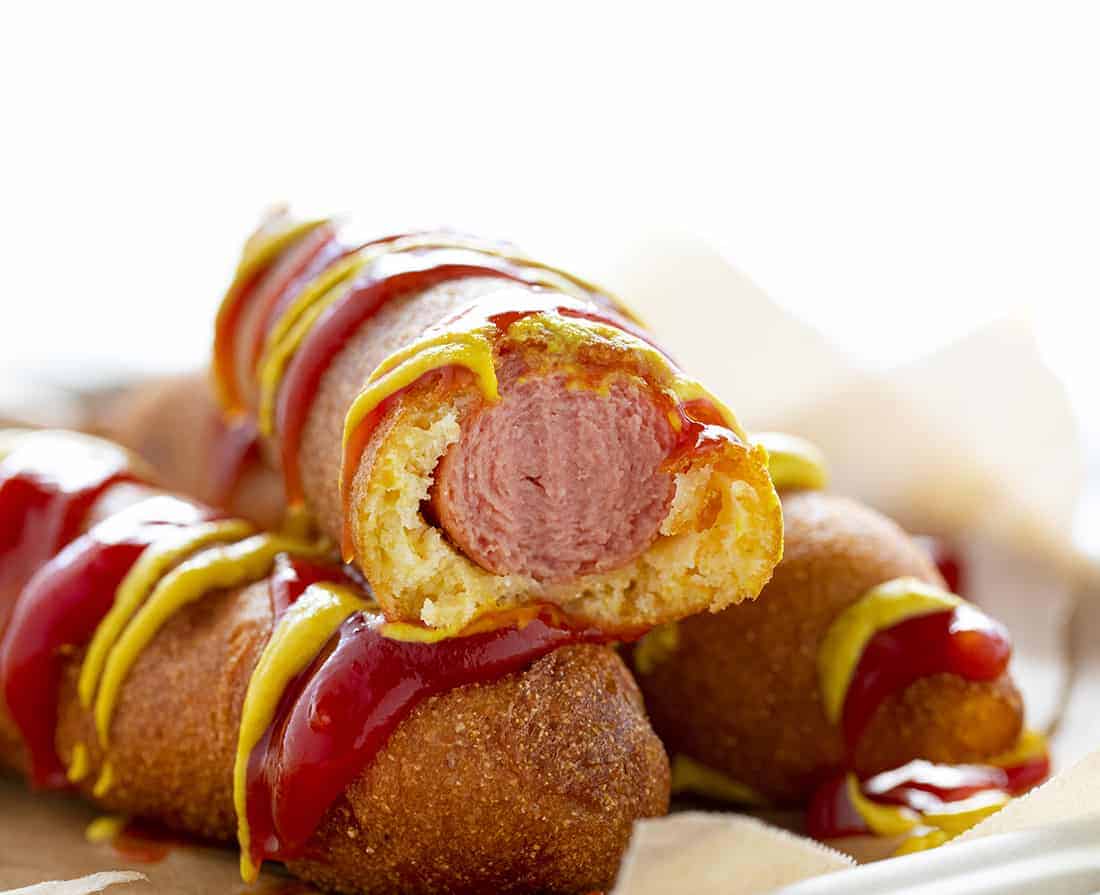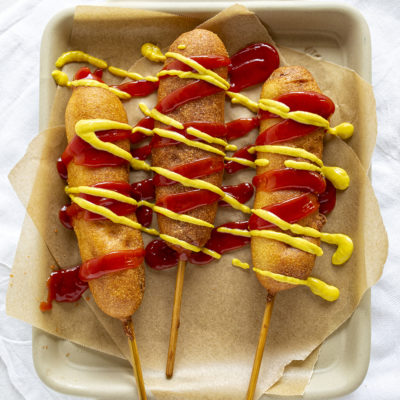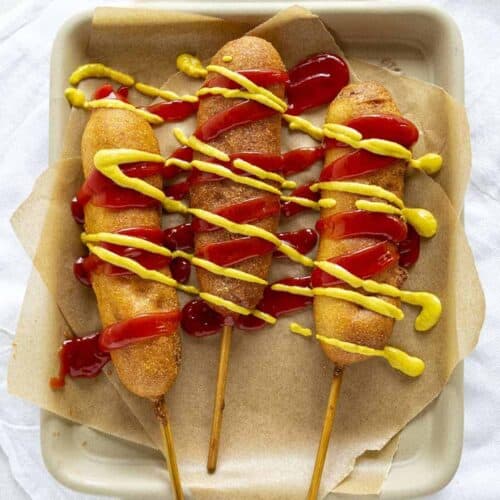 Pronto Pup
Pronto Pups have been winning the corn dog race for generations.  The light and fluffy batter surround the perfectly cooked hot dog with a slight sweetness and a light crisp.  No one can resist this amazing flavor combination!
Ingredients
1

cup

(125 g) all-purpose flour

⅔

cup

(81 g) yellow cornmeal

2

tablespoons

granulated sugar

1½

teaspoons

baking powder

½

teaspoon

dry mustard

¼

teaspoon

kosher salt

2

tablespoons

shortening

1

large

egg,

beaten

1

cup

milk

10

wooden

craft sticks

1

pound

hot dogs

canola oil,

for frying

ketchup,

optional

mustard,

optional
Instructions
In a medium bowl, combine flour, cornmeal, sugar, baking powder, dry mustard, and salt. Mix well.

Add the shortening and cut it into the mixture using fork until the mixture becomes a fine crumble.

In a small bowl, mix together egg and milk. Pour this mixture into the flour mixture. Stir until smooth (batter will be thick).

Pour enough oil into a deep heavy skillet to cover the hot dogs completely. Heat the oil to 365°F.

Insert a wooden stick in one end of each hot dog. Dip the hot dog into the batter to coat. Place the hot dogs into the hot oil 1 or 2 at a time. Cook the hot dogs in the oil for 7-10 minutes, turning occasionally. The hot dogs are done with the batter is a dark golden brown color.

Remove the pronto pup from the oil and set on a paper towel to catch any excess oil.

Serve immediately topped with ketchup and/or mustard.
Did you make this recipe?
Thank you for making my recipe! You took pictures, right? Well go ahead and post them on Instagram! Be sure to mention me @iambaker and use the hashtag #YouAreBaker.