Perfect Pumpkin Pie is a smooth and rich pumpkin-based custard pie that is baked in my no-fail homemade pie crust. Try my Impossible Pumpkin Pie for another delicious pumpkin dessert that just happens to not have a crust!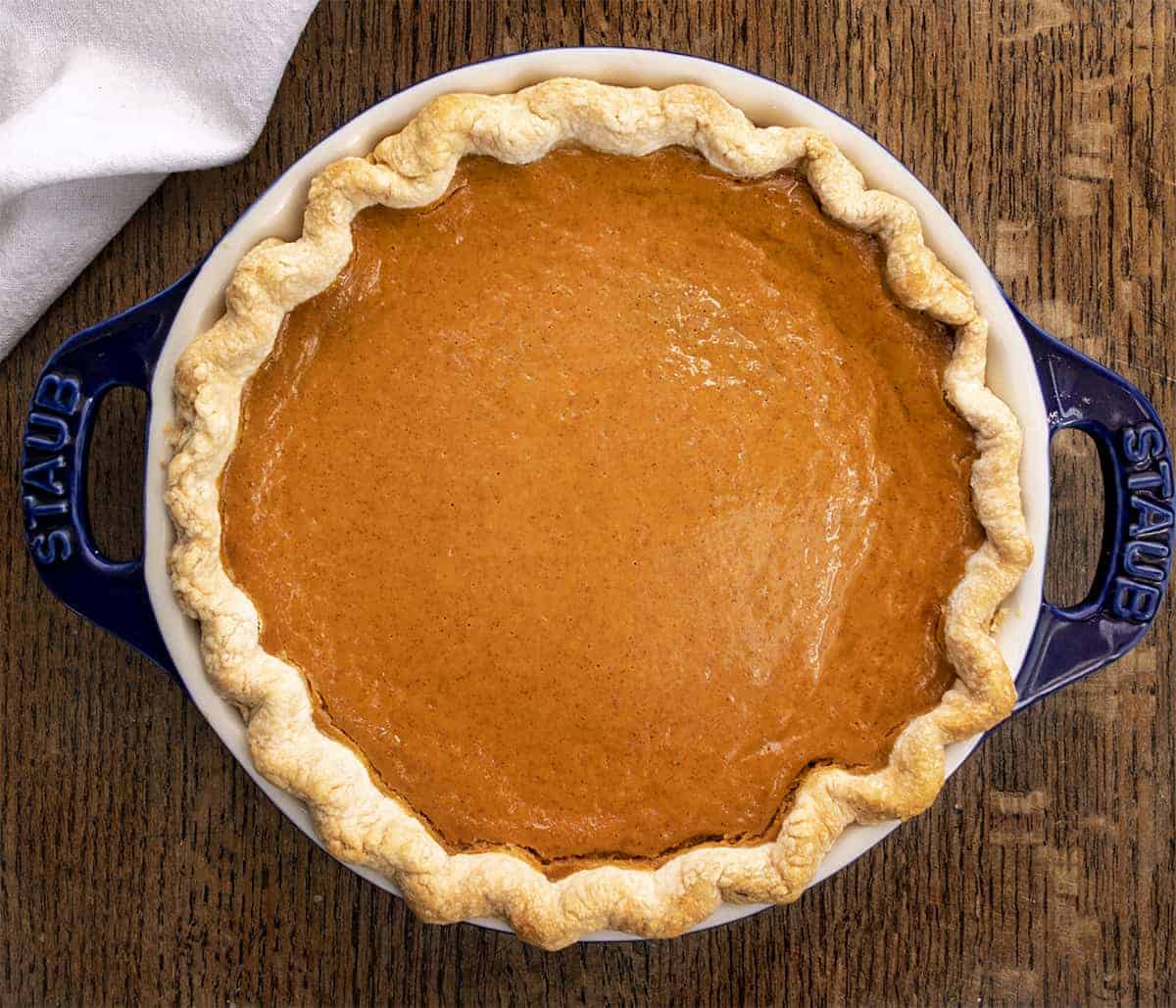 Perfect Pumpkin Pie
If you are looking for a pumpkin pie recipe that tastes just like you got it at a bakery, this is the recipe you need! It all starts with my no-fail homemade pie crust in this recipe. Yes, the recipe will give you two crusts (and you only need one here). But, save the other crust for Pumpkin Cream Cheese Pie. Both pies are definitely worthy of making it onto your Thanksgiving menu!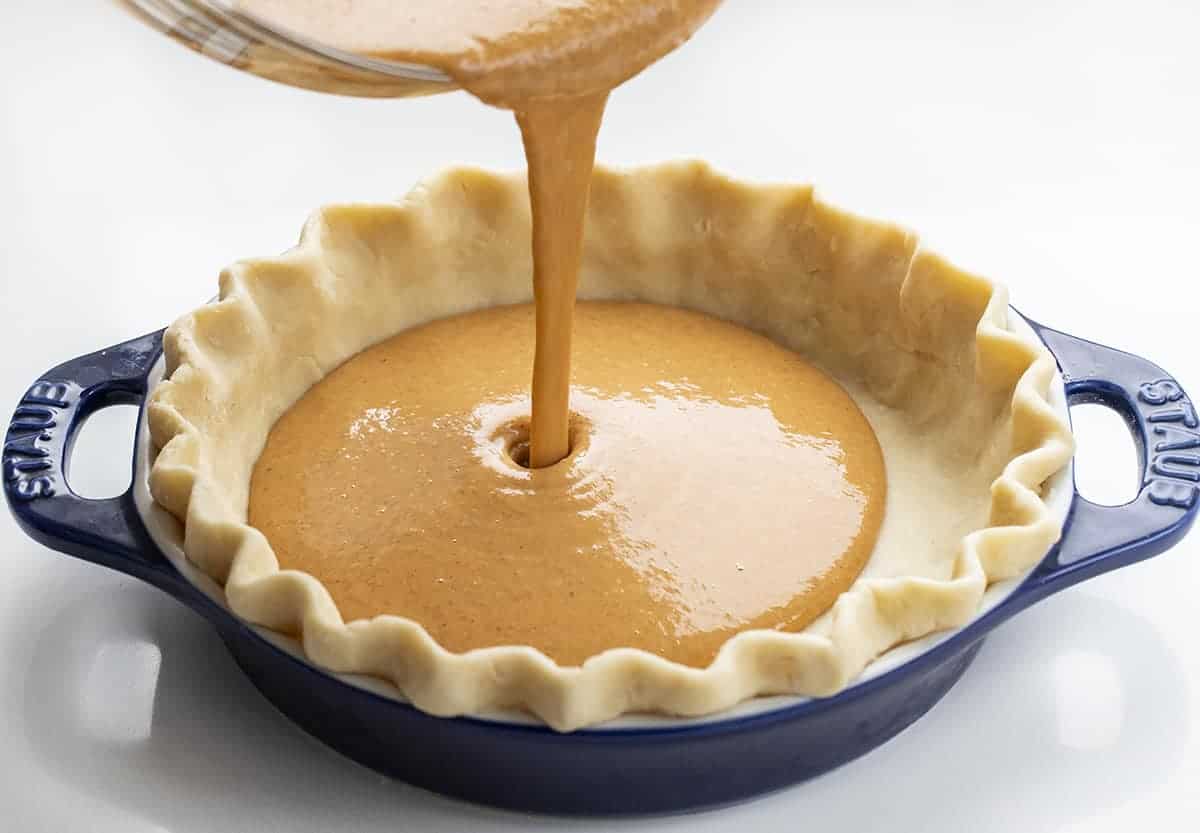 Pumpkin Pie Ingredients
Homemade Pie Crust–If you make this crust, remember that it makes two crusts. Save one for another recipe. You could also use a storebought pie crust.
Pure Pumpkin: Be sure to look for pure pumpkin (also known as pumpkin puree) not pumpkin pie filling. Pure pumpkin is cooked pumpkin that is blended or mashed into a smooth texture. There should be no seasoning, spice, flavoring, or sugar added.
Sweetened Condensed Milk: Be sure to check the labels carefully when buying sweetened condensed milk. Do not use evaporated milk in this recipe.
Pumpkin Pie Spice: Be sure to have pumpkin spice around your house for everything pumpkin. And, if you don't have any on hand, it is super easy to make your own homemade pumpkin pie spice!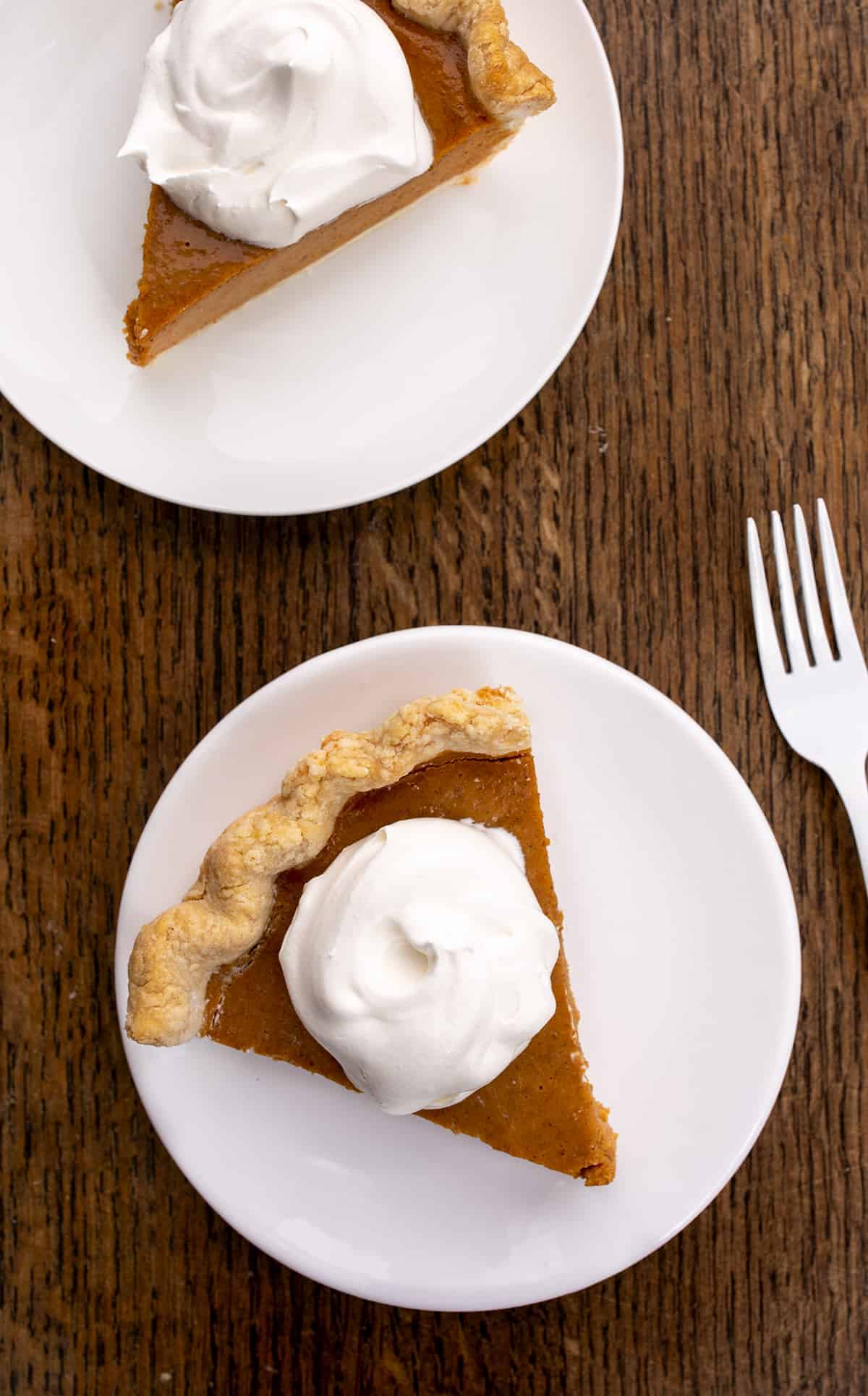 When is Pumpkin Pie Done Baking?
There are a few ways to check for doneness on a pumpkin pie.
The easiest way is to insert a clean knife into the center of the pie. If it comes out clean, the pie is done. And, if the little crack in the top bothers you, add a dollop of

whipped cream

in the center, over the crack, before serving.
A second way to check for doneness is with a thermometer. A digital thermometer can be inserted into the pie and should read a minimum of 180°F.
Thirdly, if you really don't want any cracks or holes in the pie, you can do the 'jiggle test'. This is not a guarantee, however. But, you could gently shake the pie and if the center jiggles a bit, it is done. Just make sure there is no liquid left in the pie (then it is not done).
If the crust is browning before the pie is completely cooked, add an aluminum foil shield over the crust. Make sure the pumpkin pie has had time to cool before cutting and serving; it should be served cold.
How to Store Pumpkin Pie
You can make this perfect pumpkin pie a couple of days ahead of time, which will come in handy if preparing a lot of things for your Thanksgiving, or any large gathering. If making ahead of time, let the pie cool completely before storing it in the refrigerator. Wrap it tightly in plastic wrap and then a layer of aluminum foil. Serve it within two days.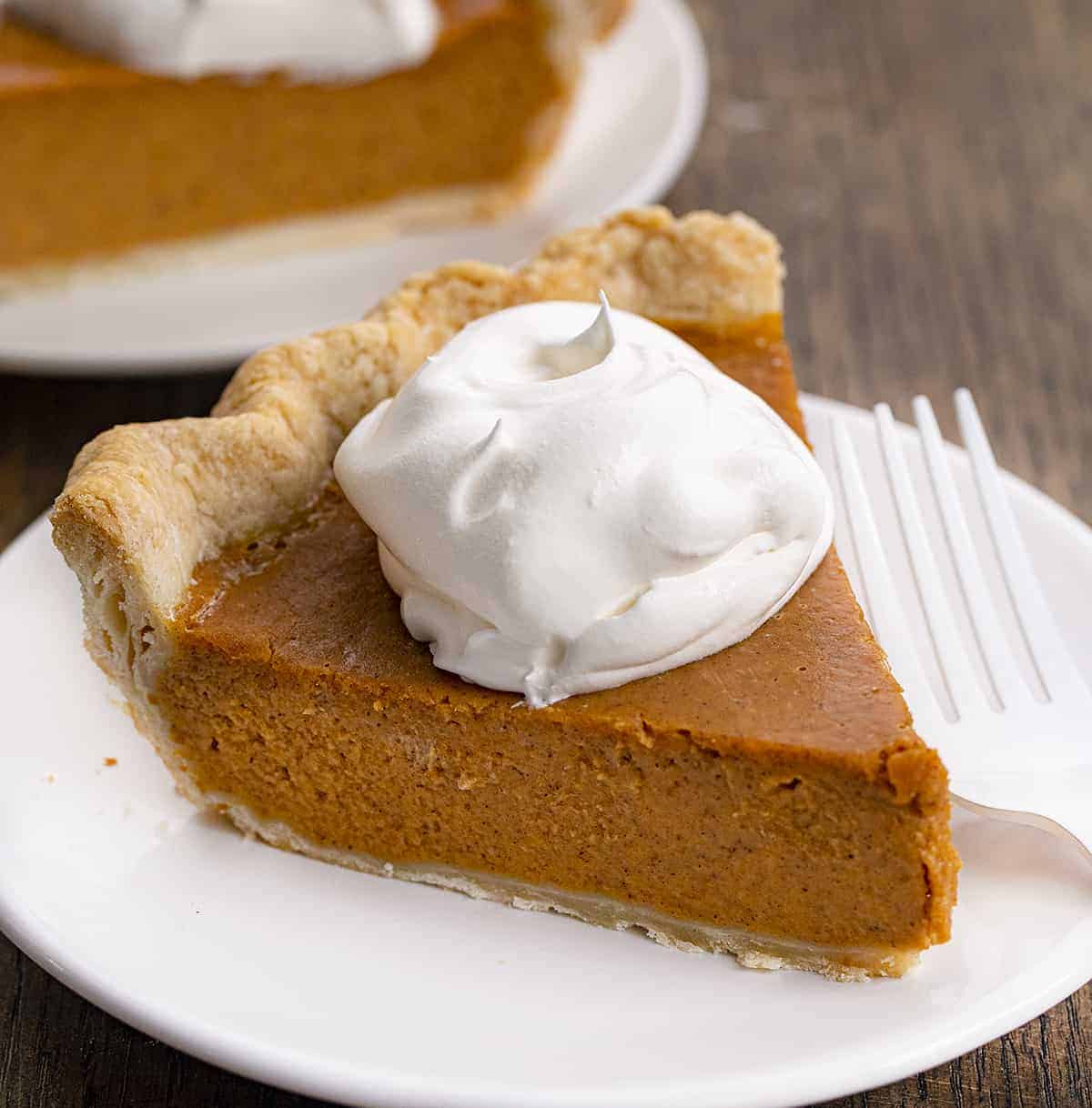 Can I Freeze Pumpkin Pie?
Yes! If two days ahead of time is not cutting it this year, you can bake and then freeze a pumpkin pie for up to a couple of weeks (I would say about 2 weeks for best results) before serving it. I would recommend baking the pie in an aluminum pie plate. This helps the pie freeze faster and cuts down on ice crystals forming.
Once baked, let the pie come to room temperature and wrap it in a few layers of plastic wrap. I also add a layer of aluminum foil just to be safe. Label and date the packaging and place it in the freezer. When ready, thaw the pie in the refrigerator (about 12 hours) before serving.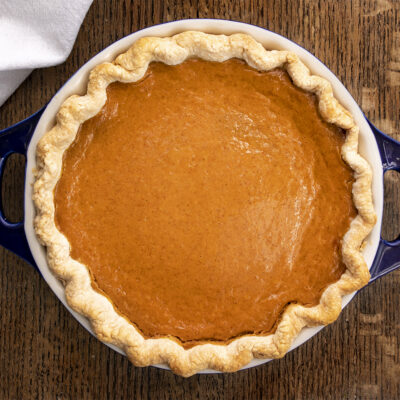 Perfect Pumpkin Pie
Perfect Pumpkin Pie is a smooth and rich pumpkin-based custard pie that is baked in my no-fail homemade pie crust.
Ingredients
1

9-inch

unbaked pie crust,

store-bought or homemade

1

can

(15 ounces) pure pumpkin

1

can

(14 ounces) sweetened condensed milk

2

large

eggs,

room temperature

2

teaspoons

pumpkin pie spice

1

teaspoon

ground cinnamon

½

teaspoon

kosher salt

whipped topping,

optional
Instructions
Roll out the pie crust dough into a large circle and place it into a 9-inch deep-dish pie plate, cutting away any excess crust.

Flute or crimp edges (if desired) and place in the refrigerator while you prepare the filling.

In a large bowl combine the pumpkin, sweetened condensed milk, eggs, pumpkin pie spice, cinnamon, and salt. Whisk until smooth.

Pour the pumpkin mixture into the crust. Bake for 15 minutes.

After 15 minutes, keeping the oven door closed, reduce the temperature to 350°F and bake for 35-40 more minutes, or until a knife inserted comes out clean.

Allow the pie to come to room temperature before slicing and serving. Top with whipped cream if desired.
Did you make this recipe?
Thank you for making my recipe! You took pictures, right? Well go ahead and post them on Instagram! Be sure to mention me @iambaker and use the hashtag #YouAreBaker.