Decorating a cake with rainbow colors is one of my favorite things to do. This sweet cake is a lot easier that you might think… one simple technique is all you need to know!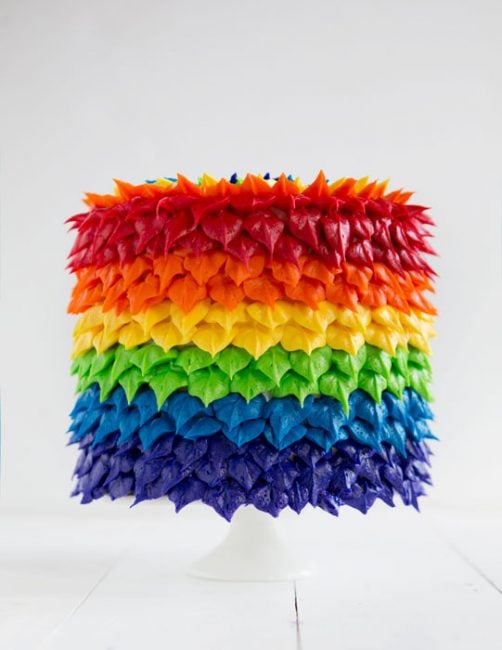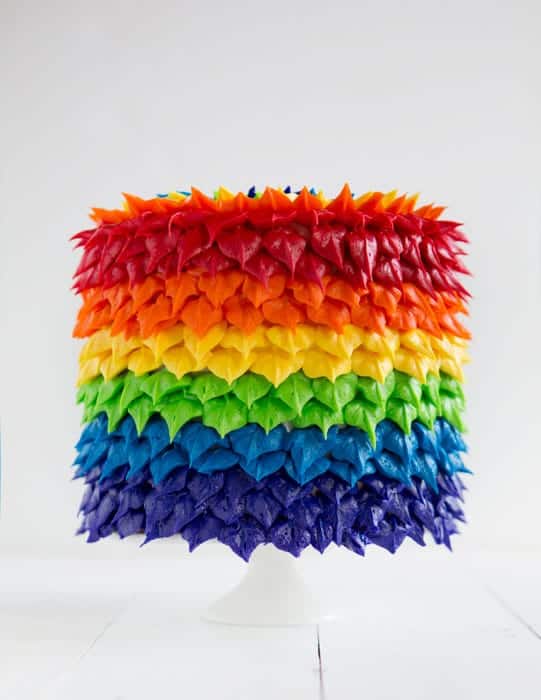 To make this cake you will need:
1 chocolate cake recipe baked in three 6-inch round cake pans (you can use any flavor cake you want!)
buttercream recipe doubled (You want about 8 cups buttercream)
red, yellow, blue, green McCormick® liquid food color (you will want to mix your orange and purple)
small offset spatula
#366 leaf tip (see my tip storage here)
plastic pastry bags
rotating cake stand
cake stand (see my cake stands here)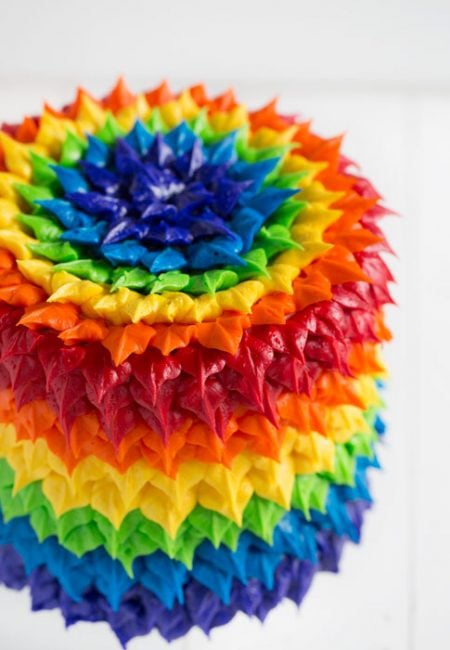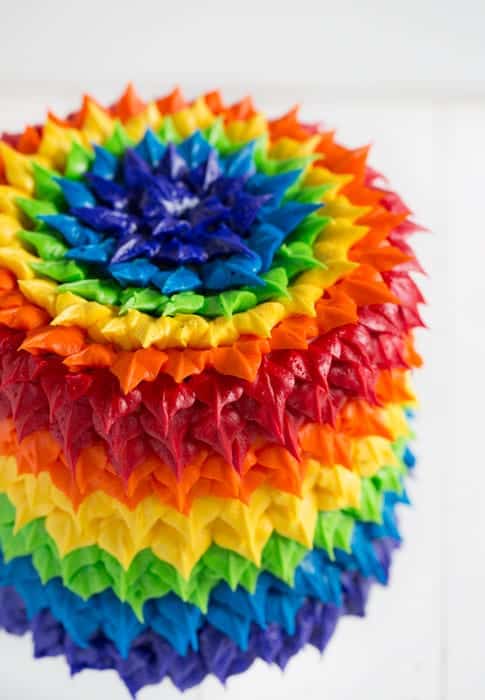 Bake cakes according to direction. Once cool to the touch, place cakes in freezer for 30 minutes to chill. (Or a few hours in the fridge)
Prepare buttercream. Reserve 2 cups for the laying and crumb coating of cake. Separate the remaining frosting into 6 bowls (should be about 1 1/4 cup per bowl) and tint with food color to achieve red, orange, yellow, green, blue, and purple.
Put each color in a pastry bag and set aside.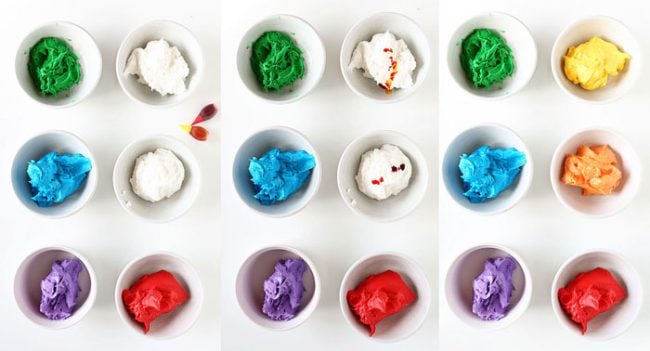 Stack first layer of chilled cake on a cake board that is the exact same size as the cake and is on a rotating cake stand. Apply buttercream (about 1/2 cup) and smooth out. Add next layer of cake. Add more buttercream and smooth out. Add the final layer of cake. Cover cake with final 1 cup of white buttercream and smooth out using an offset spatula.
Using a toothpick, roughly mark out 6 sections up the side of the cake. You can just eyeball this.
Drop #366 tip (leaf tip) into a pastry bag. Cut off tip for purple buttercream. Starting at the bottom of the cake, apply pressure and then quickly release. You are creating a small purple leaf at the bottom of the cake. You will continue this around the entire cake in an even row. If your cake is 6-inches tall, you will want to do about 2 rows of each color.
Here is a VIDEO on how I made this cake! (Here is a 1-minute long VIDEO about this cake)
Remove purple frosting bag from the bag fitted with your #366 tip and drop in the bag with blue frosting. Apply pressure to remove most to the purple frosting left in the tip. Using the same technique as you did with the purple, start adding blue leaves right above the purple.
PRO TIP:
If your frosting is the right consistency (creamy) you will be able to apply pressure to your pastry bag with one hand and move the cake with the other. This is where the rotating cake stand is essential to your efficiency!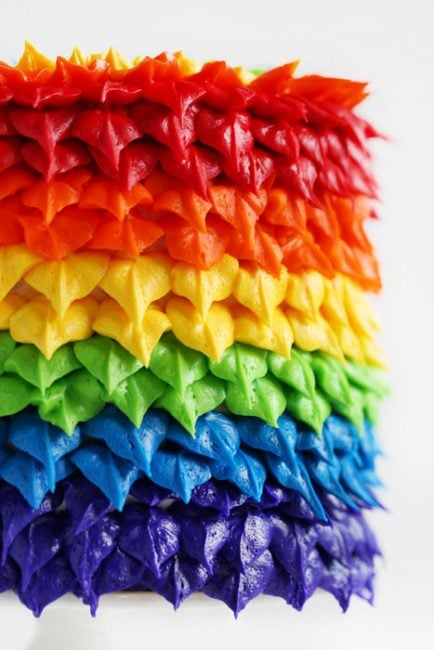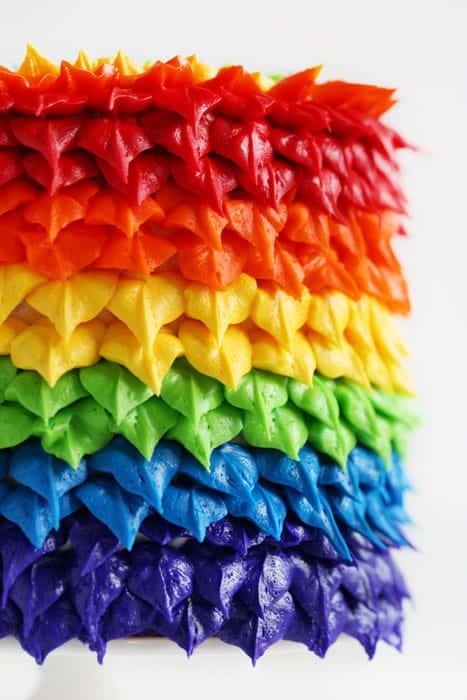 Repeat with remaining colors.
Once you get to the top, you will repeat the same technique, just in reverse order. (Here is that Rainbow Leaf Tip Cake Video in case you want more instruction!)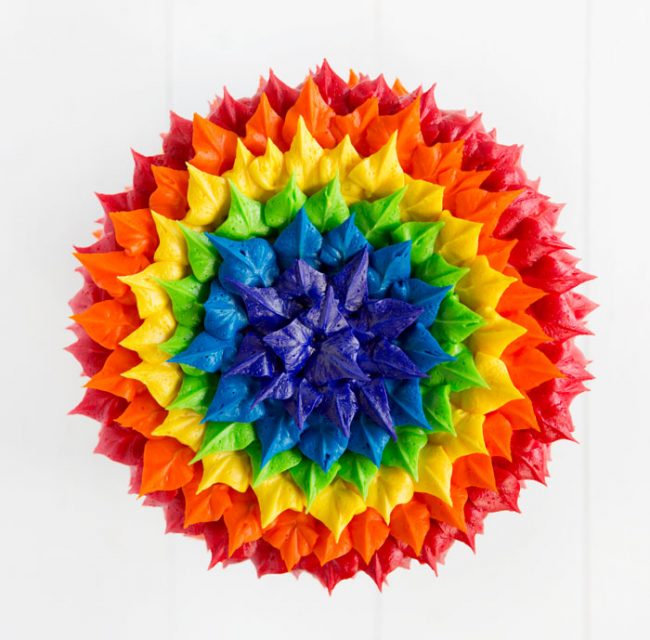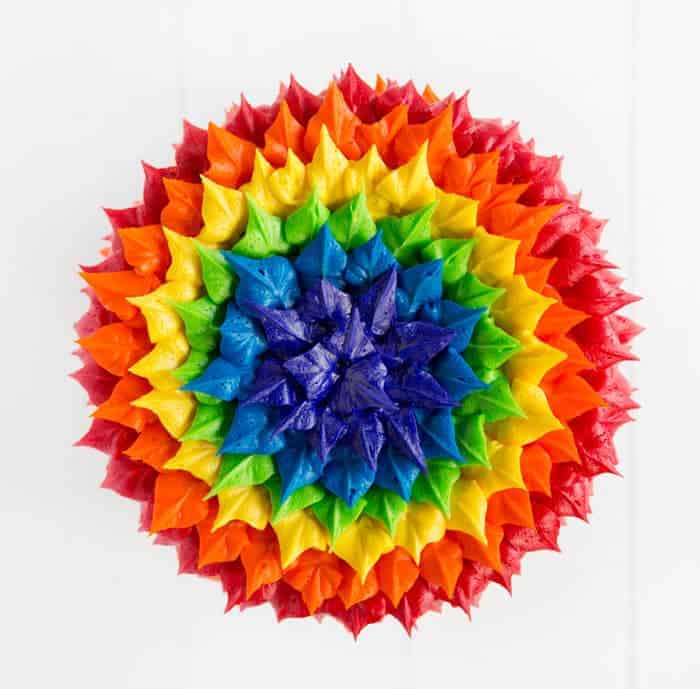 I explain about double bagging here… just in case you were wondering why I did that on this Rainbow Leaf Tip Cake!
I shared this cake on my Instagram too… be sure to head on over there if you like sassy sarcasm and lots of sugary treats! 🙂