We love a good Raspberry Coffee Cake in the morning, and love it, even more, when the recipe is easy peasy! This recipe is based on my Blueberry Breakfast Cake (with raspberries, of course) but made in a casserole pan, sprinkled with a cinnamon-sugar crumb, then drizzled with a sweet glaze. If you love raspberries as much as I do, check out my Raspberry Cream Cheese Sweet Rolls!
Raspberry Coffee Cake
I am asked this often, so I will just answer it now in case anyone is wondering. What is a coffee cake? It is basically a cake that is suitable for serving for breakfast. No, it does not have coffee in it, it is just best served with coffee. It often has a crumble, streusel, or topping made with sugar, flour, and cinnamon. This particular homemade raspberry coffee cake recipe with a crumble topping is bursting with flavor and has a rich buttery texture. It's made with simple ingredients and takes only a few minutes to whip up but the best thing is that it can be made ahead of time. Perfect for busy mornings.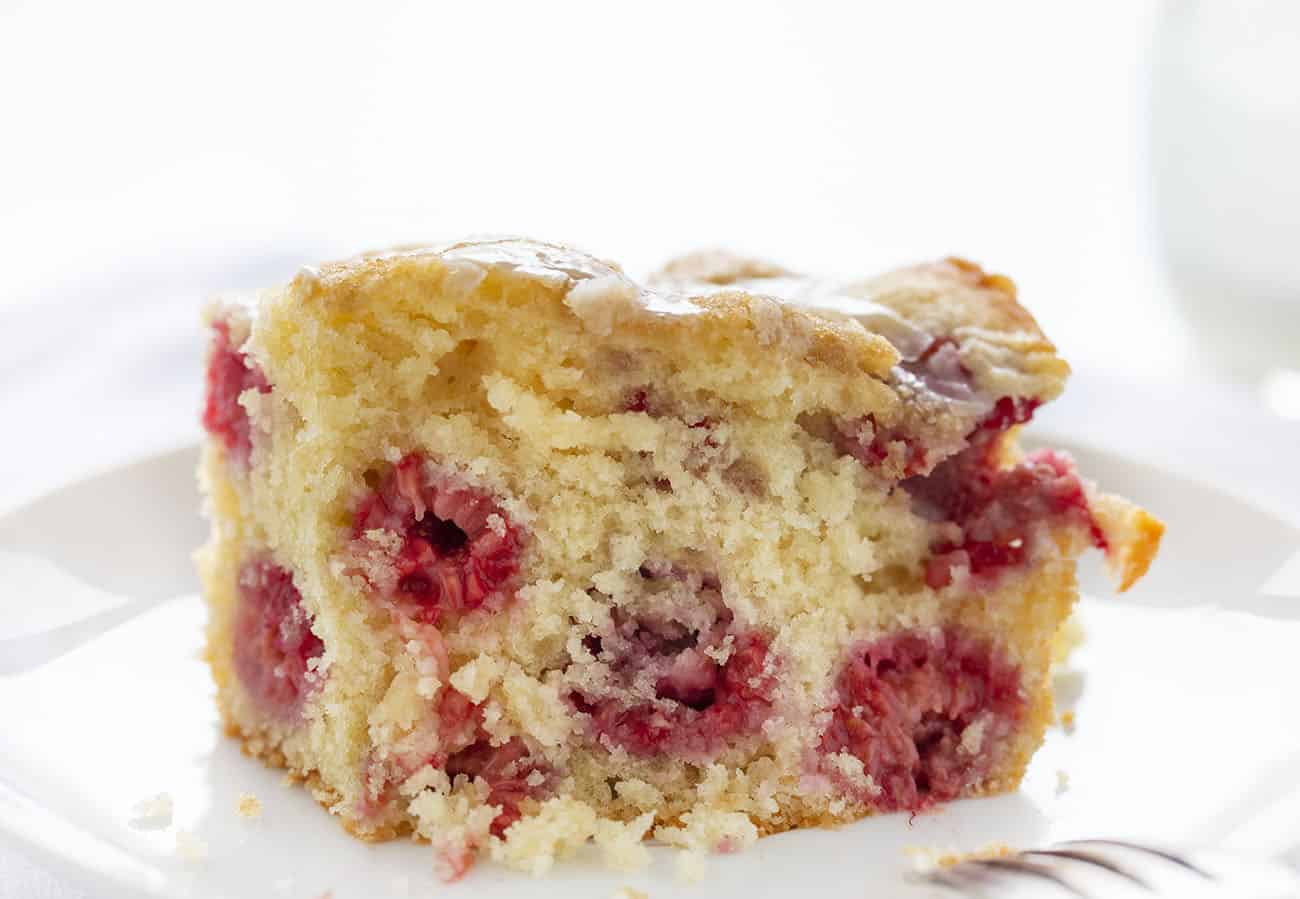 Raspberry Coffee Cake Recipe
Although there are three parts to this Raspberry Coffee Cake Recipe, don't let that fool you. It is easy enough to make, and if you love this flavor, be sure to try my Blueberry Coffee Cake next time!

How to Bake a Raspberry Coffee Cake
Don't skimp creaming the sugar and butter together until pale and almost doubled in mass. This step aerates the butter and will result in a finer crumb and lighter texture.
The batter should be thick. Because the batter is thick and substantial, your raspberries should not drop to the bottom of the pan while baking. (So no need to coat in flour!)
You can use frozen or fresh raspberries for this recipe. I prefer fresh. 🙂
Make sure you prepare your casserole dish well, but either using a non-stick spray or lining with parchment paper.
Always test with a skewer if the cake is done! Every oven is different so baking times can vary. A wooden toothpick works best, and you want it removed with a few crumbs clinging to the toothpick. A dry toothpick could mean it's overbaked.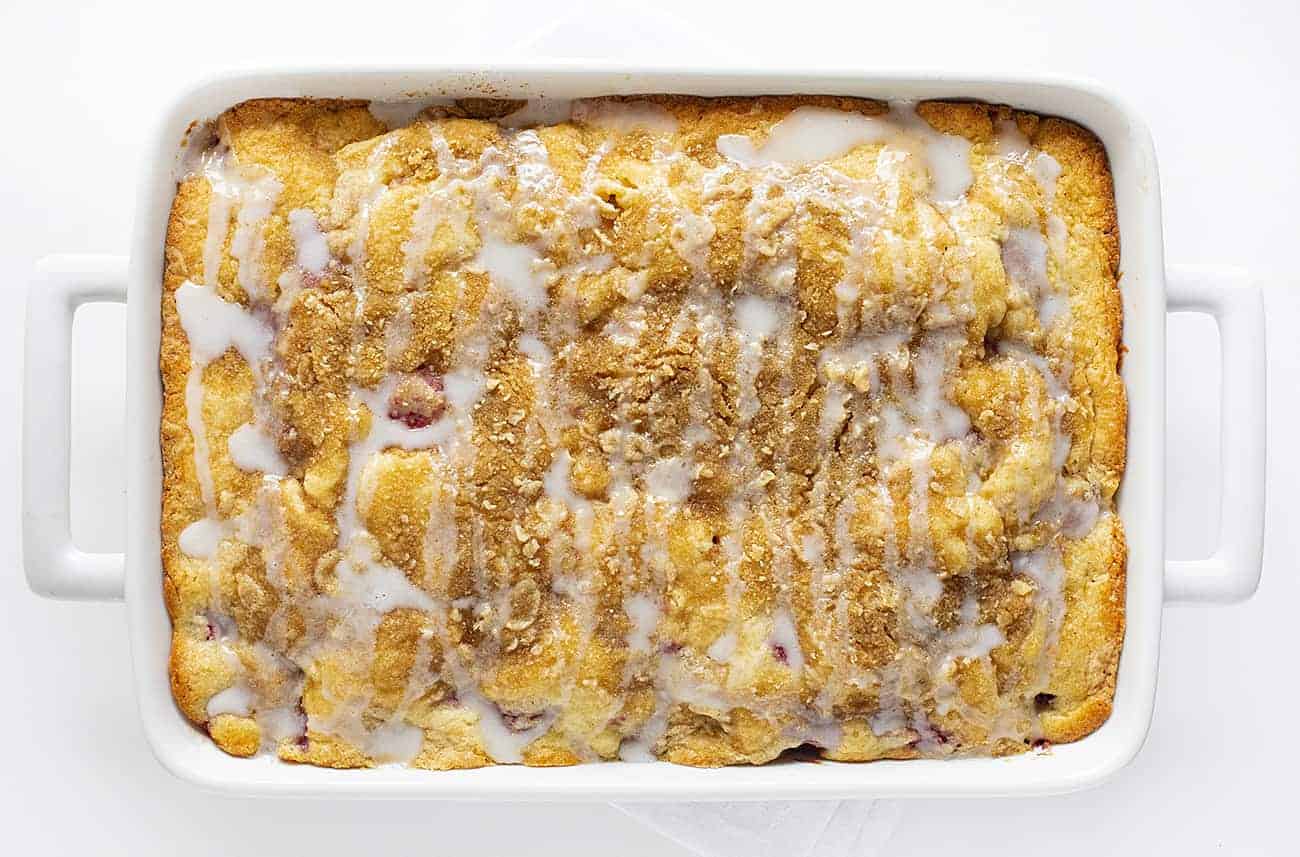 How do You Make a Crumble Topping?
This couldn't be easier, but adds something amazing to any coffee cake! Just look at the picture above, where the crumb is spilling over the side in a buttery-cinnamony bliss. The butter should be cold and cut into small cubes. Add all ingredients to a bowl and using a fork or your hands (I prefer hands, and often let the kids help out with this step) and combine all ingredients, making sure the butter is broken down and no larger than a pea when you are done. That's it!
To Glaze or Not to Glaze
I mean, it's not even a question in this house. We vote YES on a glaze, every time. This glaze recipe is simple, only milk and confectioners' sugar. You could add vanilla or even lemon extract for a fun twist! The most important part is consistency. I prefer a glaze that is loose enough to pour, but thick enough to hold its shape on the cake. If your glaze is too thin it will almost disappear into the cake. If it is too thick it will land in a blob and I kid you not I might fight you for that piece. 😉
Start with the basic recipe and tweak as needed. You can always add more confectioners' sugar if it is too thin or more milk if it is too thick.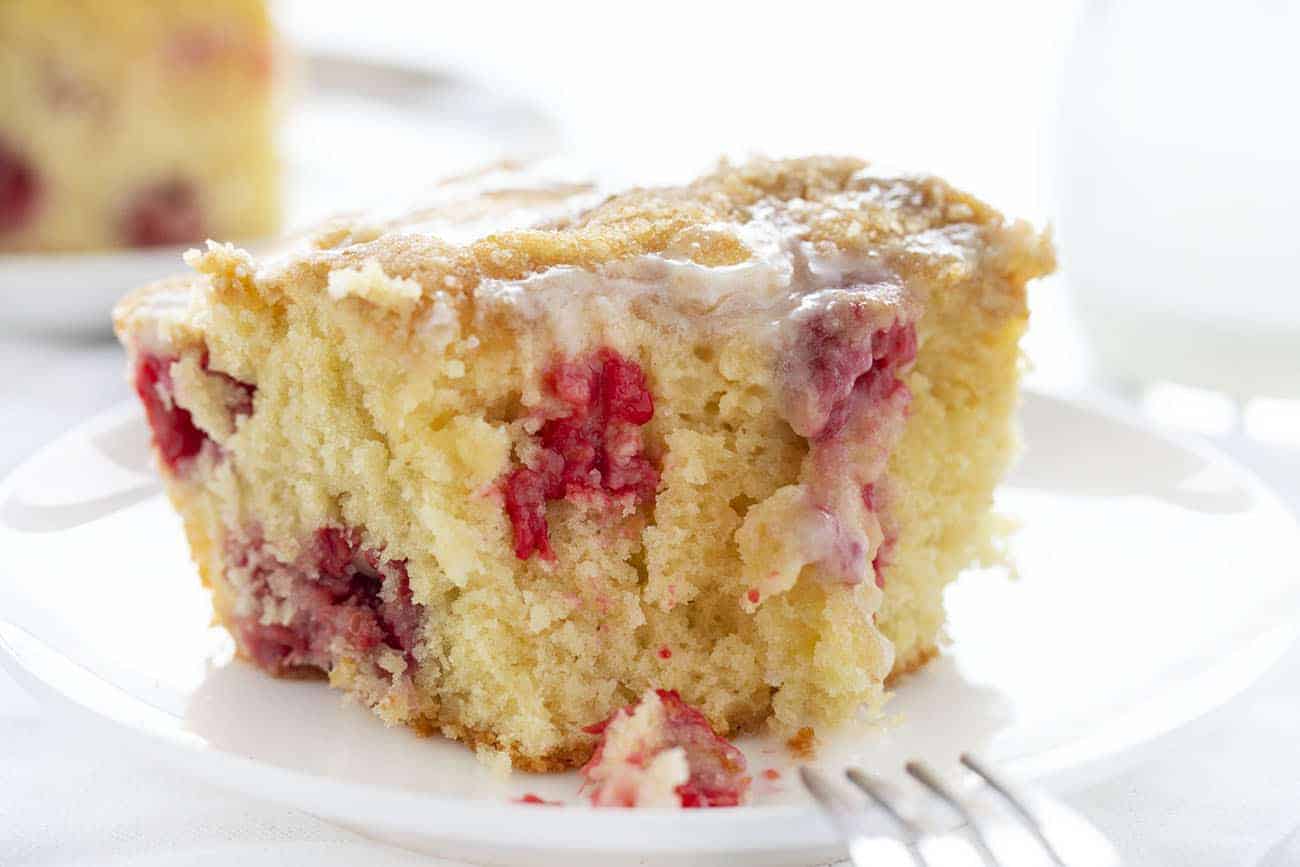 Can this Raspberry Coffee Cake be Made Ahead of Time?
Yes, you can make this cake ahead of time. It tastes delicious fresh out of the oven but even better on the next day, after it has been warmed slightly. Store it covered at room temperature (or in a cold place if it's a hot day). It will keep fresh for 2-3 days, probably even longer but it's always gone before I could test it. If you want to leave out the raspberries for a traditional coffee cake, go for it!
Looking for Other Sweet Breakfasts?
White Chocolate Raspberry Scones
Lemon Cream Cheese Coffee Cake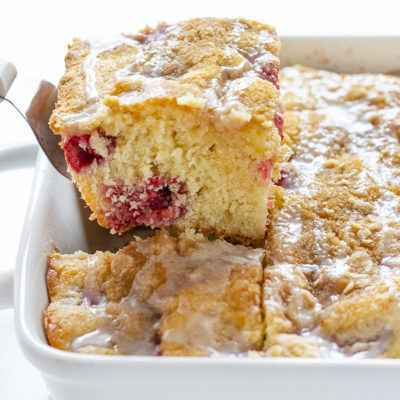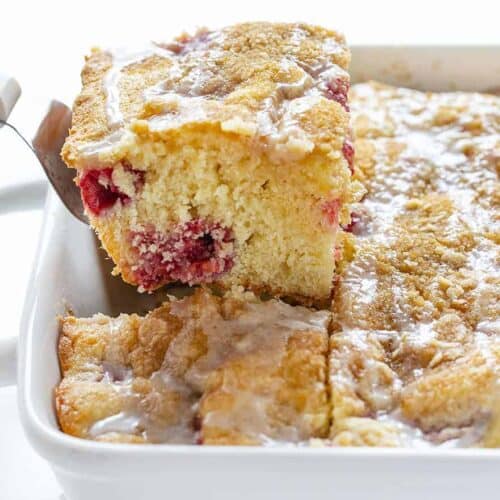 Raspberry Coffee Cake
Such a fun way to start the day! Raspberry Coffee Cake is as easy as it is delicious. 
Ingredients
Cake
4

cups

(500g) all-purpose flour

1

tablespoon

baking powder

1/2

teaspoon

salt

1

cup

(2 sticks or 226g) butter,

room temperature

2

cups

(400g) granulated sugar

4

large

eggs,

room temperature

1

cup

milk

1/4

cup

vegetable oil

2

teaspoons

vanilla extract

3

cups

fresh raspberries
Crumble
1/3

cup

(67g) brown sugar

1/4

cup

(31g) all-purpose flour

1/2

teaspoon

ground cinnamon

3

tablespoons

cold butter
Glaze
1/2

cup

(62.5g) confectioners' sugar

2

tablespoons

milk
Instructions
Blueberry Coffee Cake
In a large bowl combine the flour, baking powder, and salt.

In a stand mixer (or using a hand-held mixer) cream butter and sugar until fluffy, about 2-3 minutes.

Add eggs, milk, oil, and vanilla; mix on low for about 1 minute.

Add dry ingredients to butter mixture and blend on medium for 30 seconds, mixing until ingredients are JUST incorporated.

Remove bowl from mixer and gently fold in raspberries.

Place batter in a prepared 9x13 casserole pan. Prepare crumble and add it on top of the batter. (directions below)
Crumble
Using a food processor, fork, or your hands, combine brown sugar, flour, cinnamon, and cold butter pieces in a bowl. (I prefer clean hands) Make sure the butter is broken down and no larger than a pea when you are done.

Bake coffee cake at 350°F for 35-40 minutes or until an inserted toothpick comes out mostly clean. If your top is starting to brown, cover the coffee cake with foil.
Glaze
Combine the confectioners' sugar and milk. Feel free to add a few drops of additional milk at a time until it reaches drizzling consistency. 

Drizzle glaze over a warm cake and serve.
Did you make this recipe?
Thank you for making my recipe! You took pictures, right? Well go ahead and post them on Instagram! Be sure to mention me @iambaker and use the hashtag #YouAreBaker.