I absolutely love baking a beautiful Raspberry Lemon Bundt Cake with the freshest and most flavorful ingredients! This cake is easy and comes out perfect every time!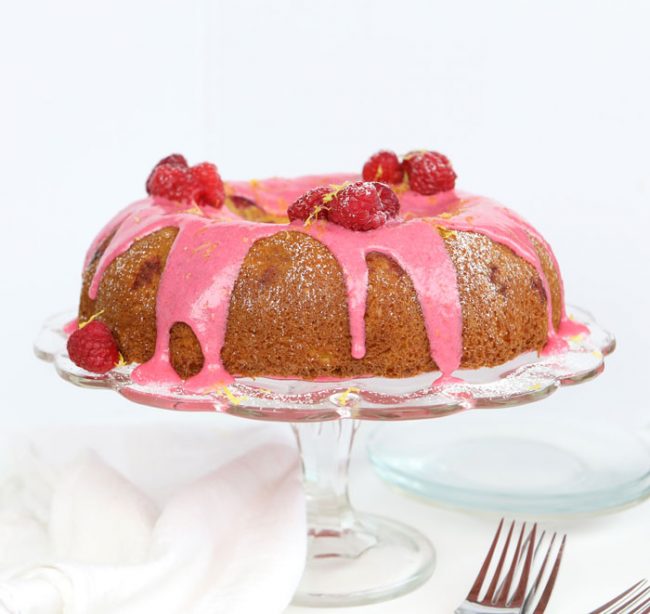 Lemon Bundt Cake
There is something so pure and delicious about a from-scratch lemon cake! But paired with fresh raspberries and you have culinary magic. If you are in a time-crunch, you can certainly substitute box-mix but I would recommend doubling the lemon zest used.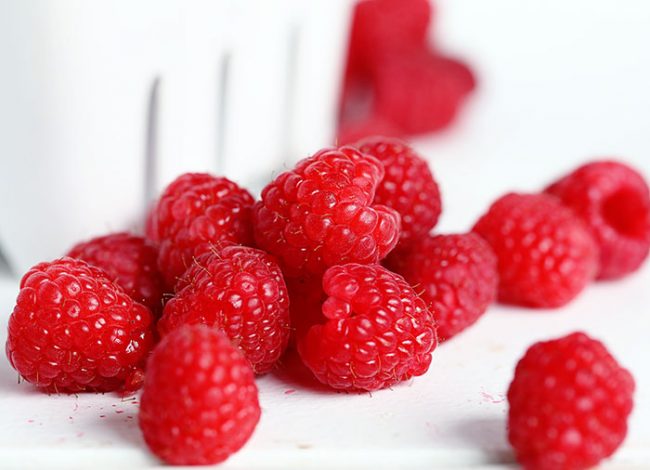 To make this cake you will need:
lemon cake recipe (below)
raspberry glaze recipe (below)
bundt pan
powerful blender or food processor
cake stand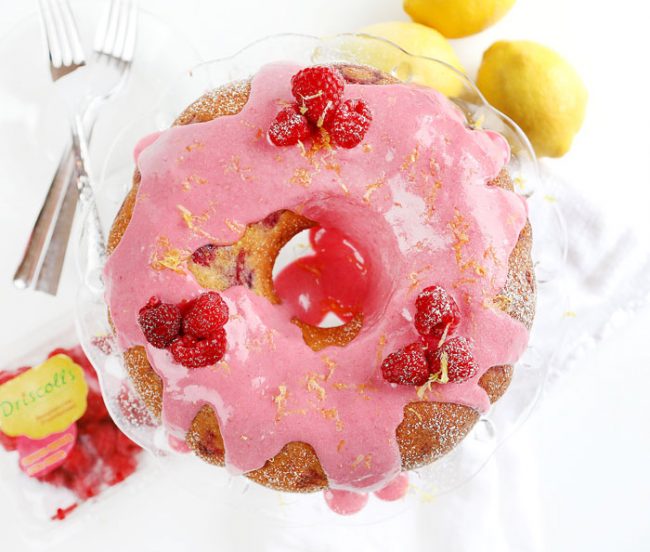 Raspberry Glaze
This is one of my favorite parts of this cake. Not only is it poured on top and soaks into the beautiful lemon cake crust, but it is poured over the cake while it is still warm in the pan! This creates a flavor explosion!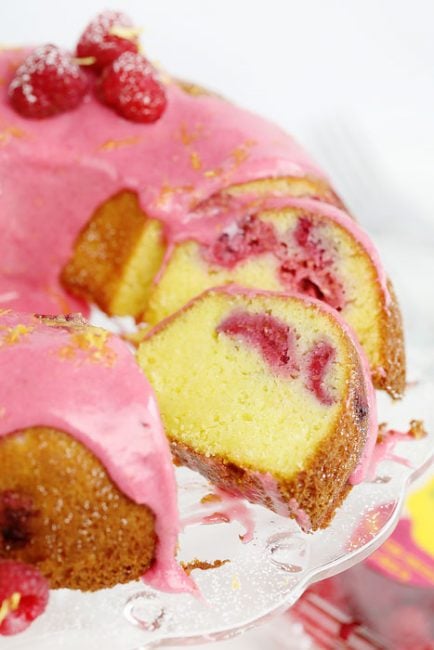 Tips for Success:
I prepared my raspberry glaze first and then allowed it to chill in the refrigerator until I was ready to add it to the cake.
I also added 1/4 of the glaze to my lemon cake right out of the oven. This really allowed that intense raspberry sweetness to soak into the cake, adding moisture in addition to that extra depth of flavor.
I garnished this cake with a few fresh raspberries and some fresh lemon zest. Another way to garnish this cake is to add 1 package of the Driscoll's raspberries to the center of the bundt. Then garnish with lemon zest and powdered sugar.
If you want to pack more of a lemon punch to this cake, try adding 2 teaspoons of fresh lemon zest to the batter.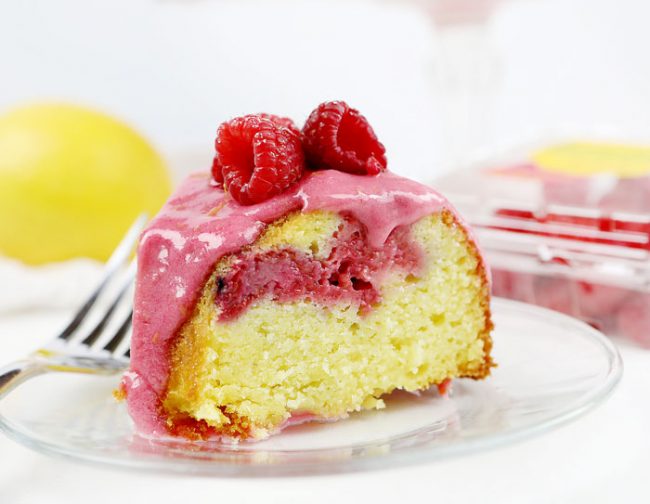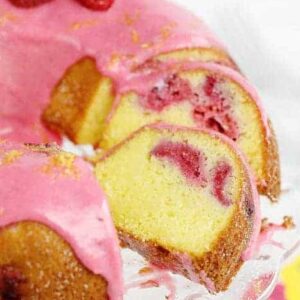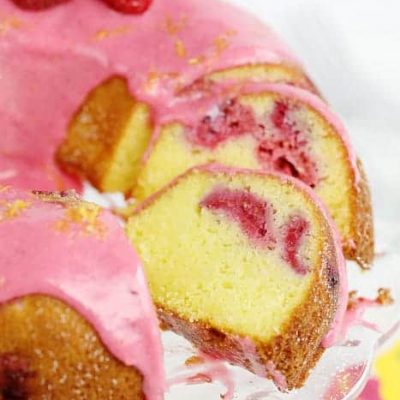 Raspberry Lemon Bundt Cake
Ingredients
Lemon Cake
1 1/2

(3/4 cup or 170g) sticks unsalted butter

room temperature

1 1/2

c

(300g) granulated sugar

4

large eggs

room temperature

2 1/2

c

(285g) cake flour

1/2

tsp.

kosher salt

2 1/2

tsp.

(12g) baking powder

1 1/4

c

(300g) milk

room temperature

2

tbsp.

vegetable oil

2

tsp.

lemon extract

1

(6 ounces or 1 1/4 cups) package raspberries

1

tbsp.

flour

for sifting raspberries

1

tbsp.

fresh lemon zest

for garnish
Raspberry Glaze
1

(6 ounces or 1 1/4 cups) package raspberries

save a few for garnish

3

oz

cream cheese

room temperature

1/4

c

(60g) heavy whipping cream

room temperature

2

or 3 cups (250-375g powdered sugar)
Instructions
Lemon Cake
Preheat the oven to 350 degrees and butter and flour (or use pan release) a bundt pan.

In a medium-sized bowl add the flour, baking powder, and salt. Whisk or sift then set aside.

Beat the softened butter in stand mixer until light in color, about 1-3 minutes. Gradually add the sugar and mix on medium speed 4 to 5 minutes until it is light and fluffy.

With the mixer on low, add the eggs one at a time. Add the milk, oil, and lemon extract and mix until incorporated.

Add the flour mixture and mix on medium-low until combined, do not over mix.

Remove bowl from stand mixer and stir raspberries in by hand. Reserve a few to sprinkle over batter once it is in the pan.

Pour the batter into the bundt pan.

Sprinkle remaining raspberries over top.

Bake at 350 degrees for 35 to 45 minutes or until a toothpick inserted in the center comes out clean. (Start watching at 30 minutes.)

Right out of the oven add about 1/4 cup of the Raspberry Glaze to the cake in the pan. Spread with a spatula and allow into soak in for about 15 minutes. After glaze has soaked in turn out onto a cake stand and cool to room temperature.
Raspberry Glaze
Add fresh raspberries to a powerful blender or food processor.

Add in cream cheese and heavy cream and blend until smooth.

With the blender (or food processor) on low, add in powdered sugar 1/4 cup at a time. You want your glaze to be pourable, so stop the blender every cup or so and test to make sure it's the right consistency.

Chill until ready to serve.