If you have read my blog for awhile now you know that I am very, very serious about two things.
1. Honesty and Integrity in blogging… always crediting the source when you use someone else's idea.
2. Sugar.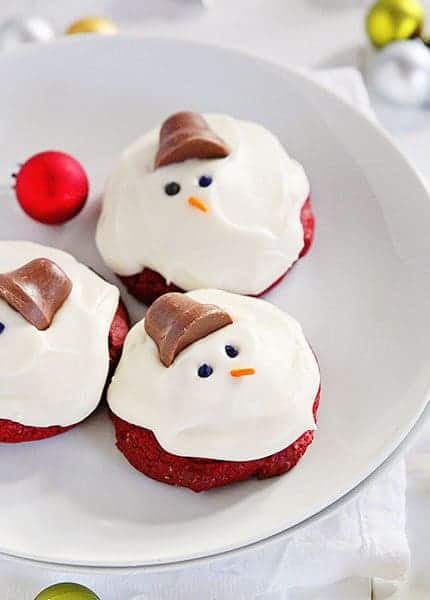 These cookie were inspired by the amazing Meaghan from The Decorated Cookie.  She created the Original Melting Snowman cookies five years ago and she is a genius.  I have admired her cookies and tutorials for years and feel lucky to know someone who is SO creative!  Her idea has been copied so many times its hard to keep track.  Its my hope that everyone would know where the brilliant idea began!
While the snowman part of this cookie was inspired by Meaghan, the flavor was all about winter.  I wanted to make a cookie that was easy and yummy.  I wanted a cookie that would stay delicious for days.  I wanted my kitchen to be cleaned by magic kitchen fairies.
Good thing I got two of my three wishes.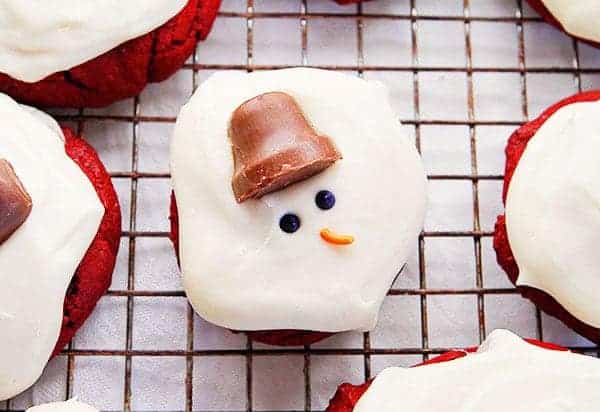 The cookie was easy.  Its made from a box!
I used my favorite Perfect Cream Cheese frosting, only I added in about 1/4 cup of heavy cream.  This helps the frosting to not hold its shape and just barely start to spill over the sides of the cookies.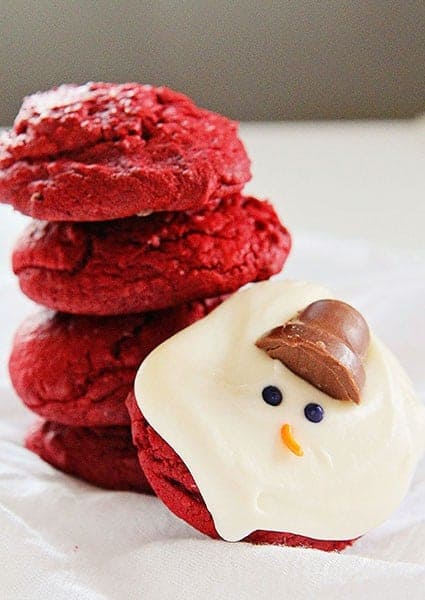 Reese's Peanut Butter 'bells' are used for his hat and I simply cut them in half. (This is best to do that at room temperature.) The snowman's nose is an orange sprinkle and his eyes are mini chocolate chips.
Place hat on cookie, drop on the two eyes, then stick his nose on.  I let mine stick outward a bit, but you could also just lay it flat.  You really can't go wrong!
Be sure to stop by and see The Decorated Cookie's full tutorial and original cookie.  She has so many great ideas,  I know I could spend hours looking at all her creations.
And as always, if you are opposed to box mix, feel free to substitute your favorite red velvet cookie recipe. 🙂