I created this Red Velvet Kiss Cookie recipe 7 years ago and have made it every Christmas since! The classic peanut butter blossom kicked up a notch with red velvet!! Same delicious cookie, just a beautiful and bright way to share them!
There was always a platter of homemade peanut butter blossoms, homemade peanut butter cups, and sugar cookies in our house during the holidays. (If you are looking for the classic Peanut Butter Blossom, it's here!) These also happen to be perfect for Valentine's Day. Check out the 50 Best Cookie Recipes now!
Red Velvet Peanut Butter Blossoms
My mom would get together with her friends and have Christmas baking marathons. As the youngest kid, I would often tag along, book in tow, and find a sweet spot to get lost on an adventure with Nancy Drew. (Giving my dad, the only man in the house, a much-deserved break from all the estrogen!) At that age, I had no desire to bake anything. Ever.
During chapter breaks (I was an avid reader in my youth) I would make my way to the kitchen and grab a cookie. My mom and her friend always knew I was there, but they would conveniently turn their backs just long enough for me to sneak a delectable bite.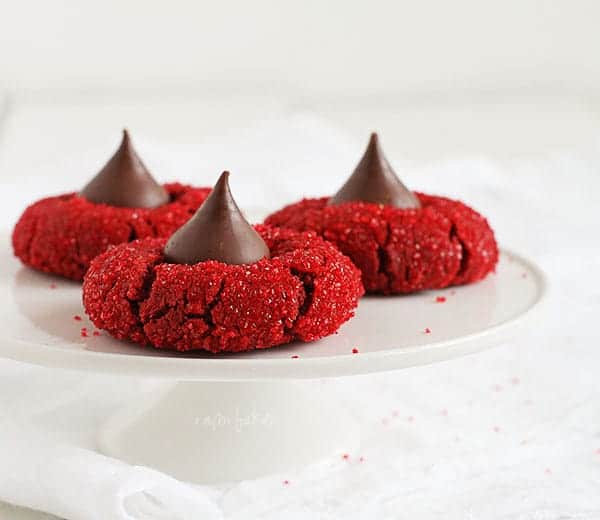 After the long day baking they would pack up our share of treats and we would head home. My mom always made sure some were set aside to donate, to bring to a family in need, or for a friend who needed a pick-me-up.
She was wise to instill that in me… that desire to spread joy and love to others. (Especially through food!) And I am so thankful to her for her acts of generosity and caring. One of the gifts I hope to share with you all is not only a recipe or a decorating technique but being able to create a sweet memory with a loved one. In the end, that's what is really important right?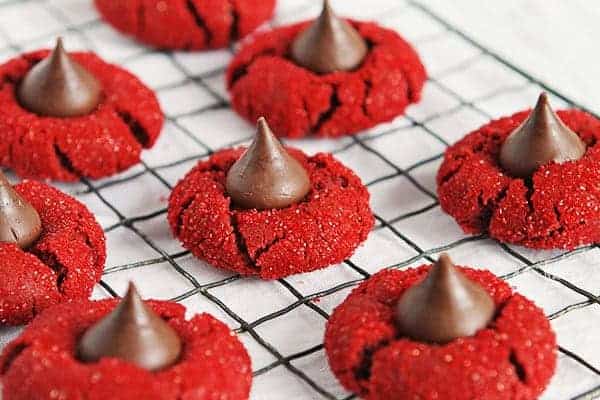 Why are my Red Velvet Peanut Butter Blossoms Flat?
A flat cookie could be the result of the butter being too warm. To avoid this you can try adding cold butter to your stand mixer and beating until creamy, about 4-5 minutes. You could chill the dough before rolling in the sanding sugar or you could also chill the cookies for about 10 minutes in the freezer right before baking.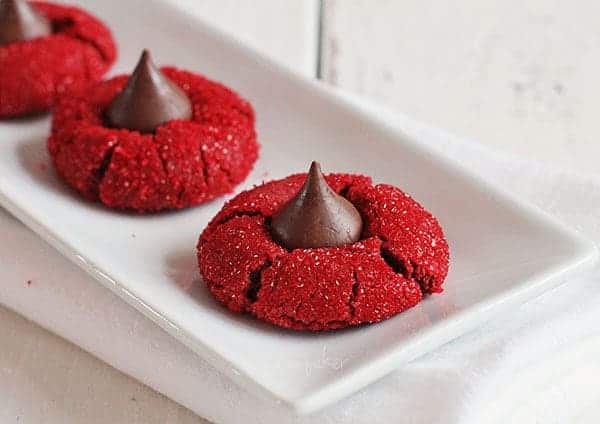 Chewey Cookies are a Must!
This is a soft cookie that is crisp on the outside and chewy on the inside. To ensure your cookies are chewy you can:
don't overmix the cookie batter
refrigerate the dough
underbake by a couple of minutes (my favorite option!)
use a light cookie sheet, dark colors will heat faster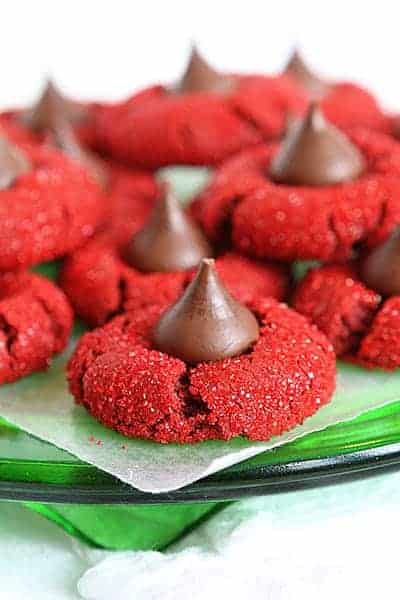 How to Store Cookies
Making a big batch of these cookies is a great idea not only for you to enjoy anytime but for cookie exchanges! If you are making a double or even triple batch, here are a few tips on how to store the cookies.
You can freeze the dough prior to baking! Prepare the recipe as directed then scoop into the balls. Coat in the red sanding sugar and then place on a cookie sheet and place in the freezer for 30 minutes. After 30 minutes place all of the dough balls into a freezer-safe plastic bag, label it, then store in the freezer for up to 3 months. (THIS IS STORING DIRECTIONS ONLY) When ready to bake, thaw dough balls on a cookie sheet in a single layer for about an hour. When the dough balls have thawed, place the chocolate kiss on top and bake as directed. Yes, you can bake the cookies with the chocolate on top and yes, they will hold their shape. You can definitely place the kiss on top AFTER baking, as the original recipe states above. 🙂
To freeze a fully baked cookie, make sure the cookies are cooled, then place in an airtight container in single layers. (I like to use wax paper between each layer) I have stored them for a few months in the freezer and while they are still good, I prefer this cookie fresh or freezing them before baking. Yes, the chocolate kiss might discolor slightly when thawing, that is unavoidable, unfortunately.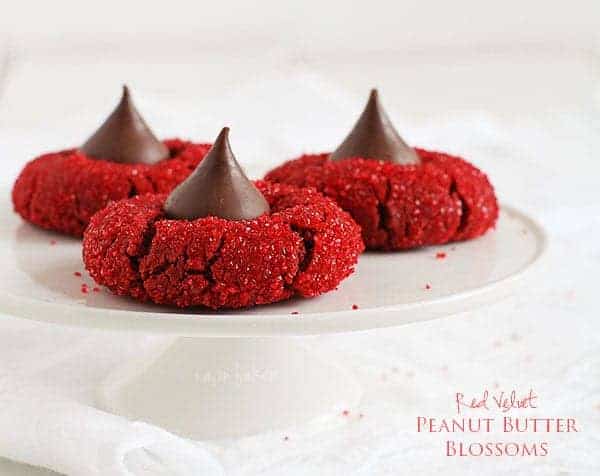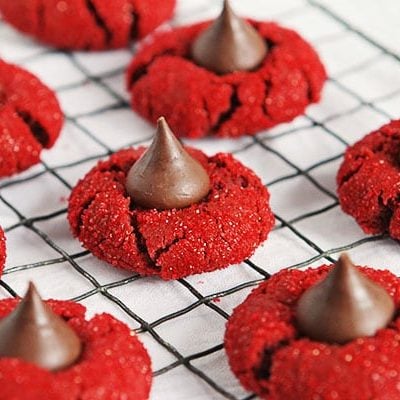 Red Velvet Peanut Butter Blossoms
These delicious cookies are so fun to share!
Ingredients
½

cup

(1 stick or 113g) butter,

room temperature

¾

cup

creamy peanut butter

1⅓

cups

granulated sugar

1

large

egg,

room temperature

2

tablespoons

milk

2

teaspoon

vanilla

1

teaspoon

red gel food coloring

3

tablespoons

unsweetened cocoa

1½

cups

all-purpose flour

1

teaspoon

baking soda

1

pinch

kosher salt

¼

cup

red sanding sugar

1

bag

Hershey's Kisses,

unwrapped
Instructions
Beat butter, peanut butter, and sugar in a stand mixer for about 2 minutes on medium speed. Turn mixer to low and add in egg, milk, vanilla, and red food coloring. Mix for about 30 seconds to incorporate, then turn mixer to medium-high and blend until light and fluffy.

In a separate bowl sift cocoa, flour, baking soda and salt. With mixer on slow add flour mixture to sugar mixture and beat until just combined.

Remove mixer bowl from stand. Shape dough into 1 inch balls. Set on a parchment lined baking sheet.

Pour red sanding sugar onto small plate or bowl.

Roll dough ball in red sanding sugar and place on prepared cookie sheet about 2 inches apart. (If want them extra chewy, chill for 10 minutes in the freezer before baking.)

Bake for 8 to 10 minutes.

While baking unwrap Hershey's Kisses. Once cookies are done baking, remove from oven and immediately press a chocolate Kiss into the center of each cookie. The cookie should crack around edges.

Allow cookies to cool to room temperature.
Did you make this recipe?
Thank you for making my recipe! You took pictures, right? Well go ahead and post them on Instagram! Be sure to mention me @iambaker and use the hashtag #YouAreBaker.
If you are looking for more Christmas Cookies I've got you covered! Be sure to try my BEST Apple Crisp Recipe as well as my Snickerdoodles and Sugar Cookie Recipe.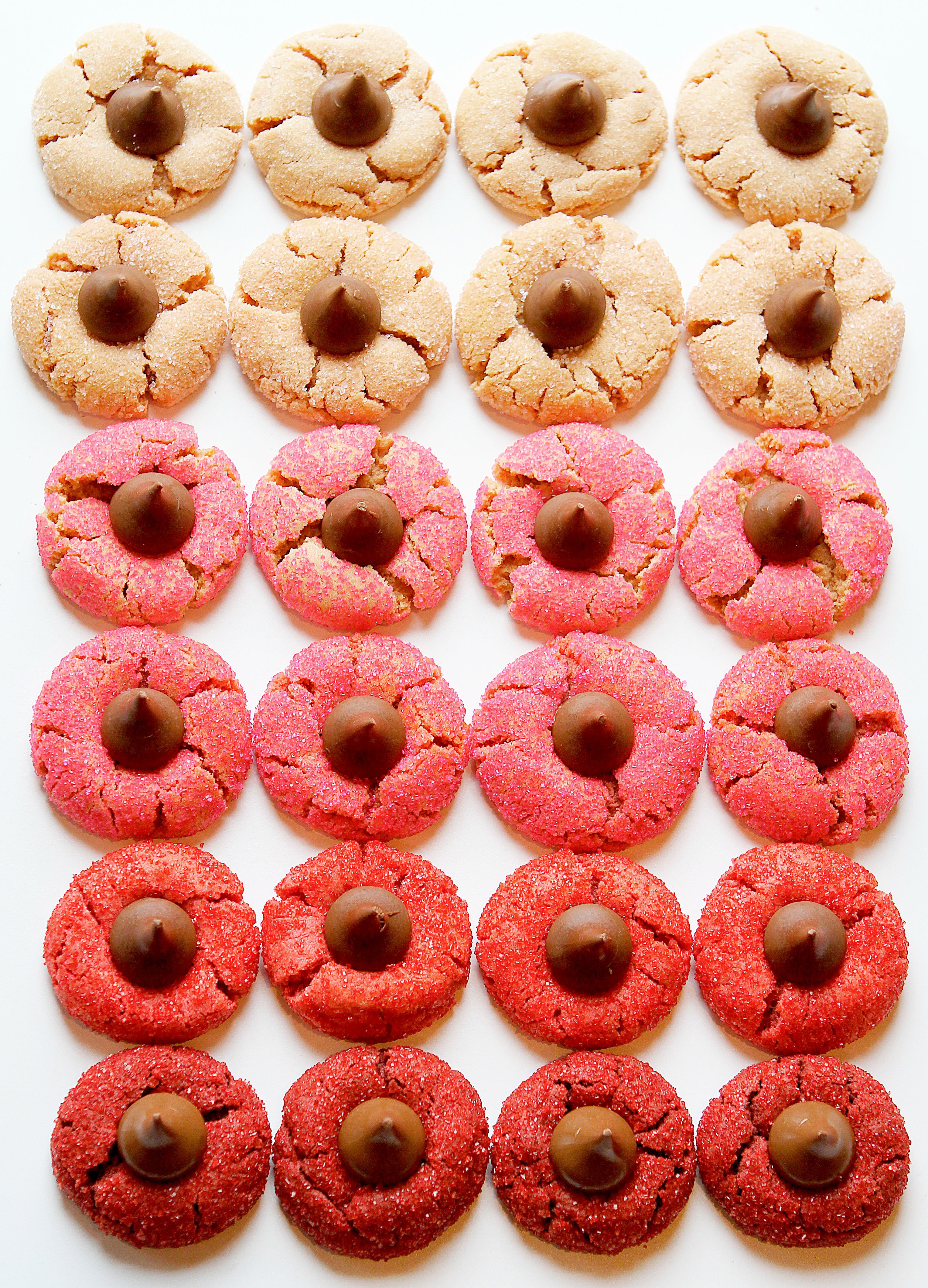 Pink Peanut Butter Blossoms
To make different shades of these blossoms, there are a couple of different things you can do!
Add less food coloring to your batter. This will result in lighter shades of red, turning into pink.
Do not add food coloring to the batter and simply add the pink sanding sugar to the outside of the cookie.
Both options are quite beautiful, as you can see above! <3