I came across this quote recently and couldn't help but take notice.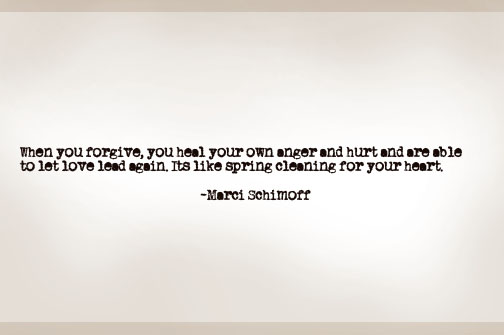 "When you forgive, you heal your own anger and hurt and are able to let love lead again.  Its like spring cleaning for your heart."
-Marco Schimoff
I sorta dismissed it because I generally disagree with the concept of "healing thyself".  But dismissing it right away wasnt right.  Because dont we need to let God in so He can do the work He needs to?  Dont we need to make the choice to forgive before forgiveness can begin its healing properties?
Recently the value of this quote shed some light.
I have been struggling with rejection.  Worldly rejection.  Familial rejection.  Just… rejection.  And I just happen to be that person that lets things fester.
The other day I woke up and it was wonderful.  I worked out, had great devotional time, started the kids homeschooling… everything was going well.
Quite by accident, I found out that some friends had decided to exclude me from a new project.
Now, I have no idea why they made this choice.  It could have been because they had too many people with the same name as me.  Or because it was Wednesday.  Or because they needed a change.  Or because they truly didnt think about me and knowingly reject me.
But in my mind, it was completely intentional rejection.  How could they do this and not include me?  It had to be intentional.  They made a conscious choice to exclude me.
I was devastated and it proceeded to ruin my entire day.  I just couldnt let it go.
In bed that night, the situation kept running through my head.  Since there was no logical way to reason out the situation, I decided that my only option was to reject them back.  Without them knowing why, I was no longer going to support them and their choices.  If they didnt want me as a part of their project, then that choice was going to ultimately remove me from their lives.
I could almost feel the bitterness growing.  My choice to react and reject based on a situation that I had no clear facts on had planted a seed of resentment in my heart.  It grew when I fed it.  It grew when I didnt.  It was quickly growing beyond my control.
The only remedy to this kind of bitterness is forgiveness.  The absolutely only way that I would be able to get my heart back would be to forgive them.
To forgive them.  To make the choice to let go of any hurt I had perceived they caused me.
I had to pray, "Lord, you know my heartache in this.  But I trust you.  I know that sometimes you put people in my life to teach me just like you remove them to teach me.  Lord, help me to truly forgive these precious ladies and to simply love them.  Remove my judgement.  Remove my bitterness.  No matter what they may say or do, help me to love them as You love them."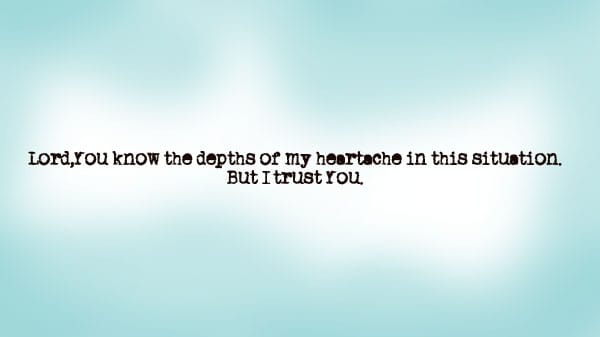 In all honestly, prayers such as that are not life long in their healing.  Since I still do not know the reasoning behind my friends actions, I still have occasional doubt and insecurity when I interact with them.  But now, instead of feeding into bitterness, I know where to direct those un-godly feelings.  And remember to look to Him for my value.  To trust Him that when I am in His will, He has me exactly where I need to be.
Funny things is that they will never know the heart struggle that their actions inspired.
But I am thankful for their actions non the less, because through them, I am learning to lean more on God.