Roasted Potato Wedges are an amazing side dish to accompany any meal! These potatoes are perfectly seasoned and the process of oven-roasting brings their natural flavor to a whole new level! If you are looking for a pairing option, these would go great with my BBQ Grilled Cheese Sandwich or my Mushroom and Swiss Sliders! And, of course, don't forget to use these potato wedges for your Chili Cheese Fries!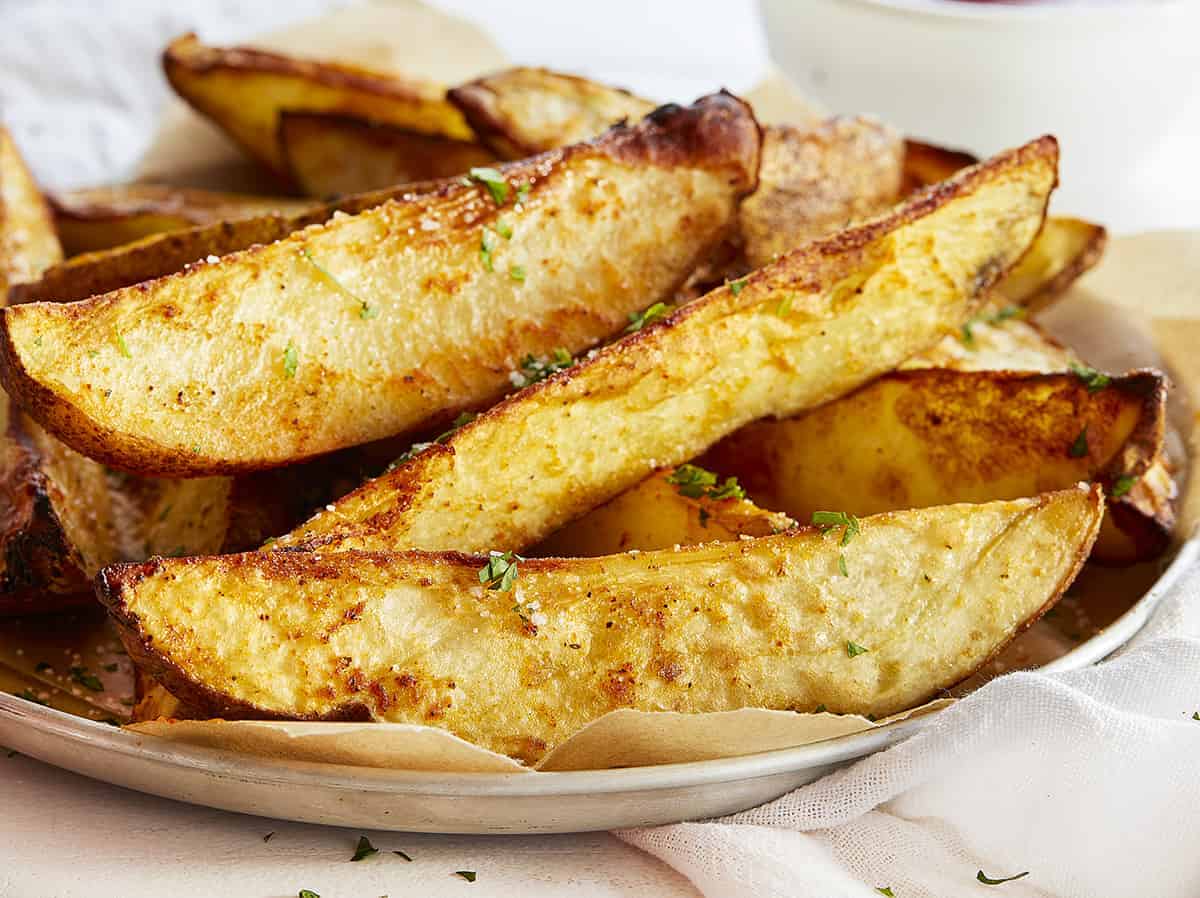 Roasted Potato Wedges
When you are feeding a family of seven, side dishes are an essential element of any meal.  They help stretch the menu out so everyone walks away with a full belly.  These roasted potato wedges are no joke.  Super filling and literally everyone left the table happy!  They were perfectly crispy on the outside, with a tender and fluffy inside.  These are great on their own because they have a light seasoning baked right in, but they are also great dipped in ketchup, Easy Queso, or even my homemade ranch dressing!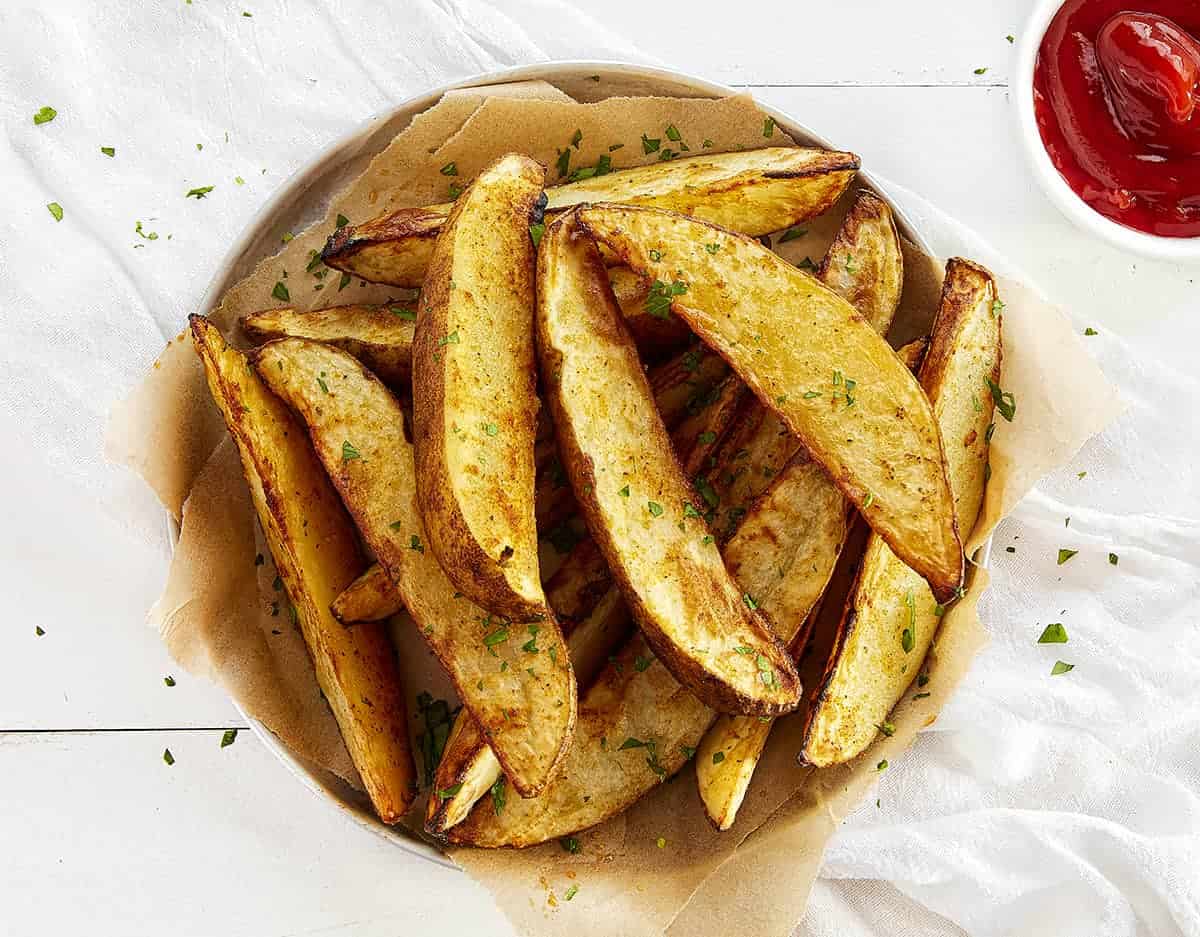 Roasted Potato Wedge Recipe
My mantra when it comes to cooking family meals is that simple is always best. I always shoot for simplicity because let's be honest, life is busy and simple recipes keep things moving! This roasted potato wedge recipe is the definition of simplicity. If you have a bag of potatoes, you likely already have the rest of the ingredients you need right in the cupboard. To make this easy side dish you will need:
Potatoes
A large bowl filled with cold water
Olive Oil
Paprika
Garlic Powder
Onion Powder
Black Pepper
Sea Salt
Cayenne Pepper
Baking Pan lined in foil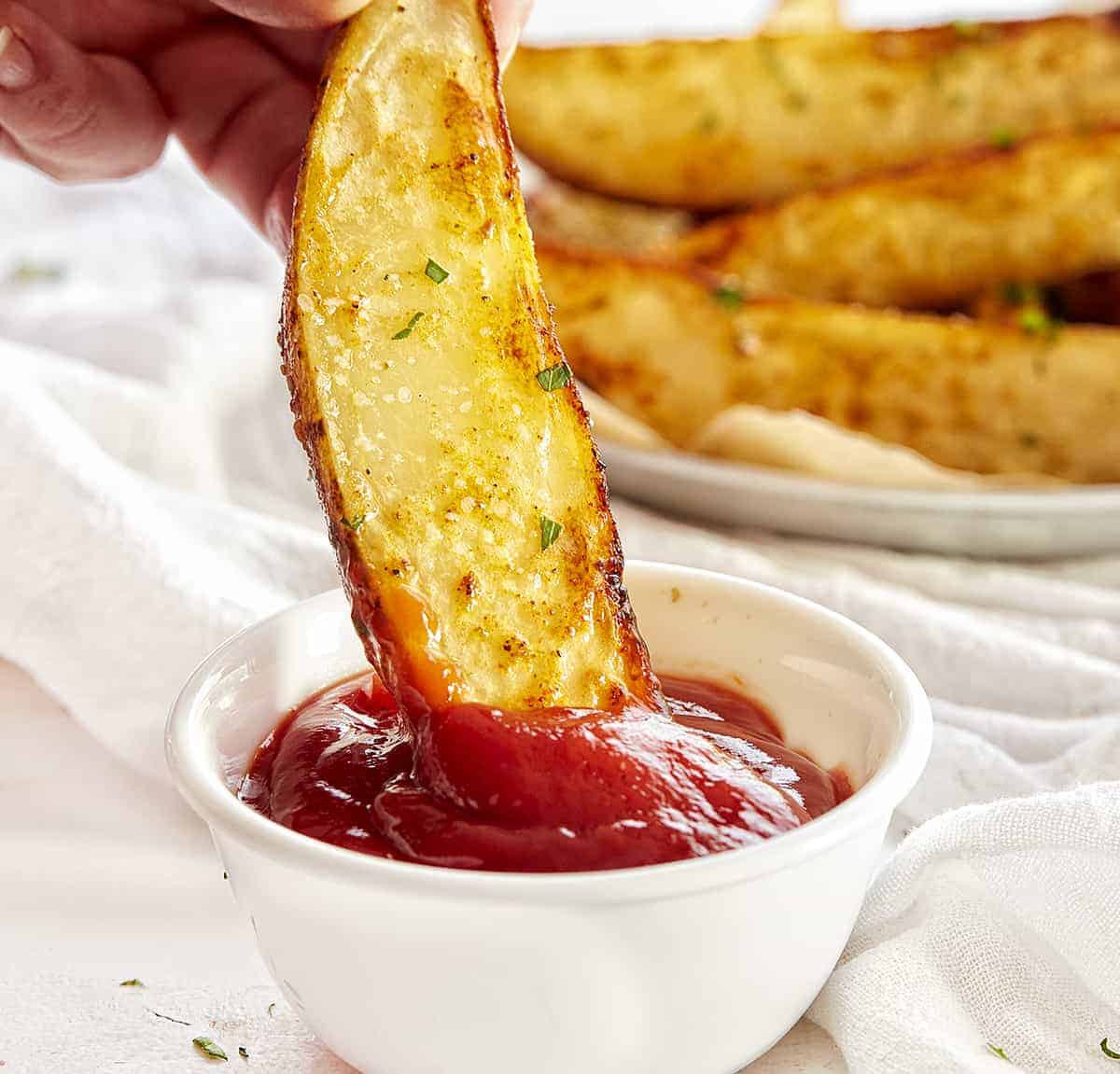 How to Make Roasted Potato Wedges
This recipe can be done in four simple steps; cut, soak, season, and roast.
Cutting a Potato Wedge
Cut the potato in half lengthwise. Then cut each half into quarters, making 8 wedges per potato. If you have an extremely large potato you can cut the wedges smaller, but make sure that the cut size is relatively consistent so you don't affect the cooking time. If your wedges are uneven, it is highly probable that they will cook unevenly as well.
Soaking
Once cut, the potatoes are plunged into a water bath to soak for about 15 minutes. This removes some of the starch from the potato and will create a fluffier roasted potato wedge. Drain all of the water from the bowl and pat them dry with a paper towel.
Seasoning
In the same bowl, add in the olive oil, paprika, onion powder, garlic powder, pepper, salt, and cayenne pepper. Toss the potatoes in the mixture to evenly coat all sides of the wedges. Place the seasoned wedges, skin side down on a foil-lined baking sheet. Try not to overcrowd the pan.
Roasting
Pop the pan into the preheated oven and bake for 15 minutes, take them out of the oven and flip them around a bit and then pop them back or until the potatoes are golden brown and crispy on the outside and fluffy on the inside (another 10-15).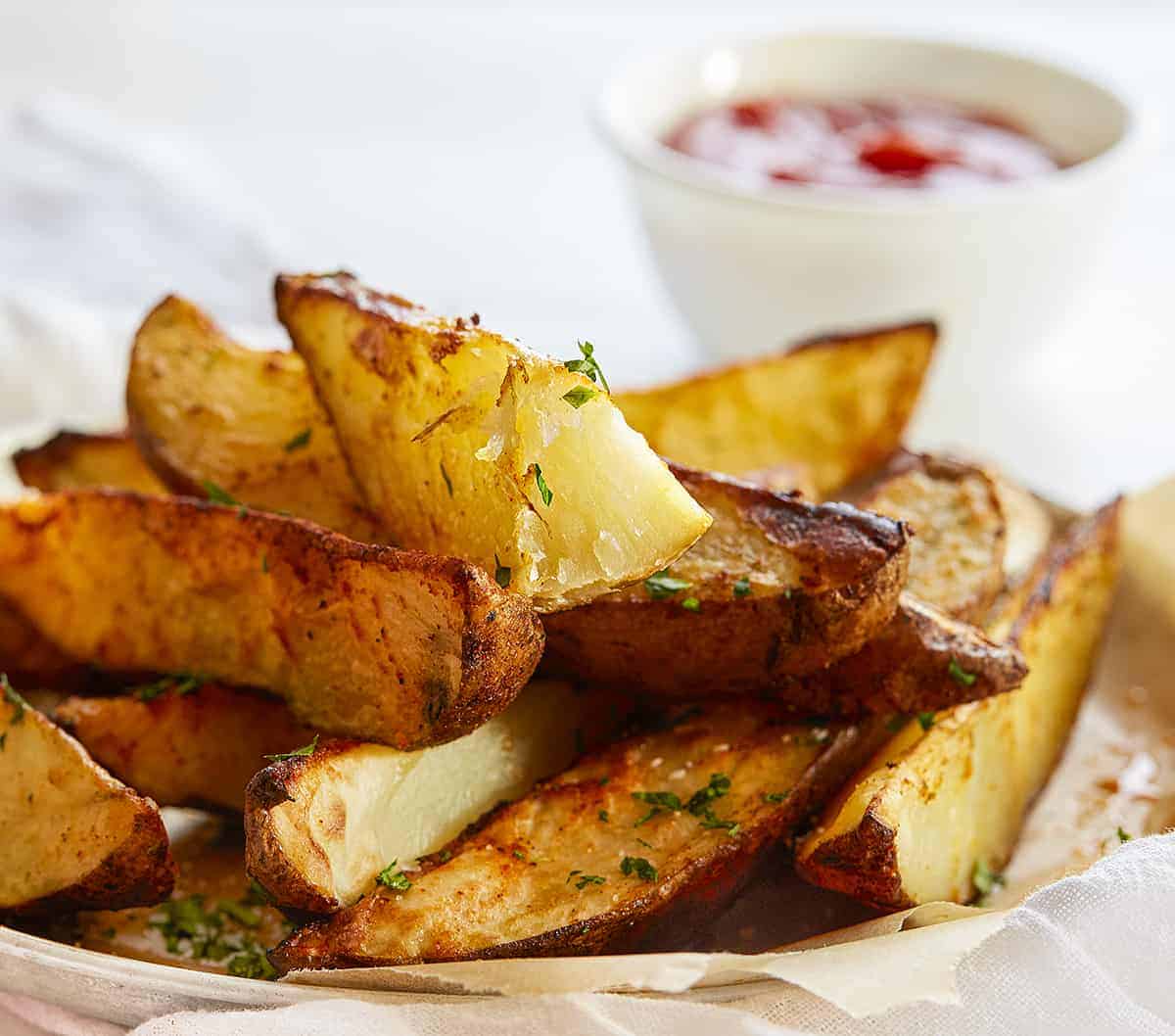 Grilling Potato Wedges
Summertime is made for grilling and these wedges come out perfectly every time on the grill.  Took cook these on the grill, cut, soak, and season the potatoes just like you would for roasting.  Place the wedges, (side down) directly on the hot-oiled grill grates, being careful not to let them fall through the cracks.  Cook for 10-15 minutes on one side and then flip and repeat on the opposite side.  The wedges should be golden brown and crispy on the outside.
How to Oil Grill Grates
Be safe about it! Don't spray cooking spray on the grates or pour oil on the grates as this will cause the flame to ignite and could blow back at you. The safest method of oiling a grill grate is to dip a cloth or handful of bunched-up paper towels into cooking oil (like canola). Do not saturate the cloths; they should not be dripping. You want enough oil on it to coat the grill grate, but you don't want it dripping everywhere. With a protected hand (use an oven mitt or glove), lightly brush the hot grill grates with the cloth.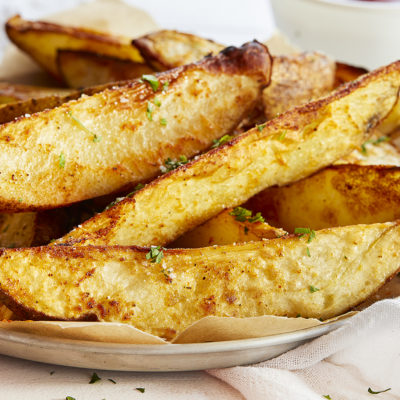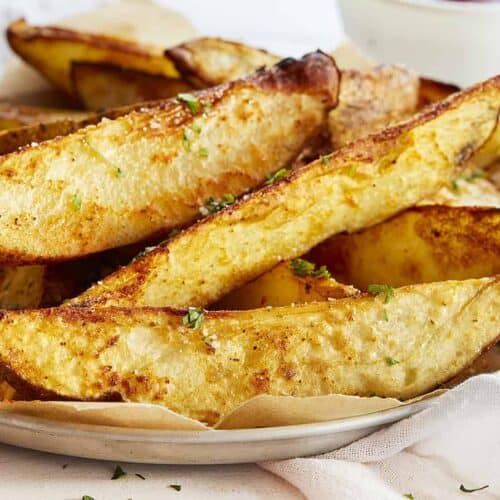 Potato Wedges
Roasted Potato Wedges are the perfect side dish to accompany any meal!  These potatoes are perfectly seasoned and the process of oven-roasting brings out their amazing natural flavor!
Ingredients
4 

russet potatoes,

scrubbed and sliced lengthwise into wedges

¼

cup

olive oil

1

teaspoon 

paprika

1

teaspoon 

garlic powder

1

teaspoon

onion powder

½

teaspoon

ground black pepper

1

teaspoon

sea salt

½

teaspoon

cayenne pepper
Instructions
Place the potato wedges in a bowl of water and let soak for 15 minutes.

Drain the potatoes, pat them dry with a paper towel, and add them to a large bowl. Toss the potatoes with olive oil, garlic powder, onion powder, paprika, pepper, salt, and cayenne pepper. Being careful to coat all sides of the wedges.

Place potatoes skin side down on a foil-lined and greased baking pan.

Cook for 15 minutes, remove from the oven and flip and cook for an additional 10-15 minutes or until they are crispy on the outside and tender when pierced with a fork. Serve hot.
Did you make this recipe?
Thank you for making my recipe! You took pictures, right? Well go ahead and post them on Instagram! Be sure to mention me @iambaker and use the hashtag #YouAreBaker.