Butter is a versatile ingredient that can be used in many ways, including spreading on bread, baking, and cooking. As a baker, I appreciate the flavor and texture that butter can add to recipes. However, many people have questions about the differences between unsalted and salted butter. I will answer all of those questions!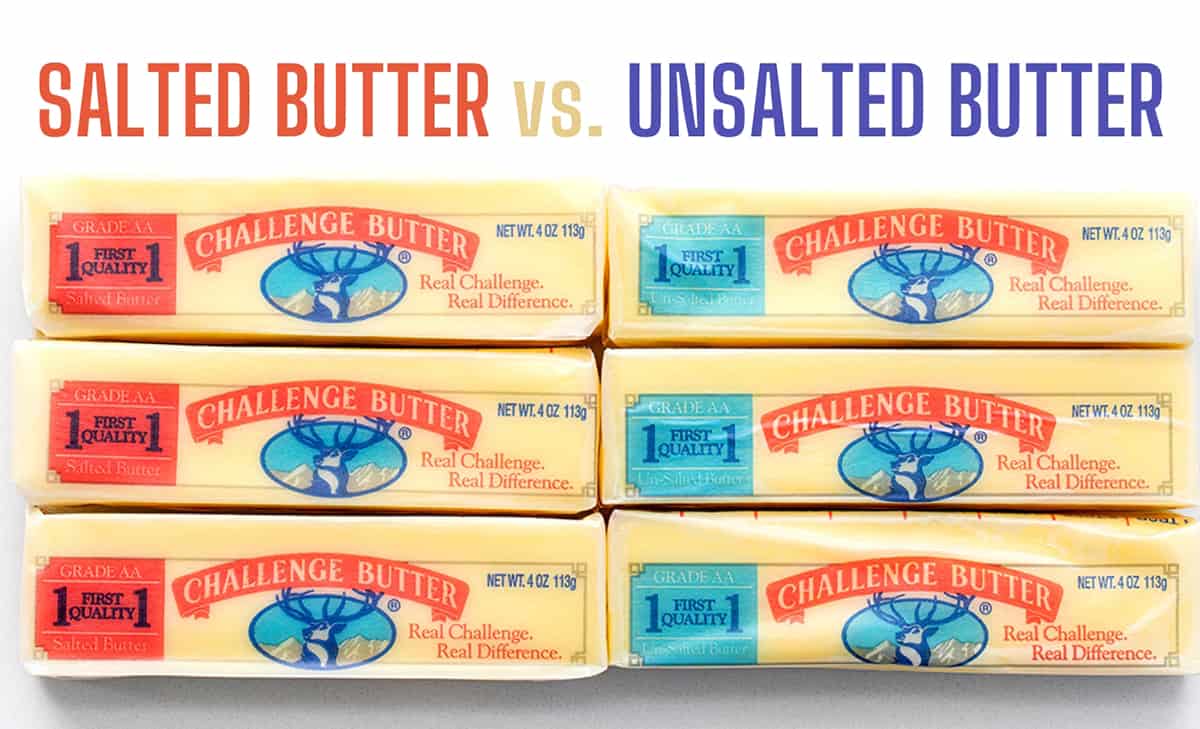 Salted vs. Unsalted Butter
The main difference between the two is the amount of salt they contain.
SALTED BUTTER has salt added to it, but the amount of salt can vary between brands – anywhere from 1.25 to 1.75 percent of the total weight. My favorite brand, Challenge, has about 90mg per tablespoon.
To make things even more complicated, salted butter has more water than unsalted butter and is usually not as fresh as unsalted butter. Salt is a natural preservative and gives salted butter a longer shelf life. This can actually change how your baked goods turn out.
UNSALTED BUTTER has less salt and lower water content. In baking, butter with a low water content is preferred, since excess water can interfere with how the gluten develops. You may notice a positive difference in baked goods that use unsalted butter, specifically in taste and texture.
This is especially true when it comes to recipes like butter cookies, brownies, and pound cakes, just to name a few. An exact amount of butter and salt is key to the success of these recipes.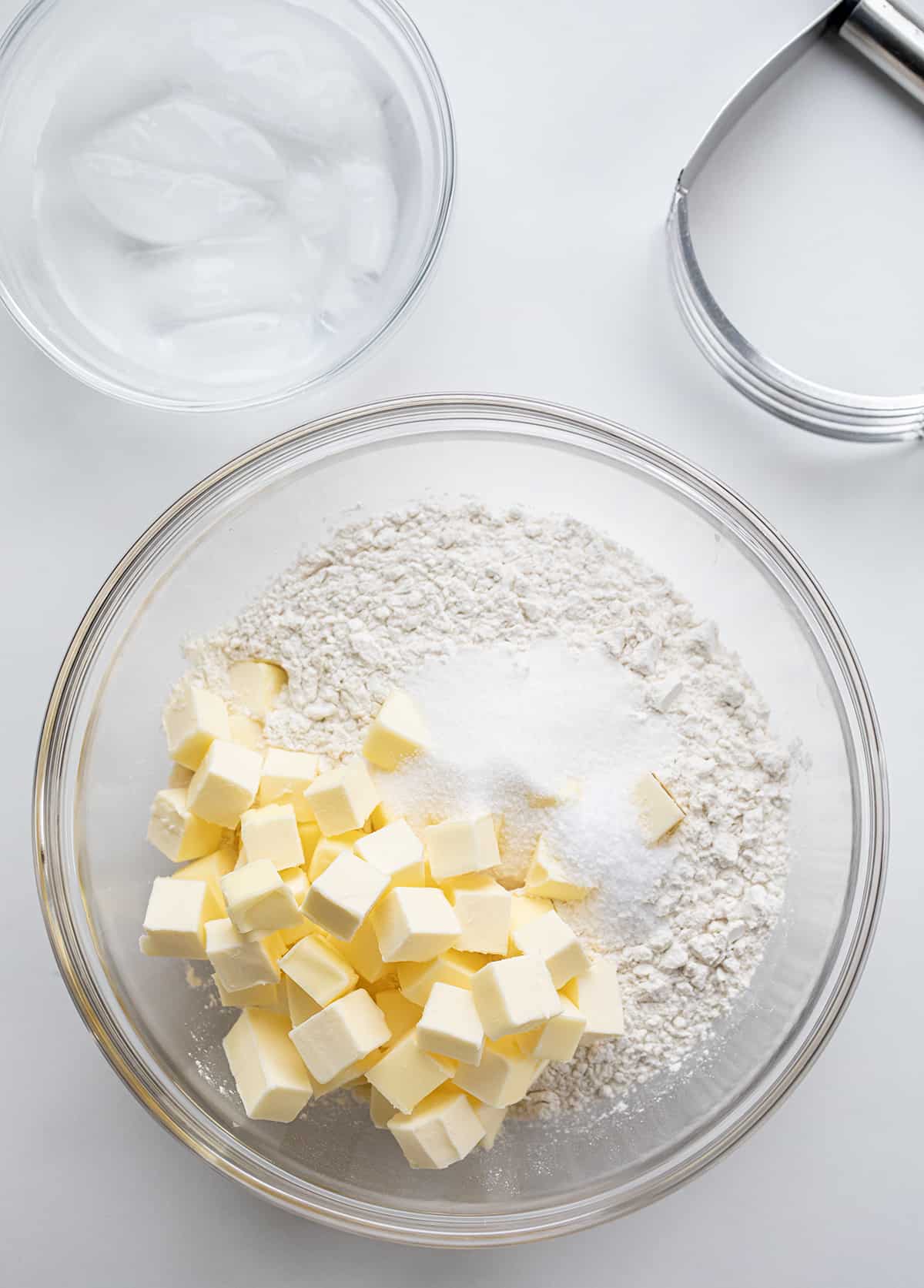 Can You Substitute Salted Butter for Unsalted in Baking?
When using salted butter in baking, it's important to keep in mind that it may impact the final taste of the product as it contains added salt. It's recommended to either reduce the amount of salt in the recipe by a 1/4 teaspoon or omit it completely. The amount of butter used in the recipe should not be changed.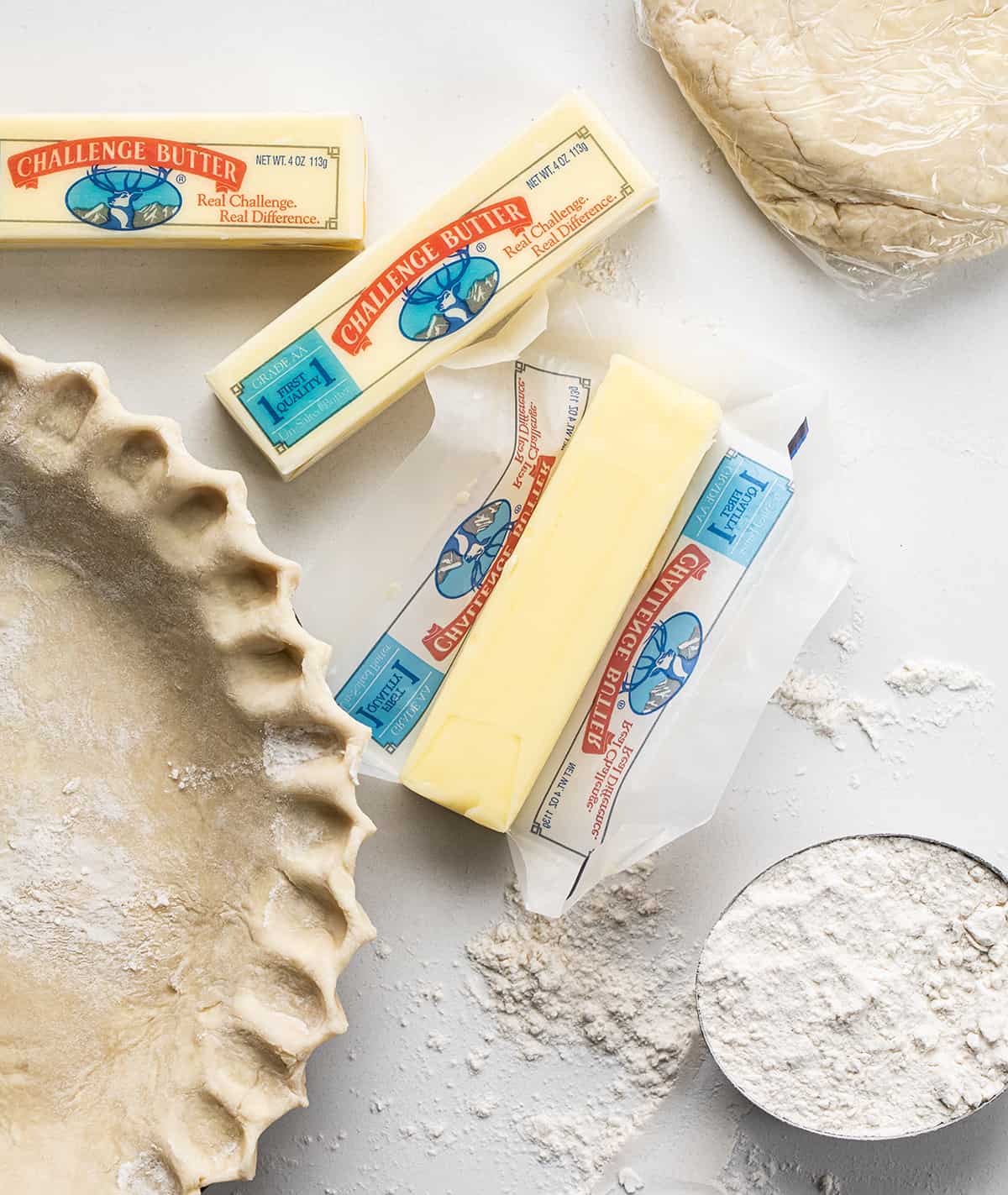 Butter Alternatives
If you are looking for alternatives to butter, you could try any one of these butter alternatives: (However, keep in mind that any substitutions may affect the final taste and texture of your baked goods.)
Vegetable Shortening: Use an equal amount of shortening as butter (1 cup butter = 1 cup shortening).
Vegetable Oil: For every 1 cup of butter, substitute a little less amount of oil. Keep in mind that the consistency of your baked goods will be affected if using oil in place of butter.
Lard: Use a cup of lard for every 1 cup of butter in a recipe.
Whether you're making sweet treats like cookies and cakes or savory dishes like sauces and soups, understanding the difference between unsalted and salted butter can help ensure the best possible outcome for your recipe.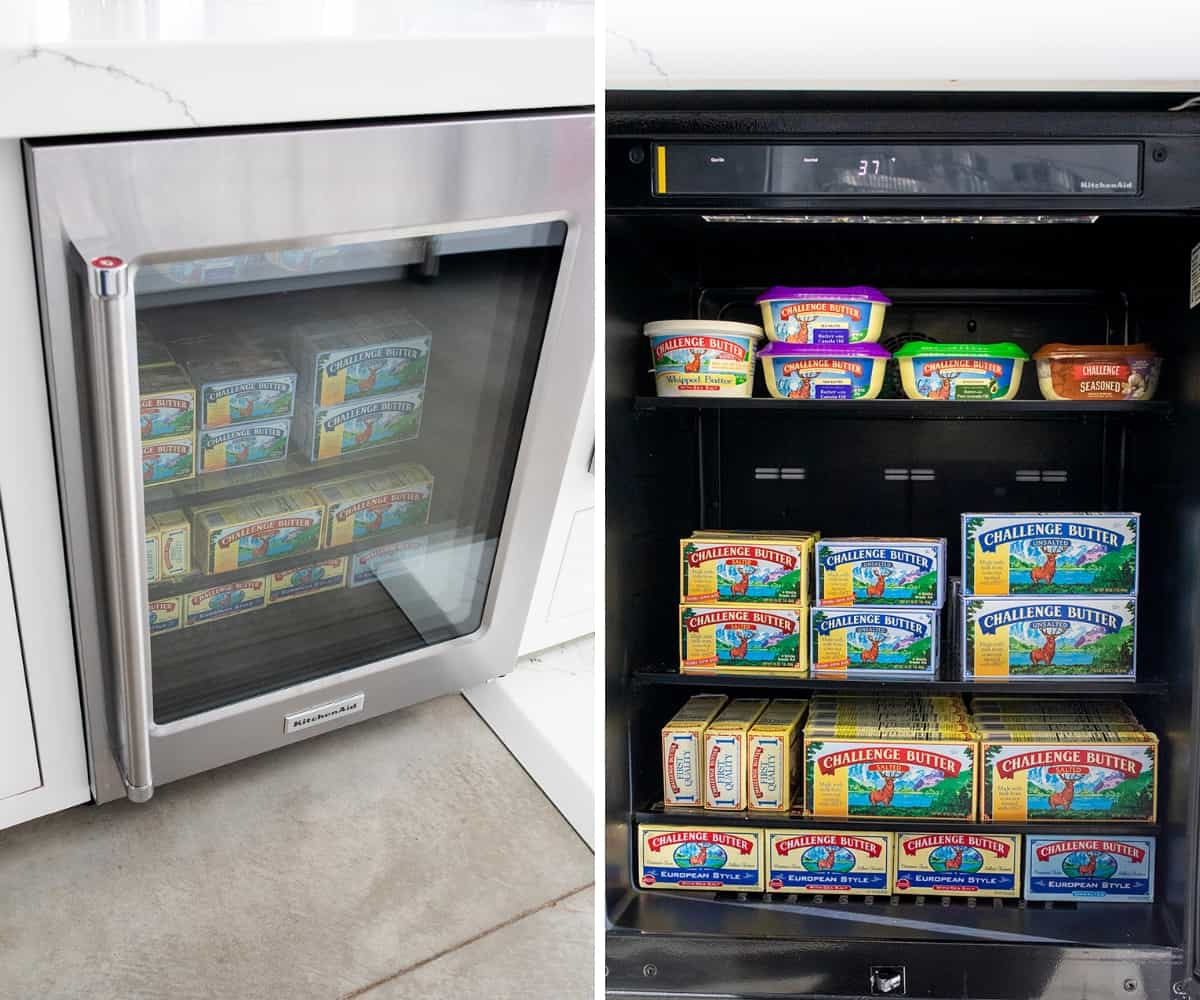 Butter Cookies Oh My!
Use unsalted butter in these Butter cookies and taste the difference it can make. It will allow the natural flavors of the cookies to shine through, and the texture will be tender and crumbly. It is the perfect recipe to showcase the beauty of unsalted butter in baking!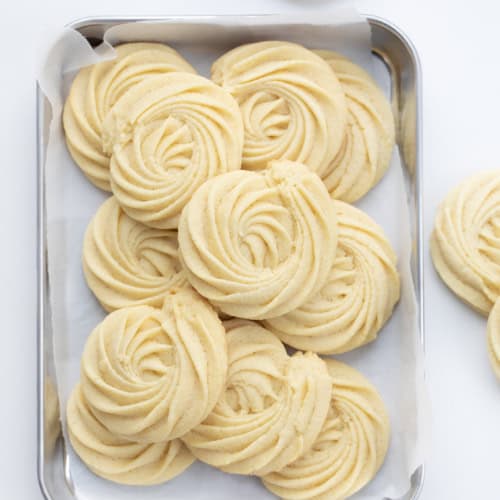 Butter Cookies
Butter Cookies are buttery, tender cookies that can be enjoyed as-is with a cup of coffee or tea or as a base for decorating holiday cookies.
Ingredients
1

cup

(2 sticks / 227 g) unsalted butter,

softened

⅔

cup

(133 g) granulated sugar

2

large

egg yolks,

room temperature

1

teaspoon

vanilla extract

2

cups

(250 g) all-purpose flour

¼

teaspoon

kosher salt

2-3

tablespoons

whole milk,

room temperature
Instructions
Preheat oven to 350°F. Line a large baking sheet with parchment paper.

In a large bowl using a hand mixer on medium speed, cream together the butter and sugar until light and fluffy.

Add the egg yolks and vanilla. Mix until combined.

In a separate bowl whisk together the flour and salt.

Slowly add the flour mixture to the butter mixture. Mix on low until combined, scraping down the sides of the bowl as needed.

Working 1 tablespoon at a time, add milk until the mixture is sticky, thick, and well combined. Set aside.

This is a very thick batter, so you will need a heavy-duty piping bag, or you can use the double bag method. To do that you will need two piping bags, one fitted with a large star tip and one that has not been cut. Transfer the batter to the piping bag with no tip. Clip the tip of that bag and place it inside the second piping bag that is fitted with the star tip.

Pipe the batter into a circular pattern onto the lined baking sheet, leaving about 1 inch in between each cookie.

Bake 13-15 minutes, or until golden brown.

Allow the cookies to cool on the baking sheet for 10 minutes before transferring to a cooling rack. Let the cookies cool completely before decorating.
Did you make this recipe?
Thank you for making my recipe! You took pictures, right? Well go ahead and post them on Instagram! Be sure to mention me @iambaker and use the hashtag #YouAreBaker.