Classic Vanilla Pound Cake never disappoints and is one of our favorites with its pure vanilla flavor and soft crumb. If you love pound cake, don't miss my Cream Cheese Pound Cake, Lemon Pound Cake, and Chocolate Pound Cake!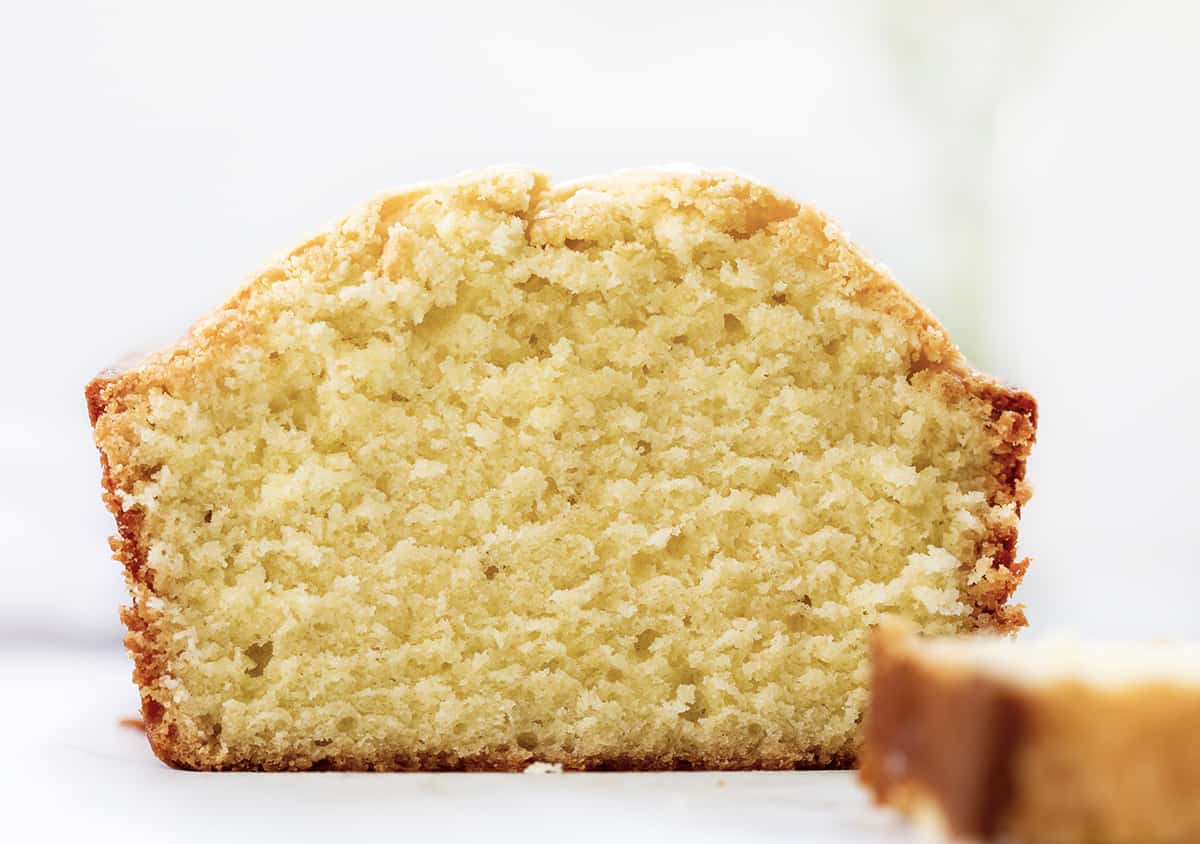 Moist Vanilla Pound Cake
There is nothing worse than a dry pound cake, and nothing better than a perfectly moist one! This recipe has a crumble that is to die for, with the purest delicious vanilla flavor. I love that there are only five ingredients in this entire recipe.
Use the best quality you can find as that will help ensure a delicious and perfect pound cake!
I have made many variations of this recipe and have found that whole milk works great, but if you happen to ever have a dry pound cake there are a few things you can do to fix that:
Use extra-large eggs
Substitute buttermilk for whole milk.
Make sure your flour is properly measured.
if you live at a higher altitude, be sure to check out adaptations in my

High Altitude Baking Tips

.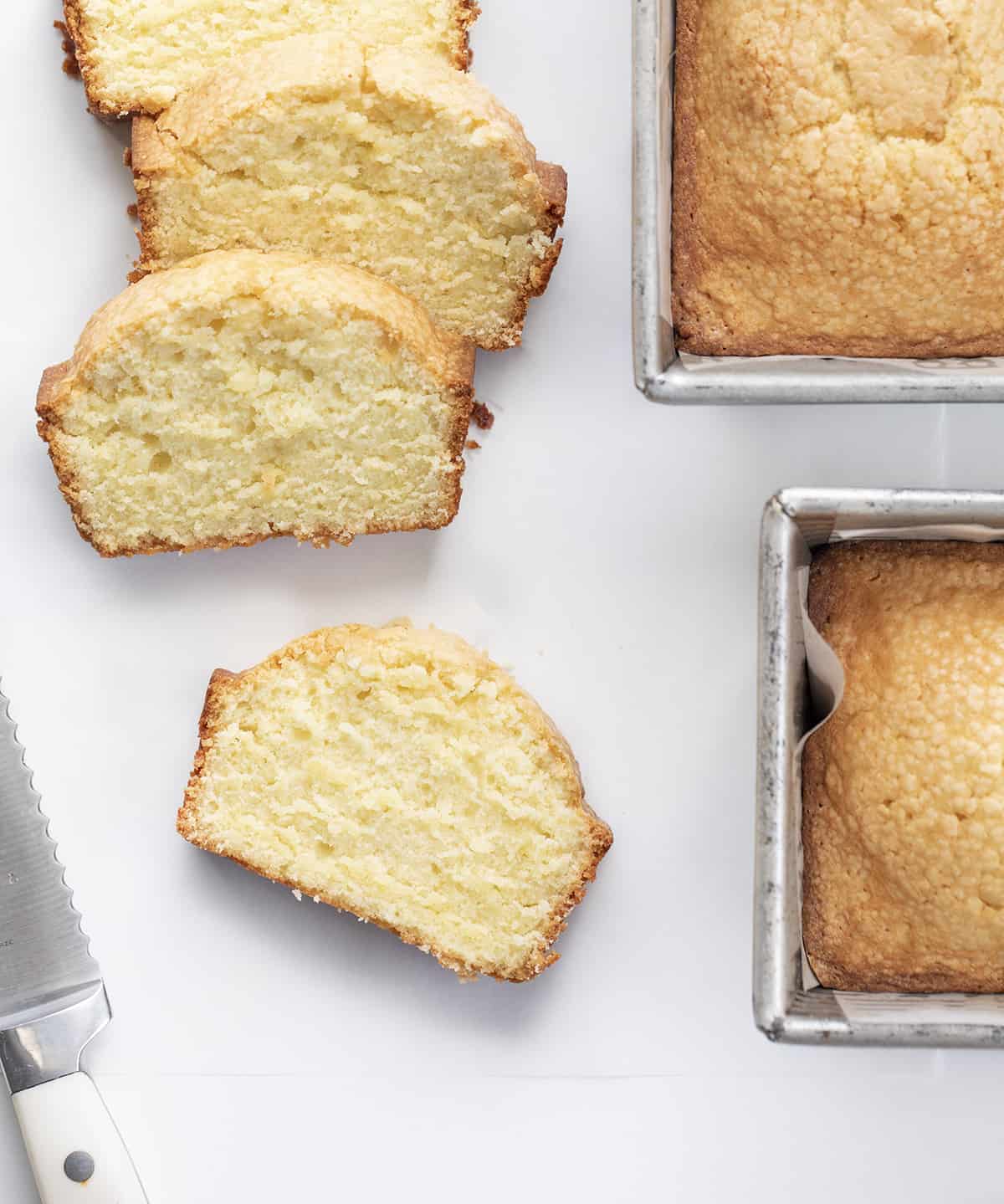 How to Measure Flour
To accurately measure flour, take a fork and sift the flour in the bag. Use a spoon and add the flour to the measuring cup (make sure you are using a dry measuring cup). Then use the back of a knife to level the measuring cup.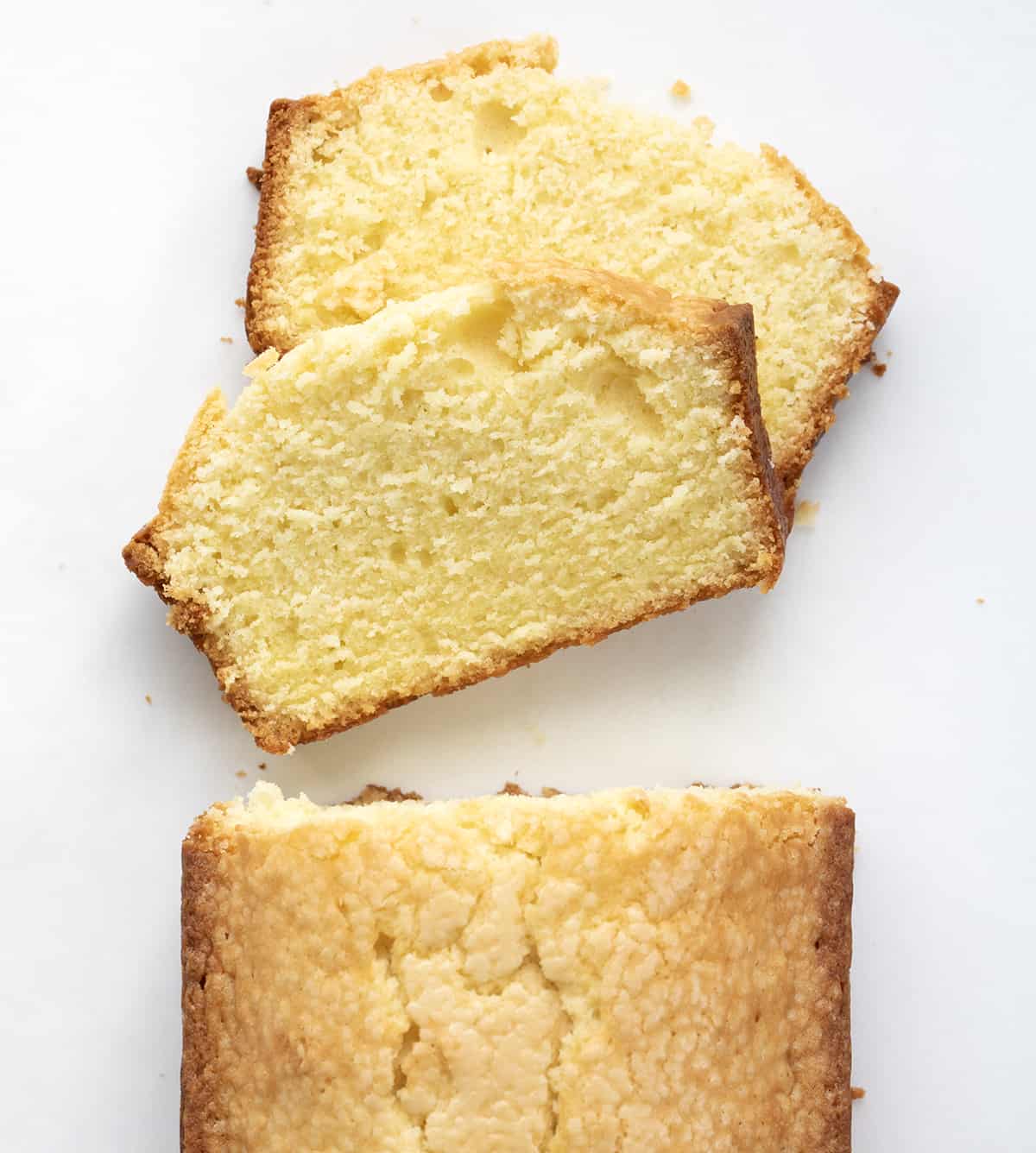 How Do You Prepare a Pan for Pound Cake?
There are a few methods for preparing the pans for pound cake.
One of my favorite methods is to use parchment paper to line the pans. This ensures that none of your cake will stick to the pan.
By far my favorite way to prepare a bundt pan is with GOOP (as grandma calls it) or Pan Release. The recipe is simple and you can easily keep it on hand. I spread a generous coat around the loaf pan with a pastry brush. One important aspect of using Goop is when to remove the cake from the loaf pan. I will let the cake set in the pan for about 5 minutes, then invert it onto a cooling rack.
You can also use the traditional butter + flour method, which is buttering the pan generously and then adding about a 1/4 cup of flour. Slowly turn the pan around and around making sure the flour covers every nook and cranny. Tip it over the garbage and shake out the excess.
You can also use baker's spray, which is an aerosol pan release. I prefer the "bakers" version (says it contains flour) as it seems to work best on pound cakes.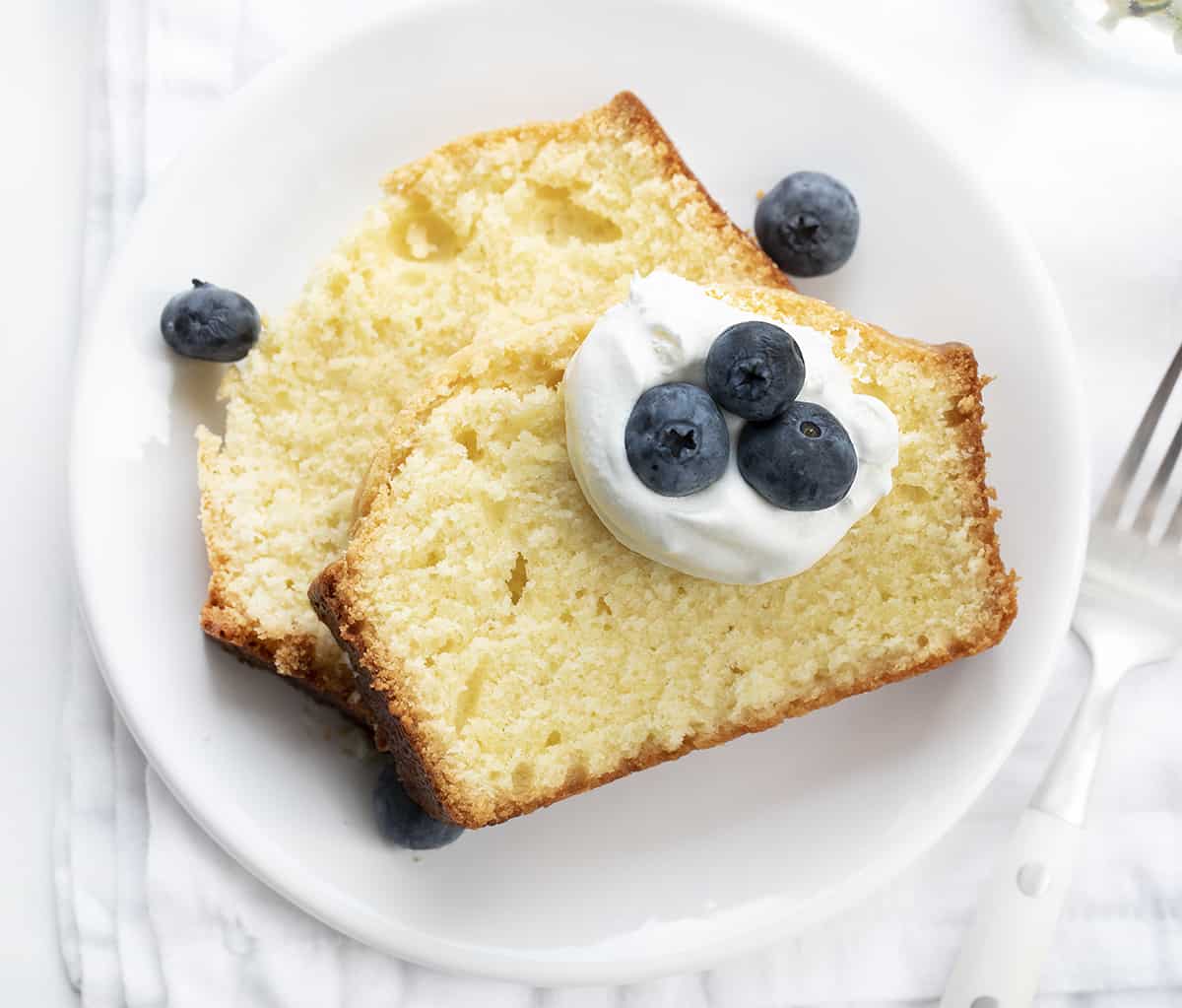 How to Tell if Pound Cake is Done Baking
My favorite method of testing a pound cake's doneness is to use a toothpick. Around the 55-minute mark, insert the toothpick and then remove it. (Be careful, I have more burns on my hands than I care to admit.) If you see a few crumbs that is a GOOD thing, your pound cake is done baking. Any wet batter on the toothpick means it needs to bake longer. If you happen to notice that the top is browned but your pound cake still needs to bake, you can gently cover it with a foil tent to make sure it will not brown anymore.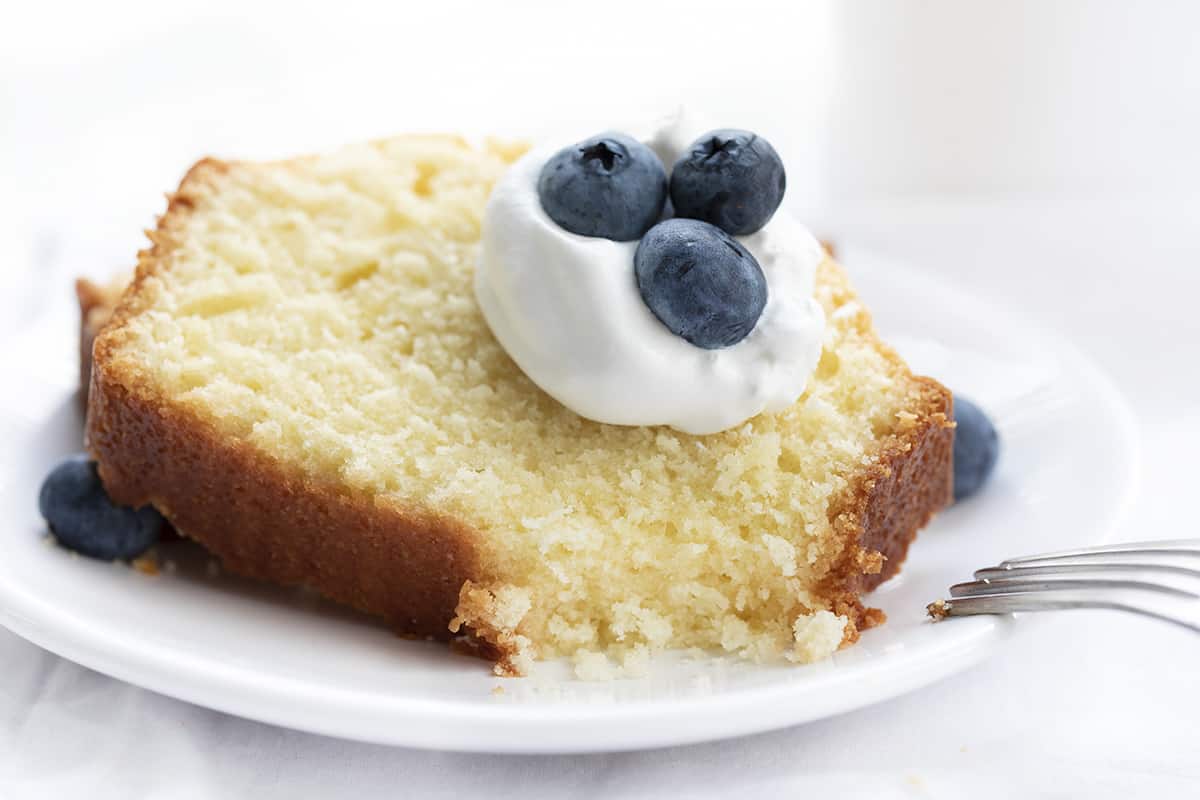 What Do You Serve with Pound Cake?
Pound cake can be served warm, at room temperature, and is even delicious served cold. No matter what you do with this Vanilla Pound Cake, I know you love it! I happen to love this cake all on its own, but here are a few ways to jazz it up:
Whipped cream – Traditional whipped cream, peppermint whipped cream, or even an orange-infused whipped cream would be amazing.
chocolate ganache (this is my favorite recipe)
Fresh fruit – A fun trick is to pile fruit in the center of the pound cake and then more on top! Drizzle with maple syrup for a beautiful presentation.
Buttercream – Pipe it on, as seen on my Harvest Chocolate Bundt Cake
Glaze – We love a simple vanilla glaze, but flavored glaze such as lemon works beautifully, too.
Confectioner's sugar – A soft dusting can transform a pound cake.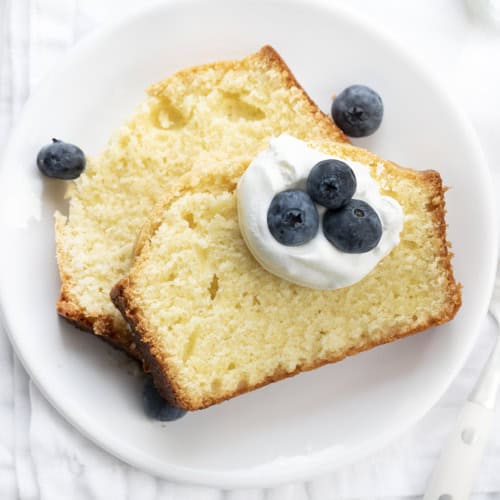 Vanilla Pound Cake
Ingredients
2

cups

(4 sticks / 454 g) unsalted butter,

room temperature

3

cups

(600 g) granulated sugar

6

large

eggs,

room temperature

4

cups

(500 g) all-purpose flour,

sifted

⅔

cup

(163 g) whole milk

1

teaspoon

vanilla extract,

optional (I do not add it but readers requested how much to add.)
Instructions
Preheat the oven to 350°F. Spray 3, 8×4-inch loaf pans with nonstick cooking spray, followed by lining each with parchment paper. Set aside.

In a large bowl, cream together the butter and sugar with a hand mixer on medium speed until light and fluffy, about 3-4 minutes.

Beat in the eggs one at a time, making sure each one has been incorporated before adding the next one.

If adding vanilla, add it to the batter now.

Alternating between the flour and milk, add each to the butter mixture, beginning and ending with the flour. Beat until just combined, making sure not to overmix.

Pour batter evenly into the prepared loaf pans (about 2½ cups of batter per pan). Bake for 60-65 minutes, or until a toothpick inserted into the center of the cakes comes out mostly clean.

Remove from oven and allow to cool in pans for 10 minutes, then remove from the pans. Strip off the parchment paper and let cool completely on wire racks.
Did you make this recipe?
Thank you for making my recipe! You took pictures, right? Well go ahead and post them on Instagram! Be sure to mention me @iambaker and use the hashtag #YouAreBaker.