Scalloped Potatoes with Ham and Cheese was a staple growing up in our house. What's not to love about potatoes, cheese, and ham all baked to perfection? If you love these you will also crave my Potatoes Au Gratin with Smoked Sausage and Cheesy Scalloped Potatoes! Just in case you were wondering, I used leftover Honey Baked Ham in this recipe.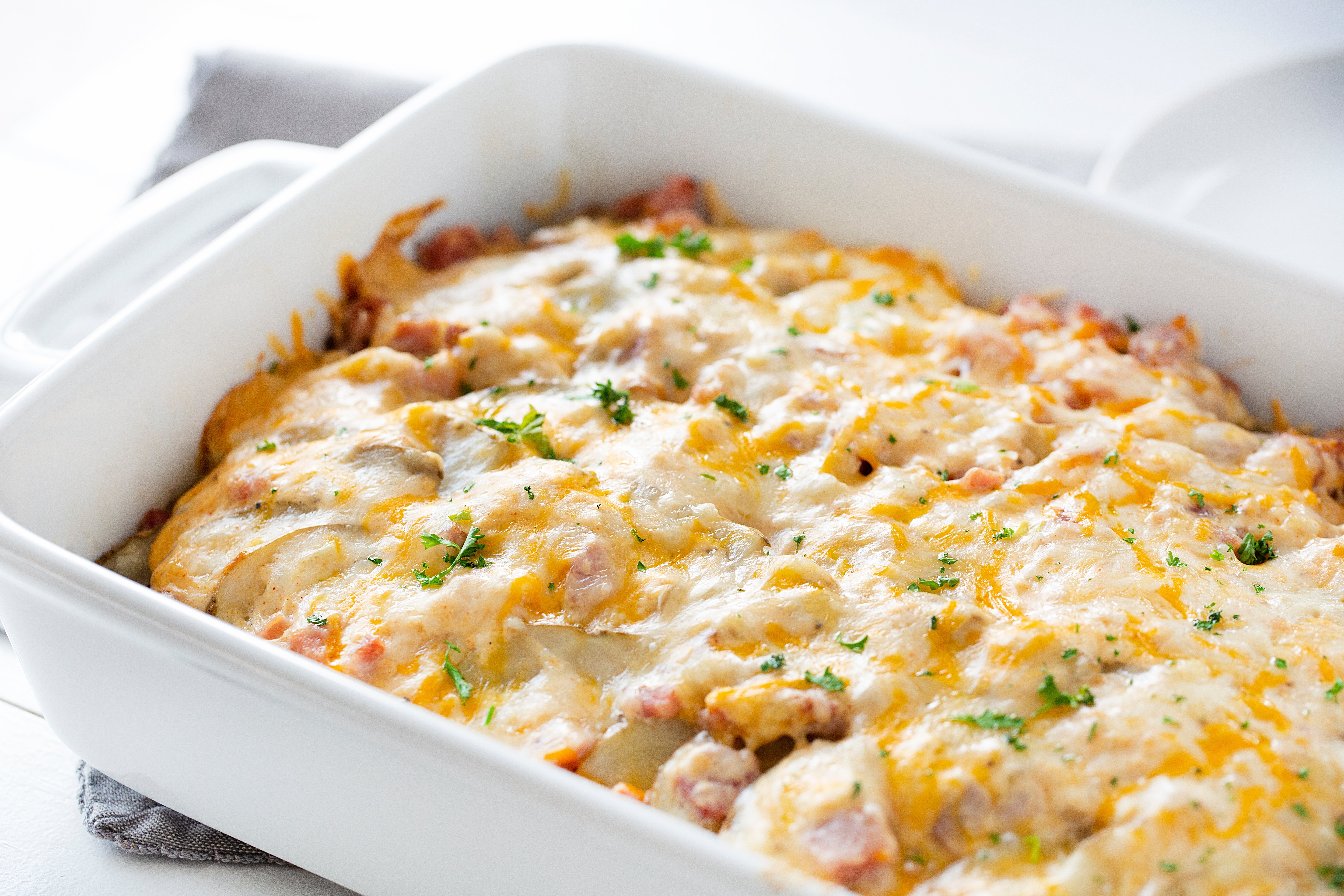 Scalloped Potatoes with Ham and Cheese
Technically speaking these are an Au Gratin Potatoes recipe (I explain the difference below). However, if you had asked me when an AuGratin potato was growing up I would have looked at you like you were speaking another language. Our potatoes were scalloped and they always had cheese. And that's what I know about that. 😉
This recipe consists of a few simple ingredients that when baked together create a fantastic dish!
russet potatoes
cheese
seasonings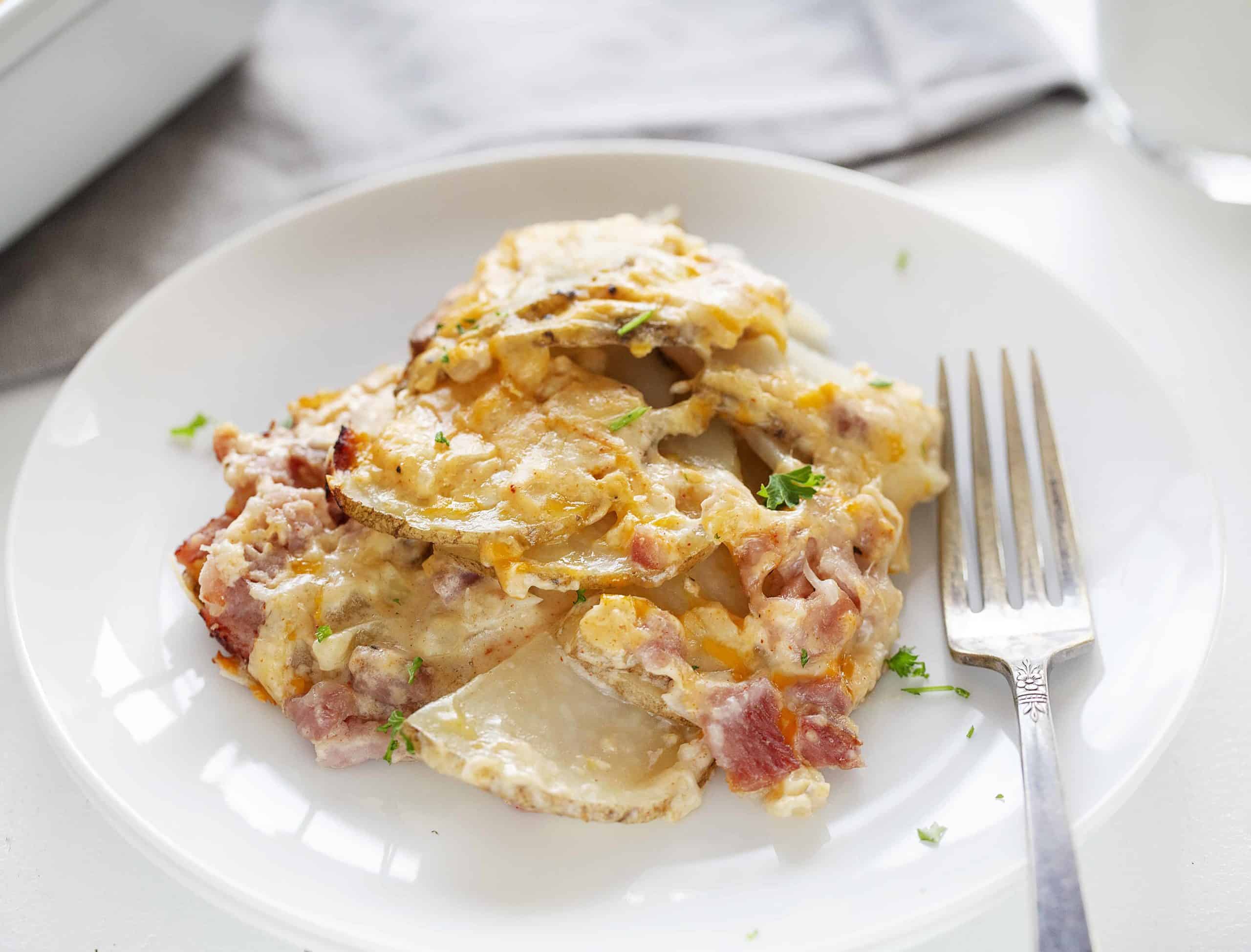 The Difference Between Scalloped Potatoes and Au Gratin Potatoes
Why is there so much confusion about scalloped potatoes versus Au Gratin Potatoes? Well, they are very similar. A traditional scalloped potato dish consists of thinly sliced potatoes layered in a casserole dish and baked with heavy cream and lots of herbs. A traditional Au Gratin Potato dish, on the other hand, has grated cheese sprinkled between the layers, resulting in a cheesy, more decadent dish. Also, in both dishes, the potatoes are cut into rounds, but the potatoes used in scalloped potatoes are often cut a bit thicker than those in au gratin potatoes.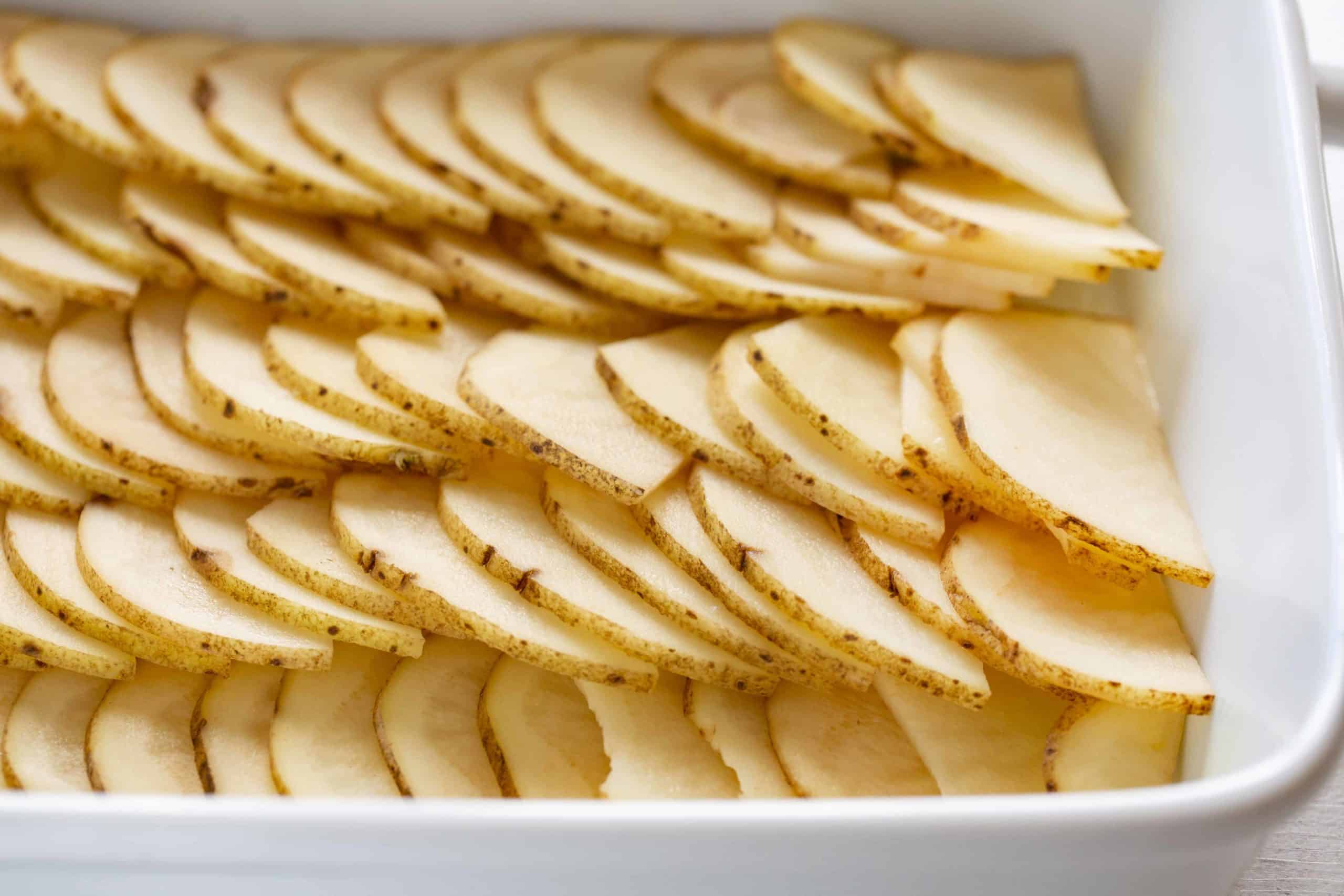 How to Make Scalloped Potatoes
Let's start with the potatoes. I prefer a Russet potato as it is starchy and tastes amazing with cheese and a sauce. The two I recommend the most are Russet potatoes or Yukon Golds as you do not need to peel either. The Yukon's will hold their shape a little better than Russets.
Cut the potatoes to between 1/8- and 1/4-inch thick. I can't recommend a mandoline enough here, as it will decrease your prep time considerably. If you don't have a mandoline you can use a sharp knife to cut your slices, but really try and focus on thickness and consistency. Thicker slices may not cook through as well as smaller.
Once you have your potatoes ready it's time to make the sauce. You start by making a roux and then adding in liquid and seasonings.
Now to layering! This is made easy when you are using a mandoline as the potato slices seem to fall right in a perfect little stack. No, you do not have to set them perfectly uniform in the pan, you can also just add them to the dish in an even layer. 🙂
Start with a layer of potatoes and then add your ham, cheese, and half of the sauce. Repeat with the rest of the potatoes, then add more ham and all remaining sauce. I like to add the rest of the cheese last so that it sits beautifully on top.
Bake in a covered dish. About 20 minutes before they are done cooking, remove the foil and let all that cheese turn golden brown. Then serve!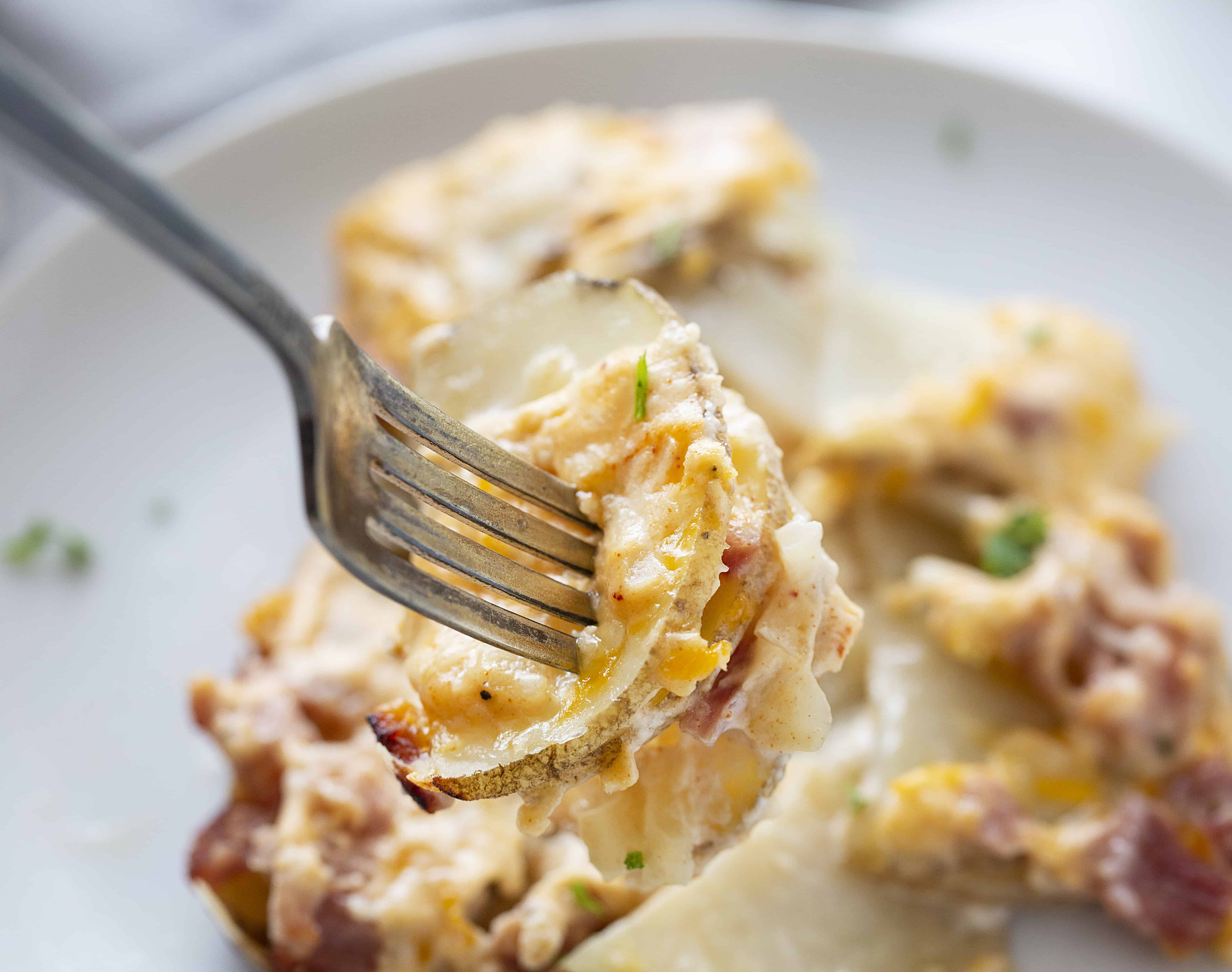 How Do You Serve Scalloped Potatoes?
Because of that glorious cream sauce, this is not a dish that you 'cut' pieces out of. I recommend getting a big spoon and using that to dish up portions. Whenever I serve scalloped potatoes I like to have a green vegetable nearby, like Brussel Sprouts or Roasted Asparagus.
How can I make this gluten-free? You can use gluten-free flour and make sure all your other ingredients are certified gluten-free.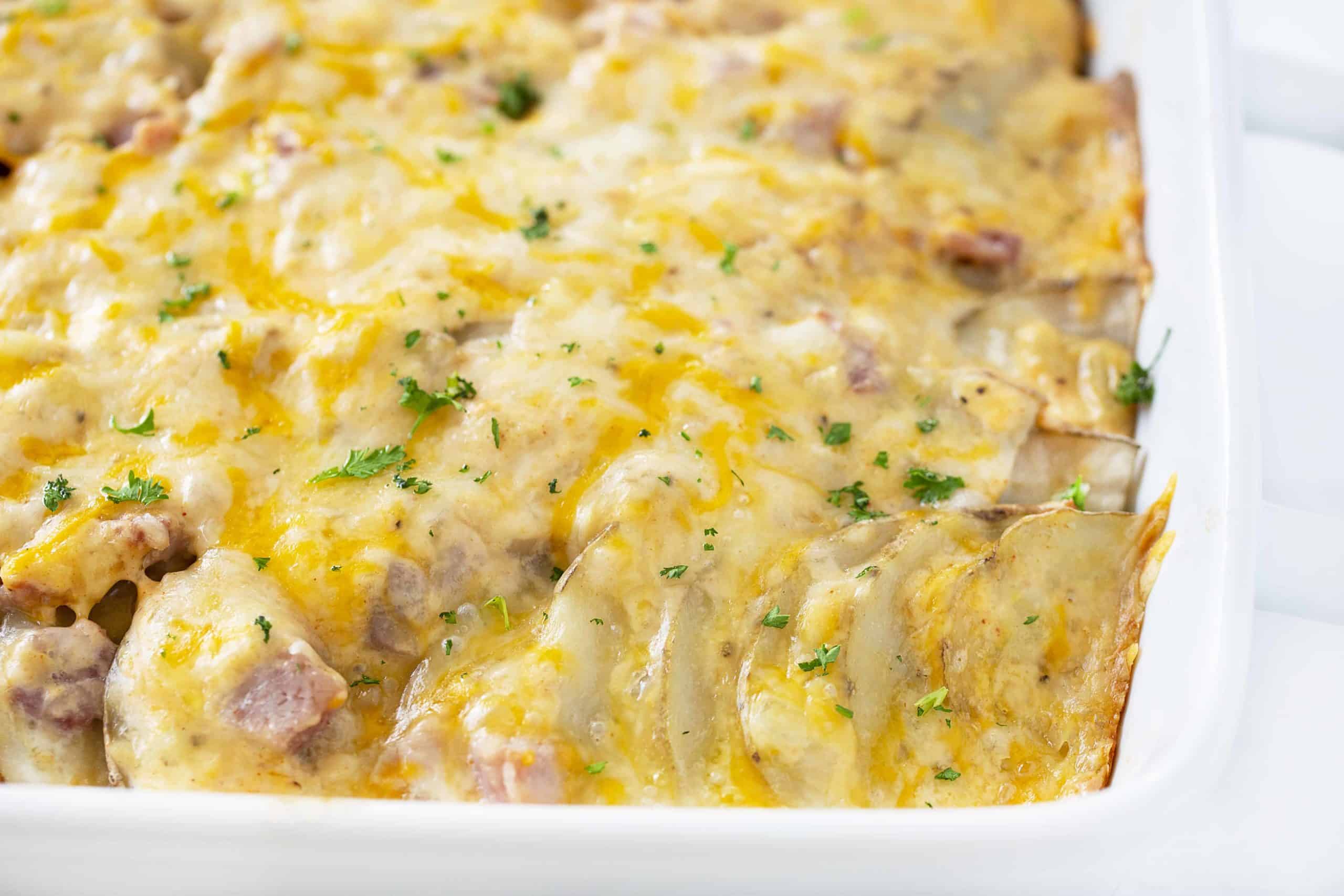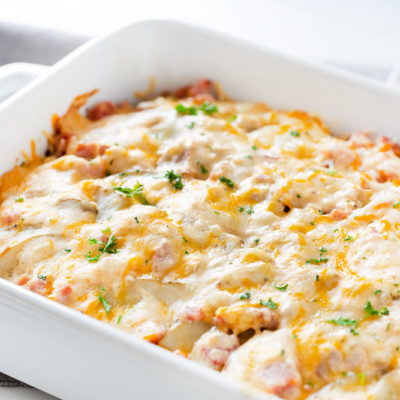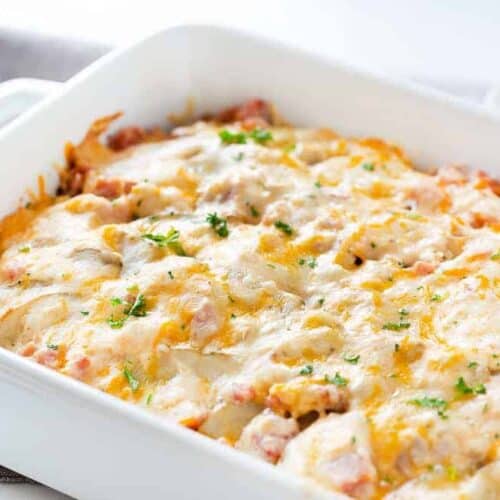 Scalloped Potatoes and Ham
This classic dish is always a crowd pleaser!
Ingredients
Potatoes
4

large russet potatoes,

peeled and thinly sliced
Sauce
3

tablespoons

butter

1

small

yellow onion,

diced

3

tablespoons

all-purpose flour

1

cup

(245 g) half-and-half

½

cup

(123 g) whole milk

¼

teaspoon

kosher salt

¼

teaspoon

black pepper

1

teaspoon

garlic powder

½

teaspoon

Worcestershire sauce

½

teaspoon

onion powder

¼

teaspoon

paprika
Toppings
1½

cups

cooked ham,

diced

¾

cup

(85g) Cheddar cheese,

grated

¾

cup

(85g) Monterey Jack cheese,

grated
Instructions
Preheat the oven to 375°F and grease a 9x13 baking dish.

Wash and dry your potatoes and then slice using a mandoline. If your potatoes are very large (like a bakers potato), you can cut them in half lengthwise.

Set potatoes aside while preparing the sauce, which takes about 10 minutes.

Melt butter in a large skillet over medium heat. Add onion; cook and stir until starting to soften, 3 to 4 minutes. Sprinkle flour over onion and whisk together. Cook until golden brown, about 2 minutes.

Stir in half-and-half and milk; whisk until thickened, 3 to 4 minutes more.

Remove sauce from the heat and season with salt and pepper, garlic powder, Worcestershire sauce, onion powder, and paprika.
When Ready to Assemble
Place half the sliced potatoes into a prepared baking dish; top with half the chopped ham, 1/2 the Cheddar cheese and 1/2 the Monterey Jack cheese.

Pour in half the sauce from the skillet.

Repeat layering the remaining potatoes. Add the rest of the ham and then pour over the rest of the sauce. Cover with remaining cheeses.

Cover with aluminum foil and bake in the preheated oven for 40 minutes.

Remove the foil and bake until the cheese on top is golden and sauce is bubbling, 20 to 30 minutes more.
Did you make this recipe?
Thank you for making my recipe! You took pictures, right? Well go ahead and post them on Instagram! Be sure to mention me @iambaker and use the hashtag #YouAreBaker.