Don't let baking scones intimidate you! My Scones recipe is easy to follow, and with a little patience, proper prep, and tools, you got this! You may also like my White Chocolate Raspberry Scones or Blueberry Lemon Scones!
Scones Recipe
I have been making King Arthur's classic scones recipe for a long time but realized I had made a few changes over the years. For one, I like to use heavy whipping cream brushed on the scones before baking as well as in the dough. I also started making my scones with grated butter, a technique I use all the time with my buttermilk biscuits. The last thing I do a bit differently is freezing my scones for an hour before baking. This is an important step (more on that below) and one that makes a big difference in the final product!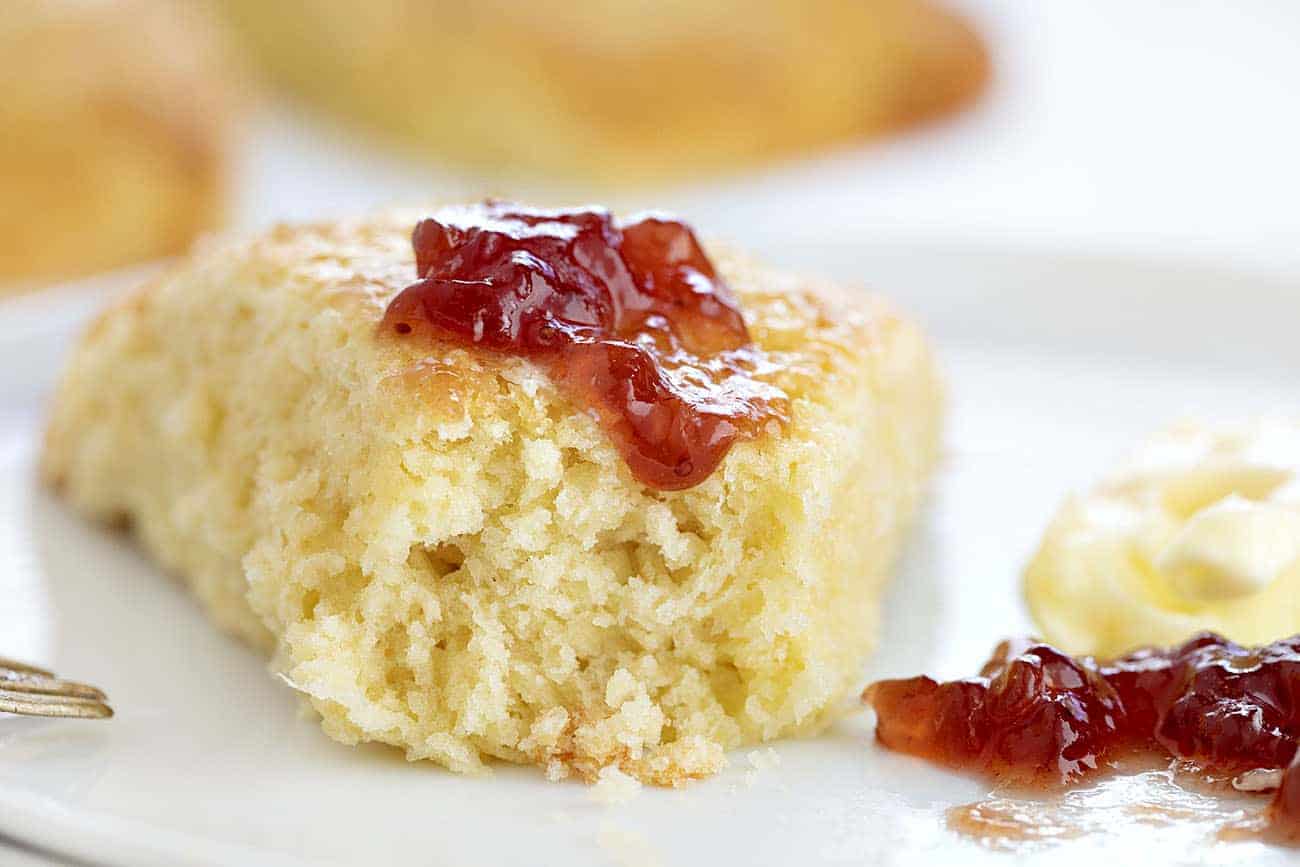 Scone Recipe Ingredients
COLD Grated butter–This no-fail approach to baking scones is easy to do and a MUST! Use the fine side of the grater and grate over a plate. Be sure to spray the grater with non-stick spray before grating. Then pop in the freezer. Grated butter only needs a few minutes in the freezer to firm up, so it really makes prep time much easier. You can also take a big block of butter and freeze portions so you always have some cold, grated butter for your next recipe! The frozen butter stays cold until baking time, which will keep the scones from spreading out, which makes them lose that flaky and moist texture.
Flour–For gluten-free scones, simply substitute gluten-free flour for all-purpose flour. I have also used Bread Flour in this recipe and quite frankly, I prefer it. However, bread flour is not a common ingredient in most kitchens and also changes the texture of the scones, making them a bit lighter. This might confuse someone who is used to the traditional version of scones, so I only recommend trying it after you have mastered this recipe!
Eggs– this is one of the very few recipes where I will NOT stress room temperature eggs. I have used eggs directly out of the refrigerator for this recipe and it still works fine.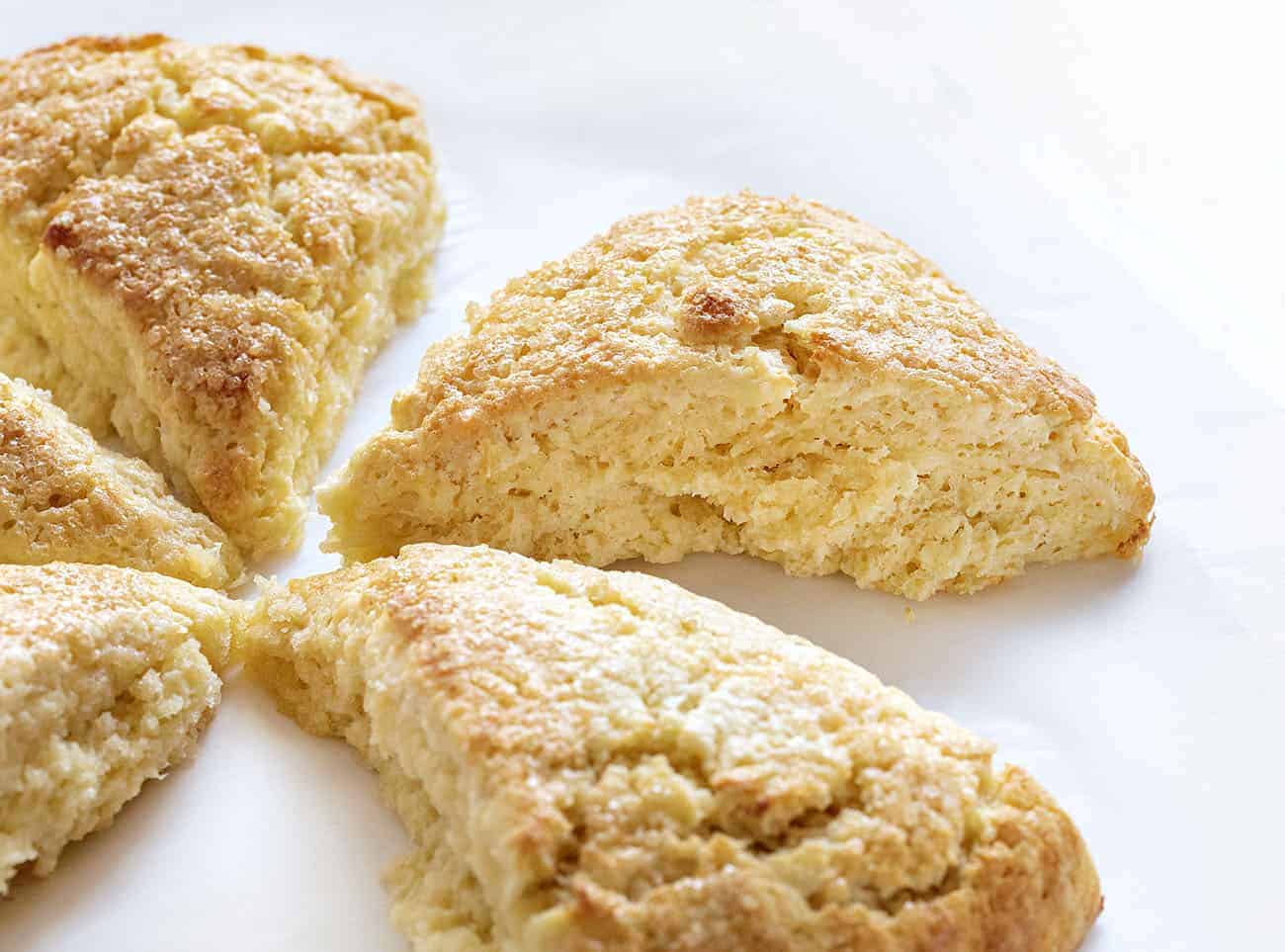 What is the difference between turbinado sugar and granulated sugar?
Turbinado Sugar is a sugar that would fall between white sugar and light brown sugar in both color and flavor. It has a yellowish-brown color and with some molasses content left in the turbinado sugar (which gives it the color), it will provide a slight butterscotch flavor. White sugar is simply sweet, with no added flavors. Another big difference between the sugars is the size. Turbinado sugar has larger and coarser grains than white sugar.
Most of the time, the two sugars can be substituted, especially if the tint of color is not an issue. When baking, you need to be aware of the extra moisture in turbinado sugar, but in my scones recipe, feel free to use either one, since it is only used as the topping of the scones (not in the batter). I prefer turbinado sugar for my scones because it gives them that extra shot of flavor and a bit more texture.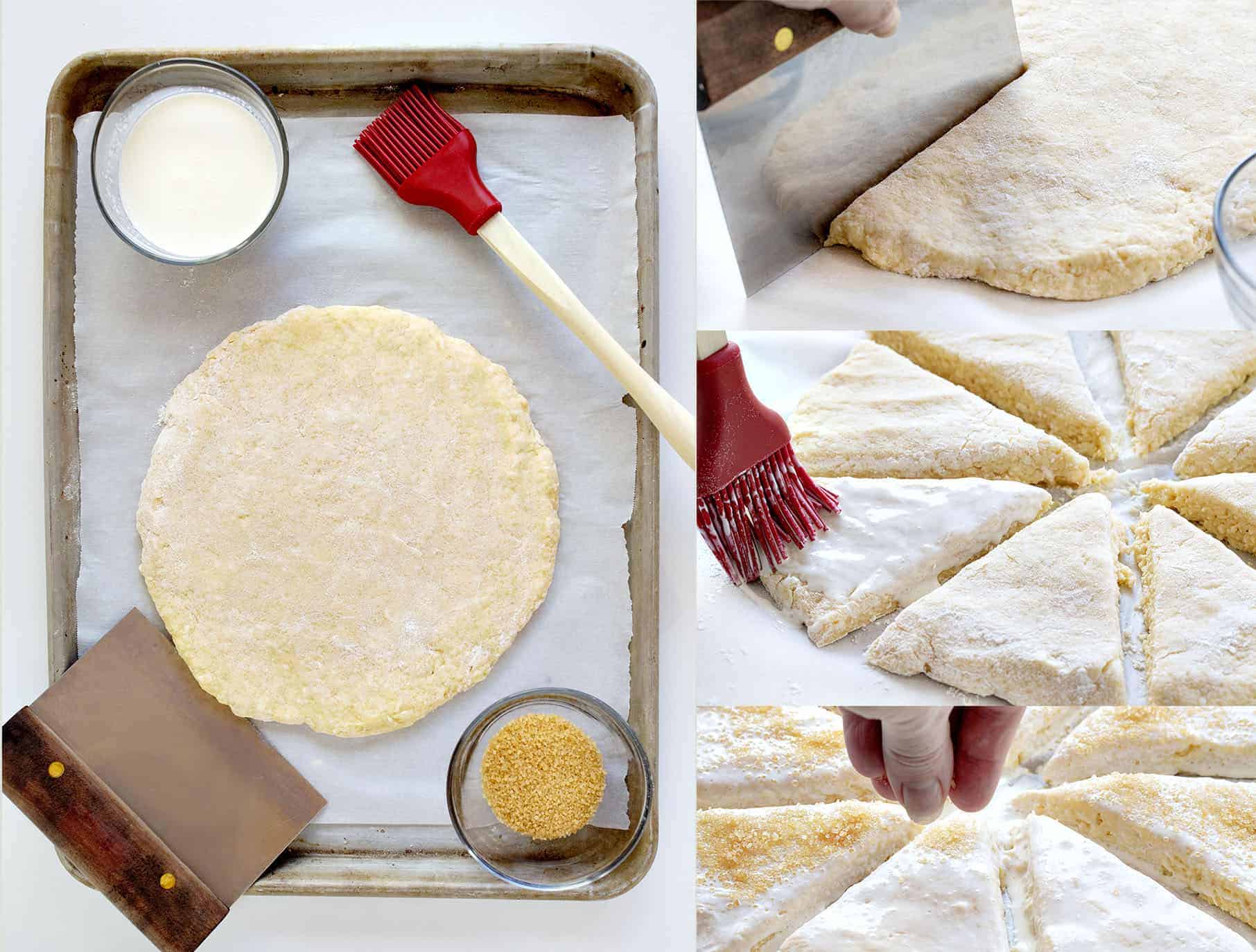 How to Make the Perfect Scone
How many times have you gone into your local coffee shop, ordered a scone, and were disappointed by how flat and hard the scone was? Well, I have the answer to that problem–freezing the scone dough! After you have prepared your dough, there are a couple of things you need to do before freezing it. First, scoop the contents of the dough onto a parchment-lined baking sheet. Be sure to add some flour to your hands so they don't stick to the dough! Use your flour-covered hands to make a circle of dough that is about 3/4 inch thick. Put it in the freezer for AT LEAST 30 minutes (I recommend chilling it for 60 minutes). That gives you more time to do your thing, whatever that may be! Be sure to preheat the oven to 425° if you are planning to bake the scones after the chilling time.
Why freeze, you ask? Even if you weren't wondering, I am going to tell you why you need to freeze the scone recipe dough. Freezing relaxes the gluten in the flour, which makes the scones rise higher. Remember the flat scones I referred to earlier? Freezing also chills the fat which gives the scones their signature flaky texture. What's nice about freezing the dough is that you don't have to bake the scones after the 60 minutes if you changed your mind or just wanted to be prepared. In fact, once the dough has chilled for 60 minutes, put it in a sealable freezer bag and store it for up to a month! Then, just bake as directed, from the freezer, with maybe a few minutes added to the bake time. Pretty cool (get it?), huh?!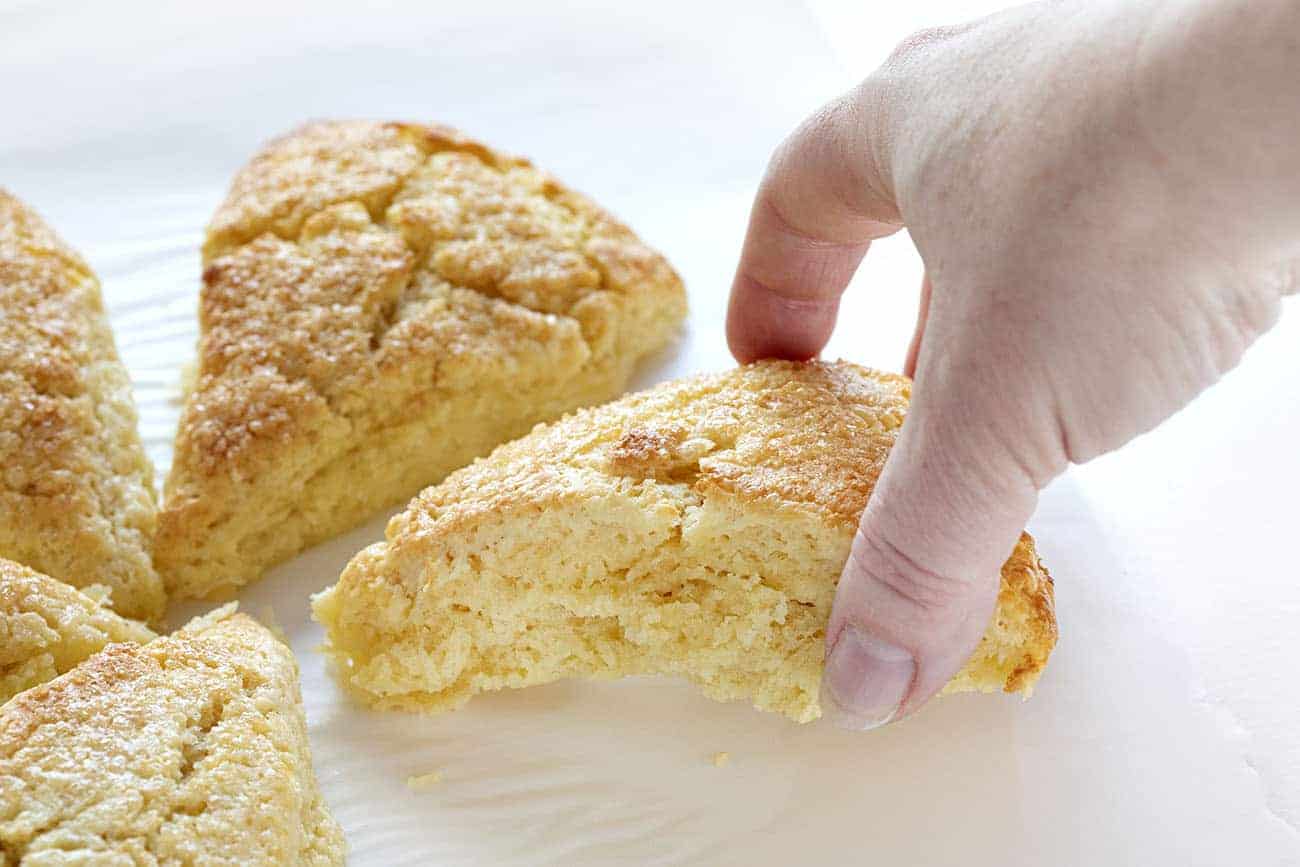 How to Bake the Scones
Once the scone dough has been chilling for about an hour, take the dough out of the freezer, get out your trusty tools, and get ready to bake the scones. First, cut the dough into 6-8 wedges with a bench scraper or a sharp knife. I recommend a bench scraper, and you can learn all about this dough-cutting tool, and which is best for your needs, here, on Amazon's site.
Another tool I recommend is a pastry brush to brush the whipping cream over each scone and all the sides. Sprinkle each scone with the turbinado (or granulated) sugar, and bake for 18-23 minutes. The scones will be golden brown. They are best served warm and are delicious plain, but adding butter or jam is a tasty option as well! To reheat the room-temperature scones, just bake them, covered with tin foil, in the oven for about 10 minutes at 350°F.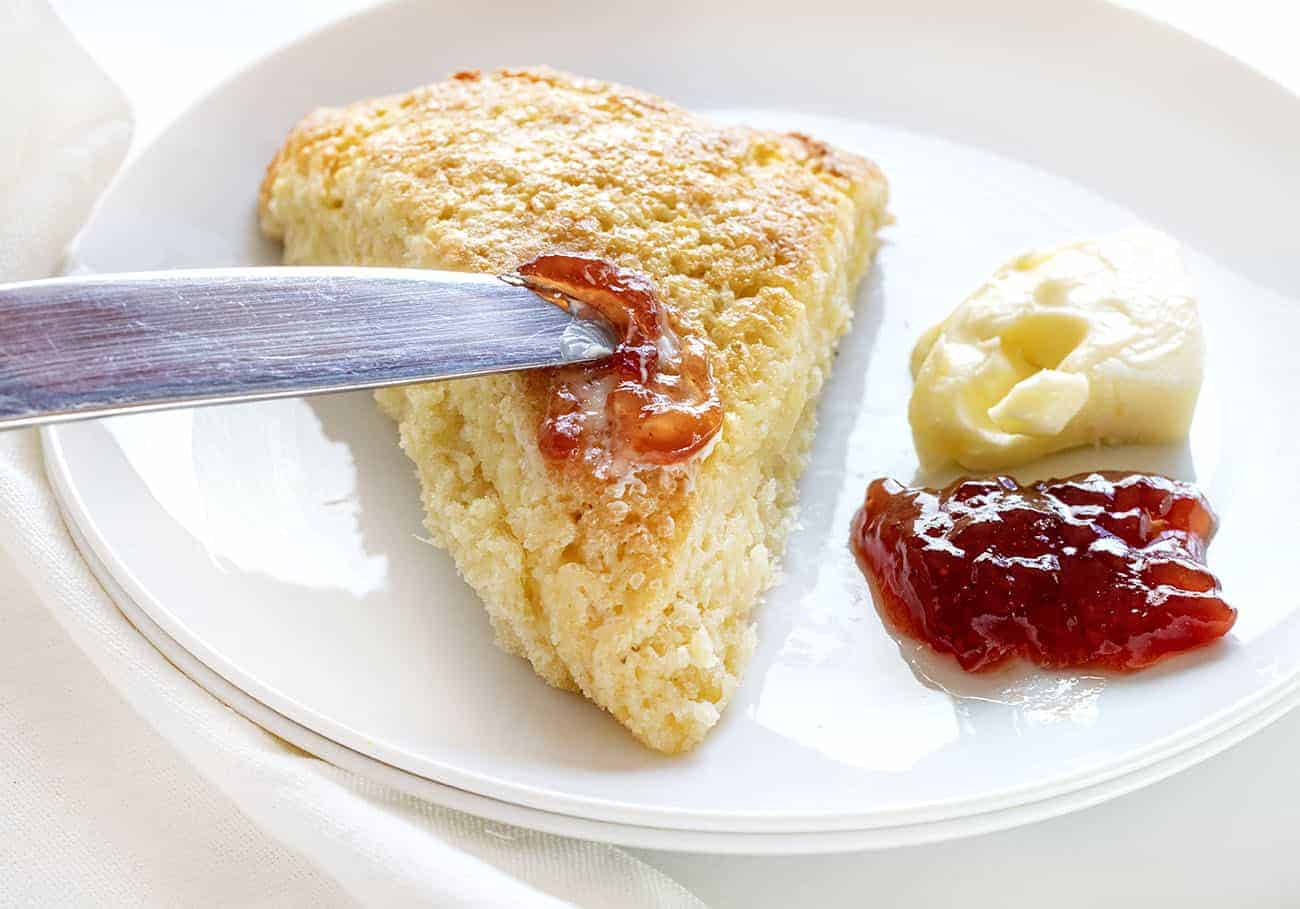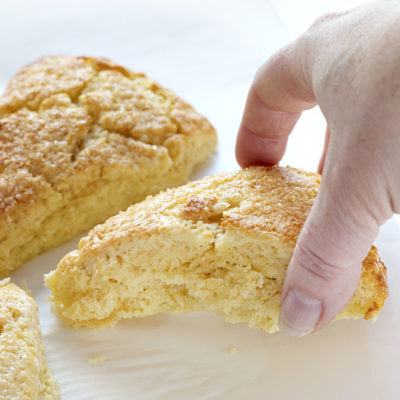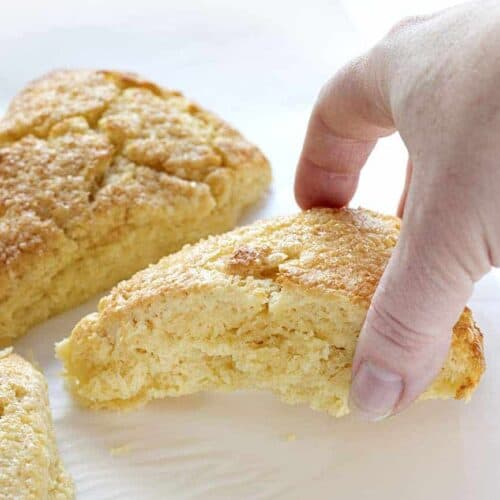 Scones Recipe
With a golden-brown crust and flaky, moist crumb, this scone recipe will turn out every time!
Ingredients
½

cup

(113g) cold butter,

grated

2 ½

cups

(313g) flour

½

cup

(113g) granulated sugar

½

teaspoon

salt

1

tablespoon

baking powder

2

large

eggs

2

teaspoons

vanilla extract

½

cup

(119g) heavy whipping cream
Topping
2

tablespoons

heavy whipping cream

2

tablespoons

turbinado sugar or granulated sugar
Instructions
Grate butter using the fine edge of your grater. Grate onto parchment paper and then place it in the freezer while you prepare the remaining ingredients.

Add flour, sugar, salt, and baking powder to a large bowl. Use a whisk to sift ingredients.

Get grated butter out of the freezer and, using a fork, incorporate into dry ingredients.

In a small mixing bowl, whisk together eggs, vanilla, and heavy whipping cream. Pour this mixture into the dry ingredients and stir until combined.

Scoop the contents out onto a parchment-lined baking sheet and use your hands to form a 3/4 inch thick circle. Add a bit of flour to your hands to prevent sticking.

Chill the dough in the freezer for no less than 30 minutes, preferably an hour.

Preheat the oven to 425°F.

Slice the circle into 6-8 wedges with a bench scraper or large knife and with your hands, gently separate the edges of each scone, creating a space of about 1/2 inch between each.

Using a pastry brush, brush each scone with heavy whipping cream on all exposed sides.

Sprinkle each scone with 1 teaspoon of turbinado sugar.

Bake for 18-23 minutes or until golden brown.
Did you make this recipe?
Thank you for making my recipe! You took pictures, right? Well go ahead and post them on Instagram! Be sure to mention me @iambaker and use the hashtag #YouAreBaker.