Drizzled with caramel and loaded with apples and pecans, these Caramel Apple Pecan Scones are the perfect fall breakfast and anytime coffee break treat! If you love caramel apple flavor, be sure to try Dwight's Caramel Apple Pie.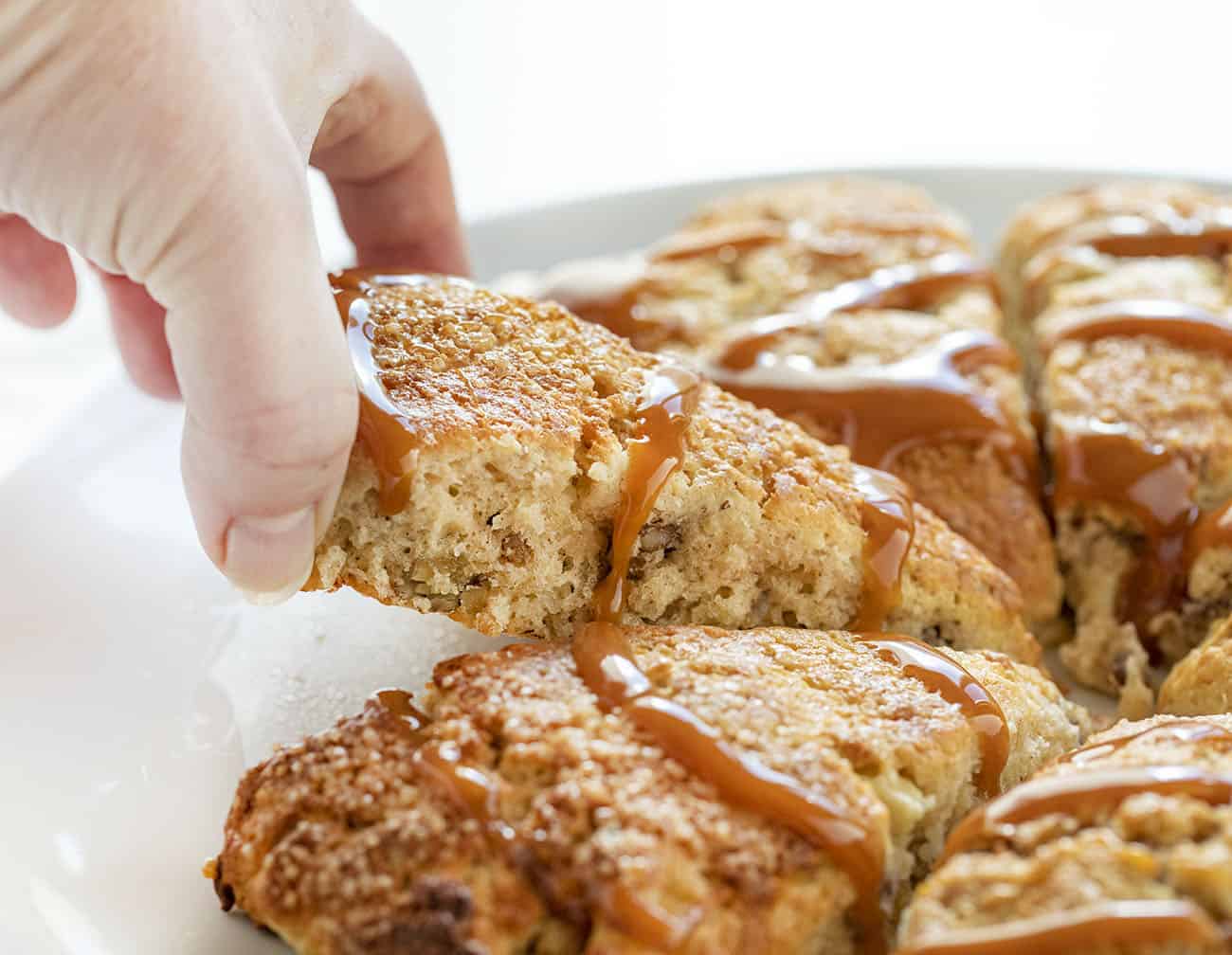 Caramel Apple Pecan Scone
Nothing says fall like a caramel apple, especially an apple just picked from the orchard, drizzled in caramel! I am not sure if that counts as a breakfast, but by putting the caramel apple into my Caramel Apple Pecan Scone, I think we can get away with it! There is some debate as to the origin of the word scone, but I like to go with the Dutch word, 'schoonbrot', meaning beautiful bread. For other beautiful scone recipes, try my White Chocolate Raspberry Scone or Blueberry Lemon Scone.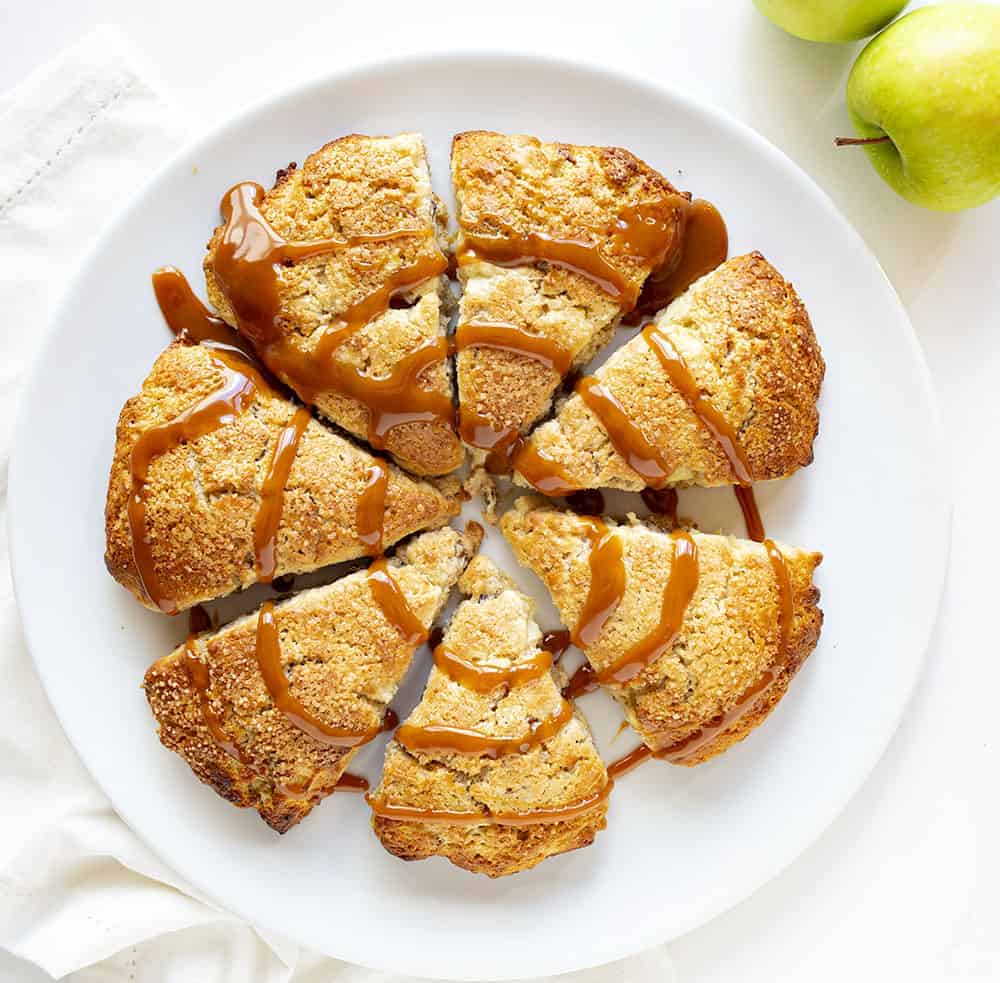 Caramel Apple Pecan Scone Recipe
When perfecting my original scone recipe, I learned a couple of tricks that will make each scone you bake turn out! The key is to use COLD butter and freeze the scone dough for about an hour before you bake it. Here are the ingredients you need to get started.
Dough Ingredients
Flour–For gluten-free scones, simply substitute gluten-free flour for all-purpose flour. I have also used Bread Flour in this recipe and quite frankly, I prefer it. However, bread flour is not a common ingredient in most kitchens and also changes the texture of the scones, making them a bit lighter. This might confuse someone who is used to the traditional version of scones, so I only recommend trying it after you have mastered this recipe!
Sugar
Cinnamon
Salt
Baking powder
COLD Grated butter–This no-fail approach to baking scones is easy to do and a MUST! Use the fine side of the grater and grate over a plate. Be sure to spray the grater with non-stick spray before grating. Then pop in the freezer. Grated butter only needs a few minutes in the freezer to firm up, so it really makes prep time much easier. You can also take a big block of butter and freeze portions so you always have some cold, grated butter for your next recipe! The frozen butter stays cold until baking time, which will keep the scones from spreading out, which makes them lose that flaky and moist texture.
Granny smith apple–Make sure it is peeled and chopped.
Pecans–You can always leave out the nuts for a nut-free scone!
Heavy cream–cold!
Eggs–This is one of the only baking recipes that I do NOT stress using room temperature eggs. Using them right out of the refrigerator works just fine! Out of eggs? No problem! Try one of my Egg Substitutes for this and your other recipes that call for eggs.
Vanilla–good quality!
Topping Ingredients
Caramel Drizzle–If you want to make your own caramel drizzle, here are a couple of options!
How to Make Caramel Sauce
The sauce has 2 ingredients; caramels and evaporated milk. I have also used half & half, heavy whipping cream, and whole milk in place of the evaporated milk and found them to work just as well.
Simply place caramels and evaporated milk into a saucepan over medium heat and stir until the caramels are melted and the evaporated milk is incorporated. This takes anywhere from 5-10 minutes. Once the sauce is creamy and smooth remove it from the heat.
From-Scratch Caramel Sauce
If you want to make the sauce completely from scratch here is an easy recipe.
Ingredients
1 cup brown sugar
4 tablespoons butter
1/4 cup whole milk
1 teaspoon vanilla extract (optional)
Instructions
Bring brown sugar, butter, and milk to a gentle boil (medium to medium-high heat) and cook until thickened, about 1- 2 minutes. Remove from heat; add vanilla extract, and drizzle it over the Caramel Apple Pecan Scones.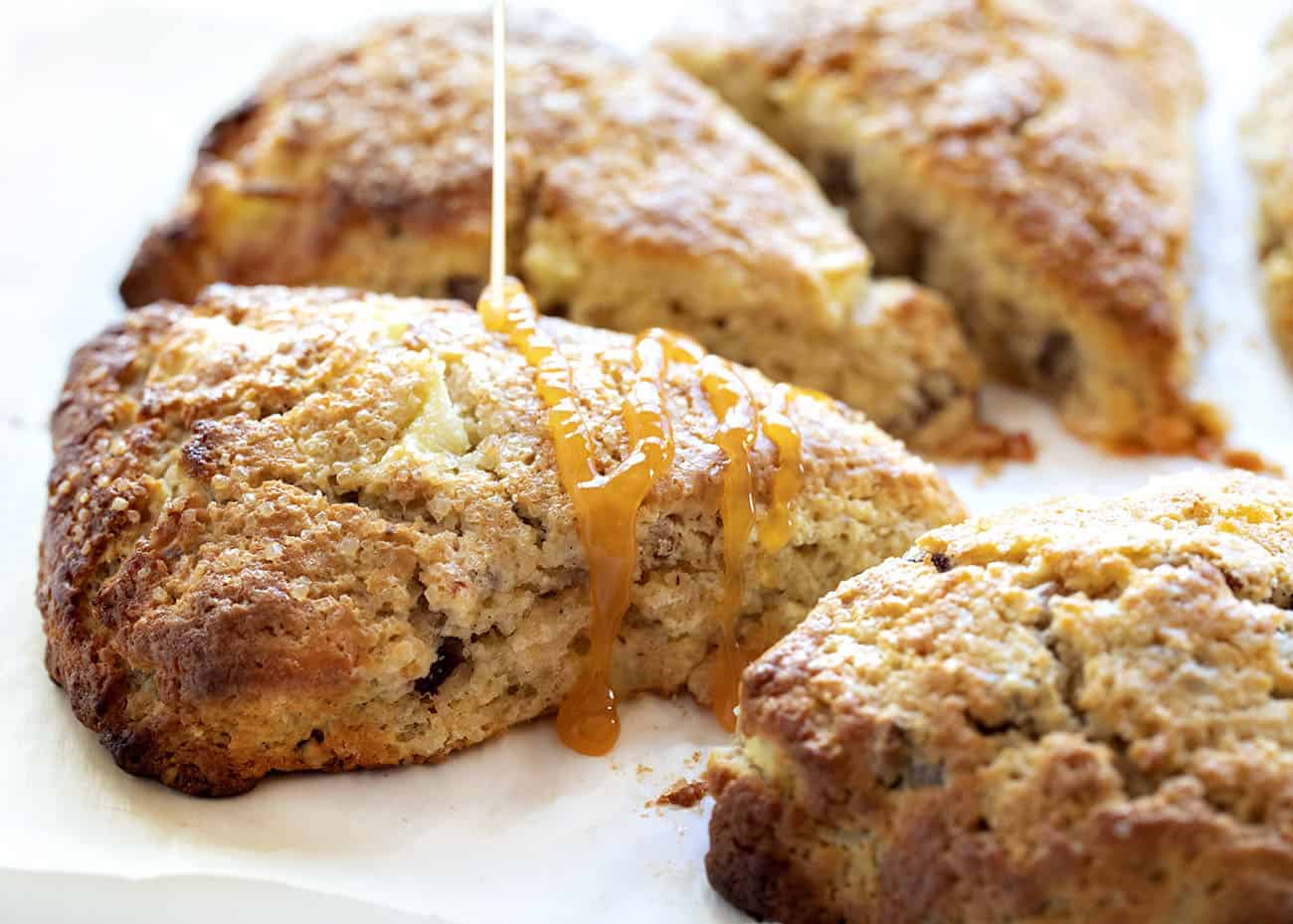 How to Make Caramel Apple Pecan Scones
Once the scone dough has been chilling for about an hour, take the dough out of the freezer, get out your trusty tools, and get ready to bake the scones. First, cut the dough into 6-8 wedges with a bench scraper or a sharp knife. I recommend a bench scraper, and you can learn all about this dough-cutting tool, and which is best for your needs, here, on Amazon's site. Another tool I recommend is a pastry brush to brush the whipping cream over each scone and all the sides. Bake for 18-23 minutes. The scones will be golden brown. They are best served warm, drizzled with caramel. To reheat the room-temperature scones, just bake them, covered with tin foil, in the oven for about 10 minutes at 350°F. You can definitely leave out the pecans if you prefer just a caramel apple scone.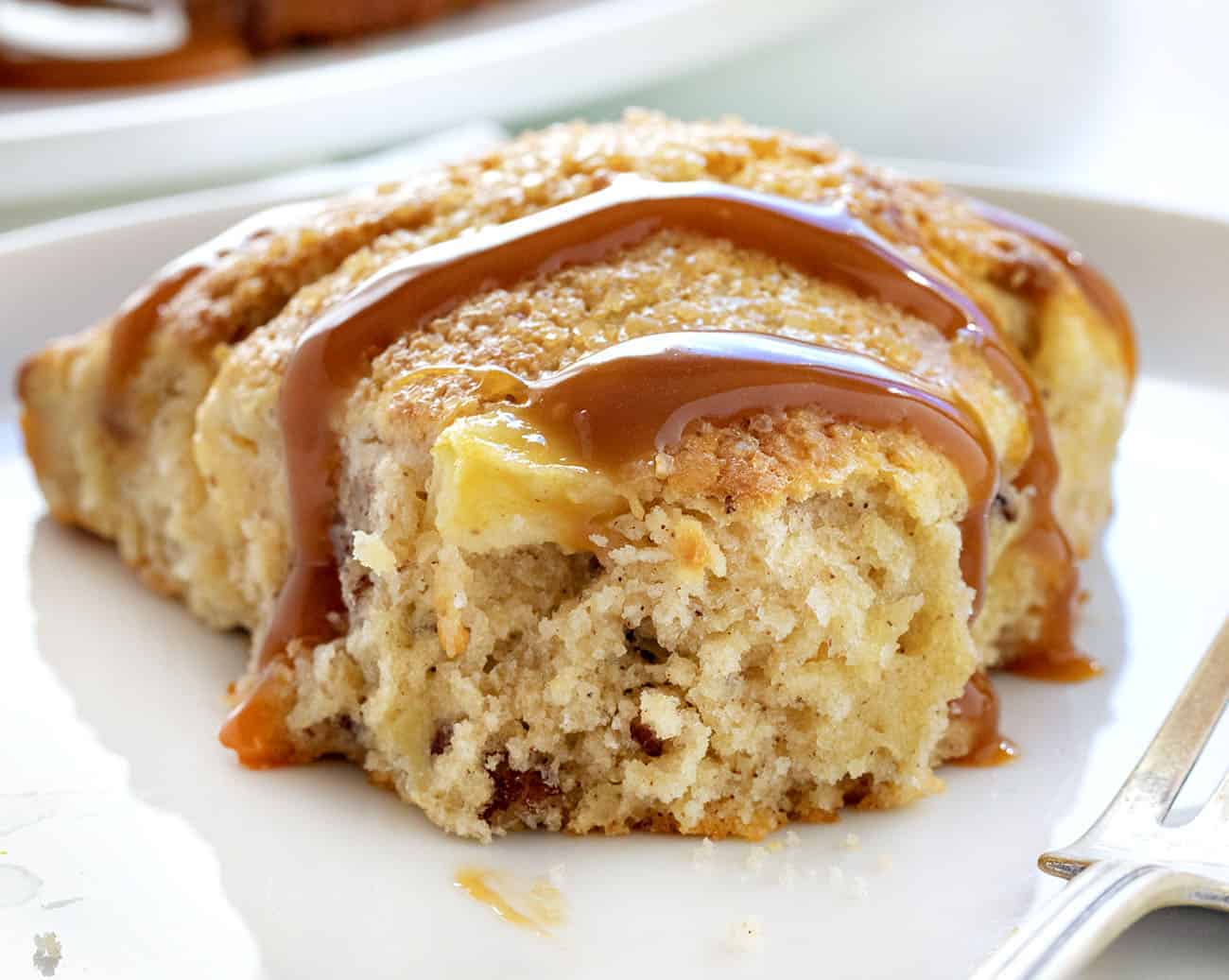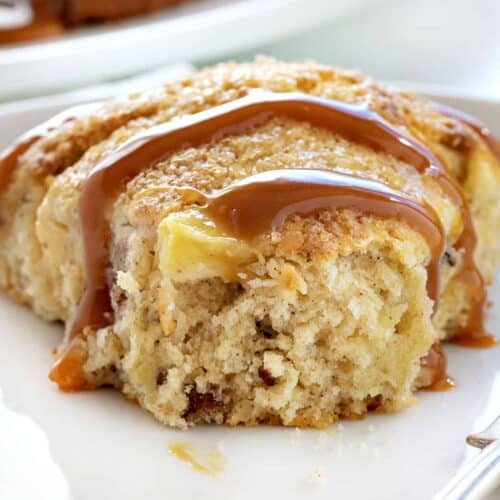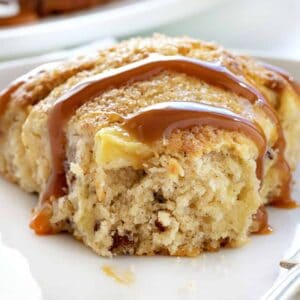 Caramel Apple Pecan Scones
The perfect fall treat, these Caramel Apple Pecan Scones pair perfectly with a coffee and crisp, morning air!
Keyword:
Caramel Apple Pecan Scones
Ingredients
DOUGH
2½

cups

(313g) all-purpose flour

½

cup

(100g) granulated sugar

½

teaspoon

cinnamon

½

teaspoon

salt

1

tablespoon

baking powder

½

cup

(113g) cold butter,

grated

1

granny smith apple,

peeled and diced small

½

cup

pecans,

chopped (and optional)

⅔

cups

(80g) heavy cream

2

eggs,

large

1

teaspoon

vanilla

2

tablespoons

heavy whipping cream,

for brushing on top of chilled scones

2

tablespoons

turbinado sugar or granulated sugar,

for sprinkling before baking
TOPPING
¼

cup

(82g) caramel drizzle
Instructions
In a large mixing bowl, whisk together the flour, sugar, cinnamon, salt, and baking powder.

Work in the butter just until the mixture is unevenly crumbly; it's OK for some larger chunks of butter to remain unincorporated.

Add the chopped apple and pecans. Gently toss to coat.

In a separate bowl, mix together the heavy cream, eggs, vanilla.

Add the liquid ingredients to the dry ingredients and stir until all is moistened and holds together.

Line a baking sheet with parchment. Sprinkle a bit of flour atop the parchment or pan.

Scrape the dough onto the floured parchment or pan, and make a circle. The circle should be about 3/4 inches thick.

Freeze for 30-60 minutes, uncovered. (Chilling the scones relaxes the gluten in the flour, which makes the scones more tender and allows them to rise higher. It also chills the fat (butter), which will make the scones a bit flakier.)

Preheat the oven to 425°F.

Remove from freezer and using a knife or bench scraper that you've run under cold water and dried, slice each circle into 6-8 wedges. (Much easier after chilling!)

Carefully pull the wedges away from the center to separate them just a bit; there should be about 1/2 inch space between them.

Brush scones with heavy whipping cream, making sure to cover all exposed sides. Sprinkle with turbinado sugar.

Bake the scones in the upper part of your oven for 18-23 minutes, or until they are a light golden brown. When you pull one away from the others, it should look baked all the way through; the edge should not look wet or unbaked.

Remove the scones from the oven, and cool briefly on the pan.

Drizzle the caramel topping over the scones. Serve warm.
Looking for More Caramel Apple Treats?