Drizzled with caramel and loaded with apples and pecans, these Caramel Apple Pecan Scones are the perfect fall breakfast and anytime coffee break treat! If you love caramel apple flavor, be sure to try Dwight's Caramel Apple Pie.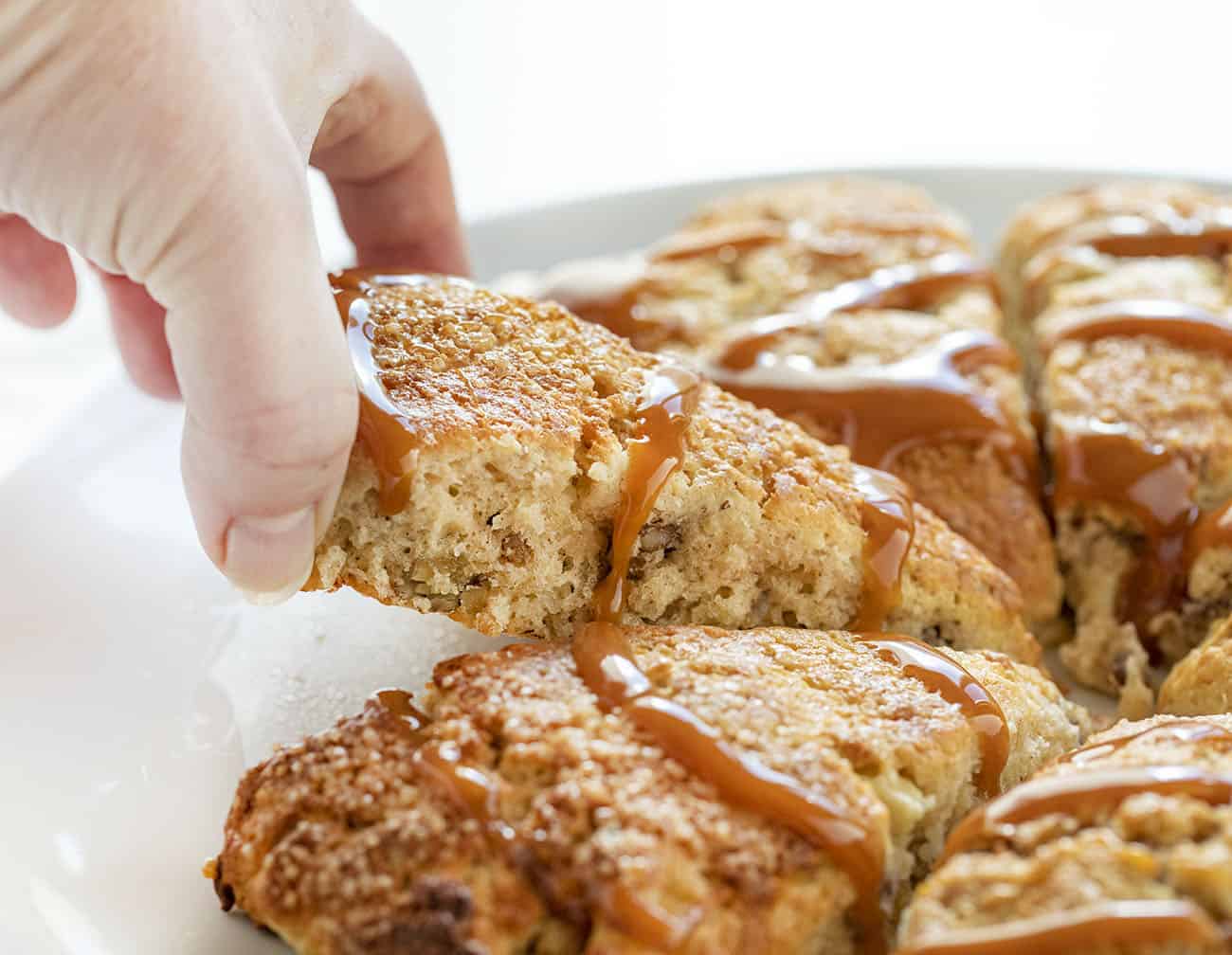 Caramel Apple Pecan Scones
Nothing says fall like a caramel apple, especially an apple just picked from the orchard, drizzled in caramel! I am not sure if that counts as breakfast, but by putting the caramel apple into my Caramel Apple Pecan Scone, I think we can get away with it! There is some debate as to the origin of the word scone, but I like to go with the Dutch word, 'schoonbrot', meaning beautiful bread. For other beautiful scone recipes, try my original scones, White Chocolate Raspberry Scone, or Blueberry Lemon Scone.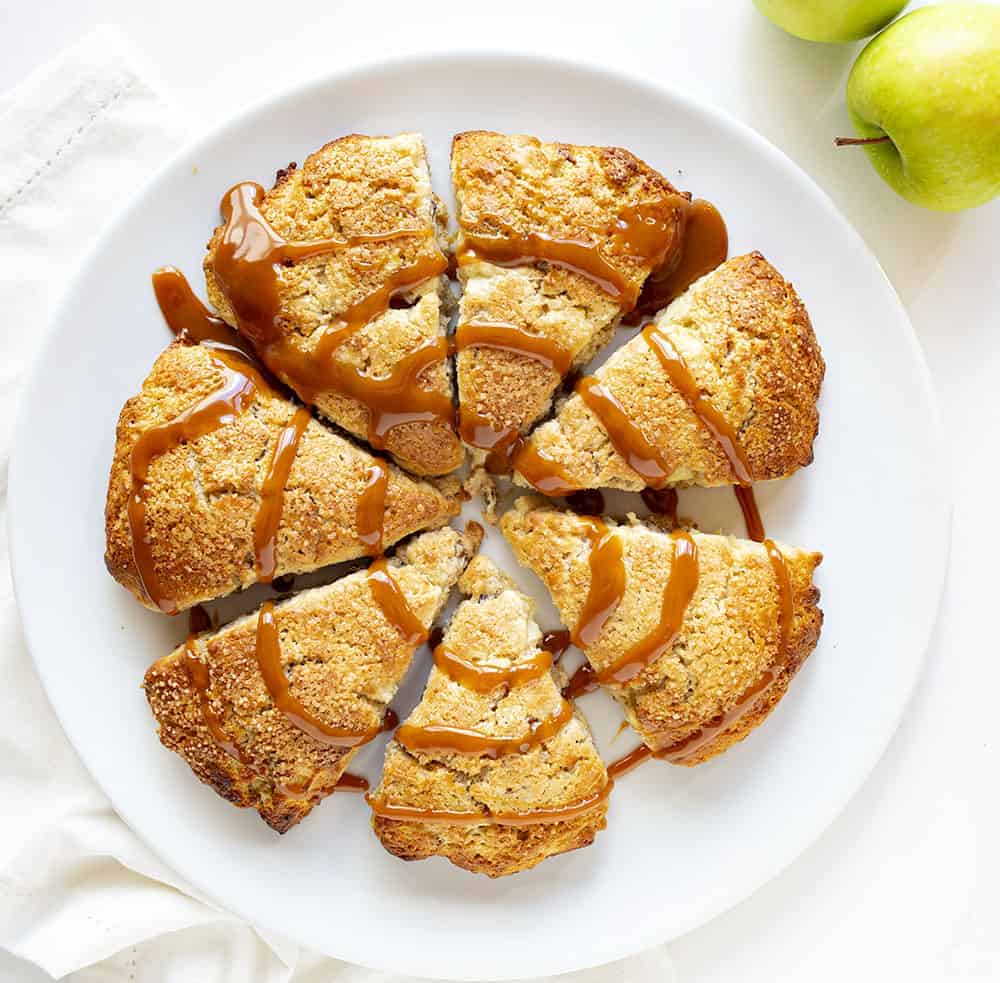 Ingredients
Butter: I used unsalted butter for this recipe. The key to a good scone is to use cold, grated butter. This keeps the scones from spreading out to keep their flaky, moist texture.
Apple: I used Granny Smith apples for this recipe. They keep their shape well when baked.
Pecans: I love what pecans bring to this recipe! You can always leave out the nuts for a nut-free scone.
Turbinado Sugar: Turbinado Sugar is a sugar that would fall between granulated sugar and light brown sugar in both color and flavor. It has a yellowish-brown color and with some molasses content left in the turbinado sugar (which gives it the color), it will provide a slight butterscotch flavor and has larger and coarser grains. If you can't find turbinado sugar, you can use granulated sugar for the topping.
Caramel: Storebought or homemade caramel sauce for the caramel drizzle will work in this recipe.
Helpful Tools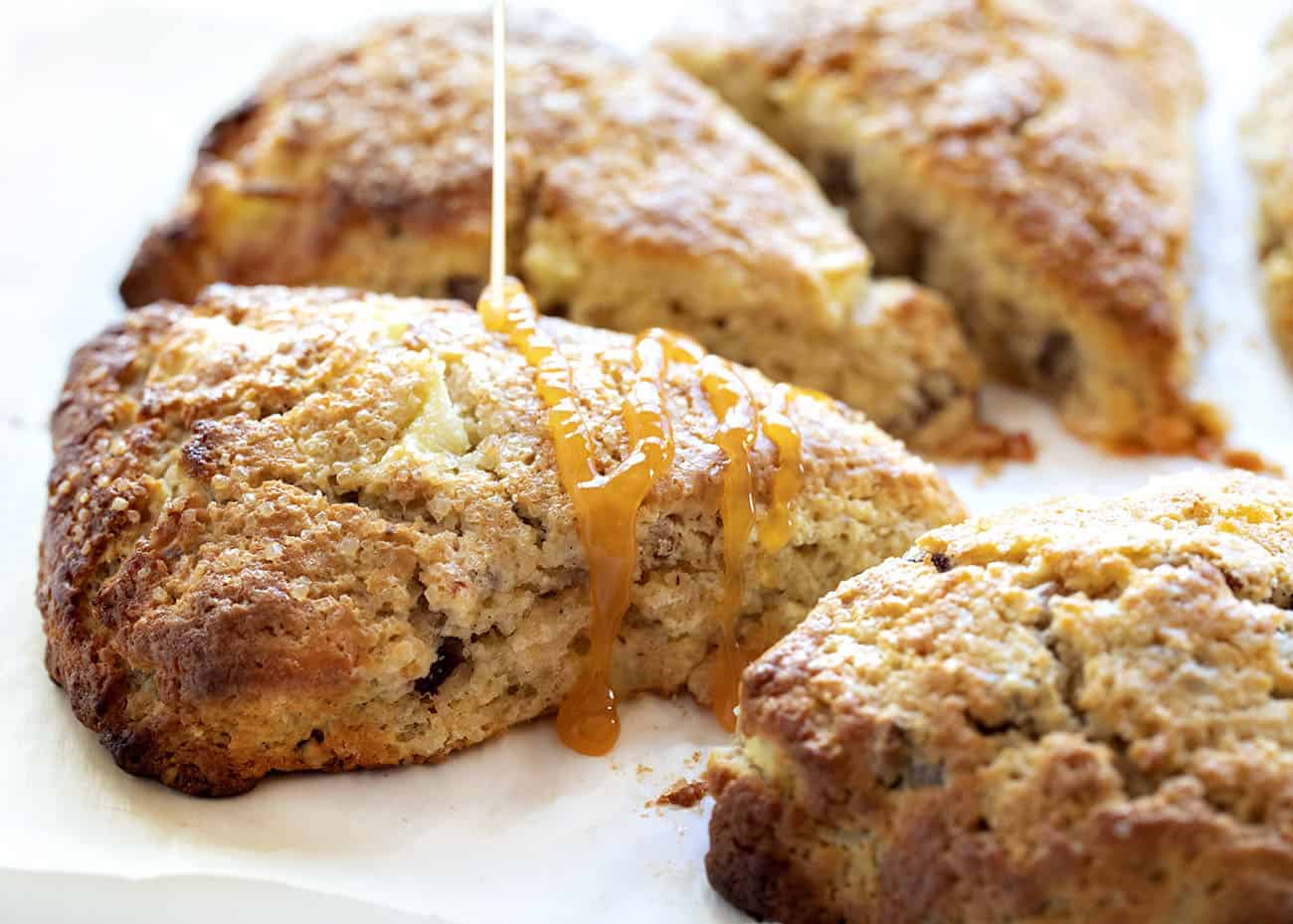 Do I Have to Freeze the Dough?
If you want the perfect scone, yes, you do need to freeze the dough. Freezing relaxes the gluten in the flour, which makes the scones rise higher. No one wants a flat scone. Freezing also chills the fat which gives the scones their signature flaky texture.
Can I Make Caramel Apple Pecan Scones Ahead of Time?
Sure! If you are not ready to bake the scones after the dough has been in the freezer for an hour, you can keep it in there. Once the dough has chilled for 60 minutes, put it in a sealable freezer bag and store it for up to a month! Then, just bake as directed, from the freezer, with maybe a few minutes added to the bake time.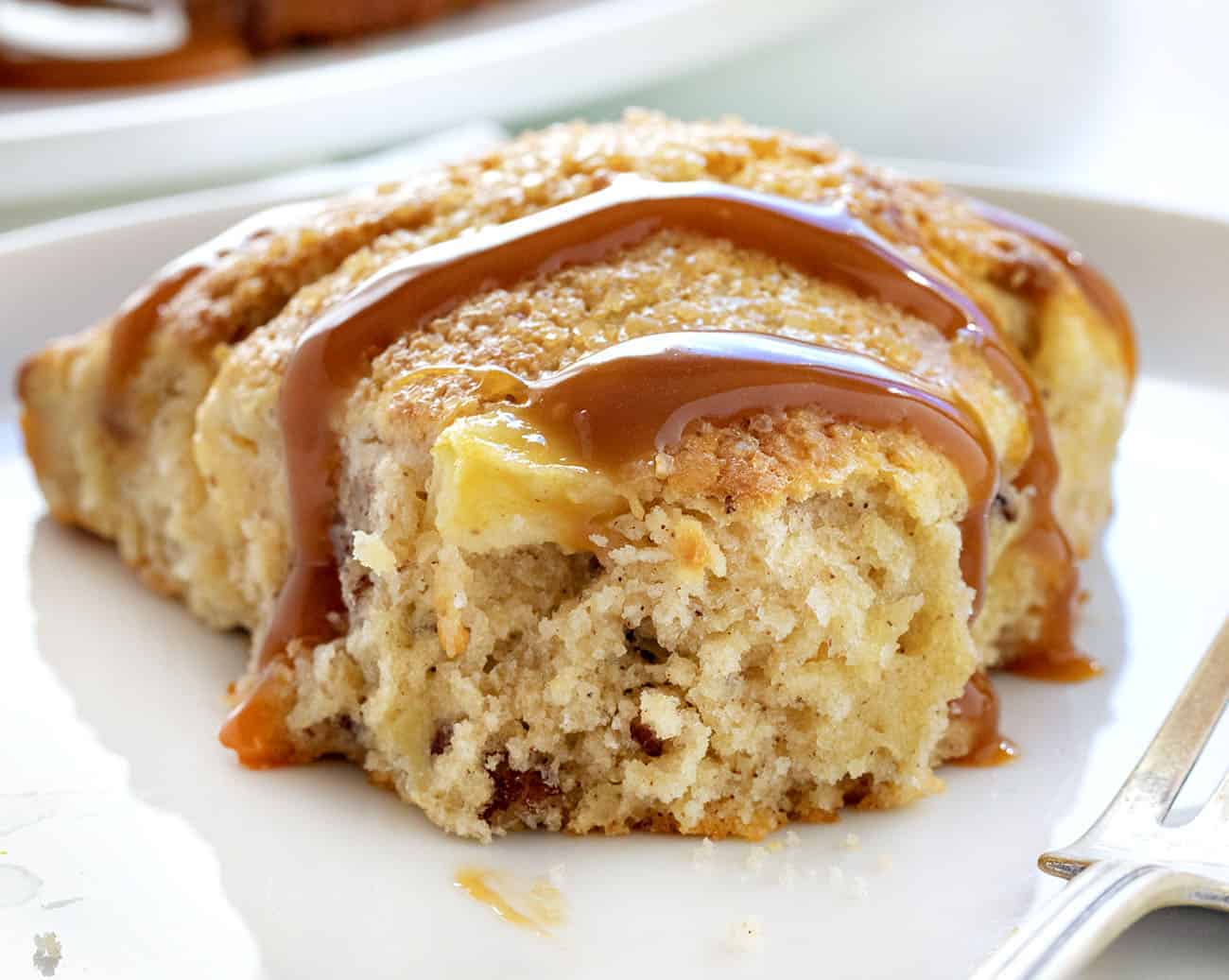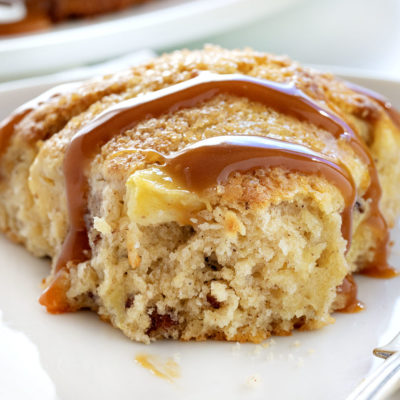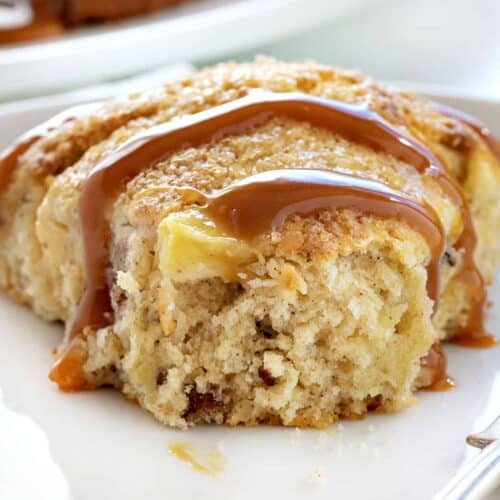 Caramel Apple Pecan Scones
The perfect fall treat, these Caramel Apple Pecan Scones pair perfectly with a coffee and crisp, morning air!
Ingredients
DOUGH
2½

cups

(313 g) all-purpose flour

½

cup

(100 g) granulated sugar

½

teaspoon

cinnamon

½

teaspoon

kosher salt

1

tablespoon

baking powder

½

cup

(1 stick / 113 g) unsalted butter,

cold, grated

2

medium

granny smith apples,

peeled and finely diced (about 2¼ cups)

½

cup

pecans,

chopped (optional)

⅔

cups

(80 g) heavy cream

2

large

eggs

1

teaspoon

vanilla extract

2

tablespoons

heavy cream

2

tablespoons

turbinado sugar
Instructions
In a large mixing bowl, whisk together the flour, sugar, cinnamon, salt, and baking powder.

Work in the butter just until the mixture is unevenly crumbly; it's okay for some larger chunks of butter to remain unincorporated.

Add the chopped apple and pecans (if adding). Gently toss to coat.

In a separate bowl, mix together the heavy cream, eggs, vanilla.

Add the liquid ingredients to the dry ingredients and stir until all is moistened and holds together.

Line a baking sheet with parchment paper. Sprinkle a bit of flour on top.

Place the dough onto the floured parchment and make a circle. The circle should be about ¾-inch thick.

Freeze for 30-60 minutes, uncovered. (Chilling the scones relaxes the gluten in the flour, which makes the scones more tender and allows them to rise higher. It also chills the fat (butter), which will make the scones a bit flakier.)

When ready, preheat the oven to 425°F.

Remove from freezer and using a knife or bench scraper that you've run under cold water and dried, slice each circle into 6-8 wedges. (Much easier after chilling!)

Carefully pull the wedges away from the center to separate them just a bit; there should be about ½-inch space between them.

Brush scones with heavy cream, making sure to cover all exposed sides. Sprinkle with turbinado sugar.

Bake the scones for 18-23 minutes, or until they are a light golden brown. When you pull one away from the others, it should look baked all the way through; the edge should not look wet or unbaked.

Remove the scones from the oven, and cool briefly on the pan.

Drizzle the caramel topping over the scones. Serve warm.
Did you make this recipe?
Thank you for making my recipe! You took pictures, right? Well go ahead and post them on Instagram! Be sure to mention me @iambaker and use the hashtag #YouAreBaker.