This is a watermelon cake inside and out! I used real watermelon to flavor this cake and then used buttercream to create a simple design on the outside. Fun and delicious!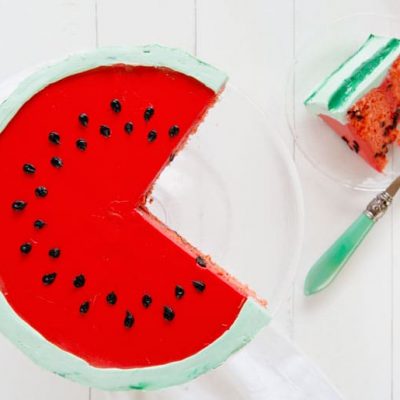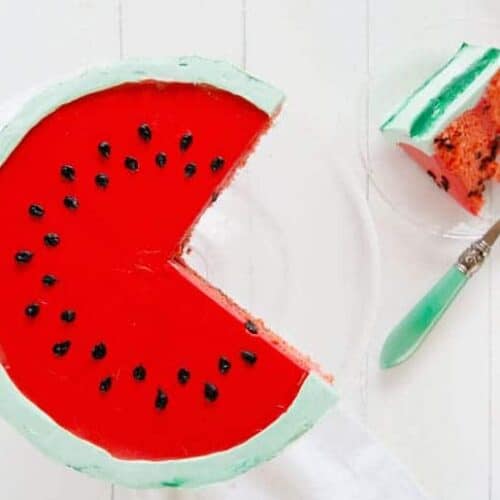 Watermelon Cake
This is a watermelon cake inside and out! I used real watermelon to flavor this cake and then used buttercream to create a simple design on the outside. Fun and delicious!
Ingredients
2

cups

(226g) all-purpose flour

sifted

1 ¼

cup

(250g) granulated sugar

1

tbsp.

baking powder

1

tsp.

salt

½

cup

1 stick, 113g butter, softened

1

cup

watermelon juice*

1

tsp.

McCormick® Strawberry Extract

or more to taste

2

eggs

room temperature

1/2

tsp.

McCormick® Red Food Color

1 1/2

cups

mini semi-sweet chocolate chips

divided (and 1 tablespoon flour for sifting)
Instructions
Preheat oven to 350°F. Grease and flour two 8-inch round cake pans.

In a large mixing bowl sift together flour, sugar, baking powder and salt.

Make a well in the center and add butter, watermelon juice, strawberry extract, eggs, and red food color. Beat with a hand mixer on medium speed for about 1 minute, or until ingredients are fully incorporated.

Sift 1 cup of chocolate chips with 1 tablespoon flour and then gently stir into batter.

Pour batter into prepared pans, dividing equally among both. Equally divide about 1/4 cup chocolate chips between the two cake pans. (The remaining chocolate chips will be used between the layers of the cake when you frost it.) Bake 20 to 30 minutes or until a toothpick comes out mostly clean.

Cool in pans on wire racks. When cakes have cooled completely, turn out onto wire racks.

* To make watermelon juice, simple cut about 1/4 a medium size watermelon into chunks. Place in blender and puree until smooth.
Did you make this recipe?
Thank you for making my recipe! You took pictures, right? Well go ahead and post them on Instagram! Be sure to mention me @iambaker and use the hashtag #YouAreBaker.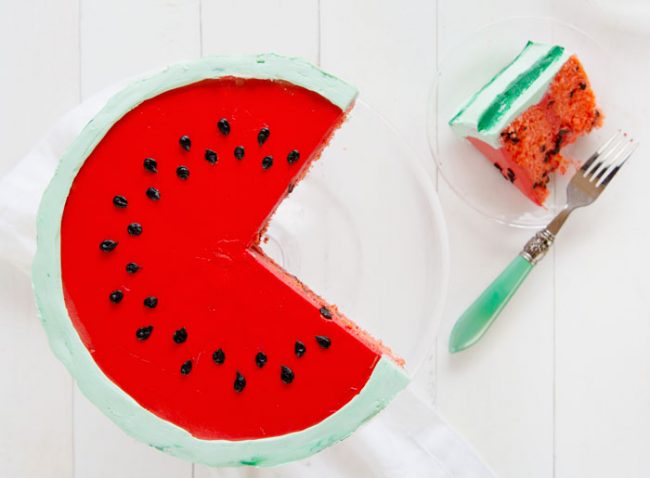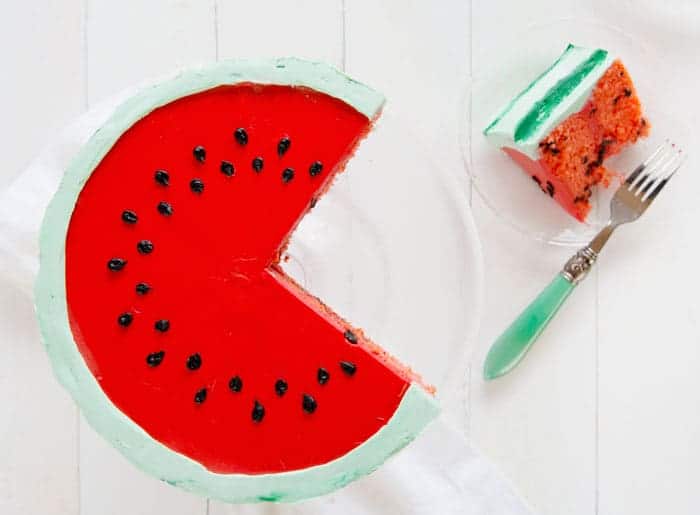 Watermelon Cake
I wanted to create a from-scratch watermelon cake that had a fun design inside as well as out! A few simple ingredients are all you need to recreate this summertime cake that is perfect for any party and 4th of July barbecue!!
To make this cake you will need:
Watermelon cake recipe (below)
red, green, and black McCormick® Food Color
pastry bag
#3 tip
small offset spatula
cake stand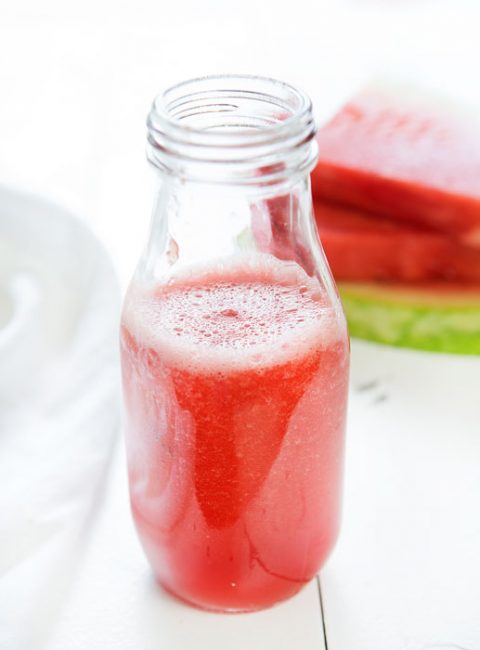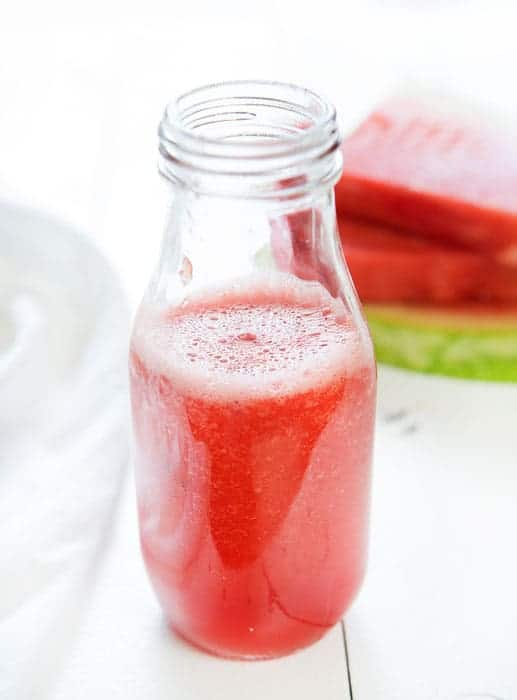 Begin by making the cake.
You will notice that I add watermelon juice to the batter. This is simply watermelon that I have pureed in the blender!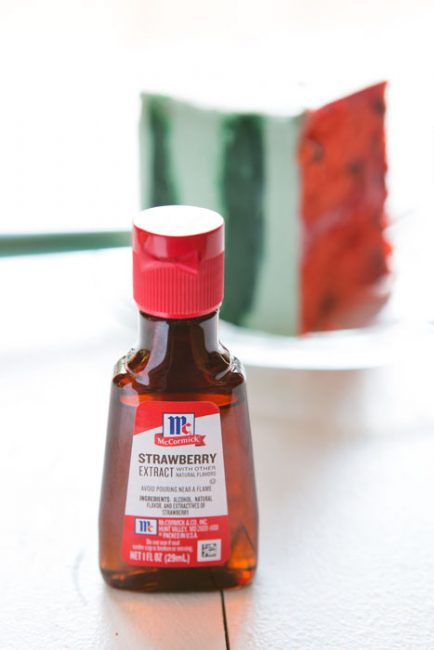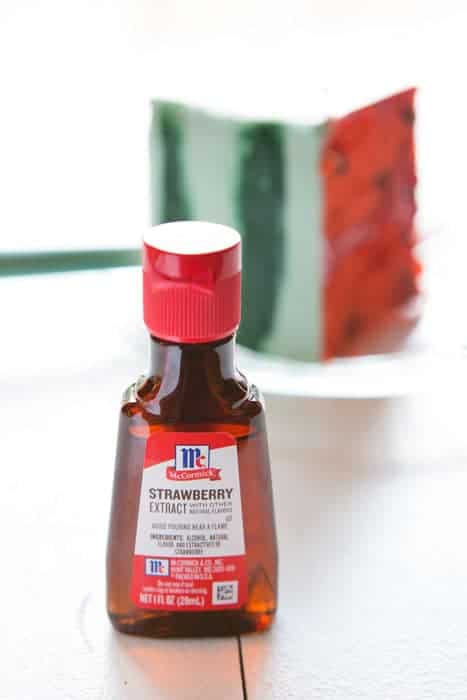 You may also notice that I added a bit of McCormick® Strawberry Extract. I found that when I added just a little it seemed to enhance the watermelon flavor. I also believe there is something about "eating with our eyes", so when people bite into this cake, they tend to match the sweet "berry" flavor to that of a watermelon. It's quite fascinating!
After cakes have baked, allow them to cool.
Prepare vanilla buttercream.
I separated my frosting into 2 bowls. The first bowl I tinted a light green. (about 3 drops of McCormick® Green Food Color.) The other bowl I then divided again.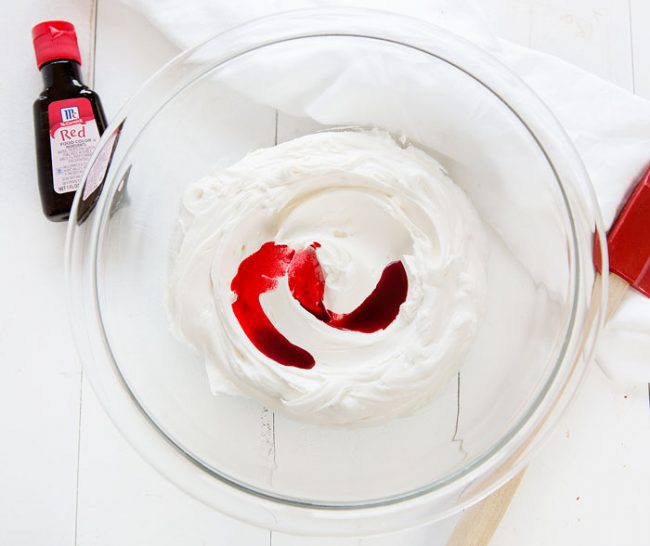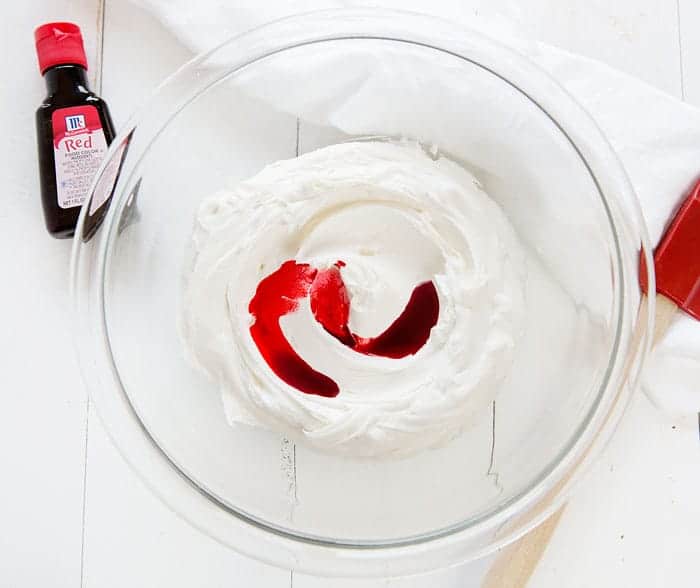 One portion was tinted red with McCormick® Red Food Color. I used about 2 teaspoons. The final portion of buttercream was tinted a dark green, I used about 2 teaspoons here as well. After I piped the green lines on the cake (I will show you how in a moment) I tinted the remaining green frosting black. Because it was already dark, I used very little black food color.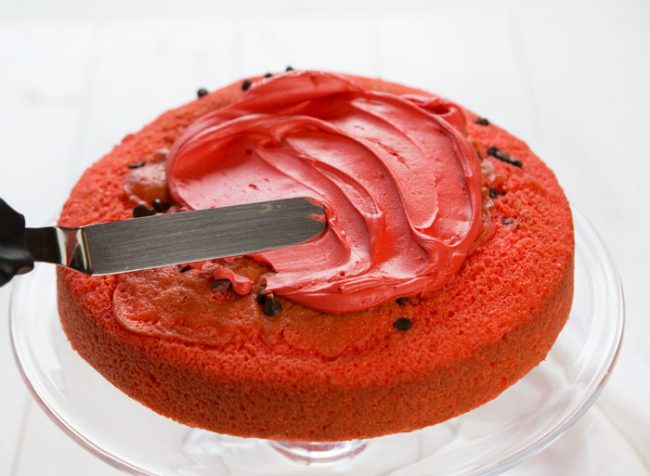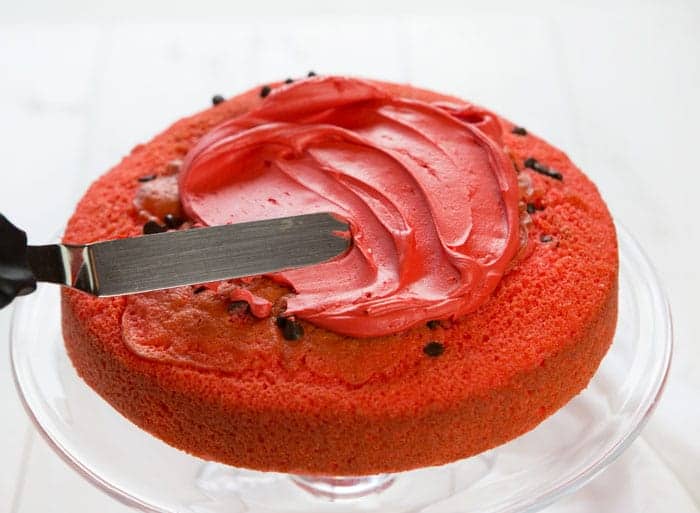 Set the first layer of cake on cake stand. Evenly spread about 1/2 cup of the red buttercream over the top of the cake.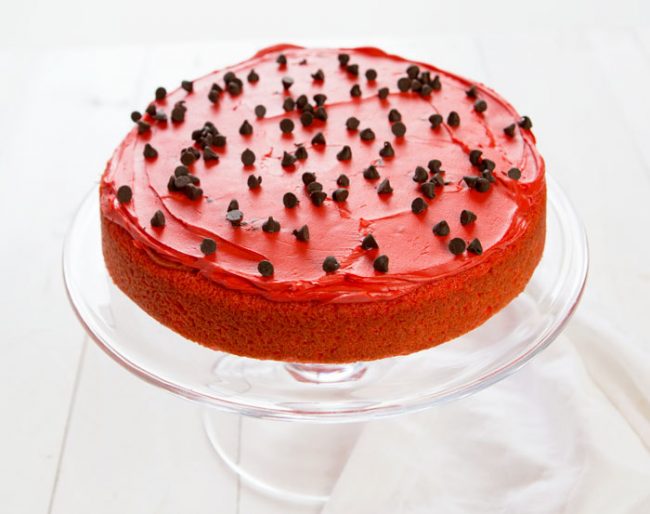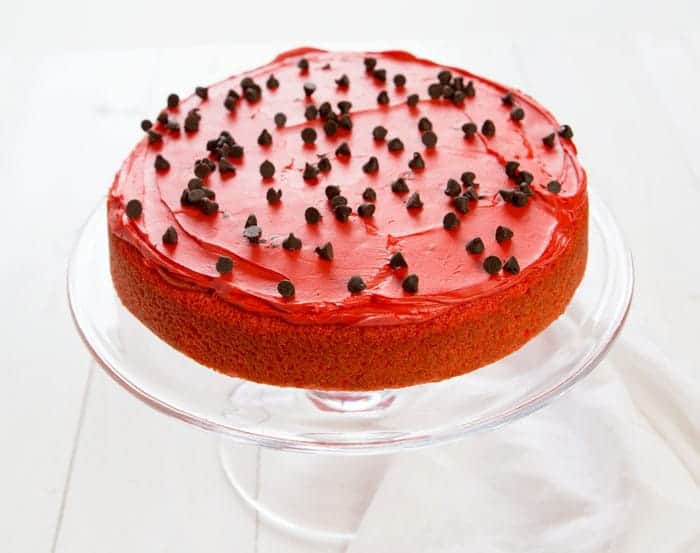 Place other layer of cake on top.
Spread about 1/2 cup of red buttercream around the top of the cake and smooth as much as possible.
Now spread a thick layer of the light green buttercream around the sides of the cake. You may need to do a crumb coat, chill the cake, and add more light green. You do not want to see the cake underneath or crumbs in the frosting.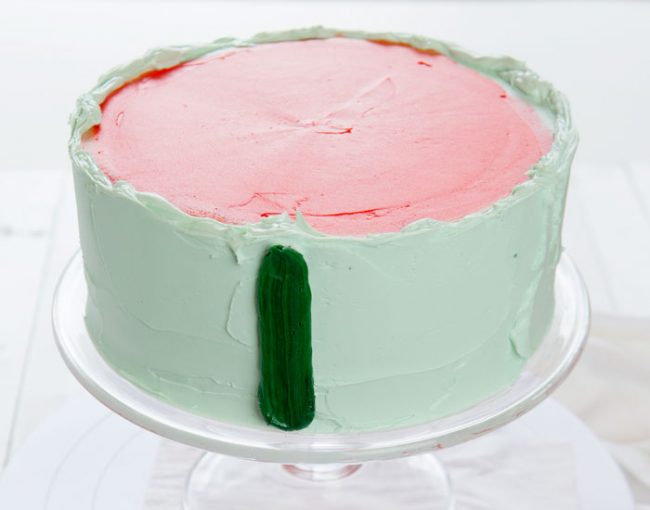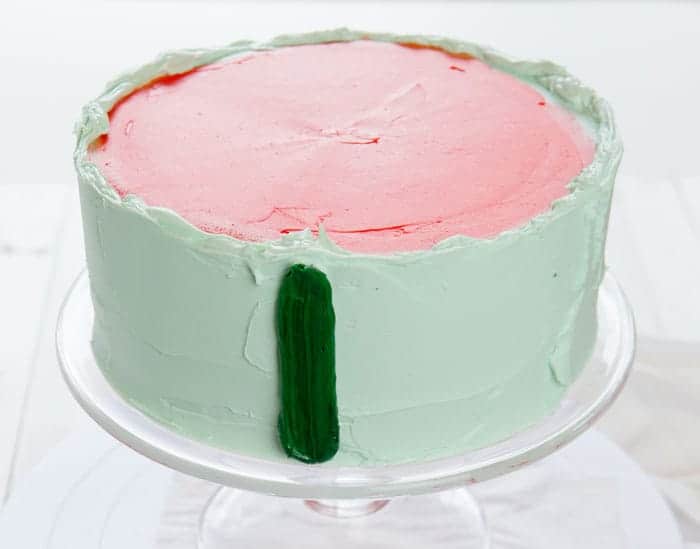 Now take your dark green and make a vertical line on the side of the cake. I did 3 lines at a time and spaced them about 1/2 apart. I then tool an offset spatula and pressed into the green line, moving up. The goal is to get the line to blend seamlessly with the light green frosting and also to create a rough line, not one with perfect edges. (just think how a watermelon looks)
When swiping up I would also then remove the excess frosting from my spatula so as to not smear the next line too much.
Do this around the entire cake.
When done, carefully go around the entire cake and smooth out the top edge.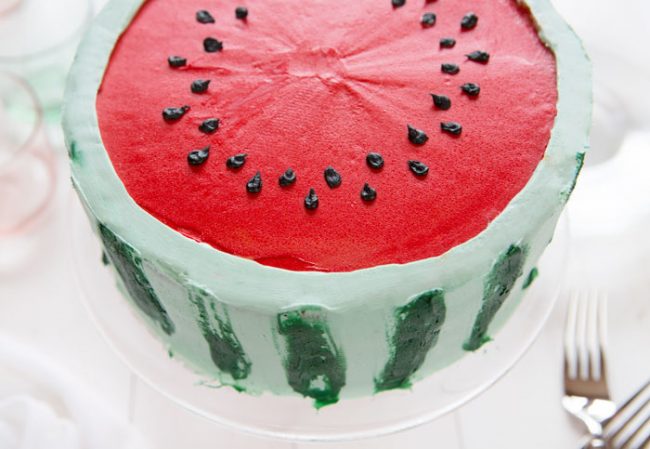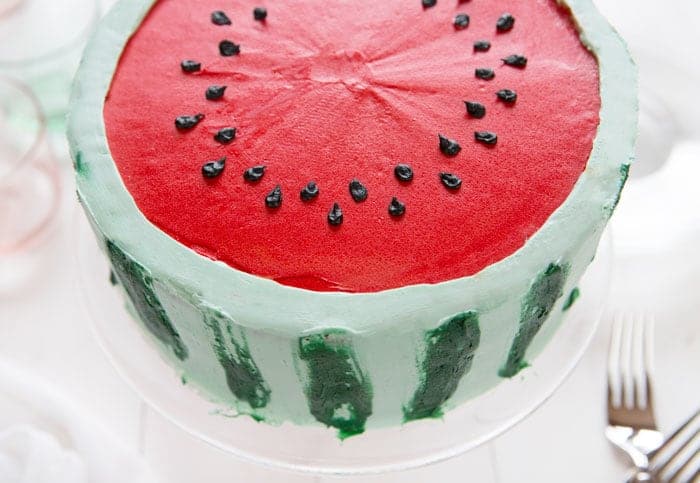 Now get your black buttercream and put it into a pastry bag fitted with a #3 small round tip. Pipe out little black seeds around the top of the cake. You can do as many as you want and any size you want! If you want to make one row of seeds but slightly bigger, I would switch to a #5 or #7 tip.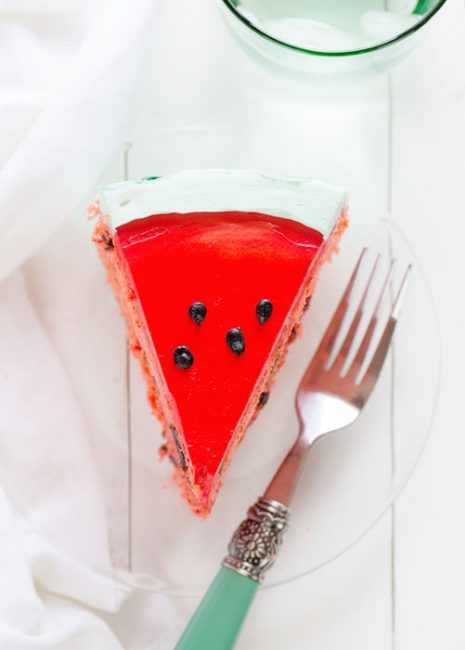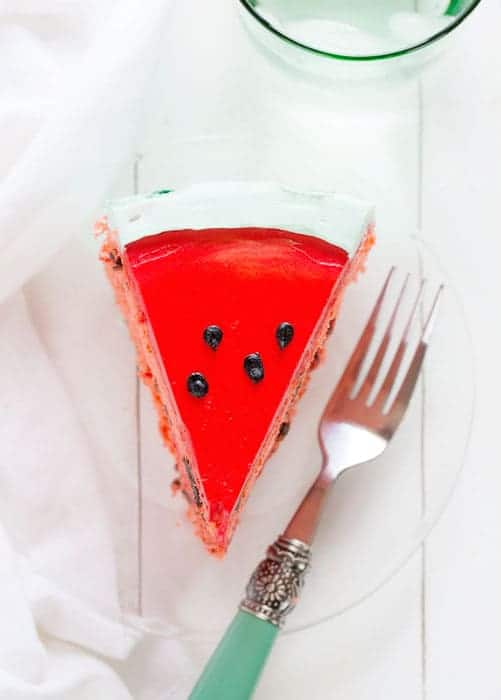 If you want a nice clean crisp slice, chill the cake before cutting. The cake tastes great at room temperature as well as chilled.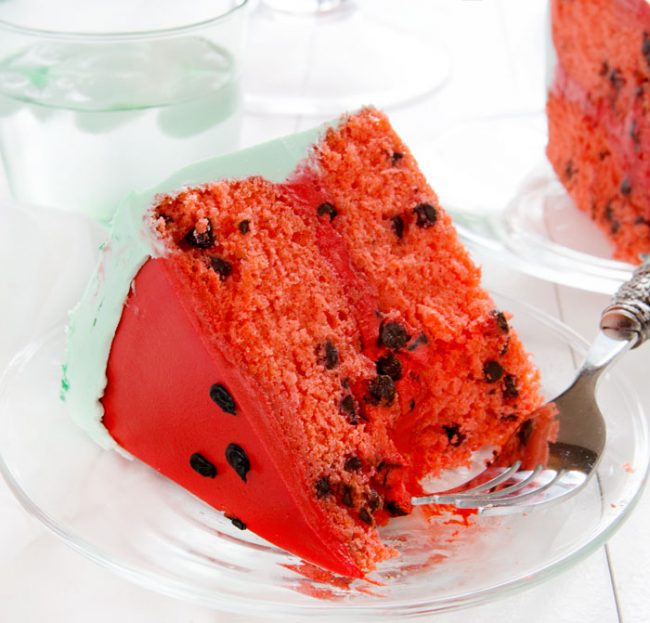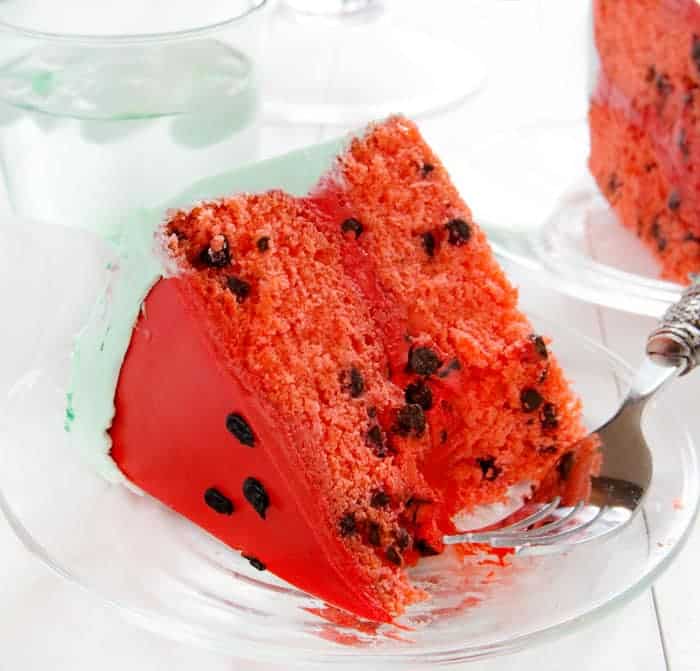 Tips for success:
Using freshly pureed watermelon juice works best.
I tried to match my red buttercream to the color of the cake. This works best if you tint your buttercream after the cake is baked.
Be sure to sift the mini chocolate chips in flour so that they do not all sink to the bottom of the cake. I also added a few on top of the batter just before baking.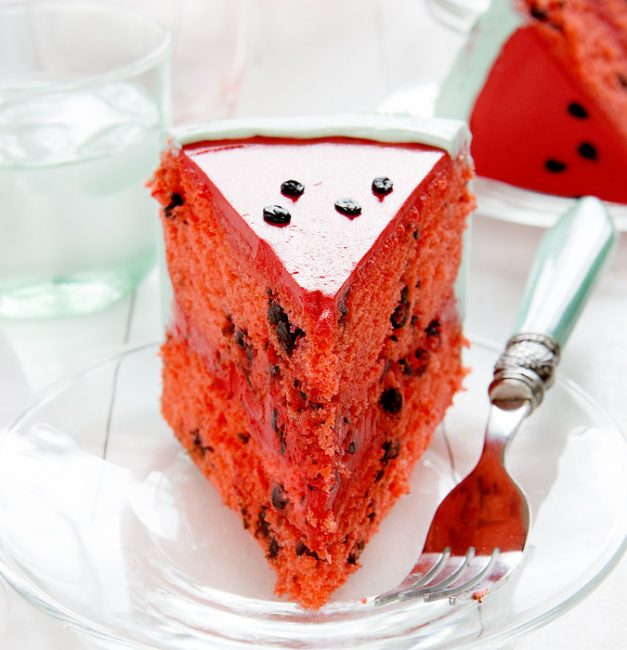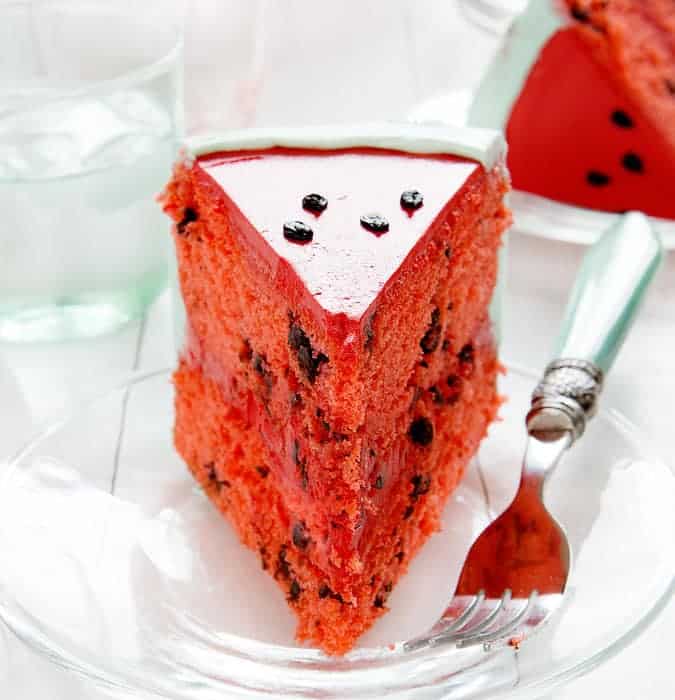 I hope you love this From-Scratch Watermelon Cake recipe! Want other tips and tricks to make a flavorful 4th of July? Check out McCormick's recommendations a delicious no bake treat like Firework Poke Cake or Chocolate Chip Cookie Dough Stars.