I created this Snickerdoodle Cheesecake recipe because we are obsessed with all things snickerdoodle! It is a creamy cheesecake with a cinnamon pie crust and a generous sprinkle of cinnamon sugar on top. If you love Snickerdoodles as much as we do you might want to try my highly rated Snickerdoodle Cookies!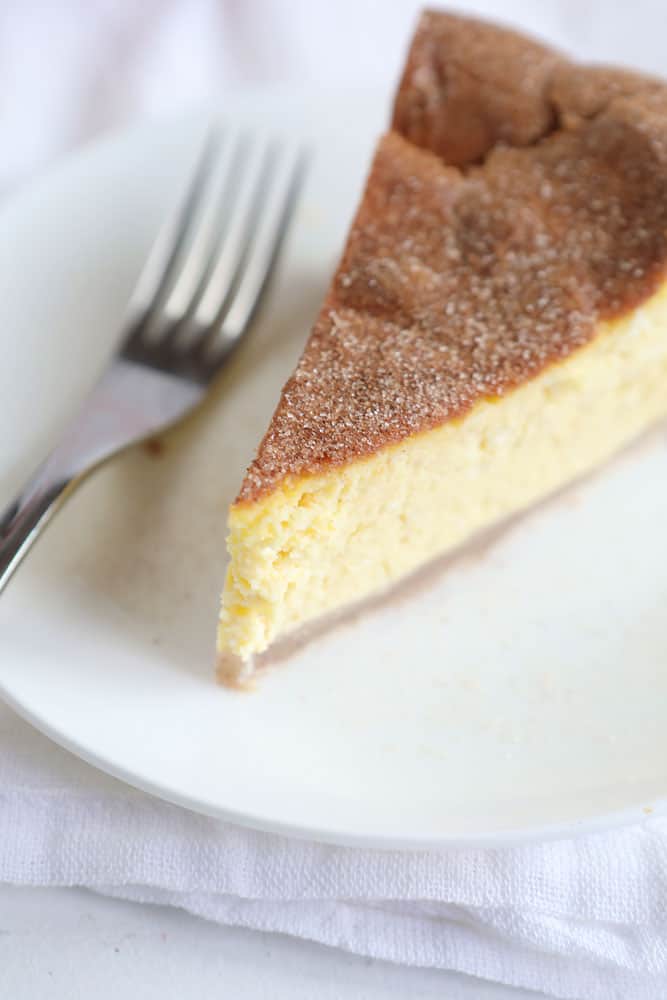 Snickerdoodle Cheesecake
When trying to replicate the amazing flavor of a snickerdoodle cookie in a cheesecake I knew I wanted it to have two things. Amazing creaminess and tons of cinnamon! This recipe does all that and then some. I started with a cinnamon pie crust made from scratch. This recipe is so good you may want to try it in an apple pie or even peach! Next, I made the cheesecake itself. Cinnamon is also added to this cheesecake filling and adds such a beautiful depth of flavor. Finally, right before it goes in the oven, I added a healthy sprinkling of cinnamon sugar. Everything about this cheesecake just screams Snickerdoodle!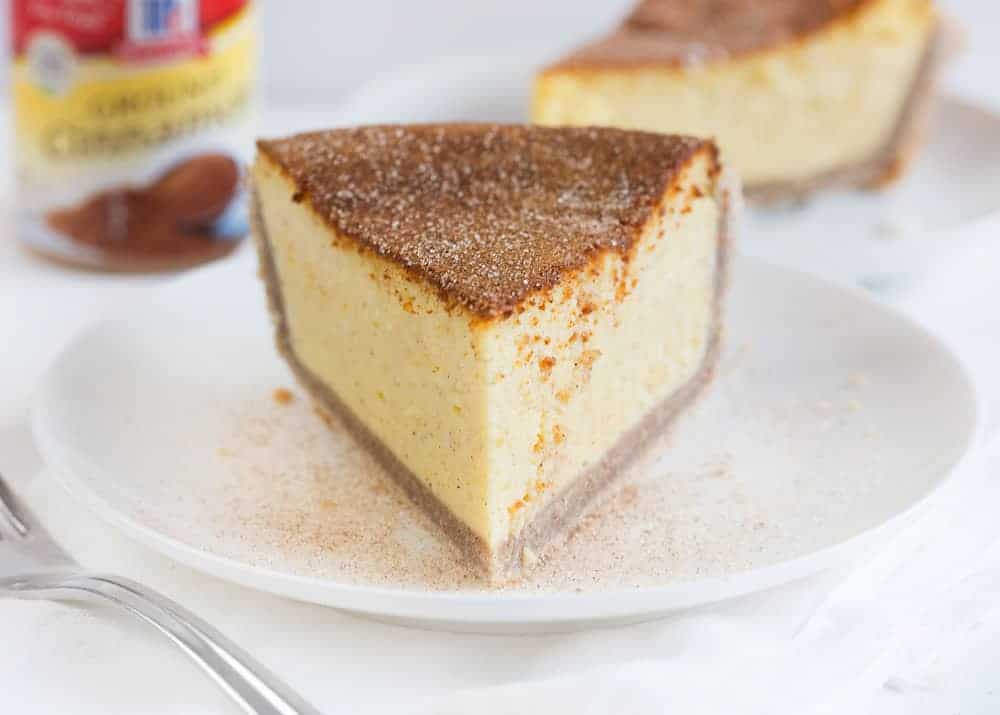 Cinnamon in Baking
Because cinnamon was the star of this recipe I wanted to make sure I was using the best quality cinnamon I could get my hands on. And it just so happens that the best cinnamon is one that is easily available at every grocery store! You guessed it, McCormick. The aroma of pure cinnamon is intensely warm; tasting it delivers a punch of red-hot cinnamon heat. The flavor of pure cinnamon brings warmth to sweet dishes, complexity to savory dishes and makes every dish a reason to celebrate.
Fun Fact: Did you know that McCormick waits at least 15 years before harvesting a cinnamon tree? It's important to allow the tree to mature and develop the perfect taste you know and love. McCormick cinnamon is harvested from the bark of cinnamon trees. McCormick strips, cleans, and steams the bark before drying – which becomes quills (they curl up during the drying stage).
Cinnamon stirs up childhood memories… whether it is sprinkled on oatmeal or swirled into homemade cookies, the warmly-spiced aroma of cinnamon takes me back to my mom's side in the kitchen, a place I loved to be!
I recently attended an event that was hosted by the amazing staff and team over at McCormick Spice, I was able to see for myself just how much time and energy goes into making cinnamon. It was fascinating, to say the least!
(Check out this fun video to see how it all comes together)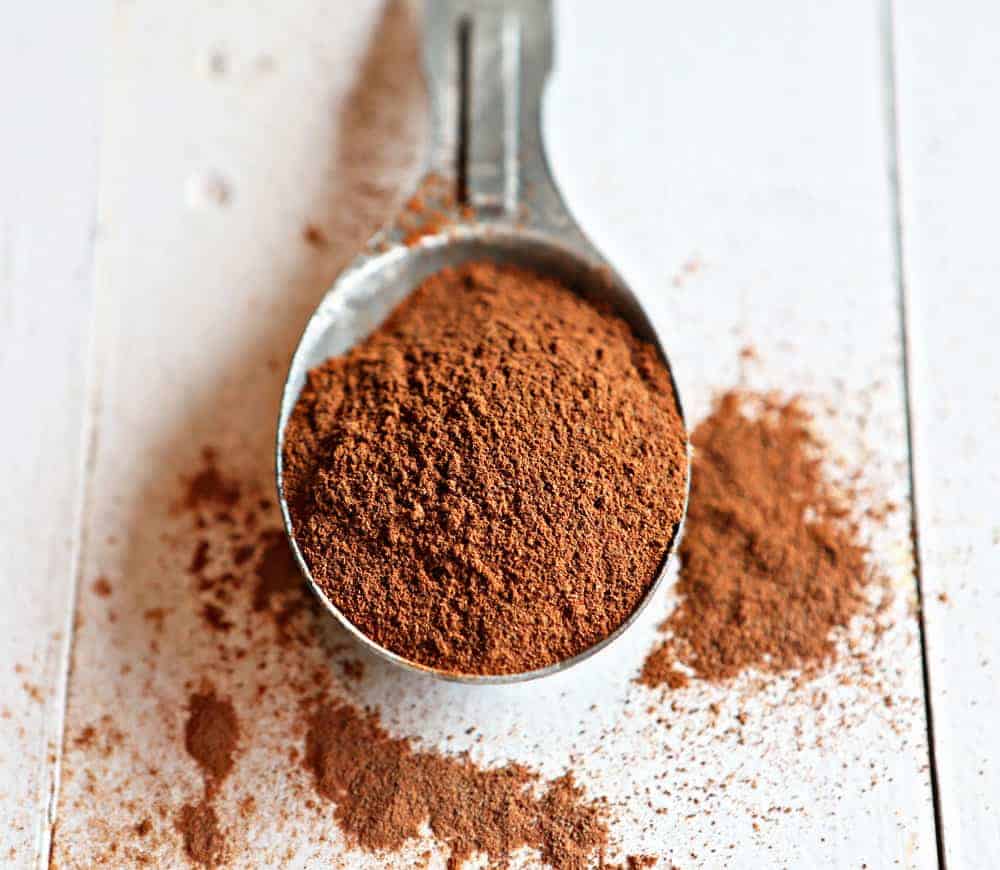 Three Facts About McCormick Cinnamon
McCormick offers a functional flip top cap which makes measuring spices a breeze. A must for bakers!
McCormick Cinnamon does not clump… it's a free flowing powder with a pure rich reddish-brown color.
McCormick cinnamon tastes better than the rest! The aroma is strong, sweet, and woody. Next time you open your container, try it; I think you will see just how flavorful it is!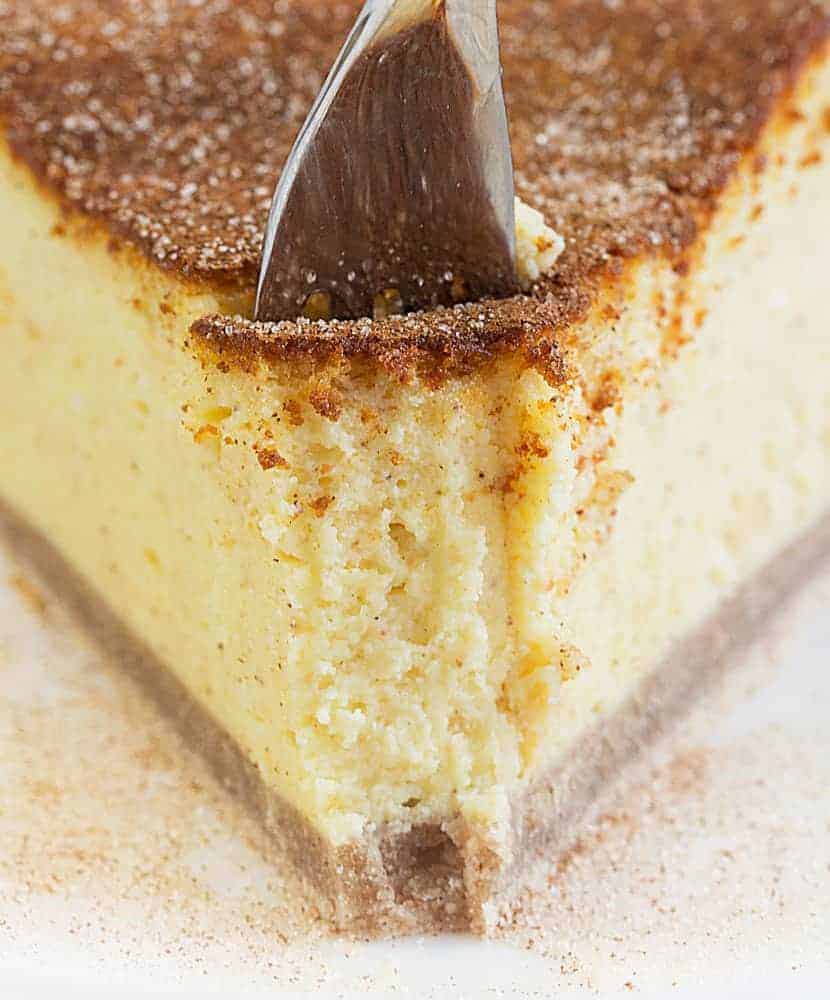 These recipes utilize a LOT of cinnamon too! There is cinnamon in the crust (which is amazing, I can't wait for you to try it!), the cheesecake, and the topping. The end result is a creamy cheesecake packed with flavor!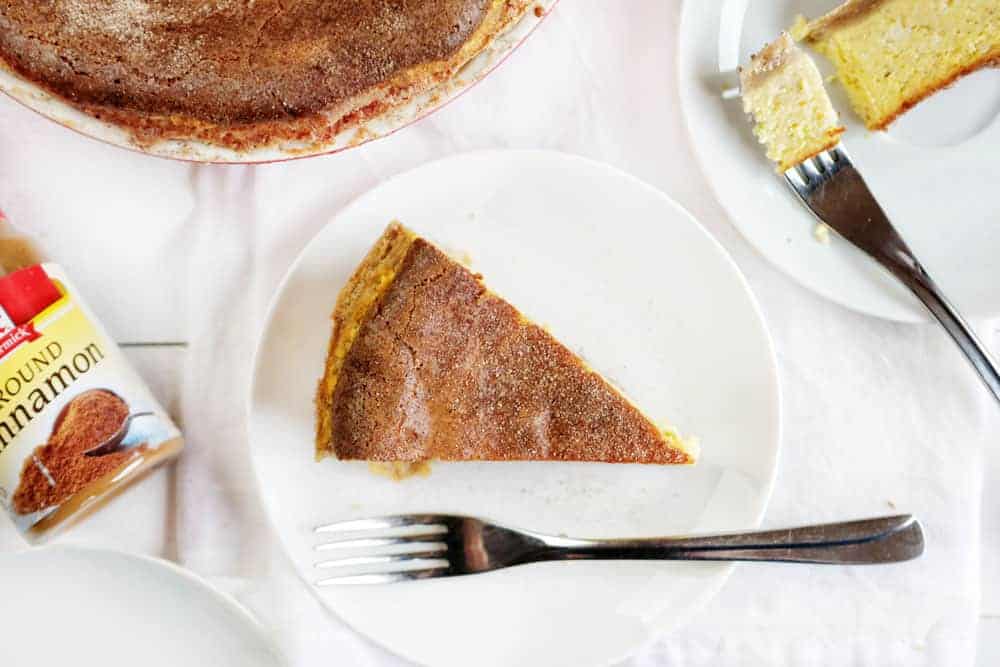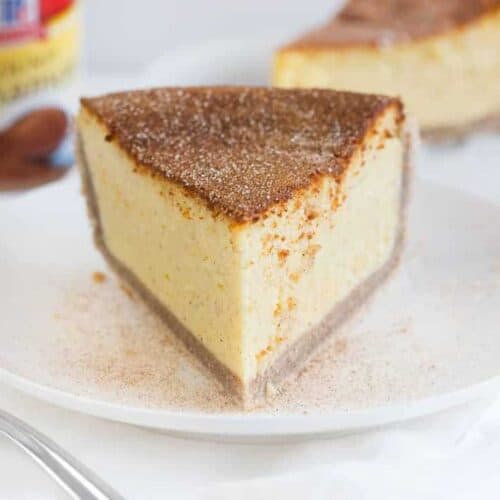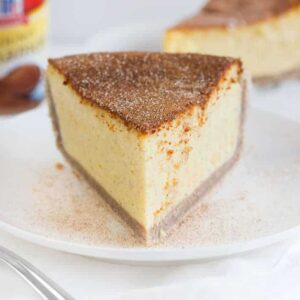 Snickerdoodle Cheesecake with Cinnamon Pie Crust
Your favorite cookie in a cheesecake! This Snickerdoodle Cheesecake is a family favorite!
Keyword:
snickerdoodle cheesecake
Ingredients
Cinnamon Pie Crust
2

cups

(256g) all-purpose flour

2

teaspoons

McCormick® Cinnamon, Ground

1/2

teaspoon

salt

3/4

cup

(1 1/2 sticks or 170g) cold unsalted butter,

cut into pieces

3 to 5

tablespoons

ice water
Snickerdoodle Cheesecake
2

packages

(16 total ounces) cream cheese,

room temperature

3

large eggs,

lightly beaten

8

ounce

sour cream

1

cup

(200g) granulated sugar

2

tablespoons

all-purpose flour

2

teaspoons

McCormick Vanilla Extract

1/2

teaspoon

McCormick Cinnamon, Ground
Cinnamon Sugar Topping
1

tablespoon

granulated sugar

1/2

teaspoon

McCormick Cinnamon, Ground
Instructions
Cinnamon Pie Crust
Mix flour, cinnamon, and salt in large bowl. Cut in butter with pastry blender or a food processor until mixture resembles pea-size crumbs.

Add ice water, a tablespoon at a time, tossing dough with a fork or pulsing after each addition. Add enough water so that dough comes together.

Gather dough into a ball. Flatten into a disk. Wrap in plastic wrap. Refrigerate 30 minutes.

Roll dough on a lightly floured surface from center to edges into a circle, about 1/4-inch thick. (For easier rolling without additional flour, place dough between 2 sheets of wax paper before rolling.)

Carefully place pie crust on rolling pin and transfer to an 8-inch or 9-inch deep dish pie pan. Flip crust onto the pie pan. Gently press the pie crust onto bottom and up sides of the pan. Trim pie crust using the top of the pie pan as a guide. (Reserve any remaining dough to make pie crust decorations if desired.)

Bake for 10 minutes. Set aside to cool before filling.
Snickerdoodle Cheesecake
In a large mixing bowl beat cream cheese, sour cream, 1 cup sugar, flour, vanilla, and 1/2 teaspoon cinnamon with an electric mixer on medium speed until smooth. Stir in eggs.

Pour cream cheese mixture into crust-lined pie pan, spreading evenly.
Cinnamon Sugar Topping
In a small bowl stir together 1 tablespoon sugar and 1/2 teaspoon cinnamon. Sprinkle with cinnamon-sugar mixture.

Bake for 40 to 50 minutes or until cheesecake is dark brown. Cool in pan on a wire rack for 15 minutes.

Cover and chill for at least 4 hours before serving.
Recipe Video
It was an absolute joy to learn all about the intricacies of cinnamon from my friends at McCormick. I am thankful to partner with a brand that takes quality so seriously! Thank you for supporting the brands that support us here at iambaker.