These Colossal Snickerdoodle Cookies are not only a sight to behold, but they also taste absolutely amazing! Just imagine your favorite snickerdoodle cookies surrounding a smooth, creamy marshmallow cinnamon frosting and just a hint of rich, buttery caramel.
(You can absolutely make these smaller! They are still amazingly delicious and awesome to see!)
Colossal Snickerdoodle Sandwich Cookies
The perfect sandwich cookie must have two things… a soft, chewy, perfectly flavorful cookie and a filling that can stand up to it. This cookie sandwich has all that! I made my Snickerdoodle Cookie Recipe into a COLOSSAL version and then complemented it with a cinnamon marshmallow frosting and a caramel topping. But folks, I didn't create this recipe for any old reason… there is actually a very specific reason why!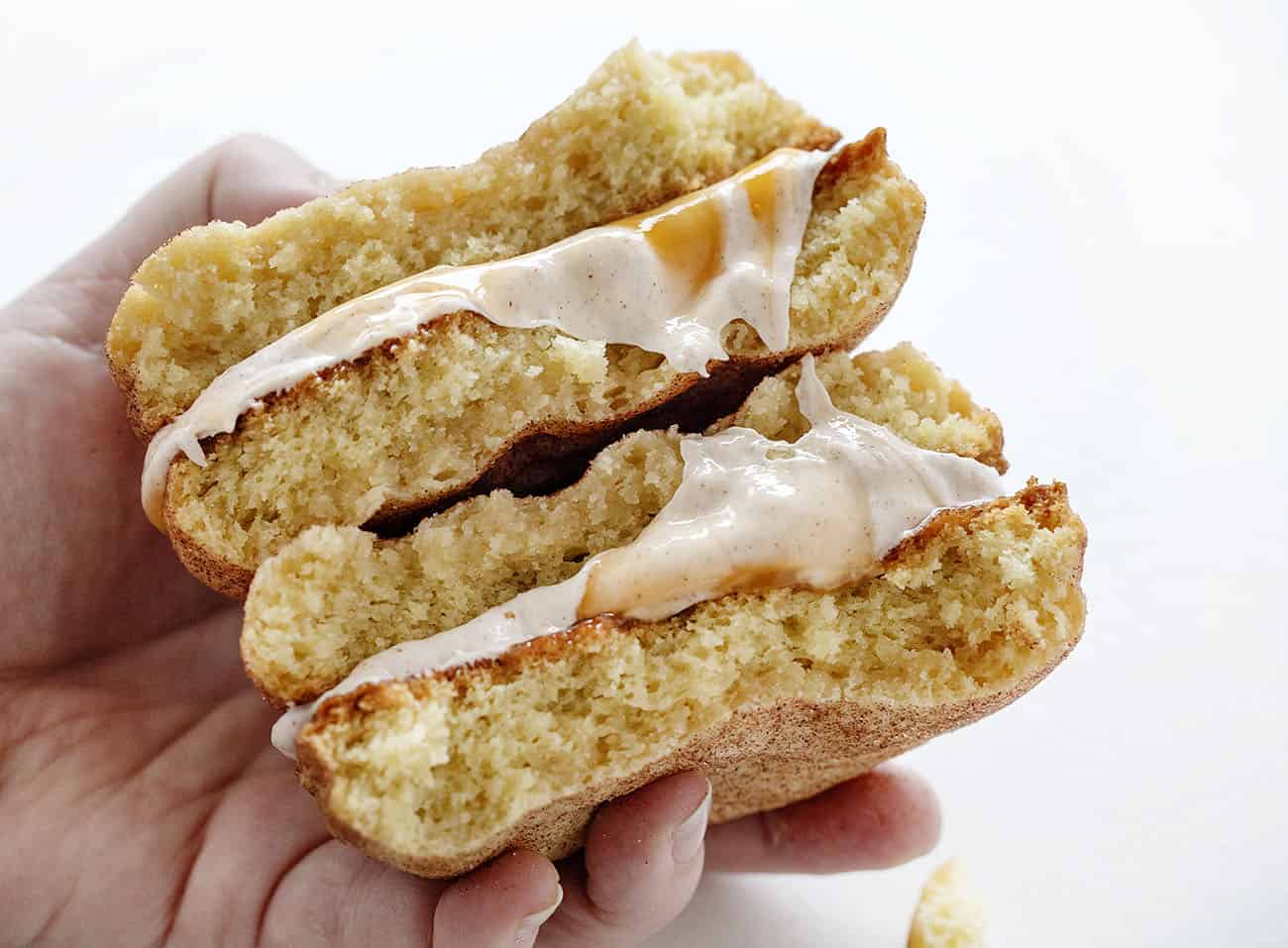 BIG NEWS: November 1st Has Been Officially Declared as National Cinnamon Day!
From McCormick: "It's time to celebrate the hardest working spice of the holiday season with its own national holiday on November 1st – let's hear it for Cinnamon! While pumpkin spice has been getting all the glory this fall, cinnamon has been behind the scenes flavoring your favorite holiday classics like apple pie, snickerdoodle cookies, cinnamon rolls, mulled cider, sweet potato casserole, French toast, pumpkin pie and more.
Cinnamon truly is one of America's favorite holiday spices; it's warm, sweet, and a bit spicy. It makes both sweet and savory foods delicious during the holiday season," said Jill Pratt, VP of North America Excellence from McCormick. "As our most sold holiday spice this time of year, we wanted to give cinnamon the attention it deserves, as well as honor people with this unique name. We're declaring this #CinnamonSeason, and rallying lovers of this flavor everywhere to celebrate the spice rack's unsung hero."
Let's celebrate #CinnamonSeason !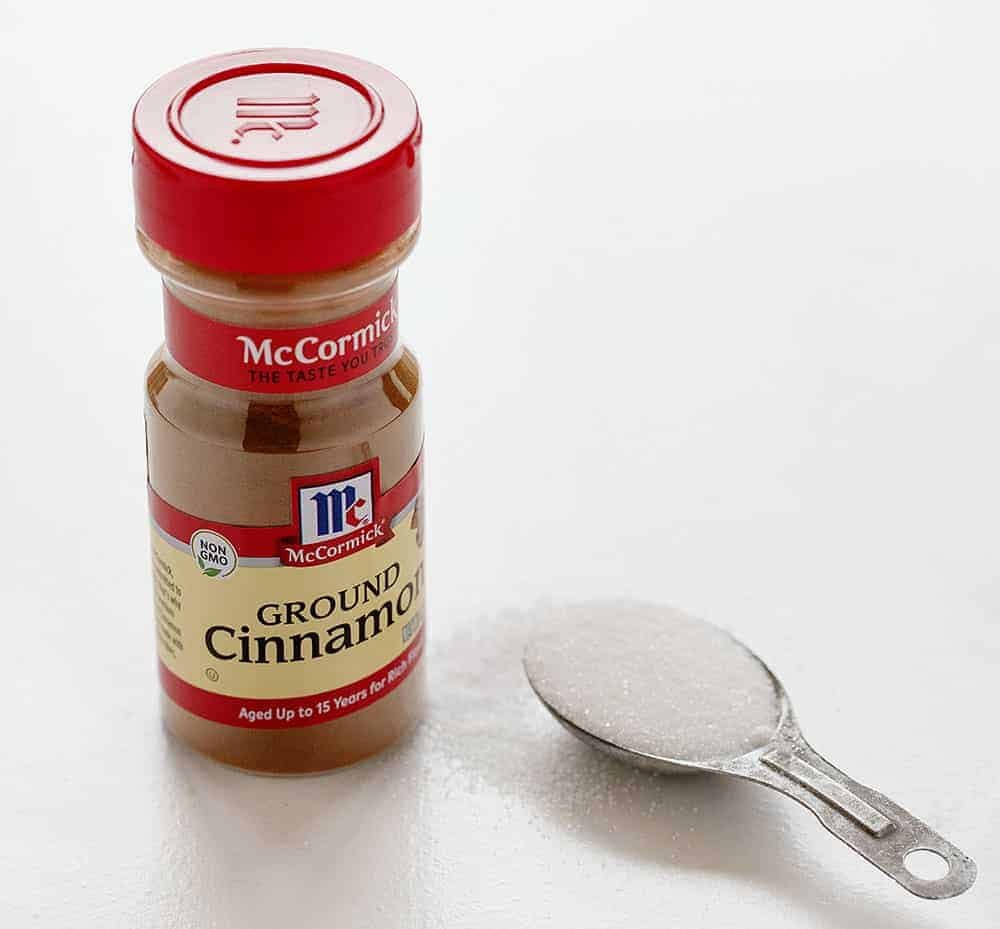 Cinnamon & Sugar
The perfect snickerdoodle has to have the perfect cinnamon & sugar coating. I like to use the best ingredients in my baking so I always opt for McCormick Ground Cinnamon. It makes my colossal snickerdoodle cookie perfect in every way! Choosing the right spices matter, and you will never go wrong with McCormick. I paired it with granulated sugar.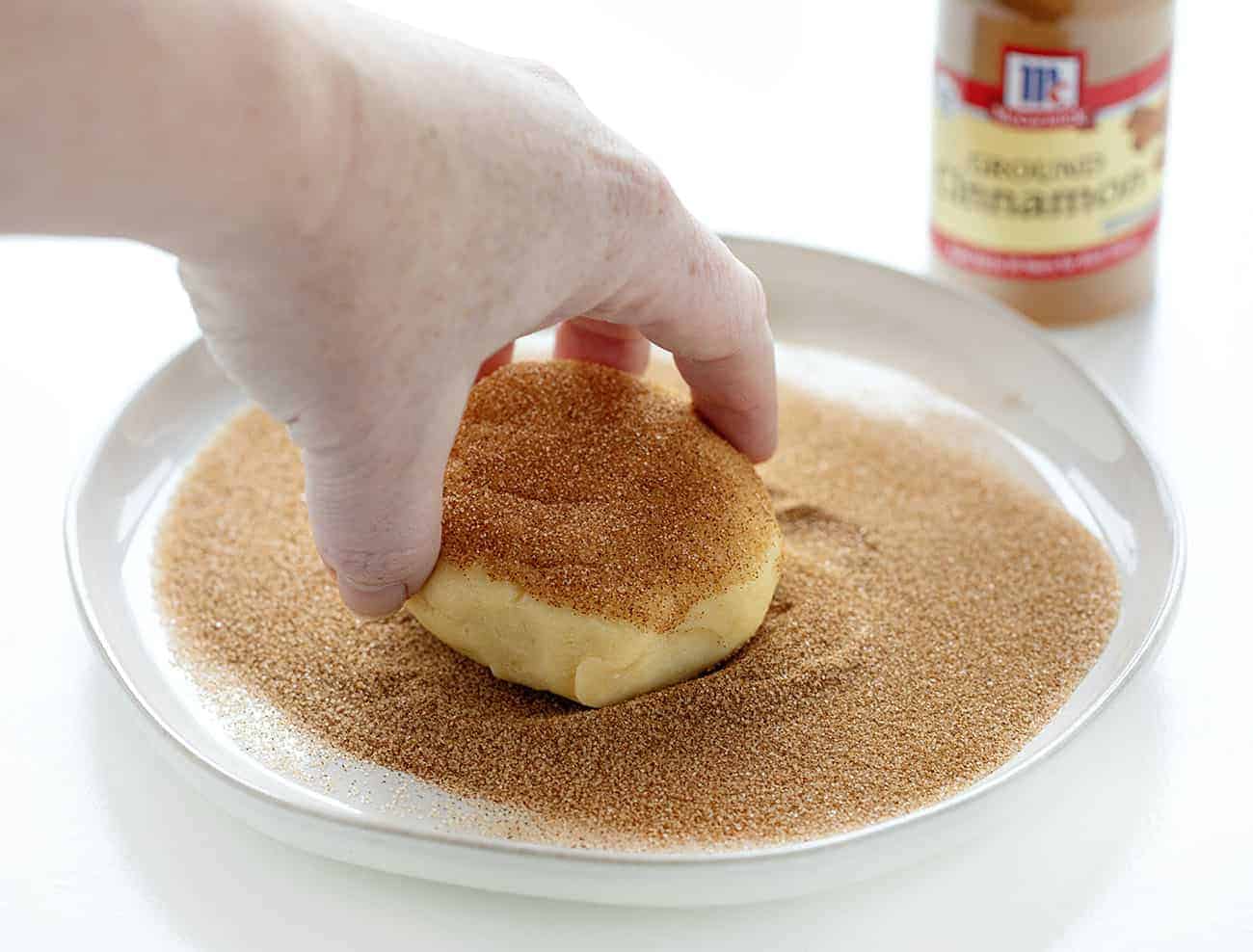 How to Make a Colossal Snickerdoodle Cookie Sandwich
Start by preparing the dough. You may notice that this recipe is a bit different than my traditional snickerdoodle recipe in that I add lemon juice instead of cream of tartar. I found that the reaction of the lemon juice with the baking soda helps to create a taller, thicker cookie which just happens to be perfect for this cookie sandwich.
Prepare the cinnamon & sugar mixture and then roll the cookie dough in the mixture, making sure to coat every side.
Set 2 cookies on a baking sheet and bake for about 15 minutes at 375°F.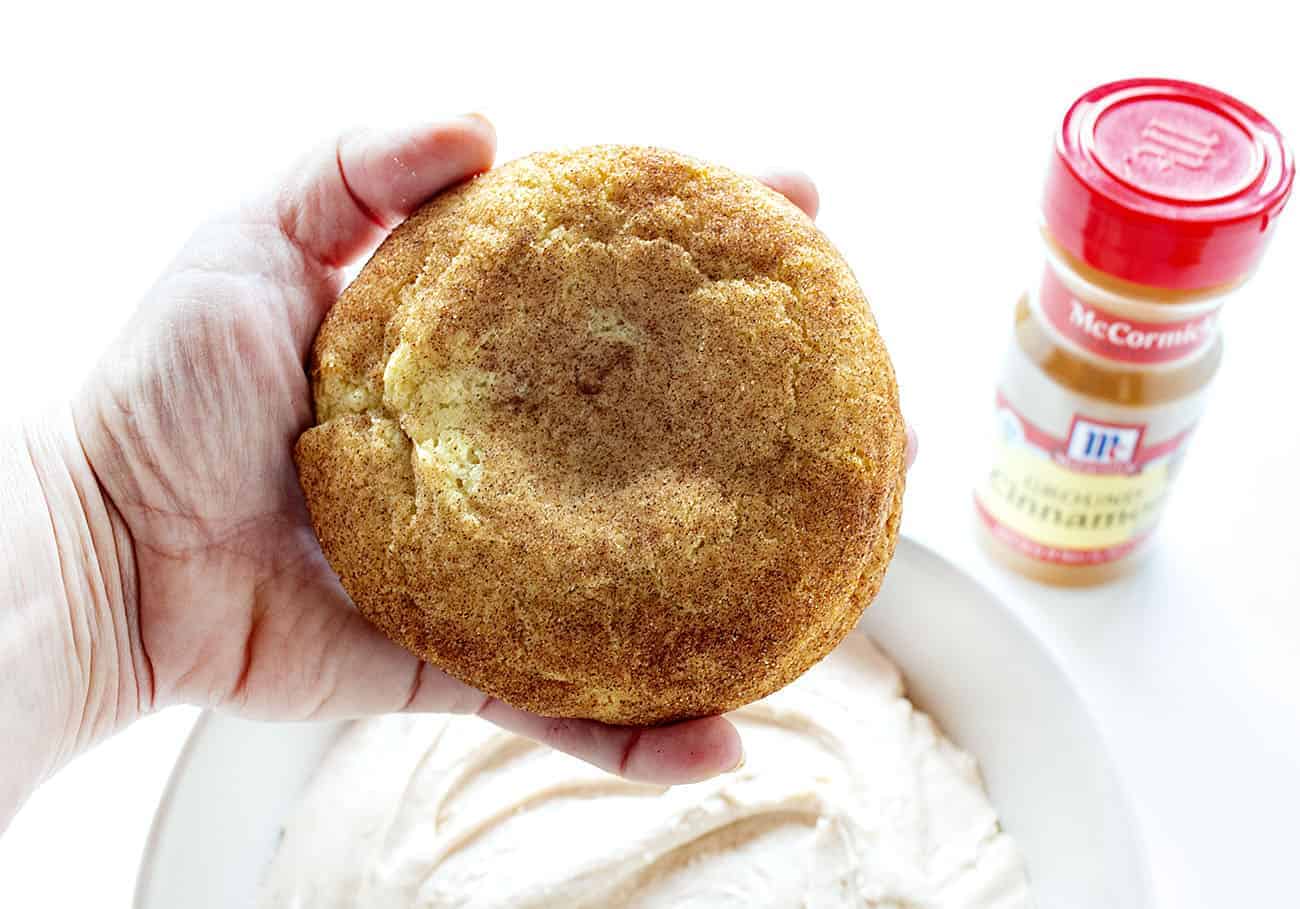 Remove from oven and allow to cool. While the cookies are cooling, prepare the frosting. If you are anything like me you will want to pick one up just to marvel at how colossal they are!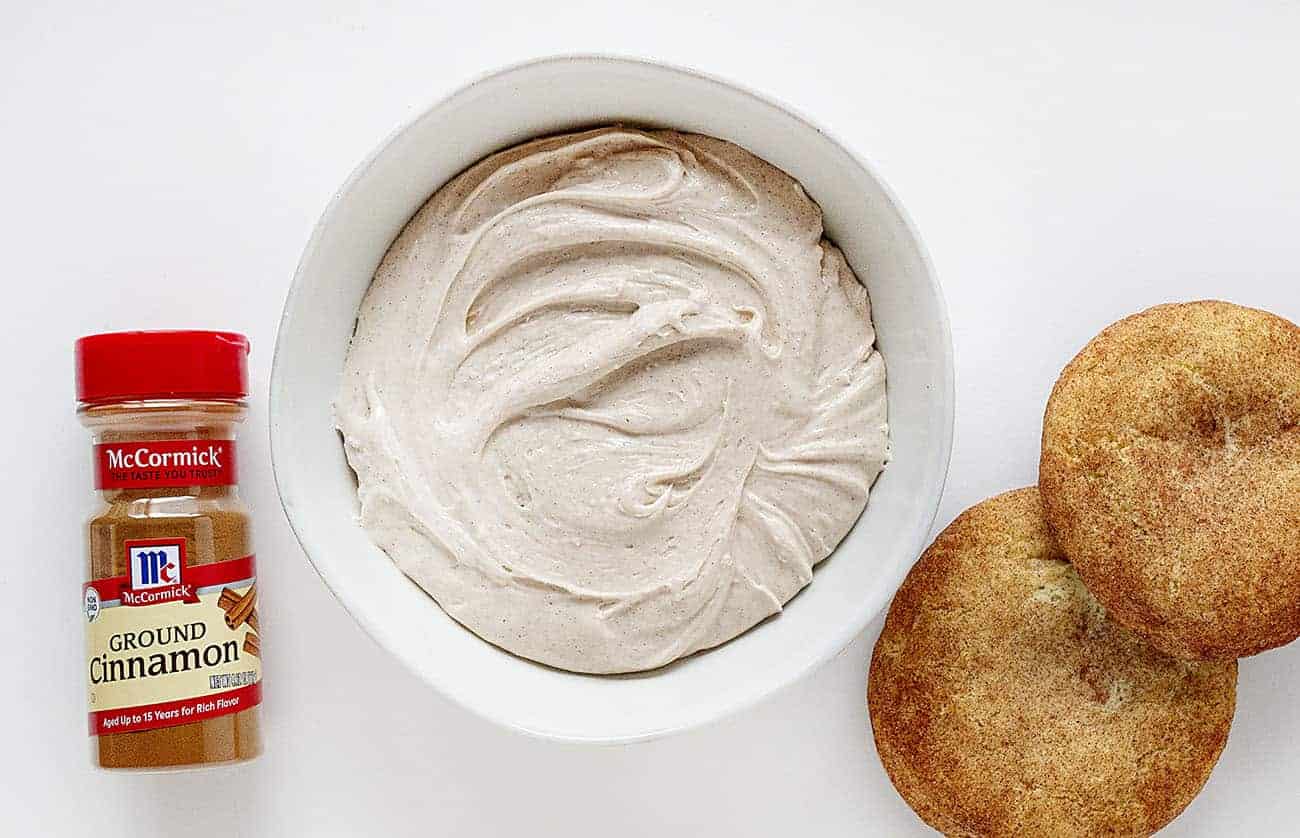 Cinnamon Marshmallow Frosting
I have to tell you, this is one of the best-tasting frostings I have ever made! The perfect amount of cinnamon paired with rich marshmallow and cream cheese! To make this just add all the ingredients (including confectioners sugar) to a bowl and using a hand-held mixer, mix until creamy. It will start out very dry and crumbly, but don't let that alarm you! Once the cream cheese and marshmallow fluff start absorbing the confectioners' sugar, it will be smooth and glorious.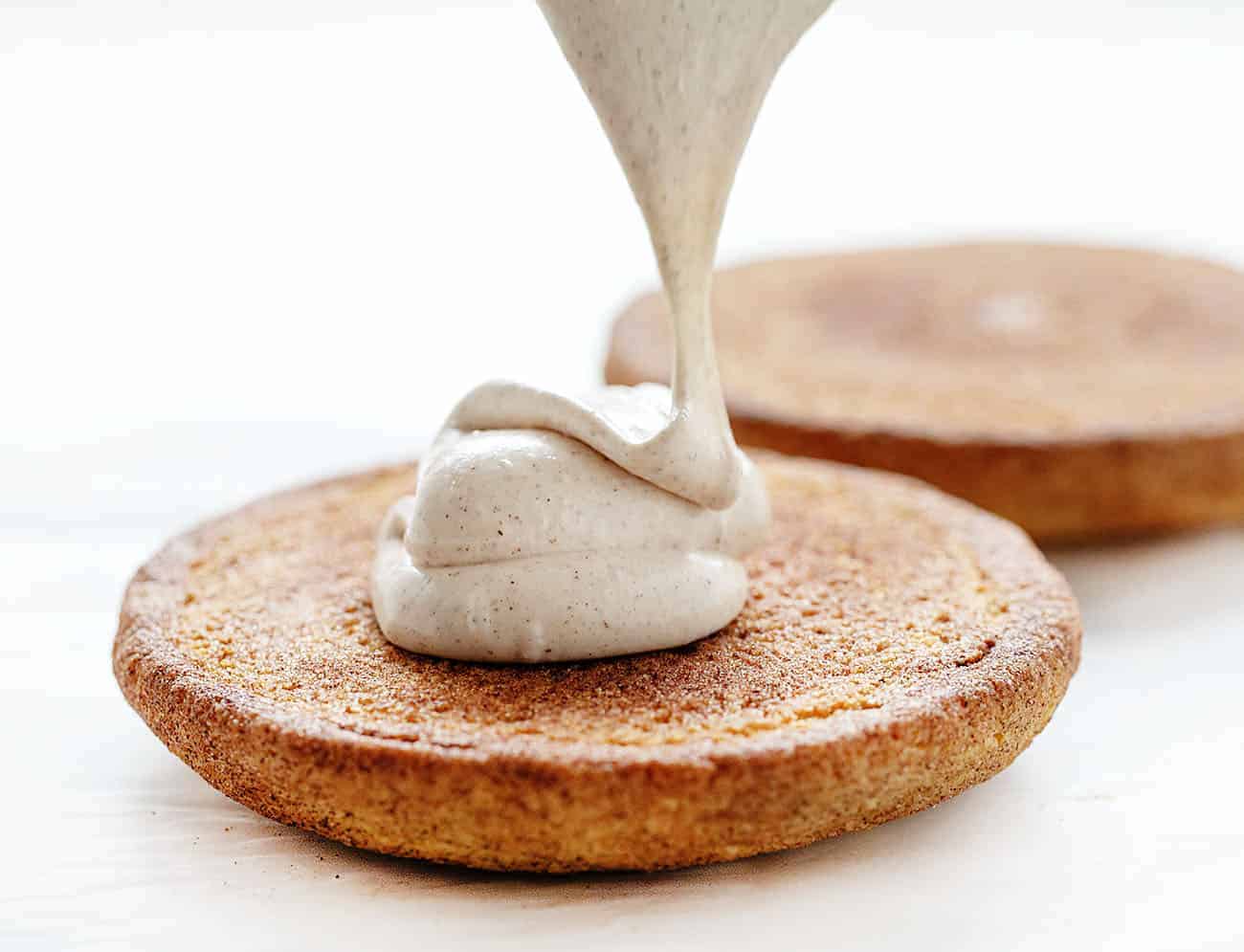 I used about 1/4 cup of the frosting on each cookie sandwich, but feel free to use more if you love ooey-gooey deliciousness!
Sidenote: if you want the frosting runnier, use 2 cups of confectioners' sugar. If you want it thicker, use more confectioners' sugar. Because of the variance of humidity across the nation this time of year (some areas are dry and cool and some are still warm and rainy!) you will want to make sure you have the perfect consistency for your cookie sandwich. If you use my tips for runnier vs. thicker you should be all set!
After the frosting is added, smooth it out with an offset spatula. I don't smooth it all the way to end edge because I love that glorious moment when you press the cookies together and see the frosting spilling out!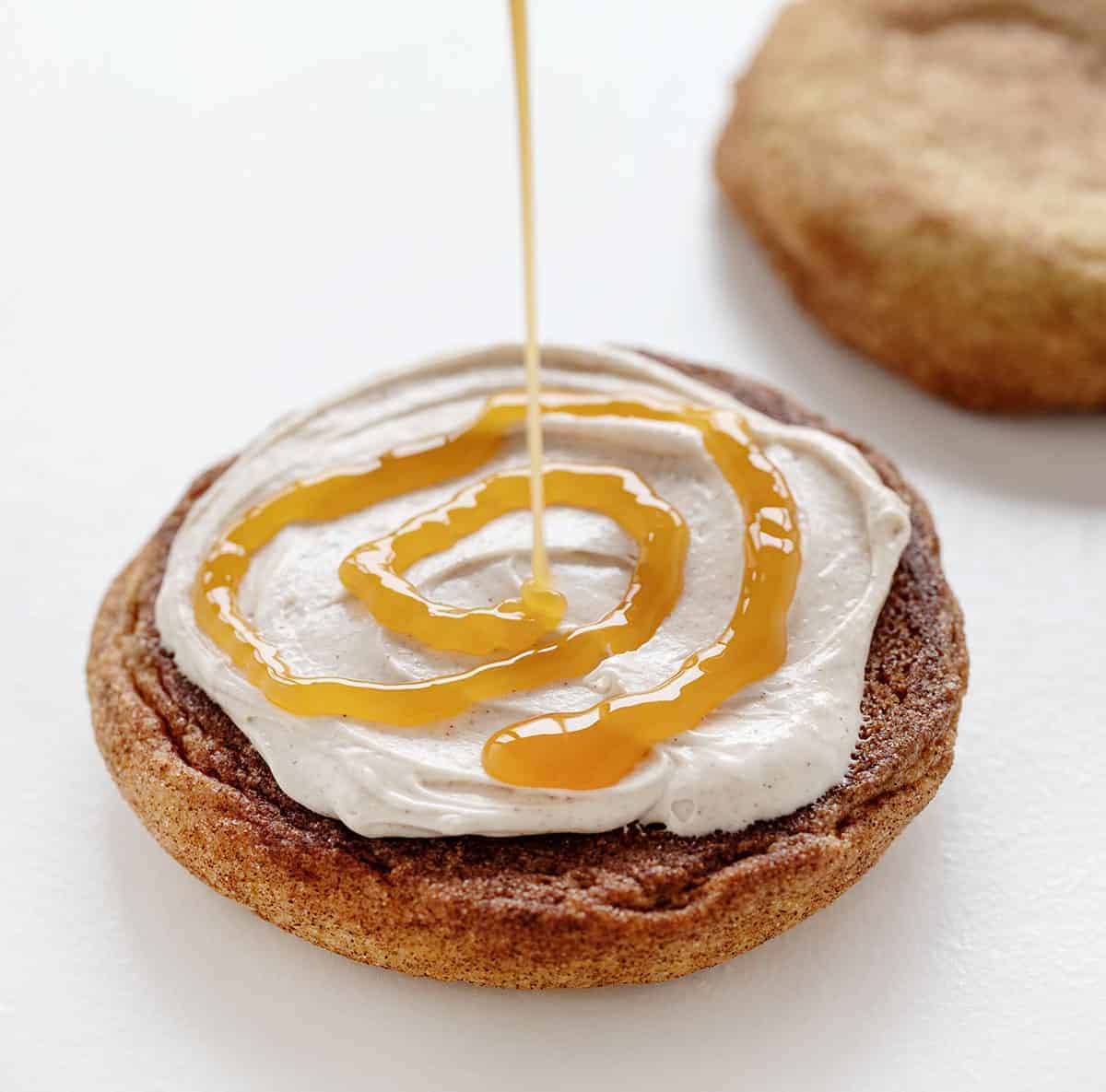 Caramel Topping
I opted for a store-bought caramel sundae topping. They come in easy-squeeze bottles or you can buy the thicker, spoonable caramel sauce. You can also make it from scratch if you want! Here is an easy recipe:
Ingredients
1 cup brown sugar
4 tablespoons butter
1/4 cup whole milk
1 teaspoon vanilla extract (optional)
Instructions
Bring brown sugar, butter, and milk to a gentle boil (medium to medium-high heat) and cook until thickened, about 1- 2 minutes. Remove from heat; add vanilla extract, and drizzle it over the frosting.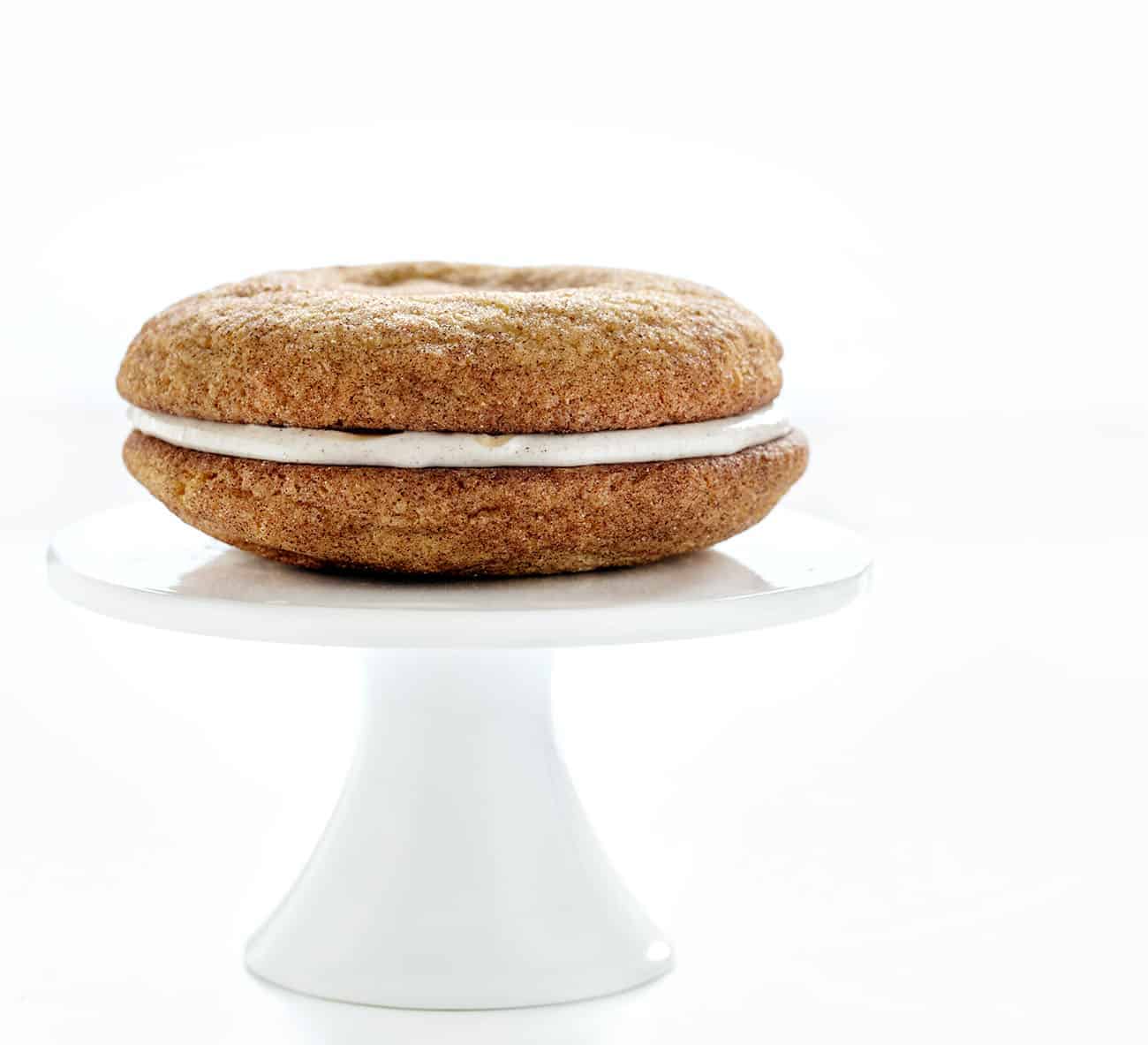 After you make the cookies, you might want to just sit and marvel over how beautiful they are! But don't just look, take a giant bite!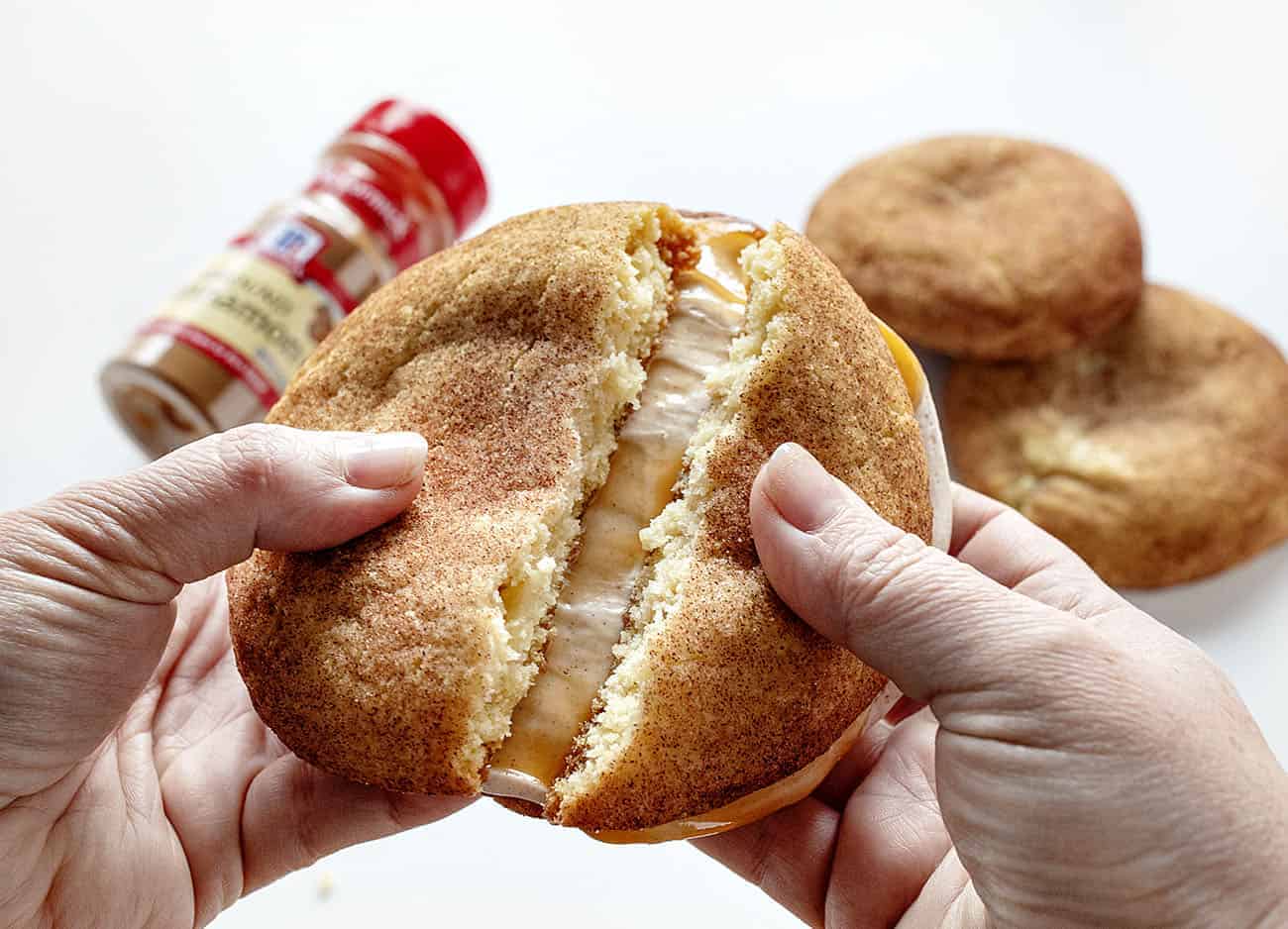 Scratch that. Don't just take a bite… break the giant cookie in two and just look at the amazing cinnamon frosting and caramel! I promise you, it tastes just as good as it looks!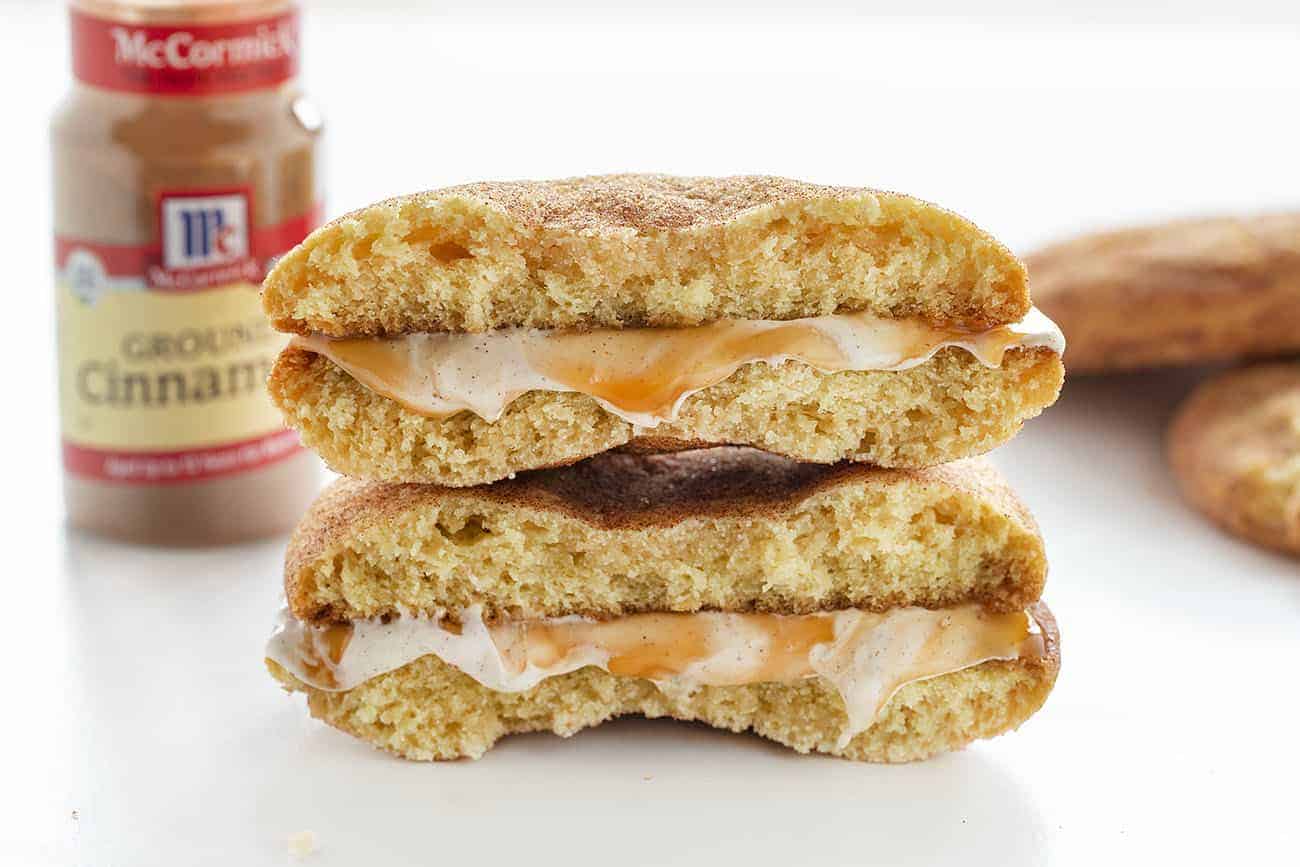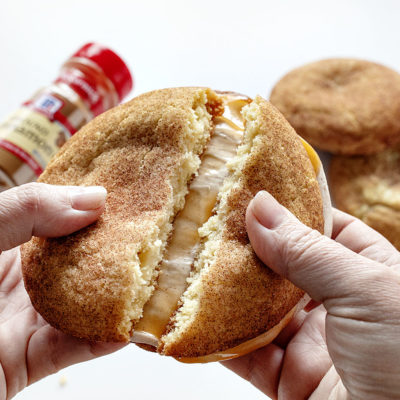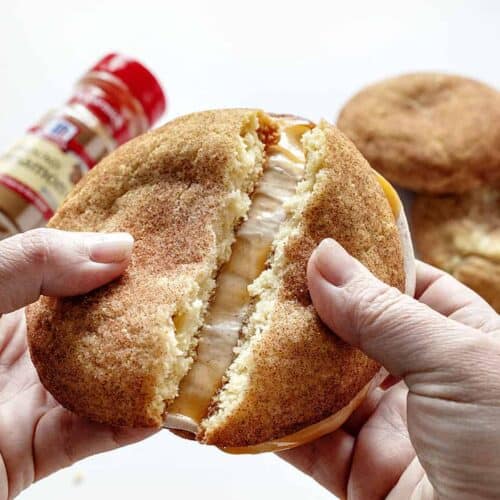 Colossal Snickerdoodle Cookie Sandwich
You may never want a "normal" sized cookie again!
Ingredients
Snickerdoodle Cookie Dough
Cinnamon Sugar
3

tablespoons

granulated sugar

3

teaspoons

McCormick Ground Cinnamon
Cinnamon Marshmallow Frosting
3

cups

confectioners' sugar

4

ounces

cream cheese,

softened

7

ounces

marshmallow fluff

1

teaspoon

McCormick Ground Cinnamon

caramel topping,

1 tablespoon per cookie sandwich, optional
Instructions
Snickerdoodle Cookie Dough
Preheat oven to 375°F. Prepare three cookie sheets by lining with parchment paper or Silpat.

In the bowl of a stand mixer (or using a hand-held mixer on the highest setting) cream together butter and sugar (about 2-3 minutes).

Add in the eggs one at a time, then add vanilla. Mix until fully incorporated.

With the mixer on low (or off) add in the flour, baking soda, and salt. Then add in the lemon juice. Mix until just combined.

Using a ½ cup measuring cup, scoop out the dough and form into rounded balls with your hands, then press down slightly to form a disc shape.
Cinnamon Sugar
Mix the 3 tablespoons sugar and the cinnamon in a wide bowl. I like to use a fork but a small whisk also works.
Assembly
Roll the dough in mixture. Place 2 cookies at least a few inches apart on a parchment-lined baking sheet.

Bake 14-16 minutes. Cookies should puff up a bit and then fall slightly after cooling.
Cinnamon Marshmallow Frosting
Add confectioners' sugar, cream cheese, marshmallow fluff, and cinnamon to a large bowl or the bowl of a stand mixer. Mix on medium speed for about 3 minutes, or until the frosting is smooth and creamy. (It will start out very thick, continue mixing until it is creamy.)

Take one large cookie and place about ¼ cup of frosting. Smooth with an offset spatula.

Drizzle with 1 tablespoon of caramel sauce.

Place a cookie on top and press down slightly. Repeat with the rest of the ingredients to make 3 total sandwich cookies. (You may have one remaining individual cookie.)
Did you make this recipe?
Thank you for making my recipe! You took pictures, right? Well go ahead and post them on Instagram! Be sure to mention me @iambaker and use the hashtag #YouAreBaker.
Thank you so much for supporting the brands that support me here at iambaker! I am so thankful to work with McCormick, a brand that I love and use every day!