No-Churn Strawberry Ice Cream is a delicious, simple, creamy homemade ice cream made with fresh strawberries. For another amazing ice cream recipe be sure to try my No-Churn Ice Cream!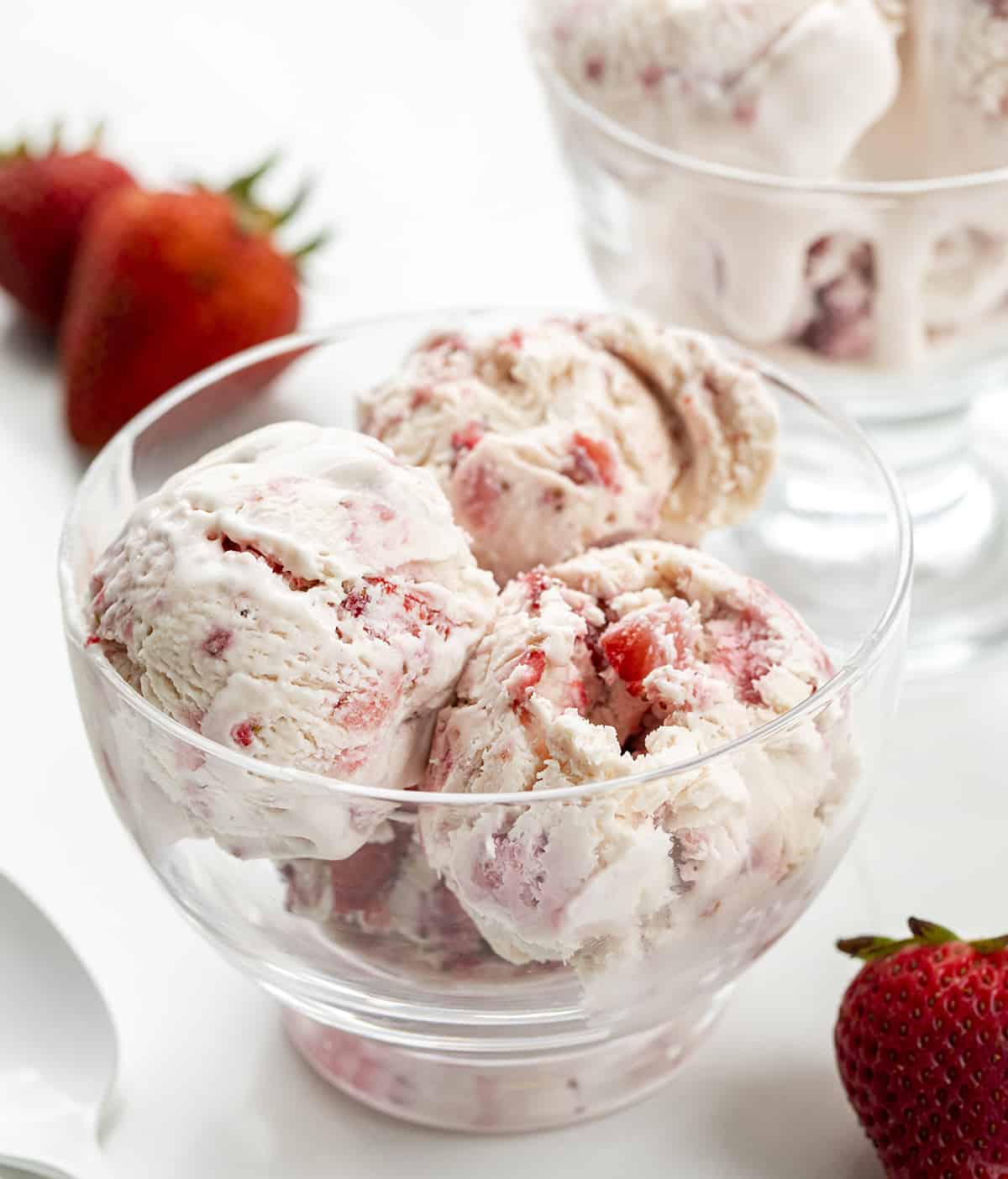 No-Churn Strawberry Ice Cream
If you don't have an ice cream maker, but love the taste of homemade ice cream, then this recipe is perfect for you! This no-churn method is so simple, requires minimal equipment, and makes deliciously creamy ice cream every time. Pair a scoop of your No-Churn Strawberry Ice Cream with scoops of Vanilla and Chocolate Ice Cream for a Neopolitan treat!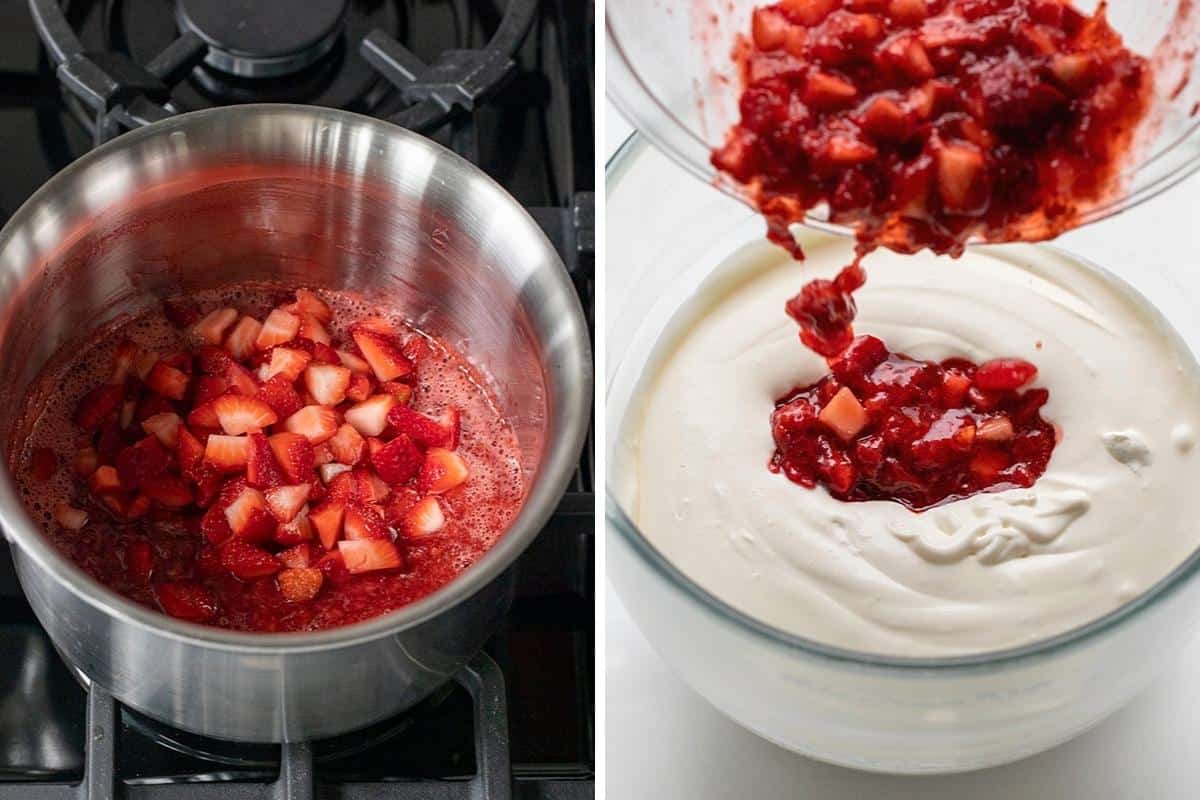 Ice Cream Ingredients
Strawberries: I used fresh strawberries finely diced for this recipe. A portion of the strawberries are used to make a strawberry sauce, and the remaining strawberries are folded in.
Heavy Cream: Also known as heavy whipping cream, this is a liquid with 36-40% fat. This will be whipped up into a cream to use in the ice cream.
Sweetened Condensed Milk: Be sure to check the labels when buying sweetened condensed milk; do not use evaporated milk. As in many no-churn ice cream recipes, sweetened condensed milk is used in place of granulated sugar for some sweetness.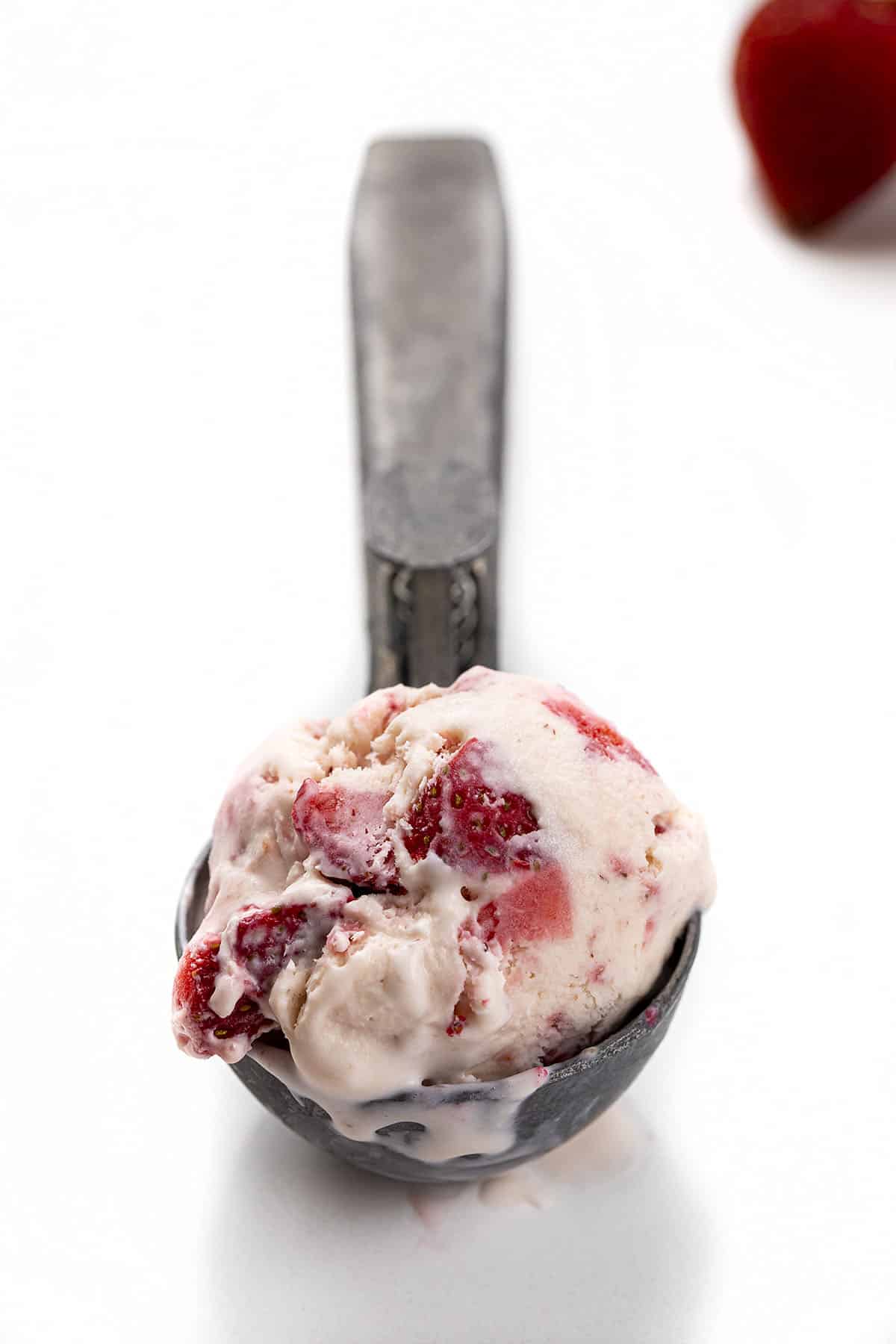 Can I Use Frozen Strawberries?
Yes! While I prefer the taste of fresh strawberries, you could use frozen strawberries instead. However, you will need to let the berries thaw to be able to safely dice them before making your No-Churn Strawberry Ice Cream.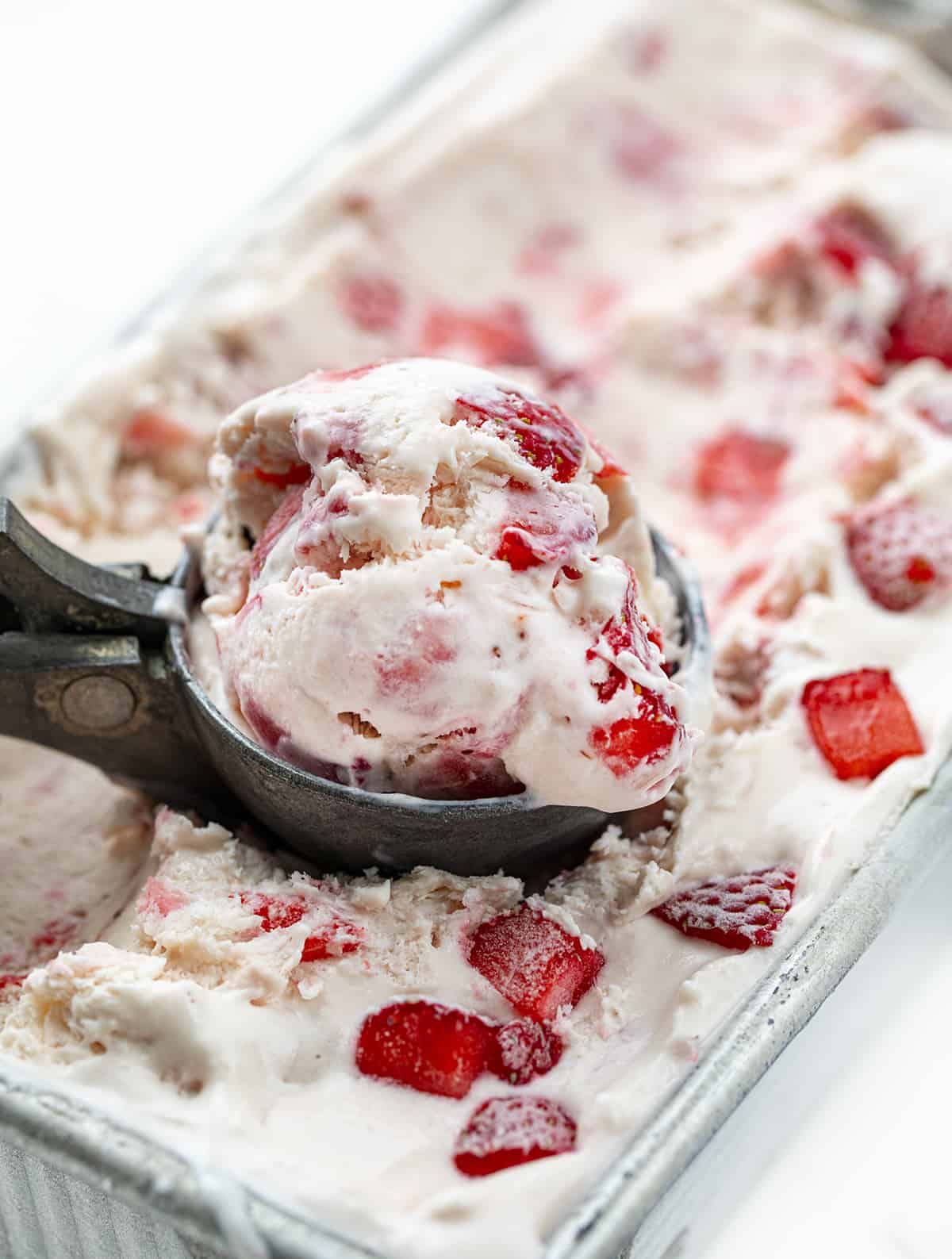 How to Store No-Churn Ice Cream
Yes, there are fancy and specific ice cream containers you could buy, but you could also use containers you have on hand. Here are some options:
Freezer-safe container
An old ice cream bucket (Just be sure to wash it out well and place a layer of plastic wrap on the top of the ice cream before adding the lid.)
A loaf pan (like the one in which you chilled the batch of ice cream) However, be sure to cover it with plastic wrap if you are going to keep it in the pan.
Pie plate–Again, just be sure to cover the top of the ice cream with plastic wrap.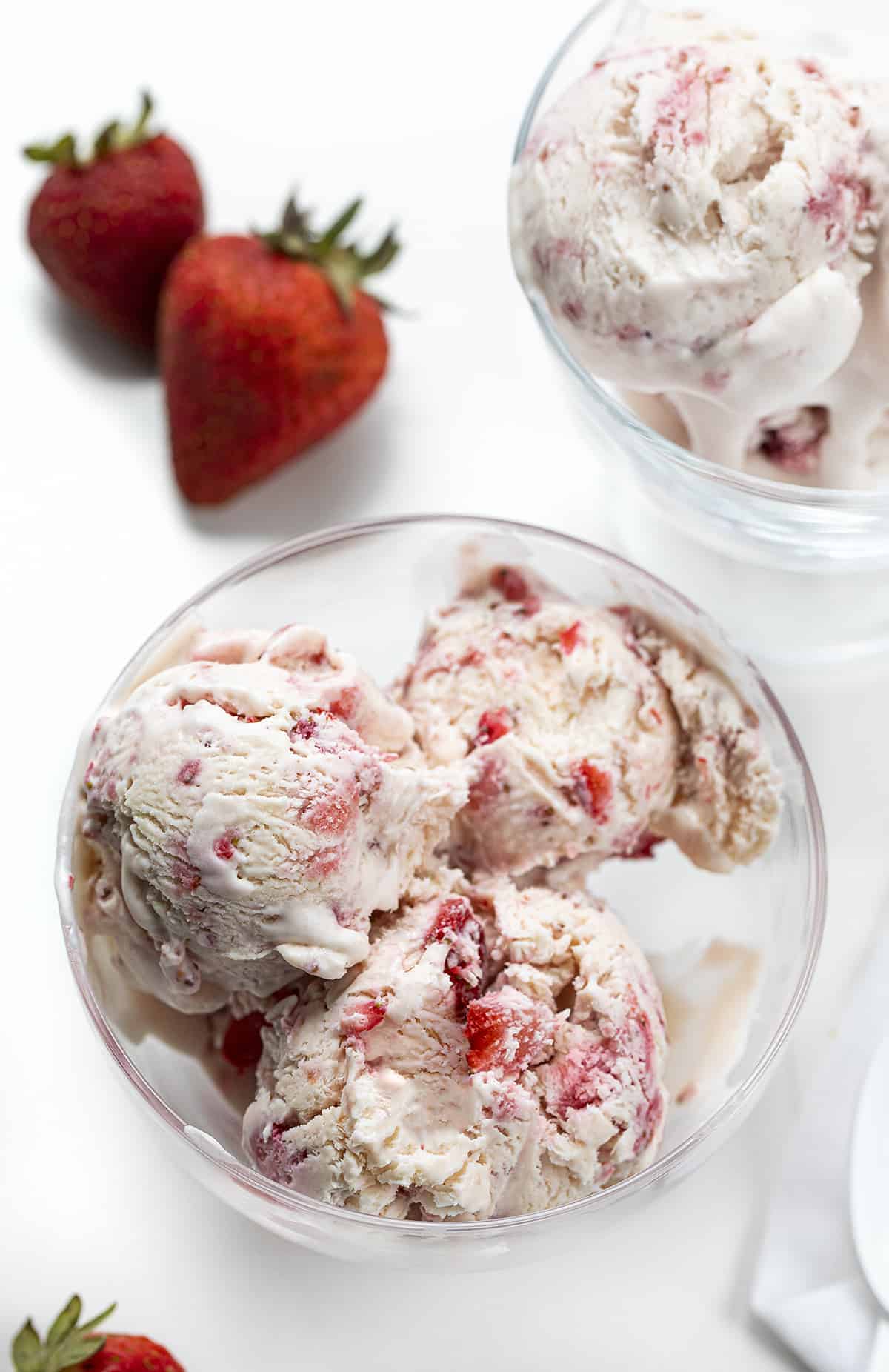 How Long Does No-Churn Ice Cream Last in the Freezer?
If the ice cream is well-sealed, then it should last a couple of months in the freezer. Keep it stored near the back of the freezer; once you see it's freezer-burned, it is probably a good idea to throw it out.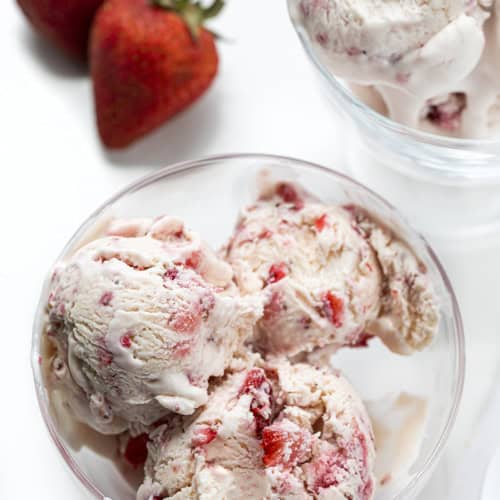 No-Churn Strawberry Ice Cream
No-Churn Strawberry Ice Cream is a delicious, simple, creamy homemade ice cream made with fresh strawberries.
Ingredients
3

cups

fresh strawberries,

finely diced and divided

¼

cup

(50 g) granulated sugar

2

cups

(476 g) heavy whipping cream

1

can

(14 ounces) sweetened condensed milk

1

teaspoon

vanilla extract

1

pinch

kosher salt
Instructions
Place a 9×5-inch loaf pan in the freezer to chill.

To a medium saucepan over medium heat, add 2 cups of diced strawberries, and sugar. Bring it to a boil. Allow the mixture to boil for 2-3 minutes. The sugar should be dissolved and a strawberry syrup should form. Remove from heat and gently mash the strawberries with the back of a spoon or a potato masher.

Pour the mashed strawberry mixture into a medium bowl, and fold in the remaining diced strawberries, reserving about ¼ for topping if desired. Place the bowl in the refrigerator for about 25-30 minutes, or until the mixture has cooled completely.

To the bowl of a stand mixer, add the heavy cream. Start mixing at the lowest speed, and then gradually increase speed to medium until the cream starts to get thicker. (The gradual progression prevents you from spraying yourself with cream.)

The cream will thicken and start to peak. Mix on high speed until the cream is thick and stiff. This happens quickly, so watch it closely!

In a medium bowl, combine sweetened condensed milk, vanilla, salt, and 1 cup of the whipped cream.

Gently fold the sweetened condensed milk mixture and cooled strawberry sauce into the mixing bowl with the rest of the whipped cream.

Pour the mixture into the chilled pan, top with any remaining strawberries and freeze for at least 5 hours, or until fully set up, before serving.
Did you make this recipe?
Thank you for making my recipe! You took pictures, right? Well go ahead and post them on Instagram! Be sure to mention me @iambaker and use the hashtag #YouAreBaker.