I am not lying, these Zucchini Pancakes are on par with the best buttermilk pancakes you have ever had. We love pancakes around here, so don't forget to check out my other awesome recipes like Banana Oat Pancakes, Rainbow Pancakes, and for a special treat, Apple Fritters!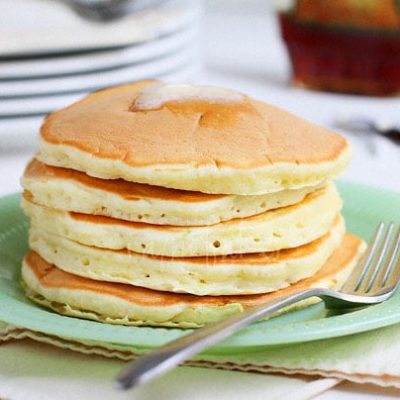 Zucchini Pancakes
Light & Fluffy just like a buttermilk pancake!
Ingredients
1

cup

granulated sugar

3

cups

all-purpose flour

4

teaspoons

baking powder

1

teaspoon

baking soda

pinch

salt

4

eggs

1

cup

milk

1/2

teaspoon

vanilla

2 1/2

cups

shredded zucchini,

drained
Instructions
Heat a skillet to 325-350°F.

In a large bowl, place sugar, flour, baking powder, baking soda, and salt. Whisk together. Add in eggs, milk, and vanilla.

Mix until fully incorporated. Fold in zucchini.

Using a 1/4 measuring cup, pour batter onto heated griddle.

When the pancake is full of bubbles, flip to other side and cook for approximately one more minute.
Did you make this recipe?
Thank you for making my recipe! You took pictures, right? Well go ahead and post them on Instagram! Be sure to mention me @iambaker and use the hashtag #YouAreBaker.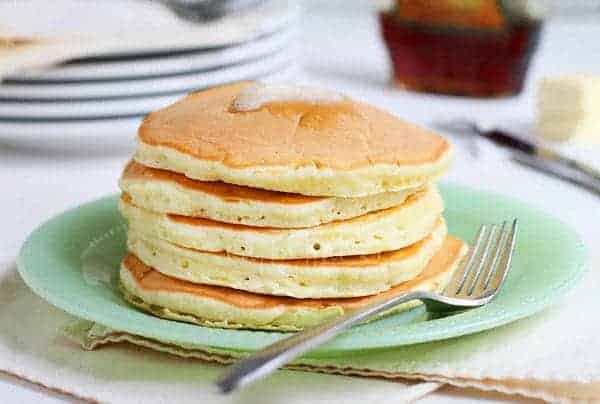 Zucchini Pancakes
They are light.
They are fluffy.
They are sweet and they are filling.
They are everything I wanted in a pancake but never thought I could achieve with the addition of zucchini.  I finally found the perfect recipe!
Zucchini for Pancakes
My zucchini was large, so I chose to do a rough peel. (Removing most of the dark green skin)  This means that you cannot see the zucchini as much. I did not drain my zucchini as the larger they get, the dryer they are. If you are using a small zucchini, you may want to drain out some of the excess moisture.
I told my kids I was making zucchini pancakes, but if I hadn't told them I don't think they would have been the wiser!
I also opted to only use butter on mine.  We used organic syrup on the kids, but only a small amount.  The pancakes are so sweet you almost don't need syrup!  Almost.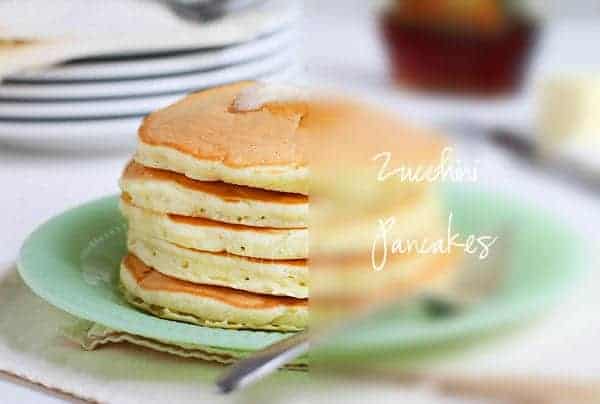 Let me know if you try them… I am sure you will love them!