Tomato Galette is the perfect combination of tomatoes and cheeses held together with a flaky galette. This rustic style recipe is enough to satisfy everyone at dinner or serve at your next brunch. For a definite summer vibe, pair this with my German Cucumber Salad.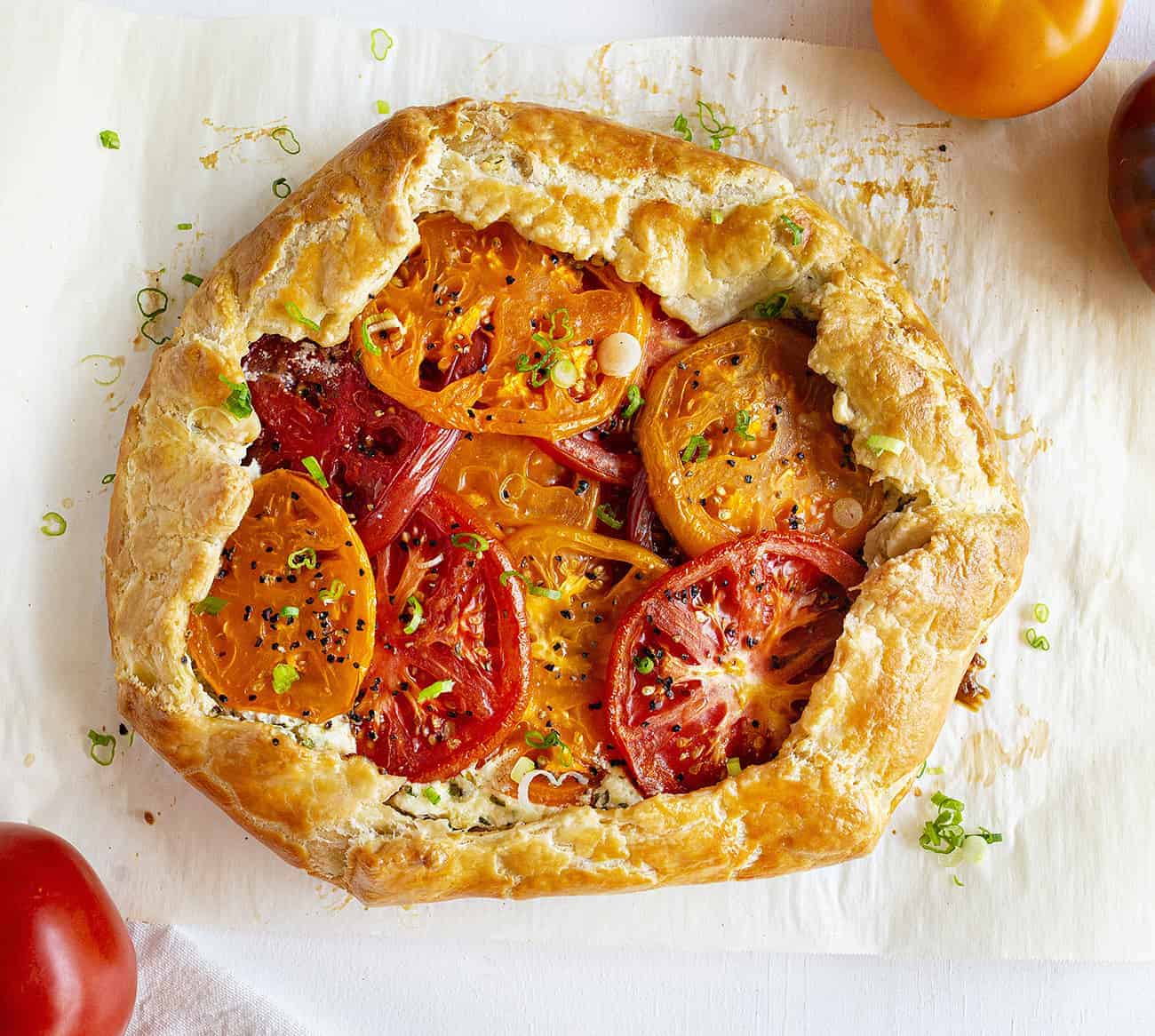 Tomato Galette
It is the end of August, and the days are getting shorter around here. However, just because summer is coming to an end does not mean my desire for tomato recipes has lessened. I just shared my favorite Tomato and Corn Pie that was so incredibly delicious, I wanted to make all the tomato-inspired recipes!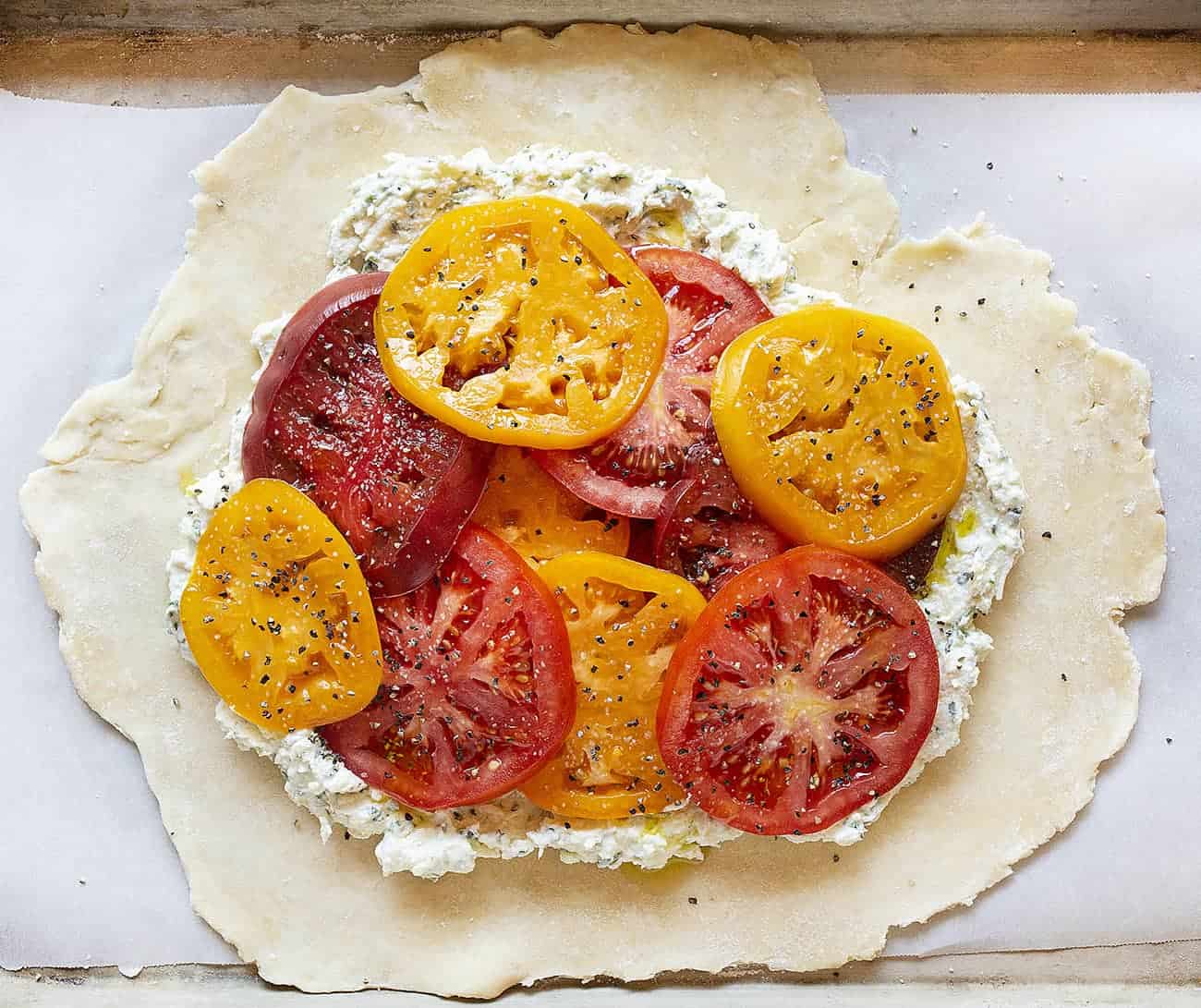 What is Galette?
Galettes are a French pastry and similar to a pie or tart. They are free form and rustic in design. You don't need any special tools or pans to make a galette and it truly is one of those recipes that anyone can make. I have used this recipe in my Blueberry Galette Dessert, and I wanted to try it in other ways.
Homemade Galette Dough
Yes, you could get by with buying a pie crust for your galette, but I encourage you to give this homemade recipe a chance. The dough can be made by hand or in a food processor. Just mix it up like you would mix up your favorite pie dough.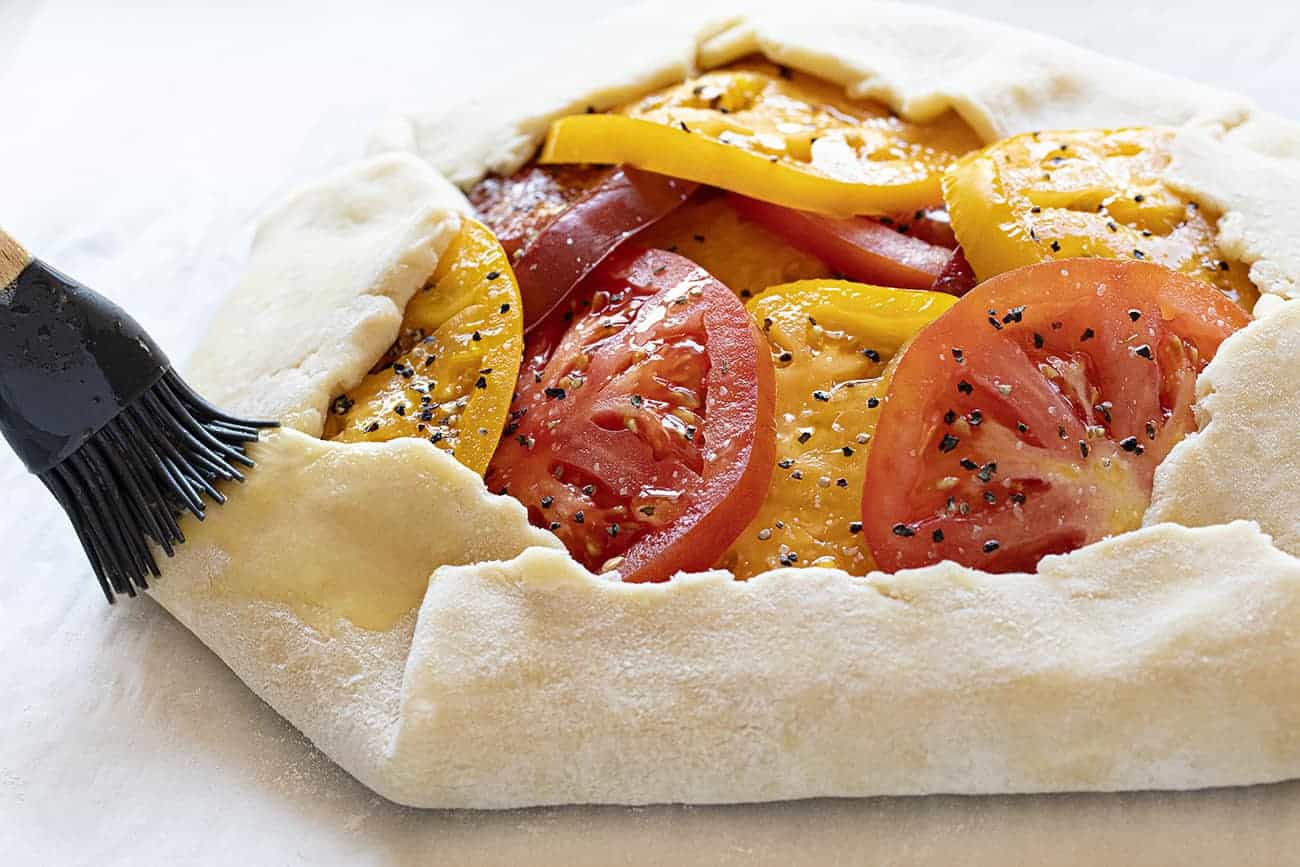 Tomato Galette Recipe
Preheat the oven to 400°F and make sure you have the following ingredients for the cheese and vegetable filling. This will be the deliciousness that you pile on the galette.
The cheese filling is not only delicious but is also a barrier between the tomato and the crust, meaning the crust will stay wonderfully crisp and won't be soggy.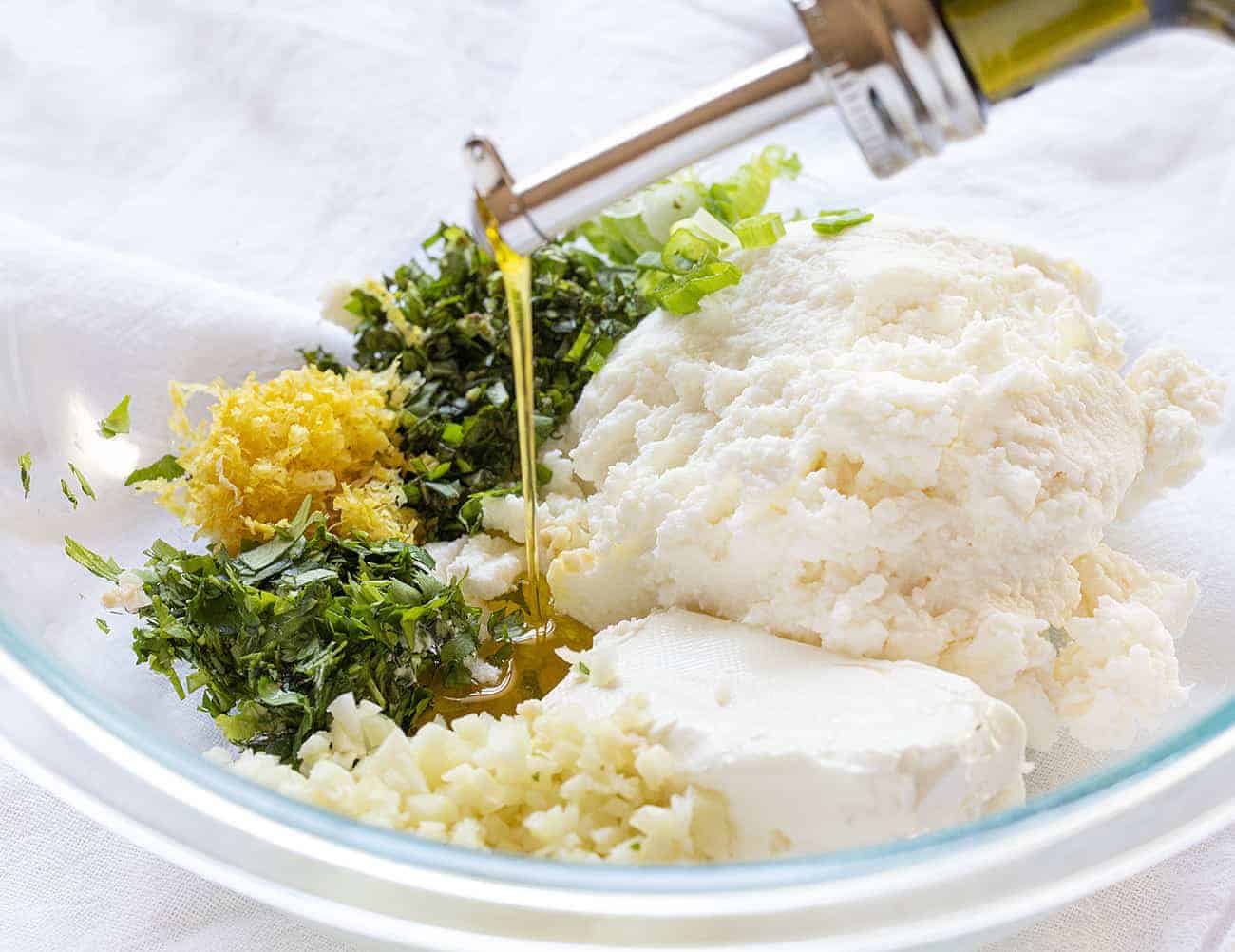 How to make Tomato Galette?
While the galette is chilling, prepare the tomatoes. With tomatoes in the name of this dish, you know they are important!
Here are step-by-step instructions to get your tomatoes ready for the Tomato Galette. You want to try and remove as much moisture as possible before baking, and here is a fast method for that!
Slice the Heirloom tomatoes no more than 1/4 inch thick.
Line a baking sheet with paper towels.
Season the tomatoes with salt. This will help remove any extra liquid from your tomatoes, and enhance the flavor!
Place the salted tomatoes on the paper towels to let the salt work its magic and pull out any extra liquid from the tomatoes.
Let the tomatoes sit for 20-30 minutes and blot any excess liquid with a dry paper towel. Then, add the salt, pepper, and olive oil to the tomatoes.
For the cheese filling, mix the ricotta and cream cheese until it is well combined. Next, add the Romano cheese, garlic, olive oil, scallion, parsley, basil, and lemon zest.
Once the galette has been chilled for an hour, take out the dough and roll it into a 12-inch circle. Fold the dough in half, put it on a baking sheet, unfold it, and start loading on the cheese and tomatoes. The cheese filling goes on first. Use all of it, but make sure you pile it into the middle of your dough so there is room to fold the edges. On top of the cheese, layer the tomatoes and fold in the edge of the galette. Finally, mix the egg yolk and a splash of water to brush over the folded dough. Bake it for 35-40 minutes.
The crust should be golden brown and the tomatoes will be tender. Try not to eat it all before you share it. But, now that you know how to make this, you can make another one!
How To Store Tomato Galette
Once cooled, wrap the tomato galette in plastic wrap or aluminum foil. Store in the refrigerator for up to 2-3 days. Reheat it in the oven.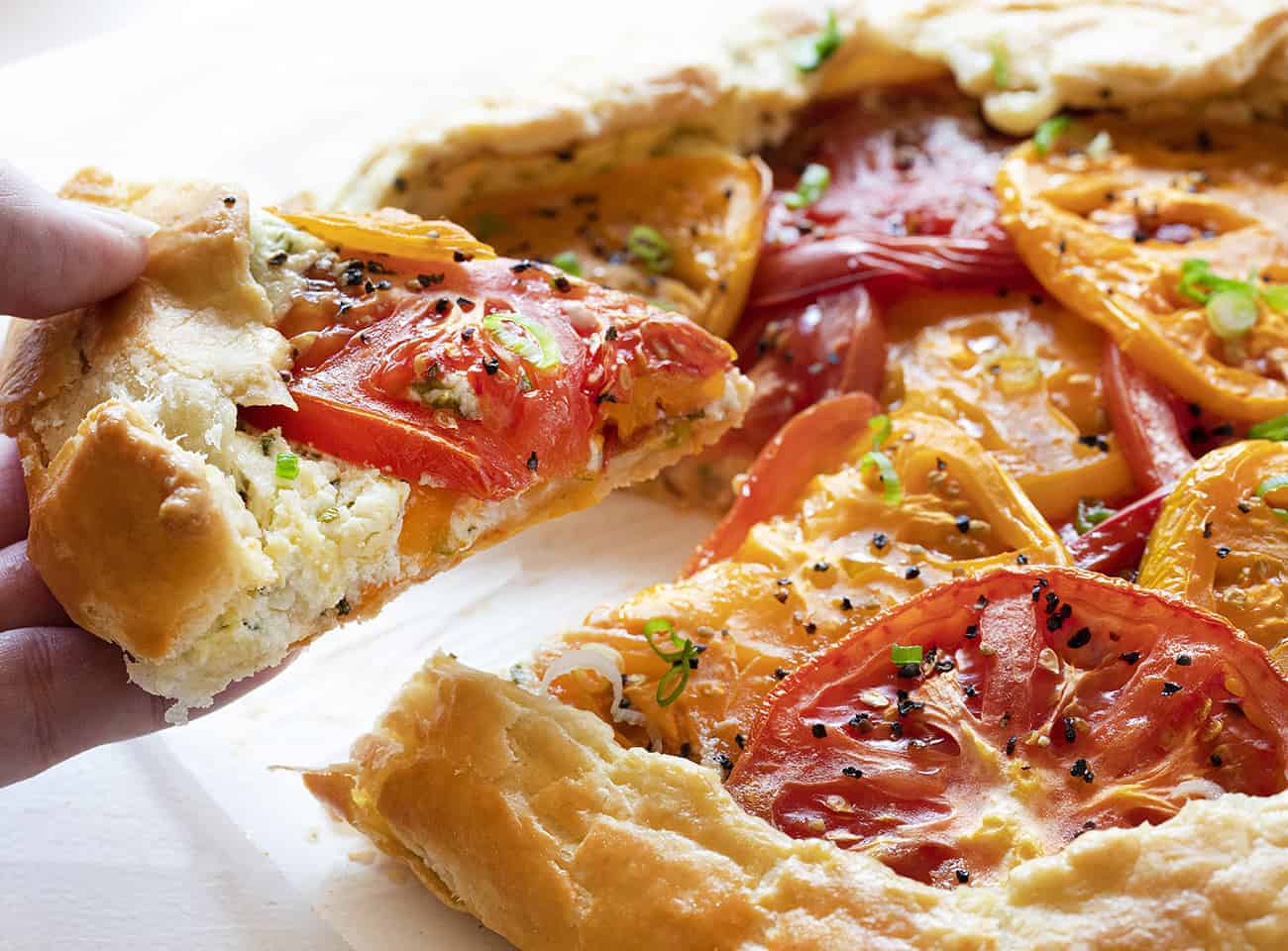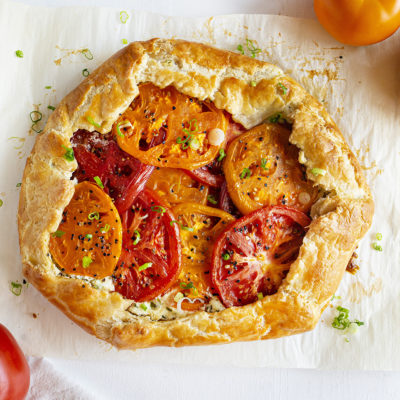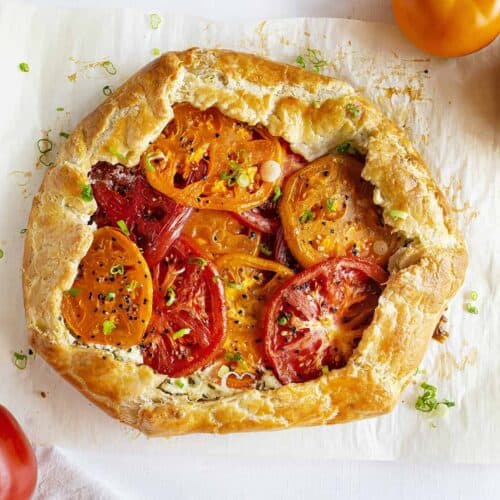 Tomato Galette
This cheesy tomato galette is loaded with flavor and had the most delicious buttery crust!
Ingredients
Galette Dough
1 ¼

cups

(156 g) all-purpose flour

¼

teaspoon

kosher salt

¼

cup

cold water
Cheese Filling
8

ounces

ricotta cheese,

crumbled

2

ounces

cream cheese,

softened

½

cup

romano cheese

3

cloves

garlic,

minced

1

tablespoon

olive oil

1

tablespoon

scallion,

finely chopped

1

tablespoon

chopped fresh parsley

1

tablespoon

chopped fresh basil

1

teaspoon

kosher salt

zest of 1 large lemon
Vegetable Filling
1-2

large

heirloom tomatoes,

sliced

¾

teaspoon

kosher salt,

divided

¼

teaspoon

freshly ground black pepper

1

tablespoon

olive oil
Egg Wash
1

large

egg yolk

1

splash

water
Instructions
Pie Dough
In a medium mixing bowl, whisk together the flour and salt. Cut the butter into ½ into the flour mixture with your fingers or a pastry blender.

Sprinkle in the cold water and work the dough into a ball. Wrap in plastic wrap. Chill the dough for at least an hour.

When ready, preheat the oven to 400°F and line a large baking sheet with parchment paper.
Cheese Filling
In a medium bowl, mix together the ricotta and cream cheese until well combined.

Add the Romano cheese, garlic, olive oil, scallion, parsley, basil and lemon zest.
Vegetable Filling
Cut tomatoes and season with about ¼ teaspoon kosher salt. Set them on a baking sheet lined with paper towels and allow them to sit at room temperature for 20-30 minutes. This will help draw out the moisture from the tomatoes.

Top with remaining ½ teaspoon salt, pepper, and olive oil.
Assemble the Galette
Roll the pie dough out into a rough 12-inch circle. Fold the dough in half, transfer to the prepared sheet pan, and unfold. Spread the cheese mixture evenly in the center leaving space on the edge for folding. Layer the tomatoes on top.

Fold the edges of the galette (crust) to contain the filling, leaving the center uncovered.

Mix together the egg yolk and a splash of water and brush over the exposed crust. Bake in the preheated oven for 35-40 minutes until crust is deeply golden and tomatoes are tender.
Did you make this recipe?
Thank you for making my recipe! You took pictures, right? Well go ahead and post them on Instagram! Be sure to mention me @iambaker and use the hashtag #YouAreBaker.