Classic Tuna Casserole is one of those "comfort food" dishes that reminds me of being a kid. It's just plain good! And when you are from the midwest, you know good casserole. But we also know good Tuna Recipes~ My Tuna Salad is popular for a reason, it's delicious! Don't miss our Open Face Tuna Melt, Tuna Melt Casserole, or the BEST Tuna Mornay!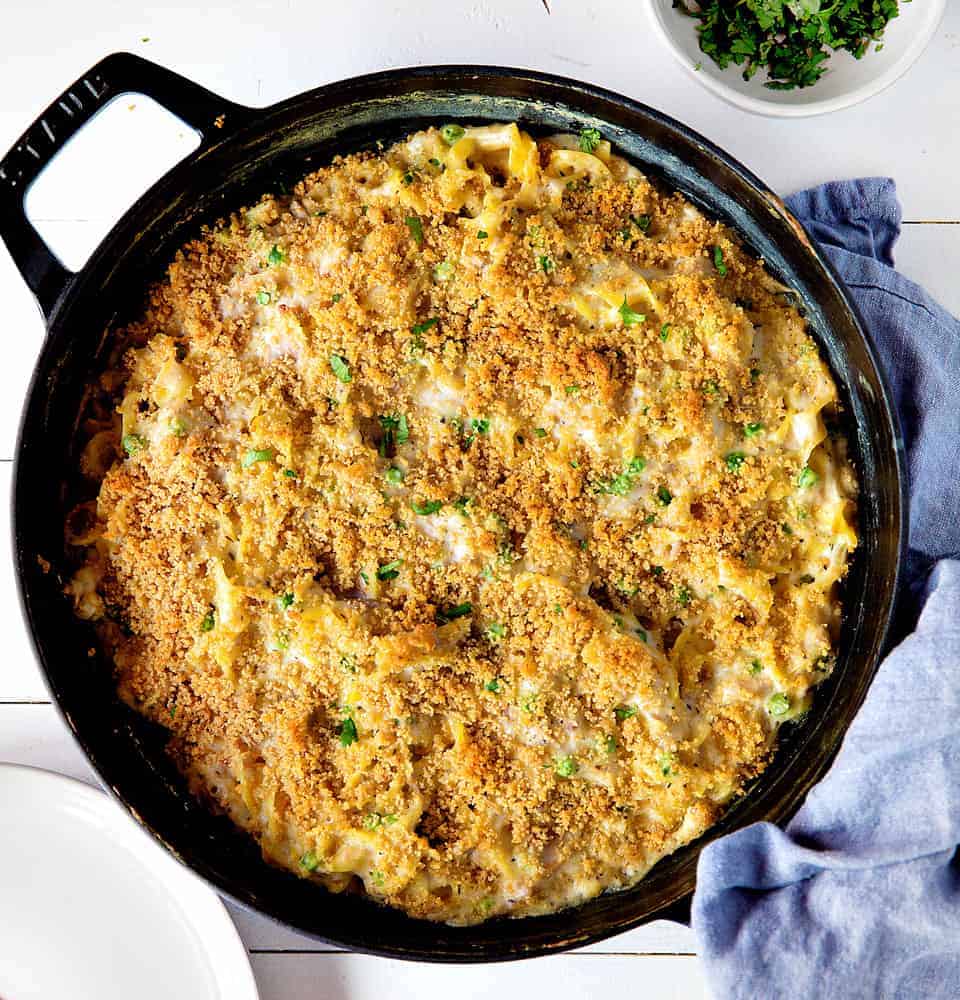 Tuna Casserole
Standing by my mom's side when she prepared this was a treat. I was one of those kids that LOVED tuna salad and would beg for it often. But her measurements were always "a little of this" and "a little of that". She was taught by her mom and my grandma is one of those amazing ladies that made do with what she had. She could open her refrigerator, assess the contents, and somehow produce a wonderful dinner for 8. Every night. Needless to say, I have had many, many versions of this recipe growing up!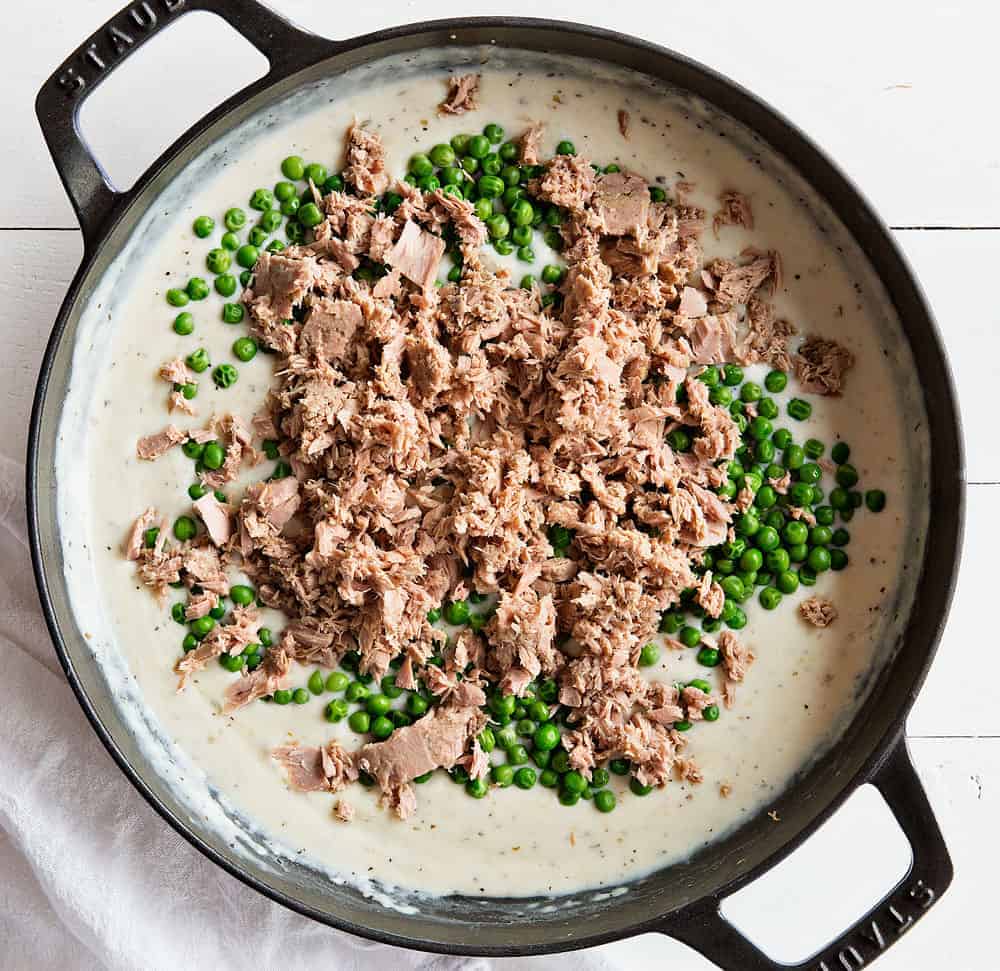 White Sauce Tuna Casserole
Instead of using cream soups for the base (which there is nothing wrong with!), I opted to make my own white sauce base. It is creamy, you know every ingredient and tastes great. Hint: If you happen to want to add some heat to your white sauce, feel free! Add jalapeno powder, cayenne pepper, even some hot paprika.
Here is what you need to make a perfectly smooth and creamy white sauce:
salted butter
flour
oregano
basil
thyme
salt
whole milk
If you don't have whole milk I would substitute with heavy cream, not 2% or skim milk. The oregano, basil, and thyme are optional (so to speak) but I do recommend trying this recipe as-is at least once.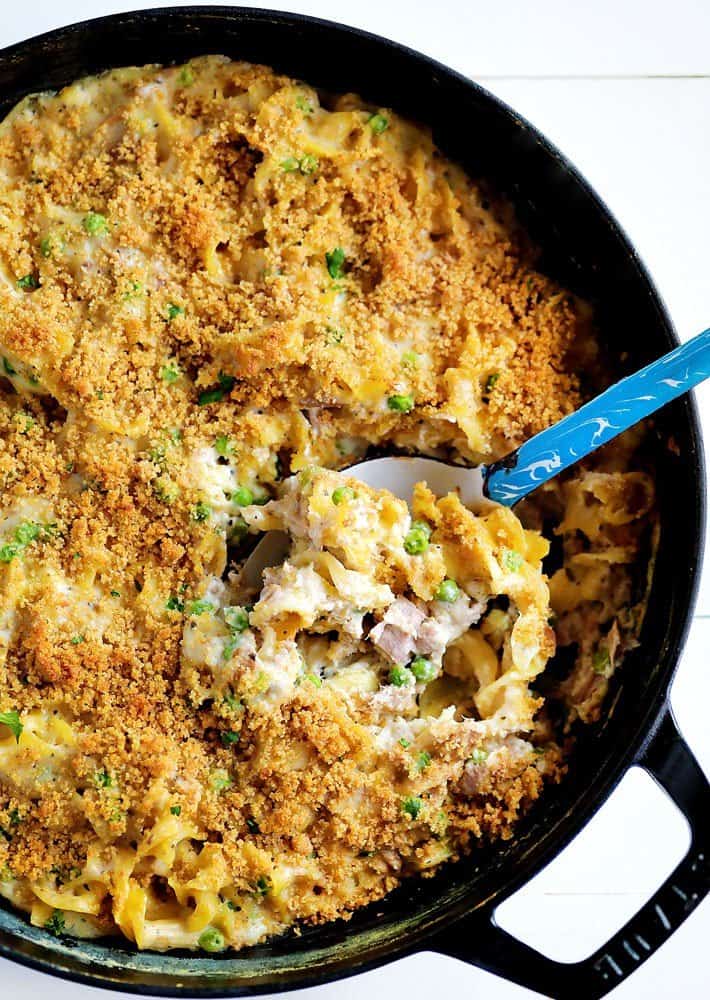 What Kind of Tuna to Use in Tuna Casserole
I prefer using tuna canned in water. When you are draining the tuna prior to use, as most recipes will recommend, you could lose some of the flavors if it was packed in oil. Tuna packed in oil can absorb some of the flavors of the tuna.
In general, water-packed is usually what folks choose because it has fewer calories and retains more omega-3s. Not to mention it can taste "fresher". We have definitely used oil-packed tuna when it's what is available, and if you are using oil-packed I recommend draining as well as possible. Now here is a crazy tip: My grandma used to save the oil, add some seasonings, and add it back into her casserole. Admittedly, I have not ever done that!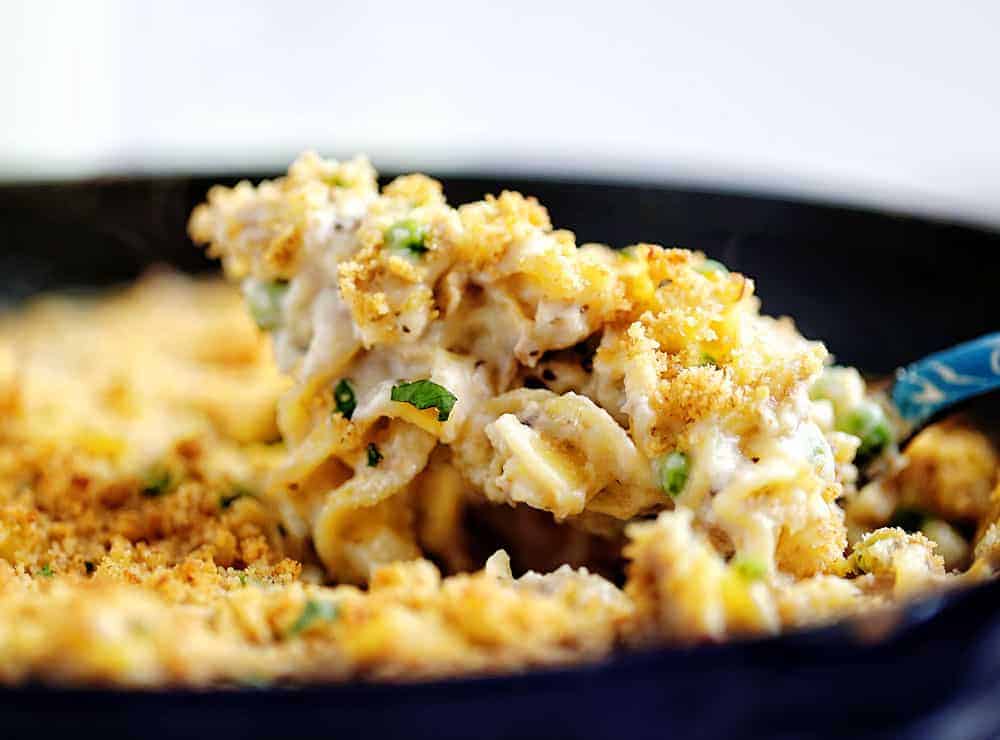 Tuna Casserole with Noodles
If there was any controversy around Tuna Casserole it is whether or not to include noodles. I am on #teamnoodles all the way, as I find tuna casserole without noodles to be flavored mush.
One trick for making sure your noodles are a perfect consistency is to cook them al dente. What is al dente? It refers to the ideal consistency for pasta and usually involves a brief cooking time, and those times can vary. Molto al dente is the culinary term for slightly undercooked pasta. Undercooking pasta is utilized in recipes that have two rounds of cooking, such as casseroles.
I can't think of anything worse than a soggy mushy mess of a casserole, so I make sure I cook my noodles the same way, every time.
Select a pot that holds all the water you need and still has room for the noodles. As noodles expand when cooking, you want them to have room to move and grow.
After the water is boiling, season it with salt. (Mario Batali says "salty like the sea" and I love that) Add your pasta and cook for 3-5 minutes or until one piece of pasta, when broken, still has a firm white center.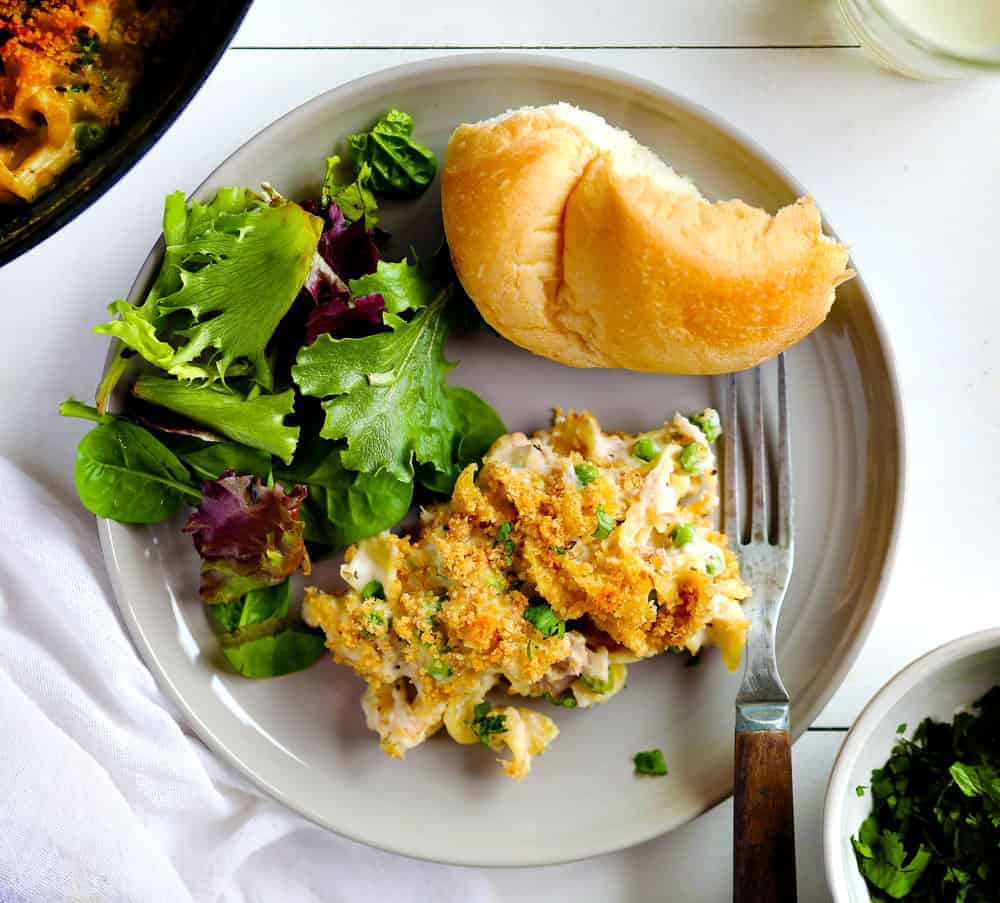 Tips & Tricks for Tuna Casserole
As you can see I served mine in this 12-inch Staub skillet. It's big and has deep sides and works perfectly for any casserole made in a 9×13 dish. If you don't have a large skillet, stick with the 9×13.
Don't be afraid to add extra seasoning. This one happens to be pretty mild (even with the oregano, basil, and thyme) so I tend to add extra salt & pepper to taste. The kids much prefer the recipe as written.
How to Freeze
If I am freezing I will bake in a disposable foil pan and then not garnish with any cheese. I also place a layer of plastic wrap directly on top of the casserole after it has chilled for about 30 minutes and then cover with foil. You can freeze it like this for about 2 months. When you are ready to eat, take it out from the freezer at least 15 minutes before you want to bake so it can thaw a bit, then place in a 350°F oven for about 20 minutes to finish cooking. Feel free to garnish if you want to add cheese.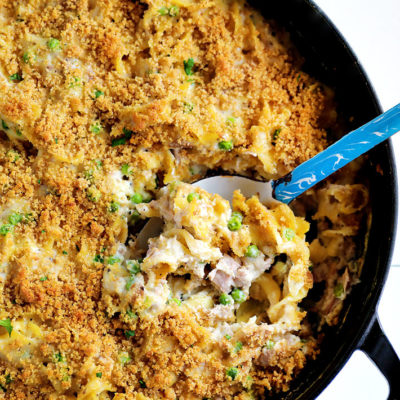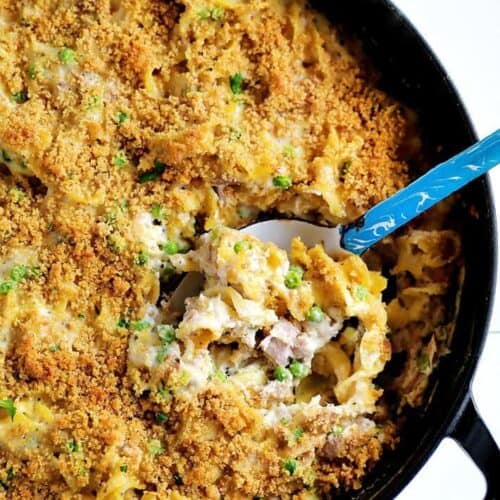 Tuna Noodle Casserole
Homemade Tuna Casserole is a staple in the midwest. We do love our casseroles!
Ingredients
TOPPING
⅓

cup

breadcrumbs

2

tablespoons

butter,

melted
CASSEROLE
7

ounces

dried egg noodles

1

cup

(150 g) frozen peas

¼

cup

(½ stick / 56 g) salted butter

¼

cup

(31 g) all-purpose flour

1

teaspoon

basil

1

teaspoon

oregano

1

dash

thyme

½

teaspoon

kosher salt

3½

cups

(857.5 g) whole milk

½

cup

freshly grated parmesan cheese

2

cans

(5 oz each) tuna packed in water,

drained and flaked
Instructions
Preheat the oven to 350° F.

In a small bowl combine melted butter and bread crumbs, set aside.

In a large pot of boiling salted water cook the egg noodles al dente and drain, set aside. (3-5 minutes)

In a small pot of boiling water cook the peas until tender.

In a medium pot over medium heat melt butter, whisk in flour, basil, oregano, thyme, and salt. Whisk constantly for one minute. 

Slowly whisk in the milk and stir constantly.

When sauce starts to boil, lower the heat to simmer and whisk constantly until thickened.

Remove from heat and add the parmesan cheese stir to combine.

Fold in the drained noodles, peas, and tuna.

Pour into the skillet or 10×8-inch baking dish and sprinkle with topping. Bake for 20 minutes. Let rest for 5 minutes before serving.
Did you make this recipe?
Thank you for making my recipe! You took pictures, right? Well go ahead and post them on Instagram! Be sure to mention me @iambaker and use the hashtag #YouAreBaker.