Ultimate S'mores are puff pastries filled with milk chocolate and marshmallow fluff, baked in the oven, and topped with a dusting of graham cracker crumbs, cinnamon, sugar, and chocolate. If you love the taste of s'mores, be sure to check out my Frozen S'mores and S'mores Puppy Chow!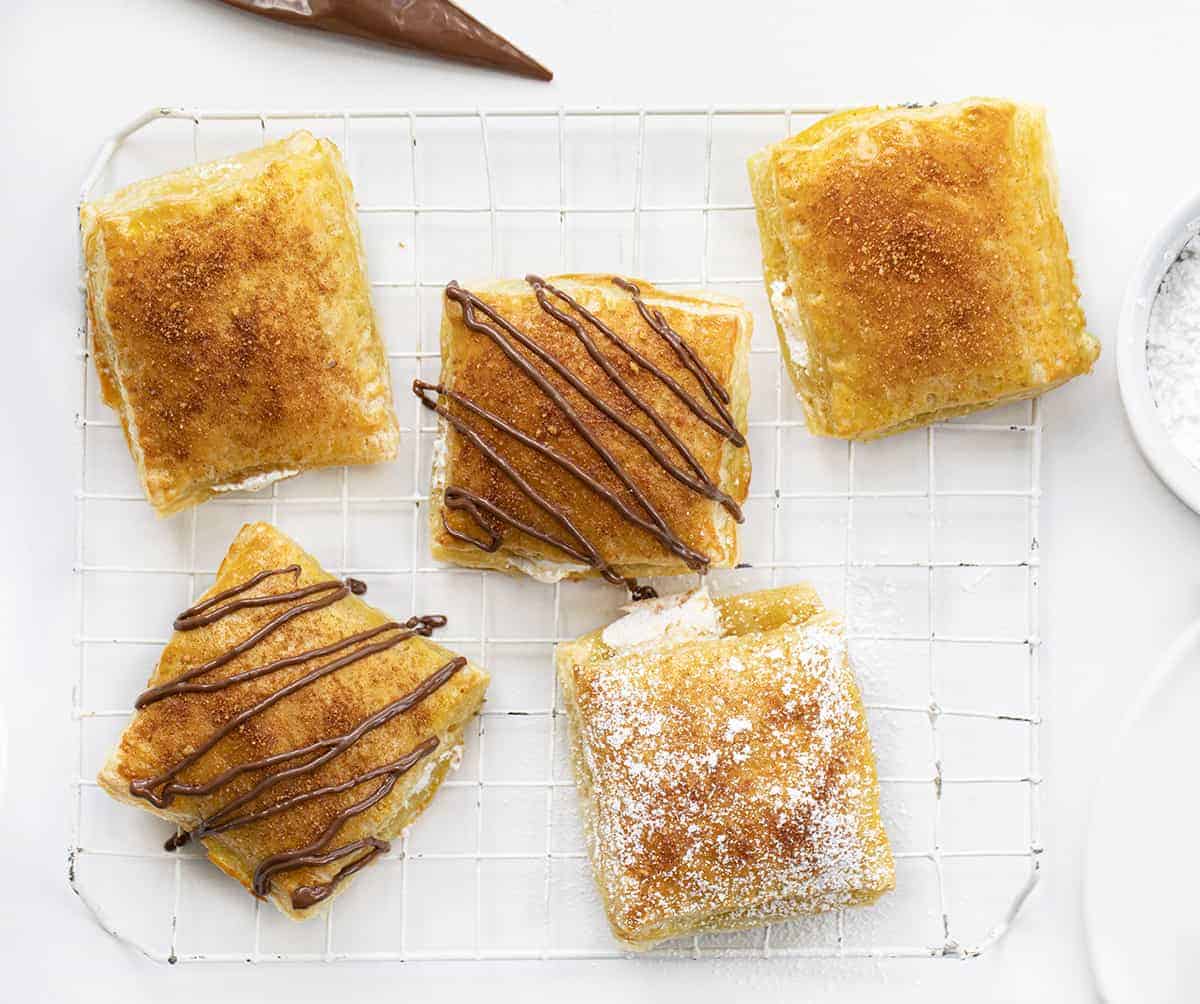 Ultimate S'mores
There is no need to build a campfire to enjoy all the flavors of s'mores when it comes to these Ultimate S'mores. You still get the melted chocolate, marshmallow, and a little bit of graham cracker that you would only expect to get while sitting by a fire. But, you can bake this sweet treat in the oven to enjoy with a glass of milk in the comfort of your own home!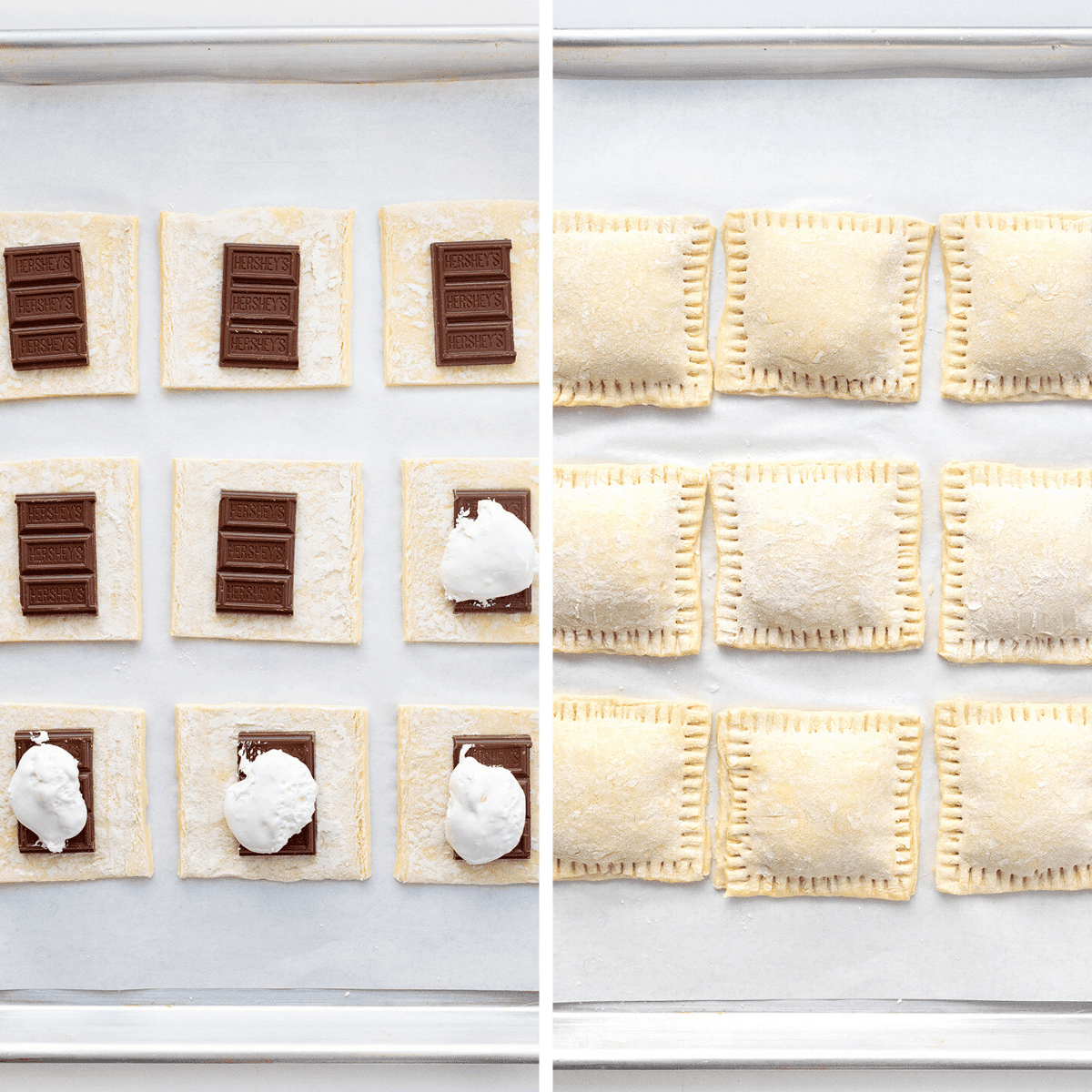 Ultimate S'mores Ingredients
Puff Pastry: I used two sheets of frozen puff pastry, thawed and cut into 18 squares for this recipe.
Marshmallow Fluff: After testing this treat using mini marshmallows and marshmallow fluff, the marshmallow fluff was the winner in flavor and ooey-gooeyness. The marshmallows did not give enough flavor to the s'mores, but you could get by with using them if that is what you have on hand. I would suggest 6-8 mini marshmallows per s'more.
Chocolate: I used milk chocolate candy bars to add to the Ultimate S'mores. It was easy to divide them equally between the pastries, as well as melt the remaining chocolate for drizzling on top of the baked s'mores. You could also use chocolate chips or any flavored baking chips you prefer.
Butter: Melt the butter to use after the s'mores have been baked. This helps the graham cracker mixture topping stick to the pastries.
Topping: A combination of cinnamon, brown sugar, and graham cracker crumbs was sprinkled on top of the baked treat. You will only need a couple of teaspoons of graham cracker crumbs, so about 1/2 of a sheet.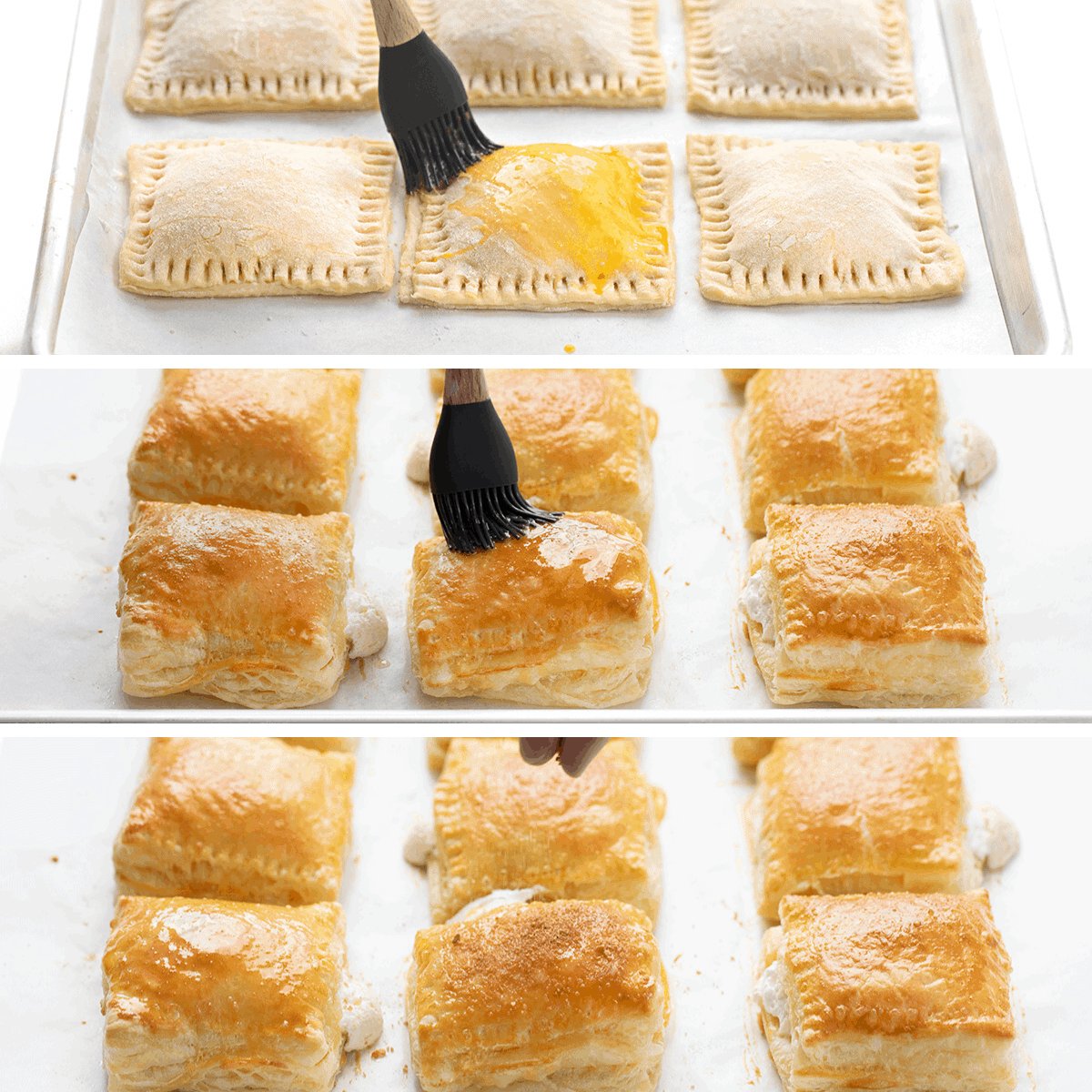 S'mores Topping Tip
When adding the toppings, work one pastry at a time. If you brush the melted butter on all of the pastries first, it will seep into the pastry and the graham cracker mixture won't stick! Once the mixture has been sprinkled on top, drizzle the chocolate over the tops of the s'mores.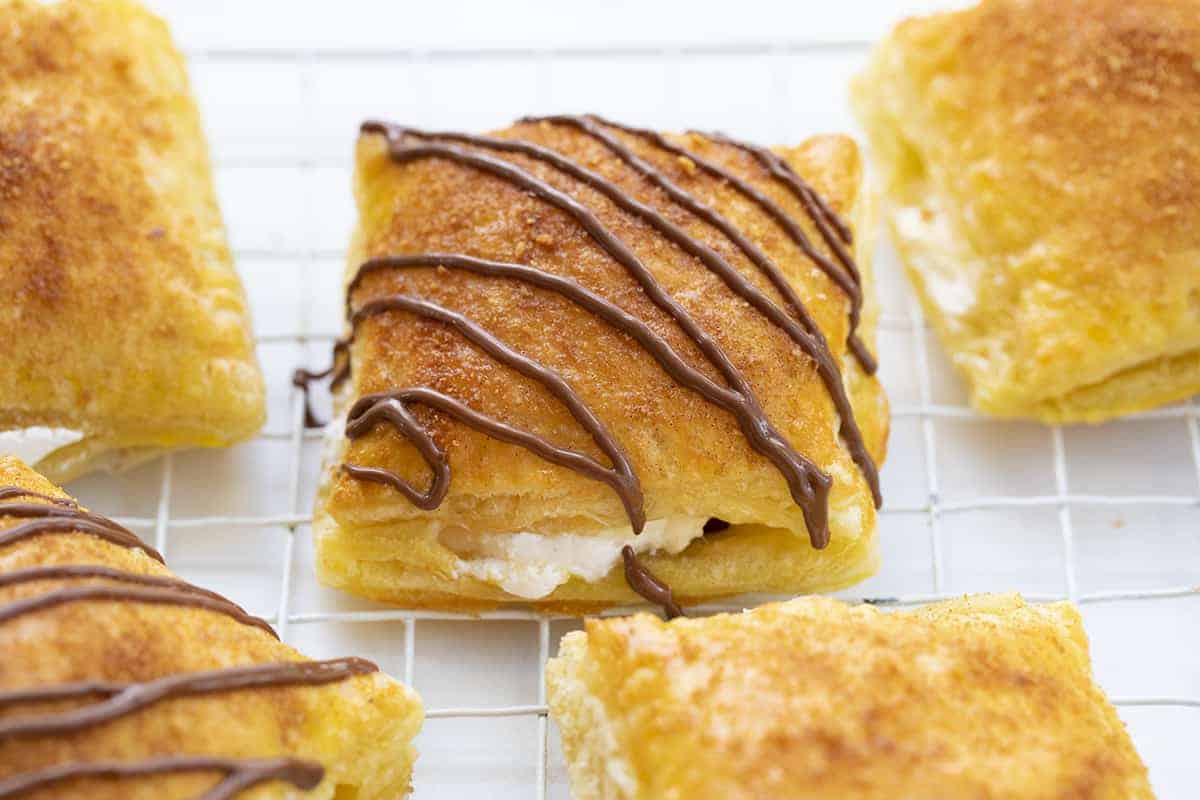 Marshmallows vs. Marshmallow Fluff
As stated above, the reason I decided to use marshmallow fluff over mini marshmallows was the flavor. The marshmallow fluff really stood out compared to mini marshmallows when we tested this recipe. Plus, I couldn't even see that there was any marshmallow inside when biting into the one with marshmallows.
However, you certainly can get away with using mini marshmallows. In fact, you can even make your own marshmallows to use. I could fit 6-8 mini marshmallows in each one.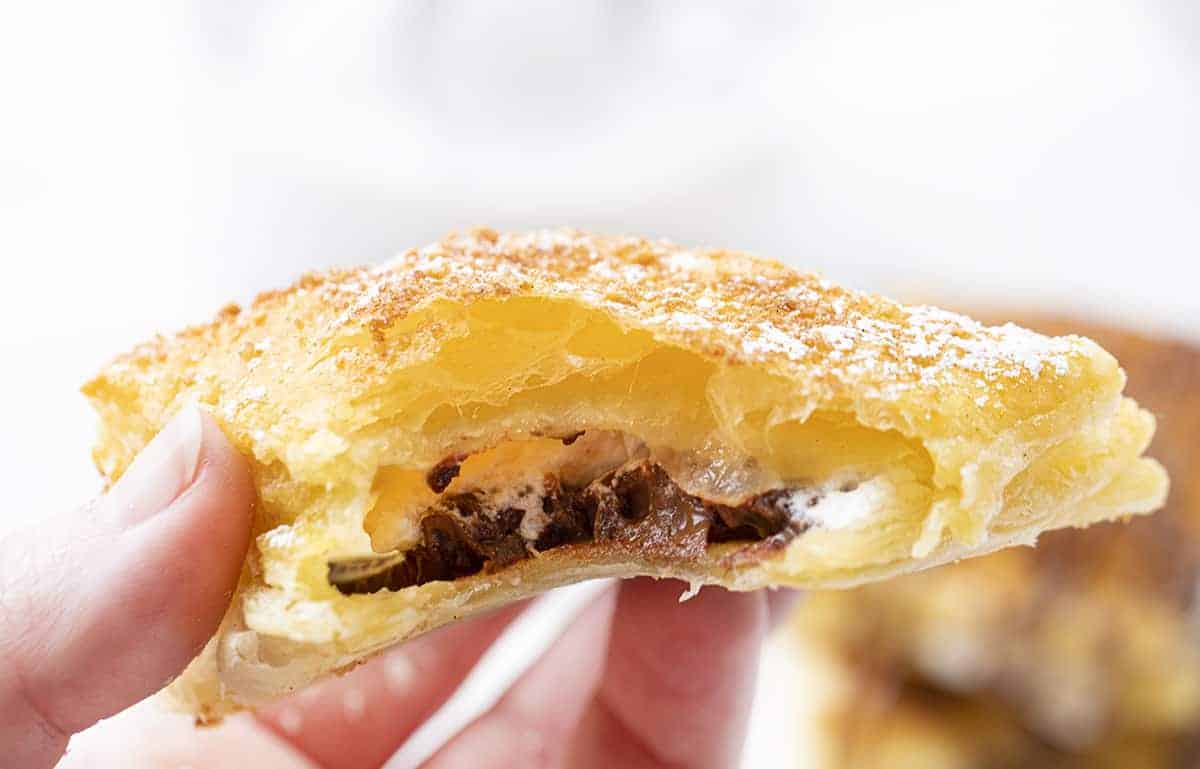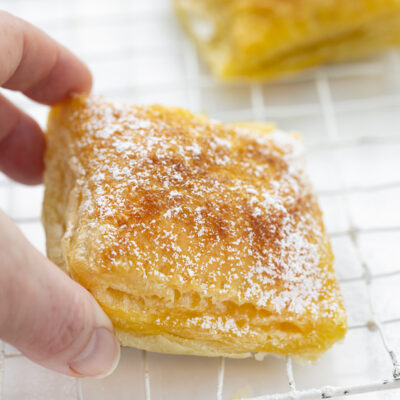 Ultimate S'mores
Ultimate S'mores are puff pastries filled with milk chocolate and marshmallow fluff, baked in the oven, and topped with a dusting of graham cracker crumbs, cinnamon, sugar, and chocolate.
Ingredients
2

sheets

frozen puff pastry,

thawed according to package directions

1

cup

marshmallow fluff,

divided

3

milk

chocolate candy bars (1.55 ounces each),

divided

1

large

egg,

beaten
Toppings
1

tablespoon

butter,

melted

½

teaspoon

cinnamon

1

teaspoon

brown sugar

2

teaspoons

graham cracker crumbs,

approximately ½ sheet
Instructions
Preheat the oven to 400°F and line a large baking sheet with parchment paper.

Lay puff pastries on a flat surface and cut each sheet into 9 squares, for a total of 18 squares between both sheets.

Place nine puff pastry squares on the lined baking sheet. Reserve the other nine.

Divide the chocolate evenly between the nine squares. I placed three sections from the chocolate bars on each of the nine puff pastry squares. (Reserve the 9 remaining chocolate sections for melting and drizzling later.)

Top with about 2 tablespoons of marshmallow fluff.

Using your finger or a pastry brush, wet the edges of the filled puff pastry squares with water and top with the reserved puff pastry squares. Use a fork to crimp and seal the edges.

Use a pastry brush to brush the beaten egg on the outside edges of the pastry.

Bake for 15- 18 minutes, or until golden.
Toppings
Meanwhile, in a small bowl, combine cinnamon, sugar, and crushed graham cracker. Set aside.

After the s'mores are done baking, working one at a time, brush the pastry with the melted butter, and then sprinkle the graham cracker mixture on top. (Be sure to work one at a time or the butter will seep into the pastry, resulting in the graham cracker topping not sticking.) Repeat with the remaining pastries.

Finally, melt the remaining pieces of chocolate in a piping bag or zipped plastic bag in the microwave in 15-second increments until liquid.

Cut off the tip of the bag (or corner of the plastic bag) and drizzle the melted chocolate over the pastries. Serve warm.
Did you make this recipe?
Thank you for making my recipe! You took pictures, right? Well go ahead and post them on Instagram! Be sure to mention me @iambaker and use the hashtag #YouAreBaker.