When I stumbled upon this blog, Mommy Musings, I knew I was a lifer.  Jenny is funny, charming, a mom, a wife, and has inner turmoil that can rival even my most dramatic of inner turmoils.  But she makes hers funny.  Have you ever pondered longer then 4 seconds when someone asks you paper or plastic?  Then you must read this.
And then I read this post, all about the beautiful bags that Jenny makes, and I knew I had to have one.
With Elizabeths shower coming up, I decided that it would be the perfect gift on a budget.  I mean really… beautifully handmade and custom designed purses?  It was a no brainer! 
So, even though Miss Jenny does not make these bags for a living (please go to her blog right now and convince her to quit her job immediately and make us bags full time!) I contacted her and told her I HAD to have one and would she please drop everything and make one for my party?
Instead of filing a restraining order against me, she simply said, "Ok!" 
Then she went to the fabric store, found a wide variety of fabrics that she thought I might like, emailed them all to me, and allowed me to choose the best one.  And let me tell you, it was NOT an easy choice, she has great taste!
Elizabeth likes pink and brown, likes all things organic, and lives as 'green' as possible… so I had NO idea what fabric to choose… but when Jenny showed me this, I thought it was perfect!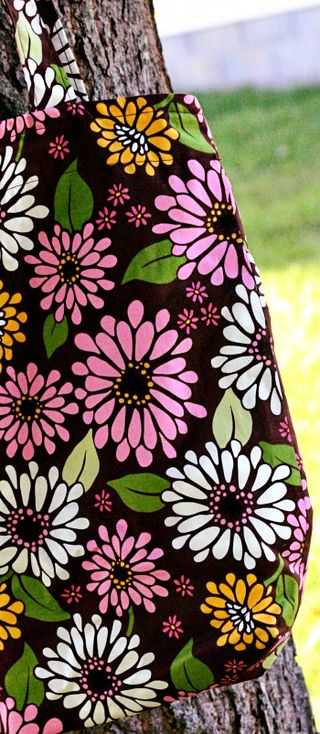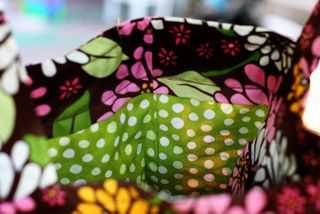 All on her own she choose the most perfect lining material… it was one of those, "This is exactly what I would have choose if I had known what I had wanted" moments.
*Too see Jenny's pictures of the bag, click here.
Thank you Jenny for your hard work and wonderful attention detail and skill!  Your bag was a hit!
Just a few things I love about Fargo:
*Lindenwood Park
*Shopping all in one great location
*Hornbachers
*Jenny from The Mommy Musings