Looking for a homemade Stuffing Recipe that is moist, packed with flavor, and beautiful on your holiday table? Then you have come to the right place! But maybe you are wondering how it got the name "World's WORST Stuffing"? Read on my friend.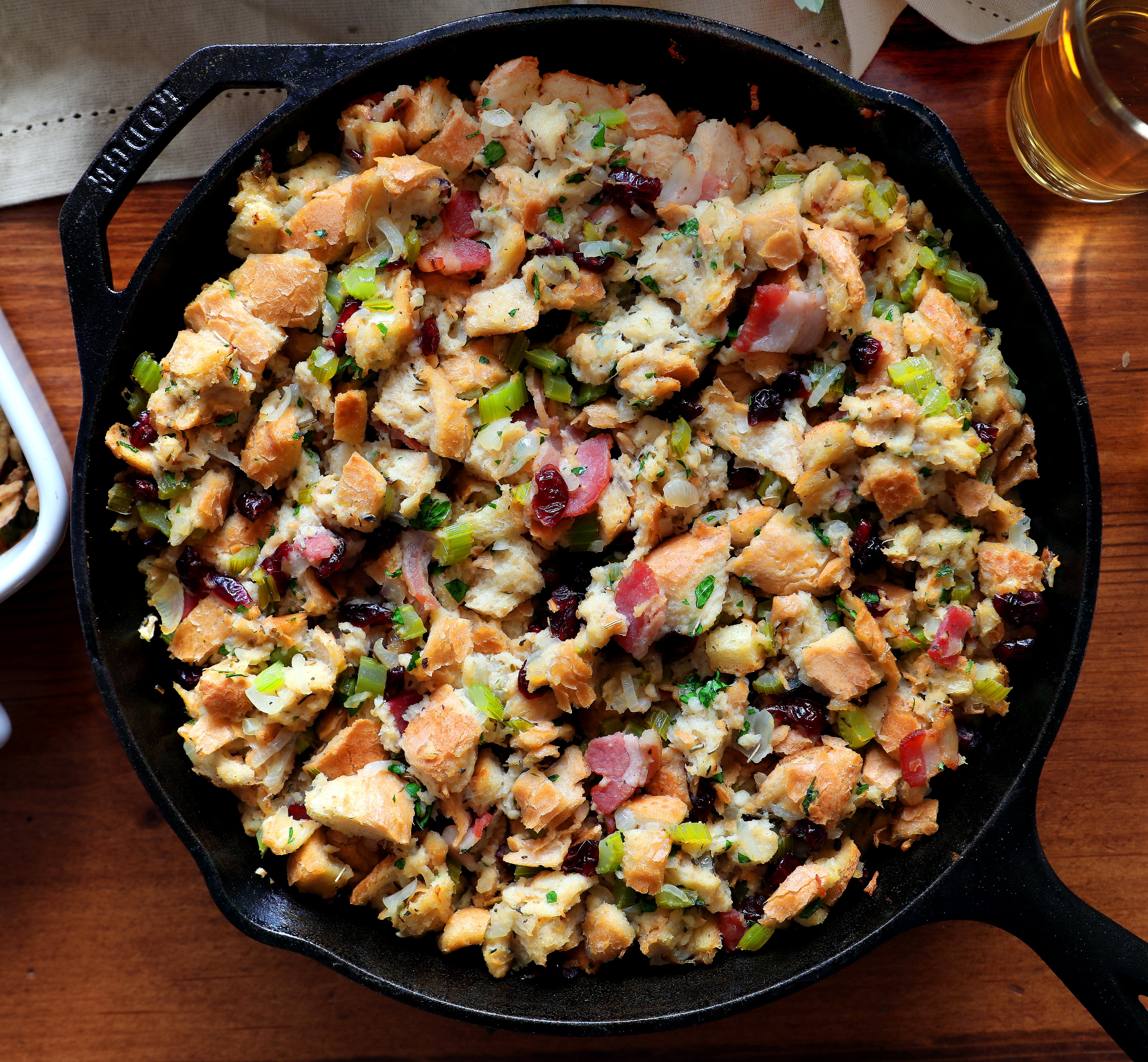 World's Worst Stuffing Recipe
So you actually came here looking for a GOOD stuffing recipe, right? Well, you are in the right place. This stuffing recipe is one that has been perfected over many years of trial, error, and feedback from family and friends.
It all started many years ago when I hosted my very first Thanksgiving. I had never done it before, had no clue what to do, and relied heavily upon pre-packaged options, like stuffing. I prepared the stuffing just as the bag told me and served it to a table full of hungry family members, all who were expecting homemade. The look on their faces was priceless when they tried it… they were less than impressed. (To be fair, it was dry and bland.) One of my cousins blurted out, "this stuffing is the WORST!". I didn't know what to do, so I laughed. We all did! And then we all devised a plan as to how to make the world's BEST stuffing. Everyone offered what they loved most about stuffing… the moisture, the cranberries, the bacon, the celery, the flavor, the type of bread… we discussed every detail. Even down to what pan to make it in. And THAT is how this recipe was born.
The next year when the family arrived they joked, "are we going to have the worst stuffing this year?" But after trying the new homemade recipe, everyone agreed. It was the BEST!
I still get requests for my "world's worst stuffing" and am happy to oblige!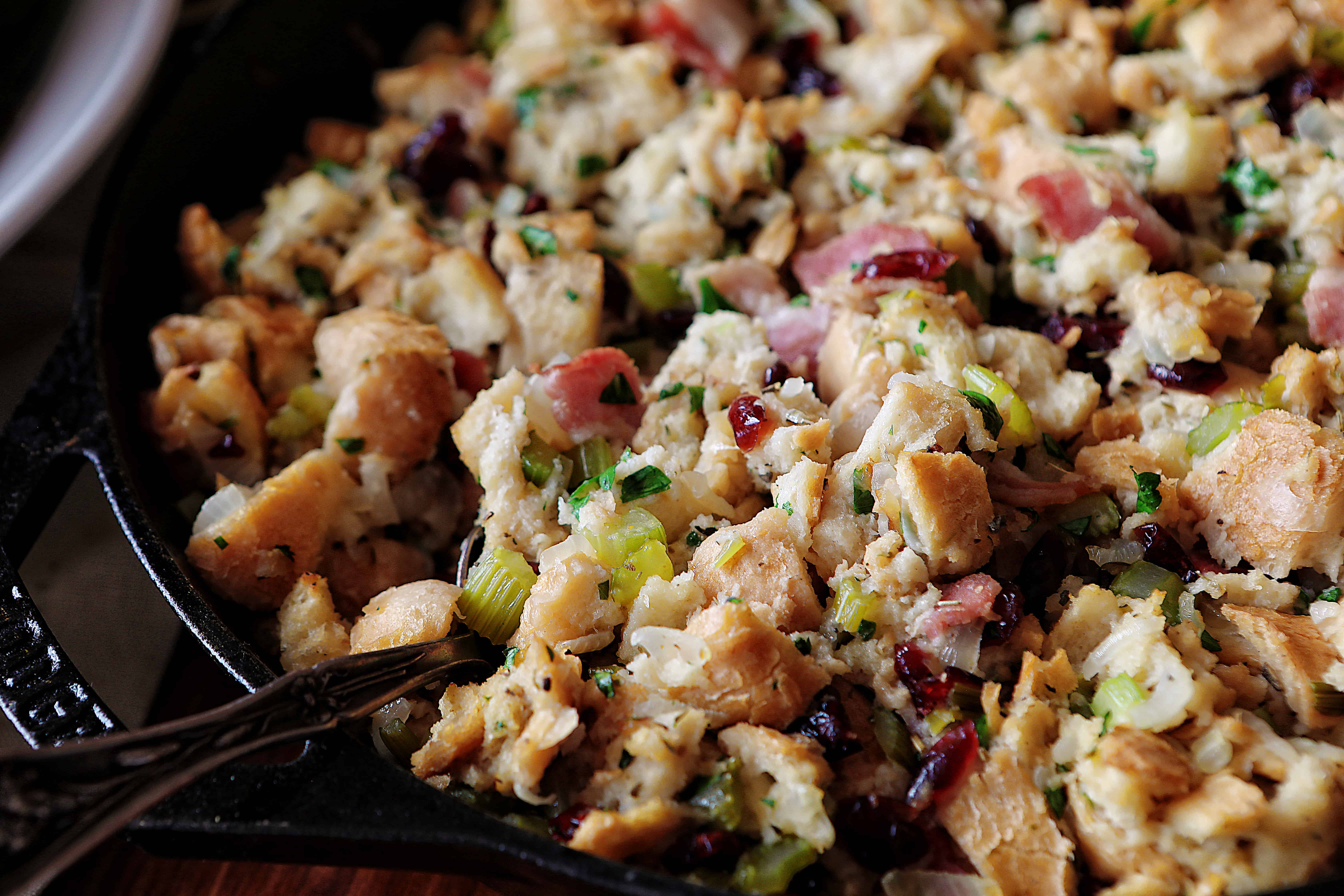 Stuffing Recipe
So technically the recipe below is a dressing because I did not specify that it has to be stuffed into the turkey. (Although we do love it that way!) A stuffing recipe goes into the bird, a dressing recipe gets cooked in a pan. However, I am from the midwest and we call it stuffing no matter where you cook it.
I like to use yellow, white, or sweet onions in this recipe. You don't need any extra color as the cranberries provide a beautiful pop of deep red and you don't need the extra sweetness a red onion can provide.
My favorite thing about this recipe is how moist it is. I have had (and made!!) dry stuffing and there is nothing worse then crunching down on bread that lacks flavor. You will not have that problem with this recipe.
Another thing of note, this is a big recipe. Stuffing is the favorite side dish of 3 of my 5 children so I always make enough for leftovers!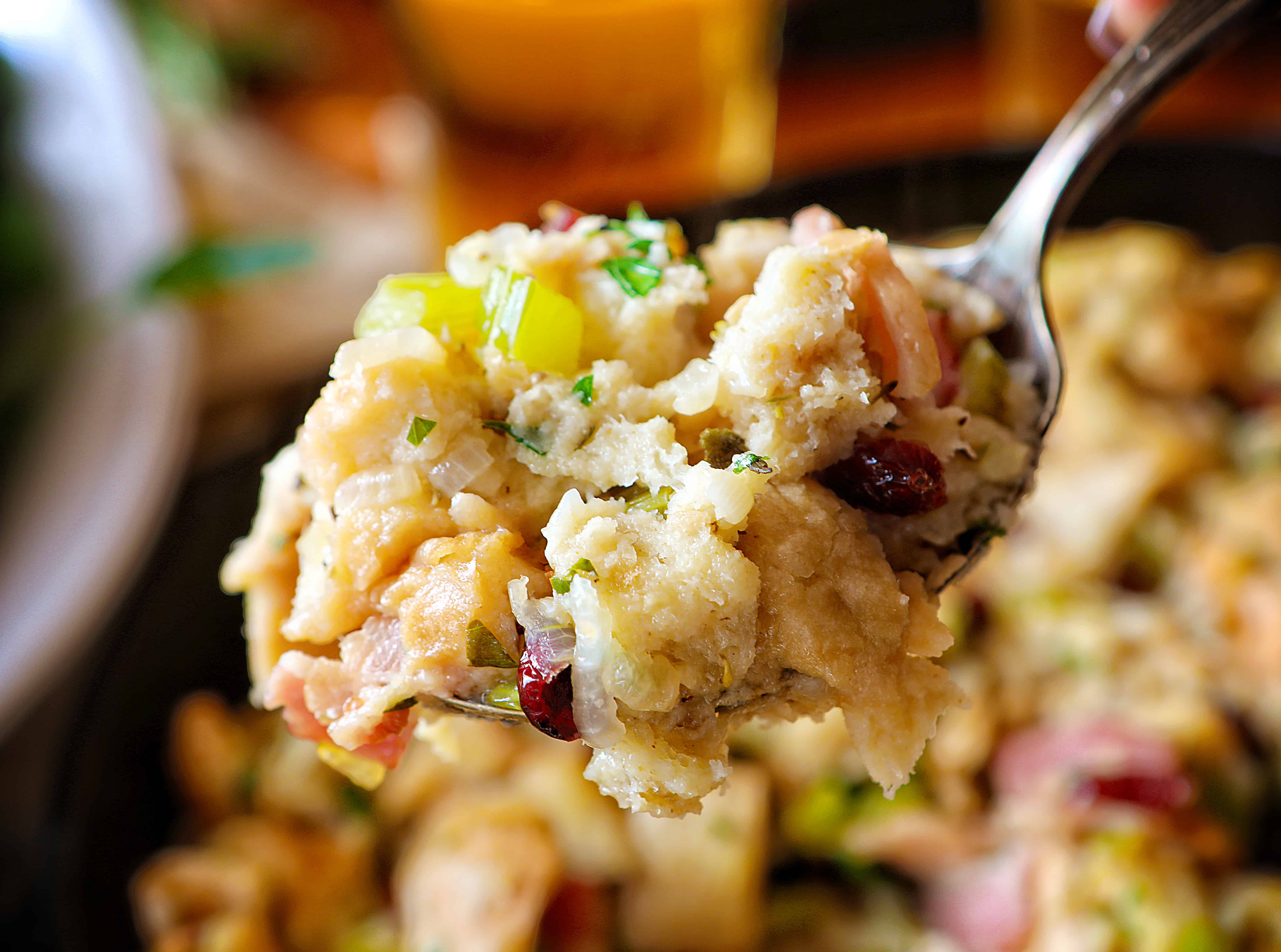 Skillet Stuffing
I love what cooking this recipe in a skillet does. All that amazing flavor from the bacon and onions and seasonings gets cooked to perfection when using a cast iron skillet. Other than in the bird itself, it's the only way I prepare stuffing now. Once you try your stuffing in a skillet, you will be hooked too!
How to Reheat Stuffing
Remove stuffing from the refrigerator and allow it to come to room temperature. Then, warm it in a 350°F oven, covered, for about 30 minutes. If the stuffing looks too dry, add chicken stock, leftover turkey drippings, or gravy. I have also added a couple of tablespoons of butter to my skillet, let melt, then added the stuffing and cooked for about 10 minutes stirring frequently.
I do not put stuffing in the microwave, I just don't particularly enjoy the texture of the heated stuffing. It's all soft and sort of melts in your mouth.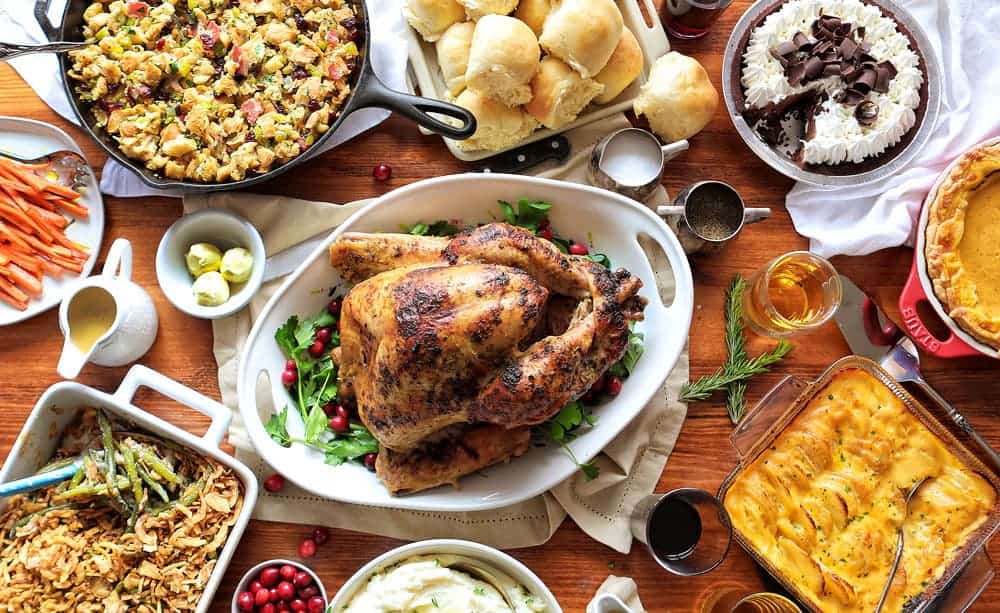 Looking for more Holiday Menu Recipes?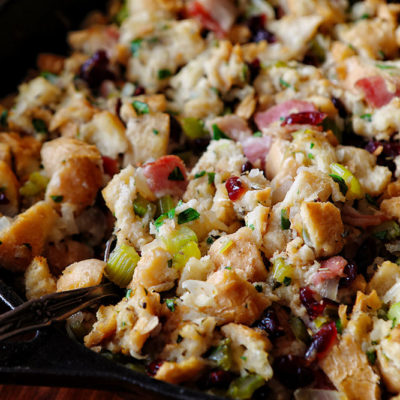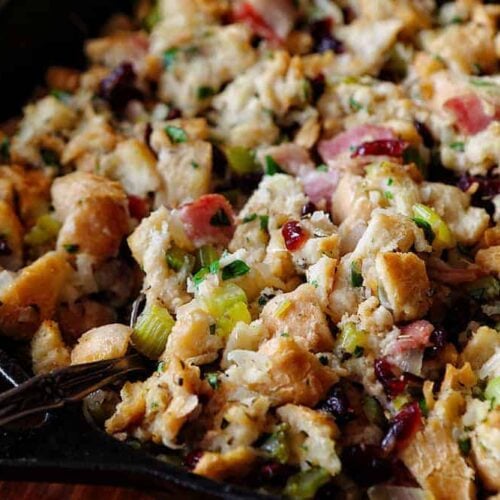 World's WORST Stuffing Recipe
It's actually the best, as you will soon find out!
Ingredients
8

tablespoons

(1 stick or 113g) salted butter

2

medium onions,

cut into 1/4-inch dice (about 3 cups)

6

stalks celery with leaves,

cut into 1/4-inch dice (about 2 1/2 cups)

4

slices

thick cut bacon,

cut into small chunks

2

loaves

(9-inch each) of french bread,

cut into 1 inch cubes

1/3

cup

fresh parsley

chopped

1

teaspoon

celery salt

1

teaspoon

dried sage,

crumbled

1

teaspoon

dried rosemary,

crushed

1/2

teaspoon

dried thyme,

crumbled

1/4

teaspoon

salt

1/4

teaspoon

freshly ground black pepper

1

cup

dried cranberries

4

cups

warm chicken stock
Instructions
In 12-inch heavy skillet over medium heat, add butter and cook until melted. Add bacon to skillet and cook 5-10 minutes until bacon is cooked through and starting to get crispy. (There should be a lot of liquid in the pan.)

Stir in onion and celery, cover, and cook, stirring occasionally for about 5-10 minutes. You want onions to be translucent.

Transfer to a large bowl (the bigger the better) and add bread cubes, parsley, celery salt, sage, rosemary, thyme, cranberries, salt, and pepper.

Stir in 3 1/2 cups warm chicken stock.

If using to stuff turkey: Use immediately to fill cavities of turkey.

If baking entire recipe as side dish: Preheat oven to 350°F.

Transfer all ingredients back to original skillet. Drizzle with an additional 1/2 cup hot stock. Cover with aluminum foil and bake until heated through, about 30 minutes.
Did you make this recipe?
Thank you for making my recipe! You took pictures, right? Well go ahead and post them on Instagram! Be sure to mention me @iambaker and use the hashtag #YouAreBaker.