This amazing Pumpkin Pie Pound Cake recipe is the best I have ever had! Pairing it with a lovely Cheesecake Glaze takes this cake to a whole new level!
I absolutely love fall baking. I love the subtle smell of pumpkin spice and the slight crisp in the air. I love when the oven warms the whole house and you don't need to turn on the heat.
Is there anything not to love about fall?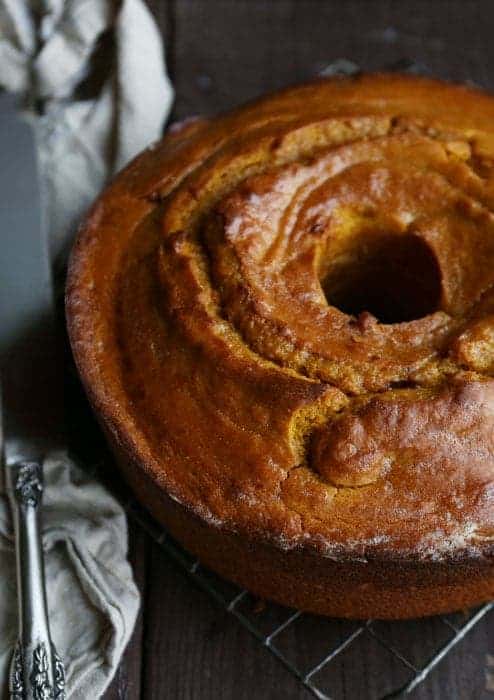 I serve this glorious Pumpkin Pound Cake with a Cheesecake Glaze, but I have to admit, I love how this "naked" cake looks. Those deep, rich pumpkin tones with a glistening amber crust… it was hard to not just dig in!
For this recipe,I made the glaze first so that it could cool at room temperature, but I have to warn you. That's dangerous. You will want to grab a spoon and dig in!
After adding the glaze and watching it spill beautifully over the sides of the cake, you get to cut into it. I have to admit, it was quite a moment!! The cake was still slightly warm in the center so wisps of steam escaped and made their way around the room making sure to visit every nose!
TIPS FOR SUCCESS:
You can add more confectioners sugar (up to 1 cup) to the icing before heating it. This will make the glaze thicker so you will need to add more buttermilk.
If your glaze is too thick feel free to add more buttermilk to create the consistency you want.
Yes, you can use whole milk in place of buttermilk. This will create less depth-of-flavor and will result in a sweeter glaze.
I hope you enjoy this beautiful Pumpkin Pound Cake with Cheesecake Glaze as much as we do!
I created this cake in partnership with ALDI. I only work with brands that my family truly uses, and ALDI just happens to be one of our favorites! Thank you for supporting the brands that support iambaker!
For more Fall ideas check out the ALDI Facebook, Twitter, Instagram, Pinterest, and Blog!