I don't know if you are aware, but I have five kids. FIVE. (Ages 10, 8, 6, 4, and 2.) Five awesome little people running around who are always willing to help mommy in the kitchen. (Don't tell, but I wish I had five more! I love being a mom.)
Pretty much the only down side to my job is that mommy (me) is often in the kitchen baking. Baking cookies and cakes and more cookies and all sorts of deliciously, sugary sweet treats.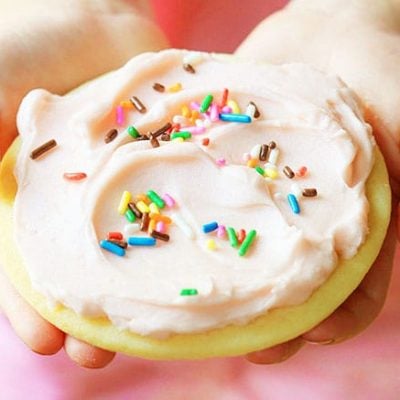 Amazing Sugar Cookie Recipe
This is our go-to sugar cookie recipe and a crowd-pleaser every single time.
Ingredients
1

cup

(125 g) confectioners' sugar

1

cup

(2 sticks / 227 g) butter,

room temperature

1

large

egg,

room temperature

2

teaspoons

vanilla extract

1

cup

(125 g) all-purpose flour

¾

cup

(94 g) cake flour

2

teaspoons

cornstarch

¼

teaspoon

baking powder

¼

teaspoon

baking soda

1

pinch

table salt

2

cups

(250 g) confectioners' sugar

¼

cup

(½ stick / 57 g) butter,

room temperature

½

teaspoon

vanilla

2

tablespoons

milk

1

drop

food coloring,

if using
Instructions
Sugar Cookies
In the bowl of a stand mixer with paddle attachment, blend sugar, butter, egg, and vanilla on low to just combine. Switch mixer to medium-high and mixer for about 3 minutes, or until light a fluffy.

While that is mixer place flour, cake flour, cornstarch, baking powder and baking soda into a bowl and whisk together.

With the mixer on low speed, slowly add dry ingredients into the butter mixture. Mix until just combined.

Remove bowl from mixer and add in pinch of salt. With a rubber spatula, scrape down sides of bowl and gently mix ingredients.

Using a small ice cream scoop, scoop out balls of sugar cookie and place on a parchment lined baking sheet close together.

Do this until all the dough is gone; you should have about 24 sugar cookie dough balls.

Place in freezer for at least one hour. (if freezing for longer make sure the sugar cookie dough is sealed in an air tight container until ready to use)

When ready to bake heat oven to 350°F. (325 in convection ovens)

Place dough ball (can still be frozen) on parchment lined baking sheet 2 inches apart from each other.

Bake for 7-10 minutes, or until no longer "wet" looking in the center. These cookies are best when slightly under-done.
Buttercream
Cream butter and vanilla in mixer for 2-4 minutes.

Add in confectioners' sugar, one cup at a time.

If you find your mixer struggling, slowing add in milk.

Add in food coloring if necessary.

Use more milk for a creamy consistency, use less milk for a stiff consistency.
Did you make this recipe?
Thank you for making my recipe! You took pictures, right? Well go ahead and post them on Instagram! Be sure to mention me @iambaker and use the hashtag #YouAreBaker.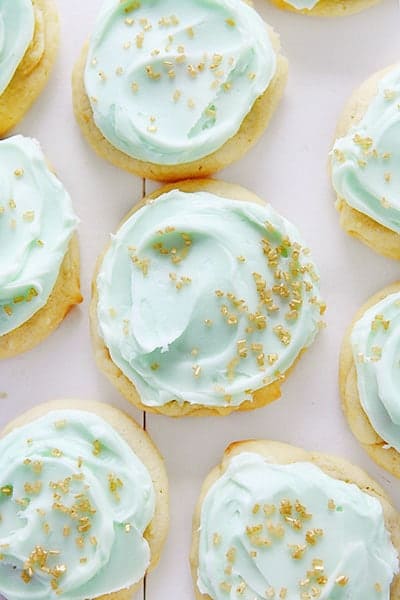 My love-hate relationship with sugar is maybe similar to yours? I love baking and decorating and sharing sweet treats with everyone, but don't like buying bigger sizes of clothes and definitely don't like the effects of sugar on my teeth.
Or my kids' teeth.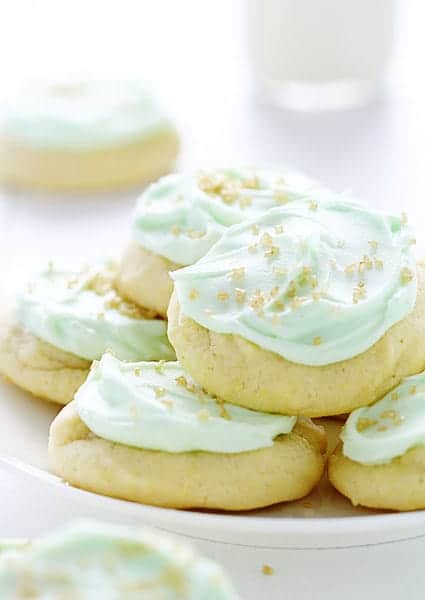 Because I know.
I know that no one can resist sugar cookies covered in buttercream and gold sprinkles.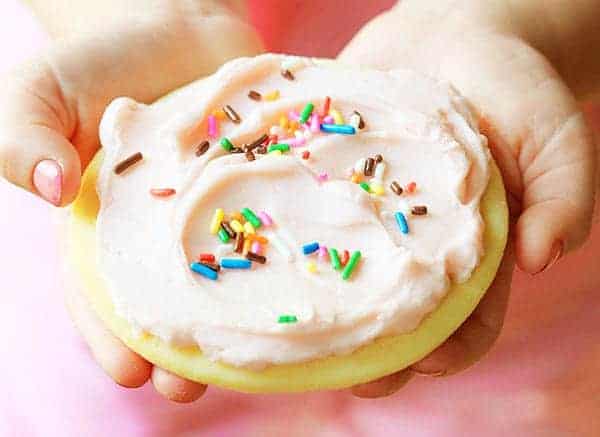 I know that no one can resist giant sugar cookies with cherry buttercream and rainbow sprinkles.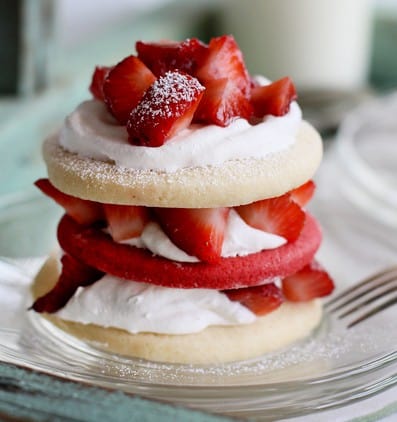 I know that no one can resist sugar cookies with red velvet cookie and strawberries and whipped cream.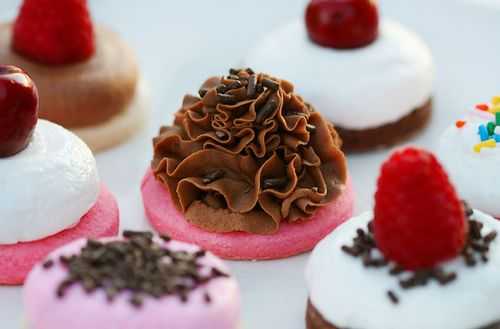 I know that no one can resist sugar cookies with massive piles of chocolate buttercream.
I know that no one can resist chocolate sugar cookies with a glorious buttercream peony piped on top.
AH! Someone stop me!!
Or… don't.
So we talk about pros and cons.
Pro: Mom lets us eat the most amazingest (their word which happens to be an awesome word) treats ever.
Con: It's not good for our teeth, so we do everything we can to protect them.
What do we do to help our kid's teeth stay strong and healthy? We utilize oil pulling, we brush regularly (no flossing) and we rinse with peroxide. We also are big fans of probiotics and activated charcoal!
Now, because I have NO INTENTION (can you sense my passion for sugar here?) of eliminating sugar from our lives anytime soon, I am going to share with you the amazing sugar cookie recipe from above.
It is our go-to sugar cookie recipe and a crowd pleaser every.single.time. Having a cookie for an afternoon snack or treat after dinner is one of the ways I love to bless my kids! Sugar in moderation is A-OK in my book!