When you are making homemade Angel Food Cake it's important to be aware of two things:
It uses a lot of eggs.
Scratch that. It uses a lot of egg WHITES.
Read the recipe before you start.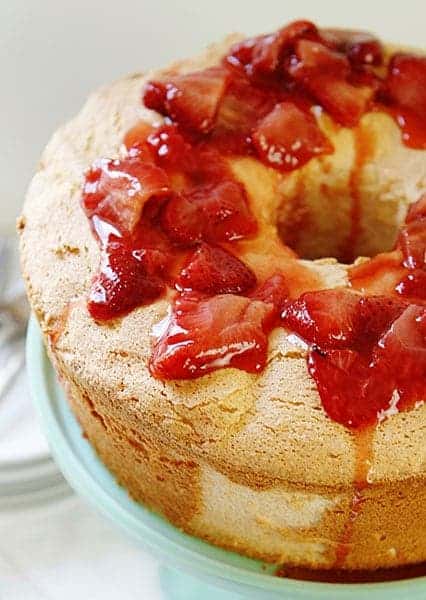 #panfail
#cakefail
#bakerfail
Now, if I could go back in time I would have definitely given MYSELF that advice. But, I was halfway through my recipe before I realized that I did not own an angel food pan.
Improvising angel food cake in a fancy bundt pan is NOT A GOOD IDEA.
It is a BAD idea.
It is a terrible idea.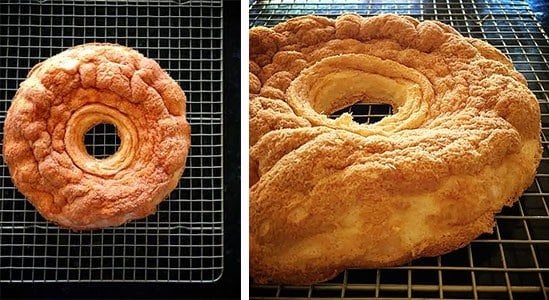 This is what happens when you make angel food cake in a fancy bundt pan that you have to spread GOOP in so that the cake doesn't stick but the cake is supposed to stick and therefor the cake cannot properly set up and it falls and flattens itself into a 1-inch high disc of not-bad tasting but horribly disfigured angel food cake.
So I drove to the store and bought a pan.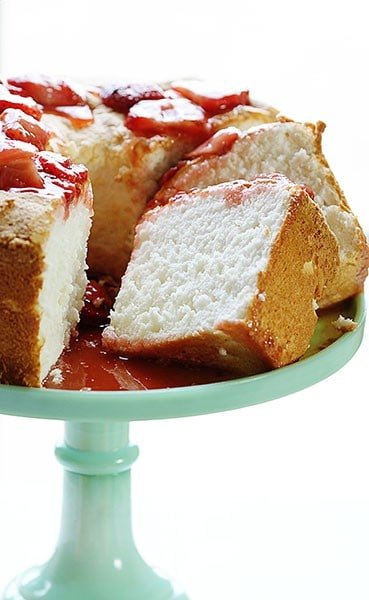 That was the best decision I made all day.
Well, that and the roasted strawberries. I mean, who knew roasted strawberries would be SO amazing?!?
Recipe barely adapted from Joy of Baking.
Tips for Success:
The most COMMON MISTAKE in baking angel food cakes is to not weigh the eggs. It is important to measure or weigh your egg whites for this recipe! Eggs can vary so greatly in size that it could be disastrous if you simply use 12 egg whites.
Room temperature ingredients are a must! We have very fresh eggs (sometimes laid that very day!) and because they are so fresh they separate very well. If you do not happen to have 94 chickens then you may want to separate the eggs when cooler and then allow the whites to come to room temperature. Separating when cooler will help you avoid broken yolks.
When whipping eggs make sure your bowl is clean and cool. Try not to overbeat! Stiff glossy peaks is the key phrase and what to look for in your eggs.
If you want a smooth strawberry sauce, simply place the roasted strawberries into a blender or food processor until you reach the desired consistency. If you do this you may not need to add the strawberry spread. Just keep an eye on it.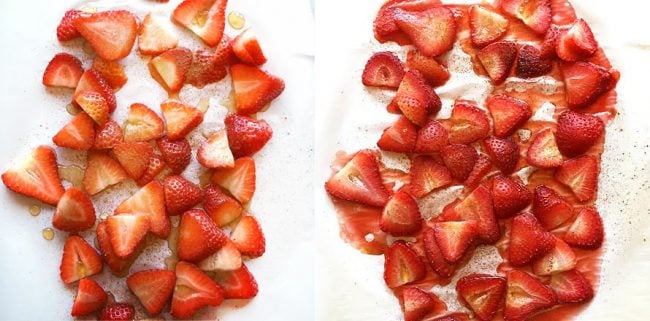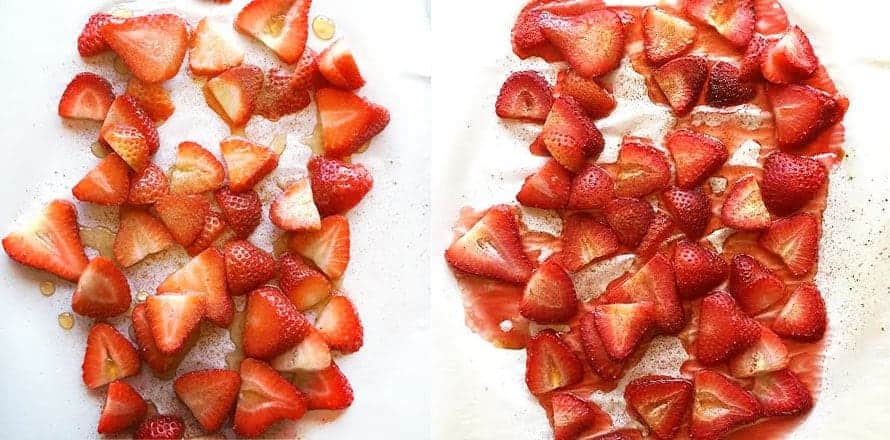 This is before and after roasting the strawberries. I highly recommend doing this! My house smelled like heaven for 6 hours after I removed them from the oven!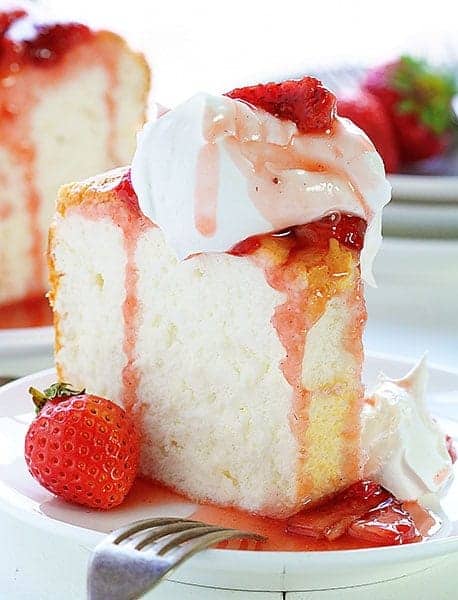 This Angel Food Cake Recipe with Roasted Strawberries lasted all of one day in our house. It tastes better than any store bought angel food cake, which is saying a lot for a kid who was raised on the store bought stuff.
I declare it the perfect angel food cake!