Apple Galette gives you all the comfort and flavor of an apple pie without a lot of the hassle of making an apple pie. This can be a dessert or even a morning pastry. Once you discover how easy a galette is to make, you might want to try my Blueberry Galette.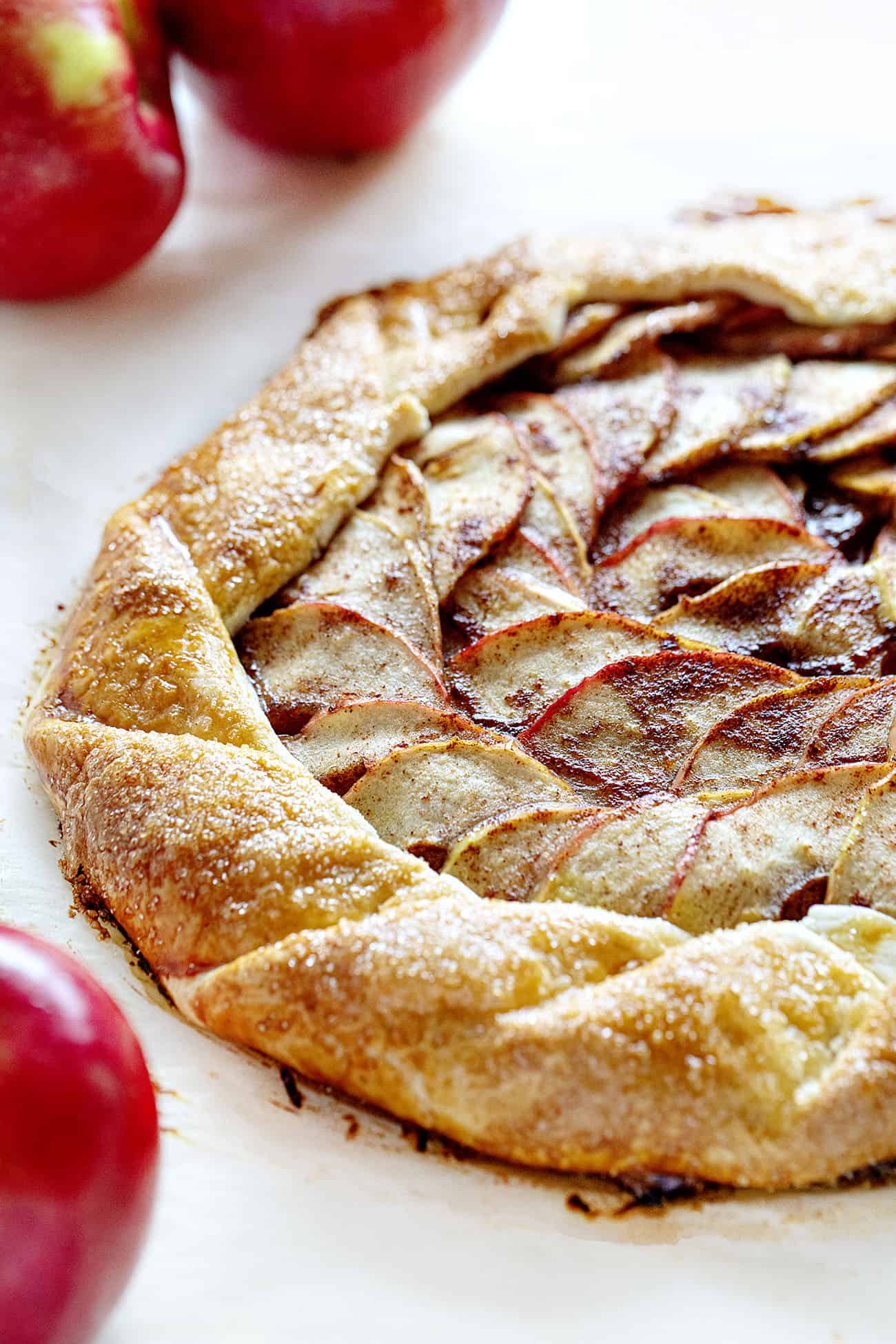 Apple Galette
I absolutely LOVE apple pie, but sometimes I don't love it enough to make a homemade pie. When I started making galettes, I knew I had to try it with apples. Galettes are traditionally filled with fruit, and an apple is a fruit, last time I checked! Now, I will offer to bring dessert more often!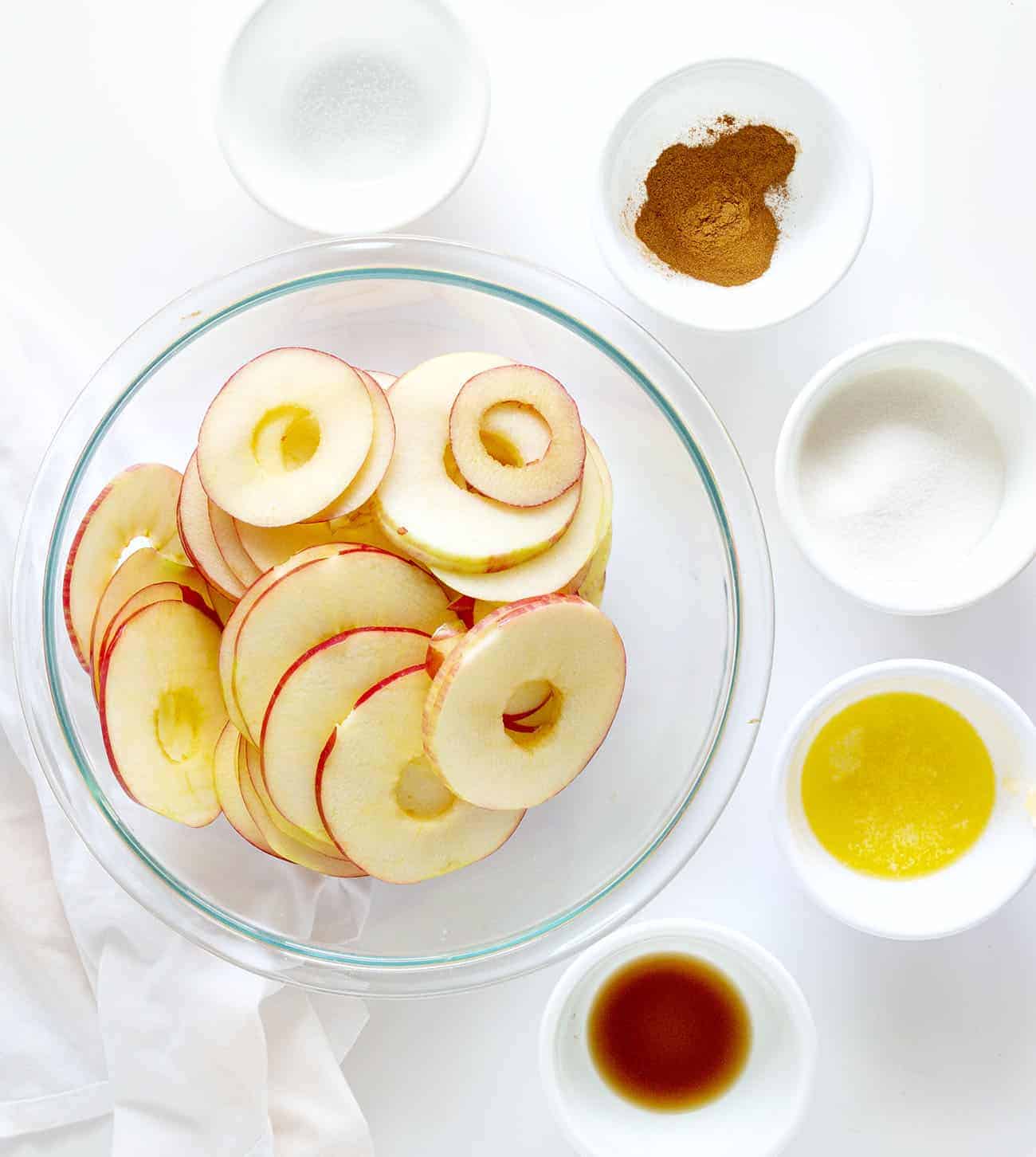 What is Galette?
Simply put, it's pastry dough wrapped around fresh fruit. We love easy, delicious desserts!
Galettes are a French pastry and similar to a pie or tart. They are free form and rustic in design. You don't need any special tools or pans to make a galette and it truly is one of those desserts that anyone can make. The fruit is important, no frozen substitutions here! Although galettes are more associated with fruit fillings, I have made (and loved) a Tomato Galette, which you have to try! And, if you want to get technical, tomatoes are officially a fruit but considered a vegetable by nutritionists. So, I actually stuck with the traditional galette filling of using fruit…but, I digress.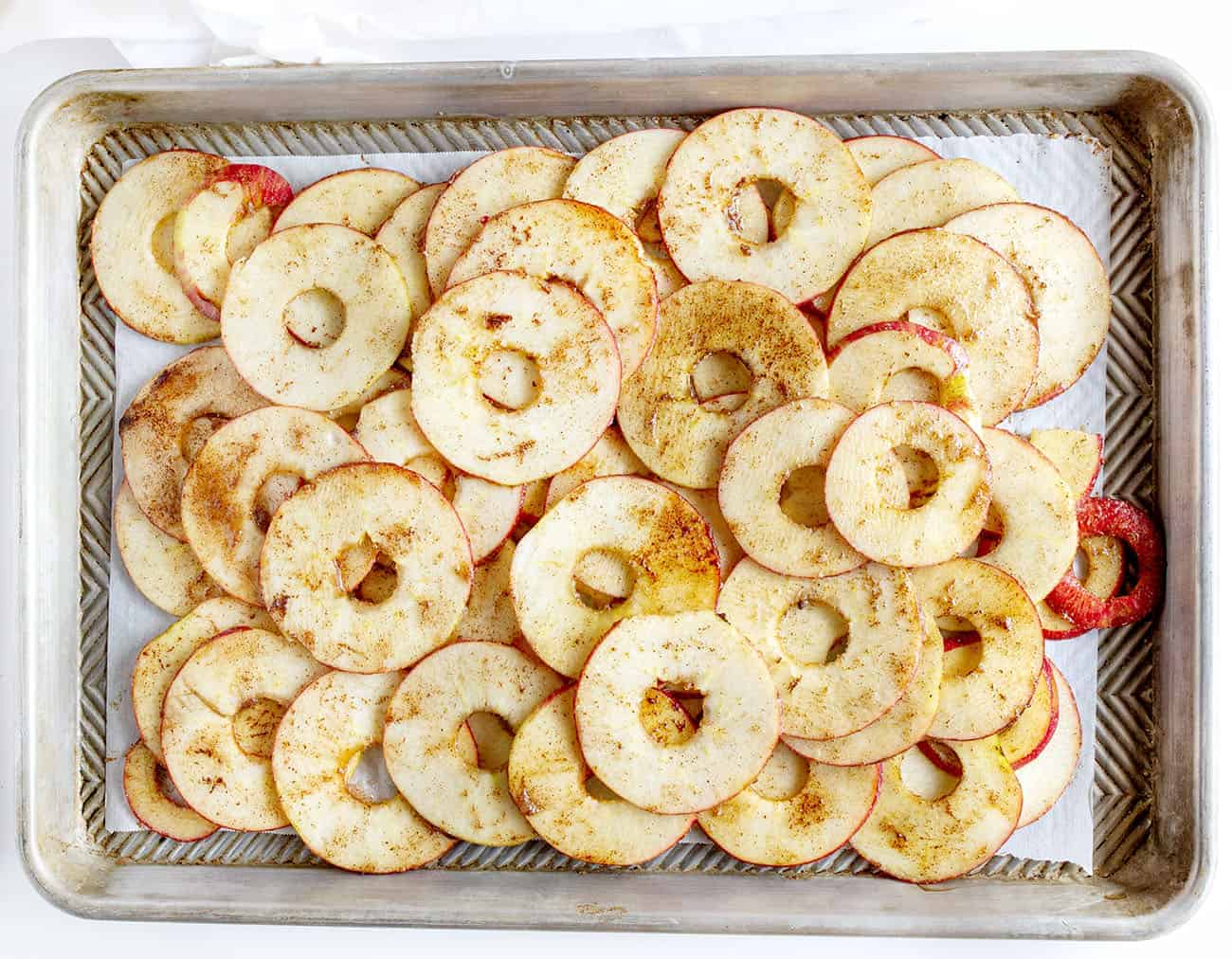 Apple Galette Recipe
What makes this Apple Galette Recipe so nice is that it is so easy! You don't even need to make your own pie crust, but I have a Homemade Pie Crust recipe if you are feeling motivated! Once you have your pie crusts, homemade or not, lay out a piece of parchment paper. Combine the crusts to roll out a circle with about a 14-inch diameter. Place your pie dough, still on the parchment paper, on a baking sheet and set it aside. Get your other ingredients ready for the apple filling and topping.
Filling Ingredients:
Apples
Sugar
Vanilla
Cinnamon
Butter
Salt
Topping Ingredients:
Preheat the oven to 350°F as you prepare the apples.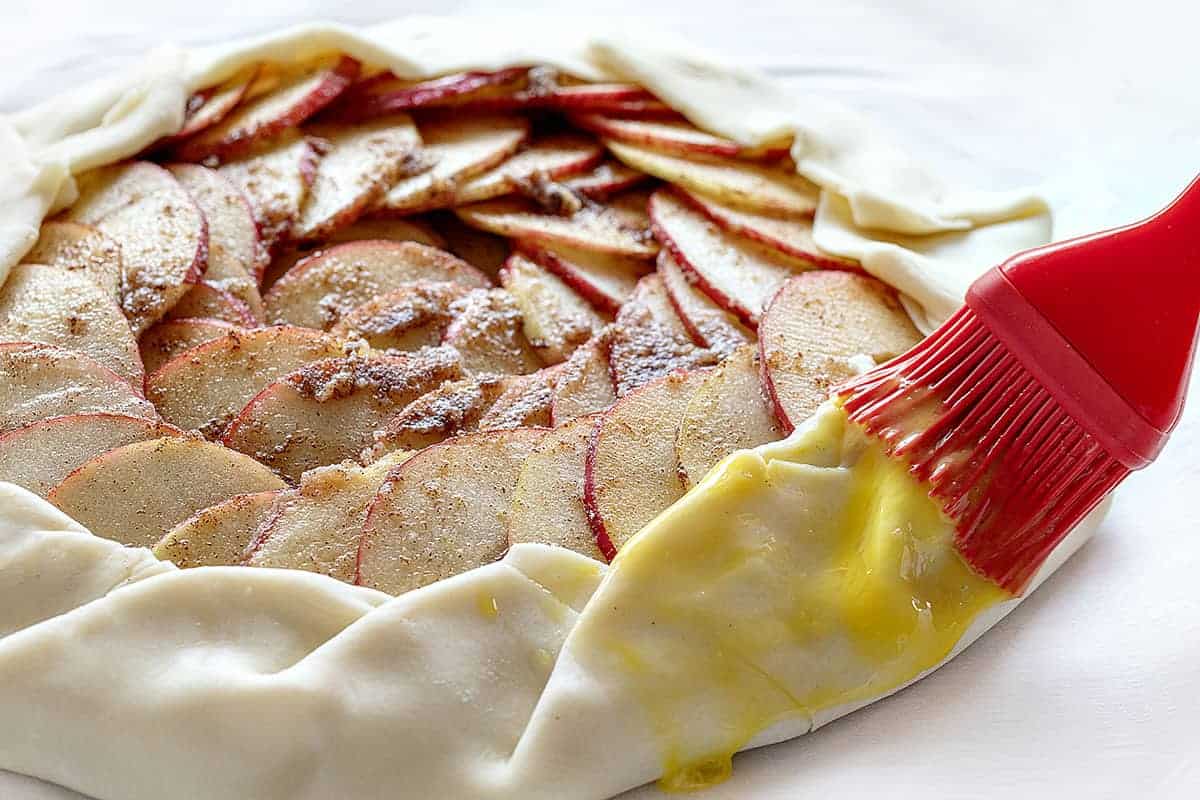 How to Prepare the Apples
Before you core and cut the apples, you need to decide on what apples you want to use. I made my Apple Galette with Honeycrisp Apples since I love the sweet-tart flavor it provides. Plus, they were developed by the University of Minnesota! But, it really is your preference as to what kind of apples you choose. Just make sure the apples are firm enough to hold their shape while being cooked. Some tarter varieties that cook well are Granny Smith or Northern Spy apples. For a sweeter taste, I recommend a Golden Delicious or Jazz apple. In fact, why not combine some tart apples with some sweet apples? That would be delicious!
Deciding on what type of apple to use may be the toughest part about the Apple Galette recipe. Once you have decided, use your trusty apple corer to remove the core from your apples. You are only using three apples, so if you don't have a corer, just use a paring knife to get in there and cut around the core as best you can. Then, push out the core and slice your apple into thin slices. No peeling is involved!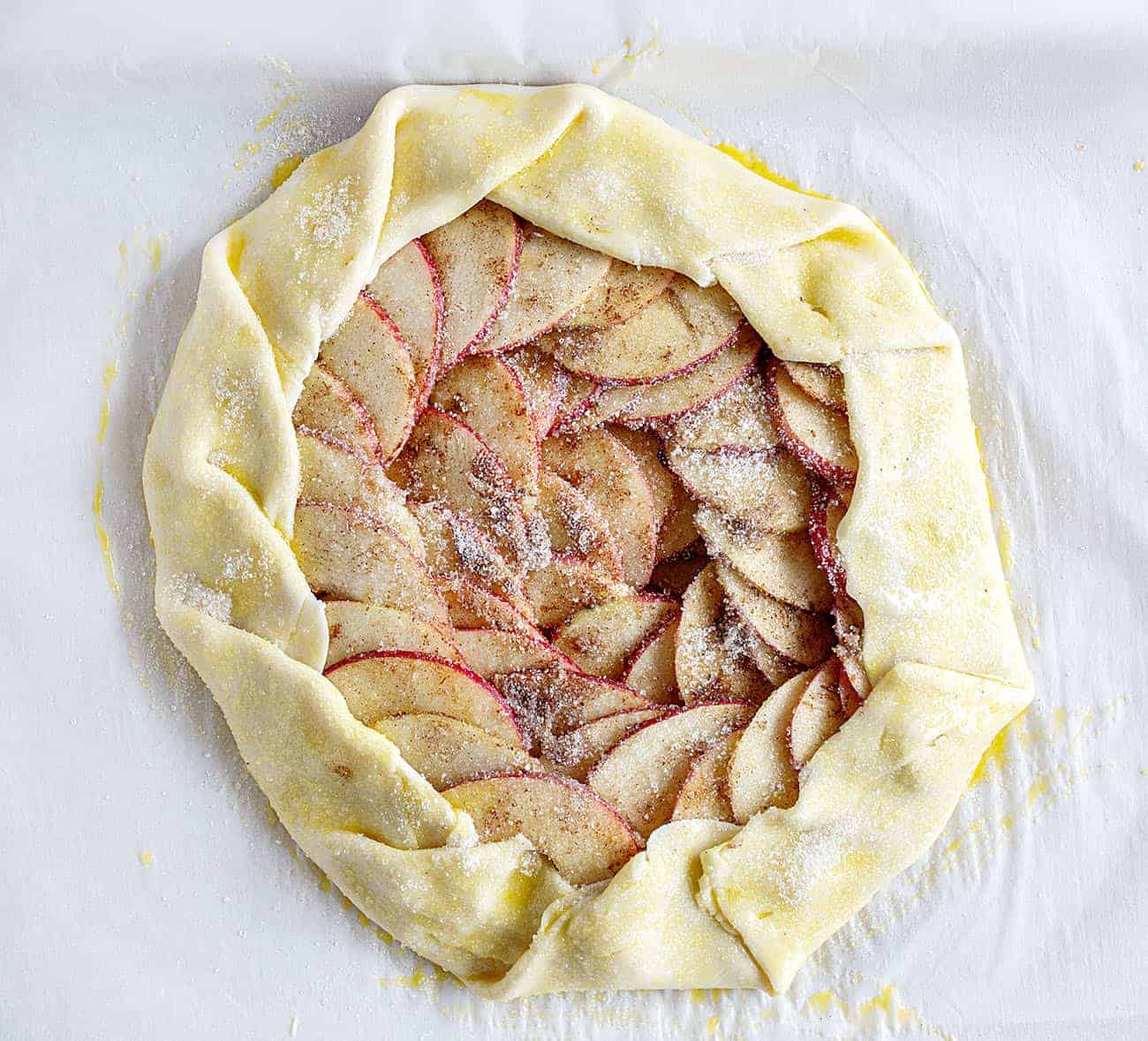 How to Make the Apple Galette Filling
Once your apples are cored and sliced, you can shower them with the cinnamon and sugar mixture. The coated apples will be the fruity filling that is the 'core' (get it?) of your Apple Galette. Combine the sugar, vanilla, cinnamon, melted butter, and salt in a medium bowl. Place your apple slices on a large baking sheet and spread the cinnamon and sugar mixture over the apples. Flip the apples over, and spread the remaining mixture over the other side of the apples.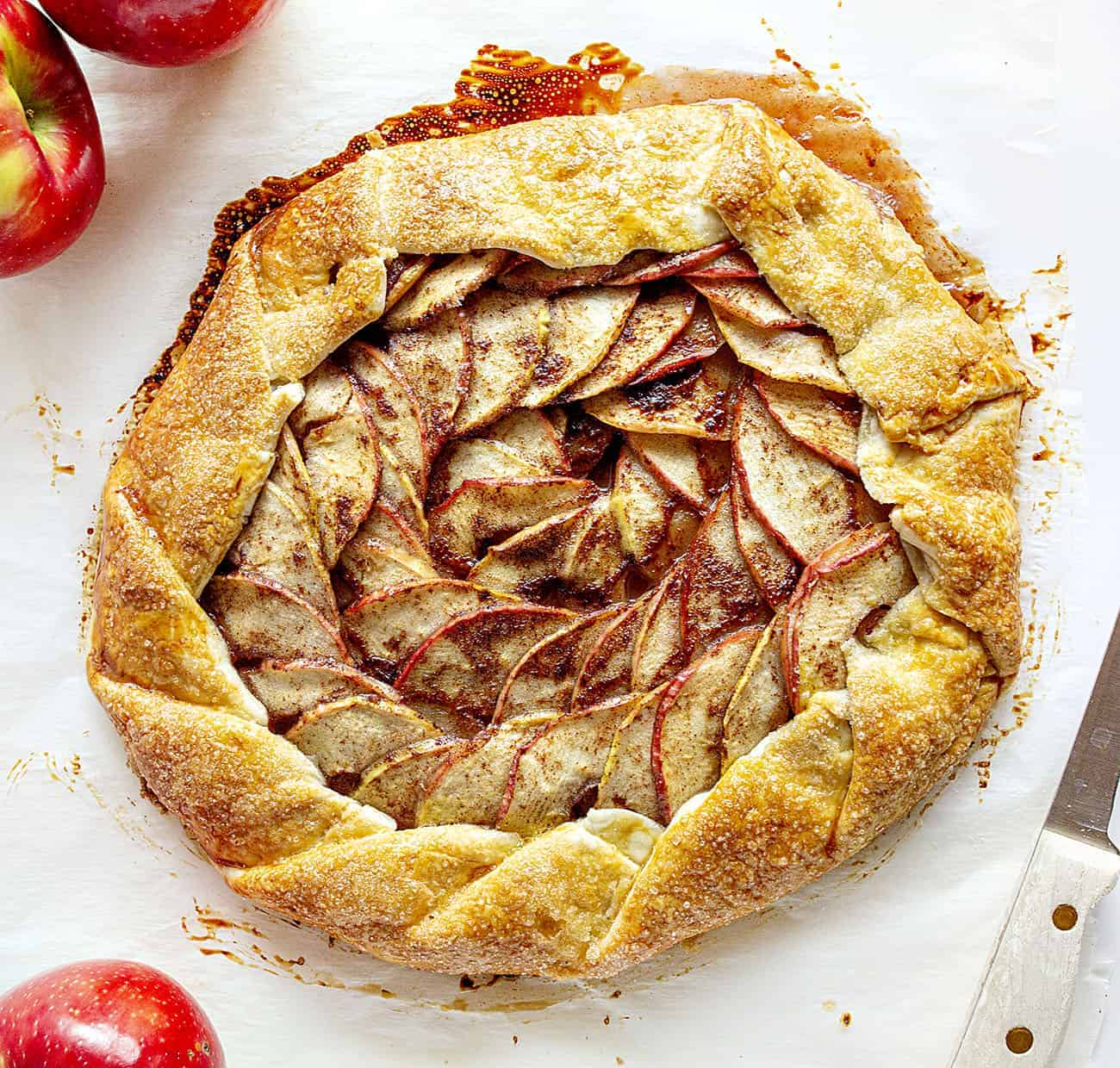 How to Make the Topping for Apple Galette
Remember the pie crust you have waiting to be filled? It's time! Sprinkle some flour onto the circular crust. Next, start arranging the apples in overlapping circles. Be sure to leave a couple of inches towards the edge of the crust. This is the part you will fold over to create the rustic look of the Apple Galette. When you fold the edges of the dough over the apples, make pleats as you go around. Brush the pleated dough with a beaten egg and sprinkle cane sugar over the entire dish. Before you can bake the galette, you need to chill it in the refrigerator for 15-20 minutes. Go ahead and chill for a few minutes yourself, if you want to!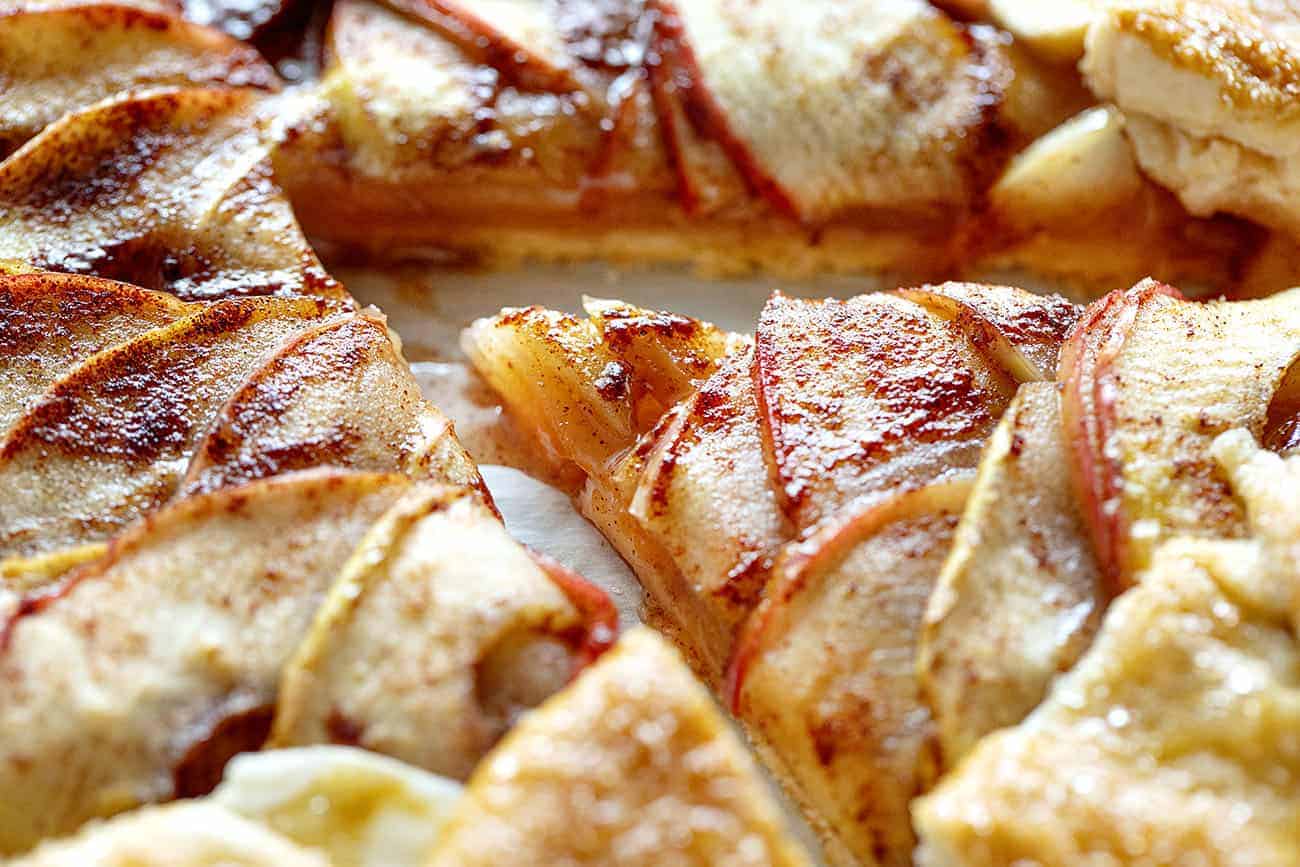 Pulling it All Together
Once you and the galette have had some time to chill, bake the galette for 55-65 minutes. The apples should be tender and the crust, or shall I say tart, a golden brown. Let it sit for a few minutes before serving. To make the transfer to a serving plate or cutting board a bit easier, I suggest using two spatulas. You definitely don't want this masterpiece to fall to the floor!
If you have any leftovers, it will be good for a few days, loosely covered, on your counter.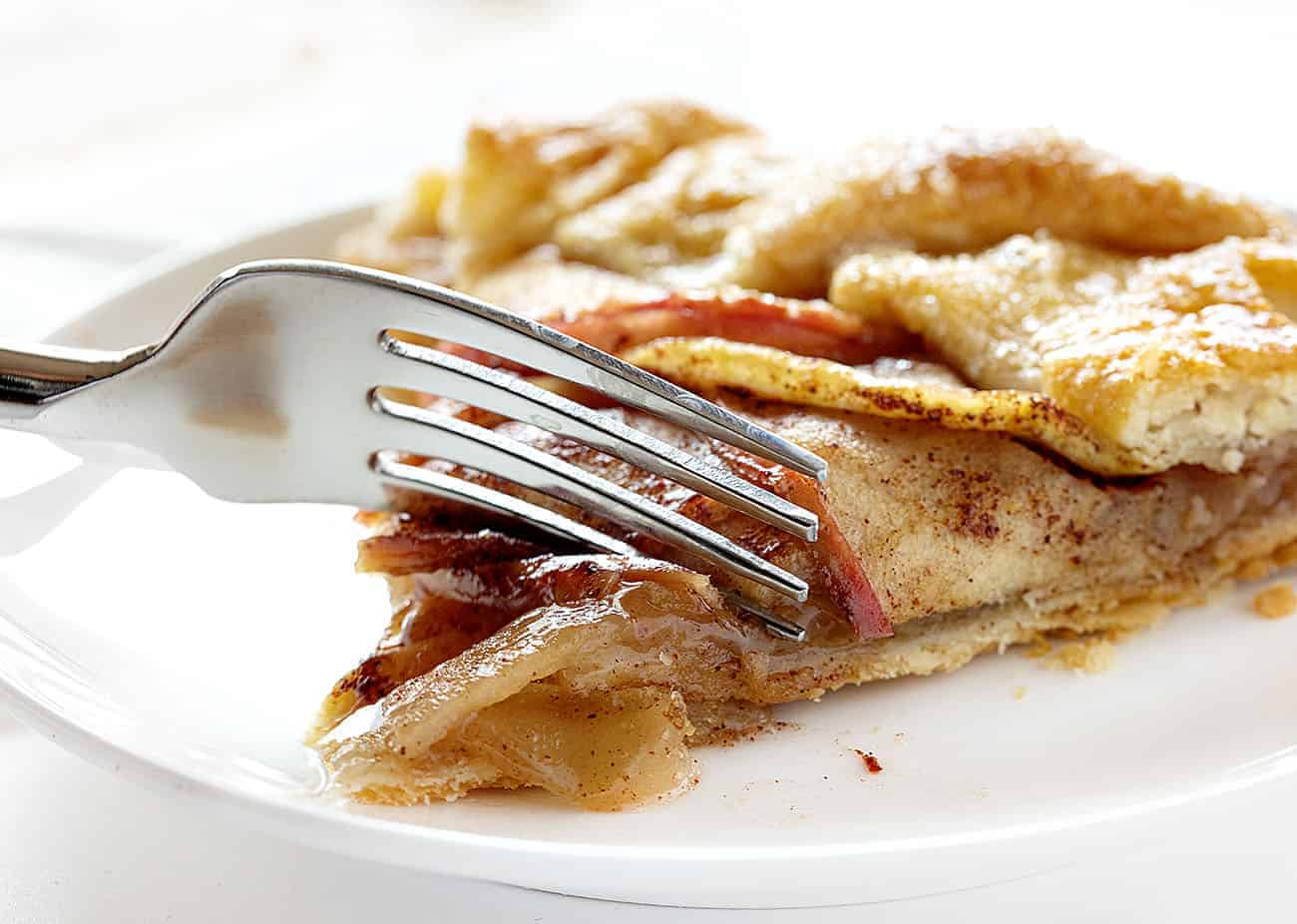 Are you Looking for More Desserts and Pies?
Sign up to bring a dessert or pie for your next potluck. I have plenty you can choose from!
No-Bake Caramel Shortbread Pie
No-Bake Lemon Cheesecake Cream Pie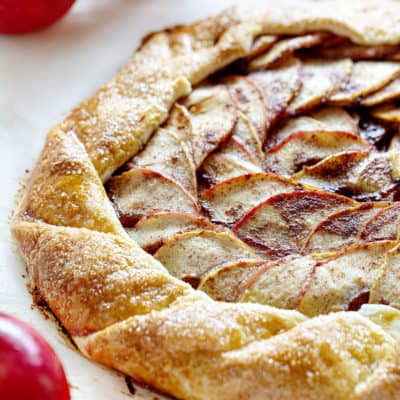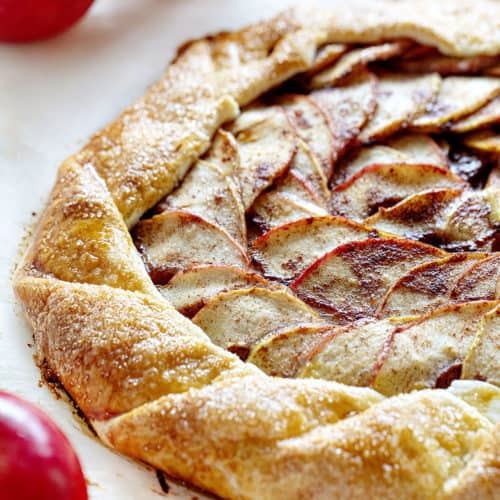 Apple Galette
Apple Galette gives you all the flavor of apple pie without the hassle!
Ingredients
2

unbaked pie dough crusts
FILLING
3

large Honeycrisp apples,

cored and cut into 1/8 thick slices

1/3

cup

sugar

1

teaspoon

vanilla extract

1

teaspoon

cinnamon

2

tablespoons

unsalted butter,

melted

1/8

teaspoon

salt
TOPPING
1

tablespoon

all-purpose flour

1

egg,

beaten

1

tablespoon

cane sugar
Instructions
Preheat the oven to 350°F

Set out an 18 " piece of parchment paper on your work surface.

Lay both pie crusts (one on top of the other) on the parchment, and roll to combine, forming a 14-inch circle.

Place the parchment with the pie dough on a baking sheet. Set aside.
FILLING
Lay sliced apples on a large baking sheet in a single layer.

In a medium bowl combine sugar, vanilla, cinnamon, melted butter, and salt. Spread half of the mixture over the top half of the apples. Flip the apples and repeat with the remaining mixture, making sure to evenly coat all sides of the apples.
TOPPING
Sprinkle the flour evenly over the pie crust.

Starting in the middle, arrange the apple slices in overlapping circles leaving 2-3 inches empty towards the edge.

Fold the edges of the dough over the apples, working your way around and creating pleats as you go.

Brush the pleated dough evenly with the beaten egg.

Sprinkle can sugar evenly over the entire dish

Chill in the refrigerator for 15 to 20 minutes.

Bake for 55 to 65 minutes, or until the apples are tender and the crust is golden and cooked through.

Allow the dish to cool slightly before serving.
Did you make this recipe?
Thank you for making my recipe! You took pictures, right? Well go ahead and post them on Instagram! Be sure to mention me @iambaker and use the hashtag #YouAreBaker.