Bananas Foster French Toast Bread Bowl is a homemade bread bowl dipped in egg batter, cooked in an air fryer, and filled with caramelized bananas. You may think you are still dreaming when you taste how sweet and delightful this breakfast is! If you want to try a fruit version of this, try my French Toast Bread Bowls!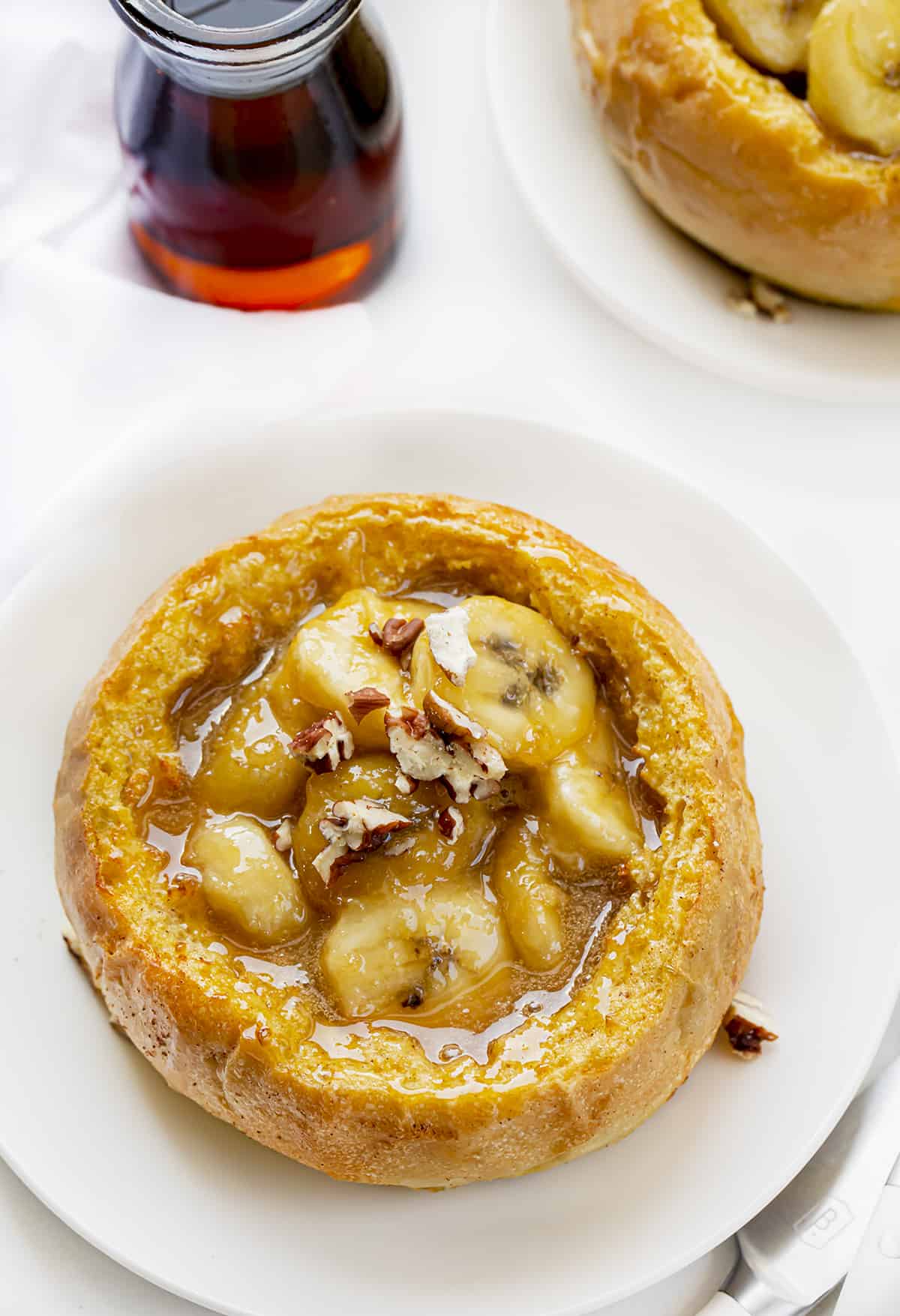 (Easy) Bananas Foster French Toast Bread Bowl
This recipe takes your breakfast to a whole new level, almost like a dessert! It would be an impressive brunch idea for sure! And, don't worry, there is no alcohol or flames in this Bananas Foster French Toast Bowl. It's the easy peasy version!
However, you may want to add some whipped cream and chopped pecans on top! Did I mention the French toast bread bowls are made in an air fryer? Yep! But, I will also let you know how to cook them in the oven.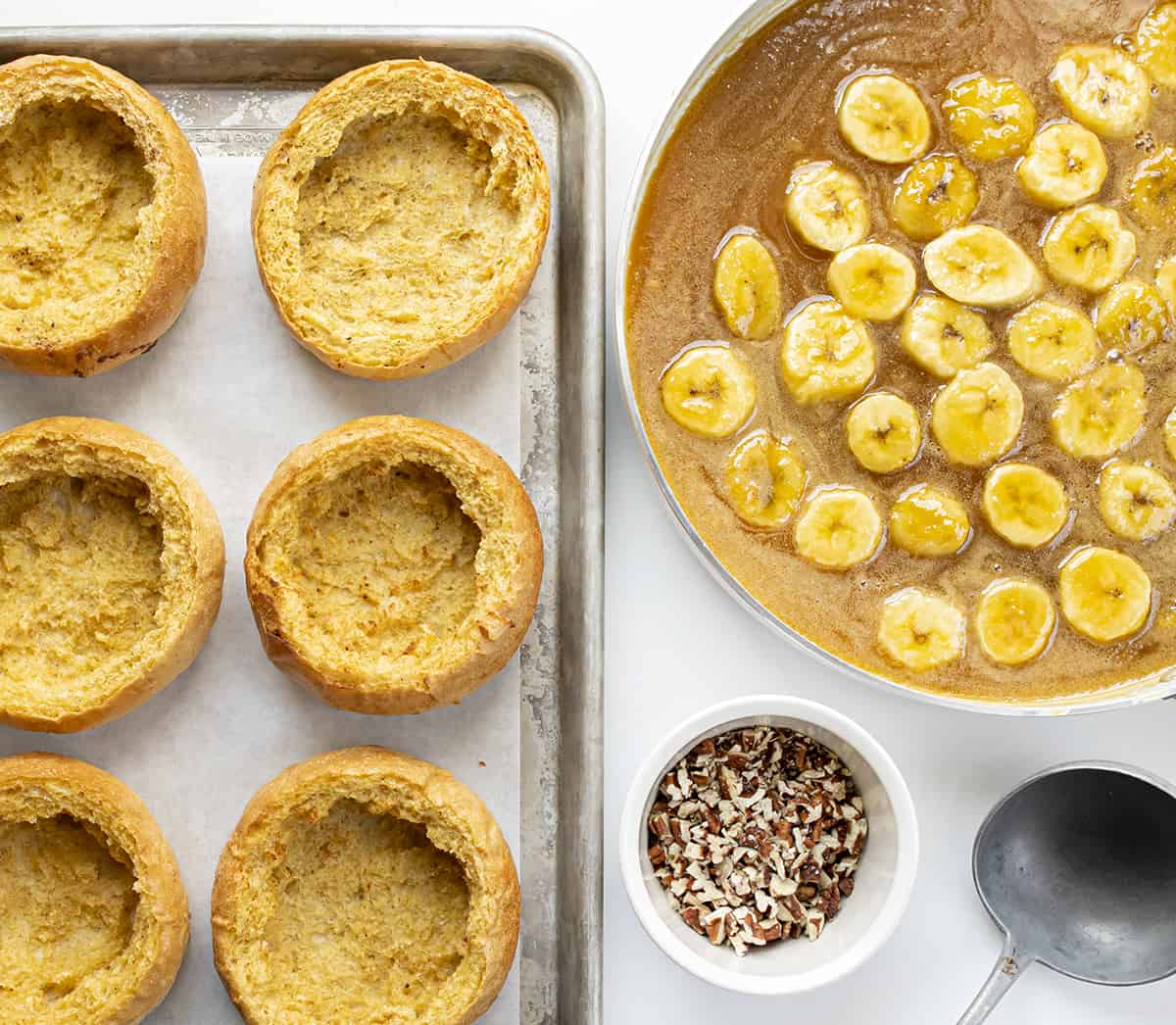 Ingredients
There are two main parts to this recipe–the French toast bread bowls and the banana topping. You could also argue that there is a third, the extra toppings. But, those are optional.
Bread Bowls: You can buy bread bowls or make your own. If you buy bread bowls, 6, 4-inch kaiser rolls are perfect for an individual serving. And, if you are wondering what to do with the tops of the bread bowls, I will give you some options!
Bananas: Choose firm bananas for this recipe. They need to be peeled and cut into rounds.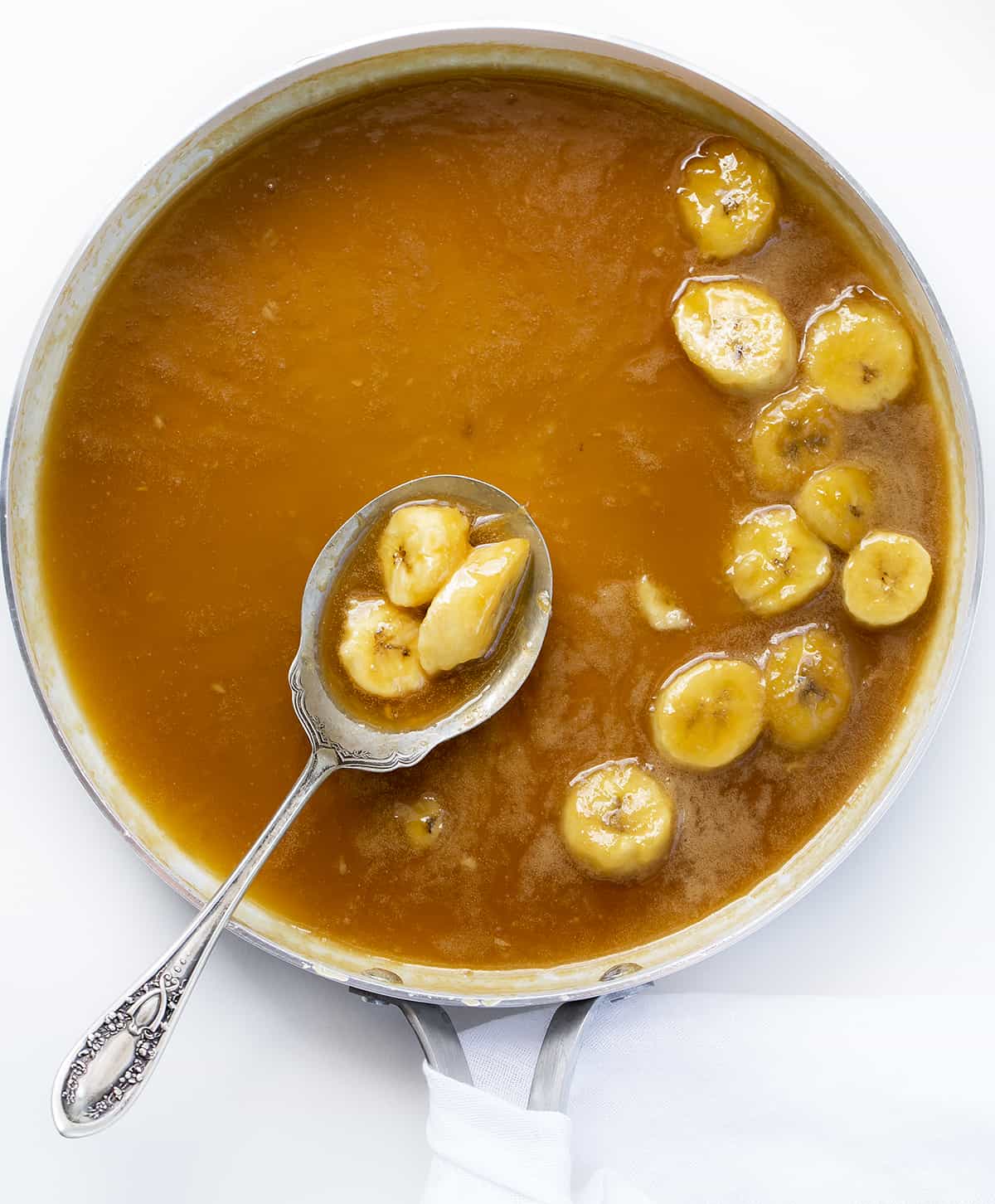 How to Carve a Bread Bowl
Simply take a serrated knife and cut off the top of the bread bowl. Remove the top. Using your hand or a spoon, gently pull the inner bread from the bread bowl, leaving up to an inch of thickness at the bottom and sides. Once the bread is removed, it is now ready to be dunked into the egg mixture and cooked.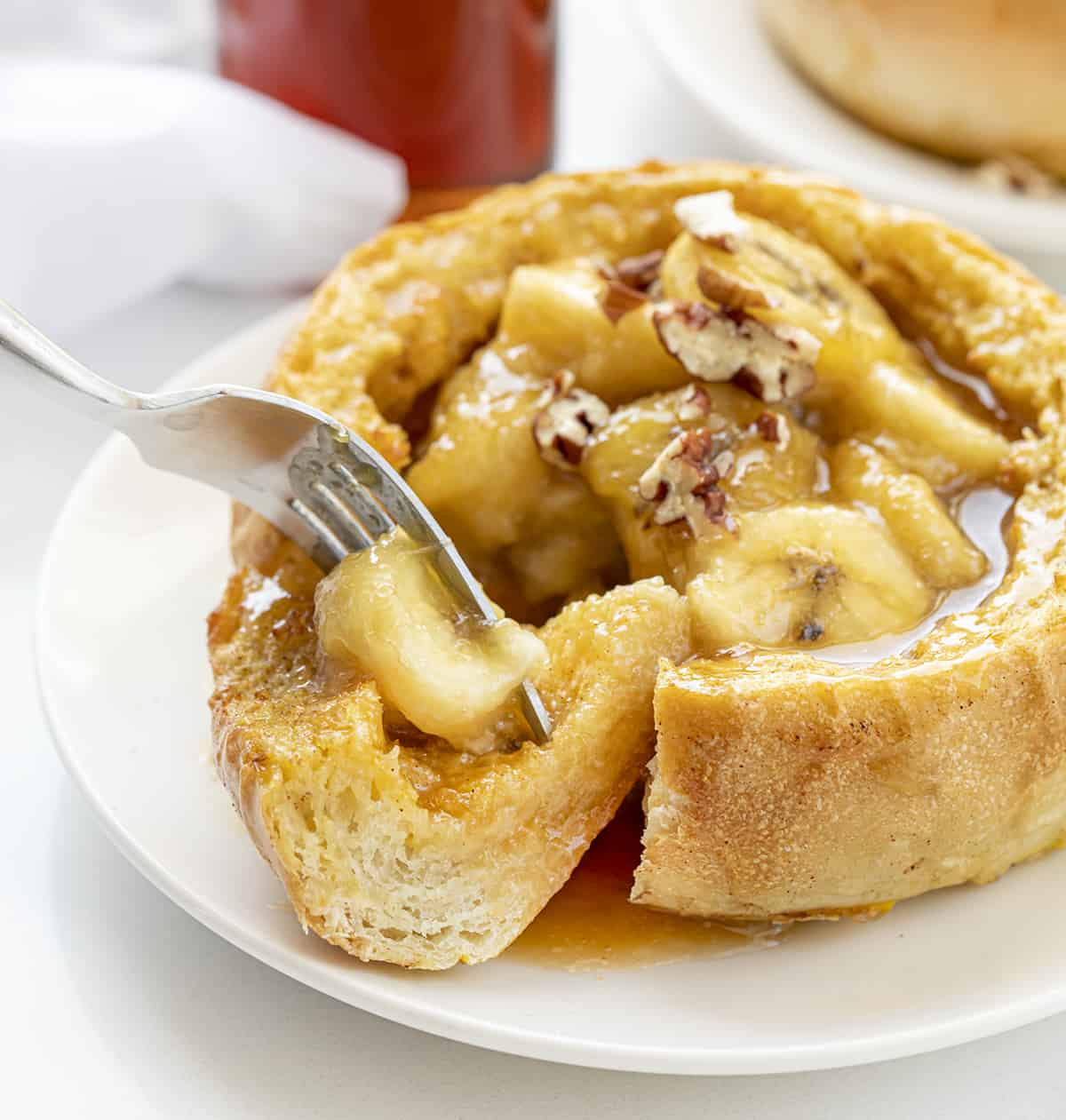 What Can I Do with the Tops of the Bread Bowls?
When you make the bread bowls, you will remove some of the tops of the bread rolls. Do not let that go to waste! You can use the tops for Air Fryer French Toast Sticks. Or, cut the tops into cubes and make homemade croutons!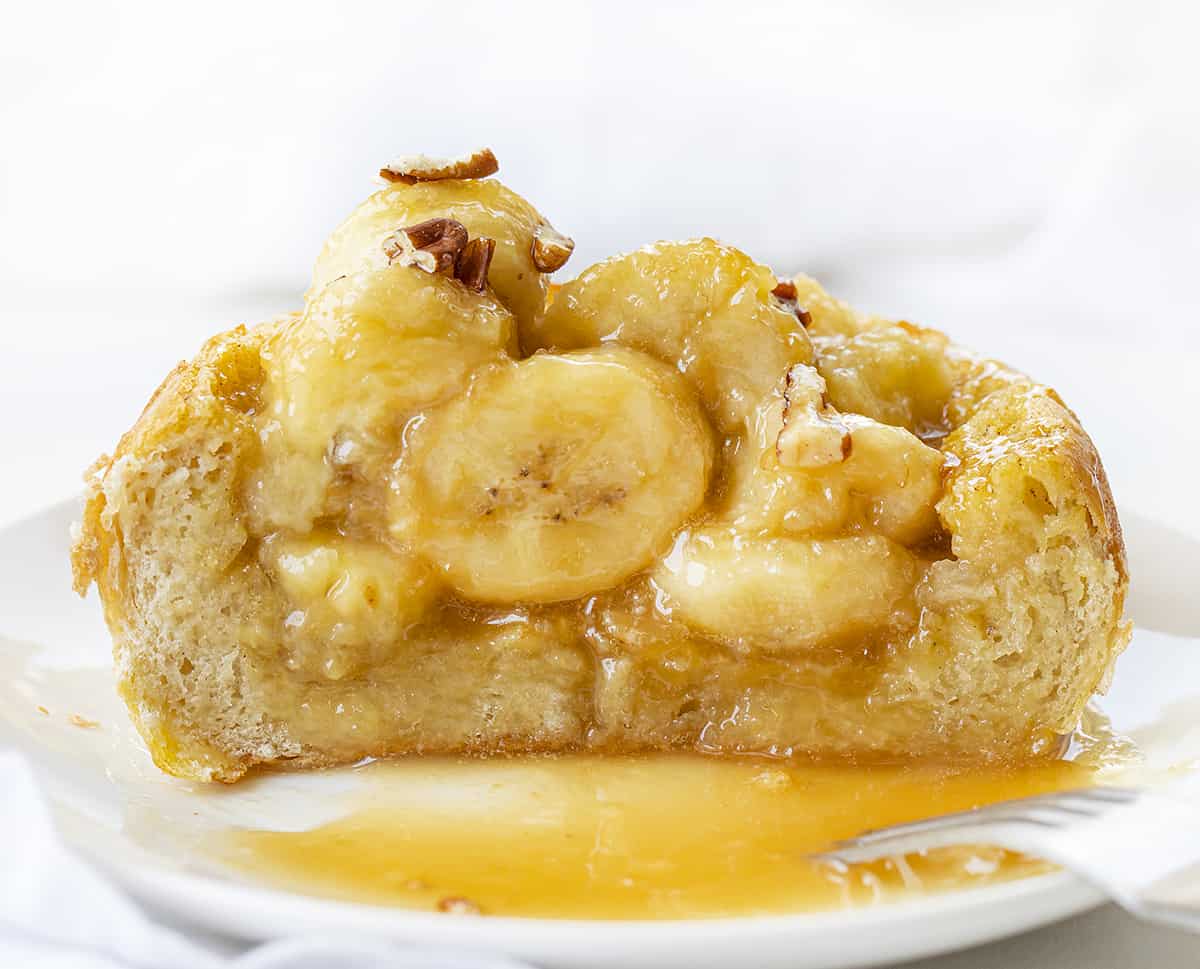 Does the Bread Get Soggy?
The bread does not get soggy; it ends up with a crunchy outside and soft inside. Perfect for any kind of french toast, if you ask me!
Can I Make This in the Oven?
Yes, and it is so easy! Heat the oven to 425°F. Place the dipped bread bowls onto a parchment paper-lined baking sheet. Bake for 8-10 minutes. Then, top with the banana topping!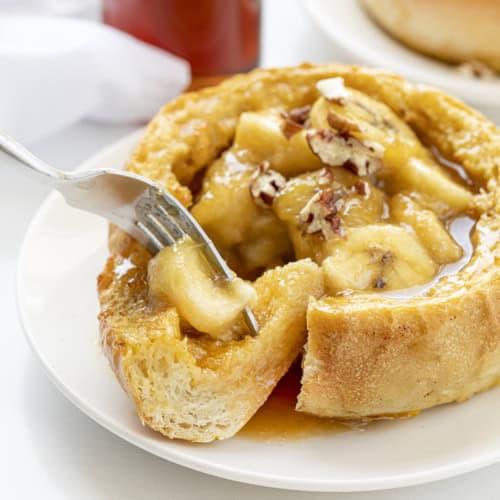 Bananas Foster French Toast Bread Bowl
Bananas Foster French Toast Bread Bowl is a homemade bread bowl dipped in egg batter, cooked in an air fryer, and filled with caramelized bananas.
Ingredients
2

large

eggs,

room temperature

⅔

cup

(163 g) whole milk

1

tablespoon

granulated sugar

1

teaspoon

pure vanilla extract

1

pinch

kosher salt

½

teaspoon

cinnamon,

or more or less to taste

6

bread

bowls,

about 4 inches in diameter
Banana Topping
6

tablespoons

unsalted butter

1

cup

(200 g) light brown sugar,

packed

½

cup

(119 g) heavy cream

6

firm

bananas,

peeled and sliced into rounds
Toppings (Optional)
½

cup

(55 g) chopped pecans
Instructions
In a medium bowl, whisk together the eggs, milk, sugar, vanilla, salt, and cinnamon.

Lightly spray a small piece of parchment paper with cooking spray and place it into the basket of your air fryer.

Working one bread bowl at a time, dip it into the egg mixture. You do not need to soak it, but make sure to coat all sides.

Place the coated bread bowl into the lined basket of the air fryer. Air fry at 360°F for 4-6 minutes, or until golden brown.

While the bread bowl is cooking, make the banana topping.
Banana Topping
In a large skillet over medium heat, melt butter. Add brown sugar and heavy cream. Whisk together until dissolved (3-4 minutes).

Add bananas and continue cooking, stirring frequently, until cooked through (6-7 minutes), occasianally spooning sauce over the bananas.
Assembly
To a bread bowl, add some of the banana topping.

Top with whipped topping and pecans (optional).

Repeat with the remaining bread bowls.
Did you make this recipe?
Thank you for making my recipe! You took pictures, right? Well go ahead and post them on Instagram! Be sure to mention me @iambaker and use the hashtag #YouAreBaker.