Black Forest Cheesecake is a rich chocolate cheesecake on top of an Oreo cookie crust, then topped with homemade cherry pie filling, chocolate curls, and whipped cream. It's a decadent dessert that brings together the delicious pairing of chocolate and cherries. If you love decadent cheesecakes, don't miss my tested and perfected Chocolate Cheesecake!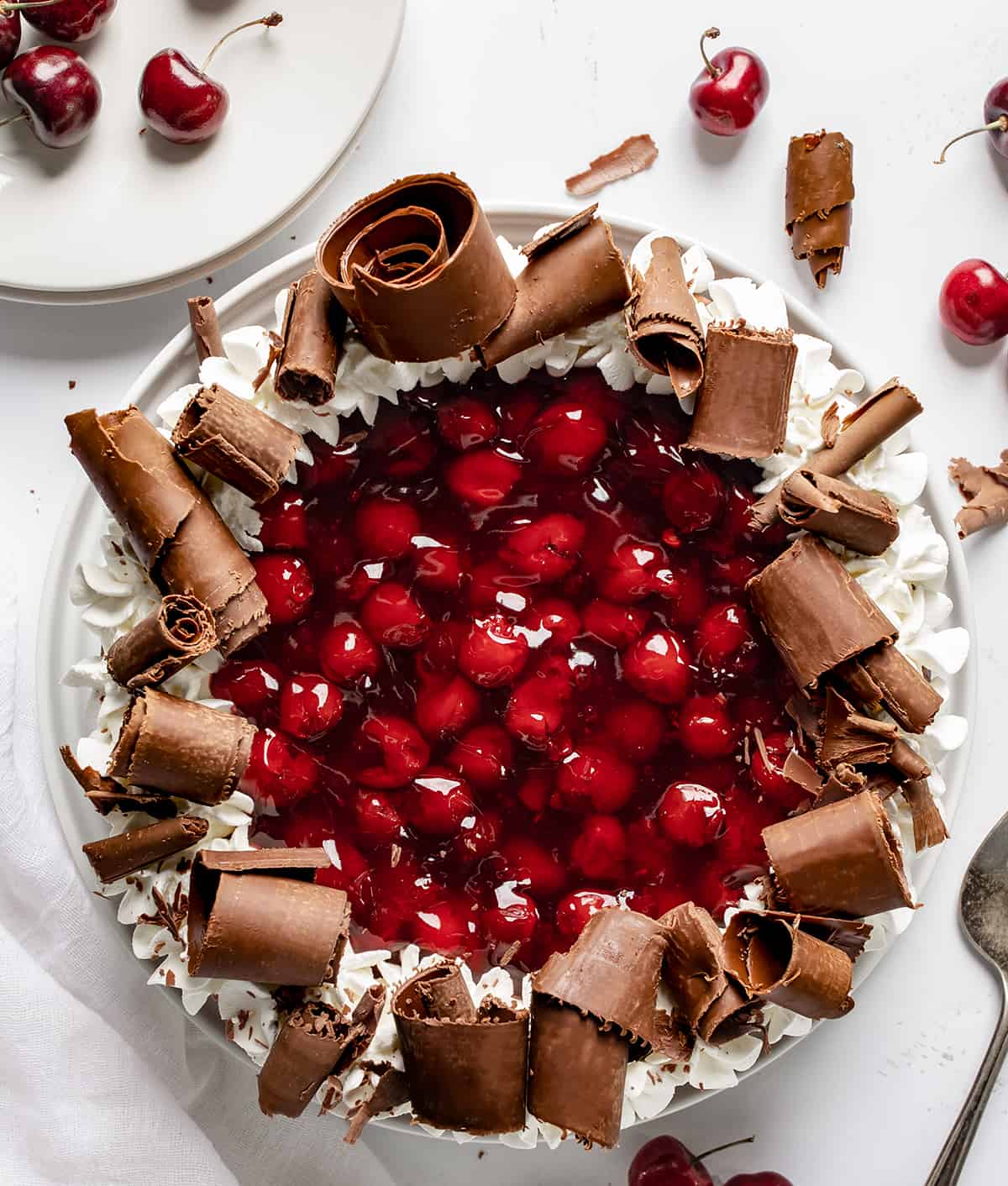 What Is Black Forest Cheesecake?
This Black Forest Cheesecake is based on a black forest cake, or black forest gateau. The cake, which originated in the Black Forest Region of Germany, usually starts with chocolate cake, cherries, and whipped cream. Then, chocolate curls or shavings are added along with more whipped cream and cherries! This cheesecake recipe follows the same basic foundation of flavors but with a chocolate cheesecake base and a cherry pie filling topping. Each bite is as impressive as the appearance!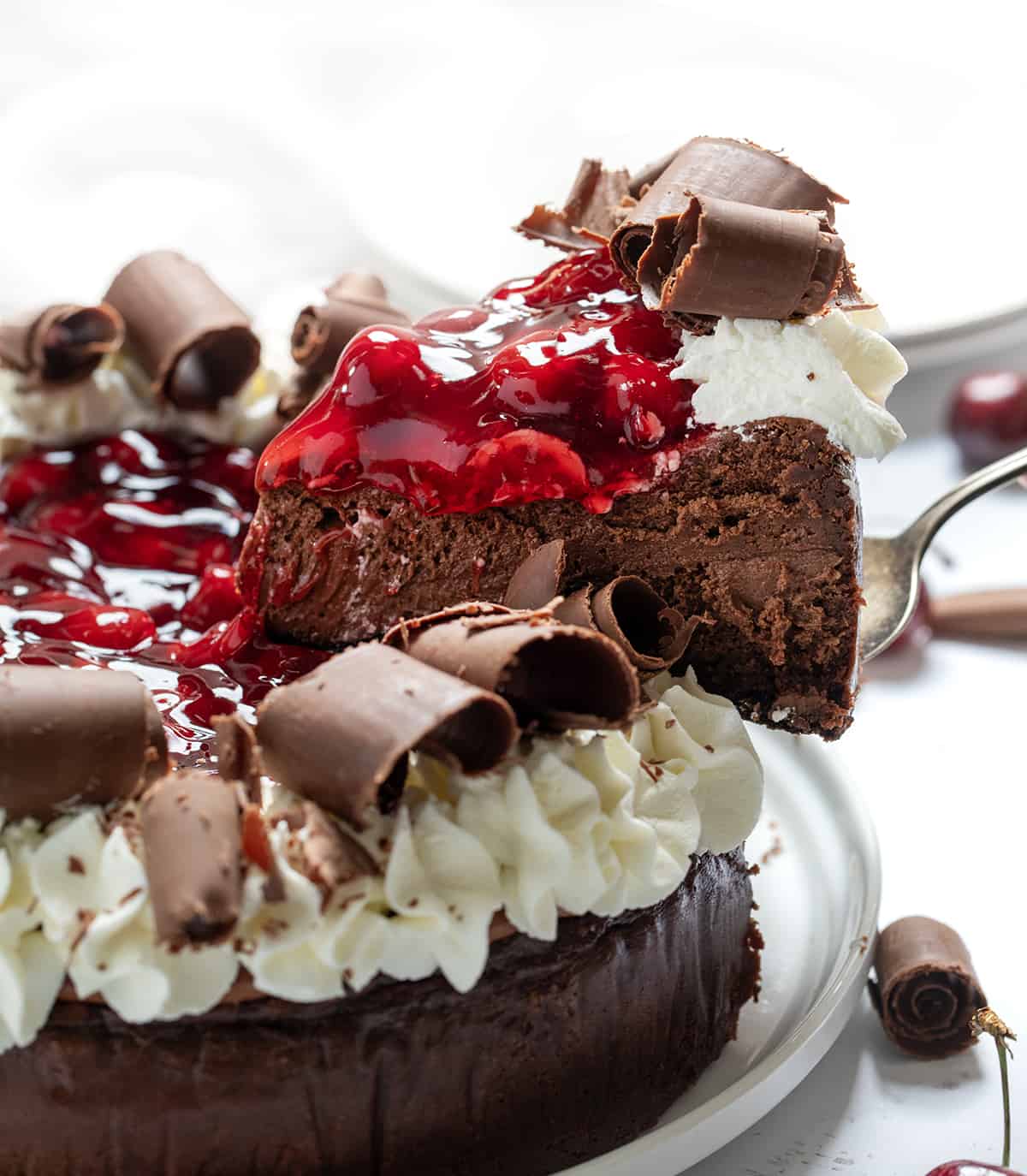 Ingredients & Substitutions
Crust: To add more chocolate flavor, the cheesecake has an Oreo cookie crust. The consistency of the cookie crumbs is important, so I would recommend using a food processor to ensure that you can get the finest grain. You could also crush the cookies in a sealable plastic bag with a rolling pin or wine bottle. Be sure the crumbs are completely coated in melted butter. A chocolate wafer crust would also be delicious.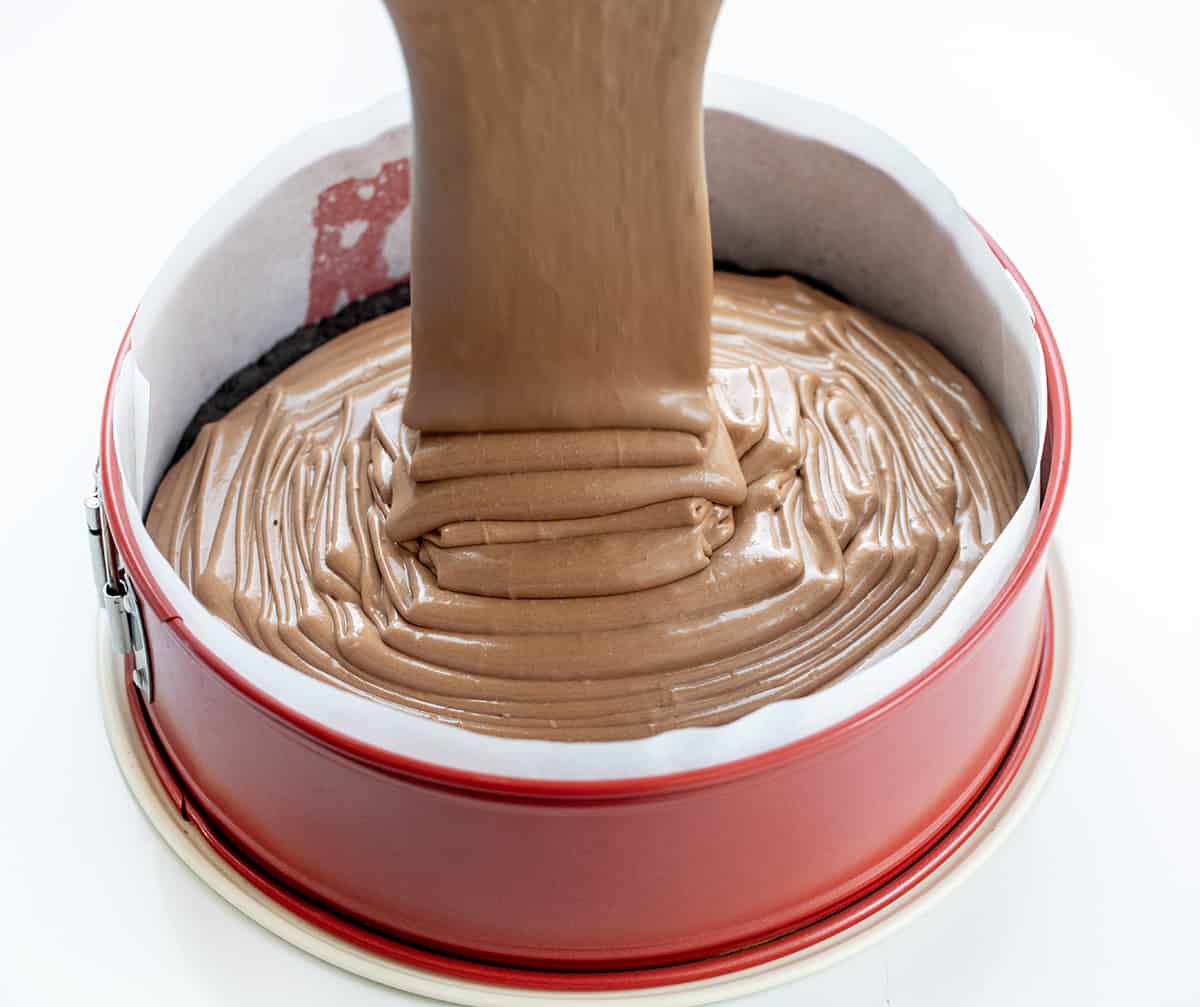 Chocolate Chips: I prefer semi-sweet chocolate chips in the chocolate cheesecake. However, you could use bittersweet or milk chocolate chips.
Cocoa Powder: Although I used Dutch-processed cocoa, you could use regular unsweetened cocoa. The difference would be that the cheesecake would be a lighter color and will not be quite as rich tasting.
Cherry Pie Filling: Top the chocolate cheesecake with cherry pie filling. For the best results, make homemade pie filling.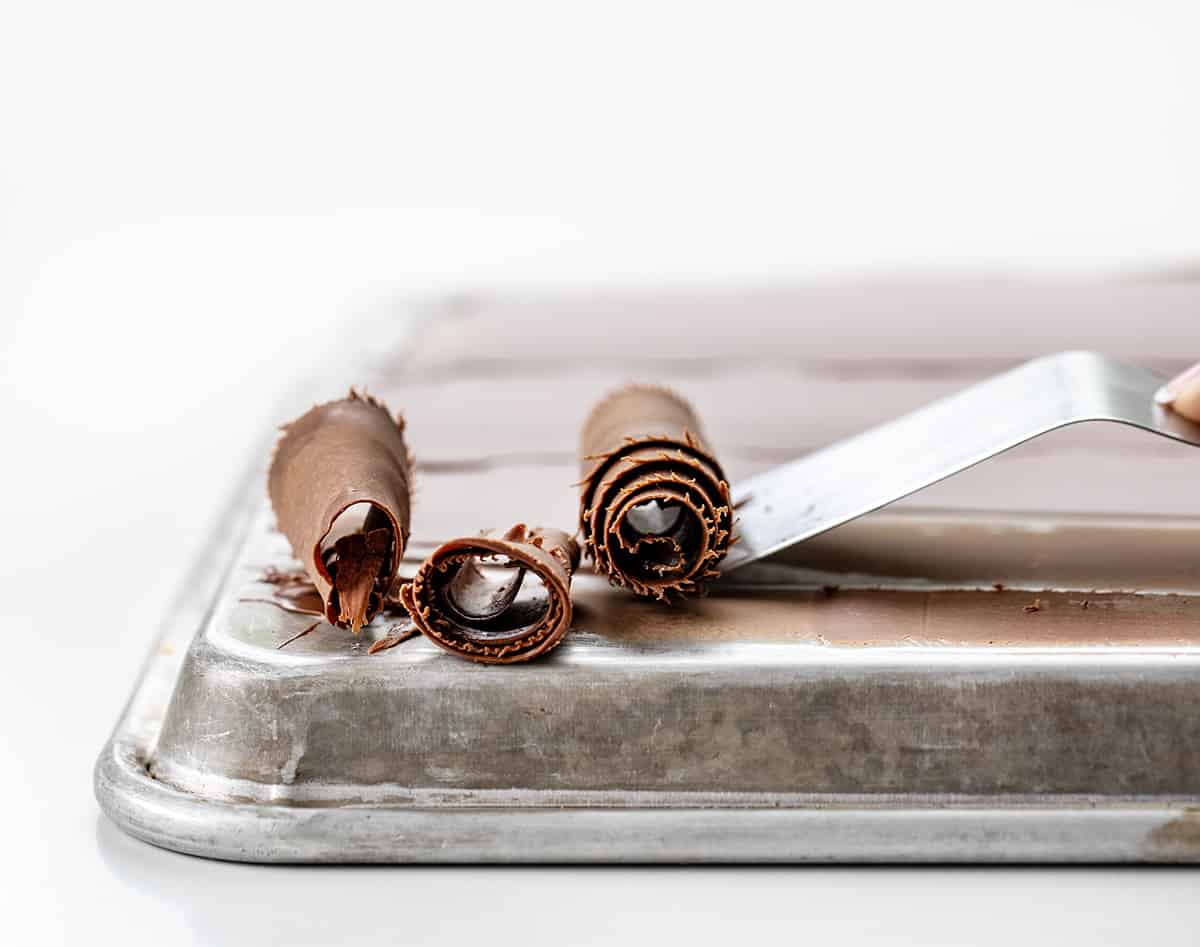 Chocolate Curls: It's not too hard to make your chocolate curls or shavings, which are commonly added to a black forest cake. Or, you could buy chocolate curls to add.
Whipped Cream: We can't forget about the sweet whipped cream on top! Use storebought, like Cool Whip, or make your own.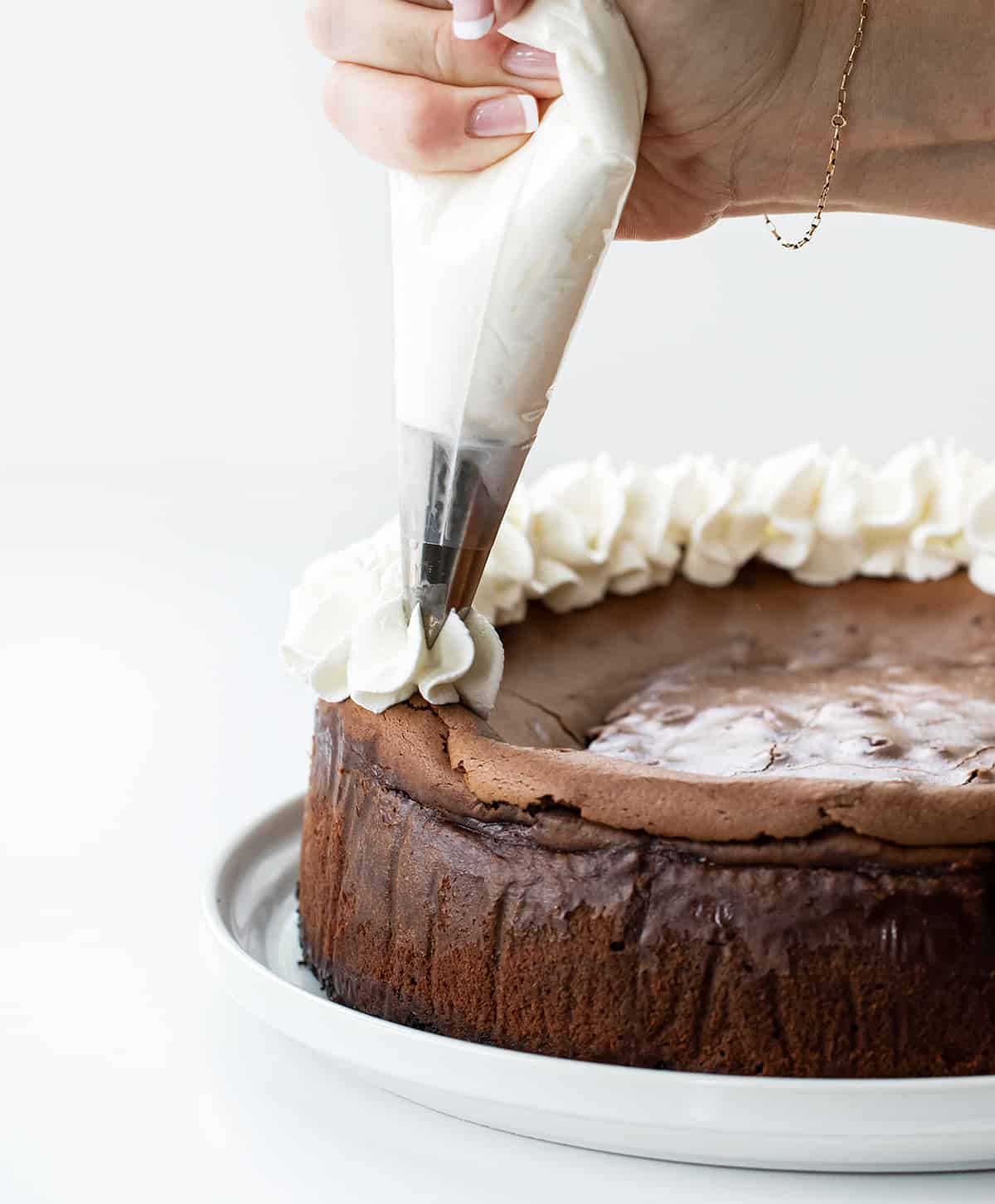 How To Tell When Cheesecake Is Done Baking
Cheesecake is done baking when the sides are set, but the middle is still a bit jiggly. You can check the internal temperature of the cheesecake to check for doneness (150°F). Don't worry about making a hole in the cake…the cherry pie filling will cover it! But, another option to check for doneness would be to take a wooden spoon and tap the outside of the pan. If there is a slight jiggle, it's done!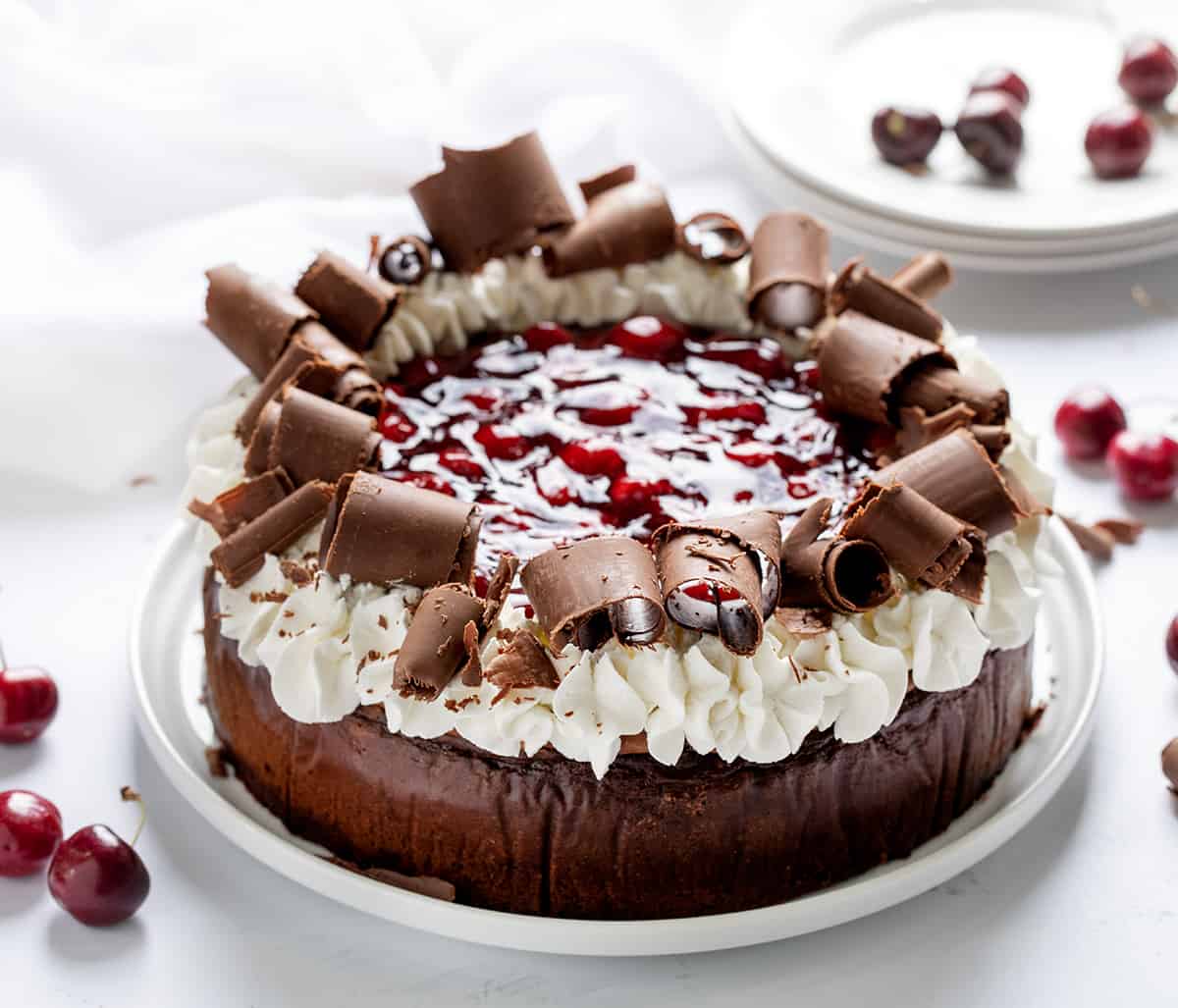 How To Store Black Forest Cheesecake
To store the cheesecake, wrap it in plastic wrap or store it in an airtight container. It will last up to 3 days in the refrigerator.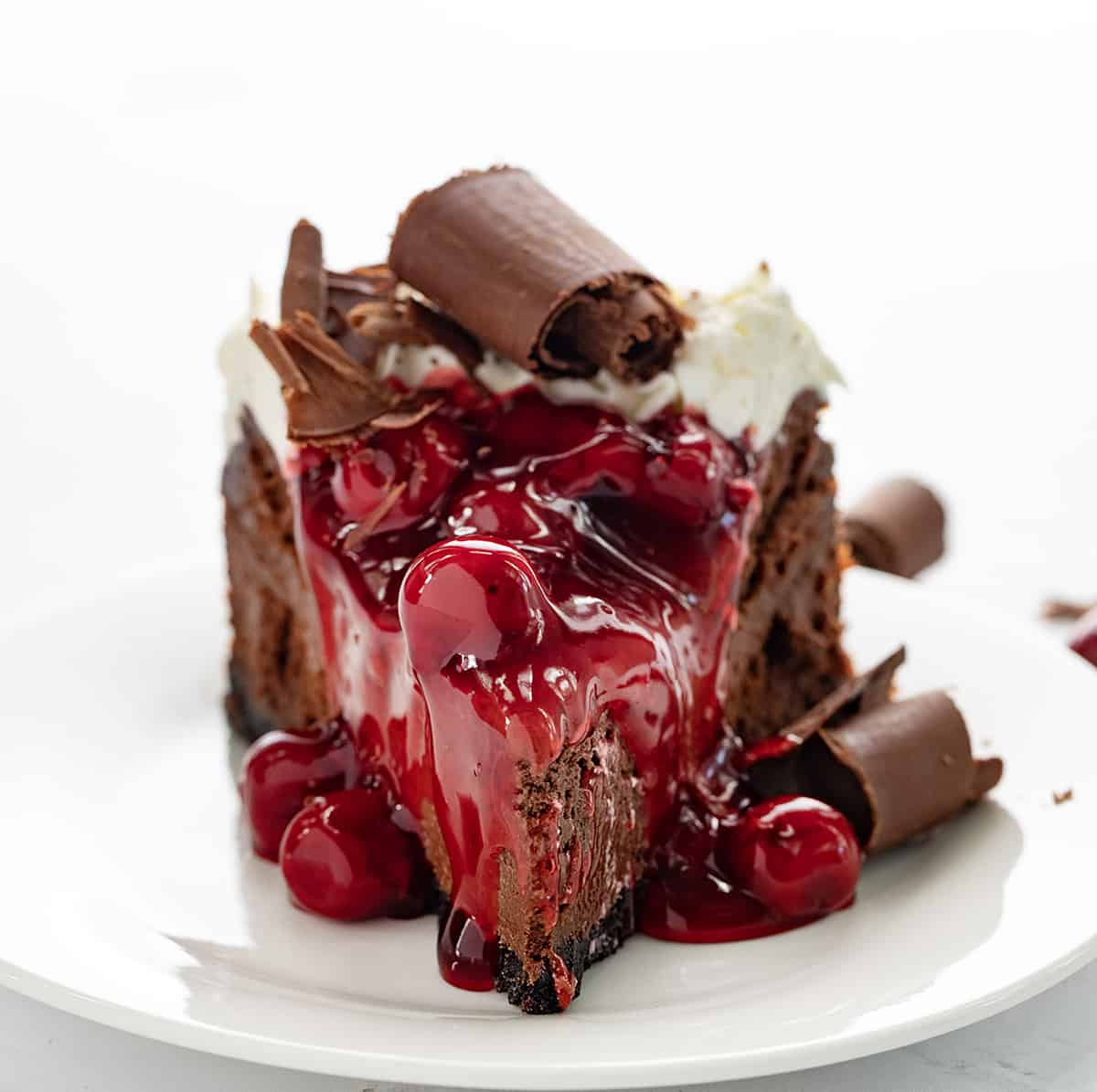 Can I Freeze Cheesecake?
Absolutely! For longer storage, freeze the cheesecake. If freezing, do not add the cherry pie filling on top until ready to serve. To freeze:
Let the cheesecake cool completely.
Place the cheesecake (uncovered) in the freezer for about an hour. I suggest that if you are keeping the cheesecake pie in the springform pan, remove the sides of the pan.
After the hour in the freezer, take the cheesecake off the pan, and wrap it tightly in plastic wrap.
Place the wrapped cheesecake into a zipped freezer bag or wrap it in aluminum foil. Be sure to label and date the cheesecake, it will last up to 2-3 months.
When ready to enjoy, let the cheesecake thaw in the refrigerator overnight.
To serve, top with cherry pie filling, chocolate shavings, and whipped cream.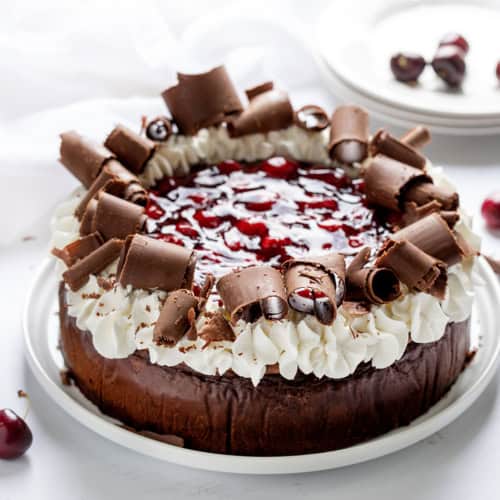 Black Forest Cheesecake
Black Forest Cheesecake is a rich chocolate cheesecake on top of an Oreo cookie crust topped with homemade cherry pie filling, chocolate curls, and whipped cream. It's a decadent dessert that brings together the delicious pairing of chocolate and cherries.
Ingredients
Cheesecake
2

cups

(364 g) semisweet chocolate chips

¾

cup

(178.5 g) heavy cream,

room temperature, divided

3

blocks

(8 ounces each) cream cheese,

room temperature

1 ½

cups

(300 g) granulated sugar

¼

cup

(29.5 g) Dutch-processed cocoa powder

5

large

eggs,

room temperature

1

teaspoon

vanilla extract
Instructions
Preheat the oven to 325°F. Lightly spray a 9-inch springform pan with nonstick cooking spray and line it with parchment paper, including up the sides.

In a medium bowl, combine the Oreo cookie crumbs with the melted butter, mixing well with a fork. (You want every crumb coated in the butter as this will be the glue that holds it together.)

Press the crumbs into the bottom of the springform pan. Bake the crust for 10 minutes and set aside to cool.

To a microwave-safe bowl, add chocolate chips and ¼ cup of heavy cream. Heat in 20-second intervals, stirring in between until the chips have melted and the mixture is smooth with no lumps. Set aside while you make the filling.

In the bowl of a stand mixer with the paddle attachment, beat the cream cheese until creamy and smooth. Beat in the sugar and cocoa powder until smooth.

Add the eggs, one at a time. Pour in the remaining ½ cup of heavy cream, mixing until combined.

Remove the bowl from the stand mixer. Fold in the melted chocolate mixture. Add the vanilla and stir to combine. Pour the batter on top of the cooled cookie crust.

Bake for 65- 70 minutes. The cheesecake is done when the sides are set but the center is still a little bit jiggly.

Remove the cheesecake from the oven and let it rest at room temperature for an hour. Then, transfer the cheesecake to the refrigerator to chill for 2-4 hours, up to overnight.

Top the cooled cheesecake with the cherry pie filling, whipped cream, and chocolate curls/shavings.
Did you make this recipe?
Thank you for making my recipe! You took pictures, right? Well go ahead and post them on Instagram! Be sure to mention me @iambaker and use the hashtag #YouAreBaker.
What the Test Kitchen had to say about this recipe: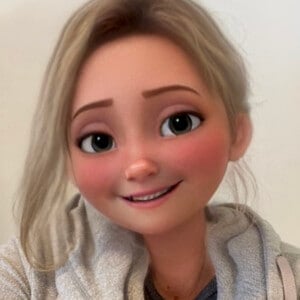 Autumn
Wow, this is an impressive dessert. Rich and velvety chocolate cheesecake, topped with sweet cherry filling, homemade whipped topping, and chocolate curls. The flavors all blend together perfectly. This is a decadent and delightfully indulgent cheesecake.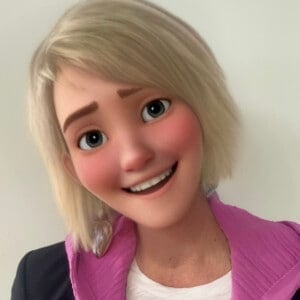 Elizabeth
Wow, this is a rich and impressive dessert! The presentation is so lovely, I almost didn't want to bite into it! But, I guess I 'had to' in order to give a review…it was amazing and just a few bites will definitely satisfy any sweet tooth!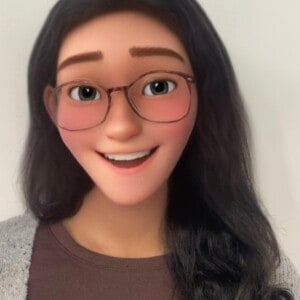 Bella
This cheesecake is just stunning. Also, it tastes lovely and delicious. The cherry topping amplifies the flavor!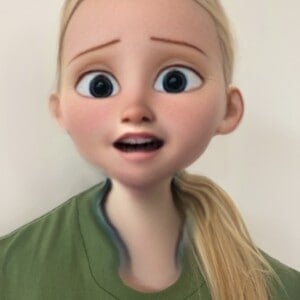 Annabelle
The whipped cream and cherries bring this to another level! The cheesecake is great on it's own, but oh my goodness is this good with those cherries!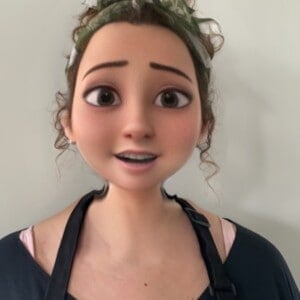 Rachael
The cherry filling spilling over the cheesecake with fresh whipped cream is an elevation on an already fantastic chocolate cheesecake. I love cherries, so I am fine adding them to everything!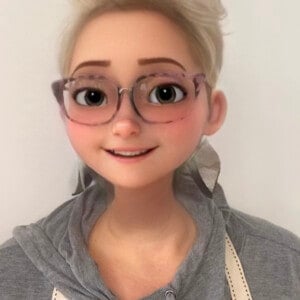 Selena
I adore cherry pie filling and think that this is just such a great pairing. I always prefer homemade whipped cream over cool whip as well!!