Cherry Pie Filling is a homemade pie filling that will be your go-to for all things cherry when it comes to desserts. No need to buy canned pie filling again! Use it to fill these Cherry Pie Bombs!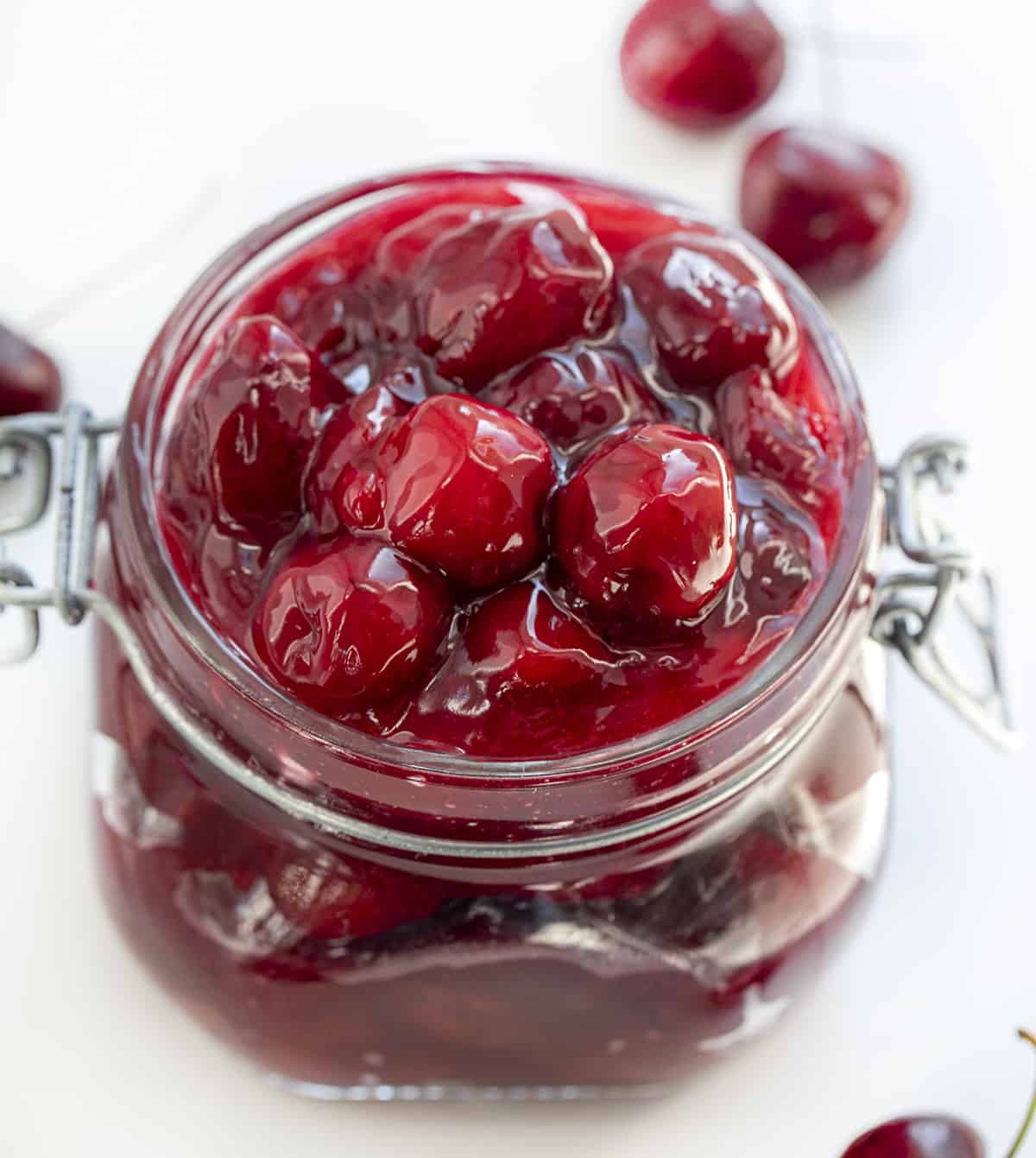 Cherry Pie Filling
Skip the canned pie fillings from now on and make your own homemade cherry pie filling. When you make your own, you know exactly what is going into it, making it a smart choice. And, it's only five ingredients!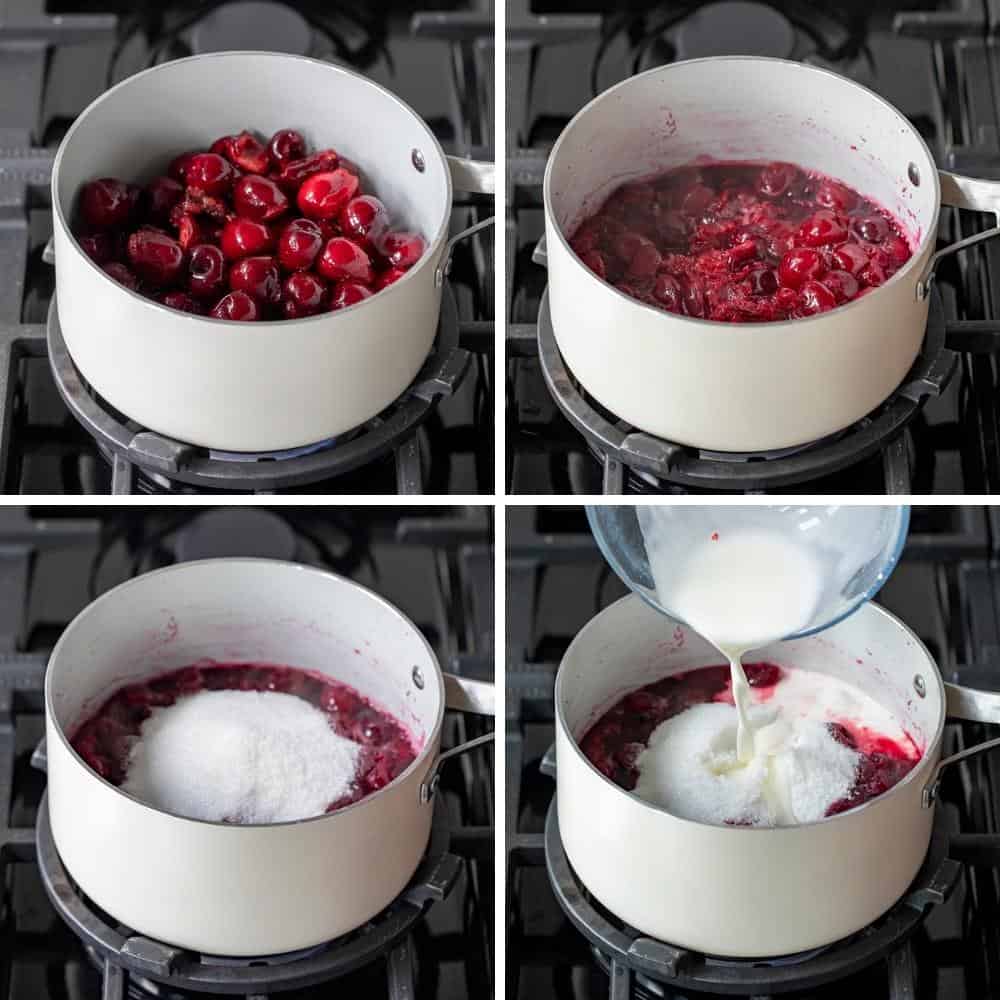 Ingredients
Cherries: Look for fresh sweet cherries like Rainier cherries. I will let you know how to pit the cherries with no special equipment.
Sugar: Granulated sugar is added to sweeten the pie filling.
Cornstarch: Cornstarch is added to water to make a slurry, which thickens the filling.
Lemon Juice: Lemon juice is needed to balance the sweetness of the filling. I prefer freshly squeezed, but you can use bottled in a pinch.
What Kind of Cherries to Use
First of all, look for fresh cherries to make this cherry pie filling. I prefer using sweet cherries like Rainier cherries, Bing cherries, or Chelan cherries, just to name a few.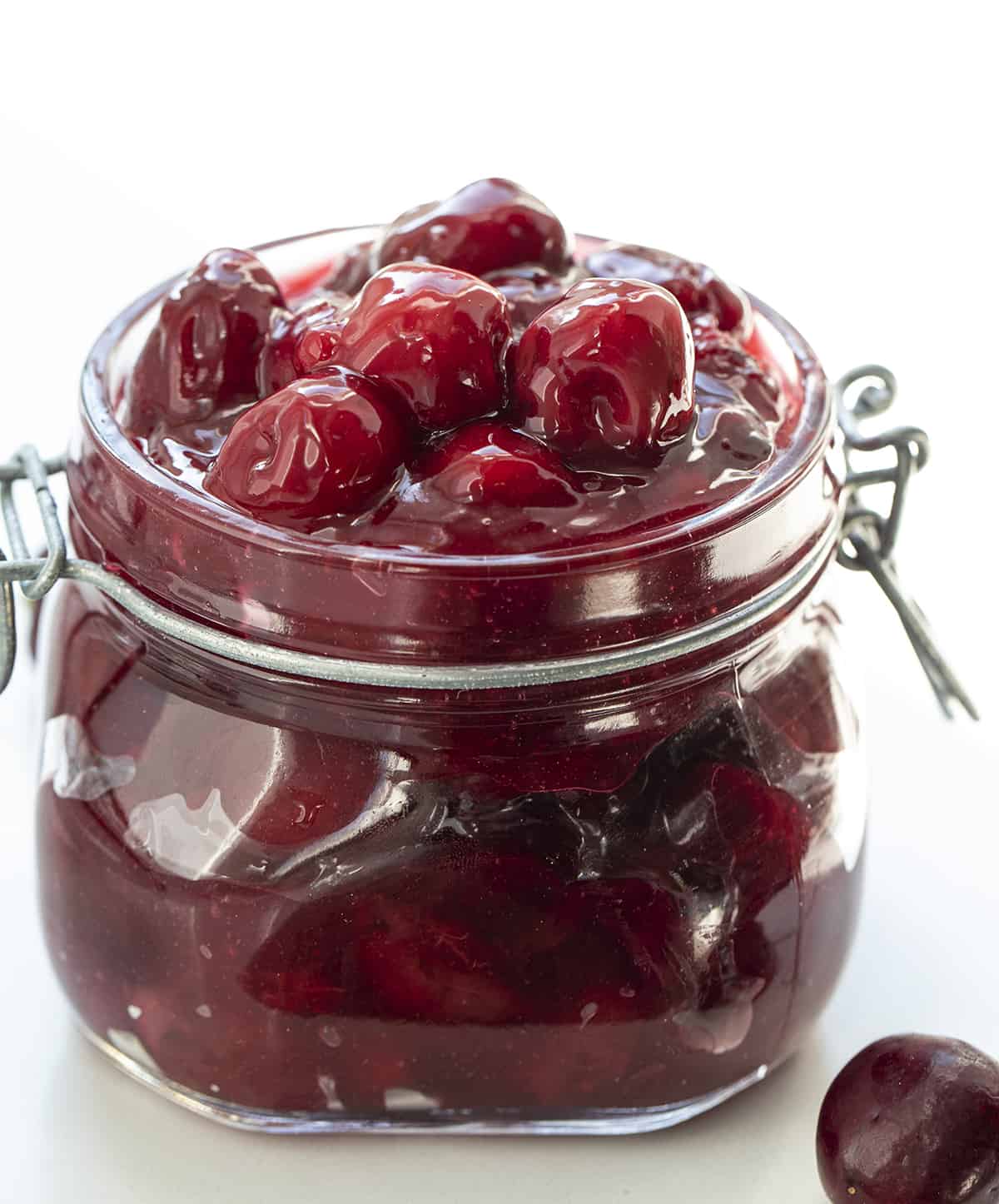 Can I Use Frozen Cherries?
Yes! Frozen cherries would work fine in this recipe. Just make sure they are pitted. Now, you have no excuse not to make this pie filling any time of the year, even when cherries are not in season.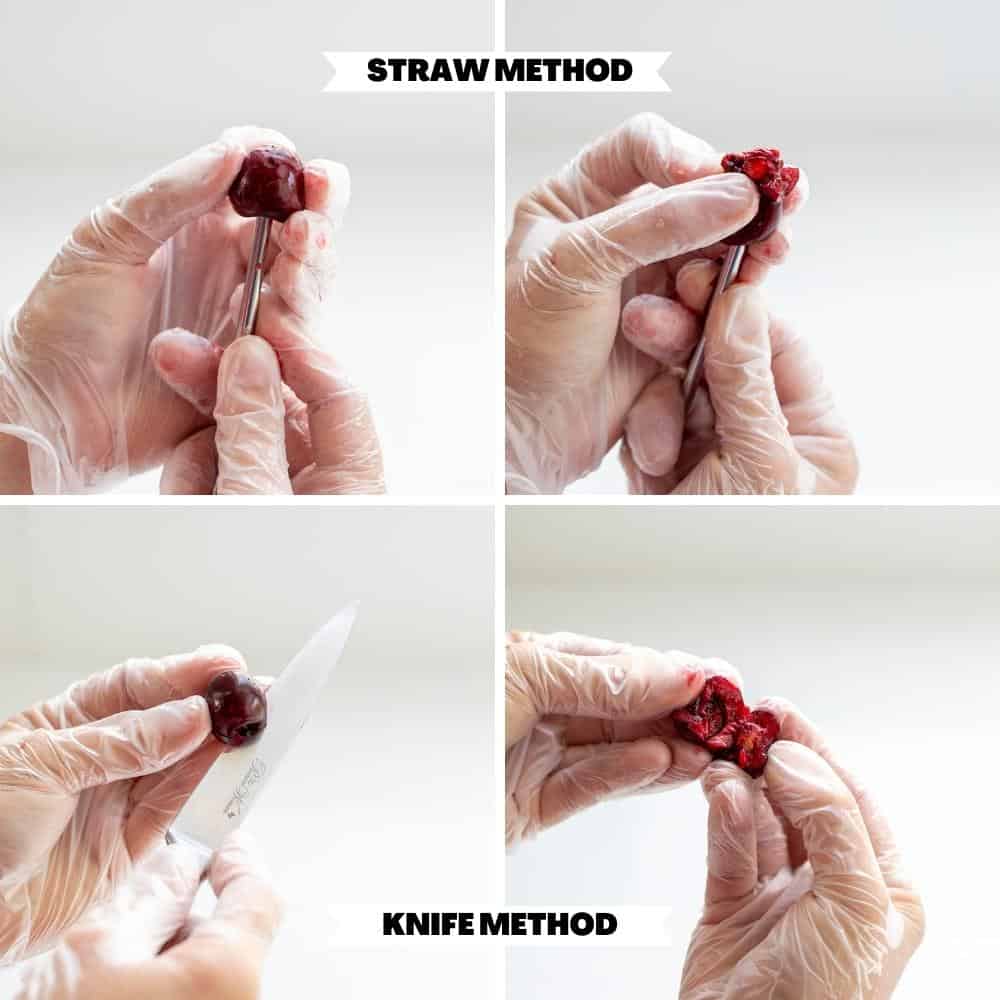 How to Pit Cherries Without Special Equipment
For best results, use fresh cherries that need to be pitted. To pit cherries, you could use a cherry pitter. However, there are a couple of other ways to pit cherries without that specific tool. If you can, use gloves as cherry juice can stain. Here are some techniques you could use:
Find a sturdy straw. Push the straw through the center of the cherry; the pit will come right out. You could also use a chopstick, skewer, or piping tip for this method. (This is the "prettiest" method if you want to see whole cherries in your filling.)
Another method is the 'peach pit' method. This method involves a paring knife to cut around the cherry pit, cutting the cherry in half. Then, remove the pit with your fingers.
A third method is simply removing the pits with your hands. Since the cherries are going to be cooked, there is no need to keep them intact or look perfect after being pitted.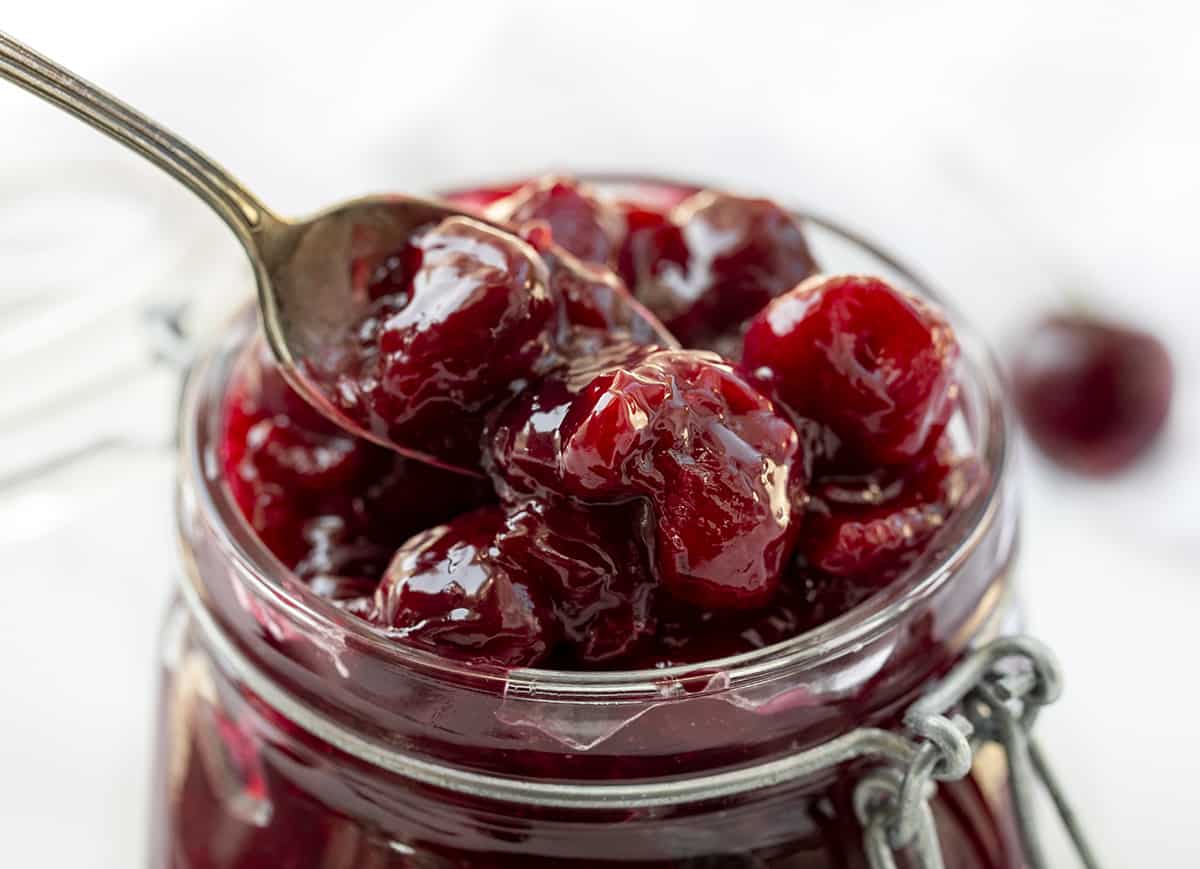 How to Use Cherry Pie Filling
It can be used as an ice cream topping, or in cheesecake recipes like my cherry cheesecake parfaits, just to give you a few ways to use the filling. I also love it mixed in fruit salads like banana split fluff! Yum!
How to Store & Freeze Cherry Pie Filling
Once you have the pie filling made, let it cool completely before storing. It will last in a sealed container in the refrigerator for up to 4 days.
To freeze, add cooled cherry pie filling to a freezer-safe sealable plastic storage bag and remove as much air as possible. It will last 3-4 months. To thaw, place in the refrigerator overnight.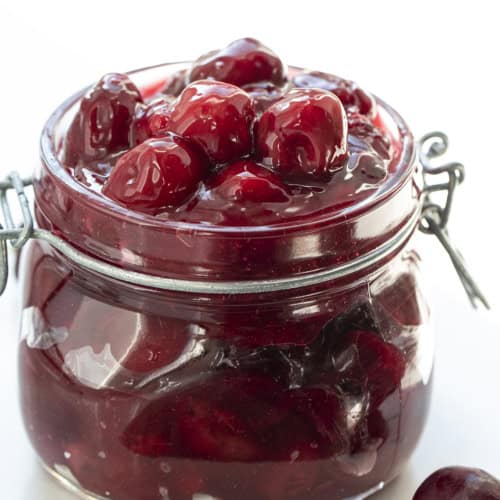 Cherry Pie Filling
Cherry Pie Filling is a homemade pie filling that will be your go-to for all things cherry when it comes to desserts.
Ingredients
4

cups

sweet red cherries,

pitted (about 1½ pounds)

¼

cup

(32 g) cornstarch

¼

cup

(62.5 g) water

⅔

cup

(133 g) granulated sugar

1

tablespoon

lemon juice

(I prefer fresh squeezed)
Instructions
In a medium saucepan over medium heat, add cherries. Cover and cook, stirring frequently, until the natural juices of the cherries are released and the contents are beginning to simmer (about 10-15 minutes).

In a small mixing bowl, whisk together cornstarch and water.

Reduce heat to low and pour the cornstarch slurry, sugar, and lemon juice into the cherries. Stir to combine.

Bring the mixture back to simmer and continue cooking until the mixture has thickened. (This happens fast, 1-2 minutes.)

Remove from heat and allow to cool completely before adding to your favorite dishes or storing. This will make about 28 ounces or about 3 cups of filling.

Store in the refrigerator for 4 days, or freeze for up to 3 months.
Notes
*I said that prep time is 10 minutes, which is for someone who has pitted cherries before. If you have never pitted cherries before, it may take longer. 
Did you make this recipe?
Thank you for making my recipe! You took pictures, right? Well go ahead and post them on Instagram! Be sure to mention me @iambaker and use the hashtag #YouAreBaker.