Blueberry Lemon Napoleon is a three-layered treat made with puff pastry sheets, homemade blueberry filling, stabilized whipped cream, and lemon curd. Then, the elegant desserts are sprinkled with confectioners' sugar for a decorative touch. This flavor combination will knock your socks off! I also have an Easy Strawberry Napoleon dessert if you prefer strawberries.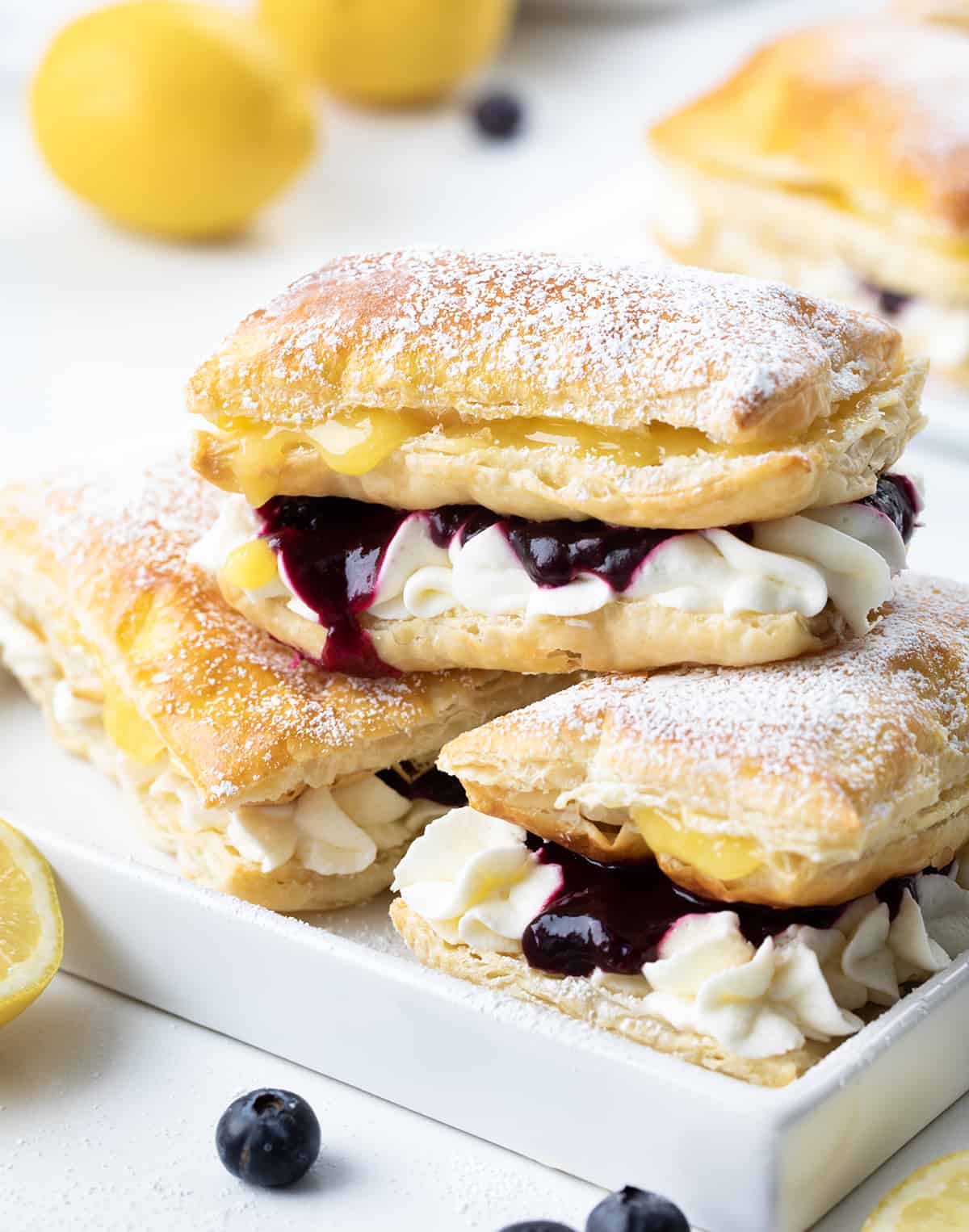 Ingredients & Substitutions
Blueberry Filling: For the best results when making the filling, use fresh blueberries. If you only have frozen, you could use those that have been thawed for the filling. However, if using frozen, use all of them in the filling without reserving any to fold in when cooled.
Puff Pastry: You will need two sheets of store-bought puff pastries, thawed according to package instructions. I also have a great recipe for a homemade Puff Pastry if preferred. Just leave out the cinnamon when making it for this recipe.
Egg Wash: I used a mixture of milk and egg as an egg wash to give the pastries a nice, golden-brown color. If you don't have milk, you can use water instead.
Stabilized Whipped Cream: It is recommended to use stabilized whipped cream when layering blueberry lemon napoleons. It will hold its shape better and stay 'stabilized' (which is the point). If you only have regular whipped cream, the desserts should be served immediately, before the whipped cream deflates. Storebought whipped topping (cool whip) could also work.
Lemon Curd: Lemon Curd is a tart and lemony spread, filling, or topping. It has a thick and creamy consistency like a jam or marmalade. I recommend making homemade lemon curd (the color and flavor are so much more vibrant than storebought), but you could also buy it at the store. Look for lemon curd in the jam or jelly aisle of your local grocery store.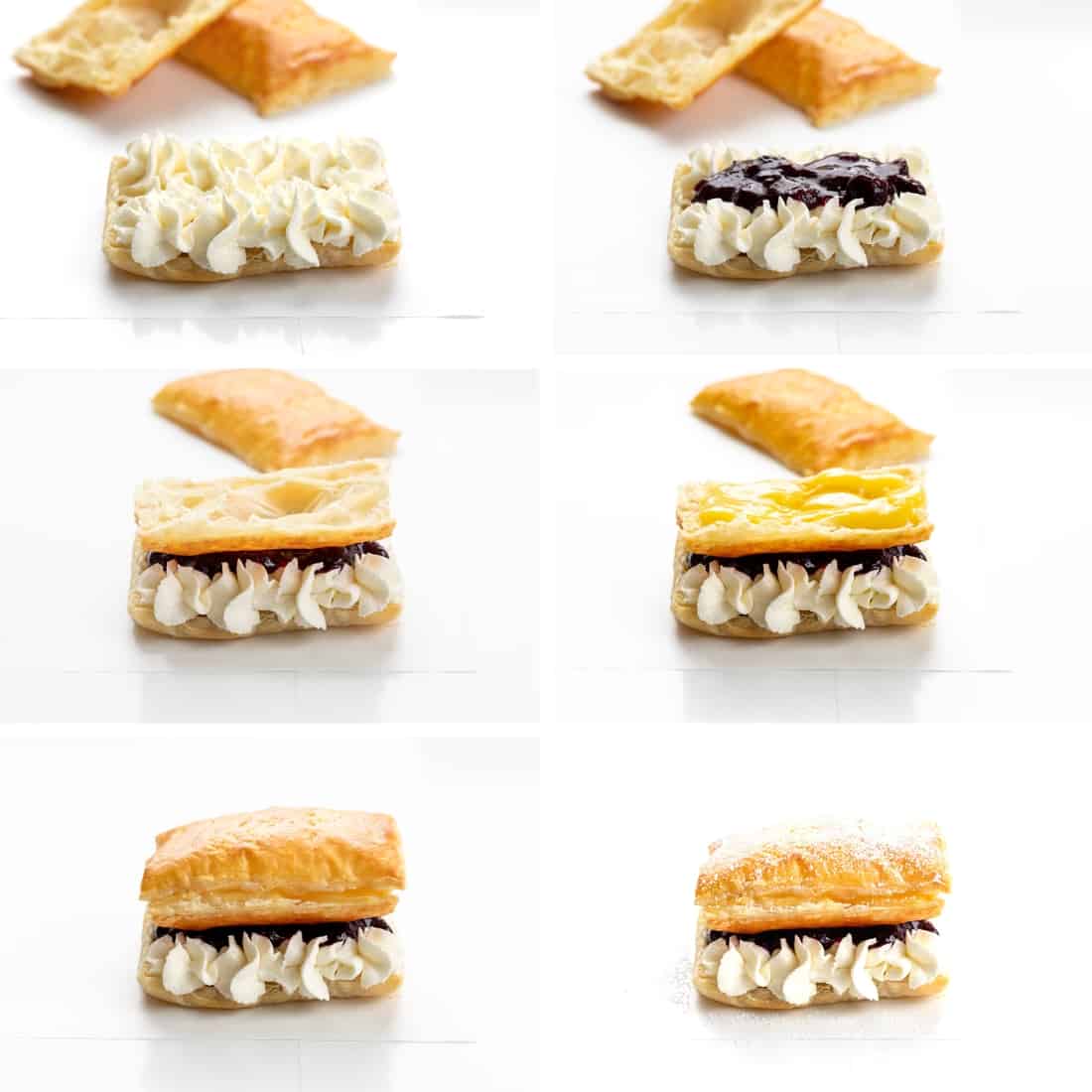 What are the Differences Between Stabilized Whipped Cream, Regular Whipped Cream, and Cool Whip?
Who knew there were so many variations of whipped cream out there? Each one has a purpose when it comes to desserts, but what are the differences?
Stabilized Whipped Cream: Stabilized whipped cream has a stabilizing ingredient, like cream cheese or gelatin (I used cream cheese in my recipe), that helps it hold its shape and prevents it from breaking down or deflating over time. This makes it ideal for use in multi-layered desserts like this one and for piping decorative designs.
Whipped Cream: Regular whipped cream is made by whipping heavy cream until it forms soft peaks. While it's perfect for topping pies, cakes, and other desserts, it lacks stabilizing ingredients, so it can quickly lose its texture and deflate. So, if using regular whipped cream in this dessert, it's important to show it off right away before the whipped cream loses its shape. (It will still be delicious, though!)
Cool Whip: We all know about the tubs of cool whip you can buy at the store. It will stand up better than homemade whipped cream in layered desserts, but it is loaded with high fructose corn syrup and preservatives that you may not want to consume.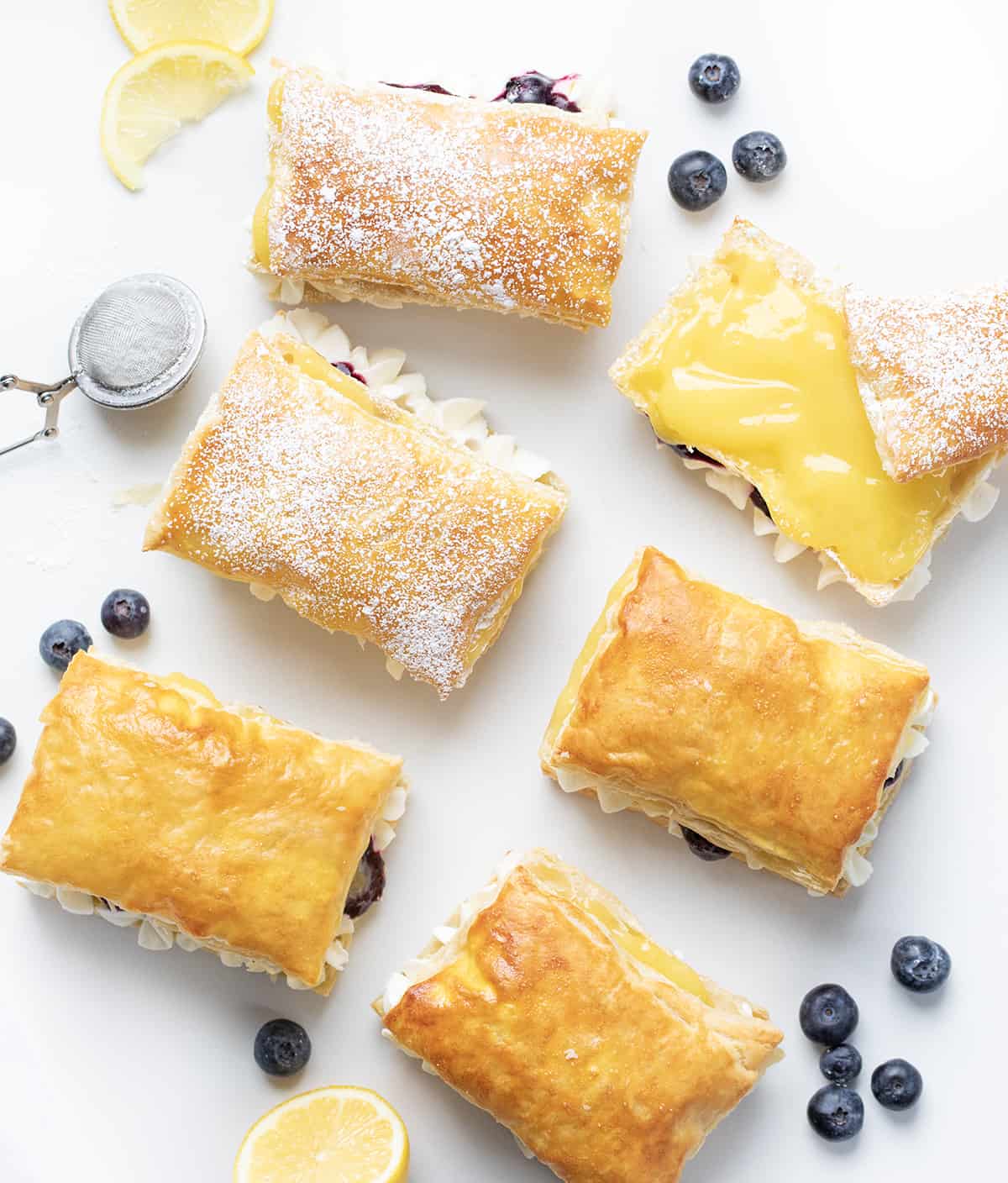 Can I Make Blueberry Lemon Napoleon Ahead of Time?
Sure! This dessert can be made in advance for your convenience. First, the puff pastries can be cut and baked ahead of time. Then, freeze them until ready to assemble the dessert. Another way to get a head start on this treat is to make the blueberry filling, stabilized whipped cream, and lemon curd (if made homemade) ahead of time. After you have made the blueberry filling, it can be stored in an airtight container in the refrigerator for up to 3-4 days. The whipped cream will last 2-3 days in the refrigerator, while the curd will last up to 2 weeks.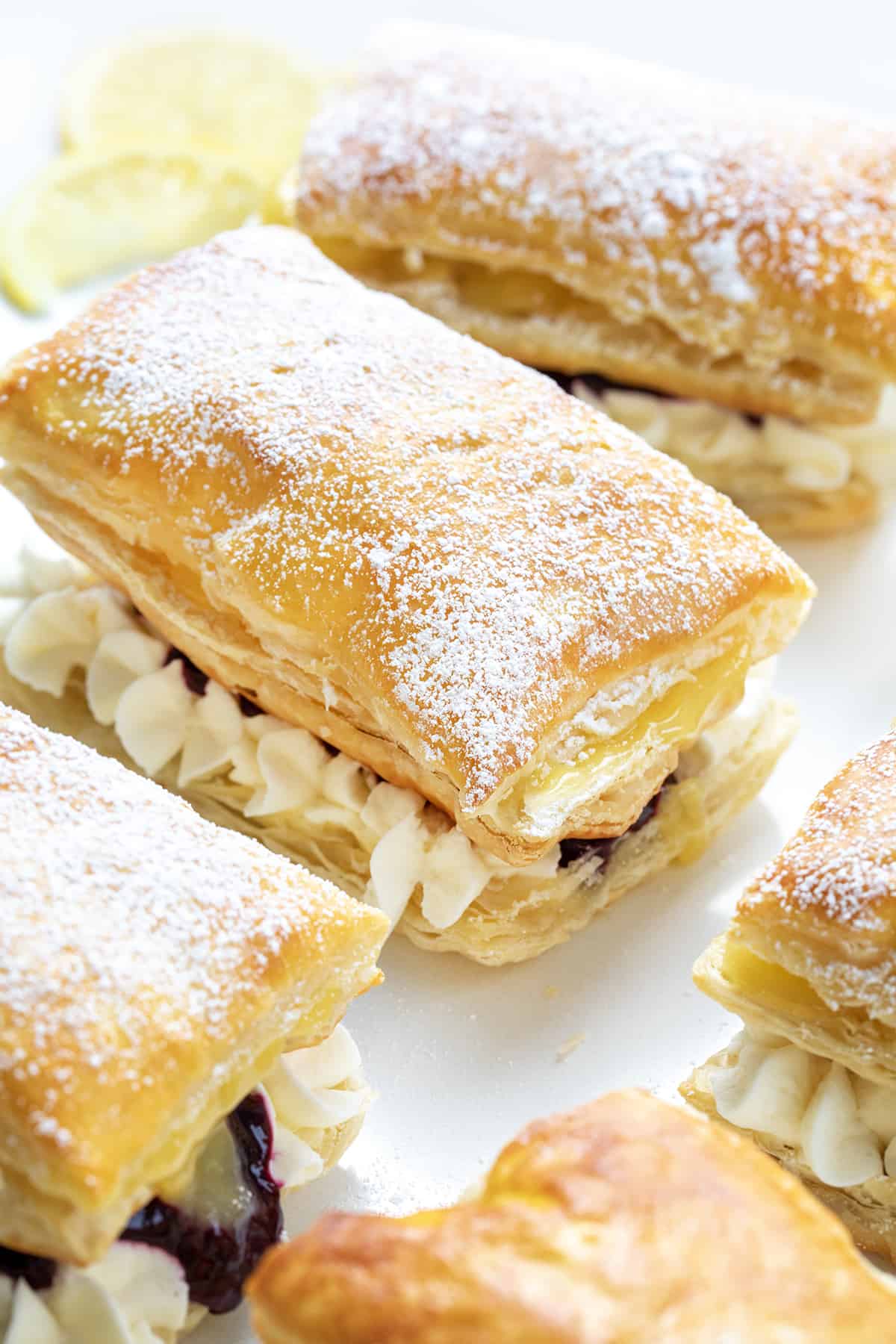 Can I Cut the Puff Pastries into Different Shapes?
Yes! Depending on the holiday or celebration, it's easy to customize the puff pastries to your desired shapes. For instance, with Easter right around the corner, use a bunny or egg-shaped cookie cutter to cut the puff pastry sheets.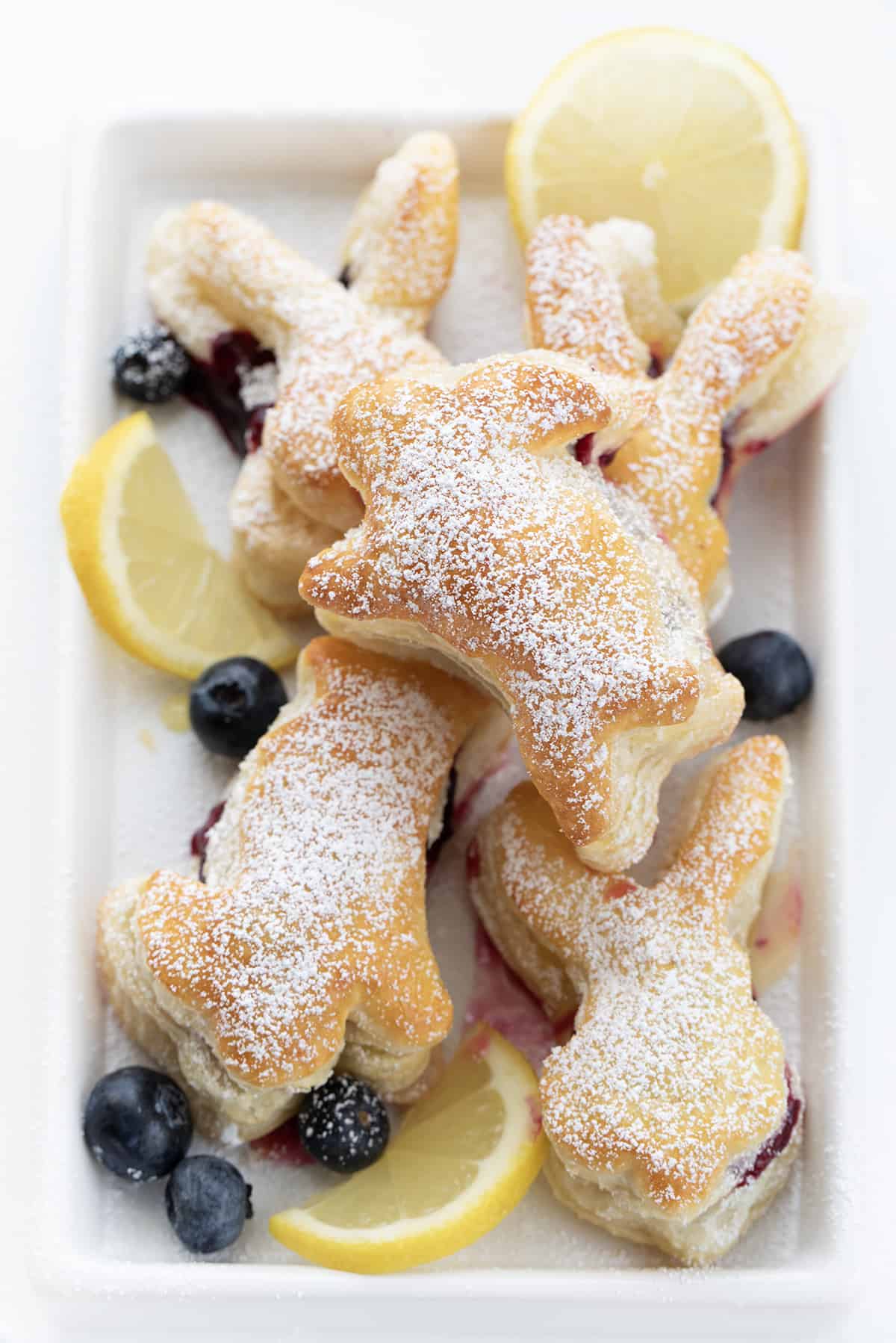 However, keep in mind that the baking time will vary depending on the size of the shapes. The smaller shapes only take about 10 minutes, as opposed to the 13-14 minutes for the rectangles. So, keep a close eye on them.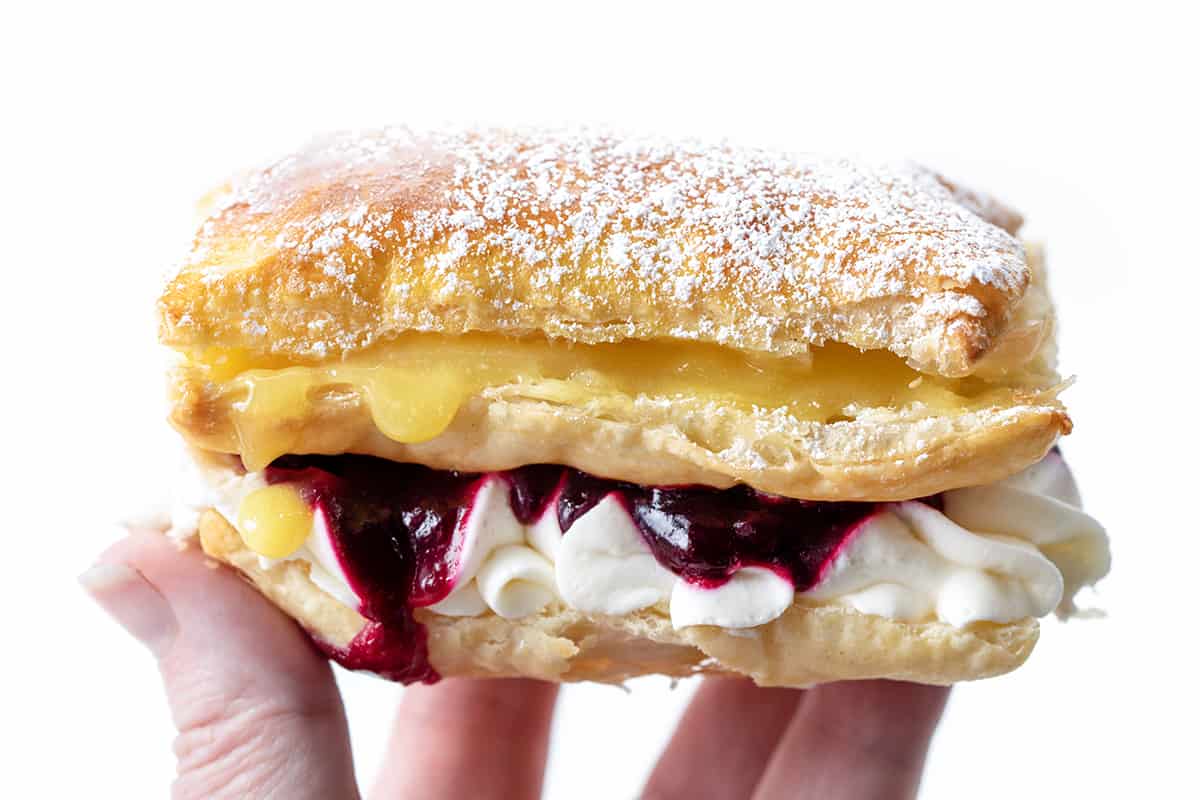 How to Store Blueberry Lemon Napoleon
Once assembled, Blueberry Lemon Napoleon can be stored in the refrigerator for up to 2 days by covering it with plastic wrap or aluminum foil. This will prevent the pastry from drying out and keep the filling fresh. To maintain the texture of the puff pastry, it is recommended to not refrigerate it for too long. When ready to serve, you can remove the Napoleon from the refrigerator and let it sit at room temperature for a few minutes to soften slightly before serving.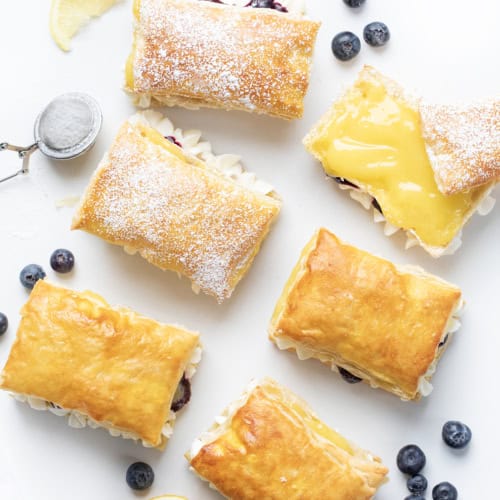 Blueberry Lemon Napoleon
Blueberry Lemon Napoleon is a three-layered treat made with puff pastry sheets, homemade blueberry filling, stabilized whipped cream, and lemon curd.
Ingredients
Blueberry Filling
2 ¼

cups

(333 g) blueberries,

fresh, divided

2

tablespoons

granulated sugar

2

tablespoons

lemon juice

1

tablespoon

cornstarch
Napoleon
2

sheets

frozen puff pastry,

thawed according to package directions

1

large

egg,

room temperature

2

teaspoons

whole milk

1

cup

lemon curd,

divided

2

tablespoons

confectioners' sugar,

for dusting

1 ½

cups

stabilized whipped cream,

divided
Instructions
Blueberry Filling
In a small saucepan over medium heat, mix 2 cups of the blueberries, sugar, lemon juice, and cornstarch. Heat until the sugar is dissolved, the blueberries are broken down, and it is thick and bubbly. You may need to break down the blueberries a little more with a fork. This will make about 1 ½ cups of filling. Set aside to cool while you prepare the rest of the ingredients.

Once cool, mix in the remaining ¼ cup of blueberries with the filling.
Napoleon
Preheat the oven to 400°F and line 2 large baking sheets with parchment paper.

In a small bowl, whisk together the egg and milk until smooth.

Lay one puff pastry sheet onto each lined baking sheet. Brush the egg wash over the tops of the puff pastry sheets. Cut each pastry sheet into 6 equal-sized rectangles. Leave about ½-inch of space between each puff pastry.

Bake the puff pastries for 13-14 minutes, or until they puff up and turn golden brown.

Allow the pastries to cool before assembling (5-10 minutes). Once cooled, separate the top layer from the bottom layer of each puff pastry. You will have a total of 24 rectangles.
Assembly
On a serving dish or large plate, lay one rectangle of puff pastry. Pipe 2-3 tablespoons of stabilized whipped cream over the top, spreading it out evenly.

Add 2 tablespoons of blueberry filling on top of the whipped cream.

Top with a second puff pastry rectangle, cut side up. Spread 2 tablespoons of lemon curd on top of the second pastry, spreading it out into an even layer.

Place a third pastry rectangle over the lemon curd and dust with the confectioners' sugar. Repeat the process for the remaining pastries. You will have a total of 8 desserts.

Serve and enjoy!
Did you make this recipe?
Thank you for making my recipe! You took pictures, right? Well go ahead and post them on Instagram! Be sure to mention me @iambaker and use the hashtag #YouAreBaker.
What the Test Kitchen had to say about this recipe: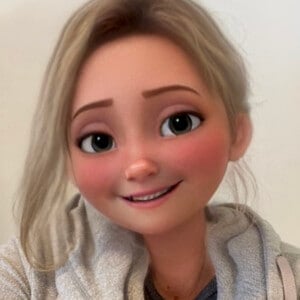 Autumn
We tested this recipe so many different ways and the final combination really stood out. We used homemade lemon curd which is tangy and bright, homemade blueberry sauce with fresh blueberries, and the kicker was our homemade stabilized whipped cream. The combination flows perfectly. Tangy, fresh, and light, this is a dessert that looks amazing but tastes even better!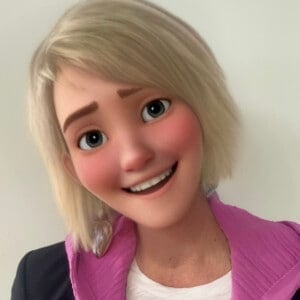 Elizabeth
This dessert is the perfect combination of blueberry and lemon flavors. And I highly recommend making homemade lemon curd to use in this treat; it is tart in the best way!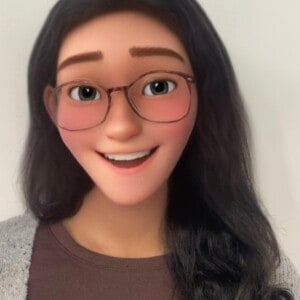 Bella
These are a sweet delight. Not only are they lovely and visually appealing, but the flavors of the lemon curd, blueberry sauce, and fresh whipped cream perfectly complement one another. Its taste is equally tart, sweet, and creamy. So good!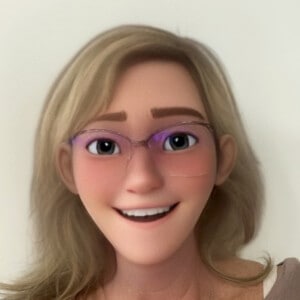 Christine
If you want to be known as the "amazing baker" in your family, make this! Use puff pastries from the freezer section at your local grocery store, a quick delicious fresh blueberry topping, and our wonderful lemon curd recipe. It can be put together in no time! The combo of flavors is perfect for spring brunches, and celebrations! Enjoy!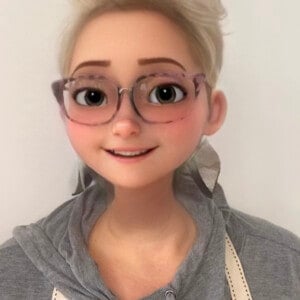 Selena
What a beautiful and special dessert. I love that you can make most everything ahead and assemble as needed for a special dinner. I loved the brightness of the lemon curd next to the sweet blueberries and the whipped cream perfectly complemented both flavors pulling the whole dessert together!