Homemade Lemon Curd is a tart and lemony spread, filling, or topping made from a few simple ingredients. It has a thick and creamy consistency that adds a burst of citrus flavor to many treats and desserts! Use this recipe in my Lemon Cake with Lemon Buttercream.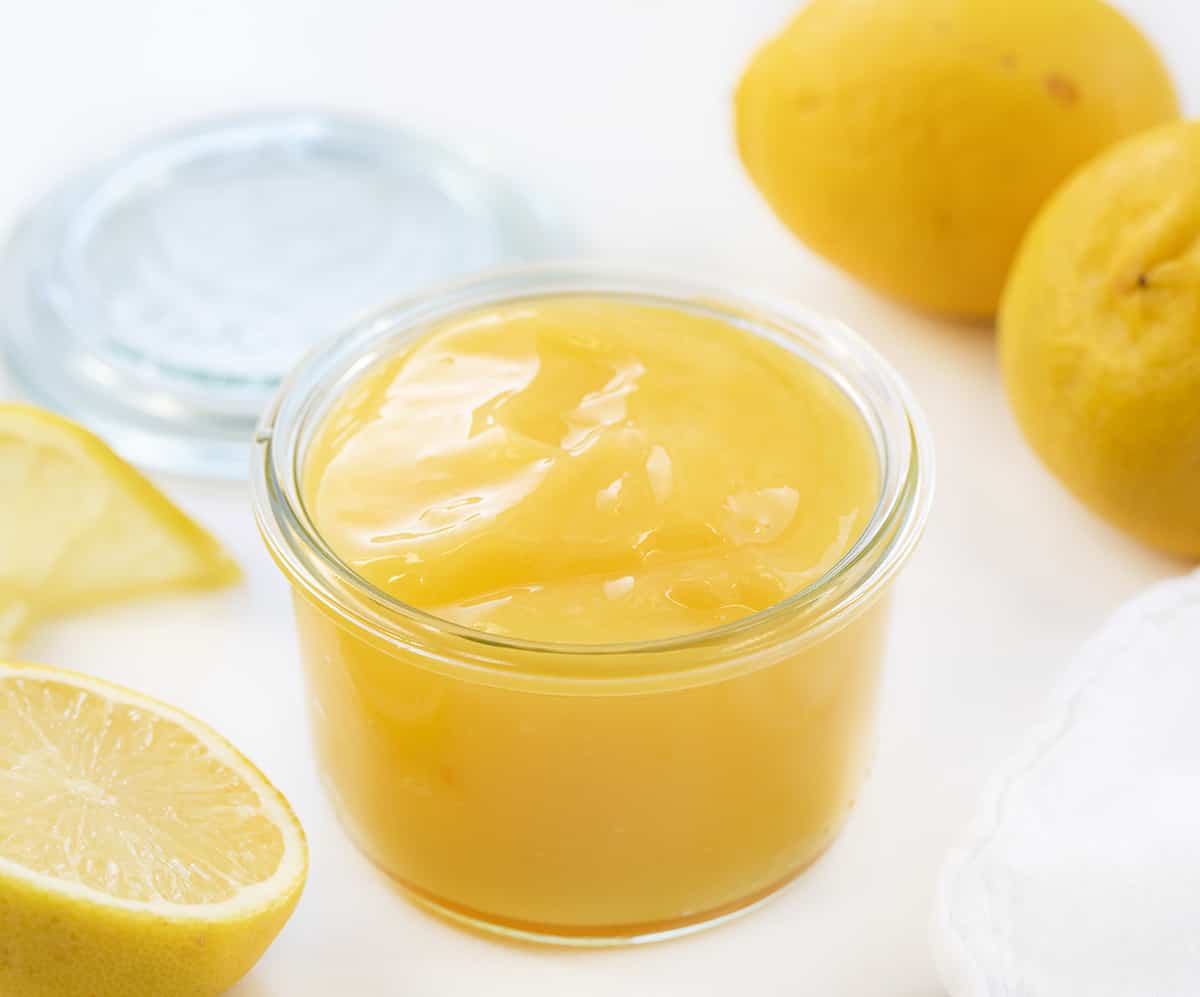 Ingredients & Substitutions
Lemons: Use 3 lemons for this recipe. Zest the lemons before cutting them in half and squeezing out the juice. You will need about a tablespoon of lemon zest and 1/2 cup of freshly squeezed lemon juice.
Butter: Use unsalted butter. Unsalted butter has a cleaner, more neutral flavor that won't compete with the bright and tangy taste of lemon curd. This allows the lemon flavor to shine through and be the main focus of the recipe.
Sugar: In lemon curd, you will use granulated sugar.
Eggs: Eggs provide structure, flavor, and texture to the curd. Mix each egg one at a time to ensure the eggs are evenly distributed throughout the mixture.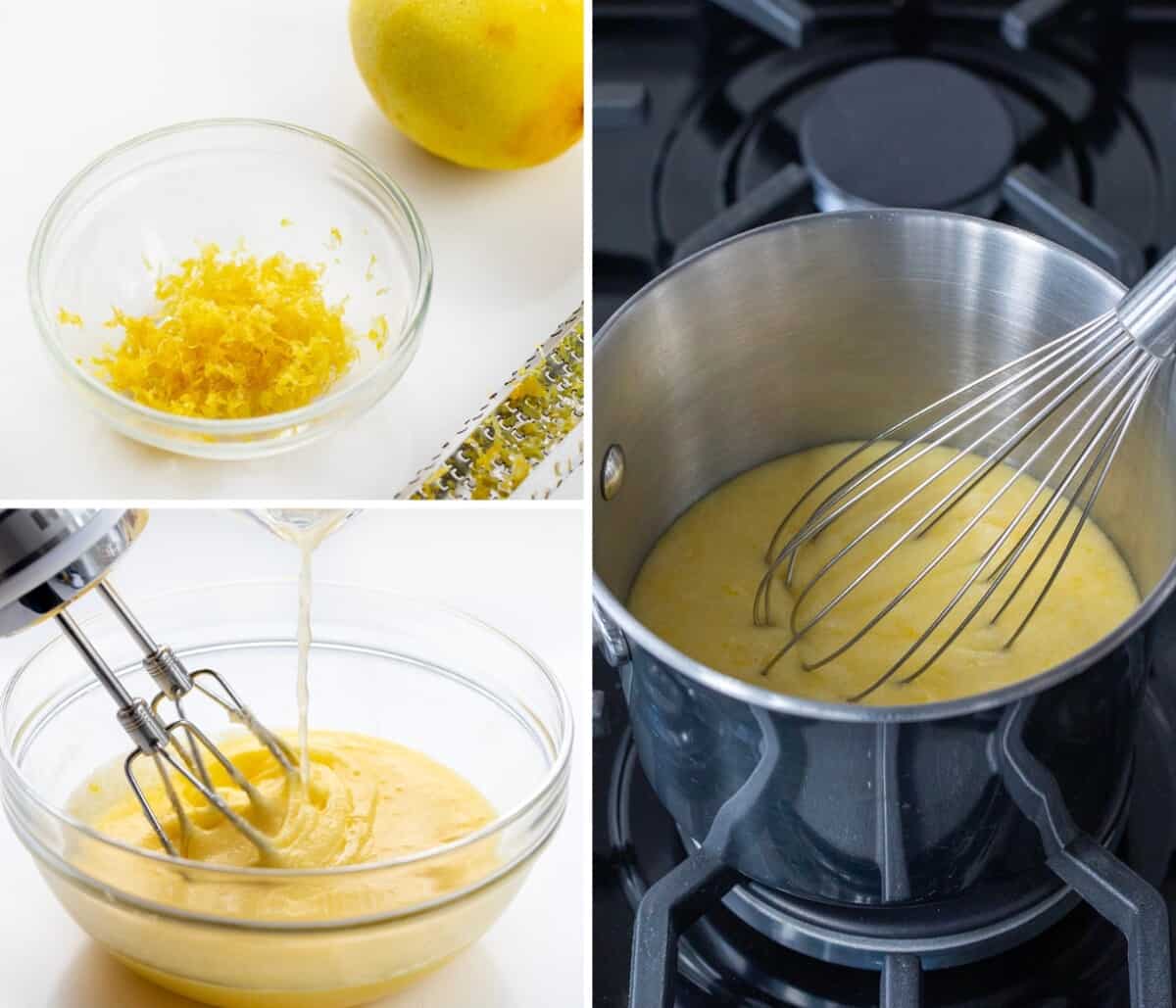 How to Use Lemon Curd
Don't be ashamed if you simply enjoy eating lemon curd by the spoonful! However, there are other ways to use it, too! Here are a few suggestions: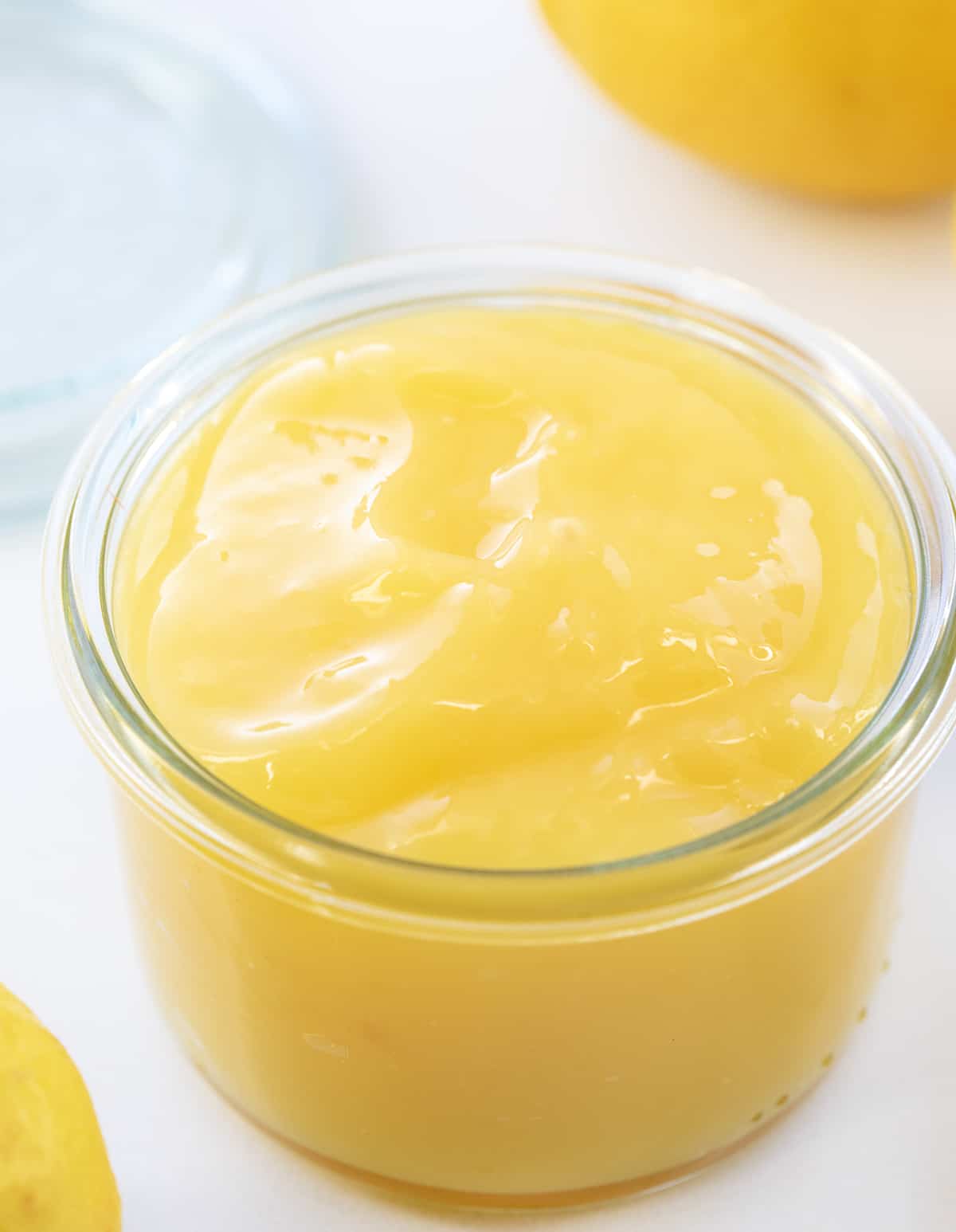 How to Store Homemade Lemon Curd
After the lemon curd has chilled, store it in an airtight container in the refrigerator. It will last up to 2 weeks. Or, for longer storage, freeze it for up to a year. When ready to use, let it thaw in the refrigerator overnight. Once thawed, stir the lemon curd to ensure it is mixed well.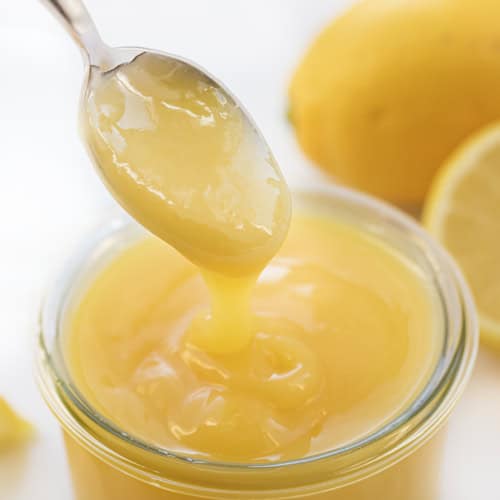 Homemade Lemon Curd
Homemade Lemon Curd is a tart and lemony spread, filling, or topping made from lemon zest, lemon juice, butter, sugar, and eggs.
Instructions
Grate zest from the lemons. You will need 1 tablespoon of zest.

After zesting, cut the lemons in half and squeeze out the juice into a measuring cup. You should have about ½ cup of lemon juice.

In the bowl of a stand mixer (or in a bowl and using a hand-held mixer) beat butter and sugar at medium speed until blended (about 2 minutes).

Add eggs to the mixture, one at a time, beating each egg until it's blended before adding the next.

Gradually add the lemon juice to the butter mixture, beating at low speed just until blended.

Remove the bowl from the mixer and stir in the lemon zest by hand. The mixture might look curdled at this point, but that's okay!

Transfer the mixture to a small heavy-bottomed stainless steel saucepan.

Cook over medium-low heat, whisking constantly, for 14 to 16 minutes. Then, transfer to a heat-safe bowl. (You may not want to use a wire whisk as it could react to the acid in the curd.)

While the mixture is still warm, set a piece of plastic wrap directly on top of the lemon curd to prevent a film from forming on the surface.

Chill the lemon curd in the refrigerator for at least 2 hours, or until firm.

Store the lemon curd in an airtight container in the refrigerator for up to 2 weeks.
Did you make this recipe?
Thank you for making my recipe! You took pictures, right? Well go ahead and post them on Instagram! Be sure to mention me @iambaker and use the hashtag #YouAreBaker.