Stop judging me.
Ok, nevermind.  Judge away.  This dessert is… well… ridiculously awesome.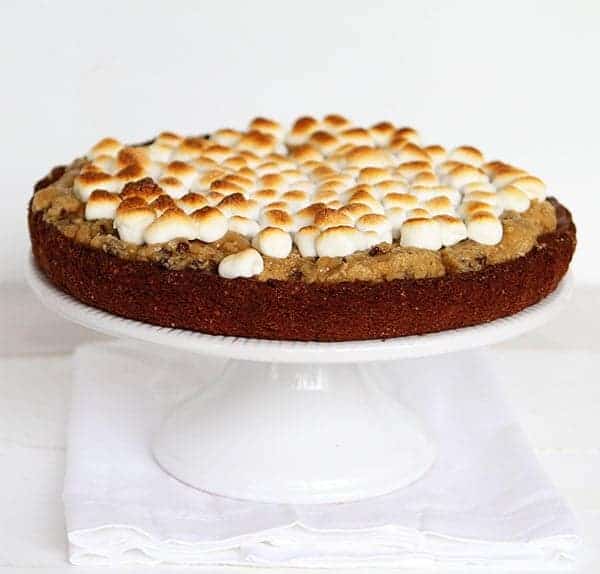 Let me tell you how this came about.
I was craving brownie batter.  I know, I know, gross. Raw egg, yuck.  But I am one of those weirdo's who does not have a problem with raw egg nor do I have a problem with raw egg when it is surrounded by glorious chocolately homemade brownie batter.  In my old fart mind, raw egg (surrounded by glorious chocolately homemade brownie batter) is good for you.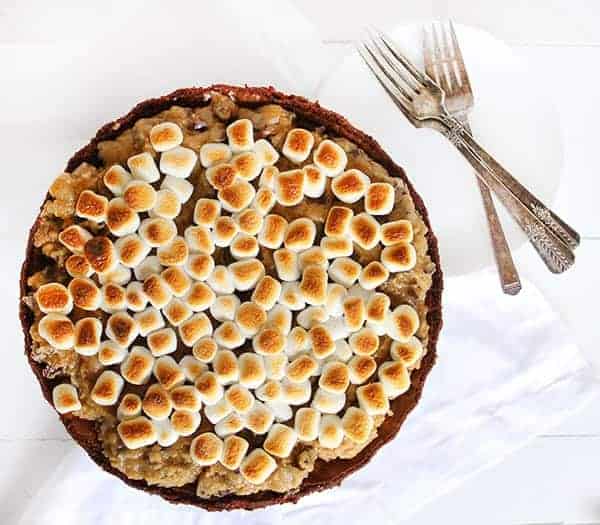 So I made the batter and then for some reason it didn't sound good anymore.  Well, all is not lost when making batters, just bake it!  So I did.
Then I got a hankerin for cookie dough!  (Here is where you can shake your head back and forth.  I really need to develop some healthier cravings.)
So I made up a batch of cookie dough frosting.  Then I was in the process of grabbing a spoon and saw my brownies on the counter.
Cookie Dough + Brownies = now I have to run 7 miles for one bite.
Totally worth it.  I mean, if I would actually run 7 miles.  It's more like a 2 mile brisk walk through the local mall with large strapped-on ankle weights and a pink terrycloth braided headband and a T-shirt that says "totally rad".  And if I were being totally honest, it's more like a walk to the car so I can go to the store and buy more marshmallows.  #justsayin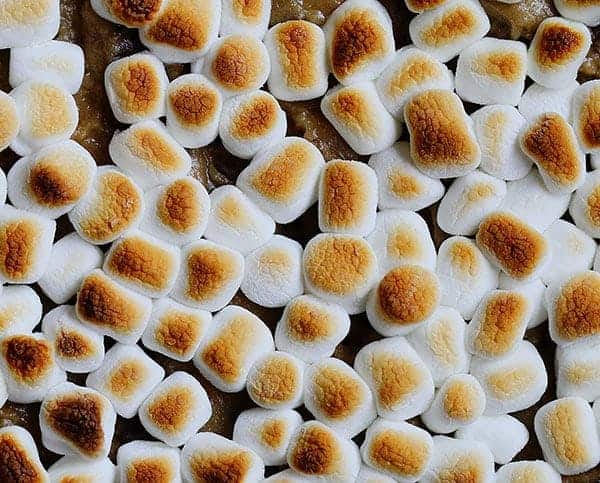 But then, as if gobs of cookie dough frosting and brownies weren't enough, I decided to toast some mini marshmallows on top.
Because marshmallows.
No da.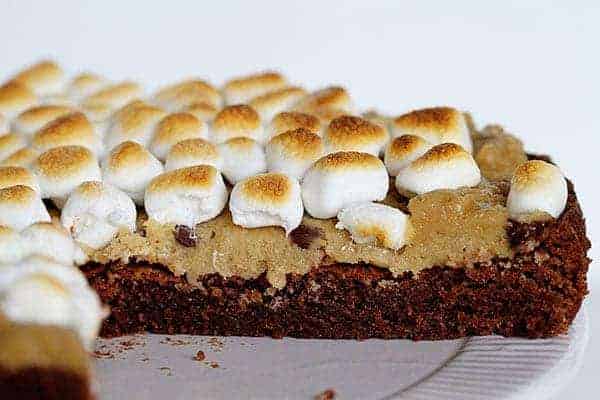 I used my favorite Homemade Brownie Mix recipe for the base of this pie.  I baked it in a 9-inch round pie dish.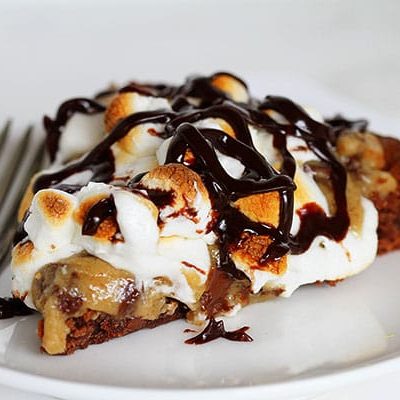 Chocolate Chip Cookie Dough Frosting
This dessert is… well… ridiculously awesome.
Ingredients
3/4

c

packed light brown sugar

1/2

c

butter

at room temperature

1 1/4

c

all-purpose flour

2

tsp.

vanilla extract

1/4

c

heavy whipping cream

or to taste

taste

1/2

c

miniature chocolate chips
Instructions
In stand mixer beat brown sugar and room temperature butter until light and fluffy. Add in flour and vanilla extract until fully combined.

With mixer on low speed, add in cream until desired consistency is reached. (Can use more/less cream if desired)

Remove bowl from mixer and stir in chocolate chips by hand.
Did you make this recipe?
Thank you for making my recipe! You took pictures, right? Well go ahead and post them on Instagram! Be sure to mention me @iambaker and use the hashtag #YouAreBaker.
Recipe just barely adapted from allrecipes.com.
So here is what the whole assembly looked like.  Bake brownies, allow to cool.  Prepare cookie dough frosting and smother on top of brownies.  Place a layer of mini marshmallows on top of cookie dough frosting and then toast in oven (the broil option works fast but placing them in for about 5 minutes at 250 works great for an all-over warming) for about 2 minutes, or until slightly golden.  Be sure to watch closely!
Can be served immediately or kept at room temperature.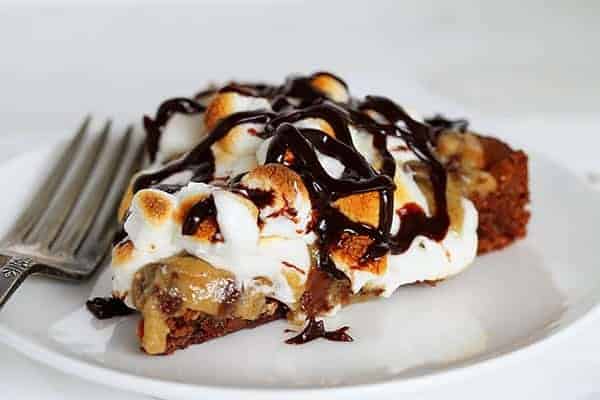 By the time I got all my pictures taken and was ready to actually indulge in a bite, my pie was cool.  So I popped it in the microwave for a few seconds, drizzled on some hot fudge, and watched in fascination as the fluffy marshmallows started the magnificent descent off of the pie as the warmed cookie dough frosting seemed incapable of supporting the toasted clouds of sugar for one more second.
Gotta tell you, this combination of flavors is pretty darn amazing.  Totally indulgent and obnoxiously sweet… but worth trying at least once in your life.  And here is the best part, the whole thing takes about 1/2 hour to pull together.
Quick, easy, delicious.  I think that should be my new mantra.