Chicken Alfredo with Brussel Sprouts is one of those dishes that happens by accident but that you are so glad it did! I love that my kids gobbled up all those glorious Brussel sprouts covered in the Alfredo sauce! If you love the basics, try my Classic Fettuccine Alfredo!
Chicken Alfredo with Brussel Sprouts
There are four main components to this dish and being aware of timing before you start is a great idea.
Brussel Sprouts – these will need to be roasted before adding to the dish
Bacon – I much prefer crispy bacon in my savory recipes and prepared the bacon ahead of time. I also recommend making more than you need so you can snack. 😉
Chicken – I used leftover Rotisserie Chicken. The recipe indicated that the chicken should be cubed, you can all use pulled chicken.
Alfredo – This creamy based sauce covers everything and pulls it all together.
You can prepare the bacon and chicken ahead of time (the day before) to make preparation easier.
Fettuccine Alfredo
This is the easiest version of Fettuccine Alfredo I have made. It's got minimal ingredients and the beauty of the flavors really shine through. The sauce is the beautiful, silky consistency that reminds of fancy restaurants, but the taste is pure. One of the ways to achieve this perfect fettuccine alfredo is to make sure your ingredients are the best possible quality. I like to splurge and get a really good parmesan and grate it myself.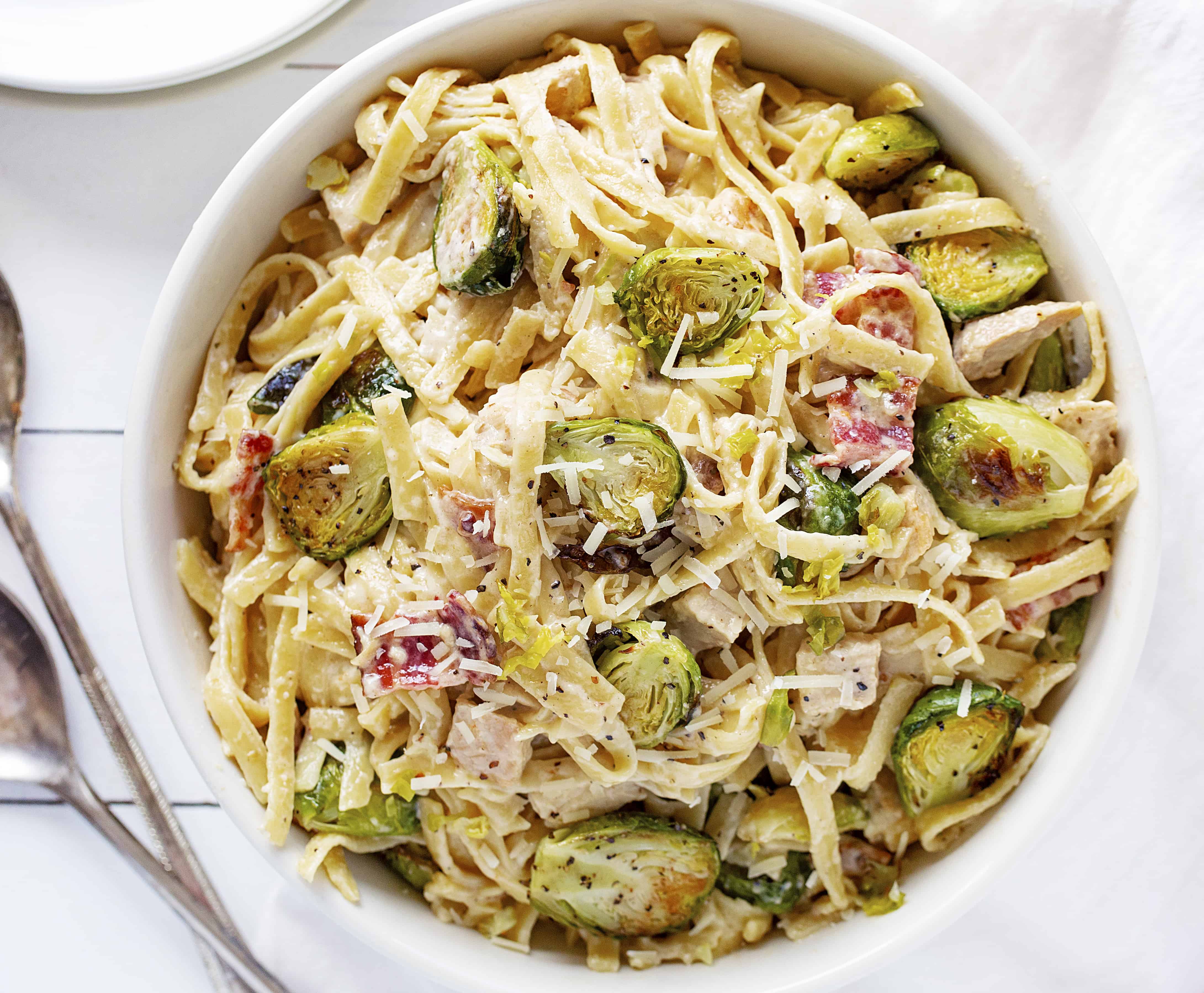 Cream in Fettuccine Alfredo?
Controversy! I can't seem to avoid it even on a food blog. So, I have heard it said more than once that "real" fettuccine alfredo does not include cream. That the sauce should only be cheese, butter, and the pasta water. That version is fabulous and authentic, however, this is the version is what I grew up with. It's an easier version that has been around fun decades and that is comfort food for many folks.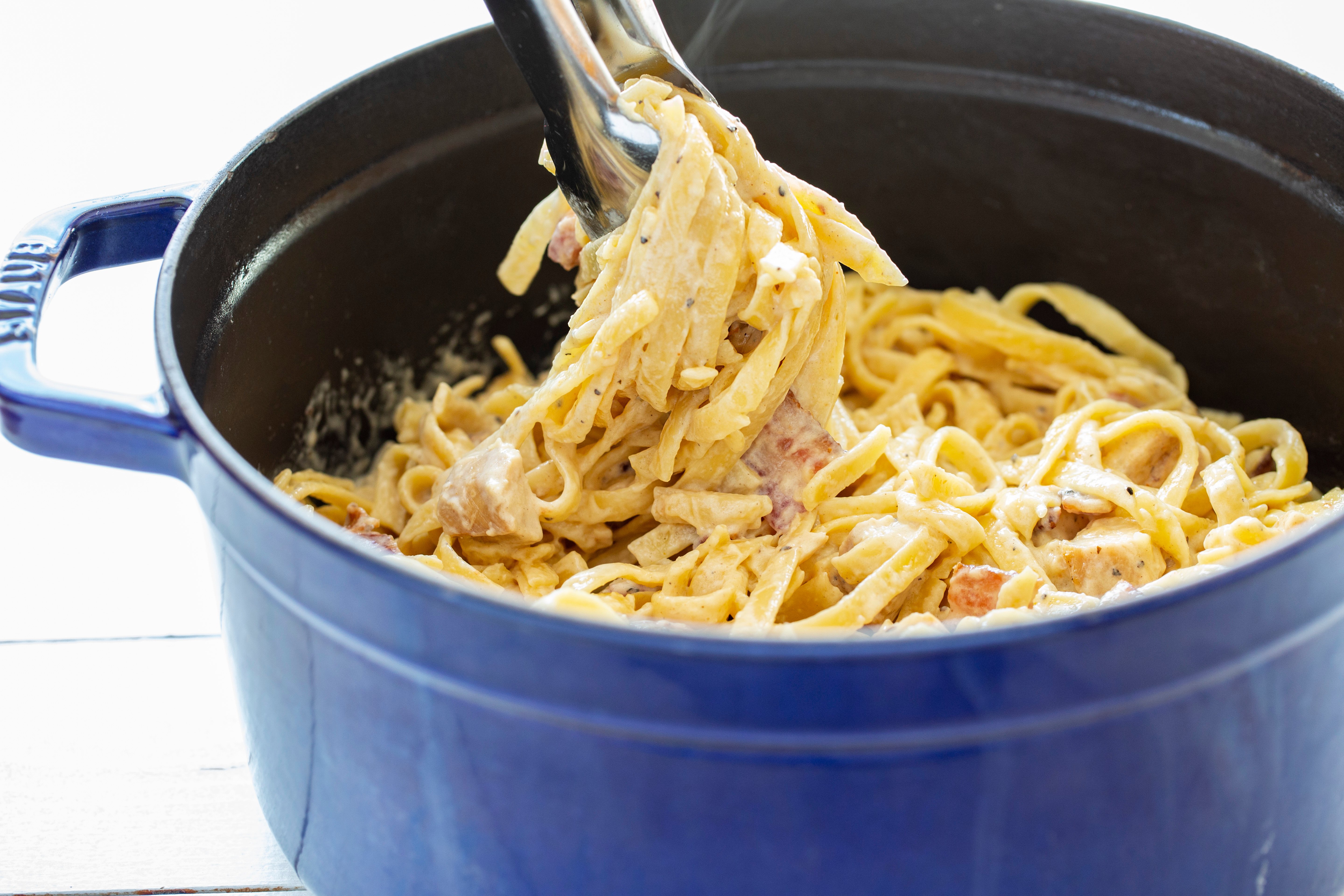 How to Cook Al Dente Fettuccine Noodles
Take a big pot and fill it with about 4 quarts of water. Add a generous amount of salt. As some chefs like to say, "salty like the sea". This will help to season your pasta.
Once the water reaches a boil, add in your dried fettuccine and then stir it. Don't walk away! Stirring at the beginning of the boiling process will help to keep the pasta from sticking to itself.
Once your pasta has cooked for a few minutes and is firm yet starting to soften it is al dente. The best way to test this is to try it! Al dente pasta will feel firm, not crunchy when you bite it. You can also break a piece of pasta in half to see if it's the perfect al dente. The pasta will be mostly cooked with a small center of uncooked pasta running through the middle.
Drain your pasta. Set aside until you add it to the sauce.
Easy Roasted Brussel Sprouts
There are so many amazing flavors in this dish I decided to keep it easy with the Brussel Sprouts. Just the vegetable, salt & pepper, and a little olive oil. Roast for about 15 minutes and then set aside.
You could certainly kick it up a notch and make Parmesan Roasted Brussel Sprouts, as parm goes amazing with alfredo. Whatever you do, I think you will find the addition of the Brussel sprouts really puts this recipe on a new level!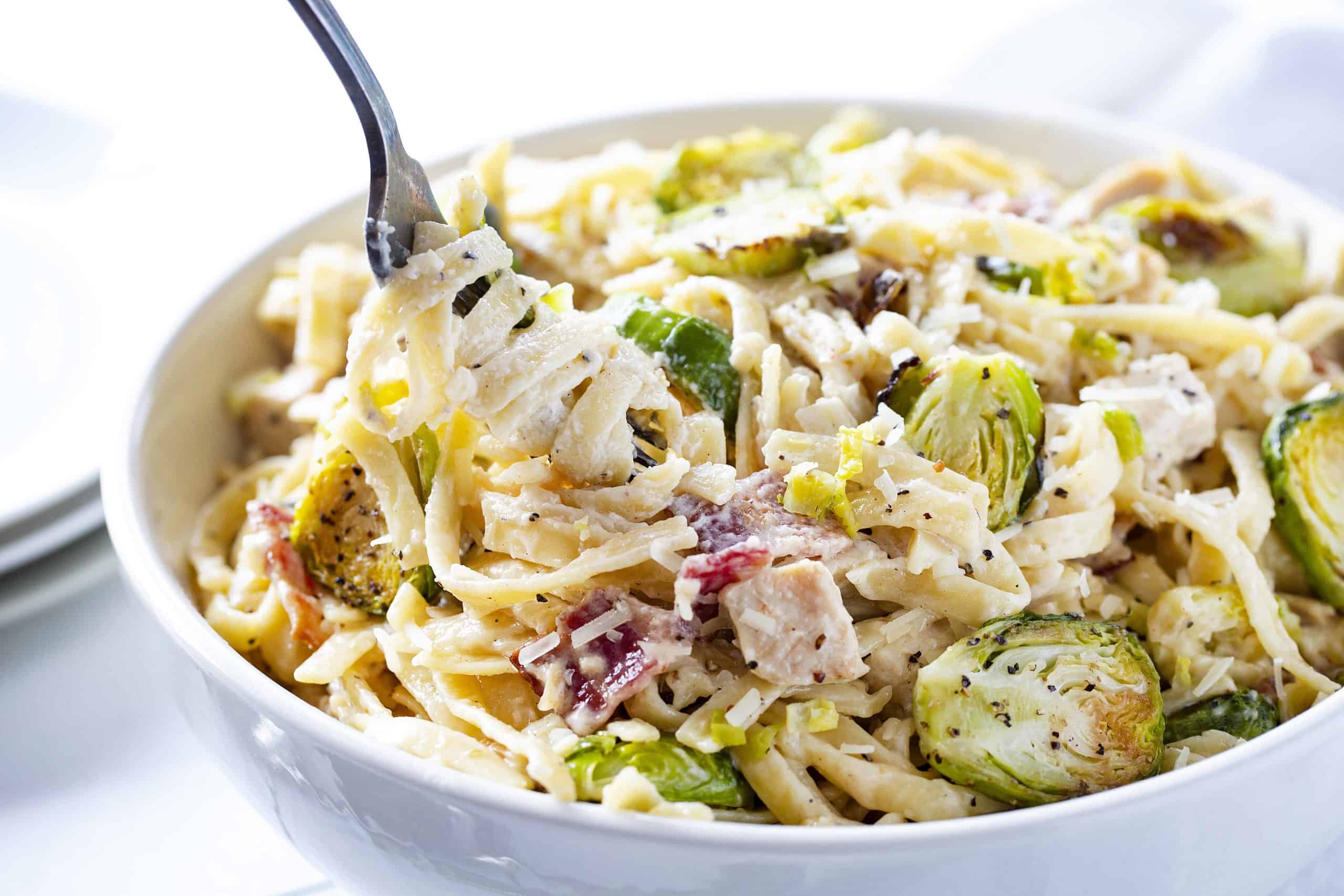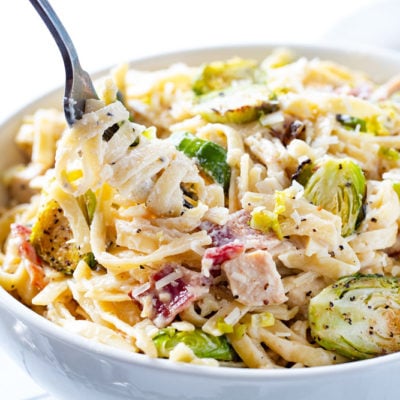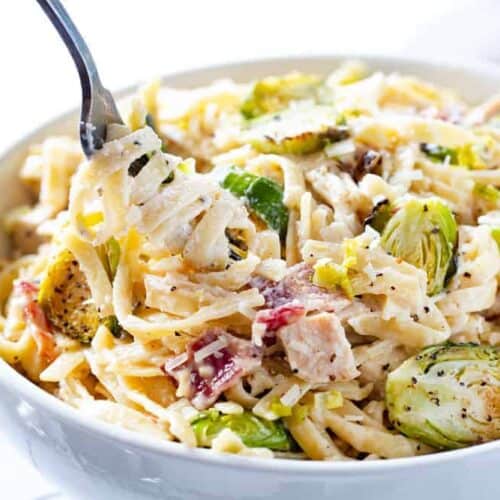 Chicken Bacon Alfredo with Brussel Sprouts
The LOADED Chicken Alfredo is packed with flavor and fun!
Ingredients
Brussel Sprouts
1

pound 

brussels sprouts

2 

tablespoon 

olive oil

1/2

teaspoons

sea salt

1/4

teaspoons

pepper
Pasta
16

ounces

fettuccini noodles

1

tablespoon

salt
Sauce
2 

tablespoons

salted butter

2 

cups

(476 g) heavy cream

1

teaspoons

salt

1/4 

teaspoons

freshly ground black pepper

1 

cup 

(100 g) parmesan cheese,

freshly grated
Chicken
2

cups

chicken,

cooked and cut into 1-inch cubes

8

strips bacon,

cooked and crumbled
Instructions
Brussel Sprouts
Spread brussel sprouts evenly on a foil-lined baking sheet. Drizzle with oil and season with salt and pepper. Toss to coat.

Arrange in a single layer.

Cook for 12-15 minutes or until slightly golden brown and tender.

Remove from oven and tent with foil to maintain heat, set aside.
Pasta
Bring a large pot of water to a rolling boil, add salt and noodles and reduce heat to low.

Cook for 5-8 minutes, or until noodles are al dente. When testing, making sure they are cooked but not hard.
Sauce
In a large saucepan (this is the pan you will add all the other ingredients too, so I often choose a Dutch Oven) melt butter then add cream, salt, and pepper.

Bring to a slow rolling boil.

Reduce heat and boil gently for 3 to 5 minutes or until mixture begins to thicken.

Remove from heat and stir in Parmesan cheese.

Add cooked Brussel sprouts, noodles, chicken, and bacon.

Toss to combine. If your pot is still on the stove warming and you find your sauce to be too thick, feel free to add some milk or cream. Stir well. Place the entire pot on the table and dig in.
Did you make this recipe?
Thank you for making my recipe! You took pictures, right? Well go ahead and post them on Instagram! Be sure to mention me @iambaker and use the hashtag #YouAreBaker.
Looking for more Dinner ideas?