Fiesta Chicken Casserole is the solution to your weeknight meal planning woes. Delicious southwest seasoned chicken over a bed of noodles, corn, black beans, and smothered in tonz of cheese, you really can't go wrong! If you like this recipe, make sure to try some of my other favorite casseroles like Hamburger Casserole or Tuna Casserole!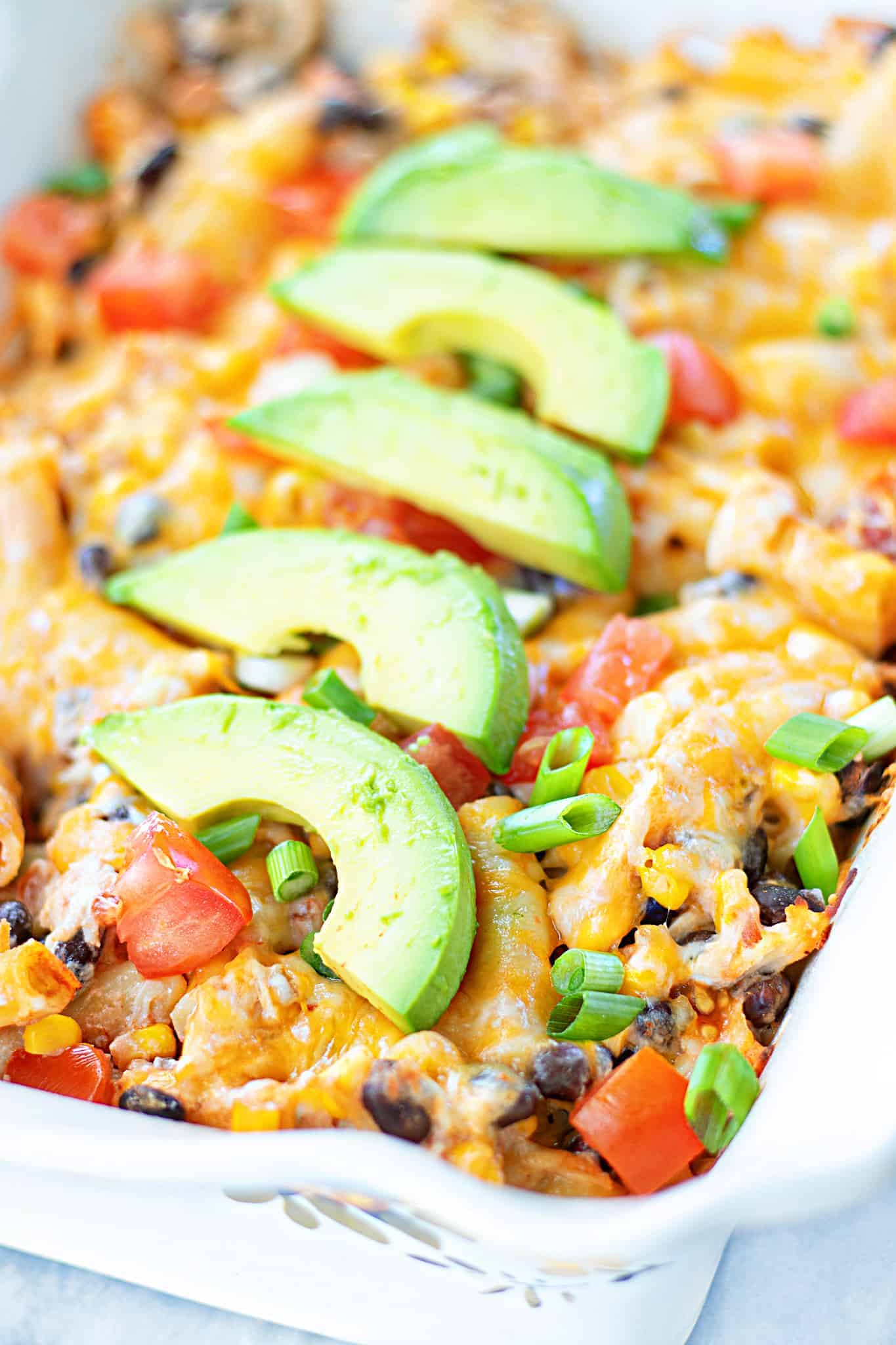 Fiesta Chicken Casserole
I know it is cliche, but we love a good casserole. I think it's because I am from the casserole capital of the world (Minnesota) and practically bleed casserole.
The beauty of a casserole is in its simplicity. You can typically prepare them in advance and pop them in the oven when you are ready to eat. If you have been following along, you know that I love simplicity. Anytime you can have a meal that tastes this good, you assume that the ingredients were more than just dumped in a pan. Not the case, for this Fiesta Chicken Casserole recipe you literally throw everything together and walk away. Just make sure to come back in 20 minutes to take it out of the oven. 😉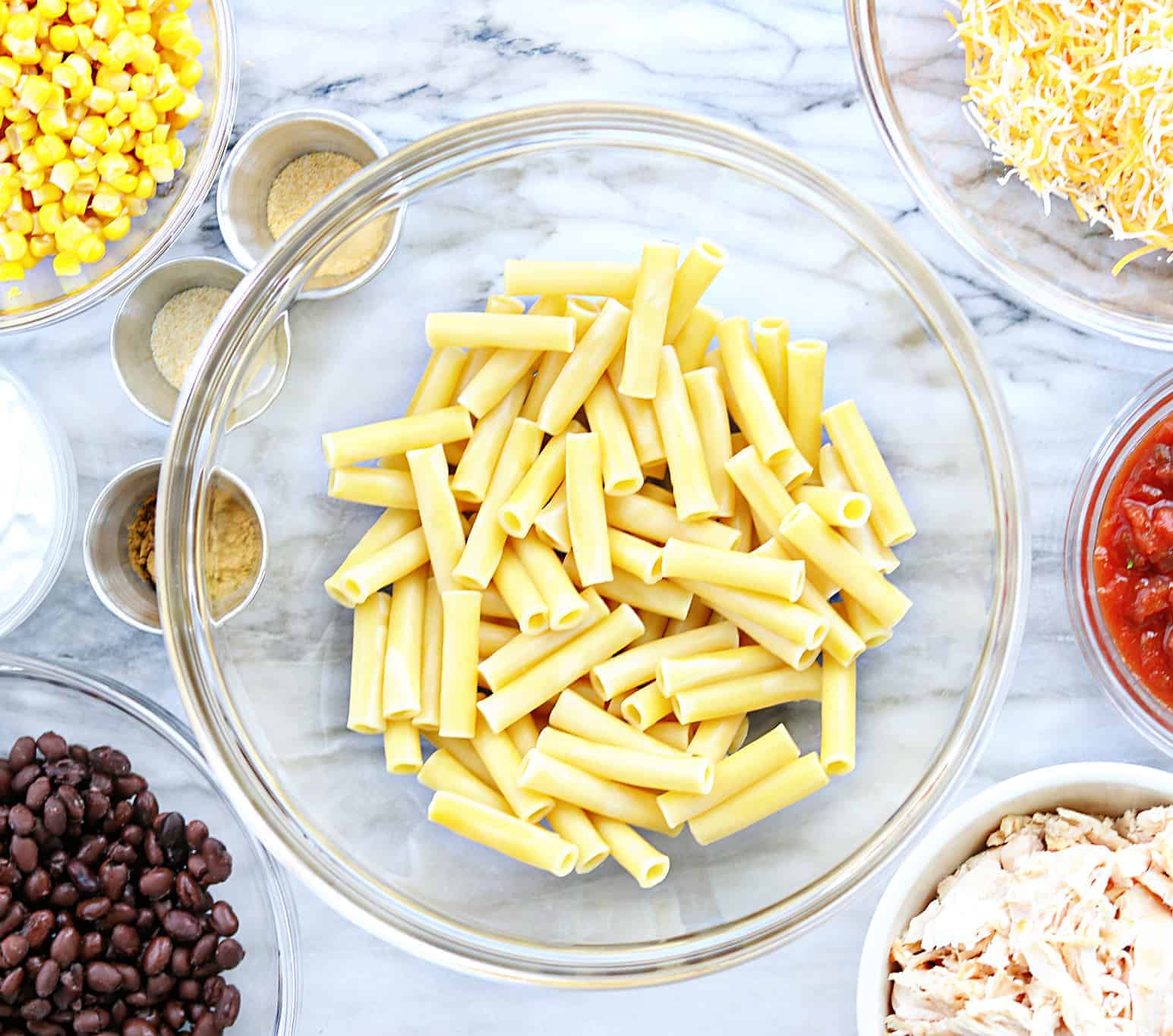 Fiesta Chicken Casserole Recipe
For a recipe so simple it may seem like a lot of ingredients, but the good news is you basically just combine them and walk away. For this Fiesta Chicken Casserole Recipe, you will need the following ingredients:
Cooked Ziti Noodles, or other Macaroni style noodle
Sour Cream
Salsa, spiced to your liking
Cumin
Garlic Powder
Onion Powder
Corn
Black Beans
Chicken, fully cooked and shredded (rotisserie is fine)
Mexican Cheese
I also listed a few garnishes in the recipe (green onions, tomatoes, and avocado), but you can add more if you want to change it up from time to time. Some possibilities are:
Jalapenos
Black Olives
Green Pepper
Onion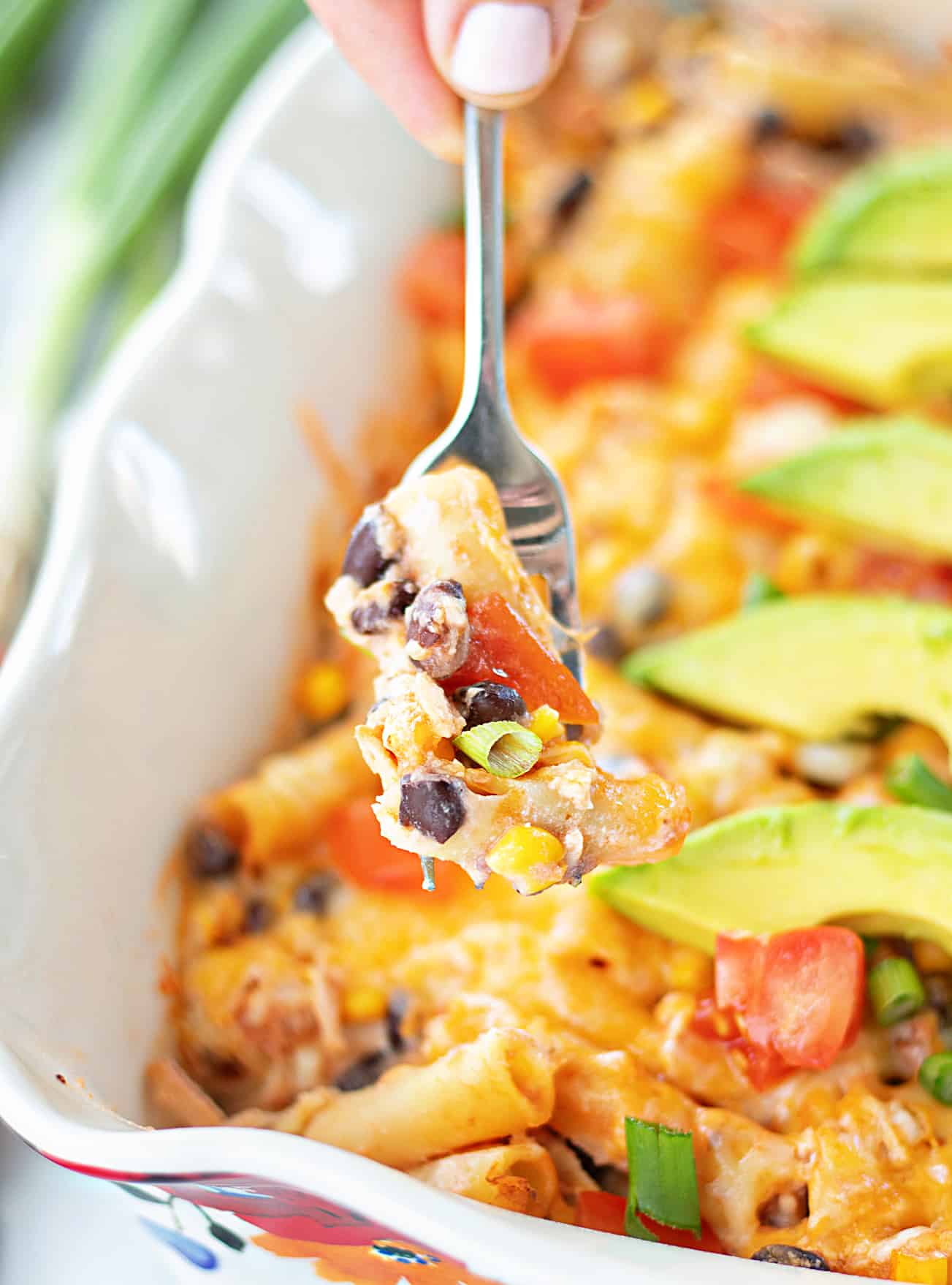 How to Make Fiesta Chicken Casserole
This is the easiest dish to make, seriously. Combine everything in a bowl (except half of the cheese). Stir it up really well until everything is well mixed. Dump it in a greased 9 x 13 baking dish, and then top it with rest of the cheese. Cover the whole dish with tin foil and pop it into your preheated oven. Cook for 20 minutes this way, and then take the tin foil off and cook for 5 more. Add any garnishes that you like and serve it up hot!
Crockpot Fiesta Chicken Casserole
Any time you can make something just as easily in a crockpot, you might as well do it. This recipe whips together just a nice in a slow cooker as it does in your oven. To make fiesta chicken in a crockpot, just adjust the times slightly. Cook this on low for 1 hour. If you go with raw chicken (and you certainly can) follow the same instructions but increase your time to 4 hours and add the noodles in the last 30 minutes (otherwise they will get soggy).
How to Cook Al Dente Noodles
Take a big pot and fill it with about 4 quarts of water. Add a generous amount of salt. As some chefs like to say, "salty like the sea". This will help to season your pasta.
Once the water reaches a boil, add in your noodles and then stir it. Don't walk away! Stirring at the beginning of the boiling process will help to keep the pasta from sticking to itself.
Once your pasta has cooked for a few minutes and is firm yet starting to soften, it is al dente. The best way to test this is to try it! Al dente pasta will feel firm, not crunchy when you bite it. You can also break a piece of pasta in half to see if it's the perfect al dente. The pasta will be mostly cooked with a small center of uncooked pasta running through the middle.
Drain your pasta. You can now add them to the casserole!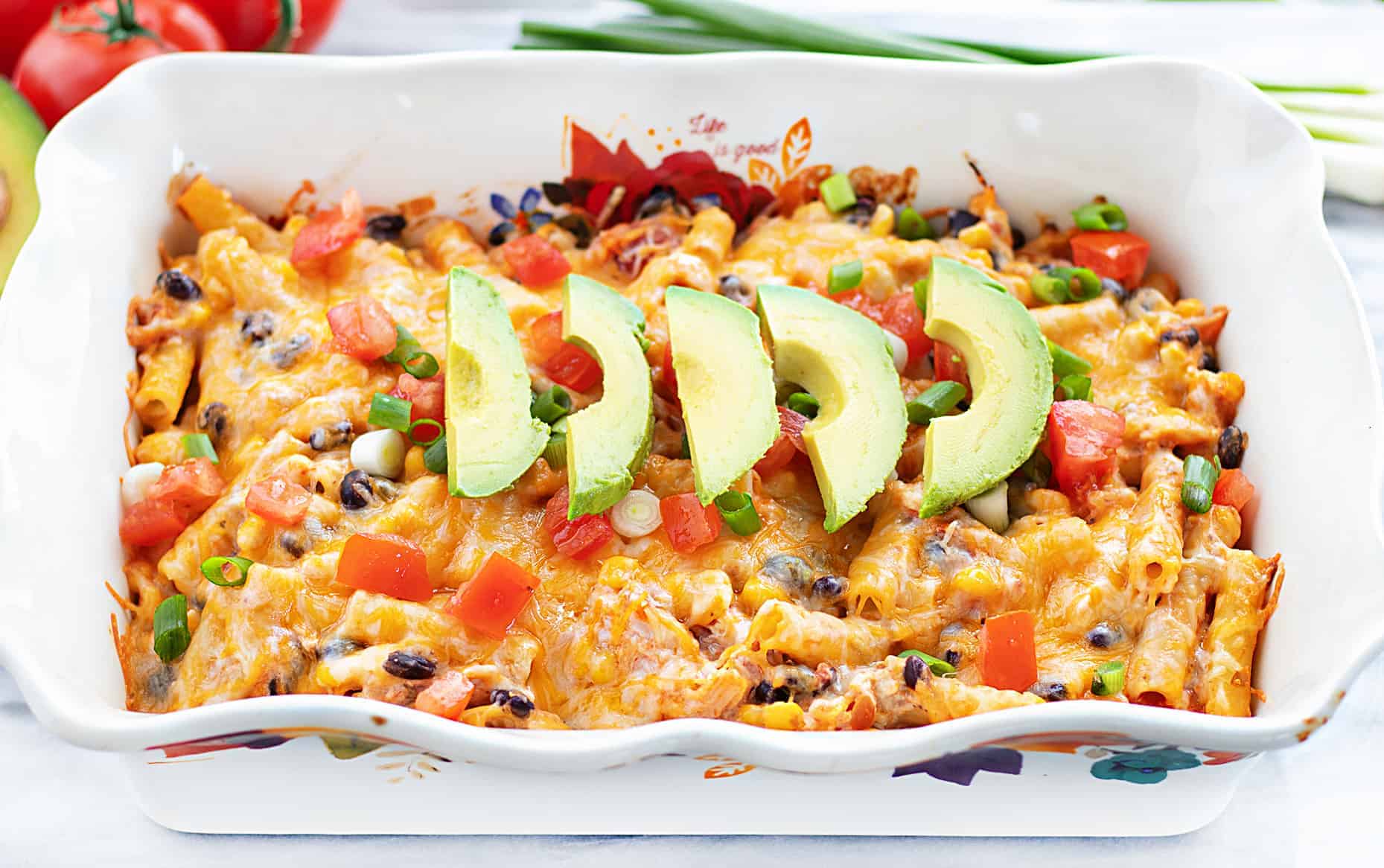 How to Freeze Chicken Casserole
My favorite way to freeze a casserole is to bake it in a disposable foil pan OR to line the casserole dish with foil before filling. If you bake it in the disposable pan you can freeze it as you normally would. If you are using the foil method, prepare your ingredients and place in the pan. (DO NOT BAKE!) Place the entire pan in your freezer to set (about 2 hours) and then remove. Wrap the casserole tightly and then place in a large freezer safe plastic storage bag or wrap well with plastic wrap. It stacks easily in the freezer in this form! Be sure to label it as well.
When ready to bake, remove from freezer and thaw overnight. If you need to bake it quickly, place the frozen casserole in a casserole dish covered about 15 minutes at 350°F. Remove the foil from the top (or carefully peel it back) and then bake for the full baking time. (For this recipe specifically, 20 minutes) If thawed, remove plastic wrap, uncover the top of the casserole and bake as directed.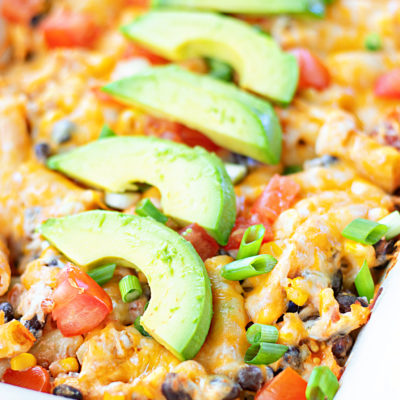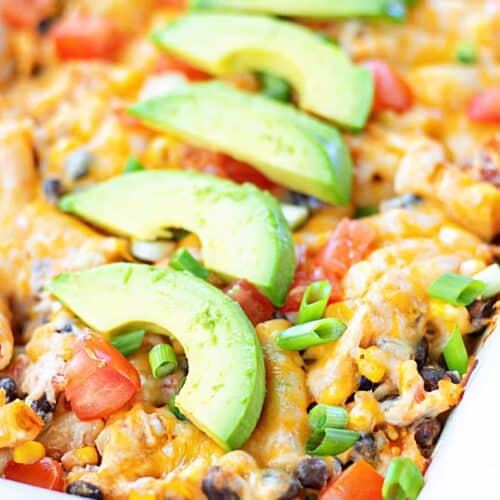 Fiesta Chicken Casserole
Fiesta Chicken Casserole is the solution to your weeknight meal planning woes. Delicious southwest seasoned chicken over a bed of noodles, corn, and black beans, and smothered in melty cheese, you really can't go wrong!
Ingredients
2 

cups 

ziti noodles,

cooked al dente

1 

cup 

sour cream

1 

cup 

salsa

1 

teaspoon 

cumin

1 

teaspoon 

garlic powder

1 

teaspoon 

onion powder

1 

can 

(15 ounces) corn,

drained

1 

can 

(15 ounces) black beans,

drained & rinsed

2 

cups 

chicken,

cooked and shredded

2 

cups 

Mexican blend cheese,

shredded

green onions,

diced (optional for garnish)

avocado,

sliced (optional for garnish)

tomato,

diced (optional for garnish)
Instructions
Heat oven to 350 °F.

Prepare a 9x13 baking dish and spray with cooking spray. Set aside.

In a large mixing bowl combine noodles, sour cream, salsa, cumin, garlic powder, onion powder, corn, black beans, chicken, and 1 cup of the shredded cheese. Stir together to combine.

Transfer into the greased baking dish and sprinkle the remaining cheese on top. Cover with tin foil and cook for 20 minutes.

Take the tin foil off and let cook an additional 5 minutes.

Garnish with green onions, tomato, and avocado slices if desired.
Video
Did you make this recipe?
Thank you for making my recipe! You took pictures, right? Well go ahead and post them on Instagram! Be sure to mention me @iambaker and use the hashtag #YouAreBaker.
Looking for More Casserole Recipes?