Creamy Chicken Tortellini Soup is a cheesy, creamy delicious soup with a little kick that will satisfy your hunger and tastebuds. For another creamy and comforting soup, try my Chicken Wild Rice Soup.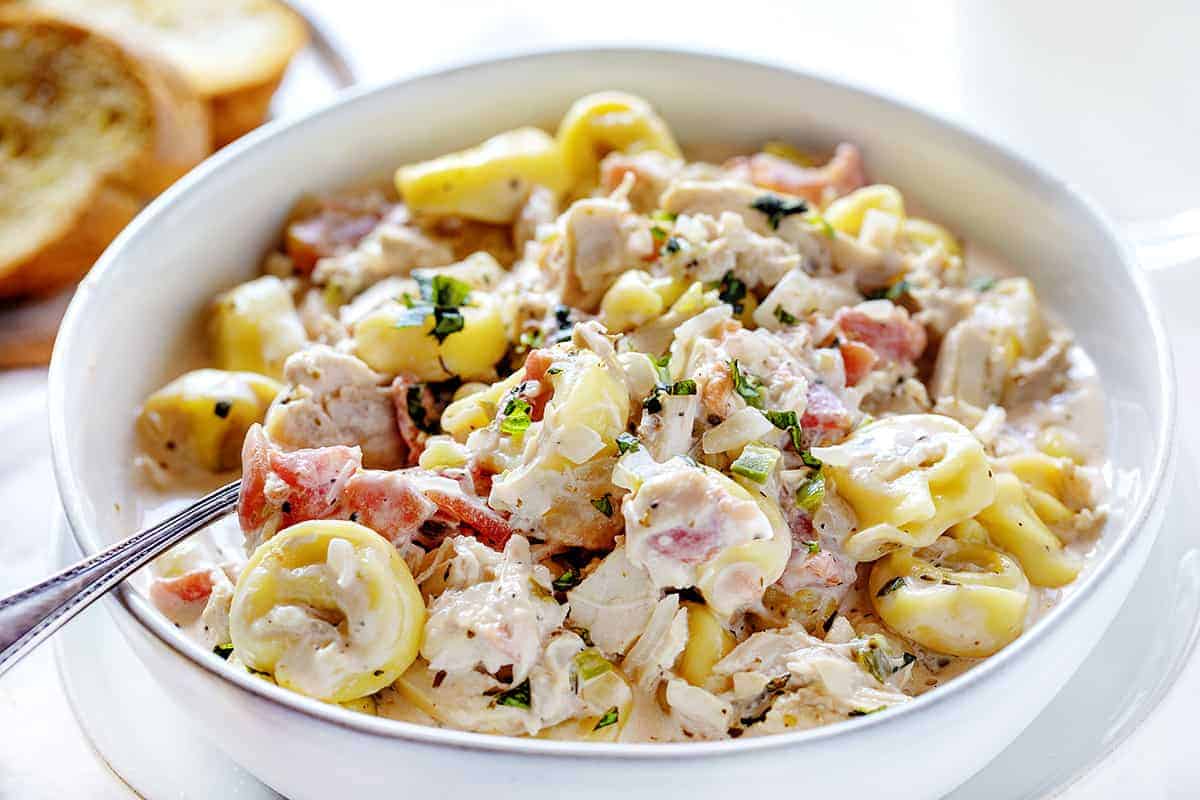 Creamy Chicken Tortellini Soup
I love tortellini, and I mean LOVE it! With all the tortellini varieties now, cheese tortellini would still have to be my favorite! I am completely satisfied with a big bowl of cheese tortellini topped with red sauce. But, I am an adult, so I feel that I should expand my horizons when it comes to pasta and sauce. Creamy Chicken Tortellini Soup has the cheese tortellini that I love, with a cheesy, creamy kick that is almost like a sauce, but I call it a soup.

Creamy Chicken Tortellini Soup Recipe
You really can't go wrong with cheese tortellini, and with soup season here, this is a great way to enjoy tortellini with a little twist.
This colorful Creamy Chicken Tortellini Soup is packed with flavor and spice! In addition, I have found so many ways to use Rotisserie Chicken in my latest recipes, like my French Onion Chicken Macaroni and Cheese, and this soup is no exception. The added protein makes this filling enough to be a meal!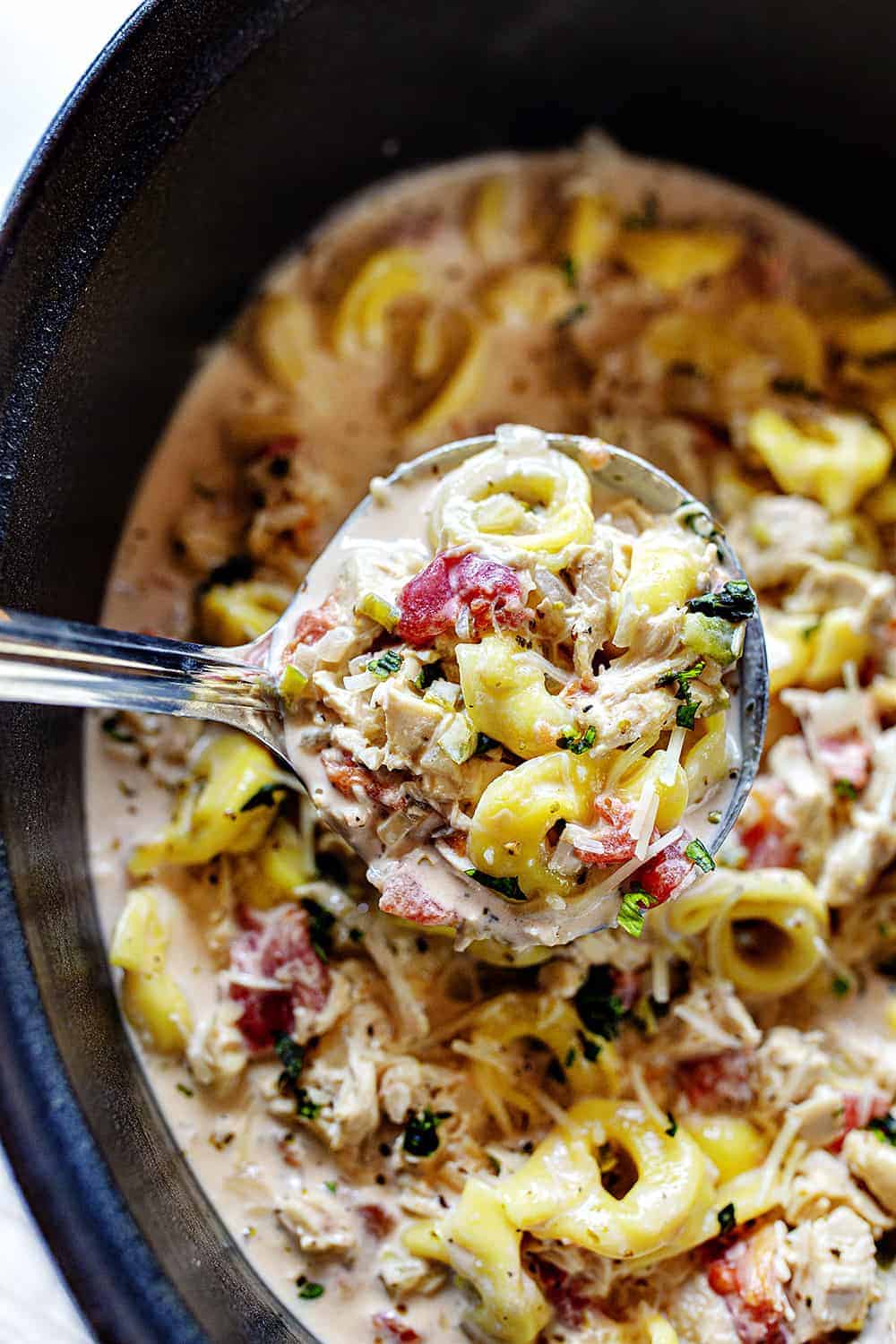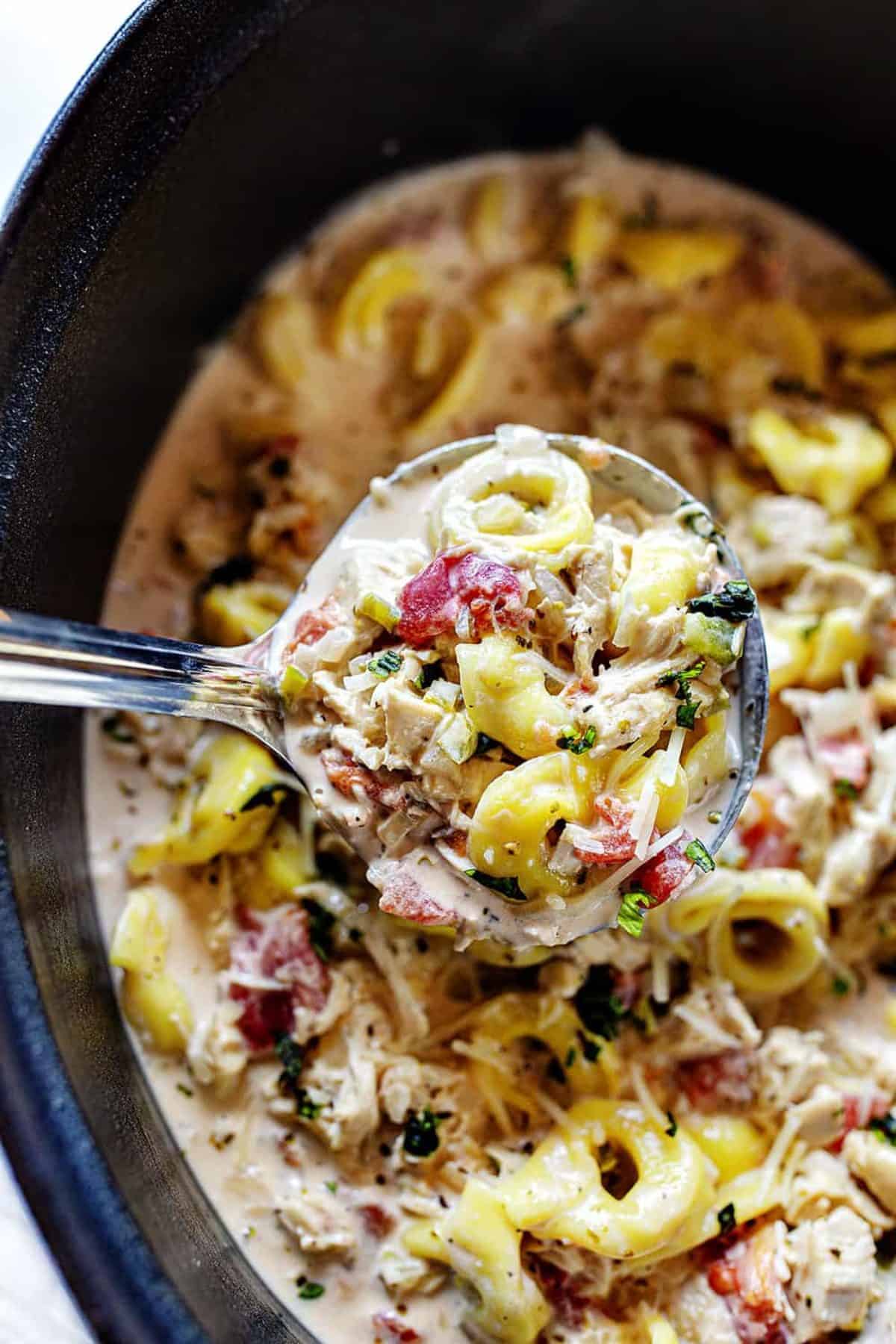 How to Make Creamy Chicken Tortellini Soup
It's time to get out your Dutch oven for this soup! I have mentioned using a Dutch oven in the past, and it's worth it to add one to your collection of cookware. It is ideal for soups and stews because it is heavy and thick enough to retain heat. It is also oven-proof, but you will not need to put this dish in the oven. If you do not have a Dutch oven, choose a heavy, deep pot to use.
The first step is to cook the tortellini, following package instructions. After the tortellini is cooked, drain it and put it off to the side. The next step is all about putting the ingredients together to make your Creamy Chicken Tortelli Soup. This recipe is nice because it is easy and done in one pot. To start, heat the oil and add the onion and jalapeno pepper. The pepper does not make the soup too spicy, but feel free to leave that out if you are hesitant about the heat. Next, add the garlic. Once the garlic has cooked for about a minute, add the tomatoes, seasonings, and cream. Finally, add the tortellini, rotisserie chicken, and cheeses. Once heated through, it's ready to be served. I recommend adding fresh basil on top. This adds a little bit of flavor and lots of color to the presentation.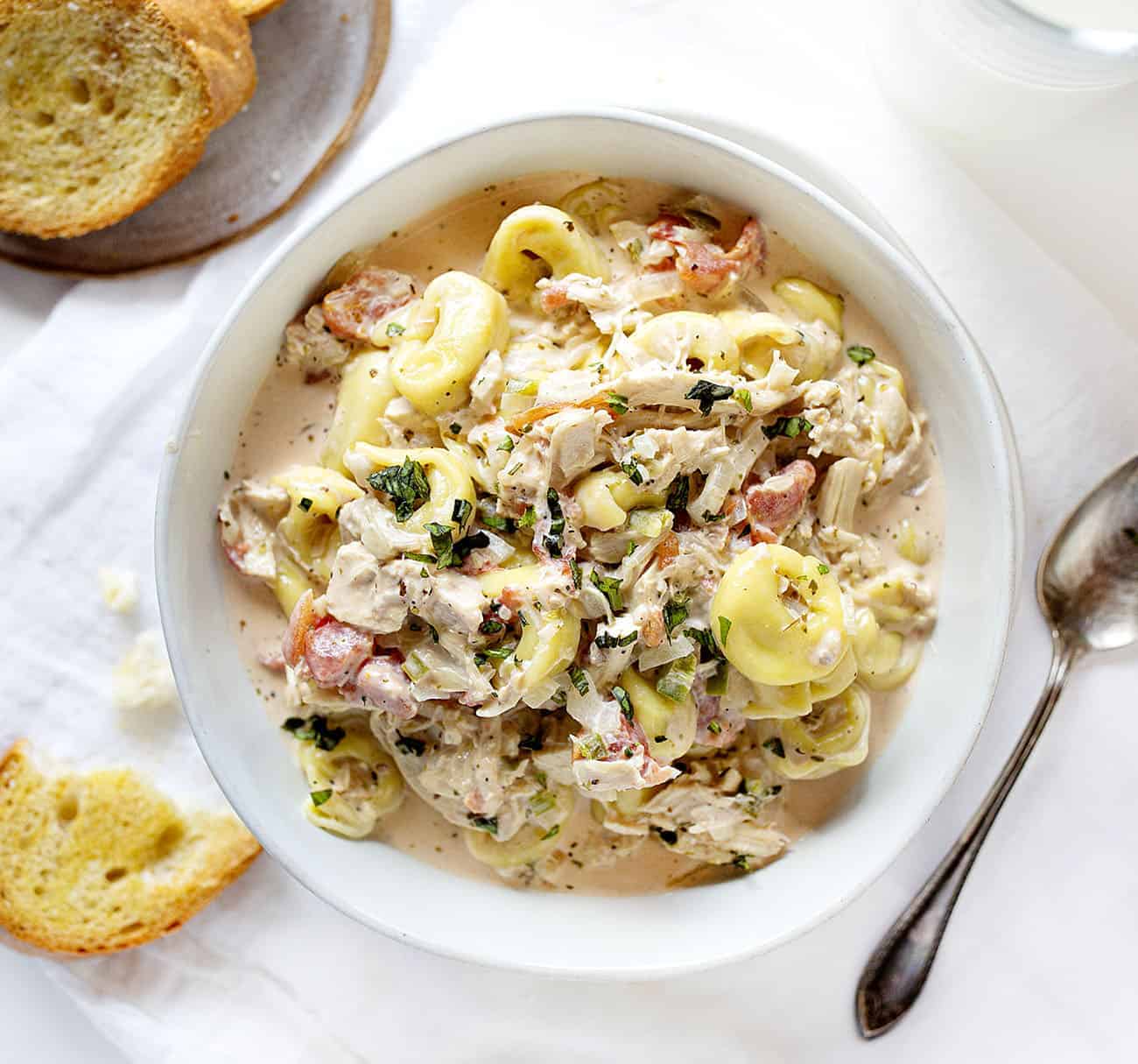 How to Serve Creamy Chicken Tortellini Soup
Soups have become more and more popular, and not just during the cooler months. Soup may not seem like a main course, but adding the chicken to this Creamy Chicken Tortellini Soup gives it the protein boost that will help fill up you and your guests. There are some ways you can spruce up your presentation when serving a soup as the main meal. Here are a few pointers when making and serving soups:
Double the recipe! Soups are great heated up, and you never want to run out. It's better to have too much soup than not enough! And, as I said, they are wonderful as leftovers.
Serve the soup with fresh bread. My Homemade Breadsticks are a no-yeast bread that is easy to make!
Bring out the soup in a fancy pot!
Be creative with your soup bowls. Serve it in a tureen, which you could find at a thrift store or flea market. Don't worry about matching bowls and saucers–the variety of shapes and colors brings some pizazz to your dinner table.
Have appetizers on the table to share. I love my Bacon Jalapeno Poppers Stuffed with Cream Cheese. Not only do they add some color to the table, but they are also delicious!!!
Have dessert ready! My Chocolate Chip Caramel Bars are a perfect option for an after-dinner treat.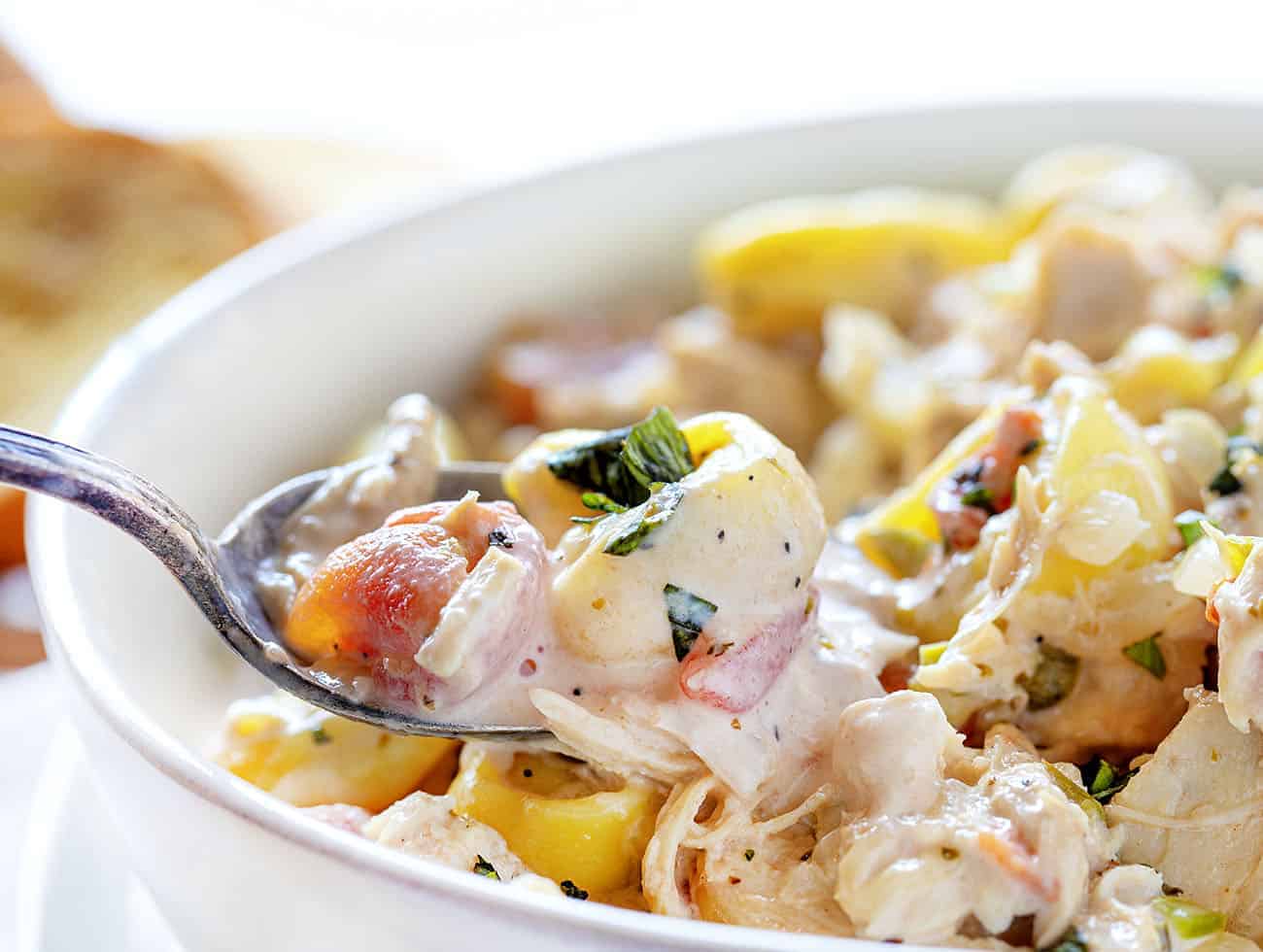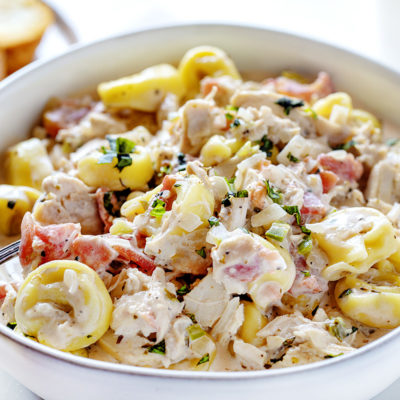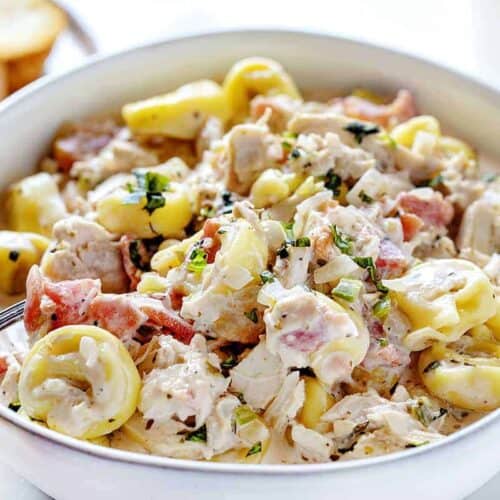 Creamy Chicken Tortellini Soup
Spice up your cheese tortellini with this savory Creamy Chicken Tortellini Soup.
Ingredients
1

package (19 ounces) frozen cheese tortellini,

cooked according to package directions and drained

2

cups

rotisserie chicken,

shredded

1

tablespoon

olive oil

1

large onion,

chopped

1

jalapeno pepper,

seeded and finely chopped

3

garlic cloves,

minced

1

can (14-1/2 ounce) diced tomatoes,

drained

2

teaspoons

Italian seasoning

1

teaspoon

salt

1/2

teaspoon

pepper

2

cups

heavy whipping cream

¼

cup

parmesan,

shredded

¼

cup

Romano cheese,

shredded

1/3

cup

fresh basil,

chopped
Instructions
In a Dutch oven over medium heat, add olive oil.

Once oil is hot and sizzling, add onion and jalapeno and cook until onion is tender (about 5 minutes).

Add garlic and cook for 1 additional minute.

Add tomatoes, Italian seasoning, salt and pepper. Cook and stir for about 2 minutes.

Stir in cream; bring to a boil.

Add cooked and drained tortellini, shredded rotisserie chicken and cheeses; heat through.

Top with basil to serve.
Did you make this recipe?
Thank you for making my recipe! You took pictures, right? Well go ahead and post them on Instagram! Be sure to mention me @iambaker and use the hashtag #YouAreBaker.