Pumpkin Soup is a Fall favorite around here with its light pumpkin flavor and creamy texture. Topped with cheese and bacon, it is the perfect comfort food for chilly Fall days. Serve it with Roasted Wedge Potatoes for a meal.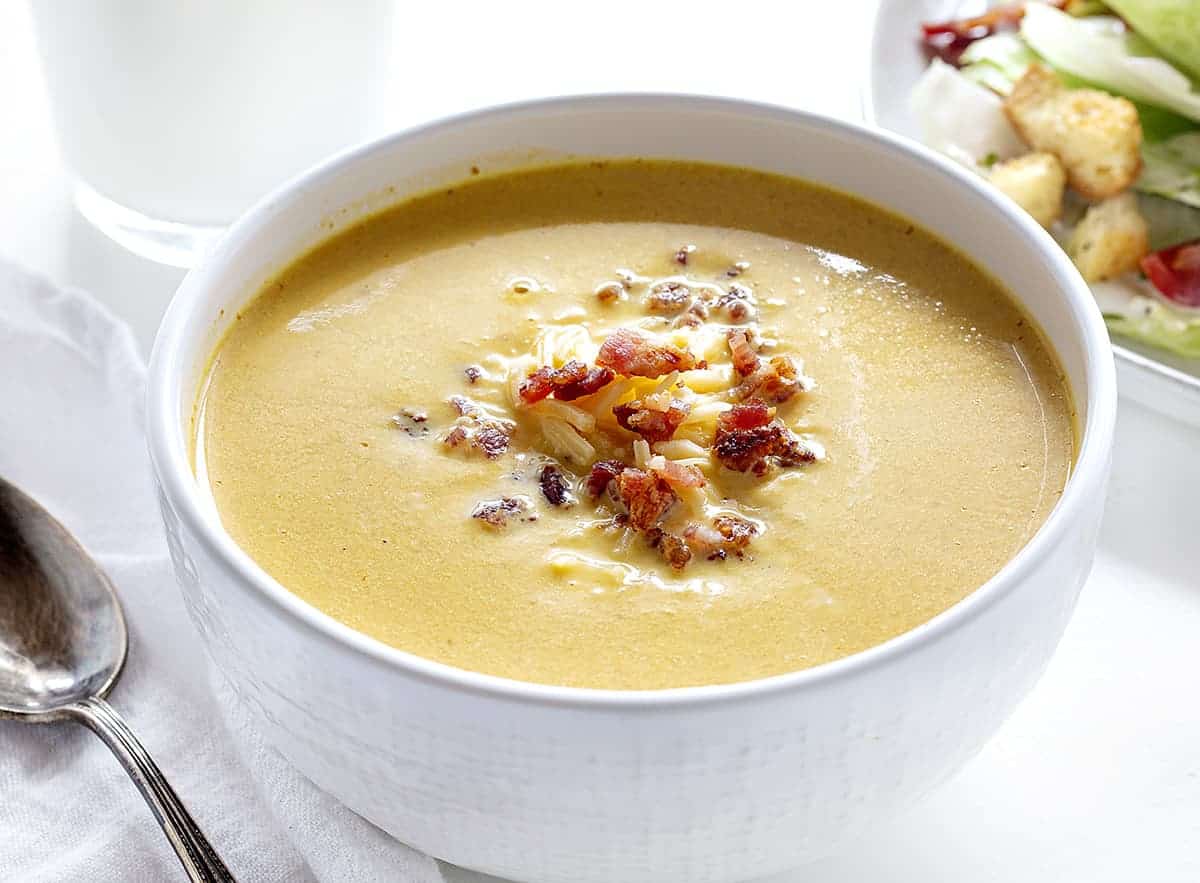 Pumpkin Soup
With pumpkin flavored drinks, pies, and treats, it only makes sense to have a Pumpkin Soup in the mix. In the Midwest, Fall means cooler temperatures, changing leaves, and pumpkin spice. The cooler temperatures also mean soup season around here. My whole family loves homemade soups, and this was no exception.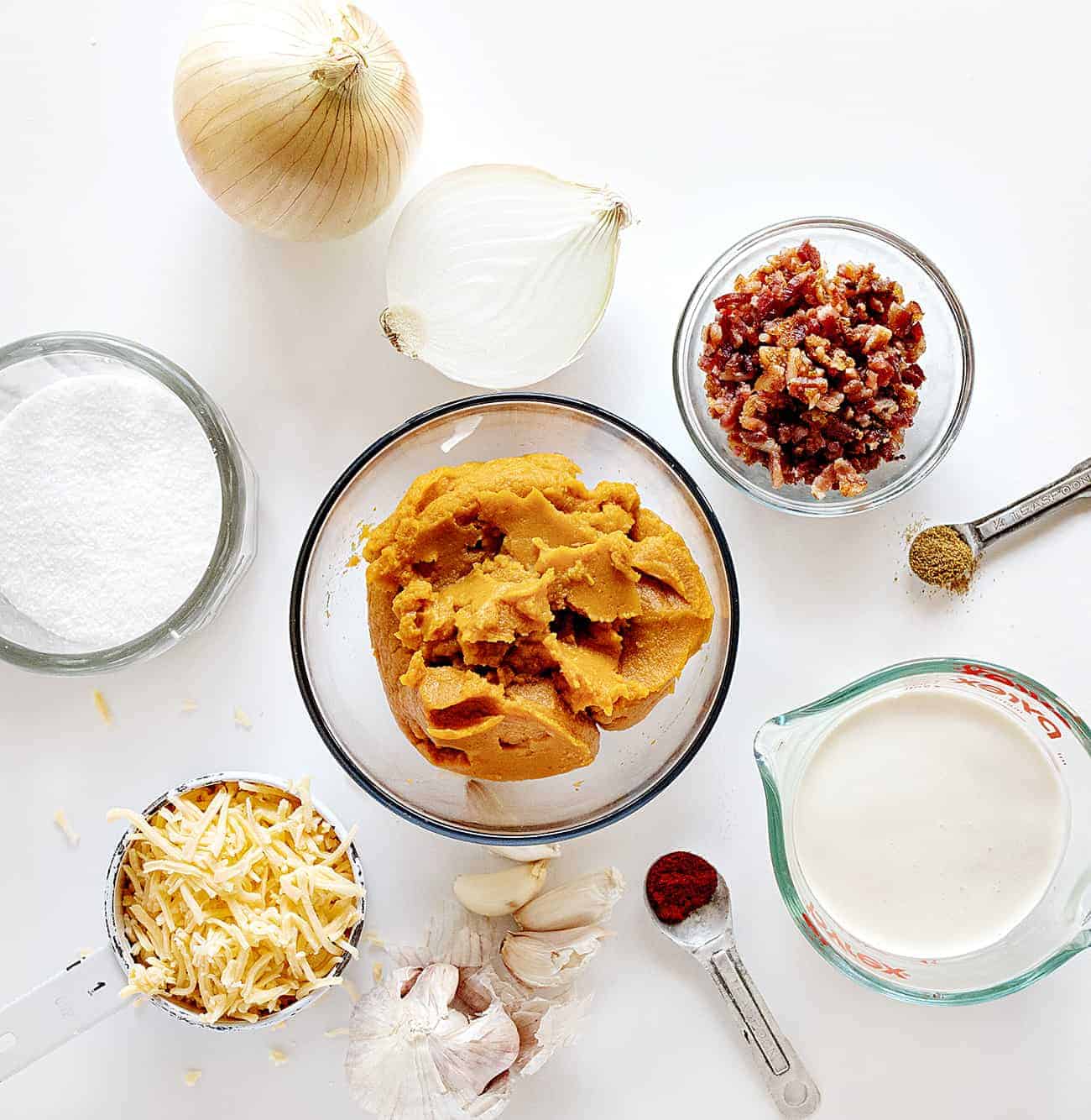 Pumpkin Soup Recipe
Making homemade soups is not as hard as you might think. And in this Pumpkin Soup Recipe, you don't even need to roast a pumpkin to get that pumpkin flavor! One item that I would recommend investing in is a Dutch oven. A Dutch oven is a versatile soup pot that can handle being put in the oven, cooked on the stovetop, or used on the grill. It is heavy and thick enough to retain heat which makes it ideal for stews and chilis. In this Pumpkin Soup recipe, the Dutch oven will be used throughout the process of making this soup, starting with cooking the bacon. If you do not have a Dutch oven yet, just use a heavy, deep pot.

How to Make Pumpkin Soup
I love soups, and not just in the fall and winter. For me, soups are a year-round staple. Pumpkin Soup may seem a bit seasonal, but I would add this recipe to your list of soups, for sure!
The first thing you need to do is to cook the bacon. In other recipes, you have the option to cook the bacon ahead of time. However, you will use a small amount of the bacon drippings to saute the onion and garlic, so it's best to cook the bacon when you are ready to make the soup. Put the bacon directly into your Dutch oven, and cook it until crispy over medium heat. Put the cooked bacon off to the side. You can eat the bacon strips on their own, or you could sprinkle some bacon pieces on your soup before eating.
After you have sauteed the onion and garlic, stir in the broth, pumpkin puree, paprika, salt, cumin, pumpkin spice, and pepper. Bring the mixture to a boil, simmer at a reduced heat, and let it sit, uncovered for about 10 minutes.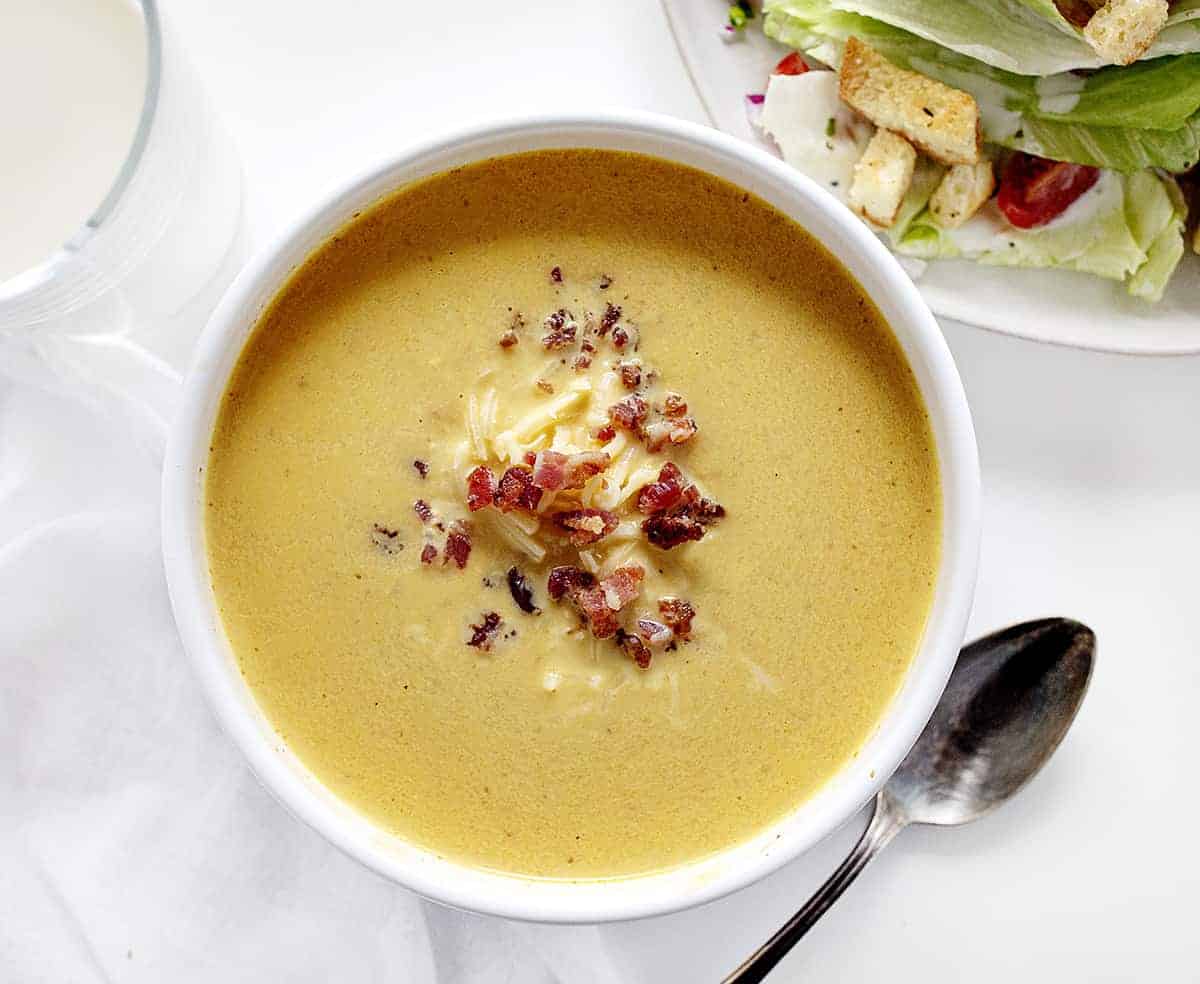 Using an Immersion Blender
Just like a Dutch oven is great for soups and stews, so is an immersion blender. An immersion blender comes in handy when you have to blend and puree foods, which makes it ideal for creamy soups! An immersion blender, also known as a stick blender, lets you blend things without transferring them to another container. Very convenient! You can also get attachments to go on the immersion blender, like a whisk attachment. You may end up using one of these more often than you think, like for dressings, salsas, and whipped cream!
What if I don't have an Immersion Blender?
You can definitely still make soups, like this Pumpkin Soup, without an immersion blender. Use a ladle to scoop small amounts of soup into a food processor or blender. Be sure they are small amounts so your soup doesn't splatter everywhere! Plus, having the lid on tight before you turn the blender on will help😉. Keep in mind that you don't have to puree the entire amount of your soup. I don't always like the texture of perfectly pureed soups, so if you are blending a little bit at a time, you don't need to blend the entire batch if you want a little more texture to the soup.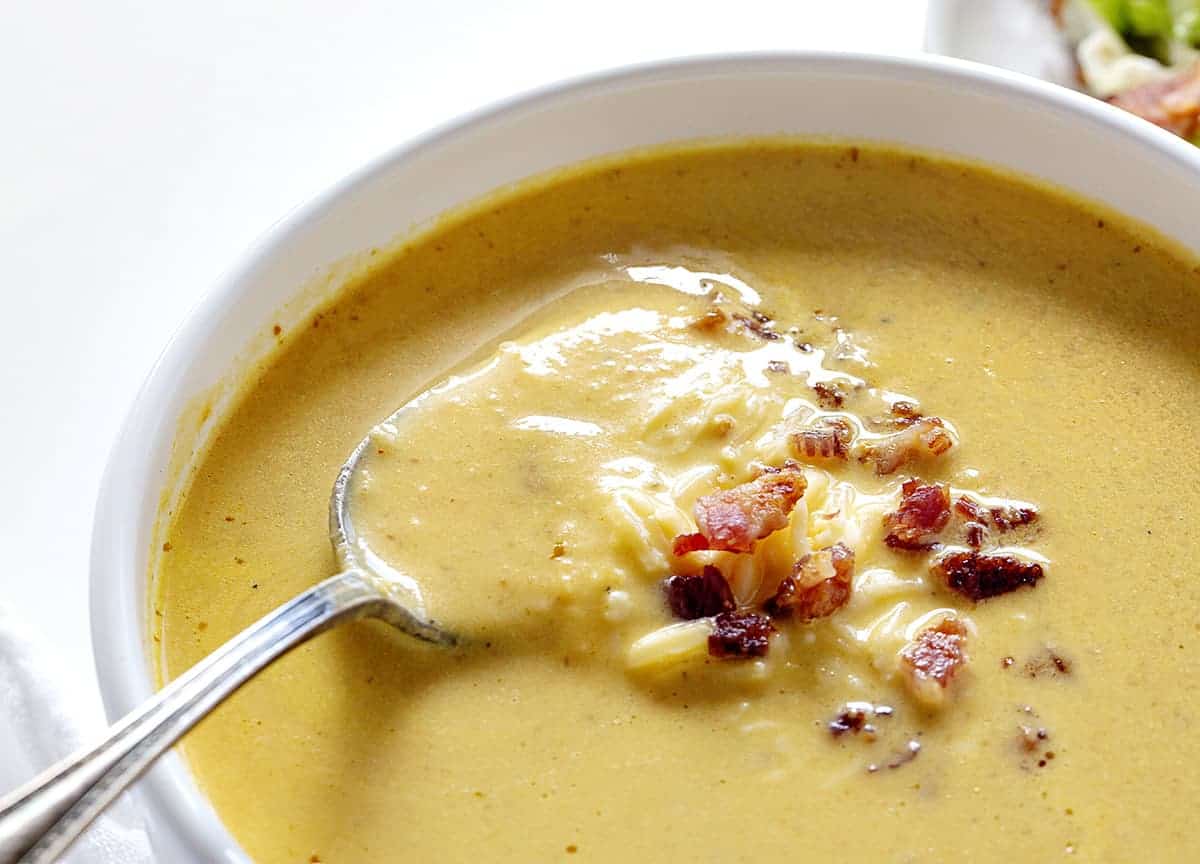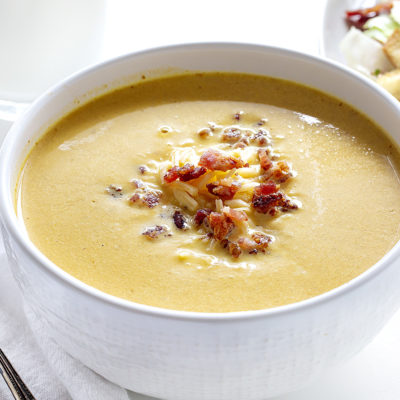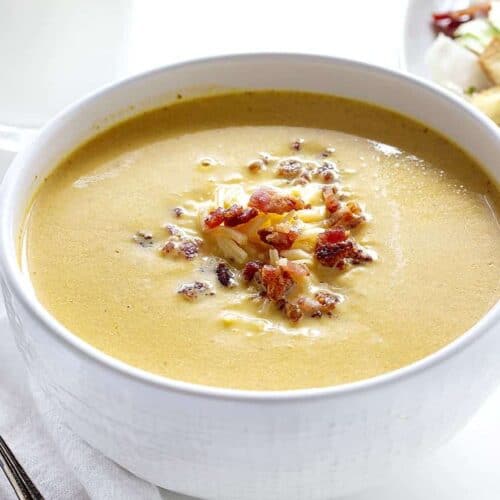 Pumpkin Soup
Pumpkin Soup is a Fall favorite around here with its light pumpkin flavor and creamy texture.
Ingredients
5

thick-cut bacon strips,

chopped

1

Vidalia onion,

diced

3

garlic cloves,

minced

6

cups

chicken broth

1

can (15 ounce) pumpkin puree

½

teaspoon

paprika

1

teaspoon

salt

1/2

teaspoon

cumin

1

tablespoon

pumpkin pie spice

1/4

teaspoon

pepper

1

cup

heavy whipping cream

1

cup

shredded Gouda cheese

1

cup

Mozzarella cheese

2

tablespoons

minced fresh parsley

Additional shredded Gouda cheese,

optional
Instructions
In a Dutch oven, cook bacon over medium heat until crisp.

Remove cooked bacon and set on paper towels to drain.

Reserve 1 tablespoon of bacon drippings in the pan. Add diced onion to reserved bacon drippings and sauté until tender. Add garlic; cook 1 minute longer.

Stir in the broth, pumpkin puree, paprika, salt, cumin, pumpkin spice, and pepper. Bring to a boil. Reduce heat; simmer, uncovered, for 10 minutes. Cool slightly.

Use an immersion blender and process until smooth. Stir in cream; heat through. Add cheese; stir until melted. Sprinkle each serving with parsley, bacon and, if desired, additional cheese.
Did you make this recipe?
Thank you for making my recipe! You took pictures, right? Well go ahead and post them on Instagram! Be sure to mention me @iambaker and use the hashtag #YouAreBaker.