This is definitely what I consider to be the most flavorful and silky-smooth Tomato Soup recipe I have ever made. Pair with Grilled Cheese Croutons to make it a knock-out! If you are a soup-loving soul like me, don't miss my French Onion Soup, Lasagna Soup, Potato Soup, or Cheeseburger Soup.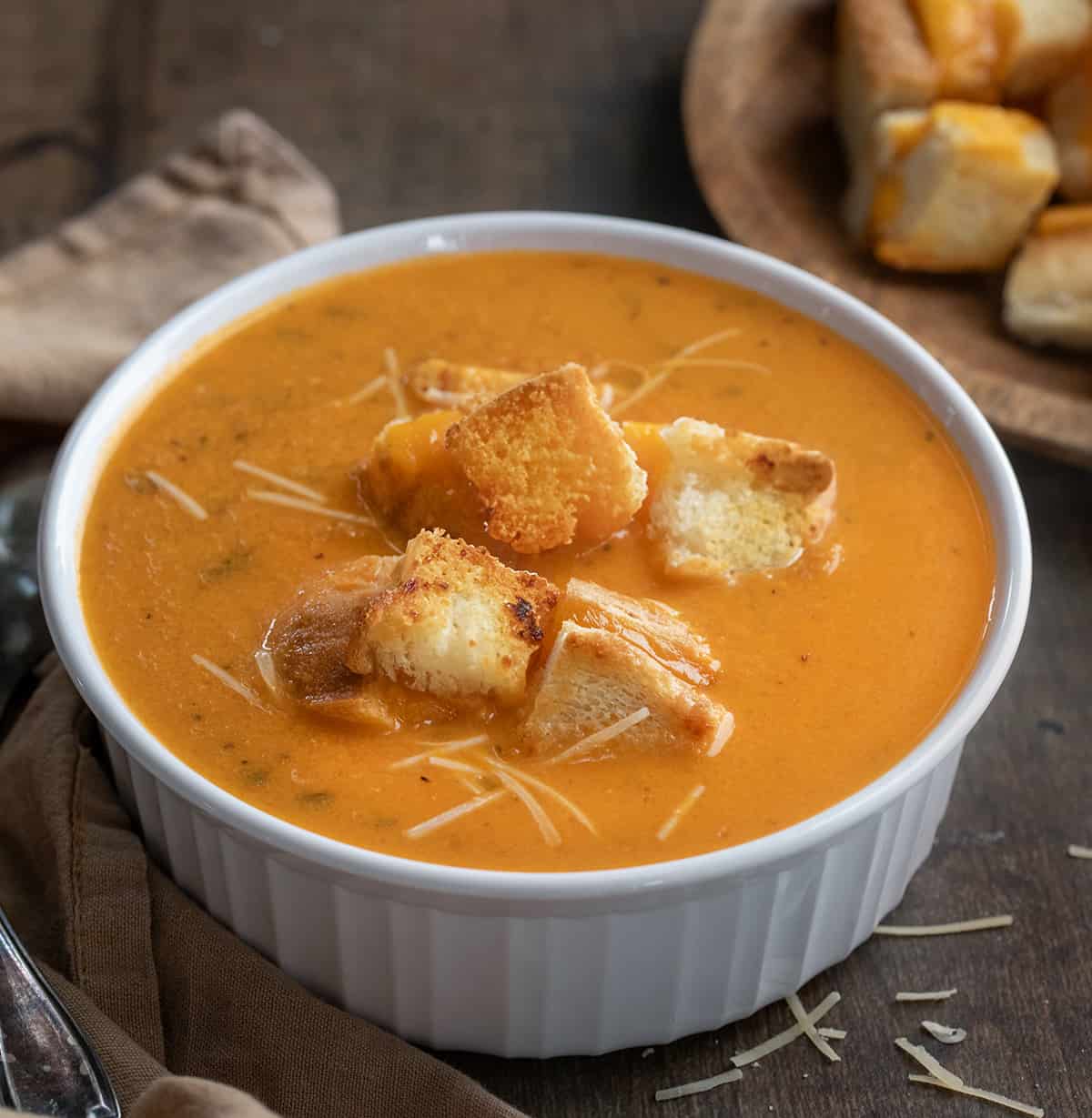 The BEST Tomato Soup
This is how I love to eat Tomato Soup… a full bowl of gorgeous, rich thick homemade soup with some grilled cheese croutons on top. Making this delicious soup staple is easier than you might think. You basically throw everything into a pot, mash it up a bit, and then blend it down using a blender or (my preference) and immersion blender. You can adjust the thickness and texture of the soup by blending more or less of the soup. I usually take about half of the mixture out.
This is how my kids like it.  With a small side of the soup to dip their grilled cheese sandwich in.  They like medium cheddar cheese… but every now and I then I will get crazy and give them sharp cheddar.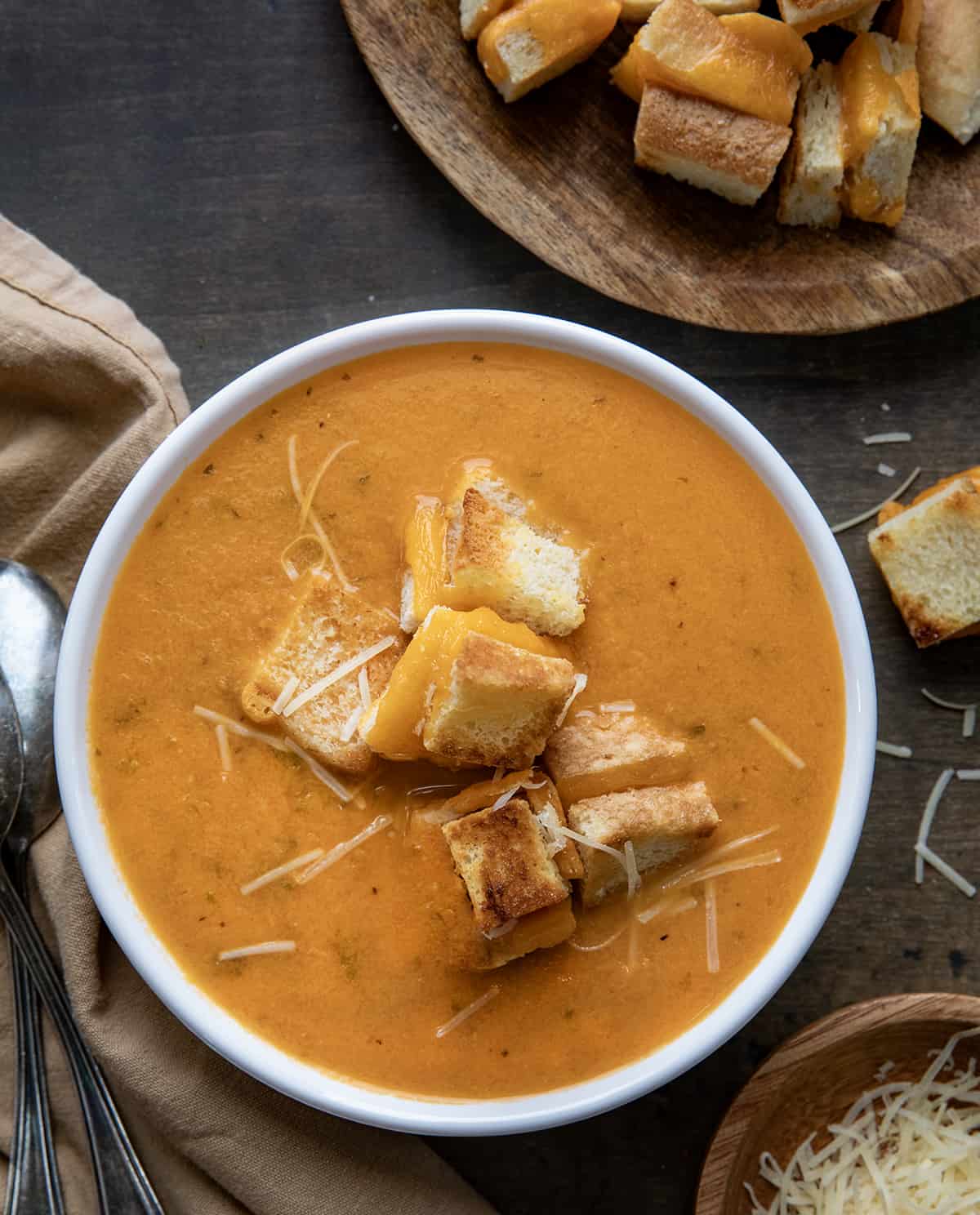 Cheese in Tomato Soup
So let's talk about the cheese in tomato soup. Mild and Sharp are my go-to cheese choices but I also like muenster cheese. Sometimes I will add a bit of Gruyere cheese. Ok, that was one time. When we got it for a gift. That stuff is like $20 a pound!
I posted this recipe on my blog once before, but have since simplified it because I thrive on simplicity.
This tomato soup recipe is especially delicious when the temperature reaches a balmy high of 2 degrees.  (with the *feels like* temp. around -15 degrees).  That happens to us regularly here in Minnesota.  There is literally an entire month where all I crave is soup.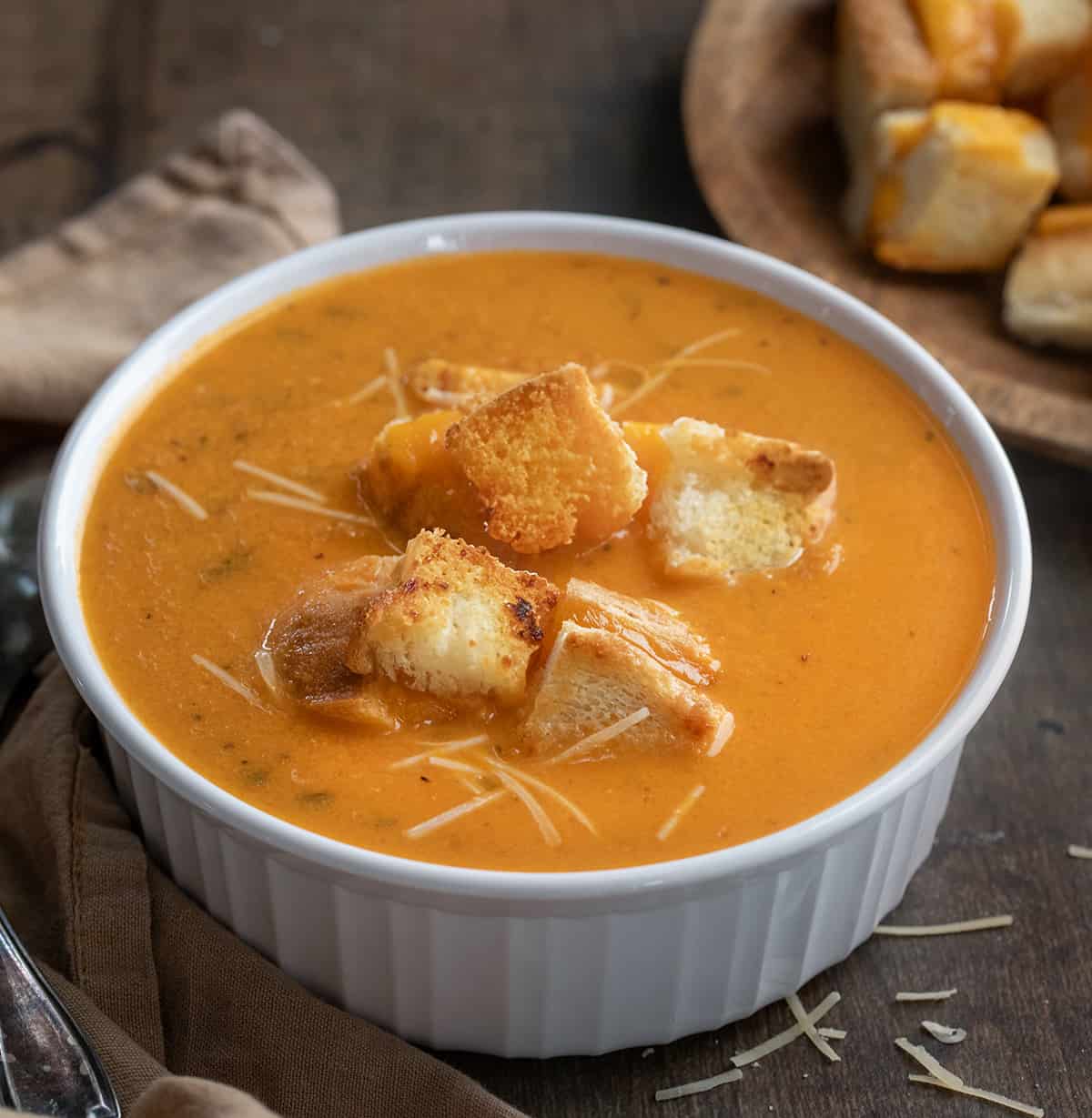 The Best Homemade Tomato Soup Recipe
Any leftovers I just put right back into the jar I got the tomatoes out of. I just love this soup because I can use all-natural ingredients and the tomatoes from that we canned from our garden. The kids love it and I feel good feeding it to them! We typically have over 75 tomato plants each year. So canning tomatoes is a pretty big event. We can a heap of stewed tomatoes and the rest we make, for ketchup or spaghetti sauce, and salsa.
How to Make Grilled Cheese Croutons
These are SO stinkin' easy!!! (and make a BIG impact)
I simply prepare grilled cheese sandwiches as I normally would, and then cut up the sandwich into bite-size pieces.
Place those pieces on a cookie sheet lined with foil or parchment paper and bake at 350 for about five minutes, or until the pieces are harder and crispier. (You can also skip baking the pieces of you want ooey-gooey bites.)
Comfort food at its finest!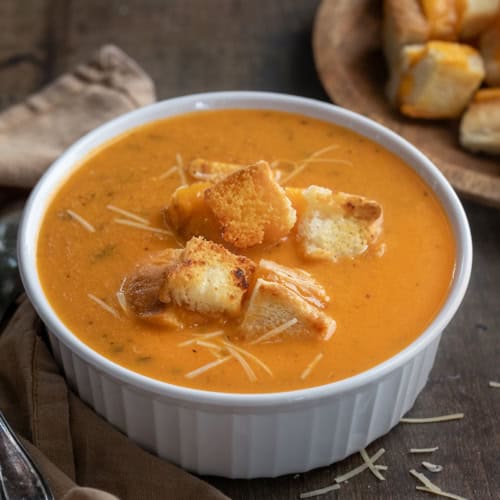 The BEST Tomato Soup
This is definitely what I consider to be the most flavorful and silky smooth Tomato Soup recipe I have ever made. Pair with Grilled Cheese Croutons to make it a knock-out!
Ingredients
4

tablespoons

olive oil

1

medium onion,

about 1 cup – chopped

2

cloves

garlic,

about 2 teaspoons – minced or crushed

2

cans of whole tomatoes packed in juice,

I used two quart jars of whole canned tomatoes from our garden

1

tablespoon

brown sugar

3

slices

large sandwich bread,

crusts removed and cut into 1-inch pieces

2

cups

chicken stock
Instructions
Heat 2 tablespoons oil in large pot over medium-high heat until it is shimmering

Add the chopped onion and garlic and cook, stirring frequently, until the onion is translucent, about 3 to 5 minutes.

Stir in the tomatoes and their juice. Using a potato masher, mash until no pieces bigger than two inches remain.

Stir in brown sugar and bread; bring soup to a boil, stirring occasionally, until the bread is completely saturated and starts to break down about 5 minutes. Reduce heat to medium.

Transfer half of soup to a blender. (Or use your immersion blender and leave everything in the pot.)

Add one tablespoon oil and process until soup is smooth and creamy, 2 to 3 minutes. Transfer to large bowl and repeat with remaining soup and oil.

Return the soup to the pot and add two cups of chicken broth. (or add enough to reach desired consistency)

Season to taste with salt and pepper.
Video
Did you make this recipe?
Thank you for making my recipe! You took pictures, right? Well go ahead and post them on Instagram! Be sure to mention me @iambaker and use the hashtag #YouAreBaker.