This is definitely what I consider to be the most flavorful and silky smooth Tomato Soup recipe I have ever made. Pair with Grilled Cheese Croutons to make it a knock-out!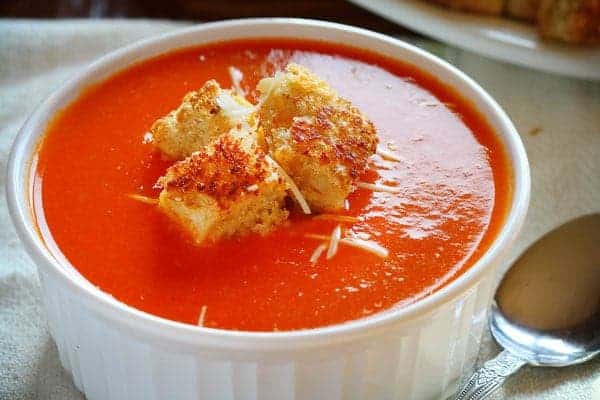 This is how I love to eat Tomato Soup… a full bowl of gorgeous, rich thick homemade soup with some grilled cheese croutons on top.

MY LATEST VIDEOS
This is how my kids like it.  With a small side of the soup to dip their grilled cheese sandwich in.  They like medium cheddar cheese… but every now and I then I will get crazy and give them sharp cheddar.
I also like muenster cheese.  Sometimes I will add a bit of Gruyere cheese.
Ok, that was one time.  When we got it for a gift.  That stuff is like $20 a pound!
I posted this recipe on my blog once before,  but have since simplified it because I thrive on simplicity.
(actually, I just stumbled upon this recipe again over at Cook's Illustrated!  They had a wonderful suggestion of adding 2 tablespoons of brandy when you add the broth… yum!  Just dont give the kids any!!!)
Any leftovers I just put right back into the jar I got the tomatoes out of.
I just love this soup because I can use all natural ingredients and the tomatoes from that we canned from our garden.  The kids love it and I feel good feeding it to them!
Its especially delicious when the temperature reaches a balmy high of 2 degrees.  (with the *feels like* temp. around -15 degrees)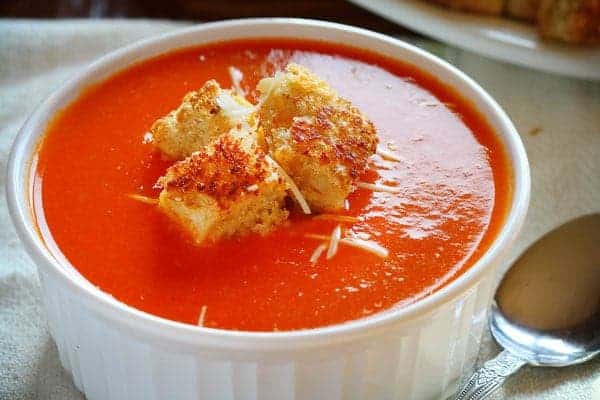 How to Make Grilled Cheese Croutons:
These are SO stinkin easy!!! (and make a BIG impact)
I simply prepare grilled cheese as I normally would then cut up the sandwich into bite-size pieces. I place those pieces on a cookie sheet lined with foil or parchment paper and bake at 350 for about five minutes, or until pieces are harder and crispier. (You can also skip baking the pieces of you want ooey-gooey bites.)
Comfort food at its finest!