Rich and Creamy Chicken and Wild Rice Casserole is a soul charging meal that is filled with fresh veggies, wild rice, and perfectly seasoned chicken.  You will want to savor each and every dreamy bite!  If you are looking to shake up your ordinary chicken routine, this is the one!  More mouth-watering options are my Hamburger Casserole or Tuna Casserole. (And if you love wild rice, check out my Chicken Wild Rice Soup!)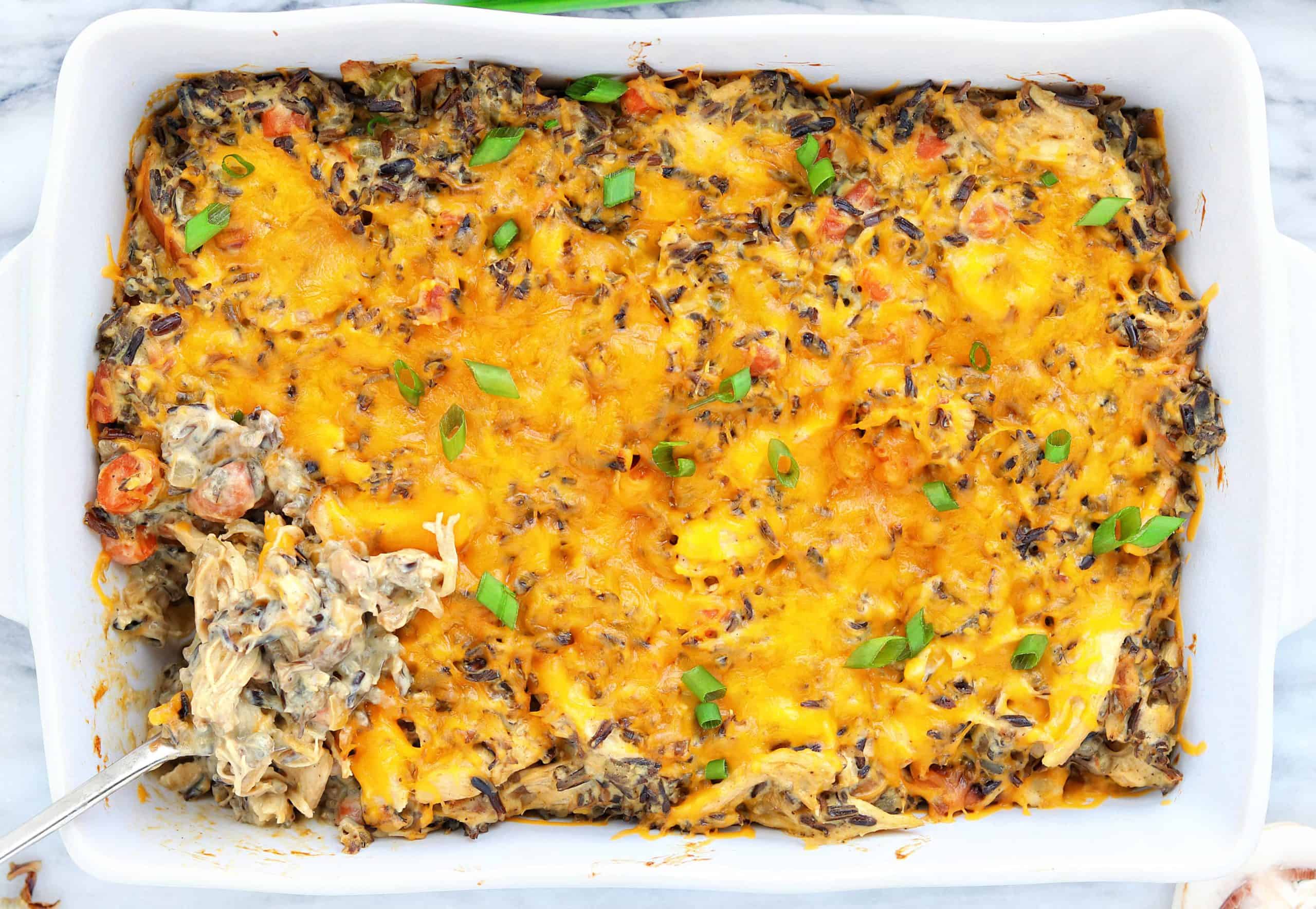 Chicken and Wild Rice Casserole
It doesn't really get more Minnesota than Wild Rice and Casserole.  Did you know that Wild Rice is cultivated right here in my home state?  I just found this out myself.  So, of course, I needed to make a recipe about it!  So, in spite of its name, wild rice is not actually rice at all, it is more like rice's close cousin.  It is found in the seed of an aquatic plant that grows in the great lakes region.  The rice is harvested from the plant and used in a number of dishes.  So, since we are in Minnesota, why not double up on cliches and make a casserole?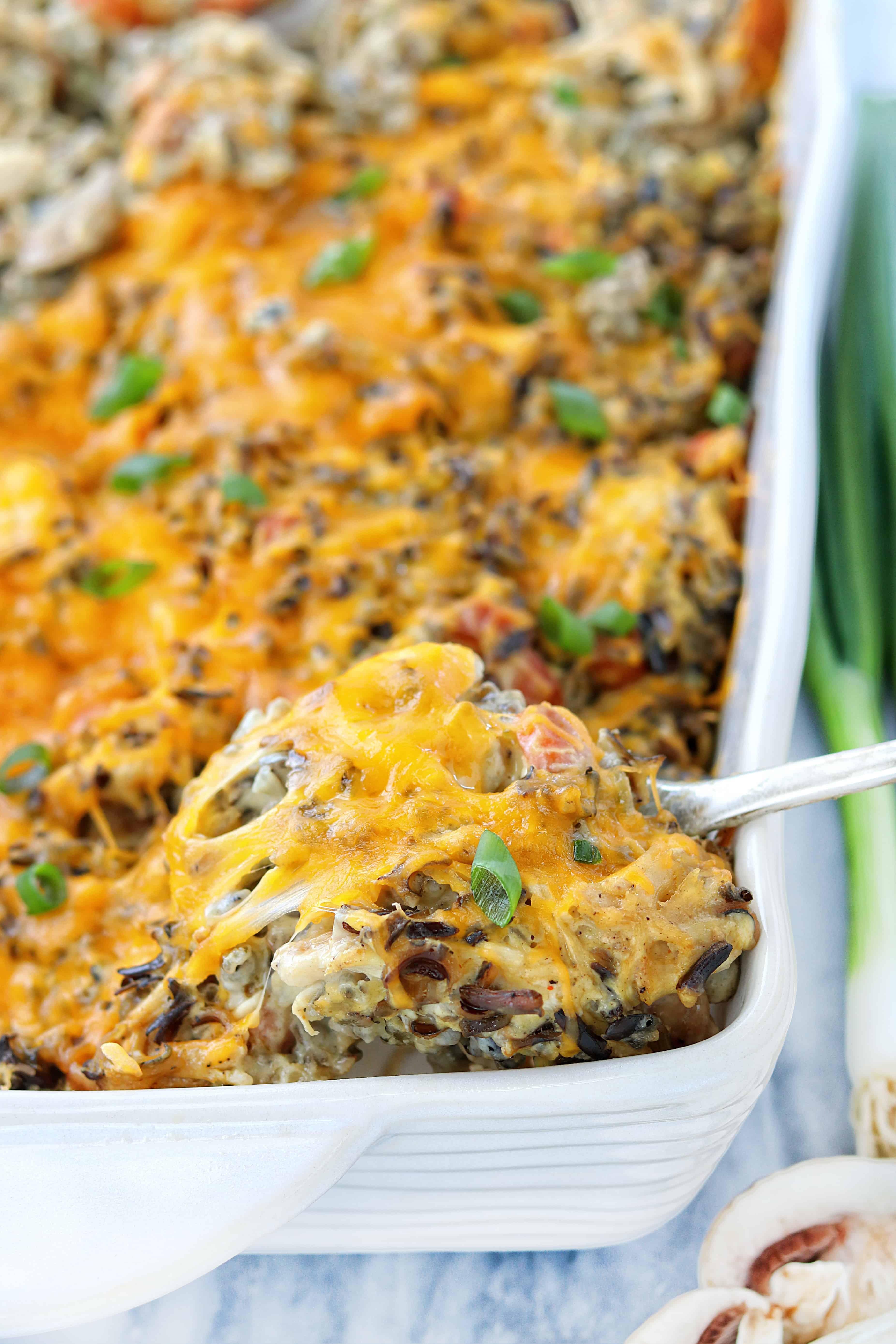 Chicken and Wild Rice Casserole Recipe
You just can't go wrong with the combination of melty cheese, cooked wild rice, seasoned chicken, and perfectly sauteed veggies.  This recipe does take some time from start to finish, but it is worth the wait!  When preparing this recipe, the one thing I will tell you is to make sure that you purchase real wild rice.  It should say "hand-harvested" or "locally grown" on the label.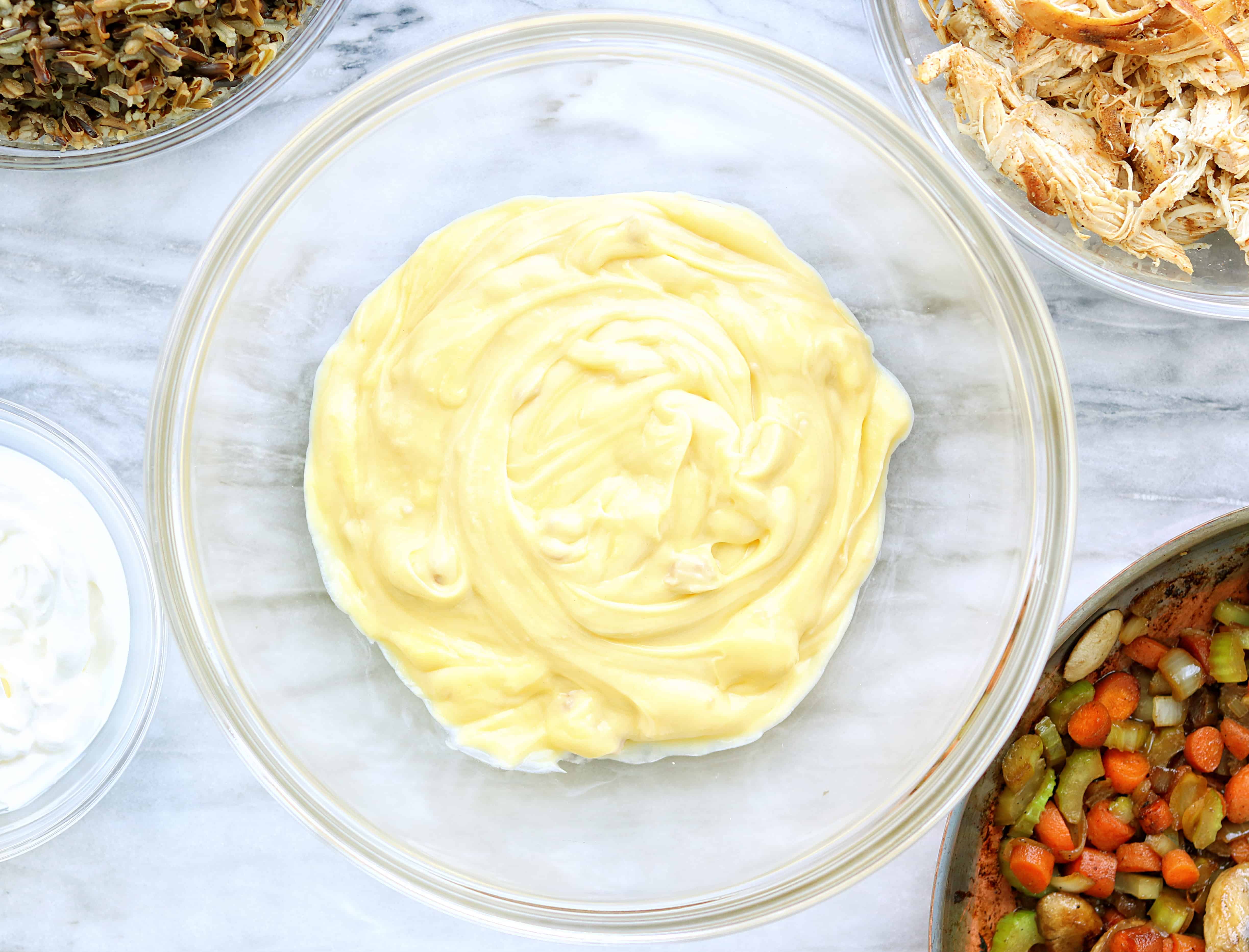 How to Make Chicken and Wild Rice Casserole
How to Cook Wild Rice
Wild rice is a fickle little grain, but if you cook it properly, the results are a wonderful deep earthy flavor that is perfect all by itself or in a salad or as a side dish.  There are many ways to cook wild rice.  In the oven or on the stovetop are my go-to solutions.  I'll go over both and let you be the judge about which will work best for you.  I typically use the stove, it does take a little longer, but its easier to keep an eye on.  You can cook the rice in chicken stock or water, this recipe calls for chicken stock.  It is important to note that you should check your rice throughout the cooking process.  Cooking times will vary based on how the grain was dried, how it was stored, and whether it was locally harvested or produced under regulated circumstances.  Wild rice, when cooked properly, will have "popped", meaning that the grains split open. Much like popcorn, the grains pop at different rates, so wait until the majority are done.
Stovetop:  Add 4 cups cooking broth (or water) and bring it to a boil, reduce to simmer and add 1 cup wild rice.  Cook on low, covered for 60 minutes or until rice is fluffy.
Oven: Add 2.5 cup of cooking broth (or water) and 1 cup of wild rice to a baking dish.  Place in an oven preheated to 350° for 30 minutes.  You may need to add water so keep an eye on it.
How to Prepare the Chicken
For this recipe, we are using a simple seasoning mixture of garlic powder, onion powder, salt, pepper, and cayenne pepper.  Mix that together and then rub this over both sides of the chicken.  This will have a marinating effect if you do this ahead of time.  Drop your oil into a skillet, when it starts to sizzle add the seasoned chicken.  Cook 5-6 minutes on both sides or until the chicken is no longer pink the middle, or when it reaches an internal temperature of 165°F.  Remove the chicken from the pan and set on a cutting board.  Using two forks, shred the chicken and set it to the side.
How to Prepare Casserole
In the same pan used for the chicken, heat up some butter and then add in your chopped fresh veggies ( carrots, mushrooms, celery, and onion).  Saute these in the butter, stirring occasionally, until they become fragrant, about 8 -10 minutes.  Add in your sour cream, cream of mushroom, rice, and shredded chicken and stir to combine.  Note: if you are not using a, extra large skillet, you will need to do this in a large bowl.  Transfer everything into a greased baking dish and bake, uncovered, for about 25-minutes.  Remove from the oven, and then top with the shredded cheese.  Cook an additional 5 minutes, or until the cheese is hot and bubbly.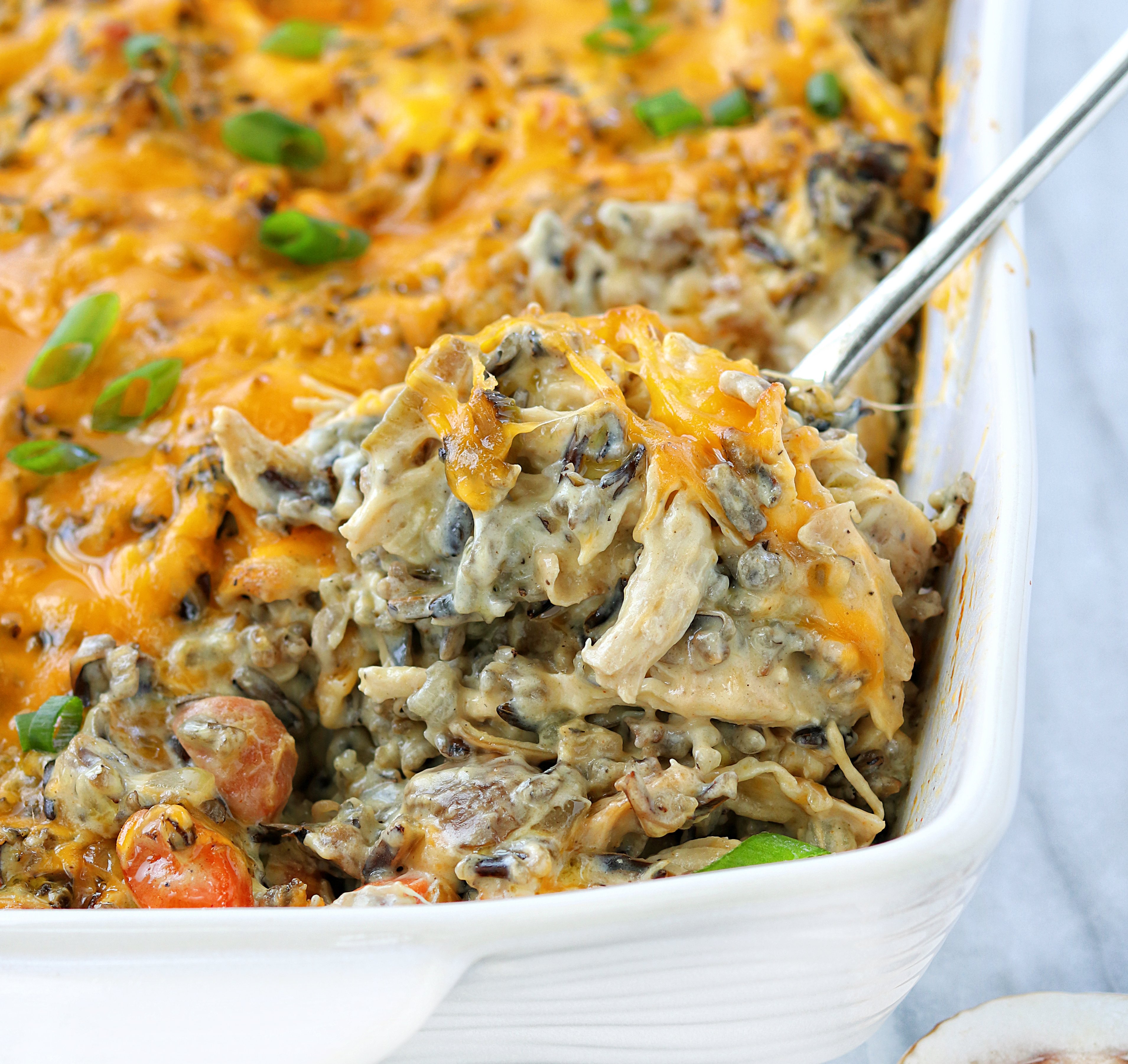 Looking for More Chicken Recipes?
Chicken Alfredo With Brussel Sprouts
Jalapeno Popper Stuffed Chicken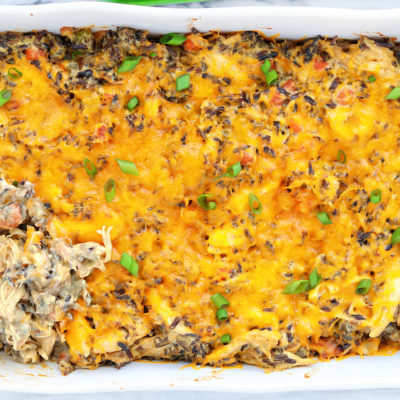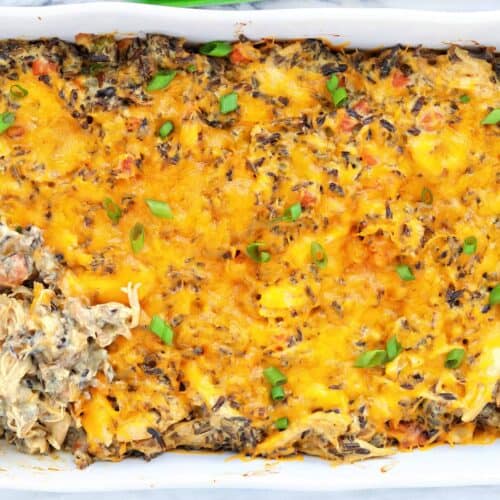 Chicken Wild Rice Casserole
Rich and Creamy Chicken and Wild Rice Casserole is a soul charging meal that is filled with fresh veggies, wild rice, and perfectly seasoned chicken.  You will want to savor each and every dreamy bite!  If you are looking to shake up your ordinary chicken routine, this is the one! 
Ingredients
Rice
1

cup

wild rice,

uncooked

4

cups

chicken broth
Chicken
1

tablespoon

olive oil

3 - 4

boneless skinless chicken breasts

1

teaspoon

garlic powder

1

teaspoon

onion powder

1

teaspoon

salt

1/2

teaspoon

pepper

1/2

teaspoon

cayenne pepper
Casserole
2

tablespoons

butter

1

cup

celery,

chopped

1

cup

onion,

chopped

1

cup

carrots,

chopped

1

cup

mushrooms,

sliced

2

cans

(10.5 ounce each) cream of chicken soup

8

ounces

sour cream

1

cup

colby cheese,

shredded
Instructions
Rice
In a saucepan over medium-high heat, add chicken broth and bring to a boil.

Add rice to the broth, reduce heat to low and simmer for 60 minutes. Remove from heat, fluff, and set aside.
Chicken
In a small bowl, combine garlic powder, onion powder, salt, pepper, and cayenne pepper. Sprinkle over both sides of chicken.

Heat 1 tablespoon of olive oil in the pan, when it starts to sizzle, add the seasoned chicken.

Cook until no longer pink (165°F), remove from pan and using two forks, shred the chicken. Set aside.
Casserole
In the same pan used to cook the chicken, heat 2 tablespoons of butter over medium heat.

Add chopped celery, carrots, onion, and sliced mushroom. Saute over medium heat until fragrant (about 8-10 minutes).

In a large bowl, combine cooked veggies, cream of chicken soup, sour cream, shredded chicken, and cooked rice. Transfer to greased 9x13 baking dish.

Bake uncovered for 25 minutes. Remove from oven, sprinkle cheese over the top and cook for an additional 5 minutes or until cheese is melted.
Did you make this recipe?
Thank you for making my recipe! You took pictures, right? Well go ahead and post them on Instagram! Be sure to mention me @iambaker and use the hashtag #YouAreBaker.