What happens when you marry the best chocolate chip cookie ever with the best chocolate brownie ever. Magical Crowniewich babies. (Cookies + Brownies + Sandwich = Crowniewich or Crownie for short)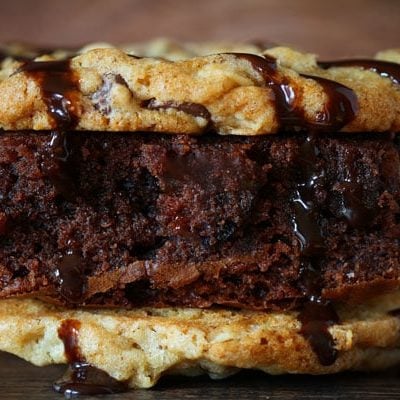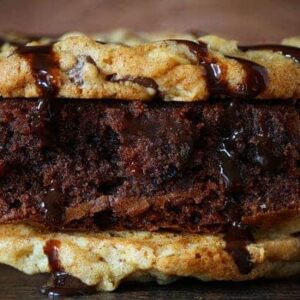 Chocolate Chip Cookie & Brownie Sandwich {The Original Crowniewich)
What happens when you marry the best chocolate chip cookie ever with the best chocolate brownie ever. Magical Crowniewich babies. (Cookies + Brownies + Sandwich = Crowniewich or Crownie for short)
Keyword:
Chocolate Chip Cookie & Brownie Sandwich
Ingredients
Cookies
1

c

butter

1 1/4

c

dark brown sugar

1/2

c

granulated sugar

2

eggs

room temperature

1

tsp.

pure vanilla extract

2

c

flour

1

c

uncooked rolled oats

1/2

tsp.

baking soda

1/2

tsp.

salt

1/4

tsp.

ground cinnamon

1

c

white chocolate chips

1

c

chocolate chips
Brownies
1

c

white sugar

1/3

c

unsweetened cocoa powder

1/2

c

all-purpose flour

1/4

tsp.

salt

1/4

tsp.

baking powder

1/2

c

butter melted

then cooled

2

eggs
Instructions
Cookies
In a medium saucepan, melt the butter until melted, over medium-low heat. Remove from the heat.

Add the dark brown sugar and granulated sugar and stir until sugars are incorporated and smooth. Chill the mixture for 10 minutes. (Do not skip this step. You can also transfer the mixture to a different bowl so that it is no longer being heated from the pan.)

Remove the cookie dough from the refrigerator and stir in the eggs and vanilla.

Add the flour, oats, baking soda, 1/2 teaspoon salt, and cinnamon and mix together with a spoon.

Gently fold in the white chocolate chips and chocolate chips.

Chill dough until it is firm enough to be hand rolled, about 30 minutes in the fridge.

Roll by hand into 24 medium-size balls or use a scoop, and place on a parchment lined cookie sheet.

Refrigerate for 30 minutes or freeze for 10 minutes.

While the dough is chilling, heat the oven to 325 degrees F.

Bake for 12 to 14 minutes, or until the edges just start to turn golden. (Do not overbake)
Brownies
Melt butter and set aside to cool slightly.

Sift together all dry ingredients in a large bowl.

In a medium bowl, beat two eggs with the vanilla. Gently add in the eggs and vanilla to the dry ingredients.

Pour the melted butter into brownie mixture and mix until just incorporated.

Spread batter in a prepared 8-inch square pan and bake for 20-26 minutes at 350 degrees.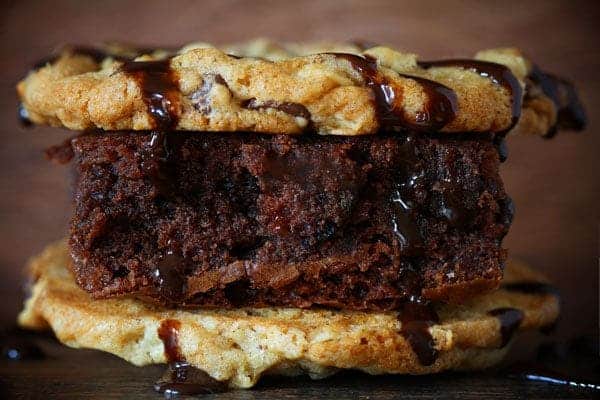 This was a complete accident of course. Yesterday I made some "Marry Me" cookies. Today I made brownies. There they were… sitting next to each other so innocently.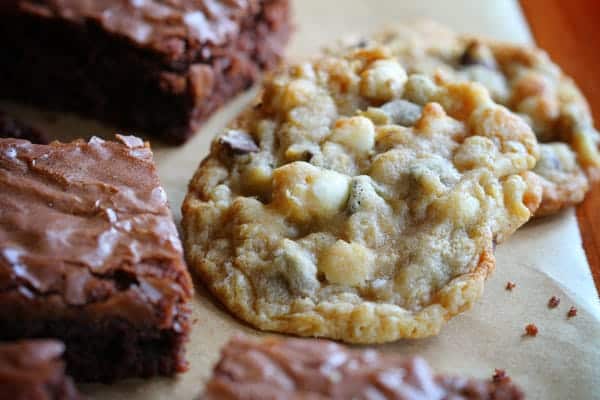 It was just meant to be I guess. I mean, what carb-loving, chocolate hoarding, raw brownie batter eating person wouldn't have come to the same conclusion?
The recipe is quite simple. And works really well with a triple decker sandwich that has vanilla ice cream. I mean, I heard. I would definitely not make a triple decker cookie sandwich with brownies and ice cream and eat it all. That would be insanity.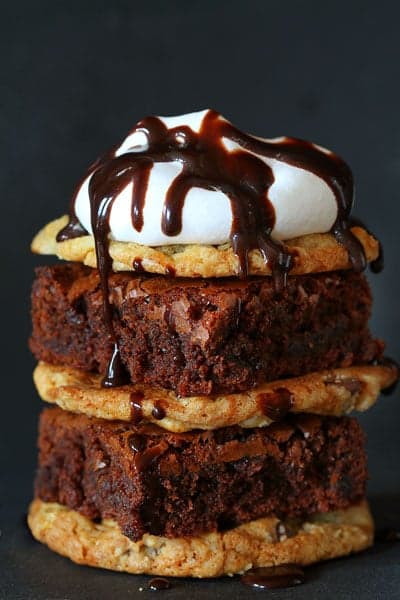 I used my favorite "Marry Me" cookie in the pictures, but you can also use the Best Chocolate Chip Cookies Ever recipe. I also used the Best Brownie recipe I know, my Homemade Brownie Mix.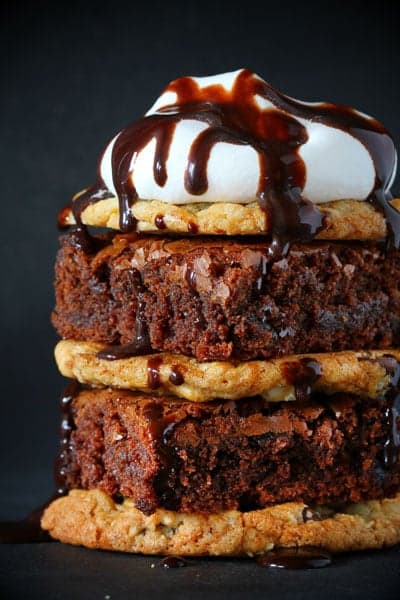 Once the cookies and brownies are mostly cooled off, you can begin to assemble. Simply take a cookie and place a brownie square right on top. (I also tried using a round cookie cutter to cut out circles in the brownies and that worked just as well.) Place another cookie on top of that and repeat as many times as you dare.
The whipped cream and hot fudge sauce are optional, but so amazingly delicious if you dare!