Chocolate Focaccia Bread is a unique and indulgent twist on the traditional savory focaccia, blending the rich flavors of chocolate with the rustic texture of bread. Whether enjoyed as a dessert, a decadent snack, or a special treat for any occasion, this chocolate focaccia is sure to captivate the senses! I also have the classic Focaccia Bread recipe you will love!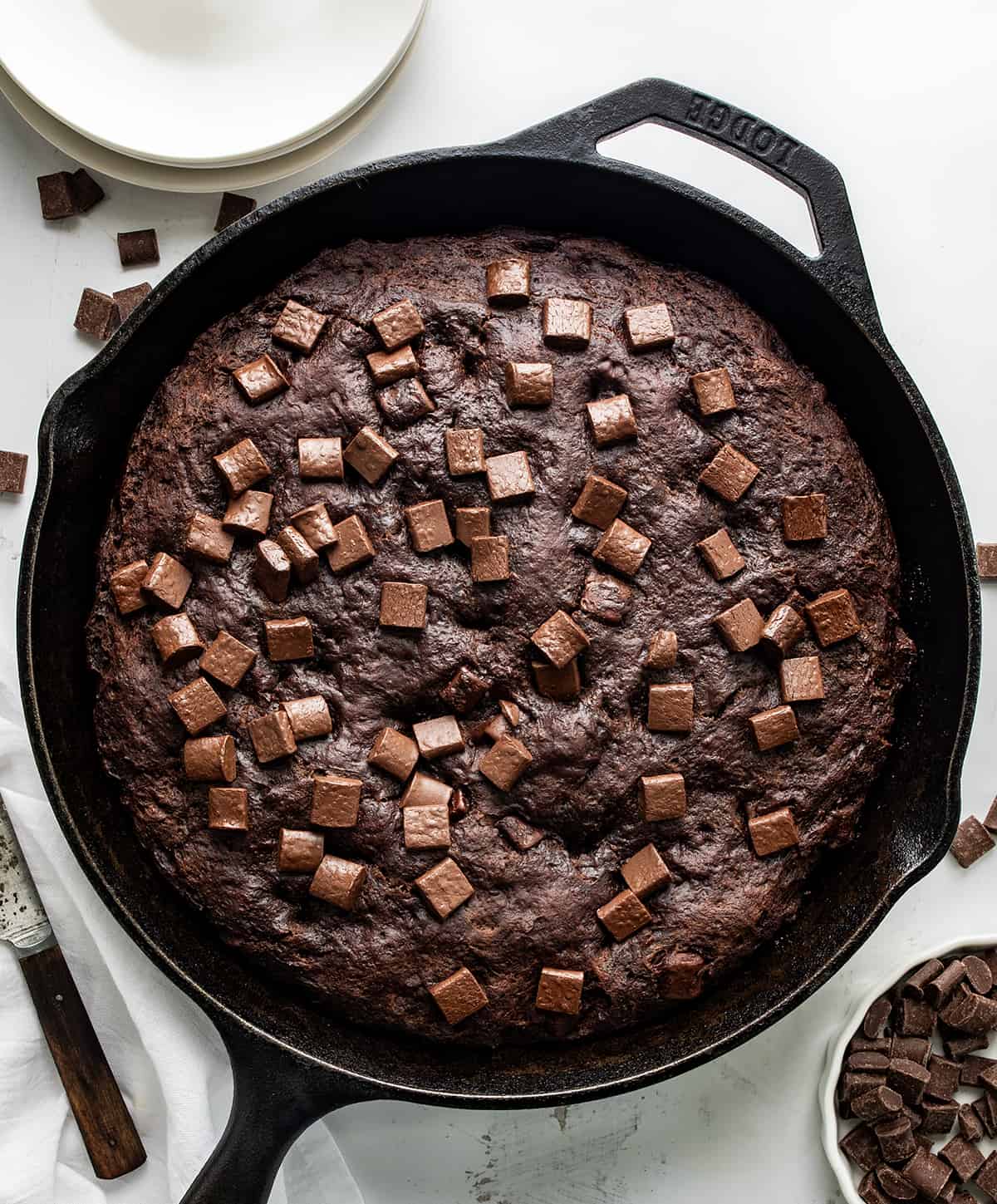 Ingredients & Substitutions
Yeast: Use active dry yeast in the bread. Be sure that you warm your water to about 105°-110°F. This will activate the yeast to get the best rise for your bread.
Flour: I used bread flour in this focaccia bread. Bread flour has a higher protein level than all-purpose flour (about 12 percent compared to 10-12 percent). The high protein content helps create a sturdy and chewy texture in the bread.
Cocoa Powder: Using Dutch-processed cocoa powder results in a richer-tasting, darker bread. You could substitute regular unsweetened cocoa powder, but it may affect the final result.
Chocolate Chunks: The semi-sweet chocolate chunks are added to the dough and sprinkled on top before baking. Chocolate chips would also work. You could try it with dark chocolate or milk chocolate, too.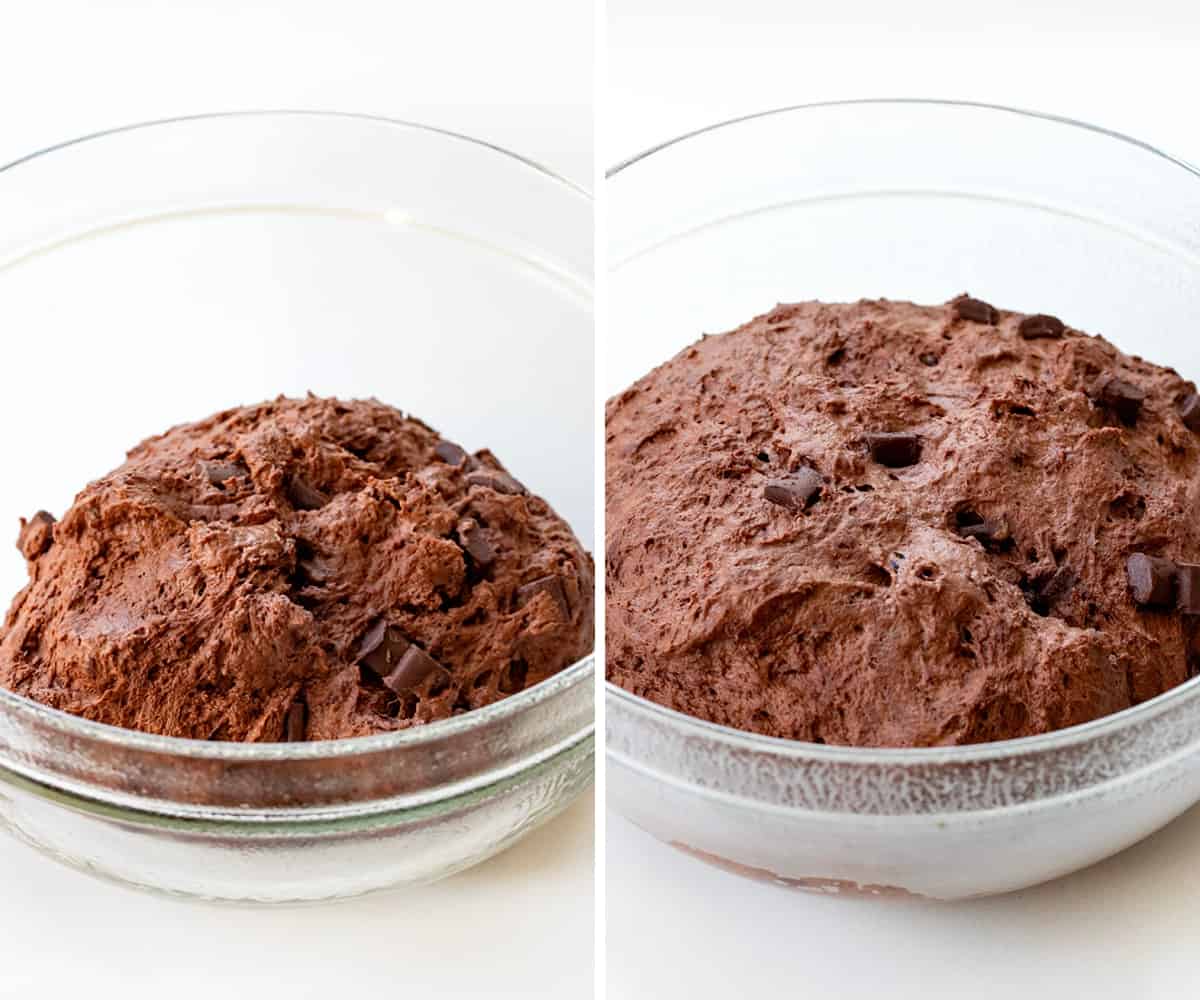 How To Know When Chocolate Focaccia Bread Is Done Baking
The color of chocolate focaccia bread will be darker due to the cocoa powder, so the traditional golden-brown crust won't apply. Instead, rely on other methods to determine when the bread is properly baked. Here are some ways to check for doneness:
Texture: Gently press the center of the bread with your finger. It should feel firm and spring back, indicating that the bread has set and is fully cooked. If it feels too soft or leaves an indentation, it may need more time.
Toothpick Test: Insert a toothpick or a thin skewer into the center of the bread. If it comes out clean or with only a few moist crumbs clinging to it, the bread is likely done. If there is wet batter on the toothpick, the bread needs more time.
Internal Temperature: Use an instant-read thermometer to check the internal temperature of the bread. It should read around 190°F to 200°F when fully baked. Insert the thermometer into the center of the bread to get an accurate reading.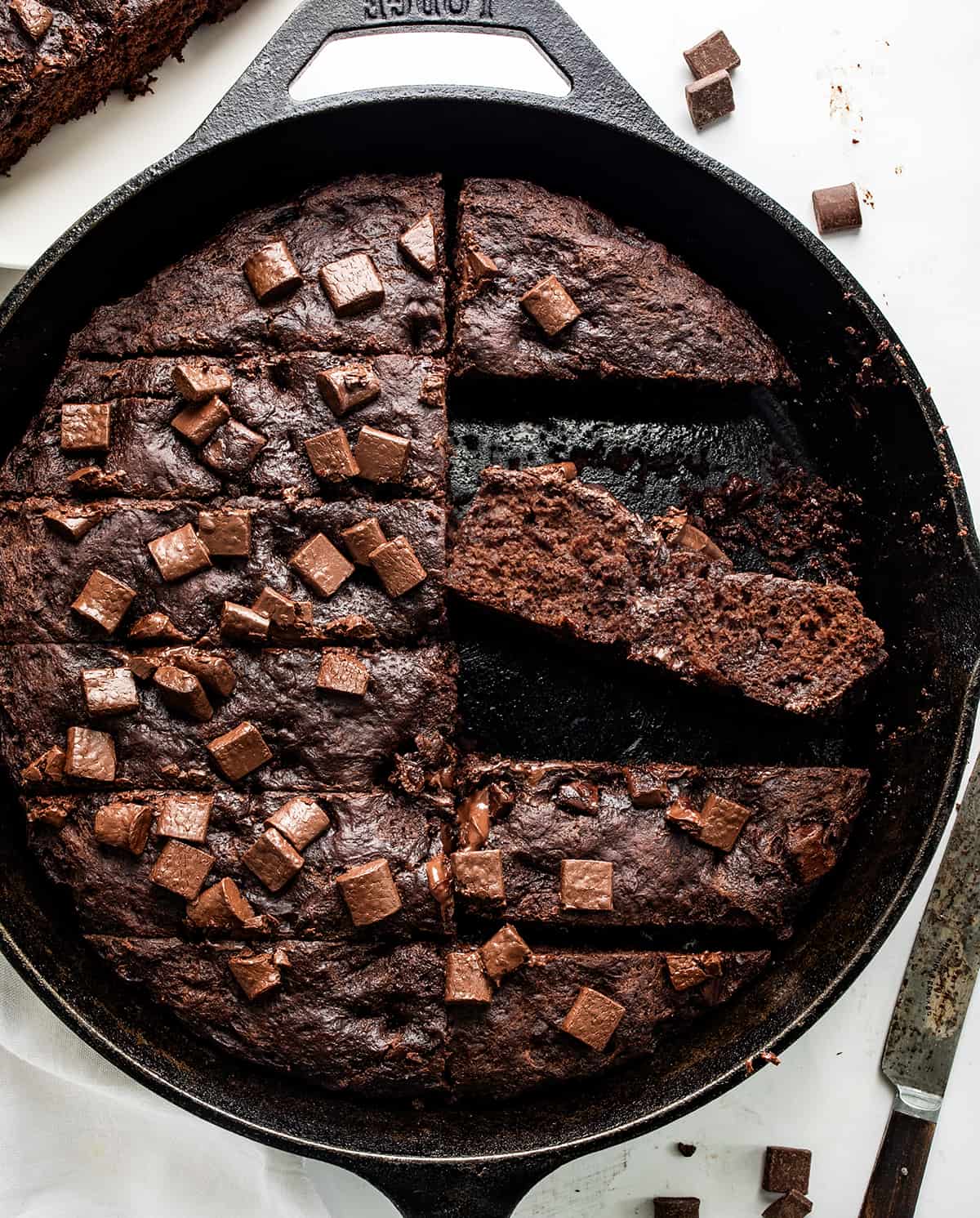 How To Serve Chocolate Focaccia Bread
Chocolate focaccia bread can be enjoyed on its own, but you can also enhance the experience by serving it with some accompaniments, such as:
Whipped Cream: A dollop of freshly whipped cream can complement the richness of the chocolate and add a creamy contrast.
Fresh Berries: Berries like strawberries, raspberries, or blueberries provide a fruity contrast and a burst of color.
Ice Cream: Serving a scoop of vanilla or chocolate ice cream alongside warm chocolate focaccia can create a delightful dessert experience.
Coffee or Tea: Chocolate and coffee or tea are classic pairings. Serve the bread with your favorite hot beverage for a cozy treat.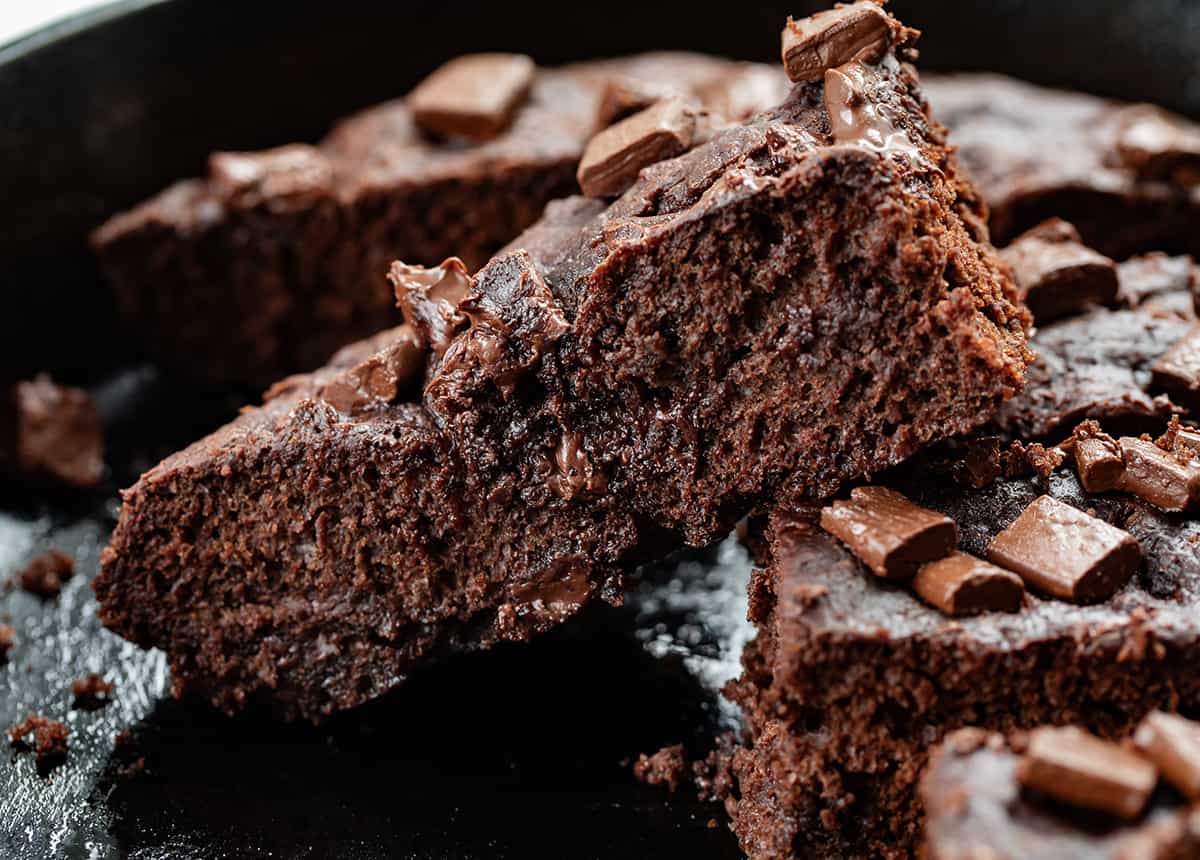 Can I Use A Different Pan?
Sure! If you don't have an oven-safe skillet (like cast iron), a 9×13-inch baking dish would work just fine. If using a different pan, watch the bread closely as you may need to adjust the baking time.
How To Store Chocolate Focaccia Bread
To store the bread, first, let it cool to room temperature. Then, wrap it in plastic wrap, aluminum foil, or store it in an airtight container. It will last at room temperature for 1-2 days. For longer storage, freeze the bread for up to 1 month. Remember to label and date the packaging. When ready to enjoy, let the bread thaw at room temperature or in the refrigerator.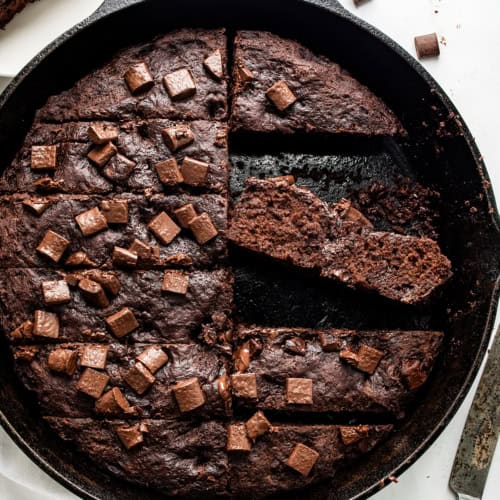 Chocolate Focaccia Bread
Chocolate Focaccia Bread is a unique and indulgent twist on the traditional savory focaccia, blending the rich flavors of chocolate with the rustic texture of bread. Whether enjoyed as a unique dessert, a decadent snack, or a special treat for any occasion, this chocolate focaccia is sure to captivate the senses and satisfy your craving for a delightful fusion of bread and chocolate!
Ingredients
1 ¾

cups

(414 g) water,

warmed (about 105°-110°F)

1

teaspoon

active dry yeast

2 ½

cups

(317.5 g) bread flour

½

cup

(59 g) Dutch-processed cocoa powder

(can also use unsweetened cocoa powder or hot cocoa mix)

¼

cup

(50 g) granulated sugar

½

teaspoon

kosher salt

7

tablespoons

extra virgin olive oil,

divided

1

cup

(182 g) semi-sweet chocolate chunks,

divided
Instructions
In a small bowl, combine the water and yeast. Let the mixture rest for 5 minutes, or until the yeast begins to bloom.

In a separate large bowl whisk together flour, cocoa powder, sugar, and salt.

Add the yeast mixture and 3 tablespoons of olive oil to the flour mixture. Stir to combine. Fold in ½ of the chocolate chunks. (If the dough is too dry, add a tablespoon of water.)

Transfer the dough to a clean, greased bowl and cover. Let it rest in a warm place for 1 hour, or until doubled in size.

Preheat the oven to 450°F.

Pour 3 tablespoons of olive oil into a large 13-inch oven-safe skillet. Use a pastry brush to coat the bottom of the dish.

Transfer the risen dough to the prepared skillet and top with the remaining tablespoon of oil. Work the dough to the edges and use your fingers to create dimples in the dough.

Sprinkle the remaining chocolate chunks evenly over the top of the dough.

Bake for 18-20 minutes, or until an inserted toothpick comes out with a few crumbs, but no wet batter. Let the bread cool before cutting and serving.
Did you make this recipe?
Thank you for making my recipe! You took pictures, right? Well go ahead and post them on Instagram! Be sure to mention me @iambaker and use the hashtag #YouAreBaker.
What the Test Kitchen had to say about this recipe: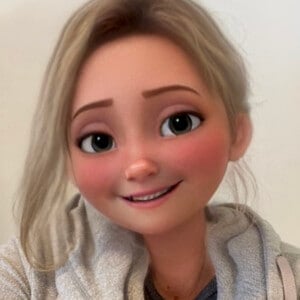 Autumn
This chocolate focaccia bread is delightful. It has the light and airy interior and crispy edges of a traditional focaccia, but the added benefit of a light sweetness and chocolate mixed throughout. This is not an overly sweet bread. Personally, I thought it had the perfect amount of sweetness. I put some salted butter on my slice (served warm) and I loved it!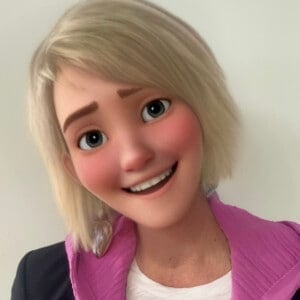 Elizabeth
What an interesting recipe…I love the texture! And, we updated it to be made in an oven-safe skillet, which made for a lovely crust. I wasn't sure what to expect, but with the added chocolate chunks, there was enough of a chocolate flavor in every bite. This will be a fun one to share with others and see what they make of it!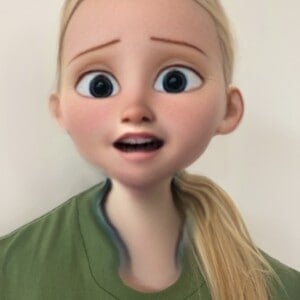 Annabelle
So yummy! This isn't an overly sweet dessert, but it has great chocolate flavor and the chunks elevate this bread!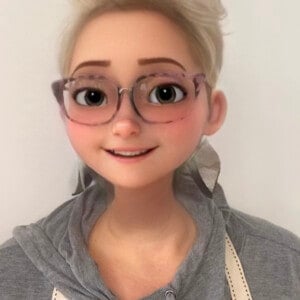 Selena
I wasn't sure what to think about this at first! But it is a really delightful, fun, and different bread. I liked the subtle chocolate flavor and the crispy edges from the oil.