Chocolate Strawberry Marshmallow Pie is a creamy and delicious pie with an Oreo cookie crust filled with a fluffy marshmallow mixture. Then it is casually topped with chopped fresh strawberries and hot fudge! It is a no-bake dessert that would be delightful year-round, but especially in the summertime with fresh strawberries!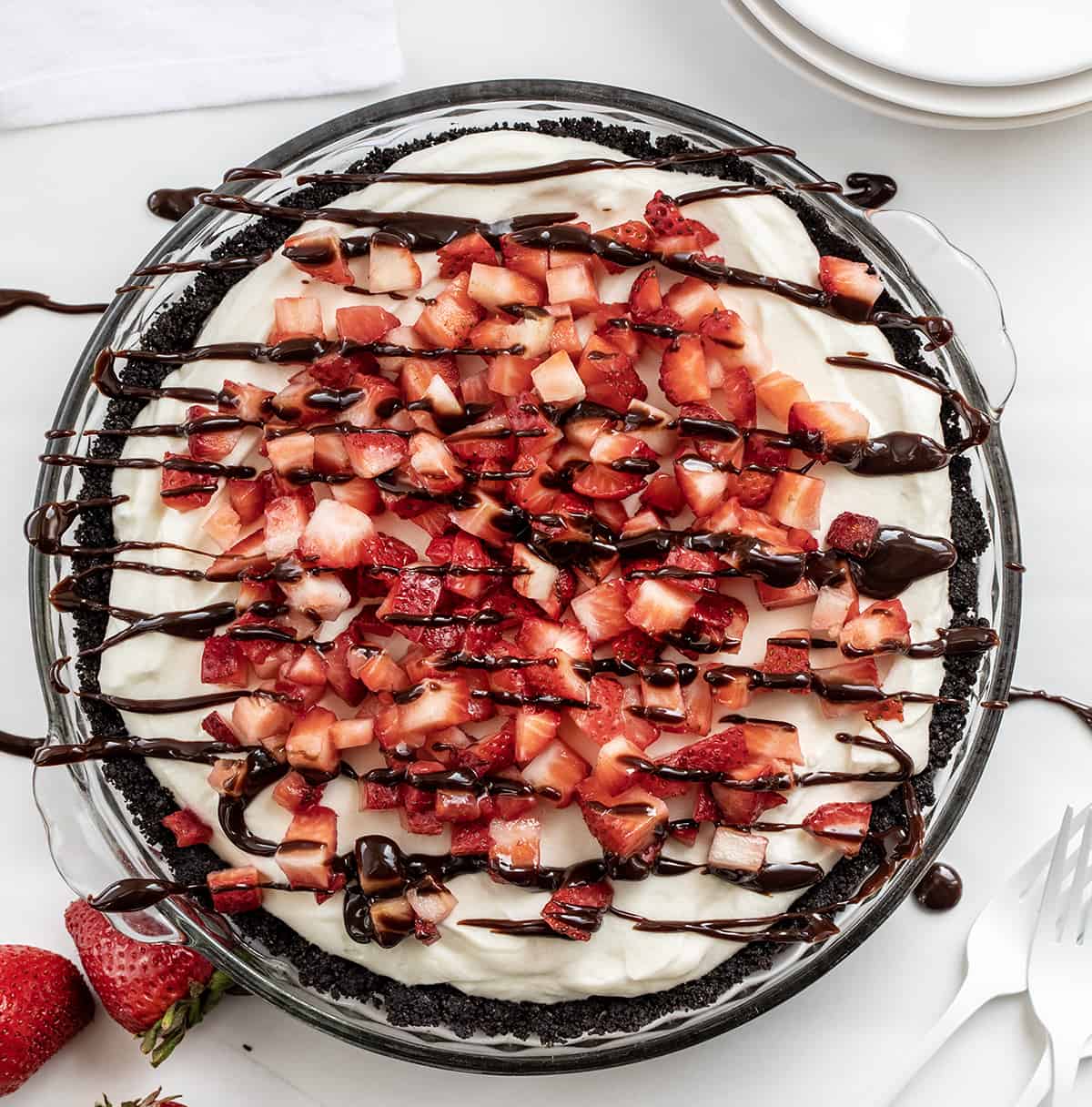 Ingredients & Substitutions
Crust: When coming up with this recipe, we all agreed that an Oreo cookie crust would be perfect. The rich chocolate flavor from the crust complements the strawberries. Then, the chocolate syrup is drizzled over the top, bringing all of the flavors together. If you love this flavor combination, you will want to try my Chocolate Strawberry Shortcake.
Heavy Cream: Look for heavy cream, also known as heavy whipping cream. This is a liquid with 36-40% fat and will be whipped up into a cream to use in the marshmallow filling.
Marshmallows: You will need 3 cups of mini marshmallows for the filling. Or, use about 24 regular-sized marshmallows. Once you taste this super delicious soft and creamy filling, you will want to try my Fluffernutter Pie, too!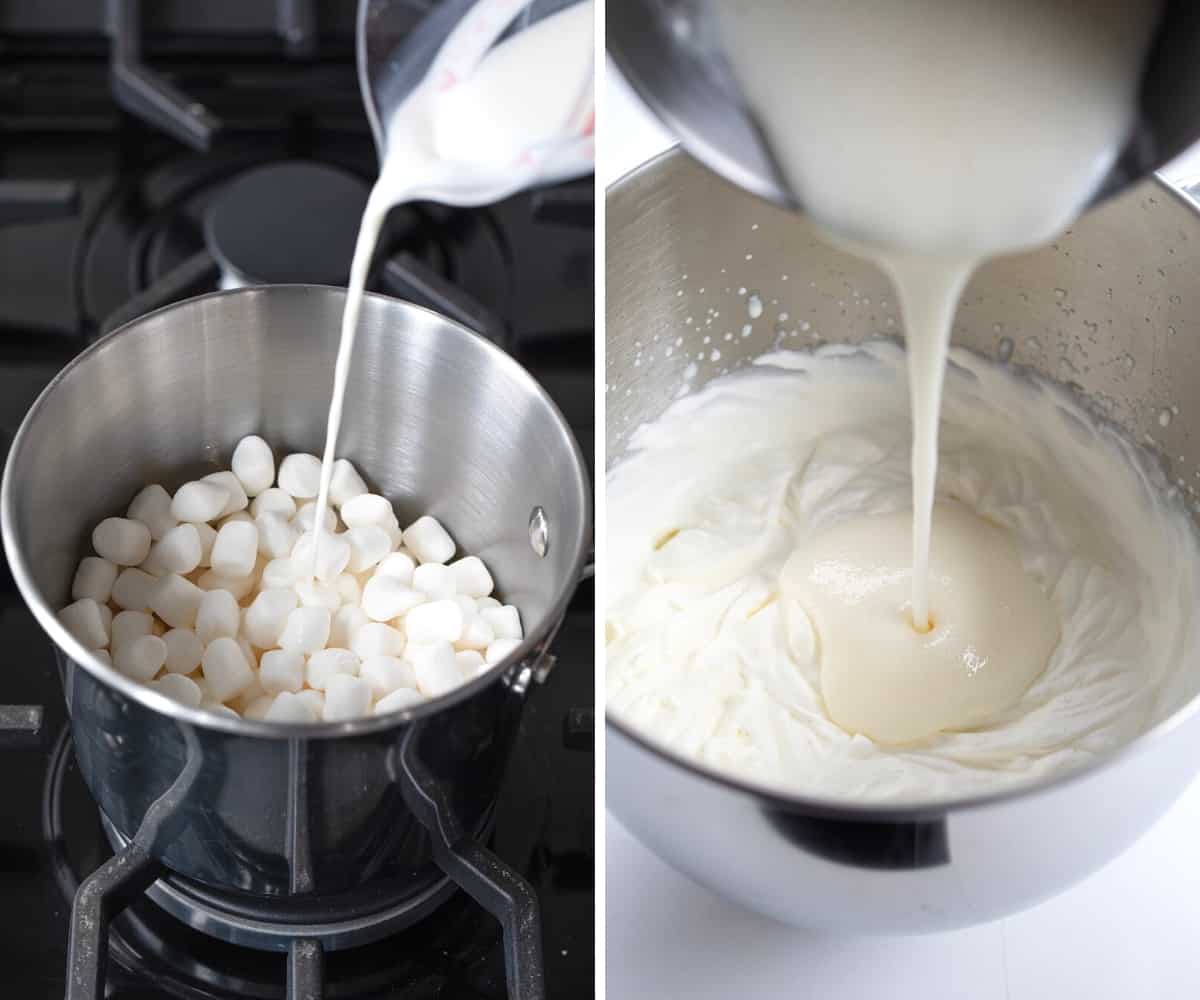 Milk: Whole milk will give you the creamiest filling. However, you could use milk with less fat, like 2%, but the filling may not be quite as creamy.
Strawberries: Dice up some fresh strawberries to sprinkle over the top of the pie when ready to serve. Frozen strawberries that have been thawed would also work.
Chocolate Syrup: Hot fudge topping or chocolate syrup is deliciously drizzled over the strawberries and pie. Feel free to add as much as you prefer!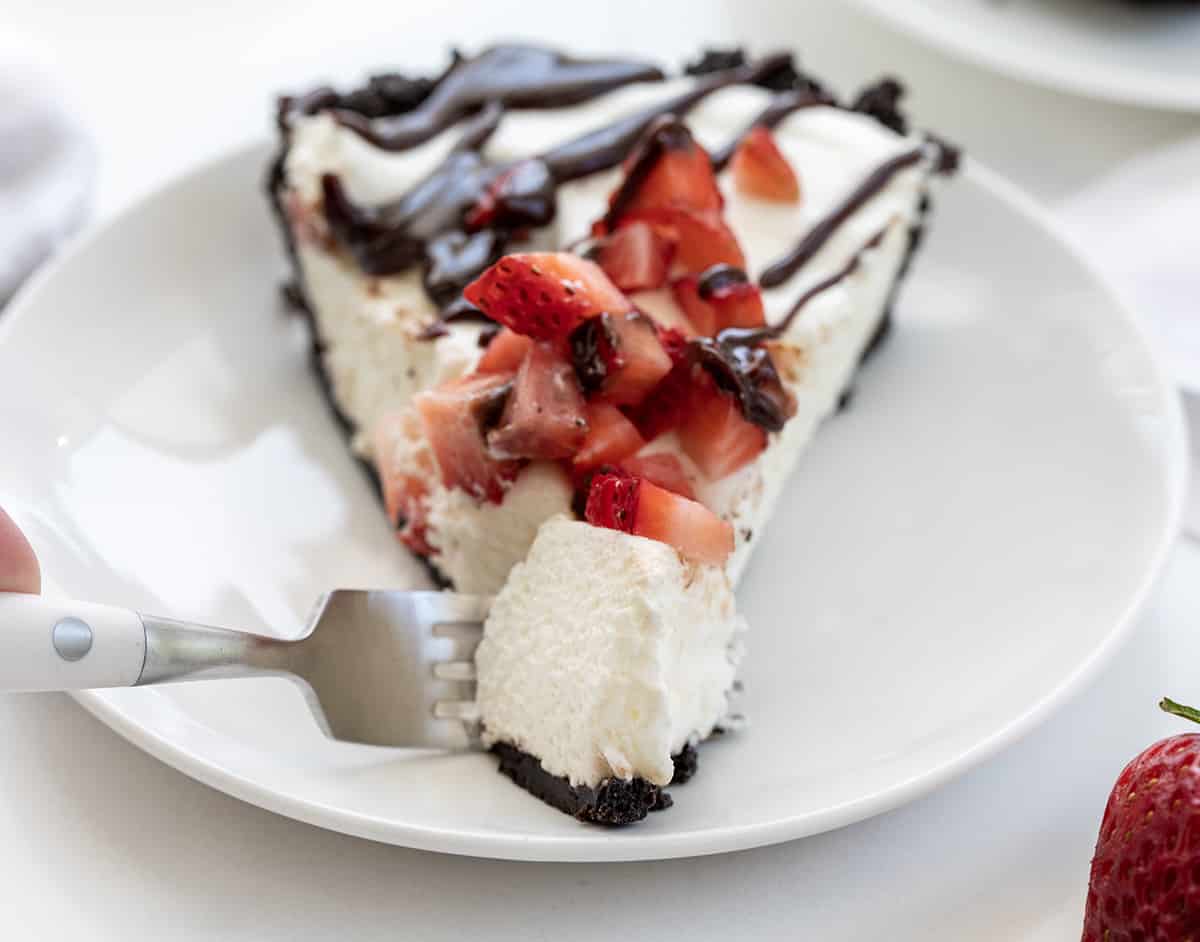 Individual Sized Strawberry Marshmallow Pie
If you have guests coming over, serve each one their own personal strawberry marshmallow pie! Instead of assembling the crust and marshmallow filling in a pie plate, individualize the dessert. Set it up in decorative bowls, small pie tins, ramekins, or in a muffin tin. Just make sure they are suitable for assembling and chilling the dessert. Divide the crust evenly between your choice of serving vessels. Then top with the marshmallow filling. Once set, serve the mini pies with strawberries and chocolate syrup that the guests can add themselves.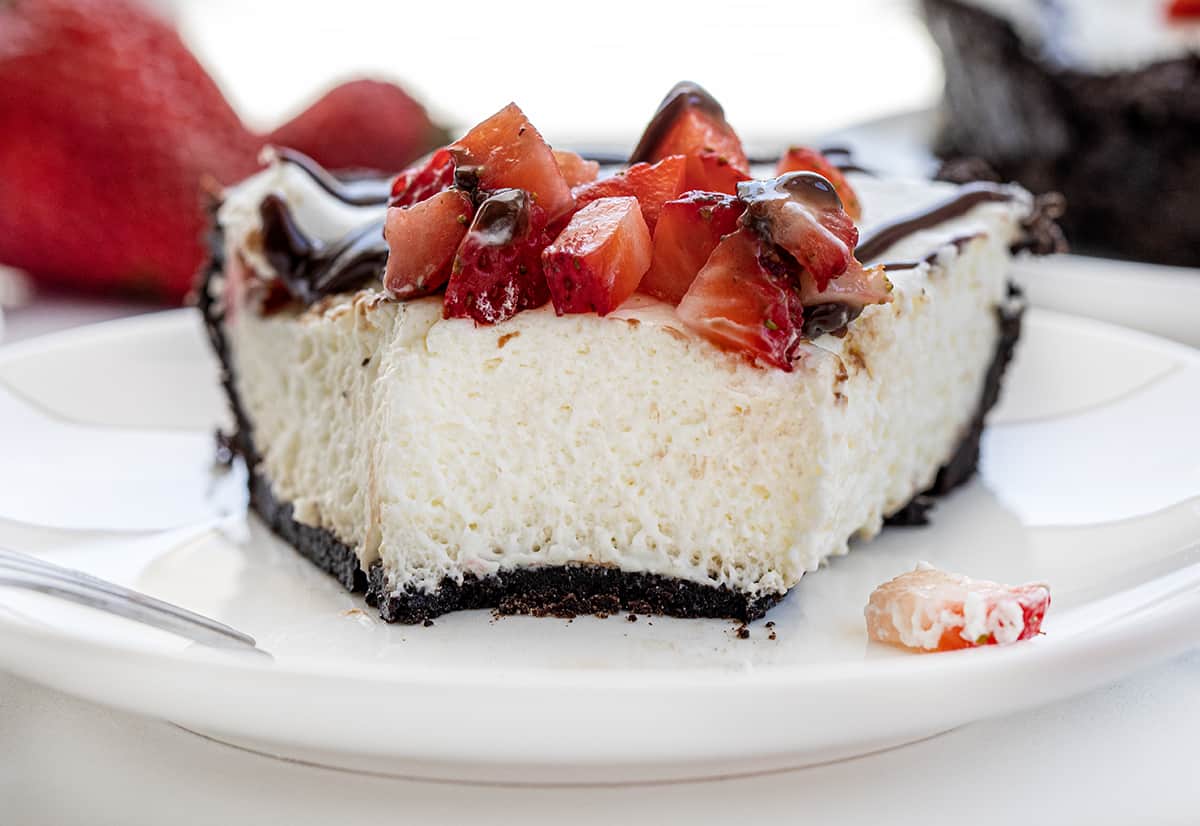 How To Store Chocolate Strawberry Marshmallow Pie
Chocolate Strawberry Marshmallow Pie should be stored in the refrigerator, covered. It will last up to 3-4 days.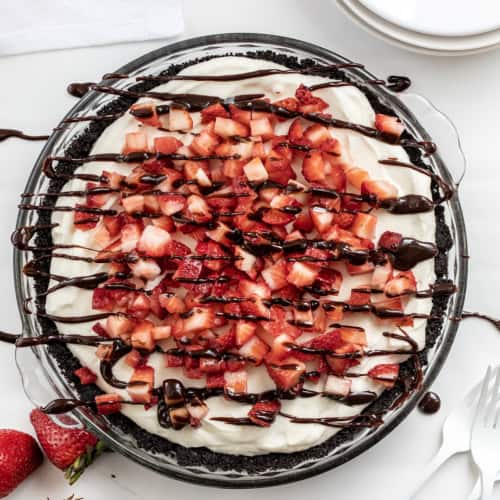 Chocolate Strawberry Marshmallow Pie
Chocolate Strawberry Marshmallow Pie is an Oreo cookie crust filled with a fluffy marshmallow mixture topped with fresh strawberries and chocolate syrup.
Ingredients
Toppings
4-6

fresh

strawberries,

washed, hulled, diced

chocolate syrup,

or hot fudge topping
Instructions
Filling
To a saucepan over low heat, add marshmallows and milk. Stir constantly until the marshmallows are melted and the mixture is combined. Remove from heat, letting it cool completely (about 30 minutes).

While the marshmallow is cooling, add heavy cream to a mixing bowl. Using an electric mixer, start mixing at the lowest speed, and then gradually increase the speed to medium until the cream starts to get thicker (soft peaks).

Gently fold the cooled marshmallow mixture into the heavy cream. Set aside while you prepare the crust.
Crust
To the bowl of a food processor, add Oreo cookies. Pulse until the cookies have been finely ground.

In a small bowl, combine Oreo cookie crumbs and melted butter. Make sure to get every crumb coated with butter.

Pour the crumbs into a deep 9-inch pie pan, pressing it into the bottom and up the sides.

Evenly spoon the marshmallow mixture over the Oreo cookie crust.

Chill in the refrigerator for 2 hours (or until set), up to overnight.

When ready to serve, garnish with fresh strawberries and chocolate.
Did you make this recipe?
Thank you for making my recipe! You took pictures, right? Well go ahead and post them on Instagram! Be sure to mention me @iambaker and use the hashtag #YouAreBaker.
What the Test Kitchen had to say about this recipe: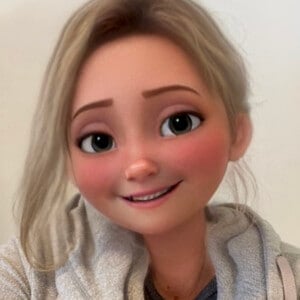 Autumn
I knew I was going to love this one. Chocolate and strawberries go together so well. The whole this is light and fun and all of the flavors are perfectly balanced.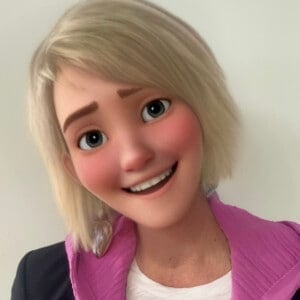 Elizabeth
This dessert is so soft and creamy! I loved the filling in the fluffernutter pie, so it was fun and delicious to try other varieties using the same filling. I knew I would love the chocolate and strawberry combination, and I certainly did!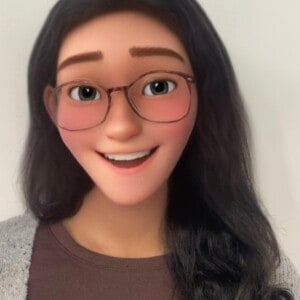 Bella
I absolutely love the Oreo crust. It's chocolatey and pairs perfectly with the sweet strawberries. The fluffy and creamy pie filling brings everything together!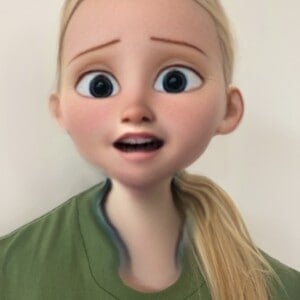 Annabelle
The filling is light and airy, and tastes awesome with the strawberries and chocolate! The crust is also a great pairing with both.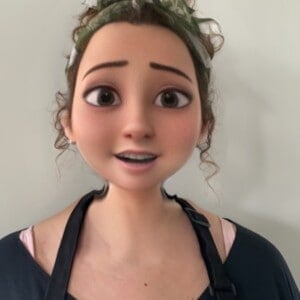 Rachael
Chocolate and strawberry is already a loved flavor combination for me but on top of this light and fluffy marshmallow pie?? Fantastic combination.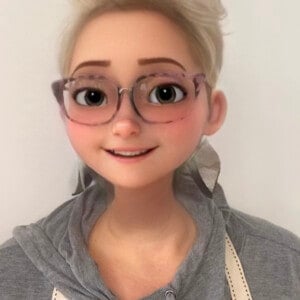 Selena
A super simple and fun pie to make. It reminds me a bit of a s'more. I love the creaminess of the pie with the fresh fruit and chocolate. Really delightful.