Every now and then I get an idea for a recipe.  Usually it is simple as thinking about it, googling it, finding a previously published recipe, making it into my own, and getting on with my day.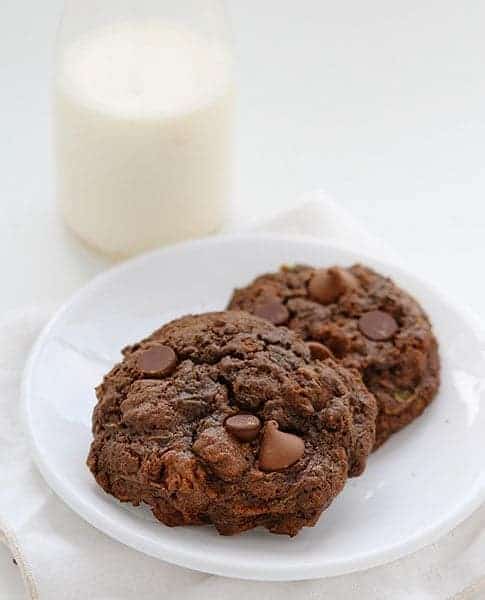 That was not the case with these cookies.  I really wanted to find a zucchini cookie that was not too 'cakey' and that actually had a significant amount of zucchini in it.  I wanted it to be full of deep, dark, rich chocolate.  And I could not find it anywhere!
And after quite a bit of testing (it all involved chocolate so I am definitely not complaining) I finally found a recipe we all loved!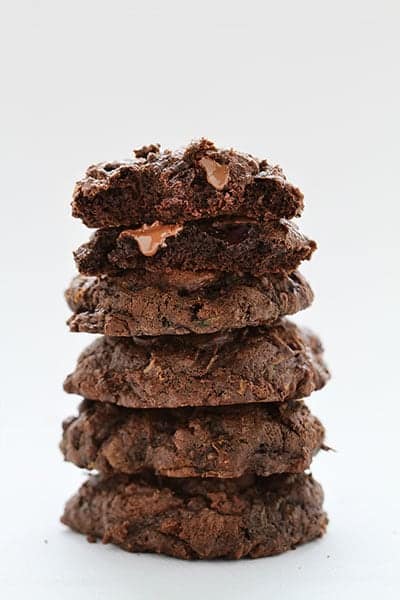 It has three kinds of "chocolate."  Cocoa, milk chocolate, and semi-sweet chocolate.
The combination is pretty darn tasty.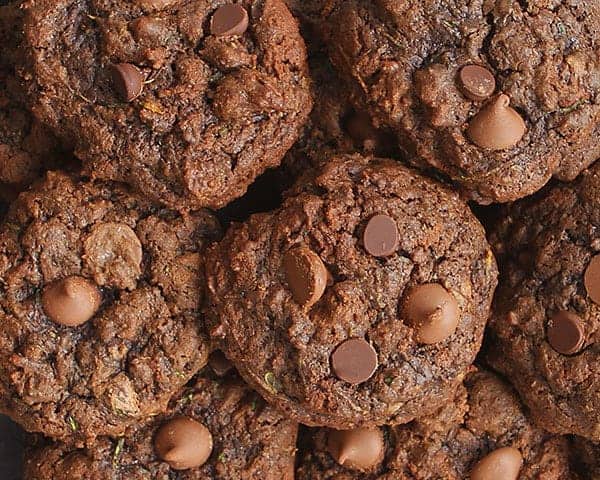 Concerning chocolate chips in cookies, I have to share something that I have been doing lately.  Instead of adding all of the chocolate chips to the dough, I reserve a handful then add individual chips to the top before baking.  This helps people to identify what the cookies is should the chips not naturally be on the surface.
As you can see above, it is easy to see that there are two kinds of chips in the cookie!
One thing about zucchini recipes is people often refer to "small" or "medium" sized zucchini.  Since we tend to grow them huge around here, what exactly does that mean?  In my mind, a medium sized zucchini is about a foot long and has a larger girth than a golf ball.
I would consider a small zucchini (like what you buy in the grocery store) to be about 6-8 inches long and the girth of a half-dollar.
My preference in all zucchini consumption?  HUGE zucchini that rival baseball bats.  Not even kidding.
Also, I usually leave the skins ON, as I prefer for people to see the zucchini and know what they are in for.  If you want to be more ninja-like in your baking, simply peel the zucchini.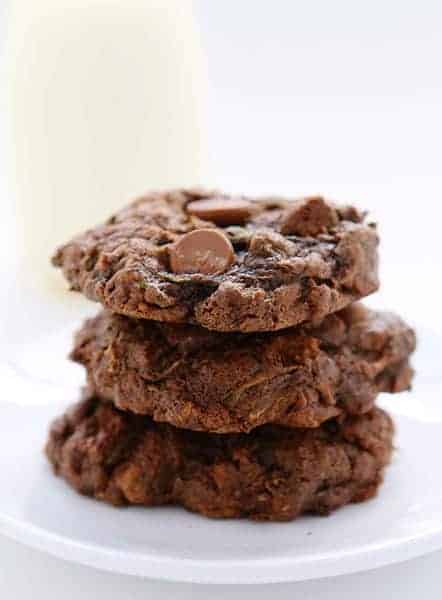 These are one of the best cookies I have ever had, zucchini or not.  The depth of flavor is going to be heaven to any chocolate lover.  And the fact that there is so much zucchini in there makes you feel good about what you are eating.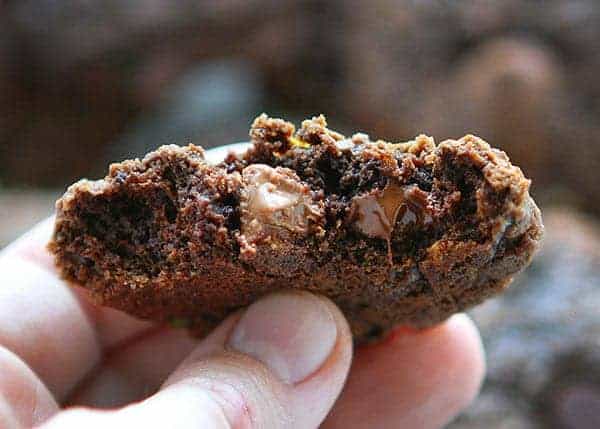 If any of these cookies make it to day 2 or 3, be sure to pop them in the microwave for 10 seconds before nibbling.  (Love that you can see the milk chocolate and dark chocolate right next to each other in this picture!  I was mid-bite, but had to share)  There is something about the warm, oozing chocolate bits that make your eyes roll up in your head.
#trustme