Chocolate Zucchini Cookies are made with three types of chocolate, and are sure to be a chocolate lover's dream cookie! For another rich and chocolatey treat, try my Chocolate Zucchini Muffins.
Chocolate Zucchini Cookies
I really wanted to find a zucchini cookie that was not too 'cakey' and that actually had a significant amount of zucchini in it. I wanted it to be full of deep, dark, rich chocolate, but I could not find it anywhere! And after quite a bit of testing (it all involved chocolate so I am definitely not complaining), I finally found a recipe we all loved!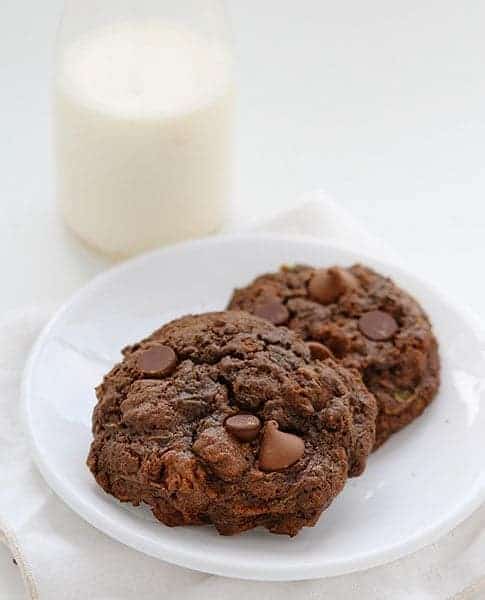 Chocolate Zucchini Cookies Ingredients
Don't even mention the zucchini in this recipe; no one will even notice, but they will notice how good these cookies are!
Chocolate chips–I melted semi-sweet chocolate chips and folded in milk chocolate chips.
Zucchini–Finely grate the zucchini and drain the excess moisture from it.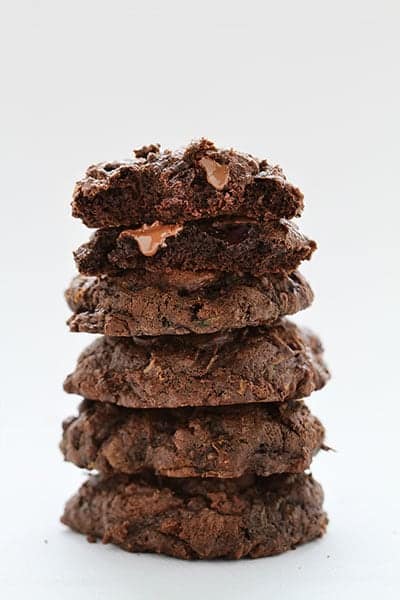 Baking with Zucchini
When making these cookies, I used a medium-sized zucchini. A medium-sized zucchini is about a foot long and has a larger girth than a golf ball. Grate the zucchini as fine as your grater will allow, skin and all! To squeeze out the extra liquid, hold the zucchini in your hands and press out the extra moisture. You could also press the grated zucchini well with a clean towel to prevent these cookies from getting too soggy. This will give you about a cup of grated zucchini.
As mentioned, I usually leave the skin ON, as I prefer for people to see the zucchini and know what they are in for. If you want to be more ninja-like in your baking, simply peel the zucchini before grating it.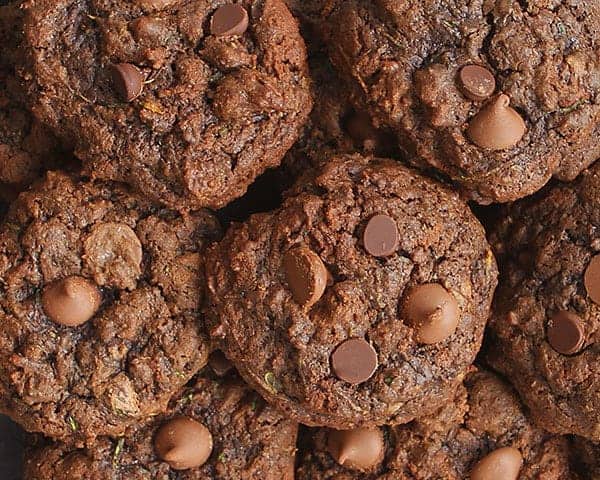 Chocolate Zucchini Cookie Dough
Once you have your zucchini grated and drained, set it aside as you prepare the cookie dough. Begin by melting the semisweet chocolate chips in a microwave-safe bowl. Start with 30 seconds; if the chocolate isn't melted in that time, continue to melt it in 10-second increments until it is completely melted. Set it aside.
Next, whisk together the flour, cocoa, baking soda, and salt in a medium bowl. Set that bowl aside as well and get out your stand mixer or a large bowl if using a hand mixer. Mix together the butter and both sugars for about a minute, or until fluffy. Then, mixing on low, add the egg and vanilla and combine fully.
Mix in the melted chocolate completely, followed by the flour mixture until all the ingredients are incorporated. Finally, fold in the milk chocolate chips and drained zucchini by hand.
Baking the Cookies
Using an ice cream scoop or tablespoon, add scoops of dough to the parchment-lined baking sheets. Leave about 2 inches in between each cookie. No flattening is needed. But, you may want to add a few extra chocolate chips on the tops of the cookies before baking (as you can see I did in the pictures). Cook them for about 10 minutes; they will be slightly underdone.
Let them cool on the baking sheets before transferring them to the cooling racks. These are some of the best cookies I have ever had, zucchini or not. The depth of flavor is going to be heaven to any chocolate lover. And the fact that there is so much zucchini in there makes you feel good about what you are eating.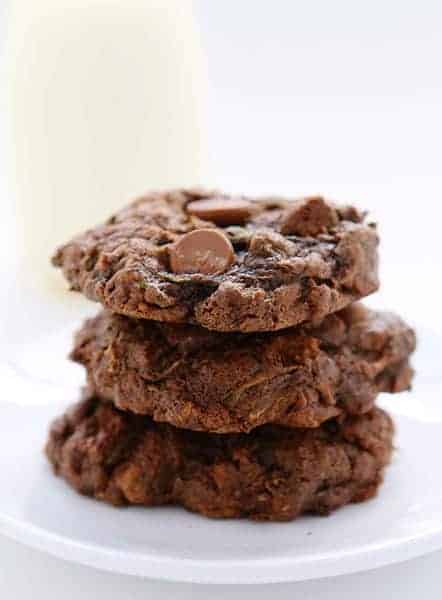 Can I Use Frozen Zucchini?
Yes, you can! First, bring the frozen zucchini to room temperature. Since frozen zucchini collects extra moisture, you will definitely have to drain it before adding it to the recipe.
How to Store Chocolate Zucchini Cookies
Store the baked cookies in an airtight container at room temperature for a few days. If any of these cookies make it to day 2 or 3, be sure to pop them in the microwave for 10 seconds before nibbling. (Love that you can see the milk chocolate and dark chocolate right next to each other in this picture! I was mid-bite, but had to share.) There is something about the warm, oozing chocolate bits that make your eyes roll up in your head.
To freeze the cookies, let them cool completely before storing them in airtight, freezer-safe bags. Be sure to date and label the containers. They will last up to three months.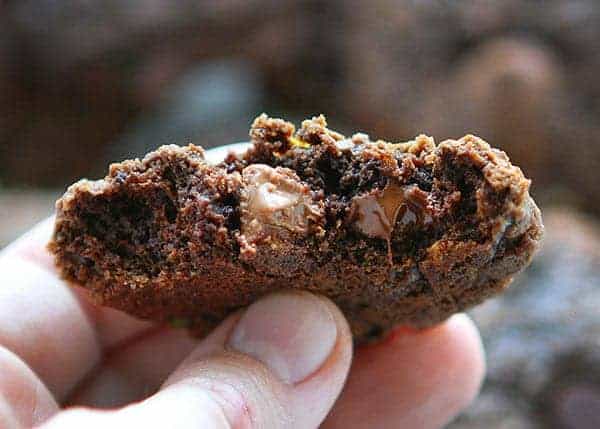 Looking for More Zucchini Recipes?
Zucchini Double Chocolate Cake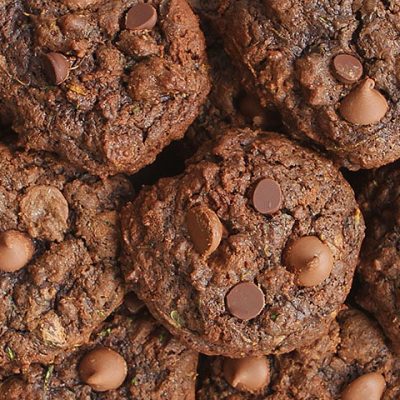 Chocolate Zucchini Cookies
Chocolate Zucchini Cookies are made with three types of chocolate, and are sure to be a chocolate lover's dream cookie!
Ingredients
1

medium

(1 cup) zucchini,

grated and drained

⅔

cup

semi-sweet chocolate chips,

or bittersweet

2

cups

all-purpose flour

¼

cup

(29.5g) cocoa

1

teaspoon

baking soda

½

teaspoon

salt

fine table salt

½

cup

(1 stick or 113g) butter

room temperature

½

cup

(100g) brown sugar

¼

cup

(50g) granulated sugar

1

large

egg,

room temperature

1

teaspoon

vanilla

1

cup

milk chocolate chips
Instructions
Preheat oven to 325°F. Prepare cookie sheets with parchment paper.

Using a grater, finely grate a medium sized zucchini. This should yield about 2 cups of zucchini. Place zucchini in a clean dish towel and squeeze vigorously, removing most of the liquid. You should now have about 1 cup of drained shredded zucchini. Set aside.

In a microwave-safe bowl, melt the semi-sweet chocolate chips for 30 seconds. If chips are not melted, return to microwave in 10-second increments until mostly melted. Stir frequently. When melted, set aside.

In a medium bowl, add flour, cocoa, baking soda, and salt. Sift together with a whisk. Set aside.

In a stand mixer or bowl with a hand mixer, add in butter and sugars. Mix for about a minute, or until mixture is fully combined and starts to fluff.

With a stand mixer (or hand mixer on low), add in egg and vanilla. Combine fully.

Pour in melted chocolate and mix completely.

Add flour mixture to chocolate mixture and mix on low speed until just incorporated.

Remove bowl from stand mixer (or remove hand mixer) and fold in zucchini and milk chocolate chips by hand.

With an ice cream scoop (or large spoon) drop balls of dough onto a cookie sheet, about 8 per sheet. Leave 2-inches between each ball of dough. (I did not flatten cookies at any point)

Bake for 10-12 minutes.

Remove from oven and let sit on the pan for 5-10 minutes before transferring cookies to a cooling rack.
Did you make this recipe?
Thank you for making my recipe! You took pictures, right? Well go ahead and post them on Instagram! Be sure to mention me @iambaker and use the hashtag #YouAreBaker.