This banana bread recipe is the best way to use up those brown bananas! It's an easy and super moist banana bread with a little cream cheese surprise sandwiched in-between.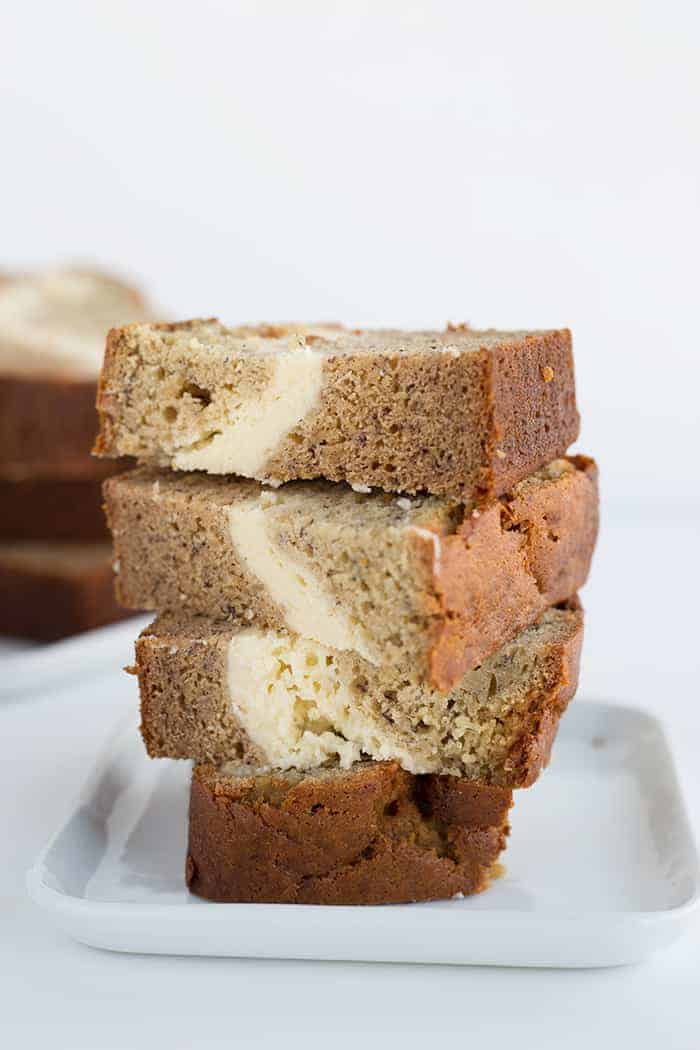 Cream Cheese Filled Banana Bread
The cream cheese layer that happens to taste just like cheesecake is the perfect addition to any banana bread recipe. It adds a smooth, creaminess to the texture of the bread.
I know some people love butter on their banana bread, myself included. Whip up a little cinnamon butter and spread that on or use regular butter, you really can't go wrong!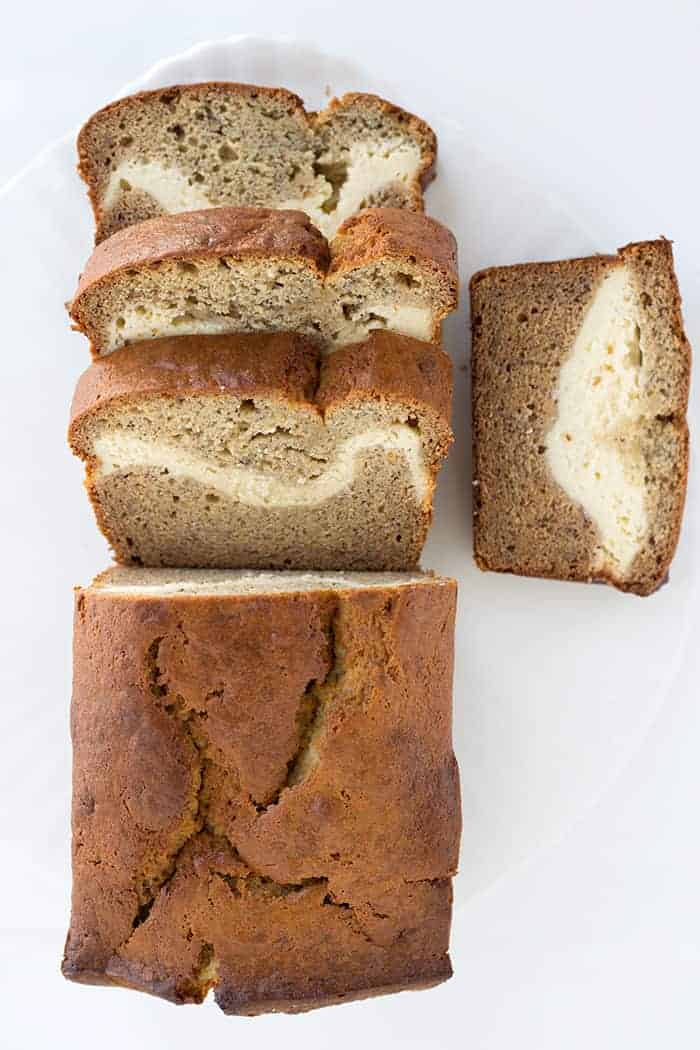 Does banana bread need to be refrigerated?
No, this cream cheese banana bread doesn't need to be refrigerated. It can be kept at room temperature for about a week while being stored in an airtight container. You are more than welcome to store it in the fridge if it makes you feel more comfortable, but it's unnecessary.
Can you leave the cream cheese out of this easy banana bread recipe?
Yes! I don't know why you would though. 😉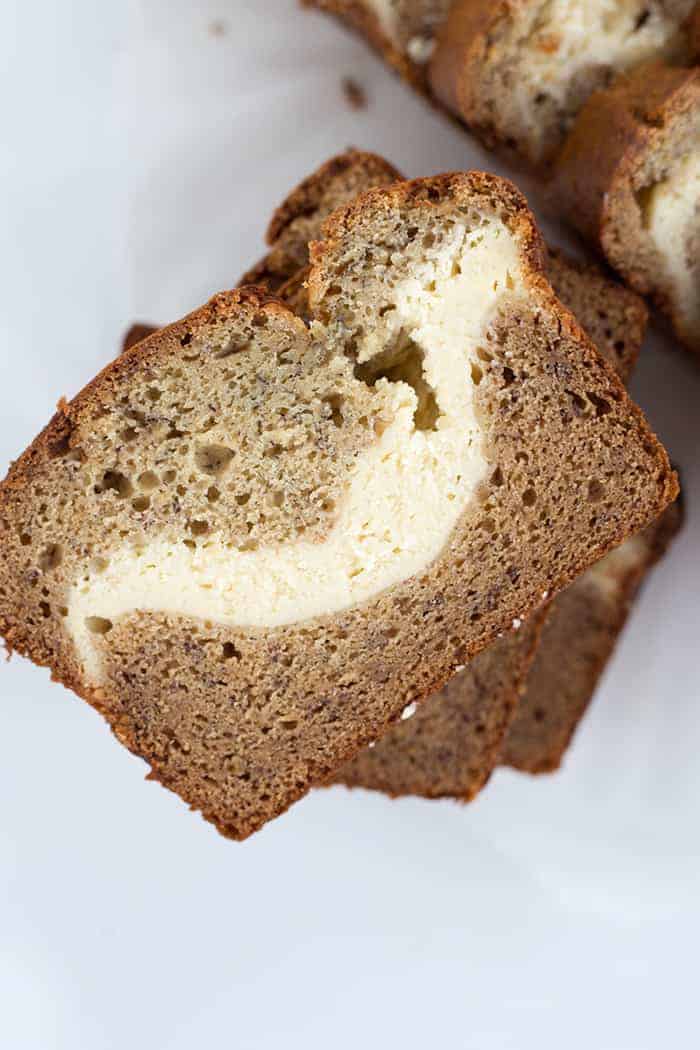 Banana Bread Recipe Variations
Stir in some chopped walnuts or semi-sweet chocolate chips to the banana bread batter.
Try adding 1/4 – 1/2 teaspoon of ground cinnamon to the cream cheese batter.
Add some streusel to the top.
Did you know that you can freeze brown overripe bananas? Just peel and place into a freezer bag and freeze them. Let them sit at room temperature until they thaw out. The inside will be like a banana puree and perfect for any banana bread recipe. Plus you'll always know that you have ripe bananas for a quick banana bread recipe.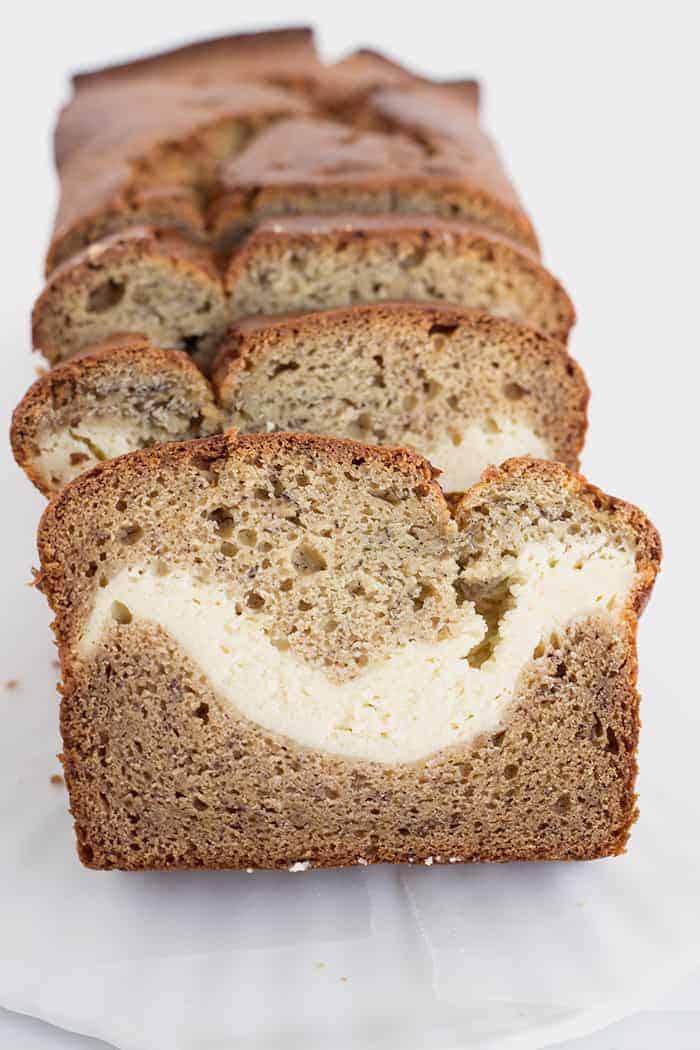 I'm Miranda from the blog Cookie Dough and Oven Mitt and the author of the Easy Homemade Cookie Cookbook. Cookie Dough and Oven Mitt is a blog full of more desserts, baked goodies, and loads of tips and tricks.
Find more banana bread recipes here:
Junk in the Trunk Banana Bread
Banana Cake with Fresh Banana Curd