Layers of fruit and homemade cinnamon-sugar chips, these Dessert Nachos are a hit with everyone who sees them! Beautiful AND delicious? I love that combination! You may also like my Fruit Pizza or Fresh Fruit Platter!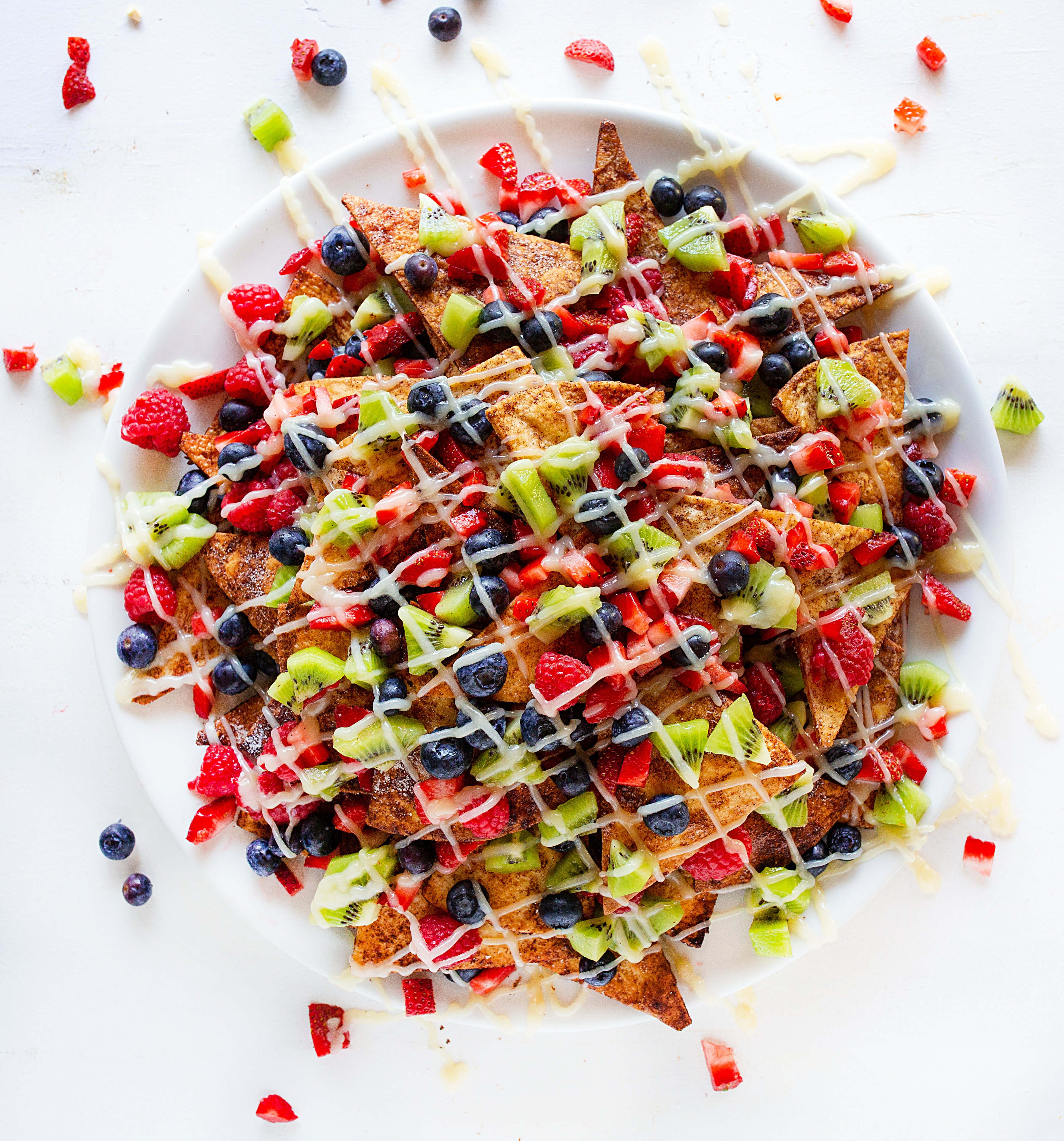 What are Dessert Nachos?
Dessert Nachos are sweetened nachos layered to perfection. This one is cinnamon sugar chips with a variety of fruit piled on and then a sweet cream cheese glaze drizzled over top. Everything about these dessert nachos is fabulous. From the fresh fruit to the sweet chips to the easy way you can eat them to the fact that I don't mind my kids indulging in a fruit overload!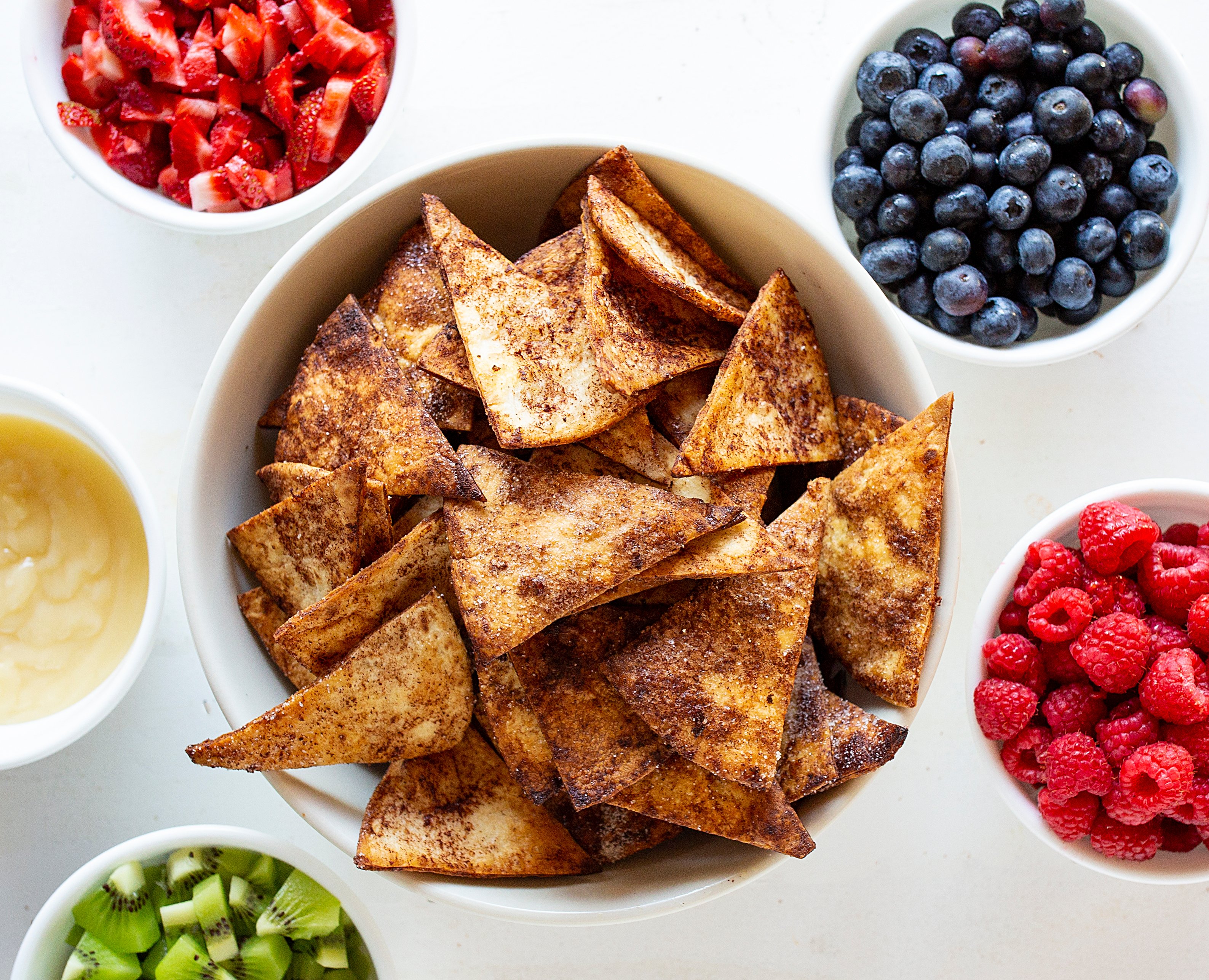 Cinnamon Sugar Chips
One of the best parts about dessert nachos are the homemade cinnamon sugar chips. They are so easy to make too!
How to Make Fresh Fruit Dessert Nachos
The next part of making fruit nachos is chopping the fruit. I used strawberries, kiwi, raspberries, and blueberries. The blueberries and raspberries did not need to be chopped, but the strawberries and kiwi did. I hulled the strawberries and then chopped them into pieces no bigger than the blueberries.
How to Cut Kiwi Fruit
For the kiwi, I developed a method that makes sure you get every good part of the kiwi in every bite! (Read more about this in my Kiwi Bars recipe!)
Start by cutting the top off of the top and bottom of the kiwi. Next, cut it in half.
Using a large spoon, press the spoon down in between the skin and the flesh of the fruit and then move the spoon around the entire half. The fruit should pop right out.
Now slice each half into 3 sections.
Lay the section flat and cut it like you would a pizza, then cut 6 total pieces. Each individual piece will be a triangle and have a white center, black seeds, and the fabulous green fruit. It's kiwi bite perfection!
Cream Cheese Glaze
Once the fruit is cut, you can make the cream cheese glaze.
Mix room temperature cream cheese, butter, vanilla, and confectioners sugar in a bowl until smooth. It will be fairly thick at this point. However, when you heat the glaze for a few seconds it will be the perfect consistency for pouring.
I like to put it in a piping bag or a bottle with a small tip (think ketchup bottle) to easily drizzle over the dessert nachos.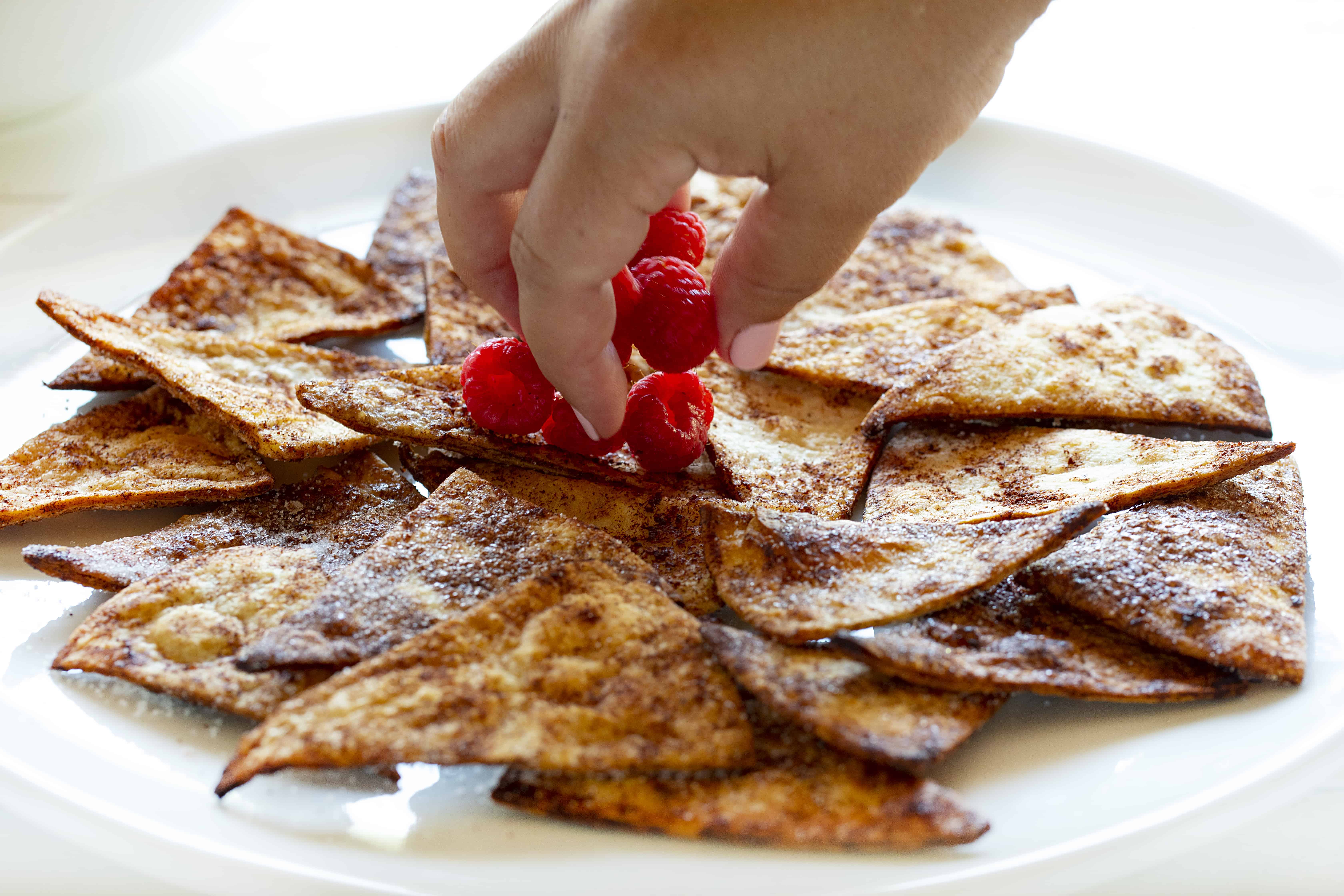 Grab a big platter and start with a layer of cinnamon chips. Start sprinkling about 1/3 of each of the fruits in an even layer on top. Once you have some of each fruit layered on, drizzle some of the cream cheese glaze. Repeat two more times and then finish off with a glaze.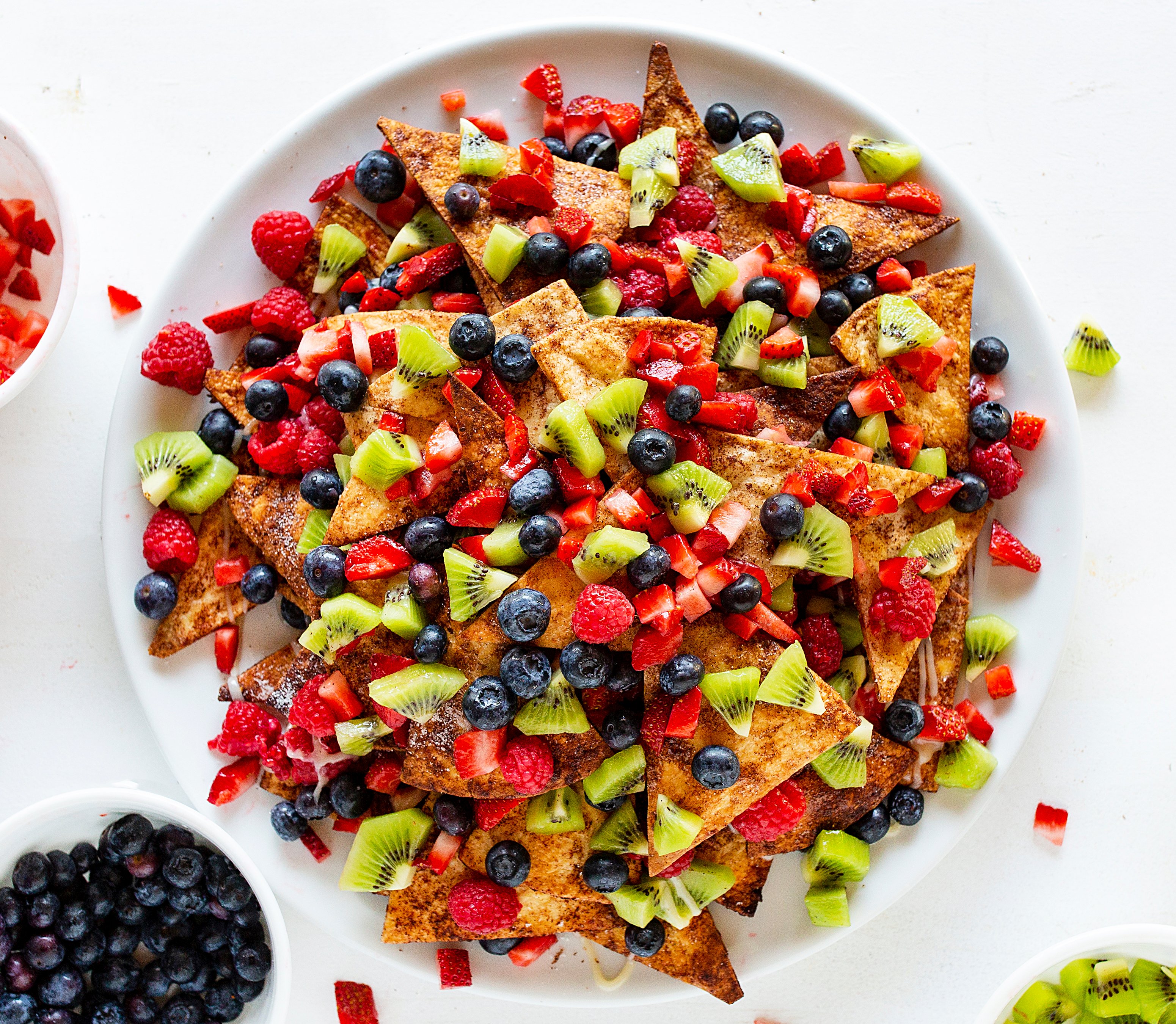 If you choose to leave the glaze off this dessert nacho platter, I totally understand. I had a moment of doubt when I looked at the beautiful nachos all on their own and thought, do I really need it? No, you don't need it per se, but it really is the icing on the… nachos. 😉 When we got to the bottom layer the glaze had soaked into the chips it made for the most delightful bites.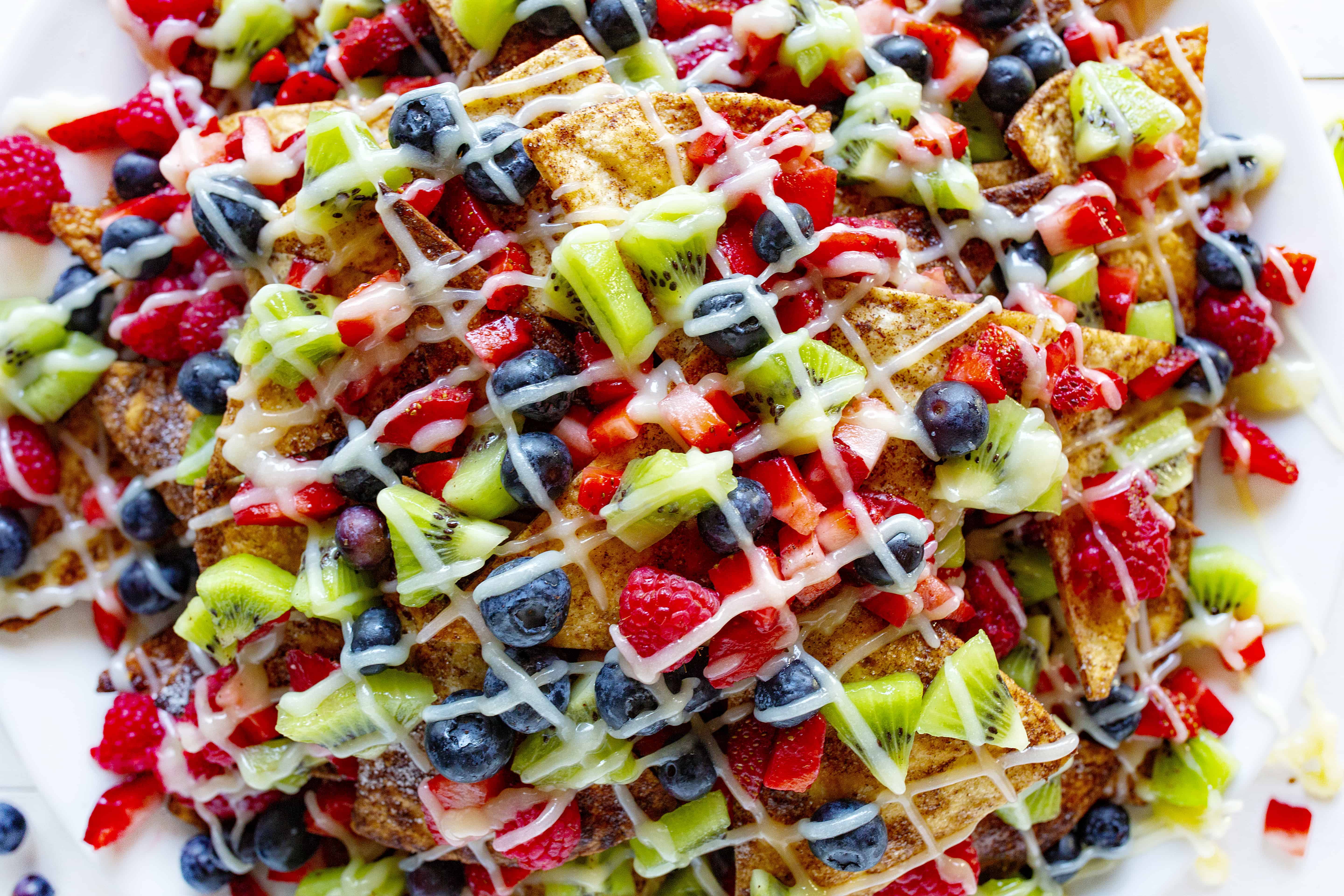 What Fruit to Use on Dessert Nachos
I mentioned that I used strawberry, raspberry, blueberry, and kiwi. I love the variety of color in that selection, but there really are no limits to the fruits you could use! Blackberries, watermelon, mango, peach, plums, grapes, apricots, nectarines… it's a world of possibility.
Pineapple Delight Dessert Nachos – Pineapple, cherry, mini marshmallows, and banana, topped with homemade whipped topping.
Fall Fruit Medely Nachos – Apples, pears, figs, and pomegranate. Top with the cream cheese glaze and a few granola sprinkles.
Chocolate Dessert Nachos
One thing you might have noticed is that I did not use chocolate. When testing we found the chocolate to be a bit overpowering when paired with the gorgeous fruit. While it was pretty, it ended up tasting like a chocolate nacho. If that is what you are going for then you can easily warm some hot fudge and drizzle over top! If you want the fruit to be the star, stick to the cream cheese glaze which is a subtle compliment to the ingredients.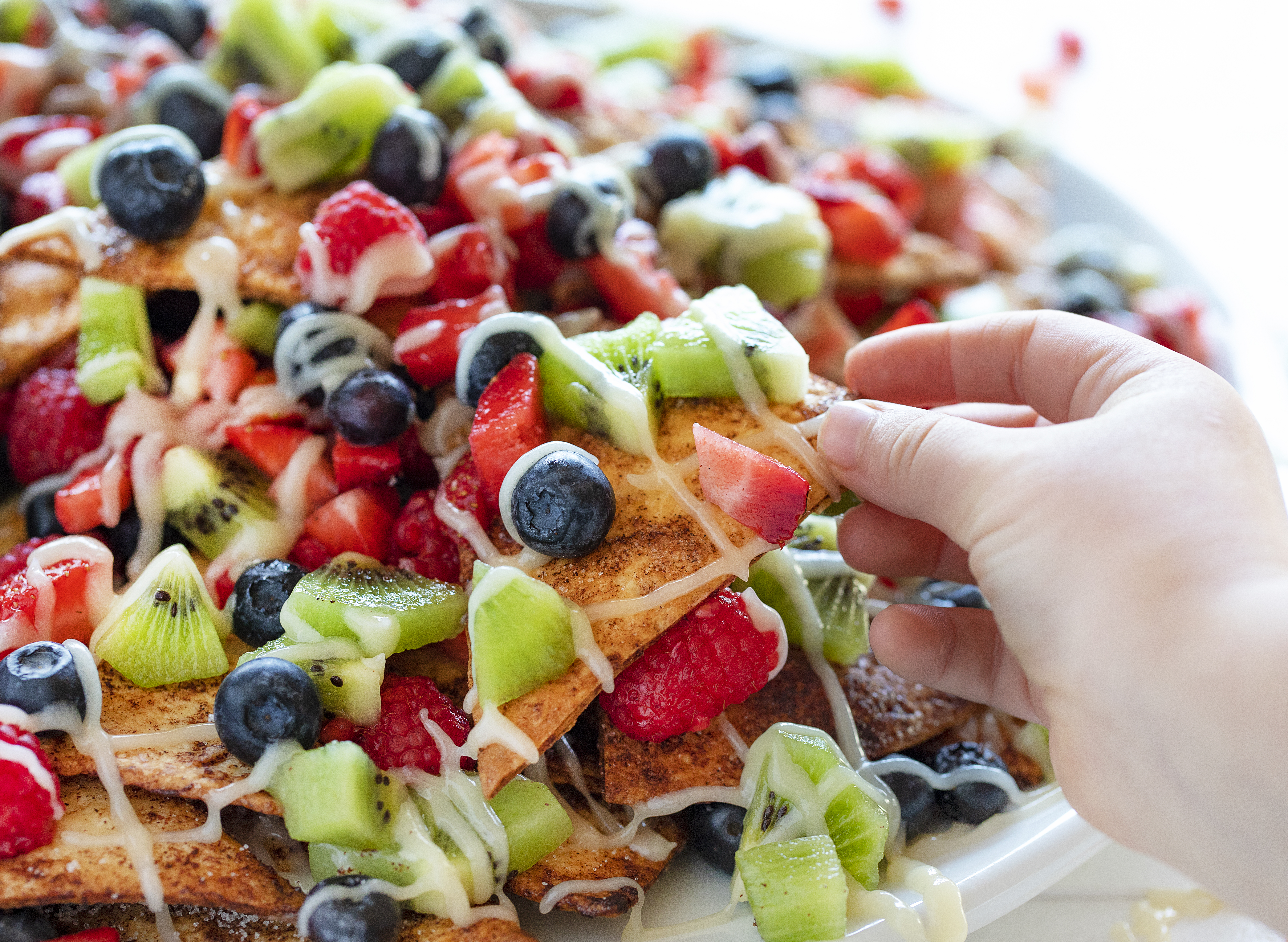 The Final Verdict?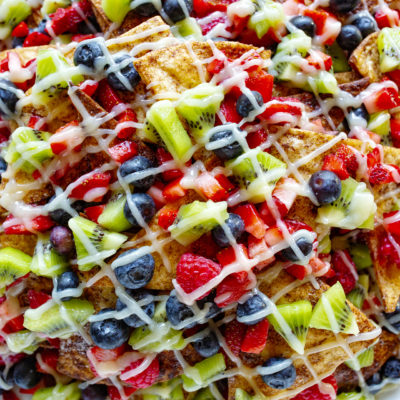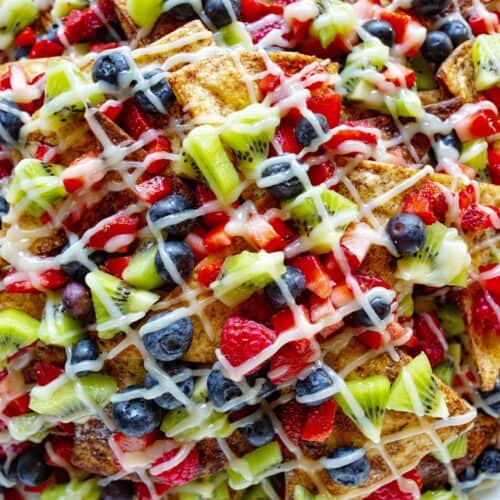 Fruit Nachos with Cream Cheese Glaze
Layers of gorgeous fruit, homemade cinnamon-sugar chips, and a cream cheese glaze… these Dessert Nachos are a hit with everyone who sees them!
Ingredients
Cinnamon and Sugar Chips
6

flour tortillas,

(8 inches wide)

1

tablespoon

cinnamon

1

tablespoon

sugar

½

cup

butter,

melted
Cream Cheese Glaze
4

ounces

cream cheese,

room temperature

¼

cup

butter,

softened

1

tsp

vanilla

1

cup

confectioners sugar
Fruit Nachos
1

cup

strawberries,

diced

1

cup

kiwi,

diced

1

cup

blueberries

1

cup

raspberries
Instructions
Cinnamon and Sugar Chips
Set out the tortillas on a cutting board and cut them into 8 wedges.

In a large bowl with a lid, combine melted butter, cinnamon, sugar, and tortillas wedges. Place the lid on the bowl and shake to coat all tortilla wedges with the butter mixture.

On a parchment-lined baking sheet, place individual tortilla wedges.

Bake for 10-12 minutes or until the tortilla chips are golden brown. Chips will continue to crisp outside of the oven.
Cream Cheese Glaze
In a medium bowl combine cream cheese, butter, vanilla, and confectioners sugar. Stir to combine. The glaze should be smooth.

Warm in microwave until pourable (about 30-50 seconds).
Fruit Nachos
On a large plate, add ⅓ of the chips, fruit, and cream cheese glaze. Repeat two more times, ending with the remaining glaze. (If there is some left over it can be stored in an airtight container for 2 weeks in the refrigerator.)
Did you make this recipe?
Thank you for making my recipe! You took pictures, right? Well go ahead and post them on Instagram! Be sure to mention me @iambaker and use the hashtag #YouAreBaker.