Learn how to build your own delicious Cheese Platter! Pair a variety of cheeses with fruits, nuts, crackers, and spreads for the ultimate appetizer platter.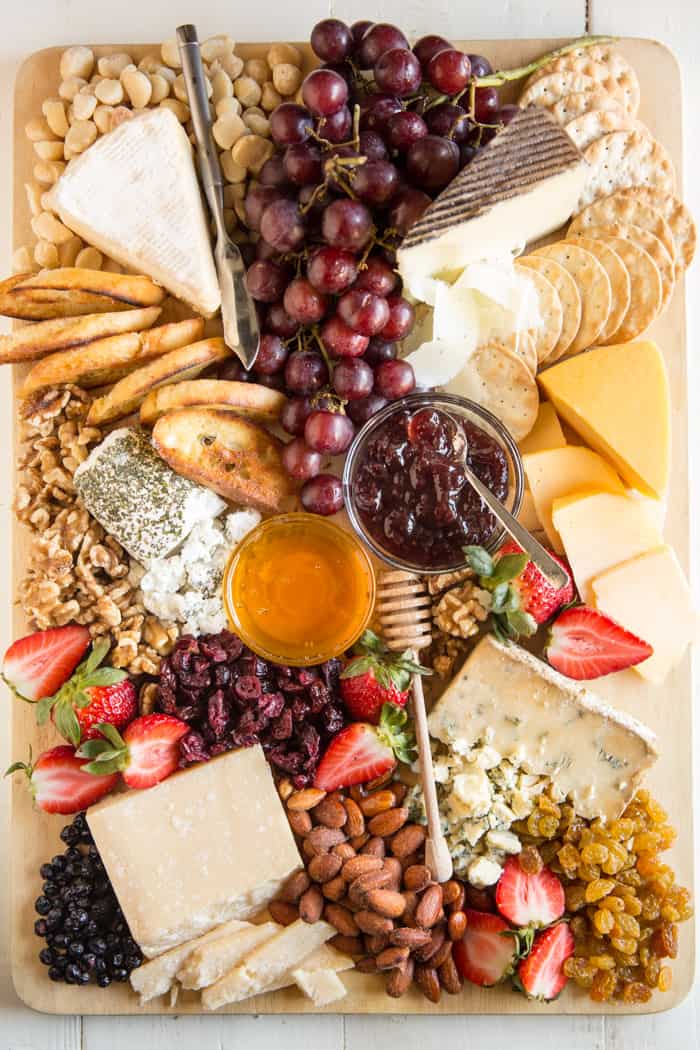 Things to Consider for a Cheese Platter
Before you get started buying and putting together a cheese platter you should have a good idea about a few things:
How many people are you serving?
Are there any cheeses you definitely want to include or maybe definitely avoid? (Does anyone attending have dairy allergies? There are vegan options.)
What is your budget? You can save money on the bread, the fruits, and maybe even the nuts depending on the kind you choose. In my experience, cheese is the best place to spend your money. And don't be shy about asking your deli manager for a sampling!
Cheese Platter Ideas
To build the perfect cheese platter, start with the cheese!
I like to choose 3 to 6 varieties of cheese. Plan on serving 2 to 3 ounces of cheese per person.
Once you have the cheese in place, consider adding fresh and dried fruits, nuts, sauces or spreads, and bread or crackers.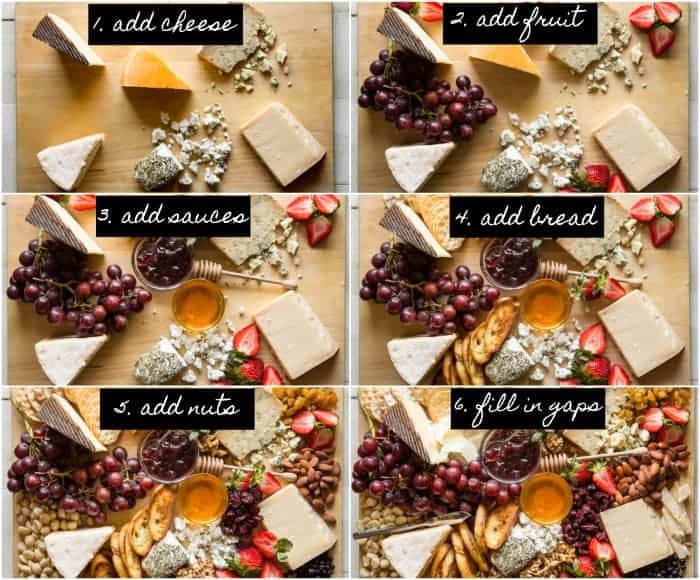 What are the best cheeses for a cheese board?
Consider selecting cheeses from:
Different animals: Cow's milk, goat's milk, sheep's milk
Different textures: Soft, semi-soft, firm, hard
Different ages: Raw, fresh, aged
Different regions: French, Spanish, Italian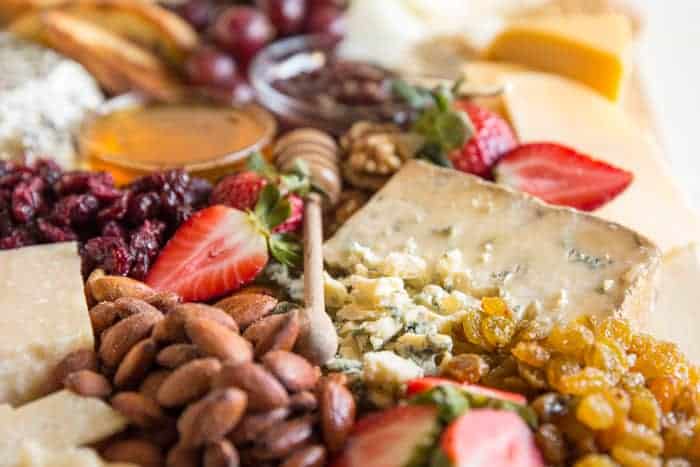 How do you cut cheese for a cheese platter?
It depends on the cheese. If a firm or hard cheese is in a wedge shape, it's considered bad luck to break the wedge! So, just cut lots of smaller wedges.
If it's a soft cheese, serve it with a spreader or a wire and let guests help themselves.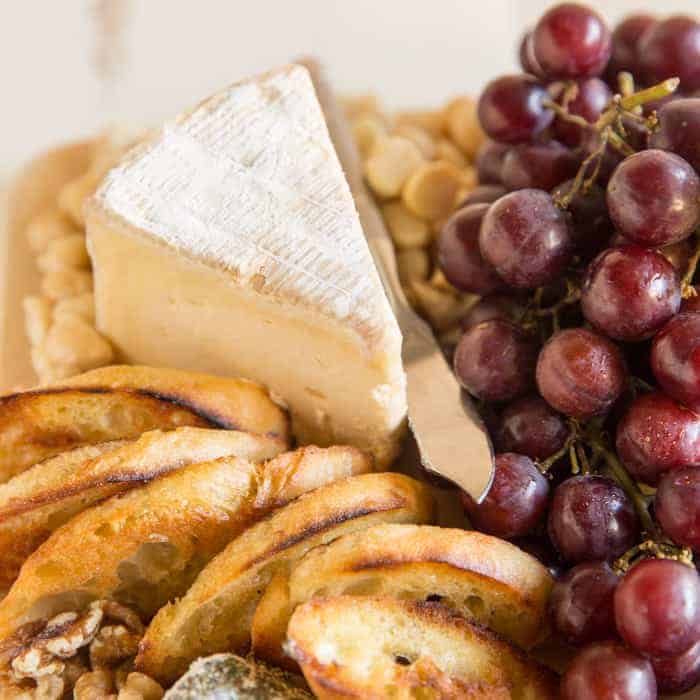 BONUS TIPS:
You do NOT need to refrigerate a cheese platter. It is best served at room temperature.
Make sure all sauces and preserves are in their own container and not ON the cheese.
If you happen to have very hard cheeses on your platter consider pre-cutting the cheese to avoid guests struggling. (even if it's bad luck! 😂)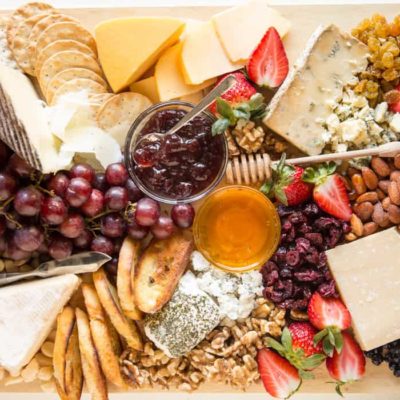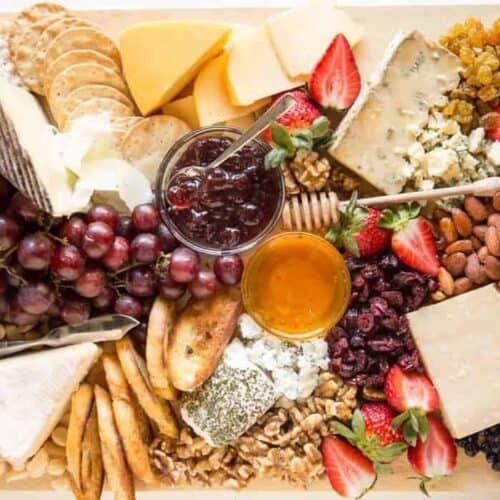 DIY Cheese Tray
Learn how to build your own delicious Cheese Platter! Pair a variety of cheeses with fruits, nuts, crackers, and spreads for the ultimate appetizer platter.
Ingredients
Cheeses
6

oz

Spanish manchego cheese

1

wedge Parmesan cheese

5

oz

chevre

rolled in fresh herbs

4

oz

blue cheese

6

oz

creamy Brie cheese

6

oz

smoked Gouda cheese
Fresh Fruit/Sauces
1

bunch grapes

Strawberries

halved lengthwise

2

oz

honey

2

oz

raspberry jam
Bread/Crackers
1

baguette

sliced and toasted

1

pkg crackers
Dried Fruit/Nuts
1/2

c

dried cranberries

1/4

c

dried blueberries

1/2

c

golden raisins

1/2

c

macademia nuts

1/2

c

almonds

1/2

c

walnuts
Instructions
Arrange cheese on platter so it is evenly spaced and in varying heights and positions. Cut or crumble some of each cheese and let it spill on the platter.

Add grapes and strawberries, then arrange sauces in small bowls on the board. Rearrange fresh fruit as necessary creating height when it makes sense.

Add bread slices and crackers, then fill in spaces with dried fruit and nuts. Look at the overall cheese board and fill in any remaining spaces or gaps with more crackers, fruit, cheese, and nuts.
Did you make this recipe?
Thank you for making my recipe! You took pictures, right? Well go ahead and post them on Instagram! Be sure to mention me @iambaker and use the hashtag #YouAreBaker.
About Meggan Hill: Born and raised in Wisconsin, I am bringing my Midwestern food memories to my delicious take on modern family fare. There's nothing I love more than cooking for my family, cooking for friends, cooking for every occasion! Food is love where I come from, and I'm spreading the love every day on Culinary Hill.