Donut sticks are rectangular-shaped fried pastries that are crispy on the outside, warm and doughy on the inside, and covered with a sweet glaze. Or get creative and roll them in cinnamon and sugar, dust them with confectioners' sugar, or even add your favorite sprinkles or chopped nuts. They are the ultimate indulgence! Try my Glazed Cake Donuts, too!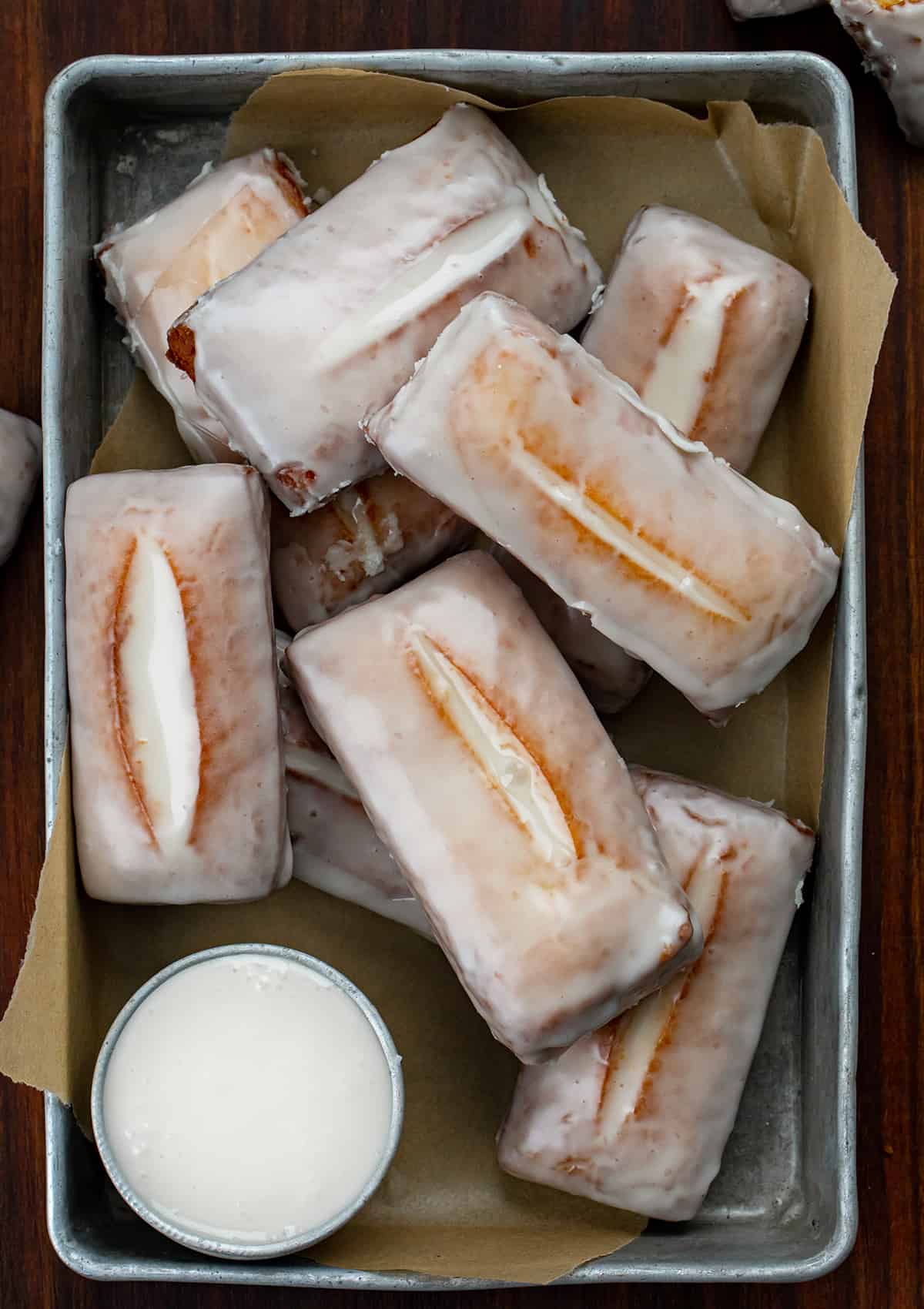 Donut Stick Ingredients & Substitutions
Cake Flour: Cake flour is made from a specific variety of soft wheat. It is finely milled with a lower protein content than all-purpose flour, resulting in a delicate texture for cakes, pastries, and other baked goods. We recommend using bleached cake flour for best results, or unbleached for a more natural option.
Room Temperature Ingredients: For easier mixing and for better results, make sure the butter, egg, sour cream, and buttermilk are at room temperature.
Oil: Look for vegetable or canola oil for frying.
Glaze: I used the glaze recipe from my cake donuts. You can certainly leave off the glaze if preferred. Or, roll them in your favorite topping.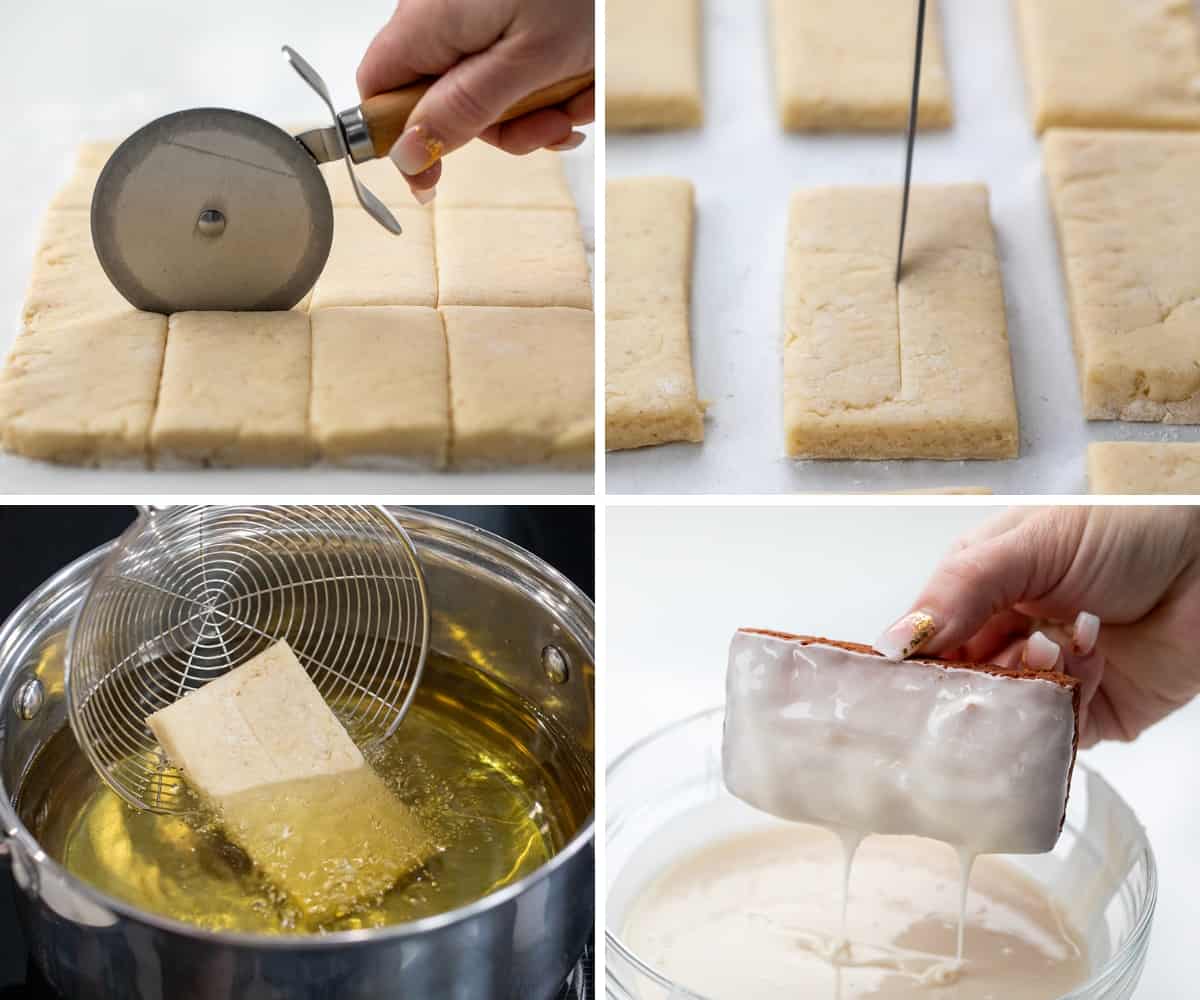 What to Pair With Donut Sticks
Although delicious on their own, there are some delicious complements to this classic treat:
Coffee
Ice Cream: No spoon? No problem! Use a donut stick to scoop up each bite of ice cream.
Dips: Serve the donuts with some chocolate syrup and caramel for dipping.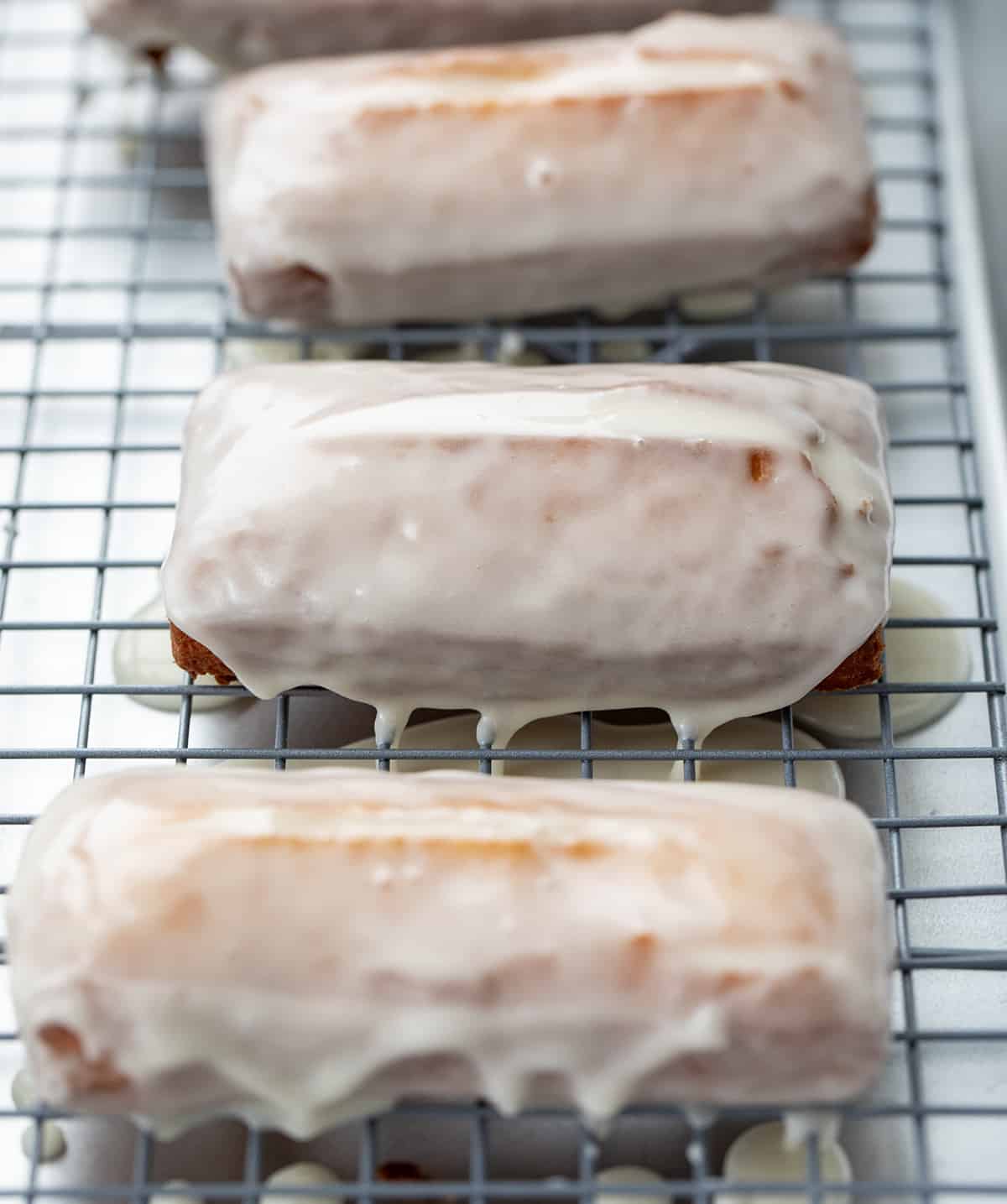 Baking Donut Sticks In The Oven
If you don't want to mess with frying the donut sticks in oil, bake them in the oven! Follow the same instructions up to frying in oil. Instead, place the donut sticks on a baking sheet lined with parchment paper. Bake at 400°F for 12 minutes. Don't forget to add the glaze after the donuts have cooled slightly.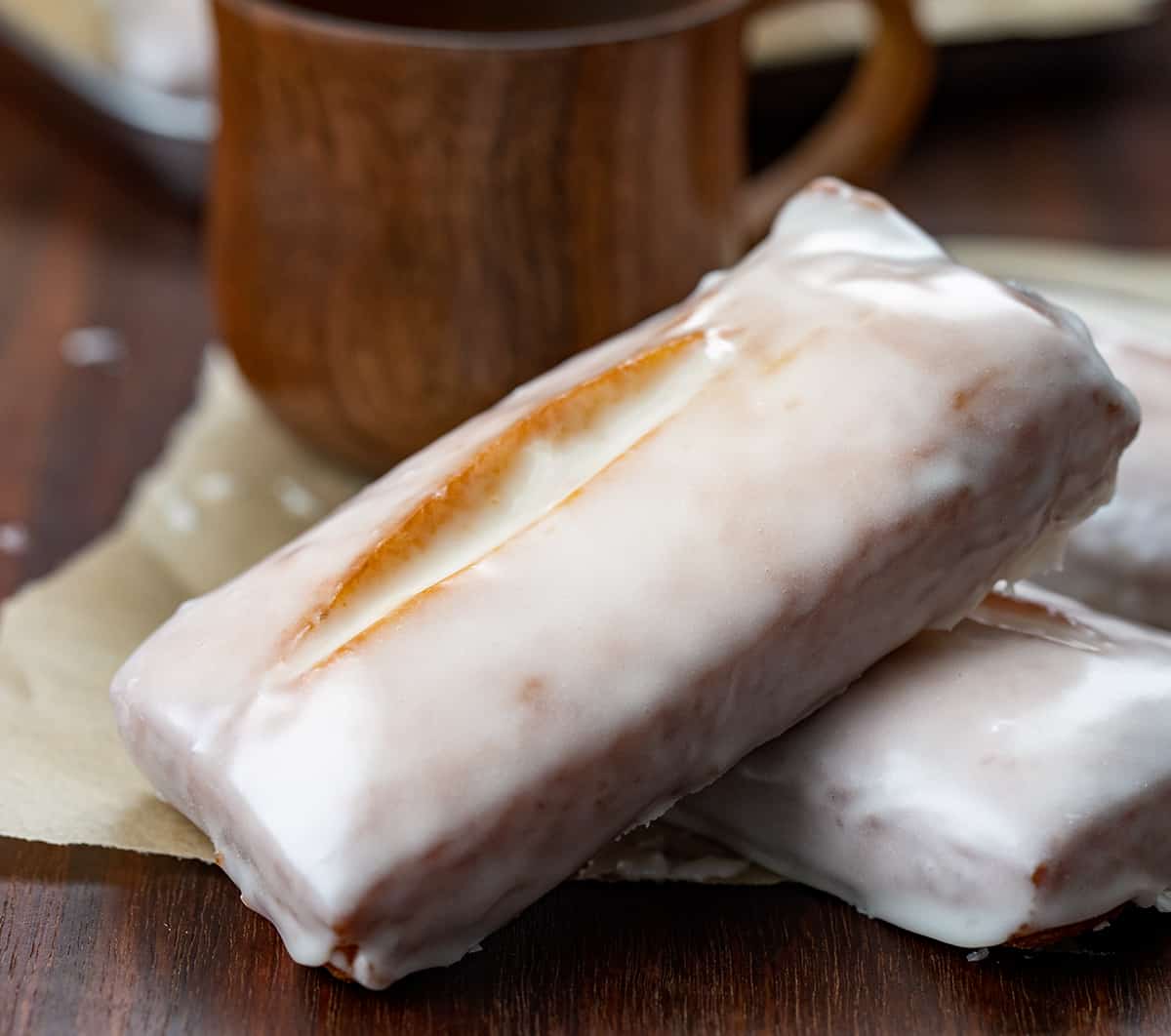 Air Fryer Donut Instructions
Craving a donut, but trying to avoid deep-frying? You can also use your air fryer to get the donut sticks made. Spray both sides of the donut sticks with cooking spray. Then, place them into the basket of your air fryer and air fry for about 8 minutes at 350°F. Depending on the size of your air fryer, you may have to work in batches.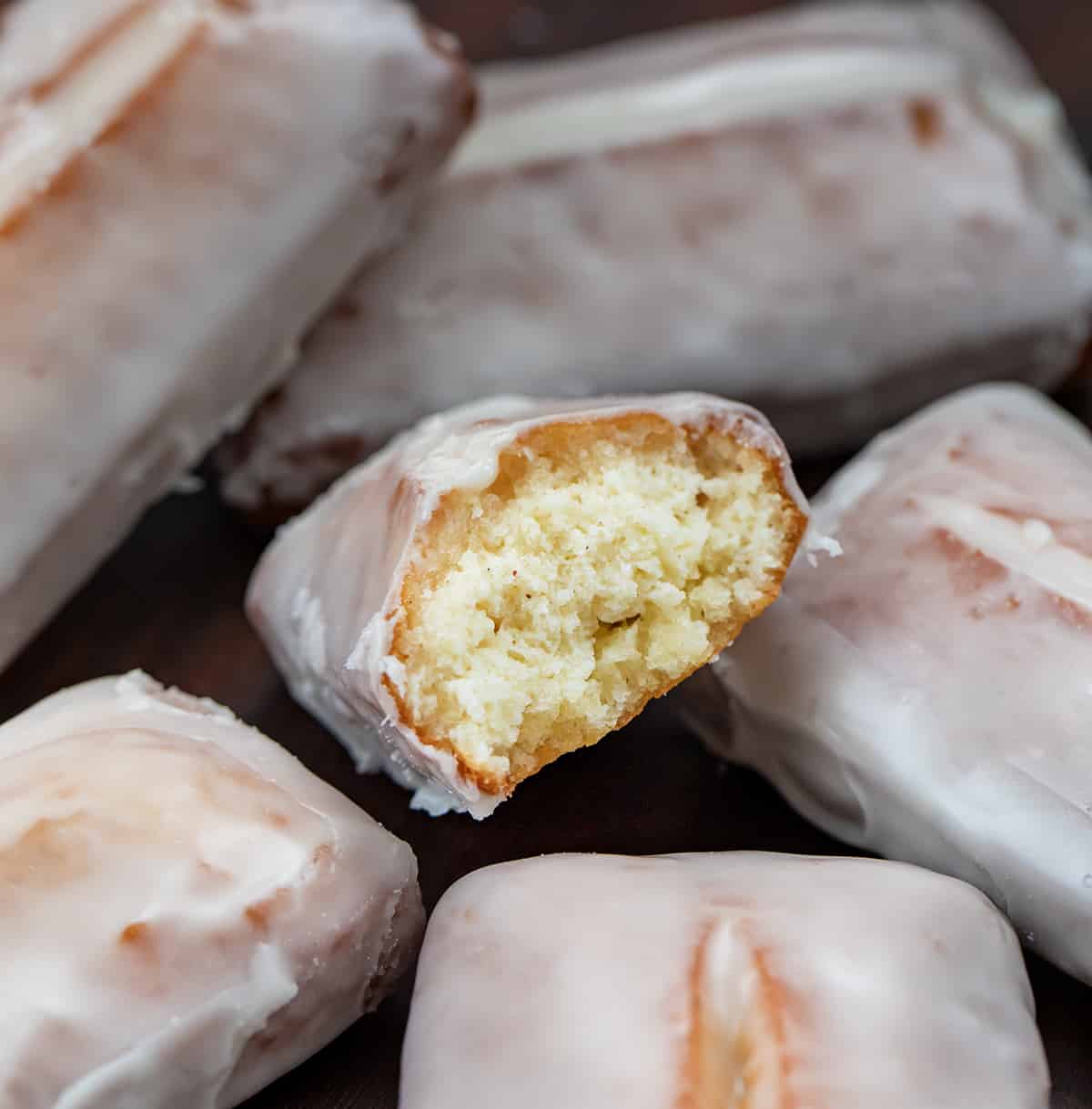 How to Store
Here are our top tips for proper storage of Homemade Donut Sticks:
Let the donut sticks cool completely. Use an airtight container or resealable plastic bag, making sure the container or bag is large enough to hold all the donut sticks in a single layer.
Seal it tightly to lock in the freshness and store it in a cool, dry place.
Enjoy for up to 3 days when stored properly.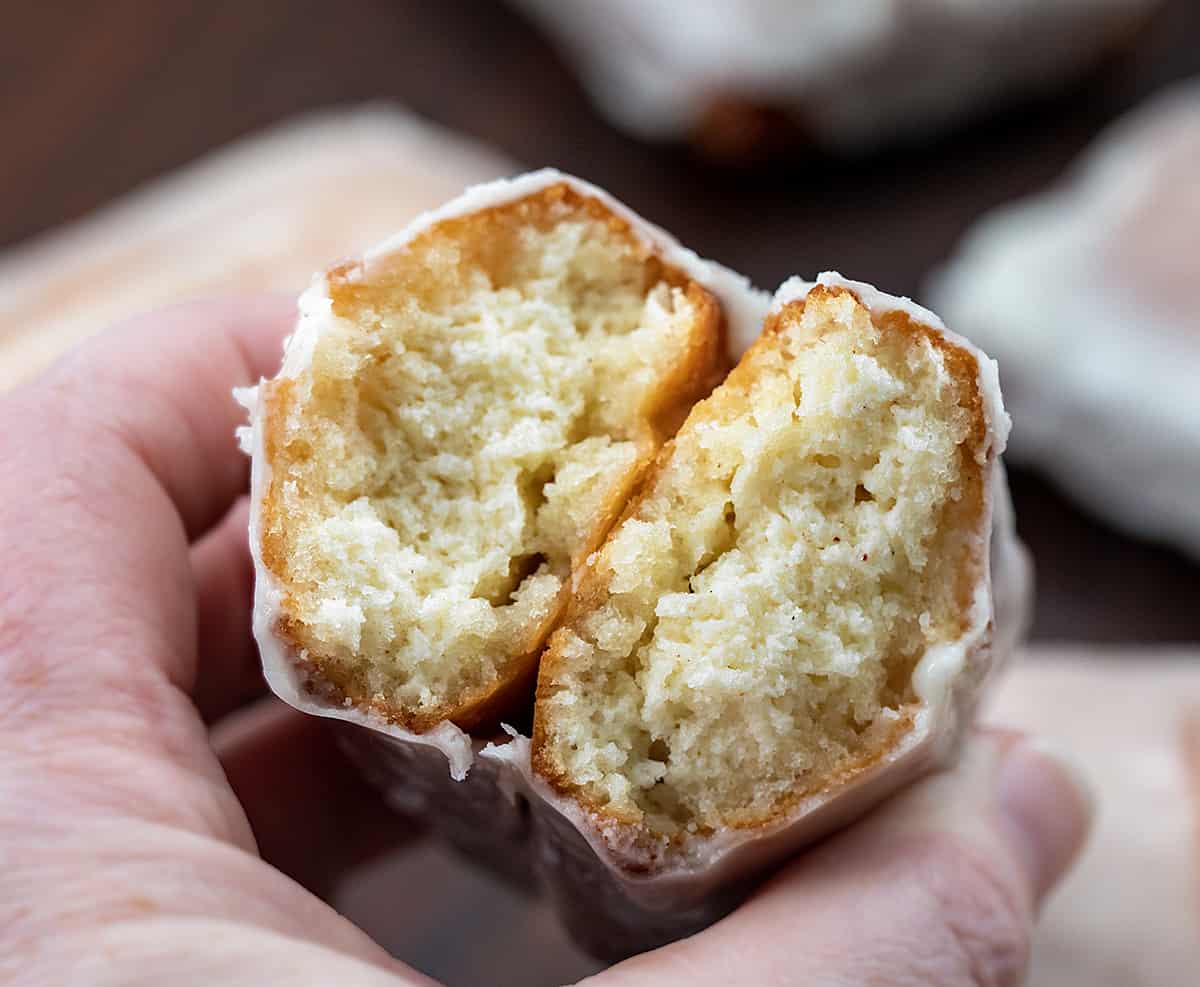 Can I Freeze Donut Sticks?
Yes! For even longer storage, freeze the donut sticks for up to a month. I do recommend freezing them without the glaze for the best results. First, place the donut sticks in a single layer on a baking sheet. Next, transfer the baking sheet to a freezer until the donut sticks are solid. After that, store them in a freezer-safe container for up to a month. When ready to enjoy, reheat them in the oven for about 5 minutes at 350°F. And then, don't forget the glaze, if adding!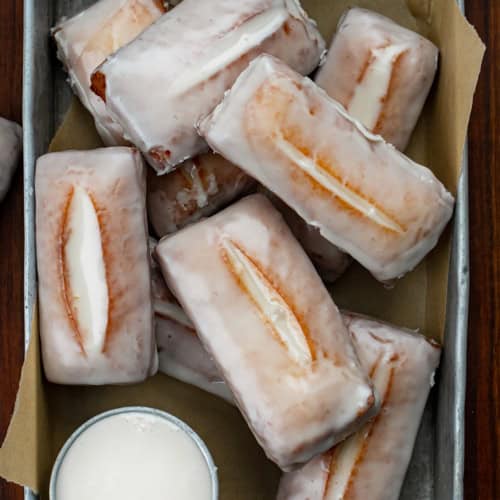 Donut Sticks
Donut sticks are rectangular-shaped fried pastries that are crispy on the outside, warm and doughy on the inside, and covered with a sweet glaze.
Ingredients
Glaze
4

cups

(500 g) confectioners' sugar

2

teaspoons

corn syrup

½

teaspoon

vanilla extract

¼

teaspoon

kosher salt

¼ – ½

cup

whole milk,

room temperature
Instructions
Set out two large baking sheets. Line one with paper towels and the other with a wire rack. Set aside.

In a large mixing bowl, combine flour, baking powder, salt, and nutmeg.

In the bowl of a stand mixer, cream together butter and sugar. Add the egg and sour cream and continue mixing until combined.

Slowly alternate adding a small amount of the flour mixture and a small amount of the buttermilk, beginning and ending with the flour mixture, into the wet mixture until a soft dough forms. Scrape down the sides of the bowl as needed.

Fold the dough out onto a lightly floured surface. Gently fold the dough several times to coat it in flour.

Roll out the dough into an 8×12-inch rectangle. Using a pizza cutter, slice it into 12 sections, each about 2 inches by 4 inches. Cut slits on the tops of each dough section.

In a deep frying pot over medium heat, add 4 cups of oil. Heat the oil to 370°F. While the oil is heating, prepare the glaze.
Glaze
In a large bowl, combine the sugar, corn syrup, vanilla, salt, and ¼ cup milk. Whisk together until smooth, adding more milk (if needed) to reach your desired consistency. Set aside.
Frying
Once the oil is hot, use a slotted spoon to carefully add 2-3 donut sticks to the oil. Cook for about 2 minutes, flipping halfway through until the donut sticks are golden brown on all sides. Remove the cooked donut sticks from the oil and place them on the paper towel-lined baking sheet to drain slightly.

Repeat the cooking process with the remaining donut sticks, being careful to check the oil temperature as you go.

Dip the slightly cooled donut sticks into the glaze and place them on the wire rack-lined baking sheet. (You can use a fork to hold the donut stick, dipping it fully into the glaze and then lifting it out, allowing any excess glaze to drip off before placing it on the wire rack.)
Notes
Air Fryer and Baking Instructions are in the blog post. 
Did you make this recipe?
Thank you for making my recipe! You took pictures, right? Well go ahead and post them on Instagram! Be sure to mention me @iambaker and use the hashtag #YouAreBaker.
This recipe was inspired by Imperial Sugar.