Esquites… one of our favorite dishes to bring to a potluck! A flavorful hot corn side-dish that compliments so many recipes! You may also like my Baja Fish Tacos and Fiesta Chicken Casserole.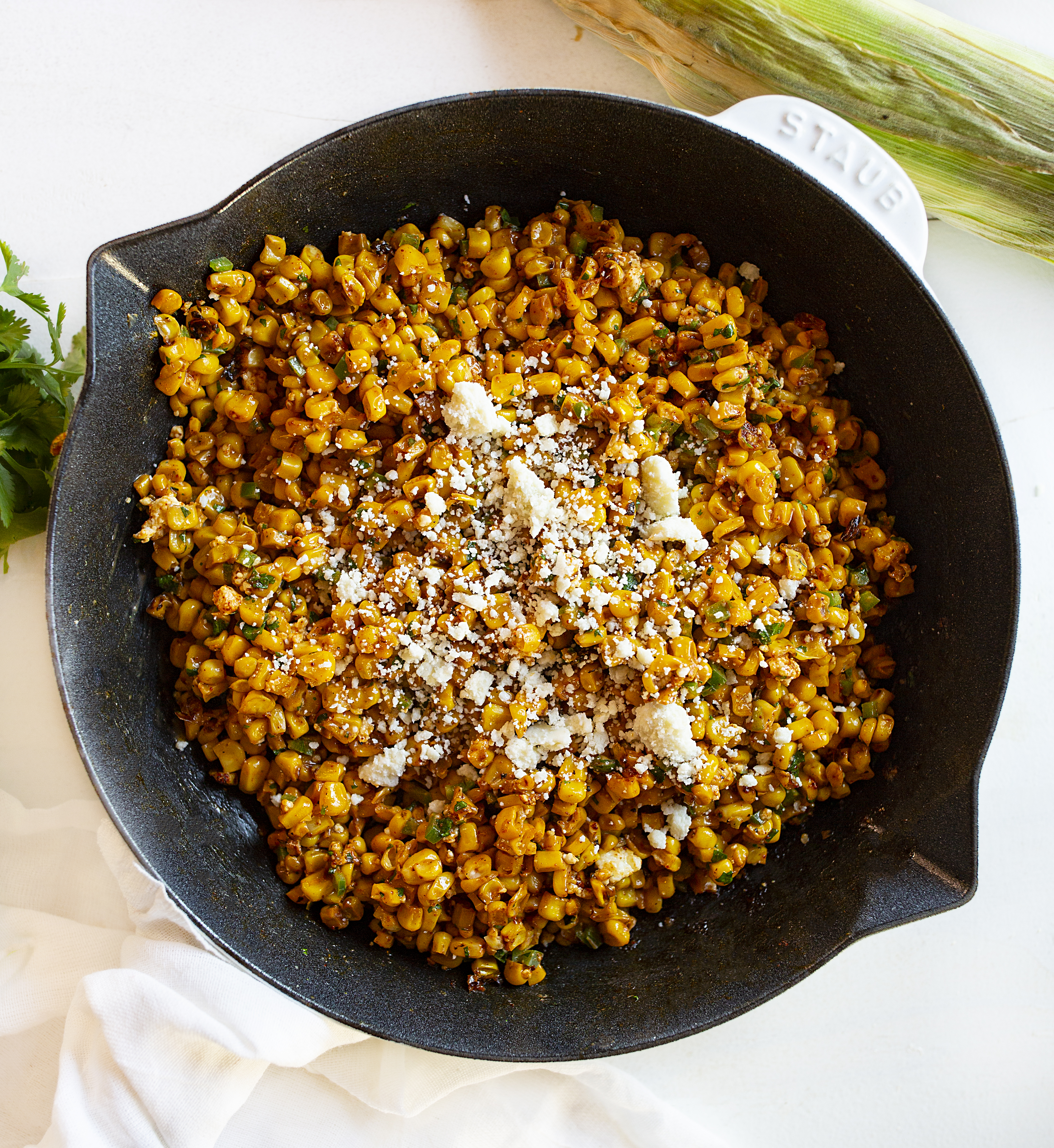 What is Esquites?
Esquites, or Mexican Street Corn, is a must-have dish when visiting Mexico and has been popularized here in the USA as well. Authentic esquites is prepared with white Mexican corn, elote blanco, not sweet corn. Mexican corn is much firmer, not sweet, and has an earthy taste. Quite the opposite of sweet corn! Lots of recipes also include epazote, a Mexican herb. "Dried epazote is considered inferior to the fresh one, but outside Central America and the southern parts of the US, fresh epazote may be hard to find. A common substitute is coriander or long coriander leaves, even in México; but… epazote's taste is simulated more successfully by a mixture of savory, oregano and boldo leaves. Furthermore, dried epazote is not as bad as most sources state." (source, Chowhound)
Esquites vs. Elote
Esquites is basically the side dish version of elote. Elote is grilled corn on the cob that is slathered in a spicy mixture of mayonnaise, crema, and chili powder and then sprinkled with Cojita cheese. Esquites utilizes all the elements of elote and combines them into a warm, easy-to-eat salad or side dish.
By no means am I claiming the recipe below to be authentic. This version of esquites has been simplified and utilizes ingredients available to many.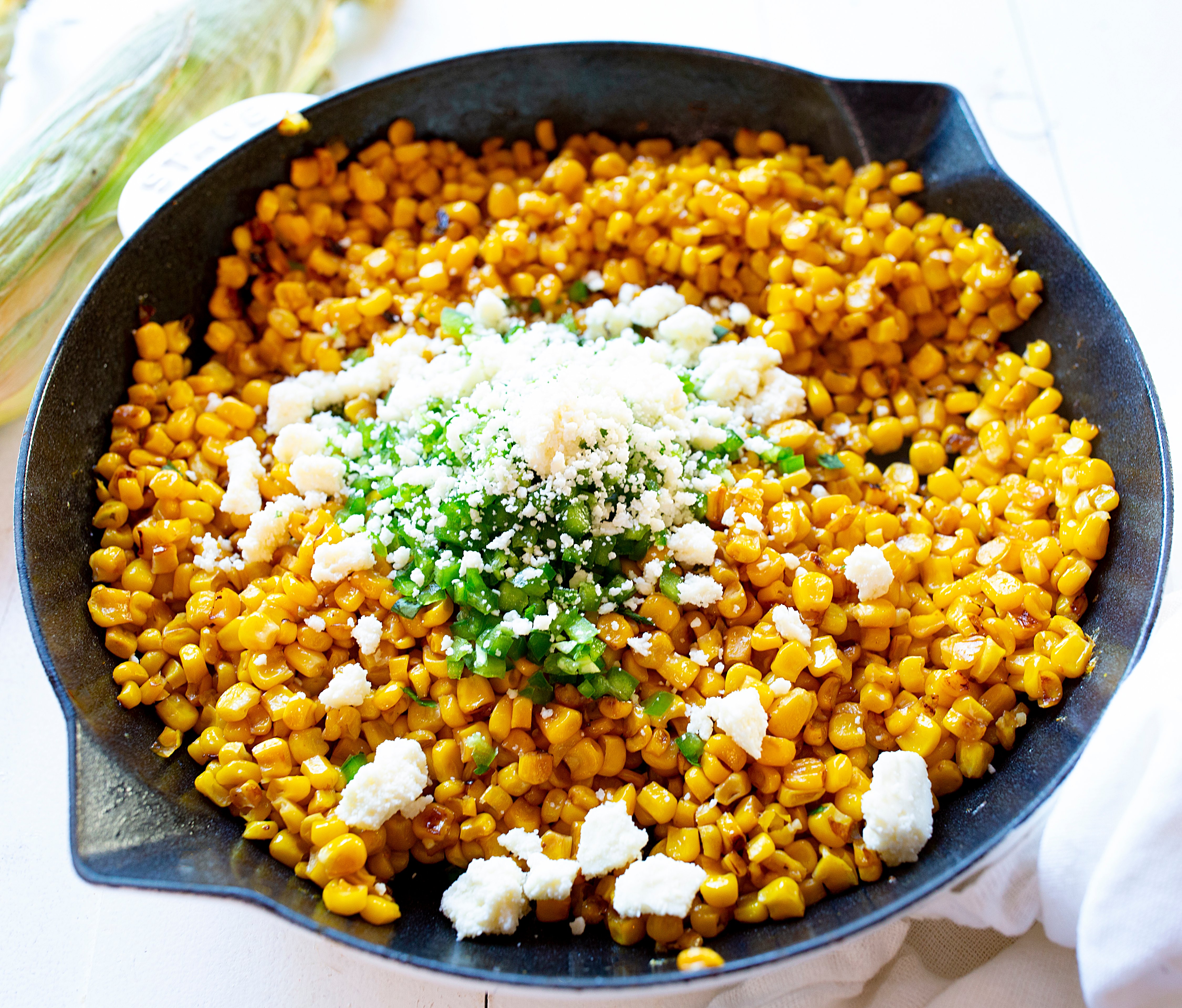 What is in Esquites (Mexican Street Corn)
Let's talk about the ingredients in this recipe that make it so amazing and delicious!
Sweet Corn – I opted for canned corn in this recipe as I love the sweet corn with the spice, but corn-on-the-cob is wonderful as well.
Garlic – Fresh chopped garlic is always preferable, but you can also use store bought minced garlic (I prefer the jars where it is packed in oil)
Cilantro – Again, fresh is best! When at the store pick up the cilantro and smell it. You may need to reach far in the back and get the freshest bunch!
Jalapeño Pepper – If you are like me and you like things a little spicy, you have been the recipient of the jalapeno that had no kick.  On the flip side, you may have had the jalapeno that tasted like a ghost pepper.  So, how you can you tell if the jalapeno is spicy?  The older the pepper the spicier it will be.  Looking at a pepper, the older ones will have stress marks, like little white lines or flecks on the flesh.  The younger (less spicy) peppers will have a clear shiny flesh.  So if you like them hot, pick the older pepper. If you like the mild, pick the younger one. (and feel free to add more!)
Cotija Cheese – Cotija is a Hispanic-style cheese named after the town of Cotija in the Mexican state of Michoacán. It is a hard, crumbly cheese is made mainly from cow's milk. It is a bit salty and similar in texture to feta. This may seem bold, but I do not recommend making this dish without it! While I have seen some folks use parmesan, the Cojita cheese adds something unparalleled.
Mexican Crema – Crema is the Mexican version of French crème fraîche. Both are slightly soured and thickened cream, however, crema is milder and thinner than American sour cream. In a pinch, you could use sour cream. Most grocery stores do carry it though!
Lime Juice – Grab a couple of extra limes so that folks can add more freshly-squeezed lime juice to their individual serving.
Chili Powder – There is a healthy amount in this dish, but feel free to taste as you go and change it to suit your tastes. You can also substitute cayenne.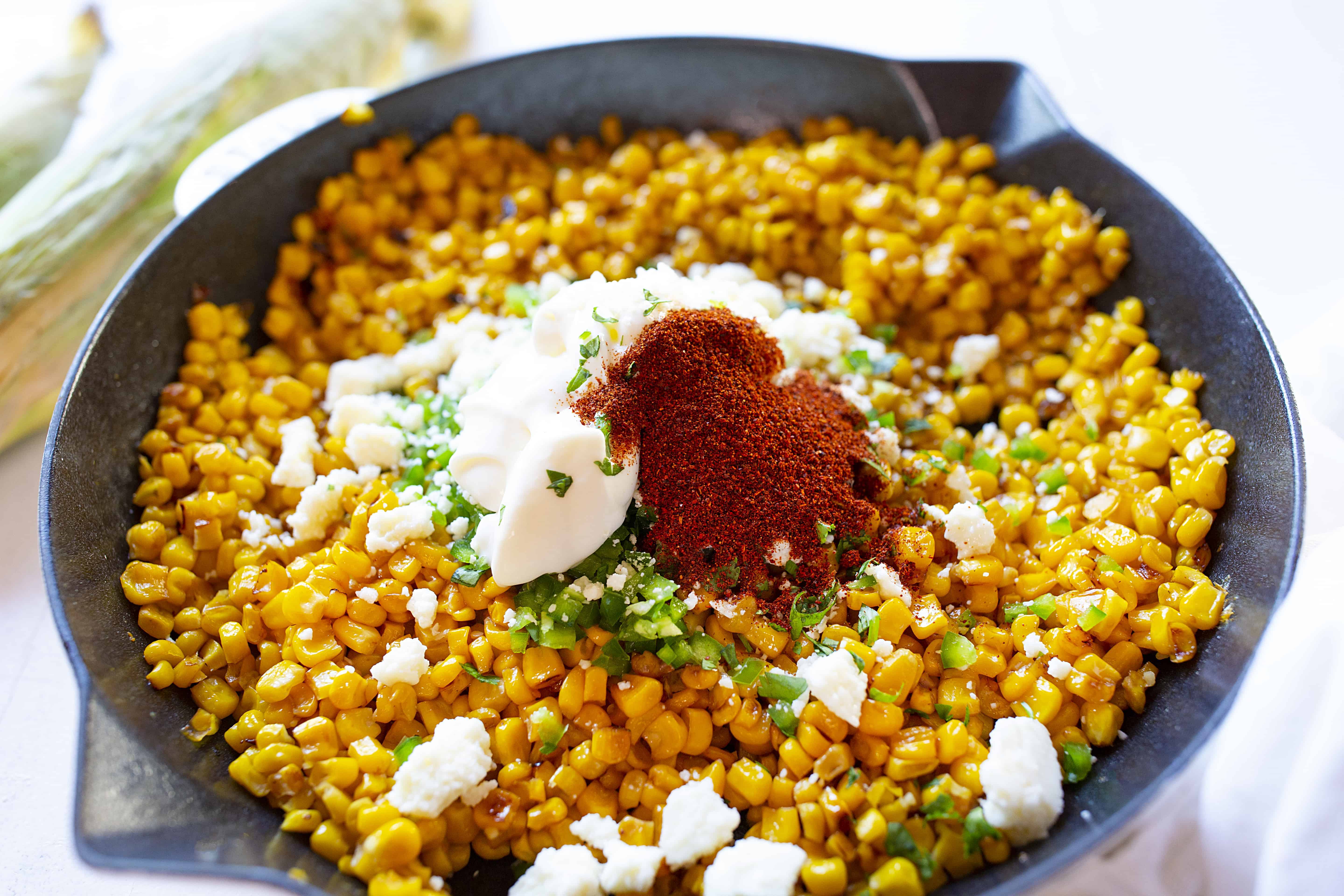 How to Make Esquites
Ok, now that we have all of the important details of the origination of this recipe and the variations I have made, I want to talk about the taste. It's sweet, spicy, tangy, and almost smokey. The cream, cheese, lime, and chili powder work together to beautifully complement and enhance each other. It comes together quickly and is a fantastic side-dish to serve.
To make esquites start with a skillet (I prefer cast-iron) or saute pan. Heat the oil and then add the corn, stirring occasionally, until the corn is golden brown or charred. After about 15 minutes add the garlic and cook for another minute. Remove the skillet from heat and prepare the other ingredients.
Add the roughly chopped cilantro, diced jalapeño, cotija, Mexican crema, lime juice, and chili powder and stir to combine. And that's it! I prefer it served hot, but you can also serve it at room temperature. If you have leftovers I do recommend re-heating.
Additional Toppings (Feel free to mix and match to taste!)
Mayonnaise
Grated cheese, queso fresco
Melted butter
Hot sauce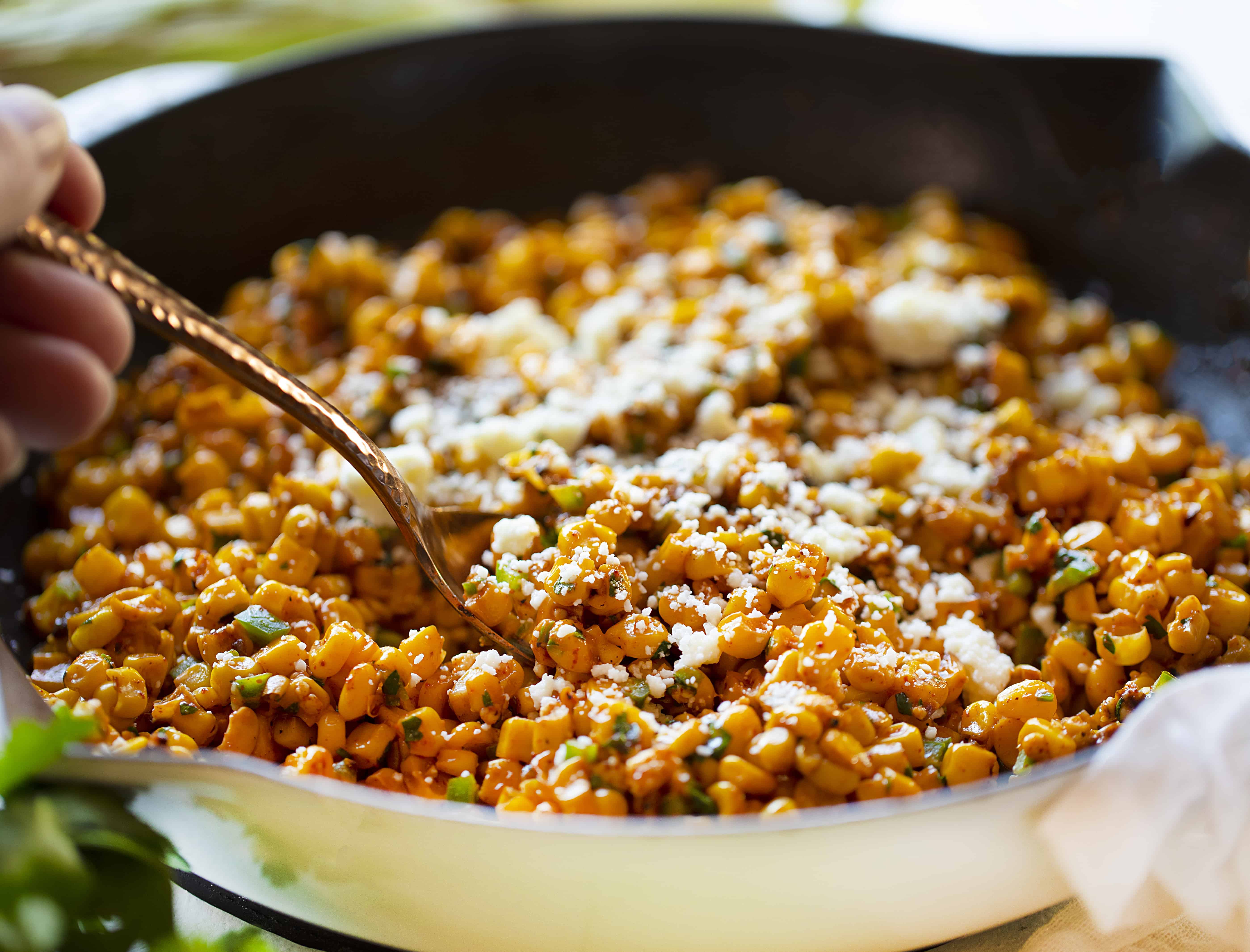 How to Serve Esquites
In my opinion, this dish is best served warm or hot. (Hence the reason for the cast-iron skillet, it keeps everything warmer for longer!)
I prefer to serve this as a side dish or side salad. The kids love scooping it up with tortilla chips. Hubby likes to eat it over chicken. Like, a lot of it… (he's a genius BTW)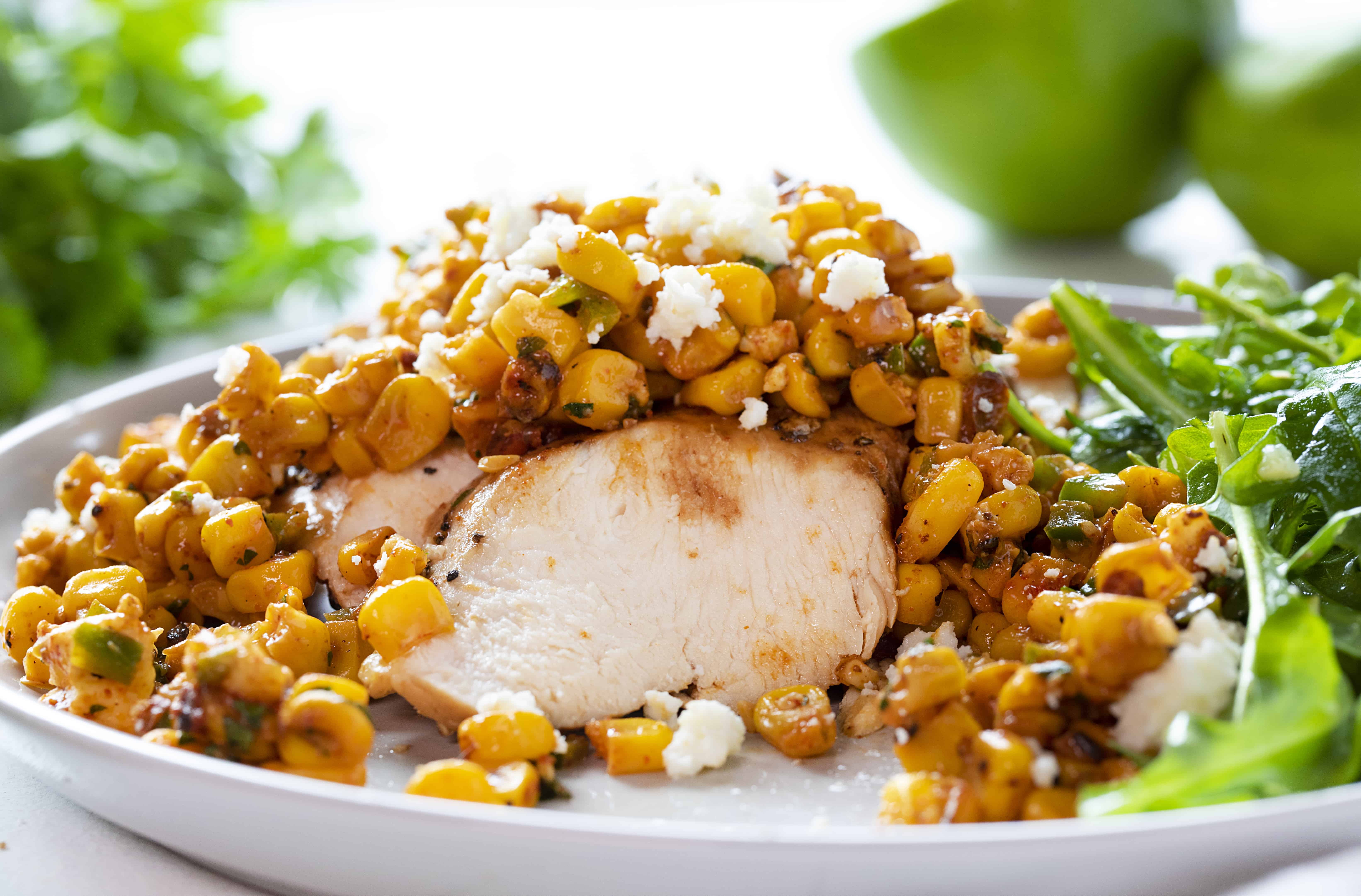 How To Make Chicken Esquites
Ingredients
4 skinless boneless chicken breasts
1/4 cup olive oil
1/2 lemon, juiced (about 2 tablespoons)
1/2 teaspoon salt
1/2 teaspoon fresh ground black pepper
Esquites recipe (below)
Directions
Season both sides of chicken breasts with salt and pepper.
Heat the oil and lemon juice in a very large skillet over high heat. Add the chicken and cook for about 4 minutes on each side, flipping carefully with tongs, until the chicken cooks through (internal temperature of 165°F). Remove from heat. Slice.
Cover the sliced chicken with a generous amount of esquites and enjoy!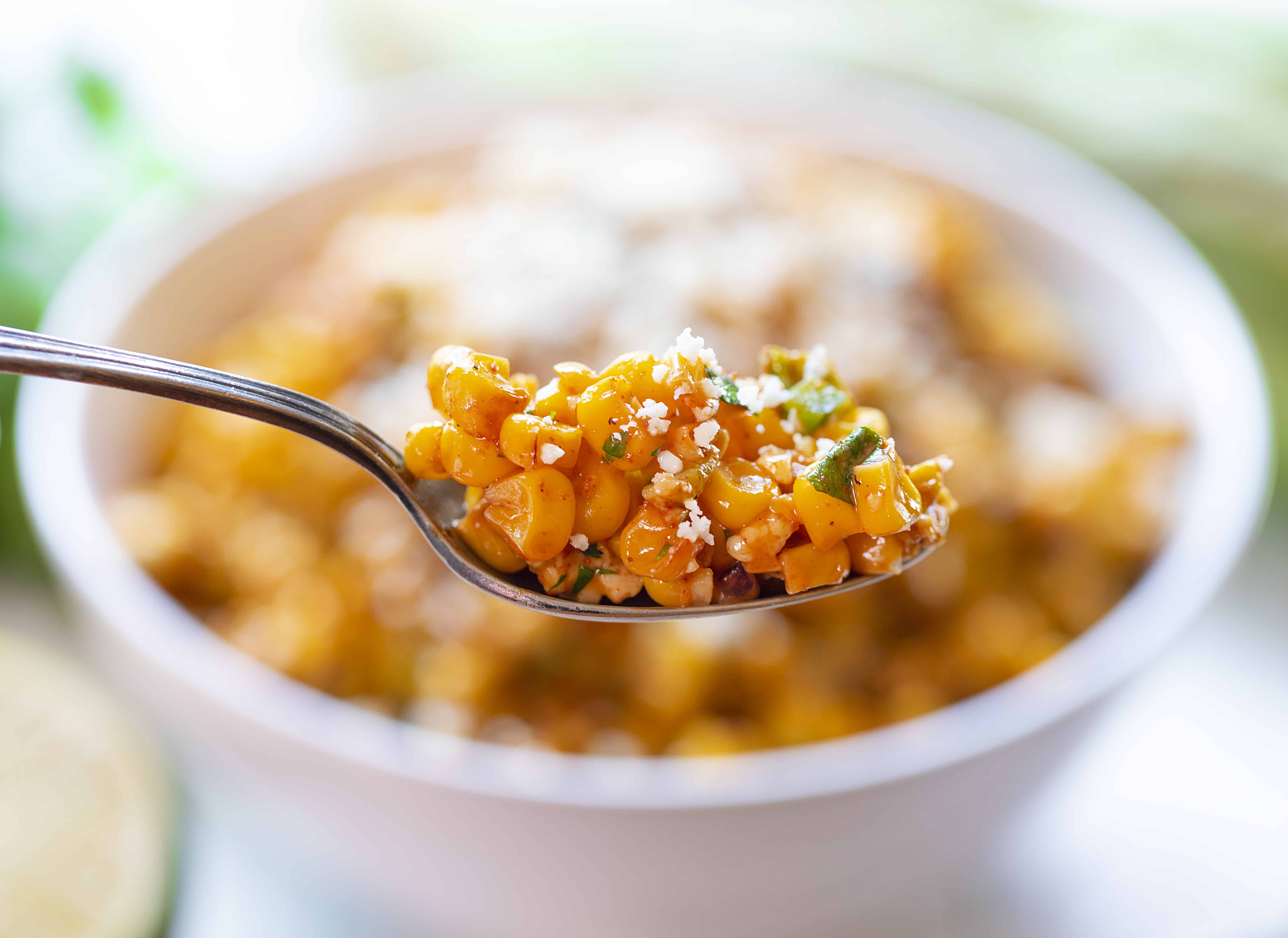 Or just grab a spoon and dig in! <3
Looking for More Corn Dishes?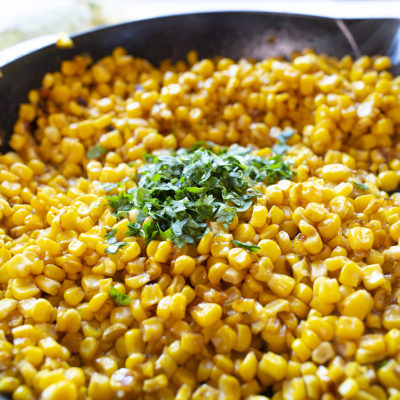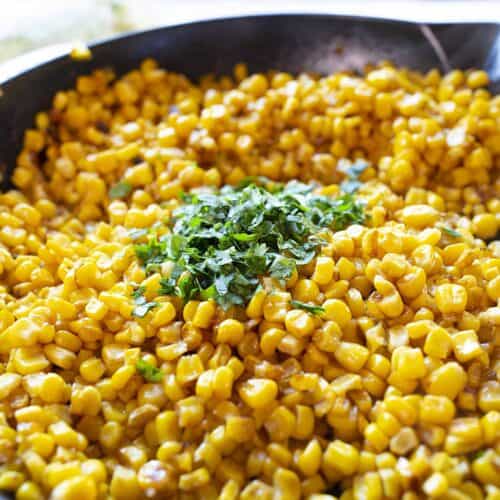 Esquites (Mexican Corn Salad)
This flavorful Mexican Street Corn is always a crowd pleaser!
Ingredients
2

tablespoons

canola oil

4

cups

canned sweet corn

1

clove

garlic,

minced (about 1 teaspoon)

1/4

cup

cilantro,

coarsely chopped

1

jalapeño pepper,

seeded and finely chopped

3

tablespoons

crumbled Cotija cheese,

plus more for garnish

2

tablespoons

Mexican crema

1

tablespoon

freshly squeezed lime juice

1 1/2

teaspoons

chili powder
Instructions
Heat the oil in a large cast-iron skillet over medium-high heat until shimmering. Add the corn and cook, stirring occasionally, until toasted and golden brown, about 15 minutes. Add the garlic and cook for 1 minute more. Remove the skillet from the heat and allow the corn to cool for a few minutes.

Add the cilantro, jalapeño, Cotija, Mexican crema, lime juice, and chili powder and stir to combine. Top with additional Cotija and serve warm or at room temperature.
Notes
Make Ahead: This dish can be cooked up to a day in advance and stored in an airtight container in the refrigerator. 
Did you make this recipe?
Thank you for making my recipe! You took pictures, right? Well go ahead and post them on Instagram! Be sure to mention me @iambaker and use the hashtag #YouAreBaker.